2012 REVIEWS (JANUARY - JULY)
| | | |
| --- | --- | --- |
| Alabama Shakes ~ July 31, 2012 ~ The Vogue Theatre, Indianapolis, IN | | |
| Old Crow Medicine Show ~ July 18, 2012 ~ The Egyptian Room, Old National Center ~ Indianapolis, IN | Unity Tour 2012 ~ 311, Slightly Stoopid, The Aggrolites ~ July 18, 2012 ~ The Amphitheatre, St.Augustine, FL | The Dukes of September Rhythm Review ~ July 21, 2012 ~ The Amphitheatre at The Wharf ~ Orange Beach, AL |
| Ringo Starr and His All Star Band ~ July 4, 2012 ~ The Wharf Amphitheatre, Orange Beach, AL | Umphrey's McGee ~ July 7, 2012 ~ The Lawn at White River State Park ~ Indianapolis, IN | Dark Star Orchestra~ July 10, 2012 ~ Vogue Theatre, Indianapolis, IN |
| Eric Johnson ~ June 26, 2012 ~ Vinyl Music Hall, Pensacola, FL | PHISH ~June 28-29, 2012 ~ Klipsch Music Center, Noblesville, IN | |
| Keller Williams - May 5, 2012 ~ Vinyl Music Hall, Pensacola, FL | | Gang of Outlaws Tour ~ St. Augustine Amphitheatre, Florida ~ 06-08-2012 |
| | Mickey Hart Band ~ An Album and Show Review ~ April 28, 2012 ~ Soul Kitchen, Mobile, AL | Beats Antique ~ The Pulse Fest ~ Cat's Cradle, Carrboro, NC |
| Experience Hendrix Tour ~March 17, 2012 ~The Wharf Amphitheatre, Orange Beach, AL | Malagafest ~ March 24, 2012 ~ Historic Malaga Inn, Mobile, AL | Joan Osborne ~ April 9, 2012 ~ The Lincoln Theatre, Raleigh, NC |
| The Lemonheads "It's A Shame About Ray Tour" ~ February 18, 2012 ~ Vinyl Music Hall, Pensacola, FL | Hank 3 & Hellbilly & Attention Defecit Domination ~ March 4, 2012 ~ Soul Kitchen, Mobile, AL | Big Head Todd & The Monsters with Van Ghost ~ March 12, 2012 ~ Soul Kitchen, Mobile |
| Widespread Panic ~ January 27-29, 2012 ~ The Tabernacle, Atlanta, GA ~ WOOD TOUR | They Might Be Giants ~ February 4, 2012 ~ Tipitina's, New Orleans, LA | Bruce Hornsby ~ February 14, 2012 ~ Carolina Theatre, Durham, NC |
Click Here for reviews from August - December 2011
Click Here for reviews from January - July 2011
Click Here for reviews from 2010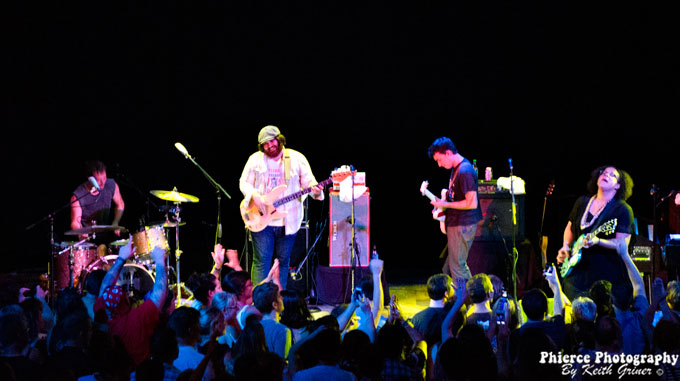 Alabama Shakes – The Vogue Theatre -- Indianapolis, IN – 07/31/2012
Alabama Shakes hit the stage of a sold out show at The Vogue theatre on Tuesday, July 31, 2012. Lil Jon's "Throw It Up" piped through the theatre for an intro with a Naptown riders shout-out. The young band needed no hype to get the shoulder-to-shoulder Indianapolis crowd amped up, but the personal touch didn't fall short of a crowd pleaser.
The band offered up a slower melodic start with "Goin' to the Party." The recognizable drum kick of the radio hit "Hold On" got the crowd moving right from the second song. Brittany Howard unleashed the power of her soulful voice with the crowd singing every word along with her. No lack of stage presence could be noticed as Howard put the force of her body in each and every belt.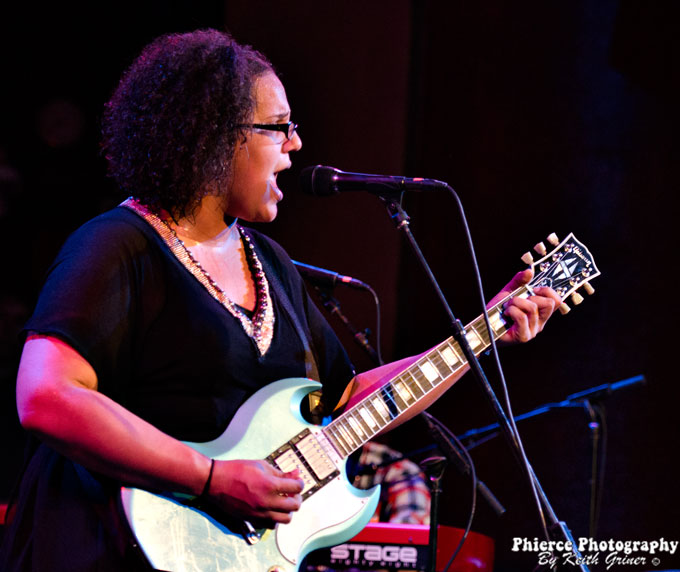 The old school rock sounds of the eclectic band came through the strings of bassist and founding band member Zac Cockrell and guitarist Heath Fogg with "Hang Loose." The diverse sounds crafted by the Athens, Alabama band cannot be boxed into one genre of music. There's no denying the R&B and soul influence in Howard's unabashed voice, but the band has said she's more of a Rock-n-Roll kind of girl. Punk, prog-rock, roots and Southern rock all weave their way into the cuts of the first album Boys and Girls.
The heavier rock sounds of Alabama Shakes mixed with a groovy beat emerged in "Always Alright," which is not on their debut album. Howard's facial expressions match those of soulful legends like Janis Joplin (sorry but I had to say it,) all the while hitting riffs on her electric guitar. The band moved through album cuts "I Found You," "Rise to the Sun," "Heartbreaker," "Boys & Girls," and "Be Mine."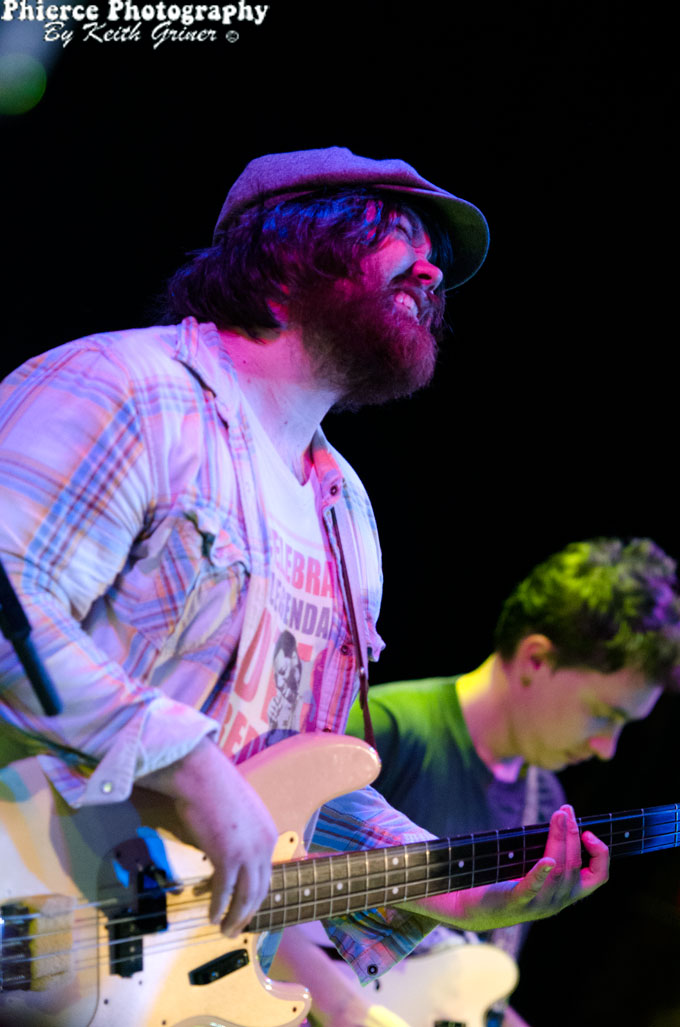 The bluesy sounds of "Hurricane Strut," also not found on the debut album, were met with crowd cheers. Not much interaction took place between band members throughout the show, but Howard engaged the enthusiastic crowd. She introduced drummer Steve Johnson as a heartbreaker and he blushed. She introduced keyboardist Ben Tanner by his nickname "Styrofoam" and asked him what he was doing. "Just playing and sweating," he answered with a smile. But that was about it for interaction between the musicians besides cranking out fantastic music at every turn.
An "I'll Go Crazy" cover landed on the setlist followed by "On Your Way," "I Ain't the Same," and "You Ain't Alone." The band ended the set with the high powered "Heavy Chevy." The cheering crowd brought the band back out for a three-song encore.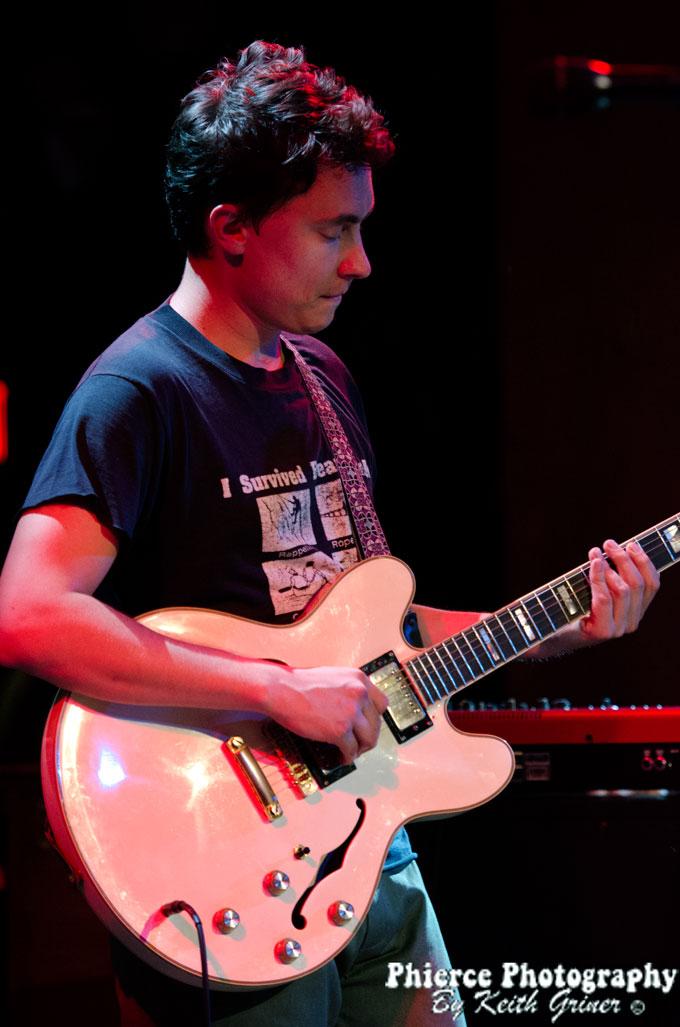 At the bridge of one of the last tunes, Howard told the crowd that this was the part of the song where she was supposed to say something wise. "With my 23 years on this earth," Howard addressed the audience; then she said, "I don't know what you know and I've got to learn the hard way." Alabama Shakes rocked The Vogue and continues on tour with many sold-out shows along the way. In October, they'll hit Louisville, KY and St. Louis, Mo with dates that are sure to sell out soon.
Dry the River from England opened the show with a great set. Not that bands need to be compared to other bands in order to get a clear description, but for lack of a better way to describe their sound: they sounded like Bon Iver meets Fleet Foxes…look forward to hearing more from all soon.
Written by Meghan Barich
Edited by Rosemary A.W. Roberts
Photos by: Keith Griner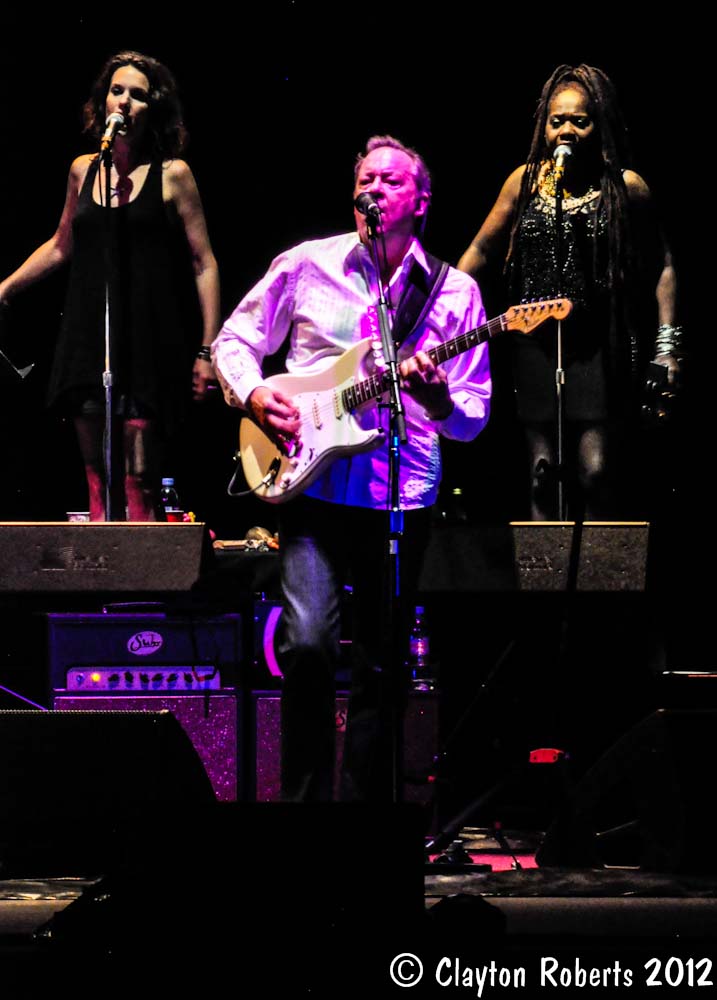 The Dukes of September Rhythm Review – The Amphitheatre at The Wharf – Orange Beach, AL – 07/21/2012
The night air was hot and steamy; the wicked wet weather had blown through a few hours earlier, so there would be no rain to dampen our evening at The Amphitheatre at The Wharf in Orange Beach, AL. Instead, we could set our attention on the noble entertainment coming our way in the guise of The Dukes of September Rhythm Review. As showtime arrived, a group of musicians gathered on stage that included Jon Herington (guitar), Freddie Washington (bass), Shannon Forrest (drums), Jim Beard (organ), Jay Collins (horns), Michael Leonhart (horns), Walt Weiskopf (horns), Carolyn Leonhart Escoffery (vocals) and Catherine Russell (vocals). A smooth groove ensued with James Brown's "Drive Your Funky Soul"; the saxophones made their presence known, and the ladies were crooning.
Enter The Dukes: the amphitheater erupted in applause as Donald Fagen, Michael McDonald, and Boz Scaggs appeared alongside their bandmates. The Dukes individual musical lineages stretch back to the early 1970s, but Fagen informed us they would also bring in melodies that the three musicians have always loved. In that vein, the band kicked off with "Who's That Lady" (Isley Bros) and "Do You Like Good Music" (Wilson Pickett), with all three Dukes sharing vocal responsibilities, and sounding mighty fine.
Fagen had introduced Michael "White Lightning" McDonald, encamped at a red keyboard/organ on stage right, who delighted the crowd with his unmistakable voice and his hit "I Keep Forgettin'". The band rendered a crisp version of Marvin Gaye's "Trouble Man" sounding full and swinging with Fagen's vocals. Then Donald Fagen took a moment to shine from his center stage baby grand piano, playing the Steely Dan classic "Kid Charlemagne" with his laidback swagger and entertaining style. Boz Scaggs next jumped in the driver's seat, standing stage left with a gorgeous black and gold guitar, bringing some blues with Muddy Waters' "The Same Thing". Scaggs followed with his sultry "Miss Sun", exchanging smooth guitar riffs and soft lines with Catherine Russell's sensuous voice.
A steady stream of old-time classics flowed forth, beginning with Carolyn Leonhart's soulful singing of the Motown staple "I Heard It Through the Grapevine". The Dukes had a grand throw-down with Chuck Berry's "You Never Can Tell", as Fagen was smokin' hot on the piano, and McDonald spiked the mix on an accordion which added the perfect fun flavor. The Buck Owens tune "Love's Gonna Live Here" found Donald and Carolyn in a vocal duet, before Michael McDonald delivered an inspiring and lovely version of "If You Don't Know Me By Now". Later in the set we would also hear Catherine Russell absolutely nail "Piece of My Heart".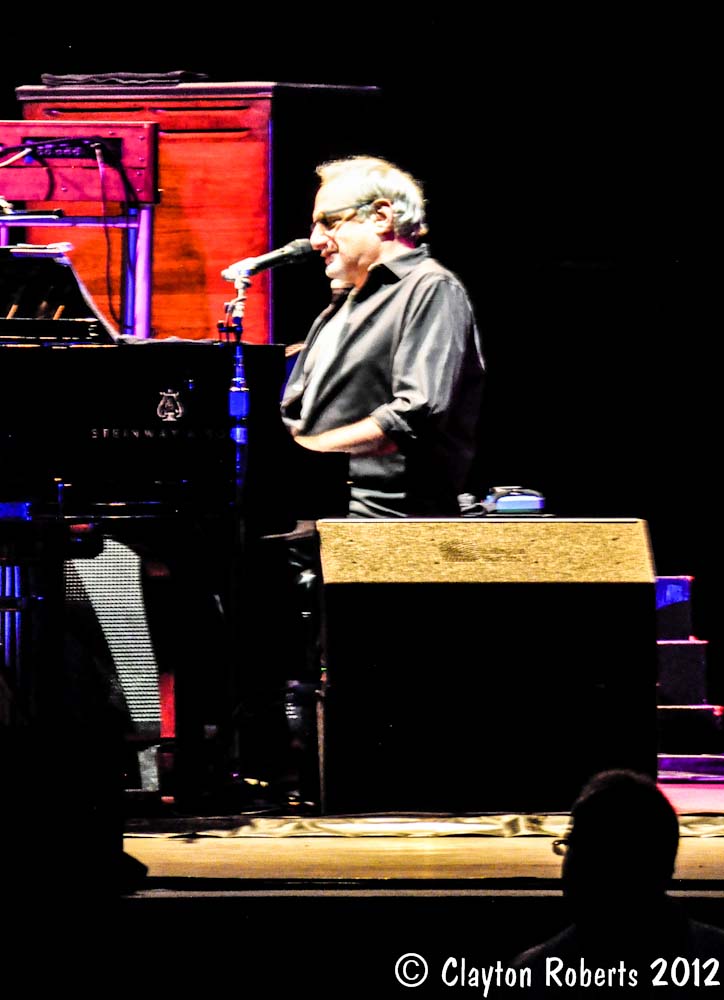 It was truly terrific to hear The Dukes of September Rhythm Review bring all this music to life; it made for a fun-filled joyous evening. But, I must admit, my favorite moments were when The Dukes brought their personal offerings to the soiree. Michael McDonald treated us to some Doobie Brothers fare, with "What A Fool Believes" sung to sweet perfection, and "Takin' It To The Streets" taking the energy to the stratosphere. Steely Dan fans had lots to celebrate as Donald Fagen presented the crowd-pleasing "Hey Nineteen" (with McDonald's backing vocals reminiscent of the Gaucho album) and the rocking rollicking blast of "Reeling in the Years". Boz Scaggs has a smoldering hold on Teddy Pendergrass's "Love T.K.O.", and the crowd got loud and loved every minute of the dirty "Lowdown".
The heavy-hitting encore kept the party going, starting with Steely Dan's groovin' machine "Peg", and then taking a delicious jazzy breather with "Pretzel Logic". A funky surprise was sprung on us as The Dukes delved into Sly & The Family Stone's "Thank You Falletinme Be Mice Elf Agin", and then launched into Buddy Miles' "Them Changes". The band then reprised "Drive Your Funky Soul" while The Dukes bade us farewell and took a well-deserved bow. What a superb musical extravaganza! The Dukes of September Rhythm Review delivers satisfaction on every level; the band is tight, and McDonald, Fagen, and Scaggs promise a performance that will always be fondly remembered.
Review by Rosemary A.W. Roberts
Photos by Clayton Roberts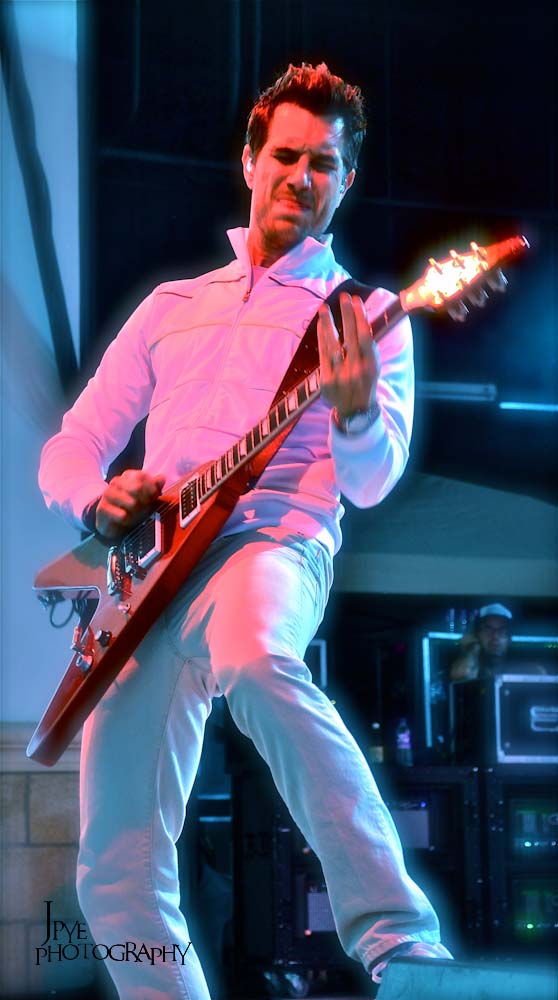 Unity Tour 2012 – 311, Slightly Stoopid, The Aggrolites – The Amphitheatre, St.Augustine, FL -- 7/18/2012
The summer is not over yet my friends, and the Unity Tour 2012 is here to prove it. The line-up consists of a well-rounded gang of surfer misfits including The Aggrolites, Slightly Stoopid, and 311. These bands will be touring around the southeast, soaking in sun, and taking advantage of many beautiful amphitheatres during the Unity Tour.
On Wednesday, July 18th, the Unity Tour stopped in historic St Augustine and provided yet another night to remember. Expectations were low as it seemed it was going to be another rainy evening at the Amphitheatre. Two years ago, with Snoop Dogg, Slightly Stoopid packed out the venue with a sold out show, and rain poured on us all evening. Fortunately the venue is built to protect most from the random rainfall. We Floridians are accustomed to rainfall in randomly assorted intervals, so the ever apparent storm did not stop us from a drive to the beach.
As if God was attending Himself and assuring His own comfort, the weather drastically changed from the moment we arrived. The night was still early and the sunset provided a terrific atmosphere for the opening act, with not a cloud in sight. Breaking the ice for the Unity Tour was The Aggrolites, providing a surprisingly pleasant set. Not surprising because of talent, but surprising in a familiar sense as I was previously unaware of the band. They were well matched with the corresponding headliners as they provided a punk/ska vibe that meshed well with the beach going crowd and started planting the fans in the venue. Since I was unfamiliar with their track listing, I got a little confused with what tracks were original and which were covered. As with most up and coming bands, this is not uncommon and they still had that "local bar setlist" feel about them. I personally love bands in this phase as you get to hear an eclectic array of transitions in and out of original and cover songs, even genres. The Aggrolites displayed similar qualities as I was comforted with an interesting cover of Sublime's "My Ruca", an old favorite of mine with an unmistakable bassline. Their set was short and sweet as the crowd was now in full attendance for the two headlining acts to follow.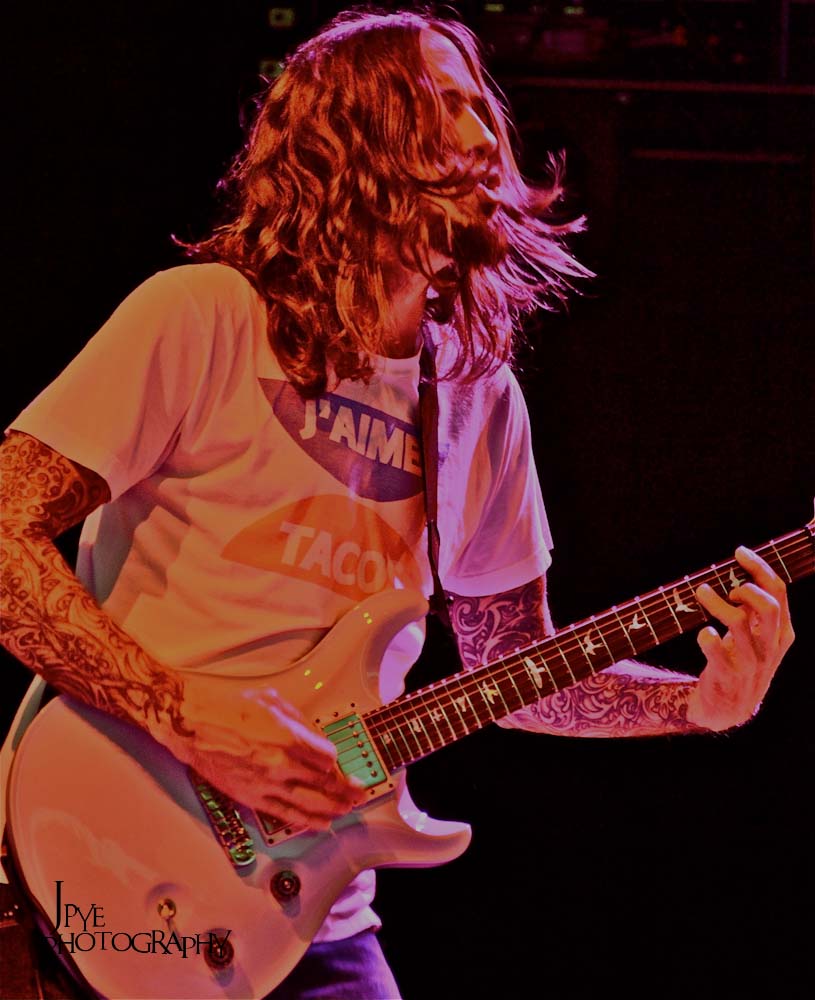 In mid rotation comes Slightly Stoopid with their heavily distorted bar chord jams and still boyish lyrics. They were accompanied by their traditional bandmates on the three piece horn, adding a crisp ska flavor to the fast paced riffs. I have seen them on a few occasions and they have proved to be one of the most stage-worthy bands I have ever seen. They may have a more than direct persona, appealing to their ever growing following; but for those wanting to step out of their genre inflicted musical comfort zone, this is one of those bands to consider. The setlist was extensive for the short amount of time they had, roughly an hour or so, but filled with the pop favorites including "2am" and "Closer to the Sun". I am a fan of the popular song and this time they surprised with a special treat; Karl Denson sitting in for a killer saxophone solo! They also broke out a newer, well-liked tune "Ska Diddy", which proves they are still creating and developing new material as strong as their old stuff. They joyfully played several songs with lyrical content fitting with the young, party ready audience. The mischievous lyrics of "Baby I Like It" made me laugh a little in a retrospective manner. If they were not as talented as they are, this band could make a fortune touring the college Greek circuit. Although short as well, the Slightly Stoopid set did not disappoint and will still be commended as one of the amusingly entertaining shows in the live music industry today.
I can remember skateboarding at the beach when I was in middle school listening to the all-new hits from this strange sounding band from Omaha. They have had a unique style from the beginning, with the day and night vocal duos of Sa Martinez and Nick Hexum.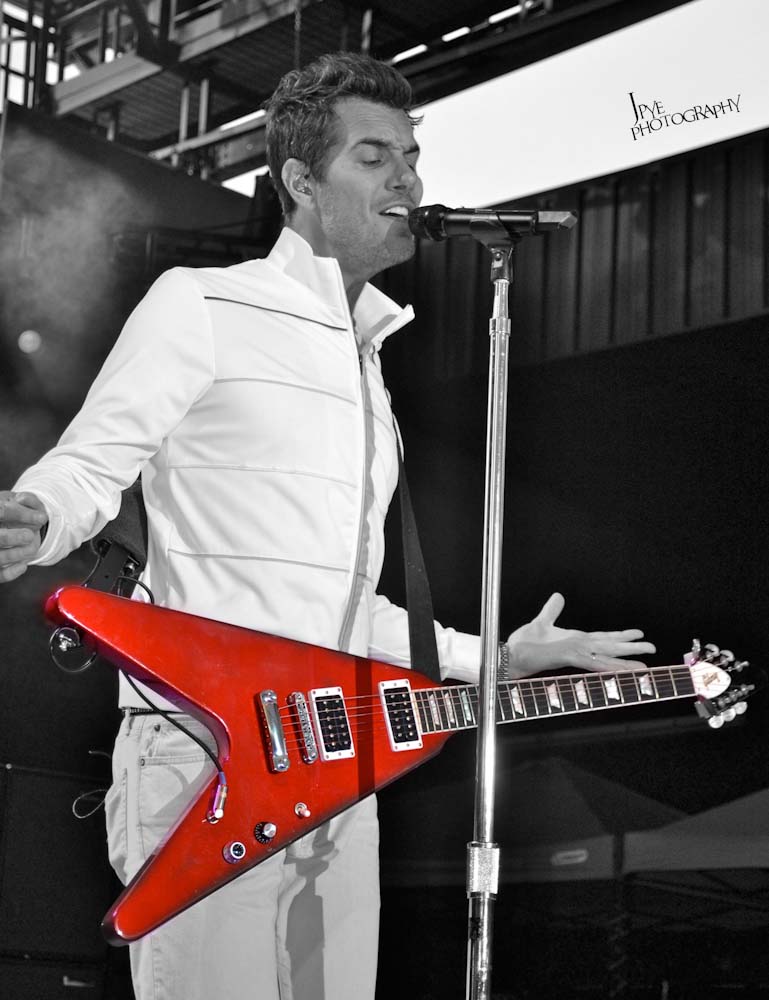 Between them and Weezer, it's a tight run for the winner of "the oh's and the ah's". The accelerated rapping of Sa and Nick's harmoniously lingering Oh's and Ah's provide a symbiotic forefront for an over the top grunge sesh with lead guitarist Tim Mahoney. He plays the traditional distorted sounds familiar with this genre of music, but adds a well-placed Wah-Wah pedal into most songs. All this combined with the Flea-like personality and goofy, yet smashing bass bombs of P-Nut and the extremely talented drumming of Chad Sexton; and you end up with a class and style of music that is unrivaled.
They haven't lost a step delivering past and presently-future hits. The band was performing the night before the release of their debut album Uplifter with all too many appropriations for coincidence. The song lyrics, track titles, venue selection, tour geographic, and many other conditions make it a grand slam for a great evening and a perfect tour to release their new album. They played some new songs, appropriately congruent, such as "Sunset in July" and "Never Ending Summer" that painted an accurate portrait for the entire evening. It is very apparent these "on the surface" coincidental, atmospheric variables are not a gift from the heavens, but truly a well-executed marketing campaign to promote the soul of the Uplifter album. They did not leave the jaded vets out either, laying down "Beautiful Disaster" for the opener and closing with their first hit, "Down", before breaking for encore. In between they mixed it up with "Mix it Up" and "All Mixed up", and covered a wide range of their repertoire. Some were heavy like "Timebomb" and others melodic, "Amber" and "I'll Be Here A While". They even spoke to my personal 311 softspot with "Do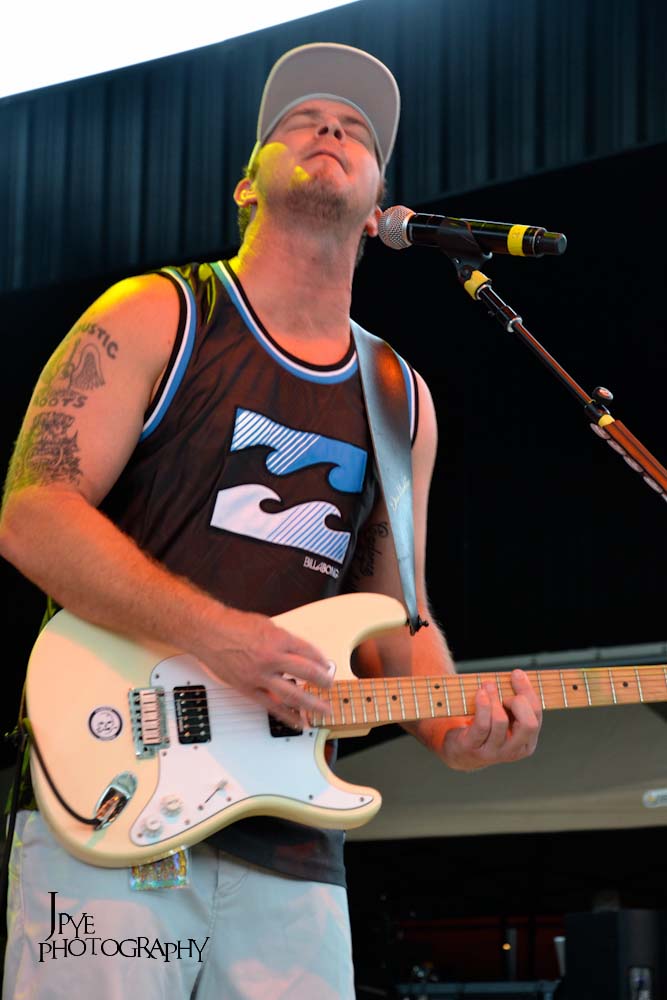 you Right"; and I was even on the verge of shedding a tear of nostalgia when they finished the whole show, encoring with "Creatures (For A While)".
Although my live performance bucket list is not even close to complete, I managed to cross off one of my most wanted shows. They were everything I expected and more. The combination of the three musically symmetrical bands and the "coincidentally" arranged atmospheric variables make this concert a must see whether you are a jaded vet, noobie, or just want to hear good music making the most of the summer season. So get out of the air conditioning and cut loose at the Unity Tour, which will give you a taste of the endless summer.
Review and Photos by: Joey Pye
Edited by: Rosemary A.W. Roberts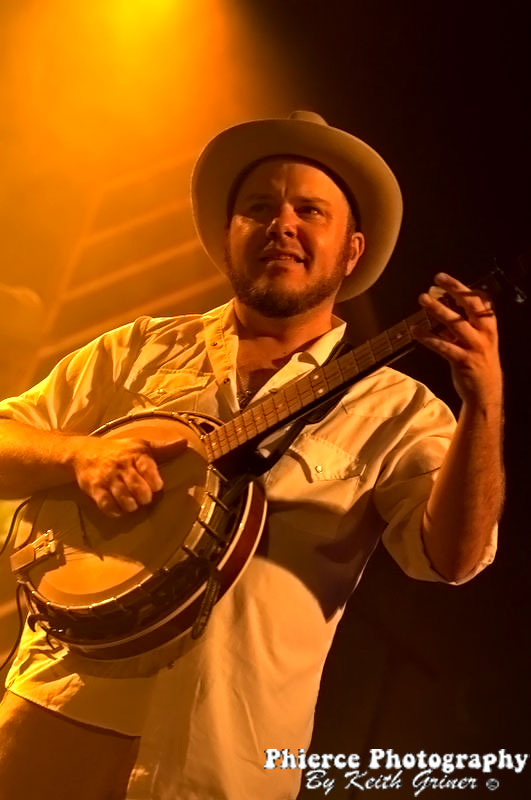 Old Crow Medicine Show – The Egyptian Room, Old National Center -- Indianapolis, IN – 07/19/2012
Old Crow Medicine Show heated up Indianapolis' Egyptian Room at the Old National Center (Murat Center) on Thursday July 19, 2012. The record-high temperatures and humidity of the day followed hundreds of plaid-clad young hipsters into the venue for a night of grass roots rock and roll. The heat didn't slow down the Nashville-based string ensemble from kicking off its national tour with high energy right on the back of its July 17th release of its seventh full length album, Carry Me Back.
When Old Crow Medicine Show (O.C.M.S.) hit the stage, they were met by the high energy of a Hoosier crowd ready for foot-stamping good American roots rock. "It's going to be a good time in Naptown tonight," O.C.M.S.'s Keith Secor shouted to the crowd. The amped crowd matched the band's energy right from the second song "Alabama High Test." Secor switched from his fiddle to harmonica and right into twangy vocals without missing a beat.
While Secor seemed to lead the band, not one of the six band members took a solo on stage, which is typical of old-time music. They each played heavy and steady throughout the whole show. Guitarist and banjo player Critter Fuqua (what a honky-tonkalicious name?!) took his turns at lead vocal, as did slide guitar and banjo player Gill Landry and guitjo player Kevin Hayes. New band member Chance McCoy showcased his versatility with the banjo, fiddle and vocals throughout the night.
All vocals found sweet harmony in the chorus of a slower tune, "Caroline." Secor called it a dance number and sure enough the crowd swayed together, singing along. Behind the dense crowd that nearly filled the Egyptian Room, couples could be found moving around the floor with dances of a southern dance hall. "We love them," said a grinning 40-year-old woman middle school teacher from South Bend. "They're down to earth and pure and make us happy," she said referring to her husband of 19 years.
The high energy only built as the group jammed, moving around the stage, jumping from risers, all the while stringing their respective instruments through "Bootlegger's Boy." Each tune was followed by hoots and hollers from the fully engaged crowd. "We're just getting warmed up," Secor teased as he wiped sweat from his face with a towel and then tossed the sweat-drenched towel into the crowd. He went on to tell the audience that he and the rest of his band mates visited the Indiana War Memorial earlier that day. It was the perfect segue into "Levi," honoring a fallen veteran. The beautiful storytelling tone of the tune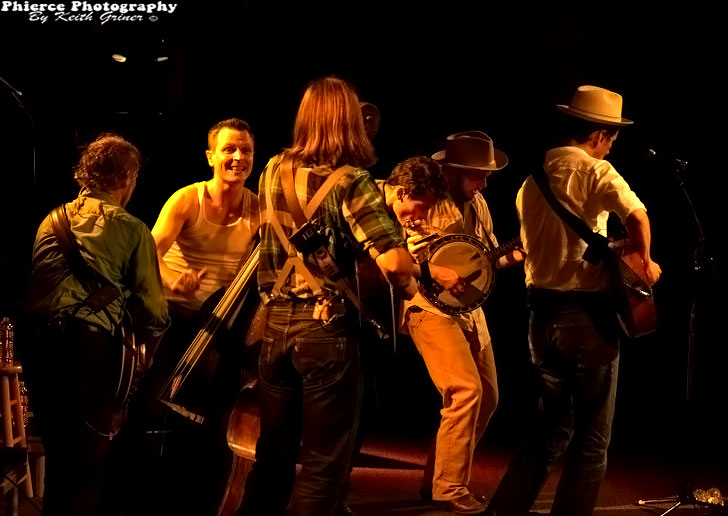 was wrapped up in touching twangs of the strings.
The energy picked back up with "Mississippi Saturday Night" and "Mary's Kitchen." It was hot, hot, hot in the Egyptian Room and Secor said they were "serving it up hot and greasy in the Circle City tonight." Throughout the show Secor engaged the crowd with Hoosier talk, asking questions like, "Who came down from Goshen on buggy? We've been playing the Hoosier State for over a decade and this is the most people we've seen at any Indiana show." Secor demonstrated his ability to keep an audience's attention by personalizing the show for the people of Indiana—quite impressively in fact.
"Methamphetamine" brought an eerie vibe with wicked fiddling and lyrics. It was a "nasty little tune" as Secor described it. It was followed by Landry-written "Genevieve," a slower, sweet number. Secor introduced and offered a big welcome to band newcomer, McCoy. "I am digging it," McCoy said of his third gig with O.C.M.S. The strings engineer kept busy switching up the guys' instruments through "Take 'em Away" and "Sewanee Mountain Catfight," a track off the new album.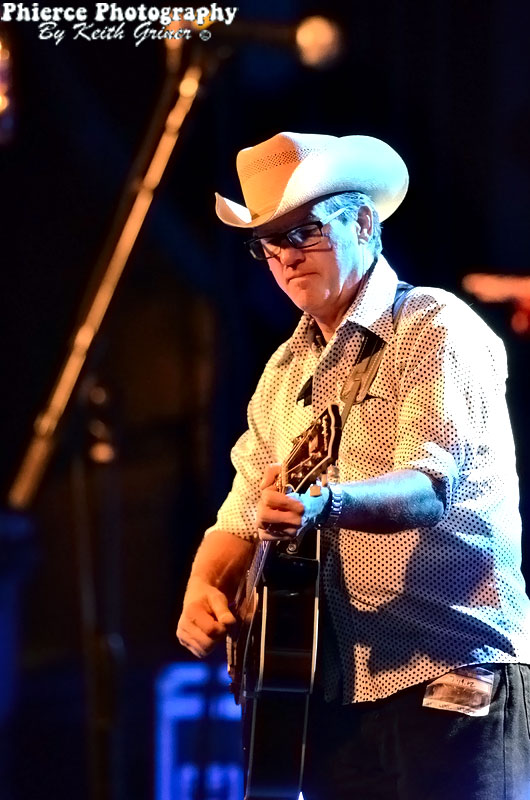 The show was mixed with older favorites and several newer tunes. "Ain't It Enough" kept the crowd moving only to be followed up with the obvious crowd favorite, "Wagon Wheel." The middle school teacher busted her flip flop dancing to the tune, as did the guy next to her. O.C.M.S. wrapped up the set with "Cocaine Habit."
Opening act Chuck Mead & His Grassy Knoll Boys joined the O.C.M.S. gang for a five-song encore including covers of Woody Guthrie's "This Land is Your Land" and The Band's "The Night They Drove Old Dixie Down." The energy of the gritty folk group filled the night with raw picking on the strings for a stellar first show of the tour. "God bless our little record as she goes out in the ether," Secor said. "And may she make people feel good, just like good music should." Judging by the busted flip flops, constant dancing and sing-a-longs, it's safe to say the music of O.C.M.S. made the fans of the Indy show feel pretty darn good.
Writen by: Meghan Barich
Edited by: Rosemary A.W. Roberts
Photos by: Keith Griner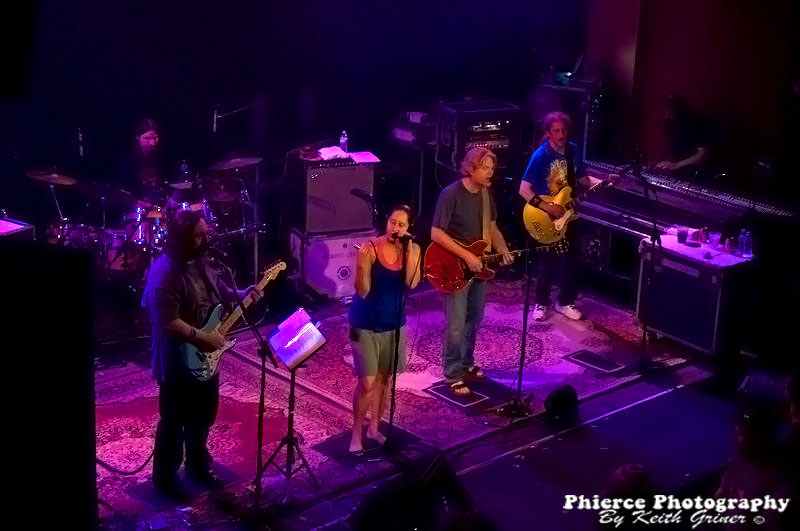 Dark Star Orchestra ~ Vogue Theatre ~ Indianapolis, IN ~ 07/10/2012
On July 10th, 2012 hundreds of fans flocked to Indianapolis to beat the heat inside the Vogue Theatre and enjoy the sounds of the Dark Star Orchestra. Though a Grateful Dead cover band, this tight knit group has its own following of dedicated fans who are eager to converse and meet with others who share their passion. Upon arrival, I quickly met many friendly folks who shared stories, setlists, and laughter. Known for playing their own version of a past Dead show, everyone was swapping ideas as to what show the group would choose for that evening.
The Vogue came alive with energy when the band promptly took the stage at 8:15pm. Rhythm guitarist Rob Eaton stepped to the mic and dedicated the show to their crew because the truck had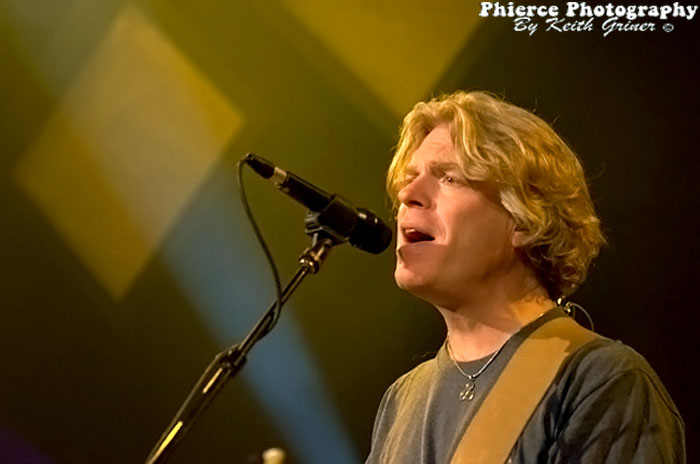 broken down on their way to Indianapolis. After the crowd applauded, the band quickly went into a mellow version of "The Greatest Story Ever Told". Several fans were surprised at the early tunes they heard like "Chinatown Shuffle" and "Two Souls in Communion", songs written in the 1970s by late Grateful Dead member Ron "Pigpen" McKernan. The band ended their first set with crowd pleasing favorites like "Jack Straw", "Box of Rain", and "One More Saturday Night". The new smoke-free policy at the Vogue was a delightful surprise that sent the crowd outside during setbreak to excitedly mingle and infer about the upcoming second set. A small-scale vendor sold handmade necklaces on the pavement and others were passing out flyers for forthcoming festivals and events. These kinds of lot-style activities make up the unique atmosphere that is a DSO show, which can sometimes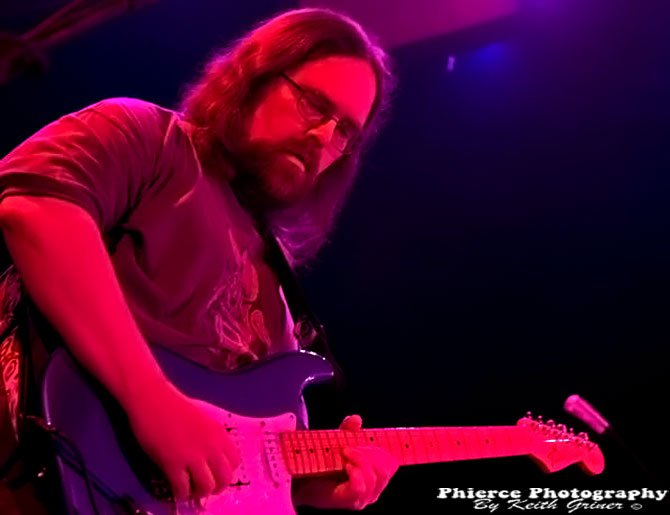 be absent from shows inside the city. I was very pleased to see that so many fans were dedicated to keeping this specific experience alive, despite the venue.
As fans checked their watches, they noticed it was time to re-enter the venue and await the second set. Right on time, the band took the stage again and began playing "Here Comes Sunshine" right into "Good Lovin'". This Young Rascals cover really got the crowd dancing and suddenly the Vogue began to really fill up with fans. Their next song "You Ain't Woman Enough" featured an excellent vocal solo by Lisa Mackey, who fills the role of Grateful Dead vocalist Donna Godchaux. Suddenly I caught a glimpse of a friend who had been standing outside during setbreak looking for a ticket. He was "miracled" inside for the second set, meaning another fan gave him their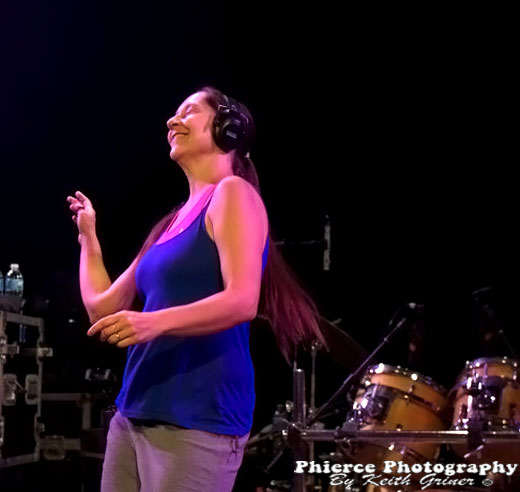 extra ticket for free! This kind of generosity is also part of the Dark Star Orchestra and Grateful Dead experience. Without it, the scene just wouldn't be the same. If the crowd seemed excited before, they certainly became animated when they heard the iconic first few notes of "Dark Star", the fan-favorite song after which the band was named. They began the first few minutes of the song before they changed paces and dove into "Sittin' On Top of the World" instead. The crowd absolutely went wild for this teaser. They reprised "Dark Star" and finished out the tune before they went into another crowd fan-favorite, "Uncle John's Band". Afterwards, the band transitioned into an energetic version of "Goin' Down the Road Feeling Bad". Anyone left sitting had certainly moved to their feet by the chorus of this song.
It was a great ending to an excellent evening of music and everyone cheered for just one more song. The band obliged and dedicated their last song to the crew once again. They chose "I Second That Emotion" as their encore and it perfectly tied the night together. Afterwards, the crowd awaited the announcement of the date of the Grateful Dead show which they had just played, but were pleased to realize that the band had chosen a unique, original set just for their hard working crew, a rare occurrence that made this show one to remember.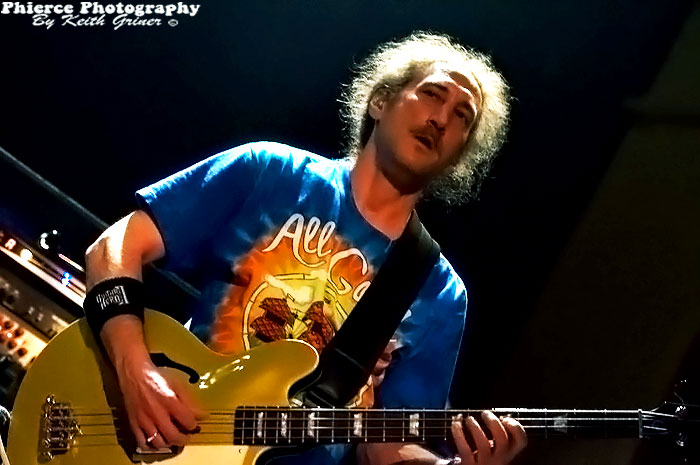 Set One: Greatest Story Ever Told ; Dire Wolf ; Chinatown Shuffle ; Me And Bobby McGee ; Rockin' Pneumonia and Boogie Woogie Flu ; Ain't It Crazy (The Rub) ; Jack Straw > Black Peter ; Me And My Uncle ; Box Of Rain ; Bird Song ; One More Saturday Night

Set Two: Here Comes Sunshine > Good Lovin' > You Ain't Woman Enough ; Truckin' ; Dark Star > Sittin' On Top Of The World > Dark Star > Uncle John's Band > The Stranger (Two Souls in Communion) > Goin' Down The Road Feeling Bad
Review by: Megan Maudlin
Photos by: Keith Griner
Edited by: Rosemary A.W. Roberts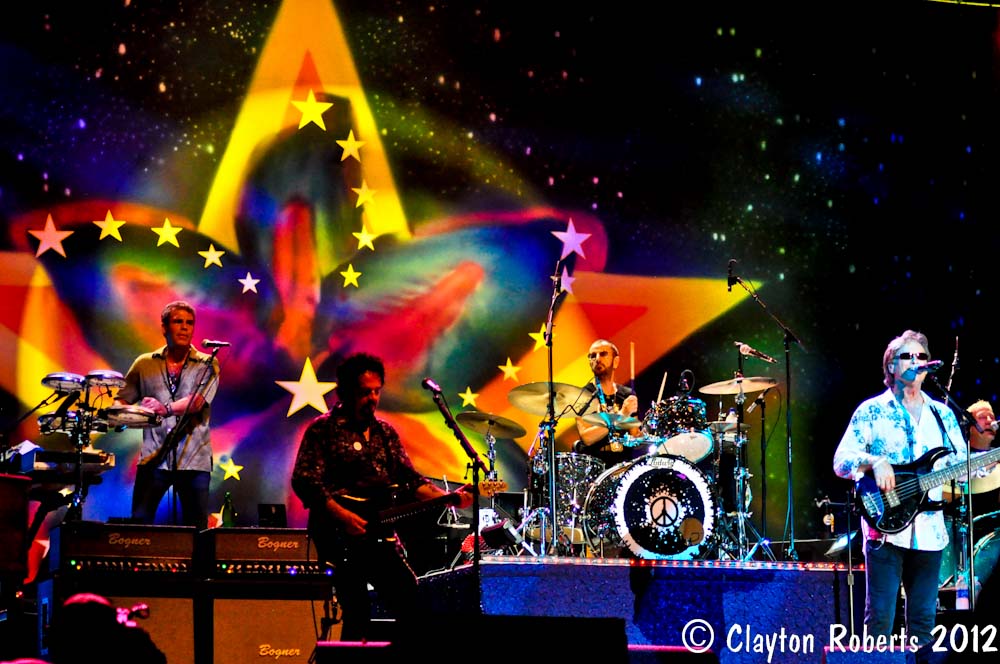 Ringo Starr & His All-Starr Band ~ The Wharf Amphitheatre ~ Orange Beach, AL ~ 07/04/2012
On this Fourth of July, our spirits were high as we made our way to our favorite nearby outdoor venue, The Wharf Amphitheatre. Perhaps not the most typical Independence Day entertainment awaited us, as we were about to see one of the foremost rockstar(r)s of Great Britain, the drummer for The Beatles, Ringo Starr! He brought with him his All-Starr Band which included Steve Lukather (Toto; guitar), Gregg Rolie (Santana, Journey; organ), Richard Page (Mr. Mister; bass), Todd Rundgren (guitar), Mark Rivera (saxophone), and Gregg Bissonette (drums). The eager crowd was in for quite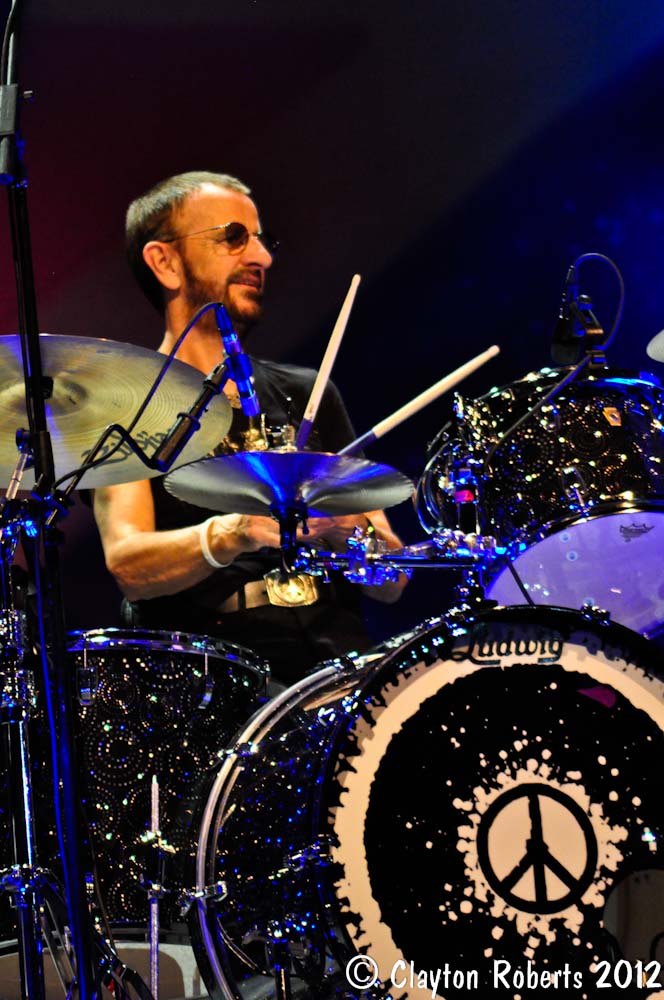 a treat, as Ringo and His All-Starr's took the stage amidst loud cheers, positioning themselves before a beautifully designed cosmic-colorful backdrop. Ringo took center stage and welcomed us to the show, looking lively and ready to rock.
Ringo Starr is a joy-filled performer, spreading his energy through the entire crowd whether he's up front singing (and dancing!), or commanding the rhythm on his drums. They opened with the fun rockabilly "Matchbox", and then played one of Ringo's best-known songs "It Don't Come Easy", much to the delight of the audience. From the January-released album Ringo 2012, we heard "Wings", a nice mid-tempo rocker with some sweet guitar work from Steve Lukather; and also "Anthem", which hearkens back with a touch of psychedelia, and a purpose for Peace and Love. The multitalented musician played the first song he wrote, "Don't Pass Me By", and also a song written for him by John Lennon called "I'm The Greatest".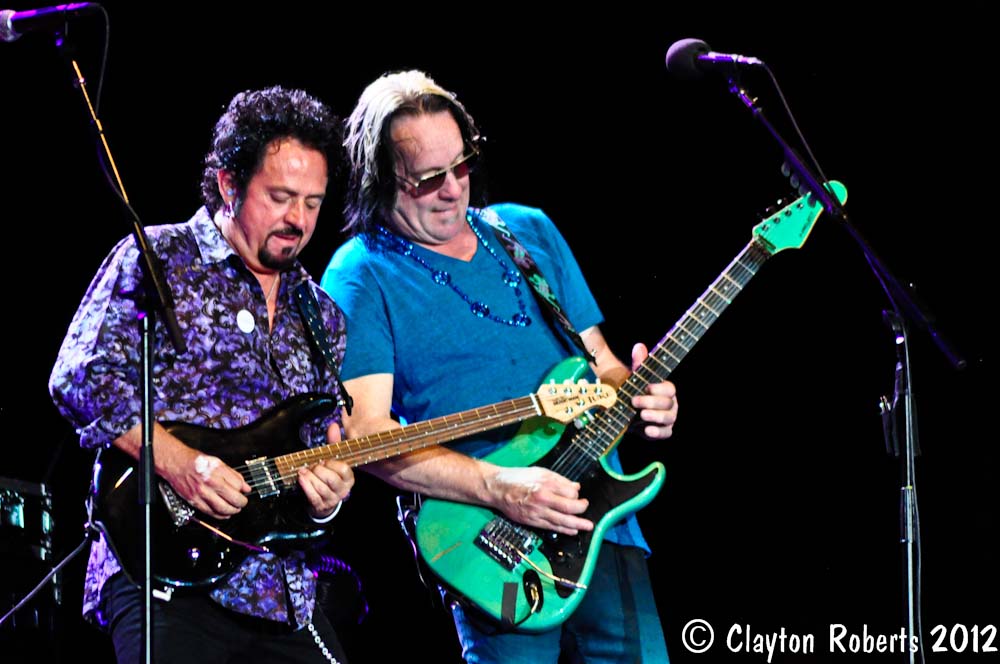 Now, with this caliber of All-Starr Band, we expected excellence, and the entire band definitely delivered. What I did not expect was the chance to hear some of my all-time favorite songs performed live! Todd Rundgren was up to bat first, and the opening notes to "I Saw The Light" coaxed a sigh of delight; he would later trade his guitar for drumsticks near the front of the stage for "Bang The Drum All Day", and we sang and banged along; his iconic and lovely "Love Is the Answer" arrived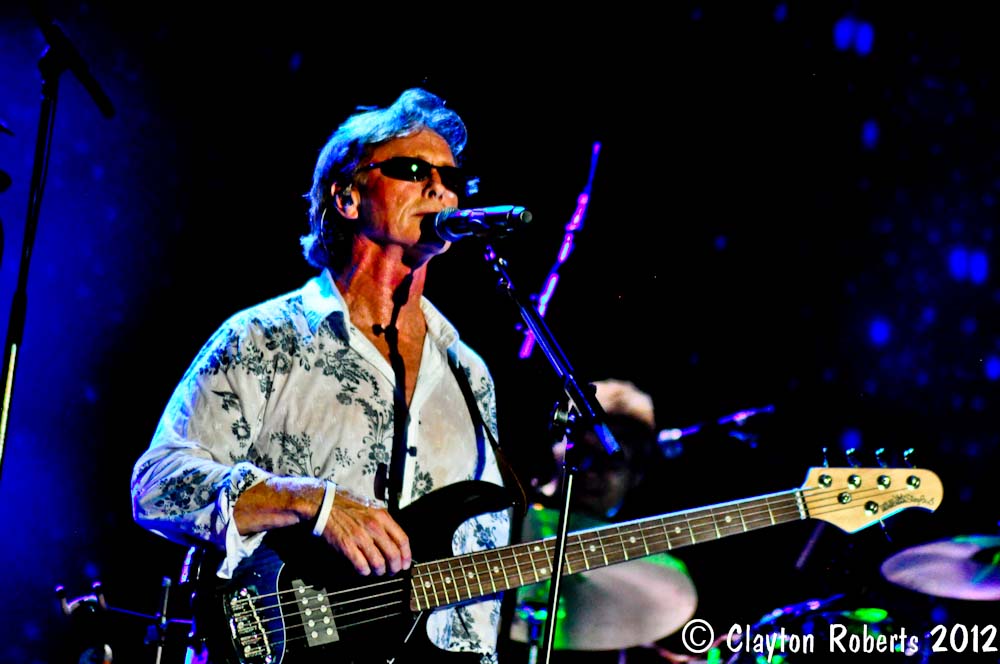 as a surprise near the end of the show. Gregg Rolie brought expert depth on his Hammond B3 organ, and brought some Santana classics to the party, including "Everybody's Everything", and "Black Magic Woman". The lead work Rolie delivered on "Evil Ways" was spectacular, and got the crowd in a groovin' mood.
Growing up as I did in the 1980s, many of the songs Steve Lukather delivered gave me a youthful sensation. "Rosanna" featured some great sax work from Mark Rivera, and also ended with a multi-textured jam that found the whole band interacting and working well together. The hard rocking "Hold The Line" provided high energy. Hearing "Africa" was a true pleasure, a favorite of mine still to this day! Continuing my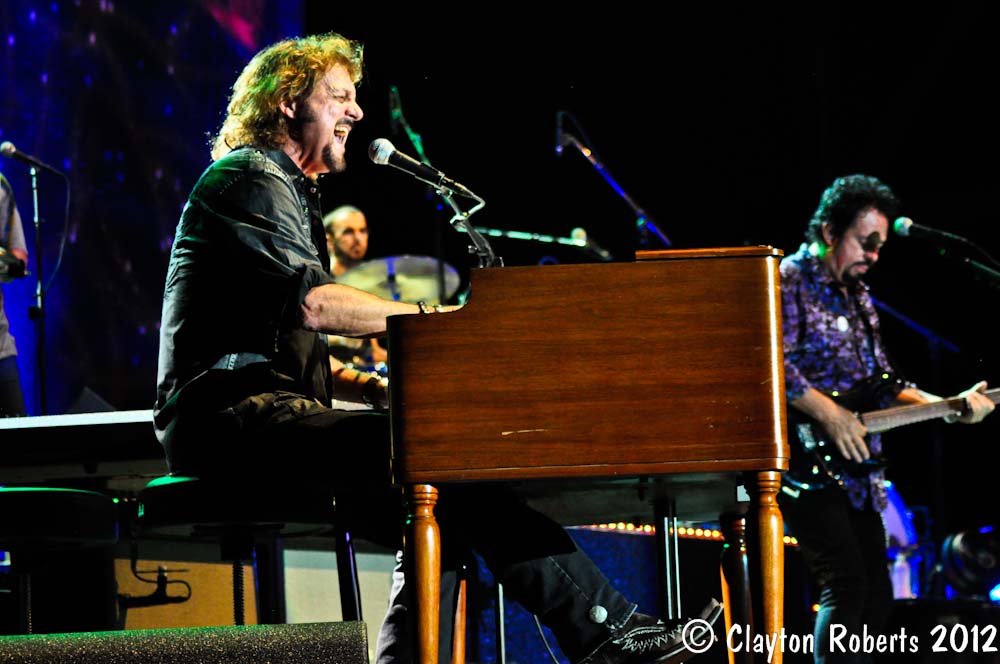 nostalgia, Richard Page took the lead for the Mr. Mister classics "Kyrie" and "Broken Wings"; his voice sounds every bit as awesome now as it ever did, it was such a treat to hear him! Richard also played one of his new songs, a chill acoustic guitar piece with a Nashville flavor called "You Are Mine", and it was lovely.
The audience assembled in Orange Beach on this evening was definitely full of fans of The Beatles, and we all were thrilled to see Ringo Starr and his band perform a fun selection of classics. We set sail on the "Yellow Submarine", with the crowd happily sang along. Ringo said they would play a song "for the ladies", so they proceeded to rock out with "I Wanna Be Your Man". To finish out a wonderful evening of music, we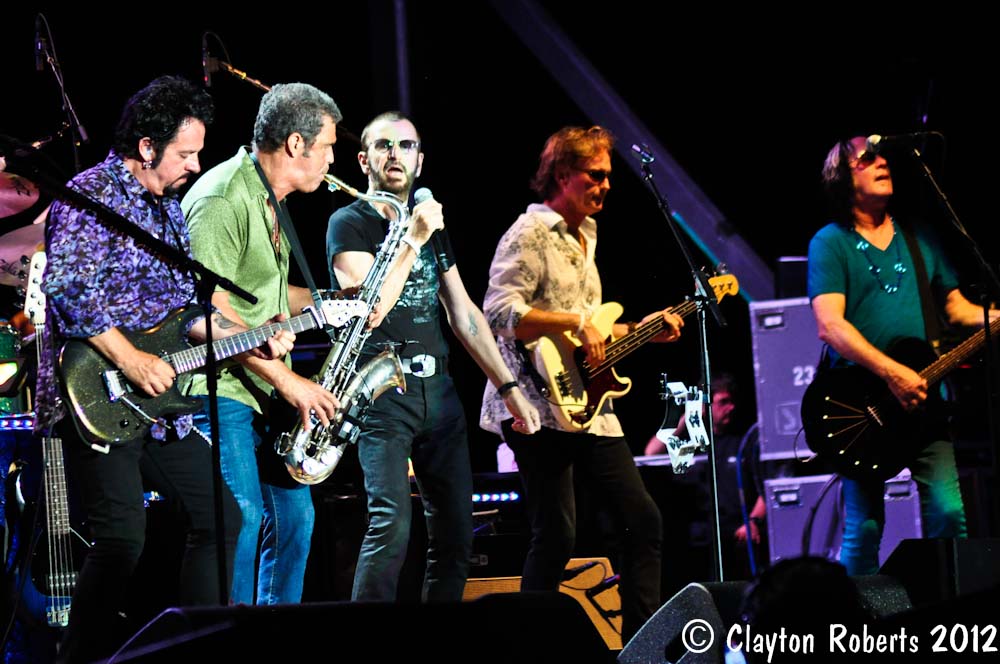 were blessed to hear "Help From My Friends"; and with the help of Ringo Starr and his All-Starr Band, my family and I had a terrific Fourth of July! An amazing fireworks display then ensued, with patriotic tunes celebrating the holiday, and massive bursts of color and light screaming across the sky. As we left the amphitheatre, the essence of Peace and Love could be felt all around; our thanks to Ringo Starr, the All-Starr Band, and The Wharf for a magical evening!
Review by: Rosemary A.W. Roberts
Photos by: Clayton Roberts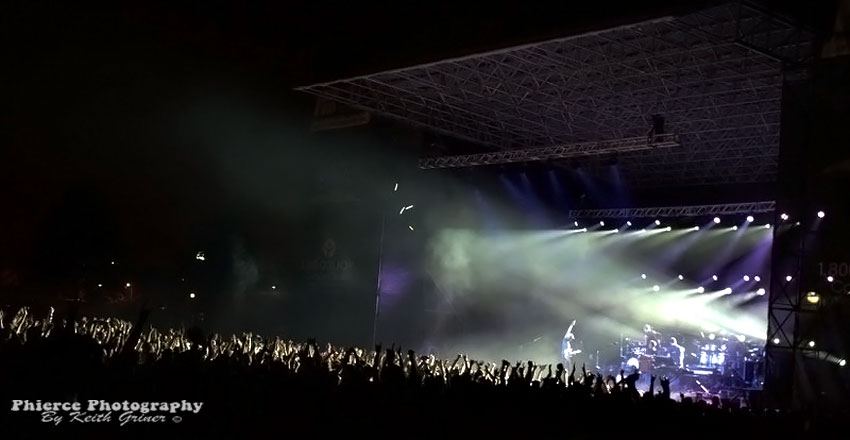 Umphrey's McGee ~ The Lawn at White River State Park ~ Indianapolis, IN ~ July 7, 2012
The timing was on, the riffs were strong, and the lighting effects didn't miss a beat as Umphrey's McGee showed up to play for the fans in their home state of Indiana. It was hot, and I mean HOT, but that didn't stop the fans from coming out for the party. The opening act, G. Love really set the mood, starting off with their hit "Cold Beverages" and including a Beastie Boys cover in honor of Adam Yauch who died earlier this year.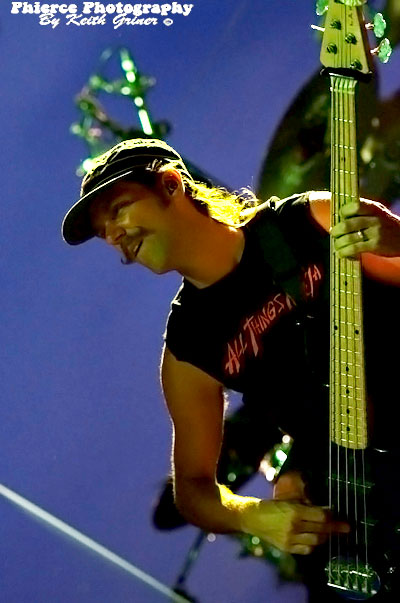 Despite the heat, the atmosphere was amazing. There was an excitement that filled the air as friends were reunited to catch another brilliant show. Umphrey's took the stage just before sunset, opening with "Gurgle" seguing into "Ringo" which really got the crowd moving. Though there was nothing particularly memorable about "Red Tape" or "The Linear", the guys brought it with all they had during "Day Nurse" which seemed to ignite one huge dance party.
The dance party didn't stop there as the guys moved into some newer songs off their album "Death by Stereo". They played a funky "Loose Ends" which already seems to be a favorite, and closed the set with "Puppet String" which started off a little slow but picked up just before the end of the set to remind everyone why we are glad these guys still come out with new music.
During intermission it was obvious that people were happy with the first set overall, but excited to see what was going to come after the sun had set. The guys took the stage and came out strong, opening the second set with "There's No Crying in Mexico" > "Hangover". If there were any skeptics in the crowd, this combination surely changed their minds. Let's just say it was Saturday night, and the crowd broke out the booty wax as it immersed itself in the music. It seemed like nearly everyone was singing and dancing along.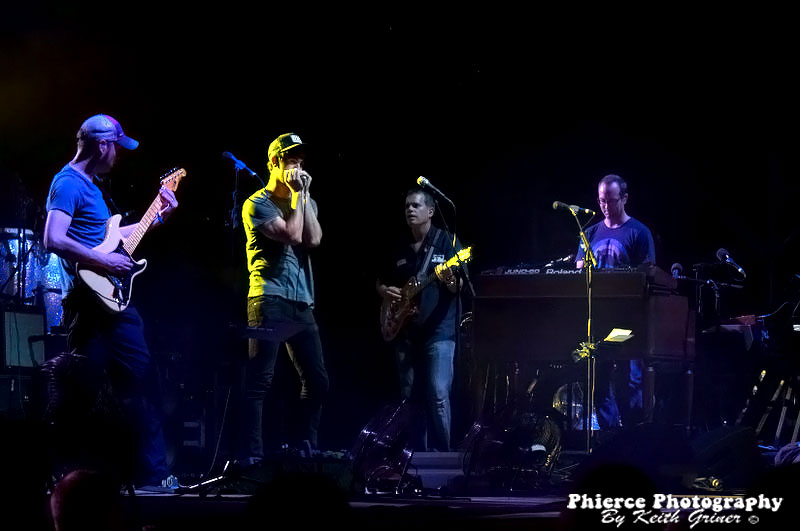 Then came a very special treat as G. Love took the stage on harmonica to play the next tune, a lovely little ditty by Led Zeppelin "When the Levee Breaks". Not only was the harmonica a nice touch, but it was the first time the band had covered this particular song and I must say, nice choice! The guys kept the momentum up as they moved into "1348", then into the commonly played Motely Crue cover "Dr. Feelgood" which really allows the band to tap into their metal- progressive rock side.
Umphrey's smoothly transitioned into "Much Obliged", sending the crowd into a wild frenzy with the tightness to which they played this classic favorite. The guys closed the set with "Crucial Taunt' into "Dear Lord" and picked up where they left off in "1348" to end the second set. The encore was another Umph's staple, "Miss Tinkle's Overture," with its pseudo-classical mocking crashing up against fiery machine-gun rhythms and a jam lead bassist, Ryan Stasik.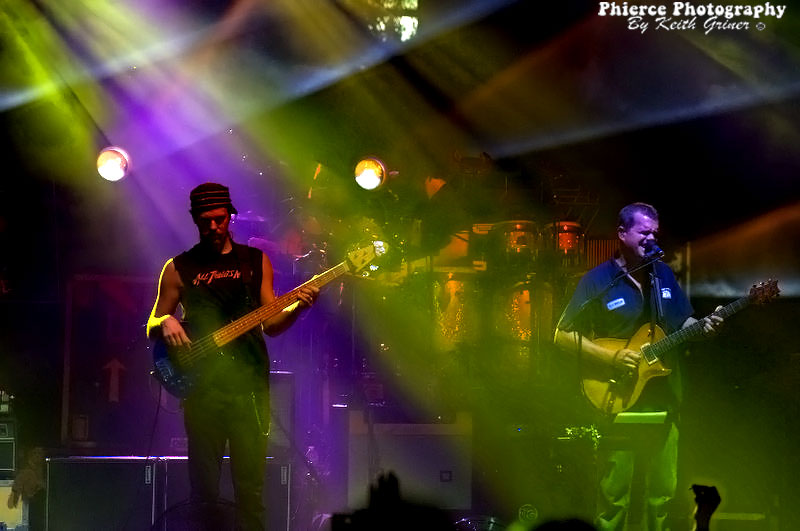 One thing is for certain: Umphrey's always gives it 100% on the stage, whatever the outcome. Between their seamless transitions, super-human rhythmic endurance and ability to weave so many extraordinarily autonomous sounds into one pure adrenaline pumping show, Umphrey's continues their stroke of genius.
For more photos CLICK HERE!
Review by: Kelly Burns
Photos by: Keith Griner
Edited by: Rosemary A.W. Roberts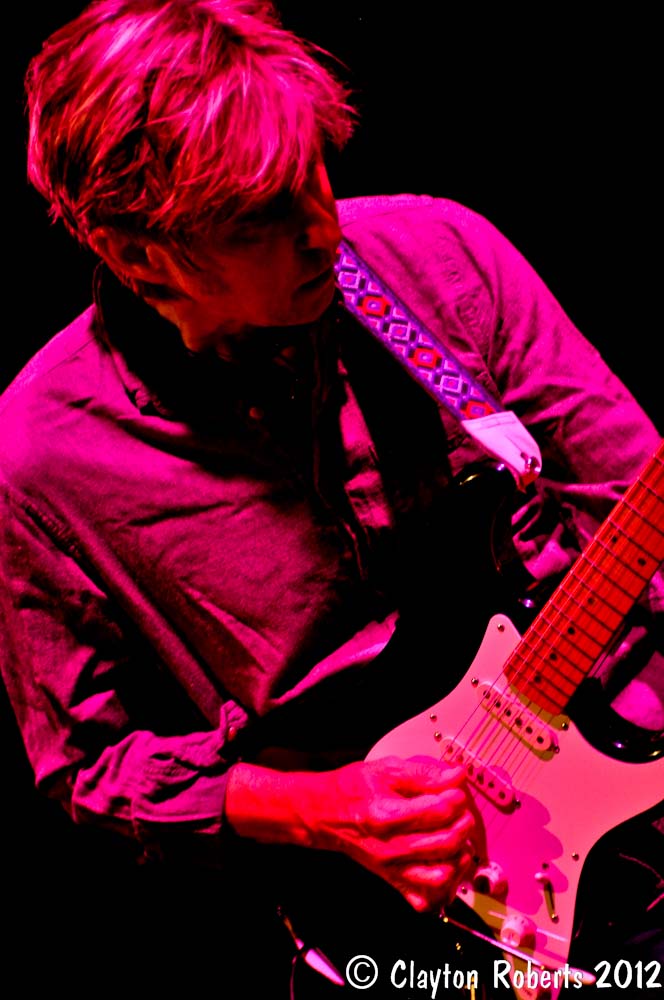 Eric Johnson ~ Vinyl Music Hall ~ Pensacola, FL ~ 06/26/2012
I remember being in high school and hearing an amazing instrumental song on the radio with guitar work that caught my ear, demanding that I listen. It was Eric Johnson, the song was "Cliffs of Dover", and I immediately made note to pay attention to this virtuoso. With many additional years of listening experience under my belt, I was more than thrilled to hear that Eric Johnson would be appearing at Vinyl Music Hall in Pensacola, FL; and as a bonus, that it was the tour opener! Vinyl has become one of my favorite venues due to its wrap-around stage access and its intimate atmosphere. The 450-person venue was packed for Eric Johnson, and the crowd was jubilant, clearly excited for this rare chance to see this guitar master in such close quarters.
At 9pm, Eric Johnson commandingly took the stage, accompanied by bassist Chris Maresh and drummer Wayne Salzmann. A frenzy of flying fingers began right out of the chute, with the instrumental "Fat Daddy", and would continue throughout the evening. It is hard to convey through words how amazing it is to watch Eric Johnson play guitar; his speed, intricacy, and fluidity are simply incredible. He began the evening with a black and white Fender Stratocaster, and constantly coaxed magic from its strings. There were songs like "Friends", "Gem", and "Soundtrack Life" laden with a nostalgic beauty and gorgeous chords. There were songs like "High Landrons" that brought into focus the hard rocking side of Eric's guitar. During "Manhattan" there was even an interlude of slide guitar, so it was clear that Eric was bringing all of his tools to the table, and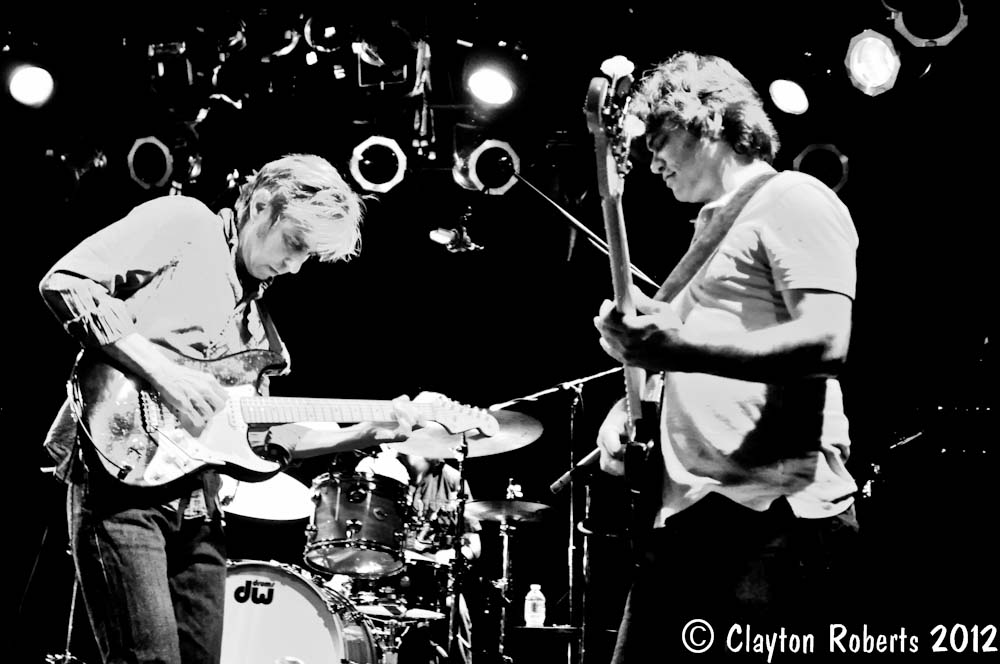 crafting a richly textured set of music. About mid-set, when he announced they were going to do Jimi Hendrix's "Power to Love", I thought I might explode with joy. In April of this year, I was privileged to see a show from the Experience Hendrix tour, which Eric Johnson was featured in, and I thoroughly enjoyed Johnson's take on Hendrix's songs. As "Power to Love" is one of my all-time favorites, the chance to see it played up-close by this talented guitarist was truly an honor. Not only was Eric's rendition exquisite, but Chris Maresh's bass and Wayne Salzmann's drums were absolutely on point; it was perfection!
Eric Johnson traded in his Fender for a red Gibson SG, and proceeded to unleash some seriously sexy blues in "Last House", including a segment that melted into freeform melodic beauty before sliding back into the deliciously dirty groove.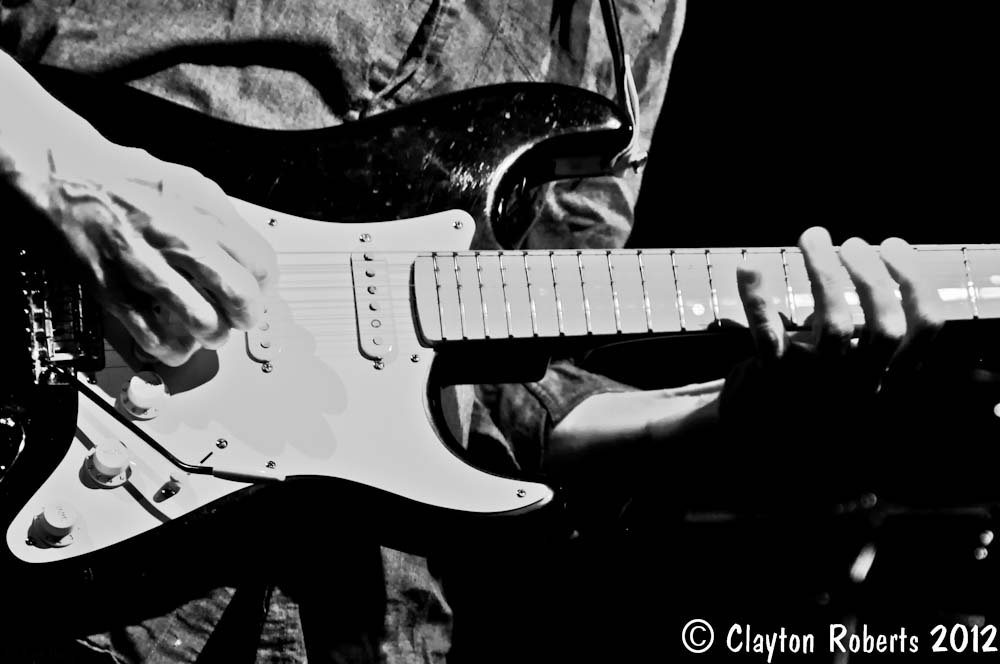 On the heels of the blues came some jazz, with John Coltrane's "Mr. PC" allowing Maresh the chance to deliver some expertly phrased fretwork, and Salzmann some space to demonstrate his percussive mastery. The band really meshes well, with a great onstage interaction and musical conversation.
For the remainder of the show, Eric Johnson wielded a sunburst-finish Fender Stratocaster, delivering soaring tones and lightning-quick rapid-fire flourishes. Songs like "Nothing Can Keep Me From You" and "When the Sun Meets the Sky" featured such angelic beauty, both in Eric's vocals and in his guitar work. As I stood near the front corner of stage left, my jaw was dropped to the floor watching his fingers float effortlessly across every string. An extensive solo found Eric circulating through different effects, changing the guitar's voice repeatedly, before settling into the familiar intro to "Cliffs of Dover", which garnered a huge crowd response. So I got to witness UP CLOSE Eric Johnson playing the song that caught my ear on the radio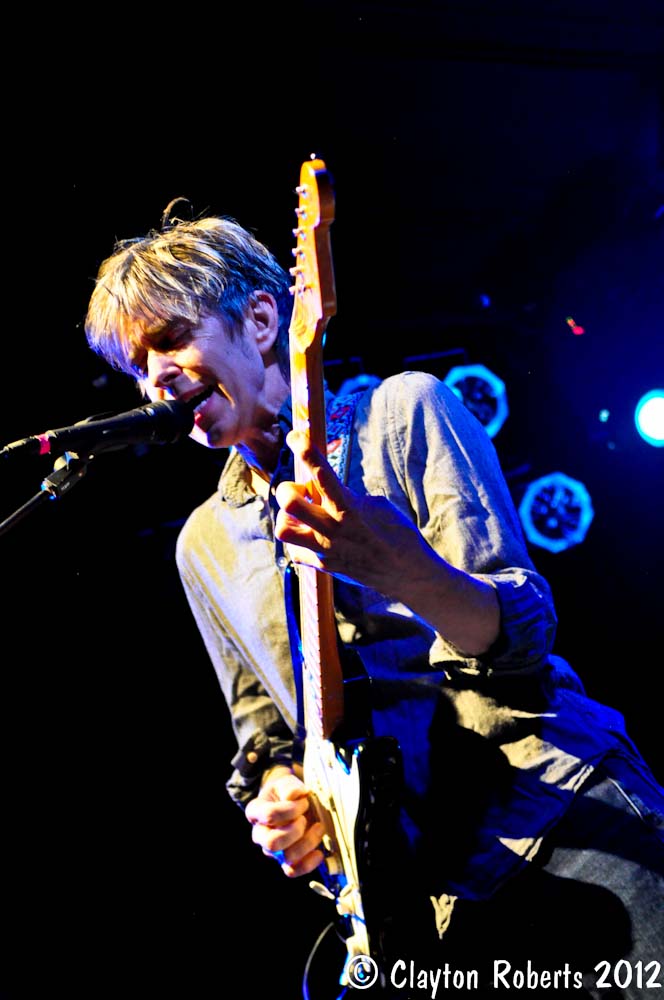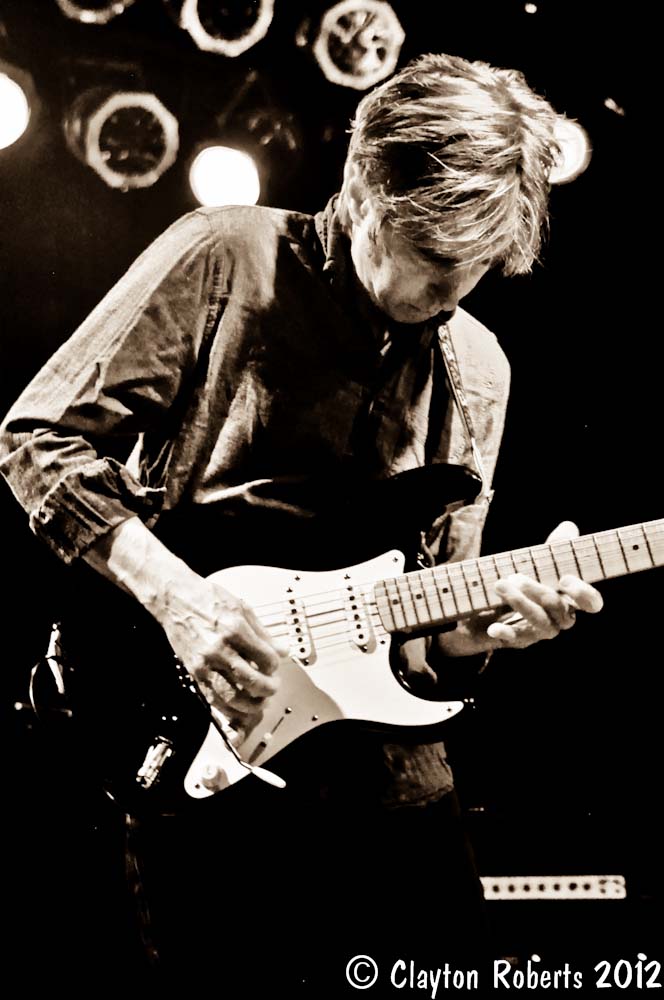 20 years (TWENTY years?!!) ago. Upon leaving the stage, the crowd loudly begged for more, and an amazing encore of "Proud Mary" ended the evening on a very high note. I found this concert to be extremely satisfying in every way, and I think it's safe to say everyone in attendance would agree it was an incredible experience. Although July finds Eric Johnson and his bandmates in Europe, they have some USA west coast tour dates in August, and if you enjoy excellent guitar, this is a show you really need to see!
More Photos HERE!
Review by: Rosemary A.W. Roberts
Photos by: Clayton Roberts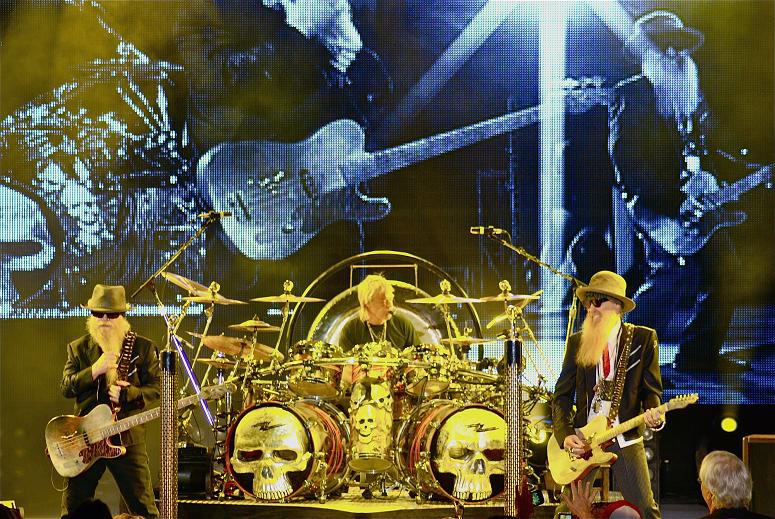 Gang of Outlaws Tour ~ St. Augustine Amphitheatre, Florida ~ 06-08-2012
I knew it was going to be an interesting concert when I received the show call for the "in", a day before the concert, at 8 am. I work with a crew, distributed amongst the local venues in Northeast Florida, with the responsibility of constructing and deconstructing (typically referred to as the "in" and the "out" shifts) the particular stage production duties such as lighting, rigging, loading, carpentry, audio, etc. With a nearing storm forecasted to last throughout the weekend, I woke up and grabbed my copy of "Tres Hombres" by ZZ Top, threw it on the record player and was already excited for the "Gang of Outlaws" tour I will be working with, rain or not. The weather held up on us and I was able to leave that afternoon as the stage was nearing its completion.
The "Gang of Outlaws" tour consists of a nice mix of Gretchen Wilson, Three Doors Down, and ZZ Top. It was now early evening Friday, June 8, and the St. Augustine Amphitheatre was filling up early. With such an eclectic barrage of genres/artists it provided a demographic foundation reminiscent of a music festival. I'm fairly certain I saw a tye-dye rebel flag. The stormy sky had now mercifully gazed upon us with a clear and beautiful smile. The stage production was now complete and I could peacefully immerse myself in the crowd and begin to enjoy my show.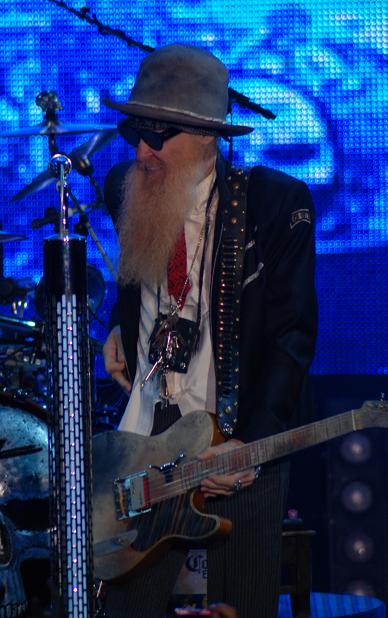 From the first time I heard the line-up, I was very curious how they were going to be able to manage three bands with such a limited amount of time. In any outside amphitheatre setting, the venue has to comply with the city's noise ordinance and curfew policies. The overall operations of the stage, even tour management, are dependent upon a very disciplined and detailed itinerary or agenda. Fortunately for the "Gang of Outlaws" tour, the bands were focused on very talented individuals, and not many members were in need of a large set-up.
The country sensation Gretchen Wilson was the first to hit the stage, bringing her rebellious yet inviting acoustic charm. She was much better than what I had initially envisioned and I was surprised by my satisfaction with her show. She played some of the radio favorites like "Redneck Woman" and "Homewrecker", but really brought such a strong stage presence, it was hard to concern yourself with anything else. She was very animated and confident in her stride, which made her guitar sound like it had an attitude all its own. She gracefully left the stage as the very grateful audience delivered a thundering applause, long enough for the bands to switch over, without skipping a beat.
I was not sure what to expect out of Three Doors Down, as I have never attended any of their live concerts. I have certainly heard their music on the radio and everywhere else, but I was very eager to see how well they perform live. They mixed it up a little different than the first act, turning from country-sass into pop-rock. The songs sounded exactly as they did on the radio, short, but well executed. The setlist was packed initially with songs I was not very familiar with. The opener was "Time of my Life", followed by "Duck and Run" and a few others I had never heard. The sound was on cue, the music was in harmony and the crowd was pumped. I must say I enjoy a good improv jam session; but this crowd was totally feeding off of the band's concise song arrangements and strong stage presence. When they got towards the end of their set and brought out billboard hits like "Not my Time", "Here Without You", "Kryptonite", and "When I'm Gone" every person in the place was on their feet singing along, setting a strong pace for ZZ Top.
I saw ZZ Top before at BamaJam a few years back, amongst a couple other places. This was the first time I worked with them, and fortunately had the pleasure of meeting the band. They carry themselves off-stage just as they do when on-stage. I met Frank Gibbons the day before as he was checking in with the stage production. I didn't see Frank Beard or Dusty Hill until the day of, but all were very delightful to meet and had wonderful personalities, very charismatic. These characteristics certainly pour out into their live performances. They each have a grin that seems to spread endlessly amongst their trademark beards. They have been touring for decades and have not lost a step. They still have the energy to raise the youngest of spirits, as they opened the show with a cover of Sam and Dave's "Thank you" (originally written by Isaac Hayes, first recorded by Sam and Dave). They strummed the first note of the next song and before they could hit the second, I had to be six feet in the air screaming "Have mercy!!!". They jammed right into "Waitin' for a bus>Jesus just left Chicago". I am a fan of another band, Widespread Panic, which happens to cover these two codependent songs. This is one of those rare moments in music when a band has two very different sounding songs, but cannot separate them, and they become unified as one under a title combination and uninterrupted musical bridge. Van Halen's "Eruption>You Really Got Me" or Vic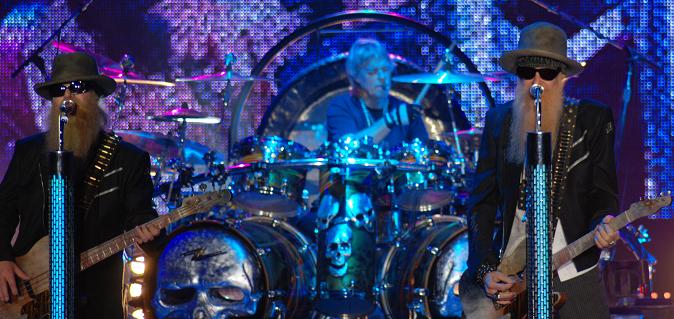 Chesnut's "Protein Drink>Sewing Machine" are other examples of those songs that unless informed, are often incorrectly titled. So far, so good. ZZ Top continued to bring the heat with some unexpected tracks, such as "Legs", "Sharp Dressed Man", and even dusted off the shelf with a return of "Vincent Price Blues". They played a couple more off of their "Tres Hombres" and "Eliminator" albums, finishing the night with "La Grange>Tush".
As I watched almost a dozen tour buses and a dozen other semi-trucks pull out of the amphitheatre, headed to Hollywood (Florida), I was so impressed with the outcome that I had forgotten how much sweat and work I had done in the last 48 hours. I quickly became extremely tired and went home in the early hours of Saturday morning with a gigantic grin on my face. The tour will be hitting a few spots in Florida; then they will be going out west, stopping along various southern venues. So, if you have a pulse and an open schedule, I strongly recommend finding out when the "Gang of Outlaws" will be around your city. I'm sure no matter what cup of tea you are drinking, the "Outlaws" are serving it......Stiff.
Review and Photos by: Joey A. Pye.
Edited by: Rosemary A.W. Roberts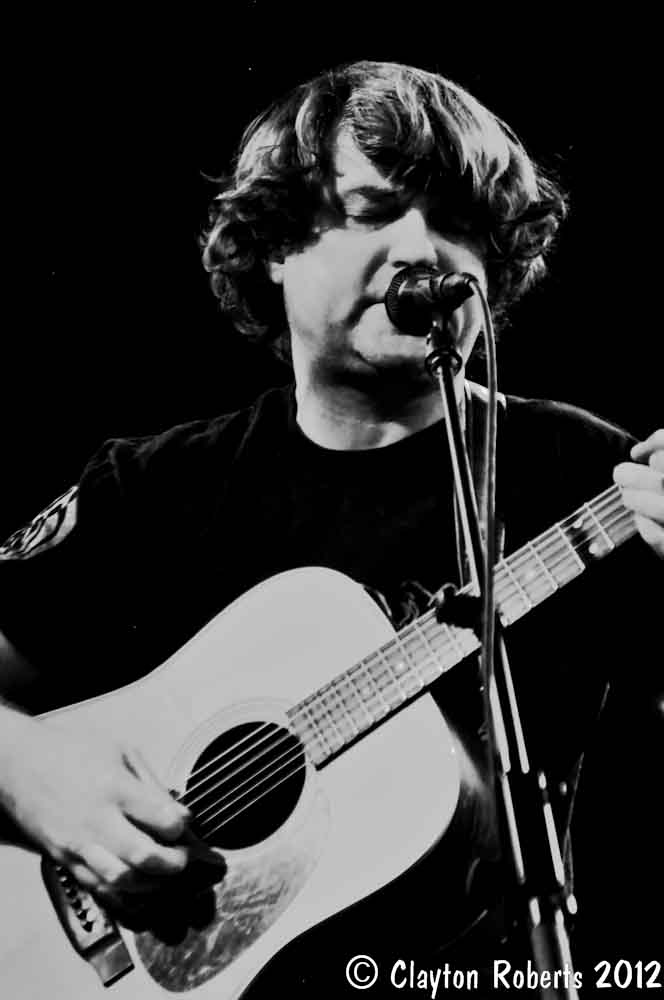 Keller Williams ~ Vinyl Music Hall ~ Pensacola, FL ~ 5/5/12
What a marvelous night for a Moondance! Cinco de Mayo is always a day that deserves a good party, and this year the full moon couldn't resist joining us, as it arrived for its closest orbital path of 2012. After visiting family, we headed towards downtown Pensacola, and had to stop near the train trestle where Bayou Texar meets Pensacola Bay to snap a few photos of lunar beauty.
From the car window we heard, "Come on, let's go, it's time to see Keller!" The advantage of an all-ages show at a club like Vinyl is that you can bring your kids; and when our sons Caspian (age 15) and Emerson (age 9) heard that they had the chance to go see Keller Williams, there would be no denying them the opportunity. Our family listens to a wide variety of music, and Keller Williams became a quick favorite, whether driving to school in Dad's car, or doing homework with the i-pod hooked up to speakers. In retrospect, perhaps we as parents should have given them the Keller Williams Kids album (released in 2010) to learn the lyrics of "Car Seat" or "Taking a Bath"; but the hilarity of hearing them sing every word of "Doobie In My Pocket" or "Day At The Office" is well worth the oversight, and they really just love singing along even if they don't quite know WHAT they're singing about.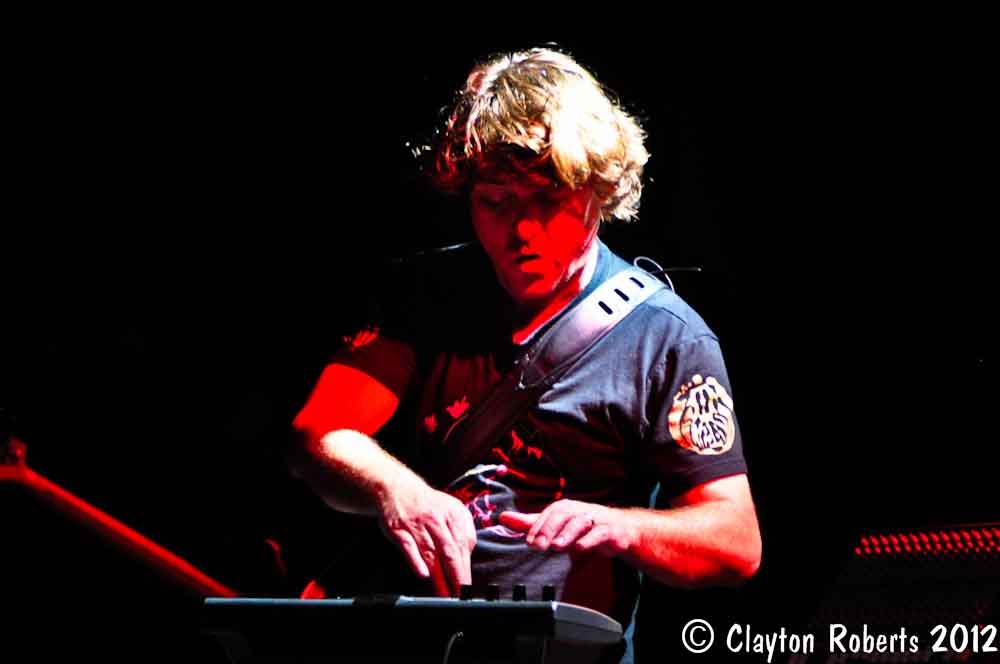 When we arrived at Vinyl Music Hall, one of our favorite venues in Pensacola, we were impressed with the number of folks already gathered, and realized our best vantage point would be off stage left, so we situated ourselves there with the kids on the rail. If you've ever seen the one-man wonder of Keller Williams, you know that it is as important to see him as it is to hear him. Barefoot and free-spirited, Keller dances his acoustic guitar around the stage; and the exquisite beauty of his guitar work in songs like "Sheebs" and "Thin Mint" is a melodic treat, certainly one major reason to go to his show. Another aspect of Keller that draws an eager crowd is the fun cover songs he enjoys performing. The super-moon in the sky earned us Van Morrison's lively "Moondance", but we also got Fiona Apple's "Criminal", and a fun version of the Butthole Surfers hit "Pepper". It is well-known that Keller is a huge fan of the Grateful Dead, and his first-set cover of "Til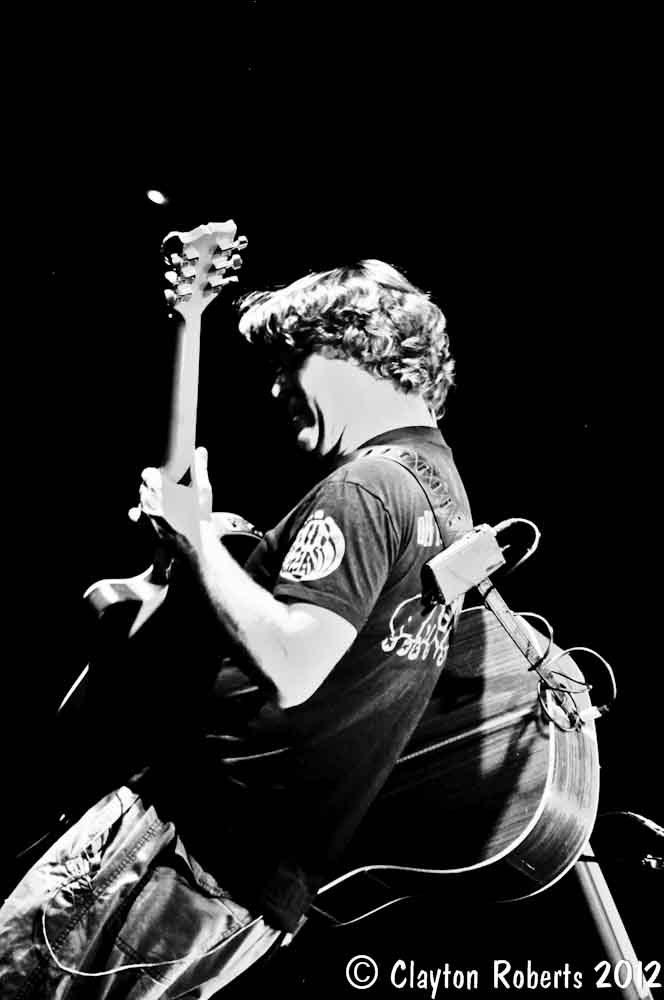 The Morning Comes" was delightful; but a surprise awaited us during the second set, as he proceeded to sing us the story of how he missed The Dead at Deer Creek in "Gate Crashers Suck"…and yes, the crowd enthusiastically sang along! The one-man-band side of Keller Williams came out to play for songs like "Back of the Bus", in which Keller utilizes a loop machine to layer guitars, then bass, then percussion, and sometimes vocal embellishments, all the while grooving around the stage. His show is quite entertaining, and the whole audience was loving every minute.
For our family, this evening with Keller Williams took on an elevated sense of awesomeness, which began when Emerson wanted to write a note to Keller to request a song or two. His first draft was rather lengthy, and in addition to requesting songs, he wrote "P.S. – You are my role model. I listen to your music all the time. I'm by your drum kit." Keller's sound tech read the note, and agreed to put it onstage; alas, the flimsy note flew around as Keller grabbed his water bottle. His second draft was short and sweet, written on the back of a thick sticker; Keller seemed to glance at the note, which the tech had again placed by the water bottle onstage. A short while later, Keller signaled for assistance from the tech; perhaps the tech worked some magic while onstage. As Keller exited the stage after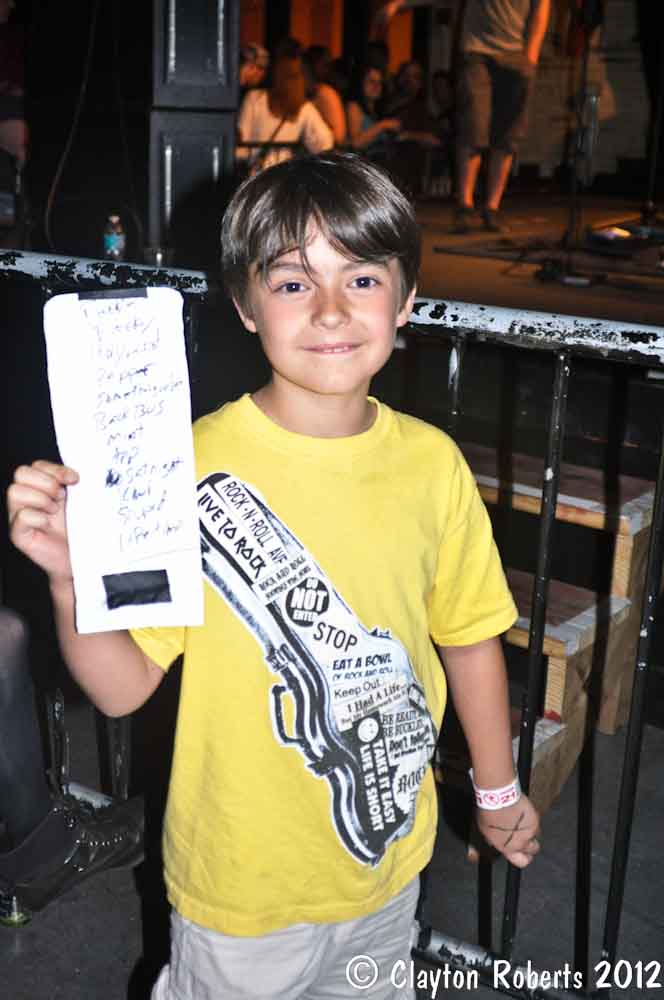 the second set, he walked right up to Emerson, and gave him a high-five! Emerson was beside himself, completely overwhelmed with tears of joy. The cherry-on-top of the evening was after the encore, when the tech brought Emerson the handwritten setlist AND Keller's guitar pick…and as Emerson is a budding guitarist himself, this token elicited more tears of joy! What an incredibly magical experience; and to see the complete JOY in Emerson was priceless. With deepest gratitude, our thanks to Vinyl Music Hall for this all-ages show, and a special THANK YOU to Keller Williams and his sound-stage assistant: your generous actions made our 9-year-old son one of the happiest kids in the world!
Review and editing by: Rosemary A.W. Roberts
Photography by: Clayton Roberts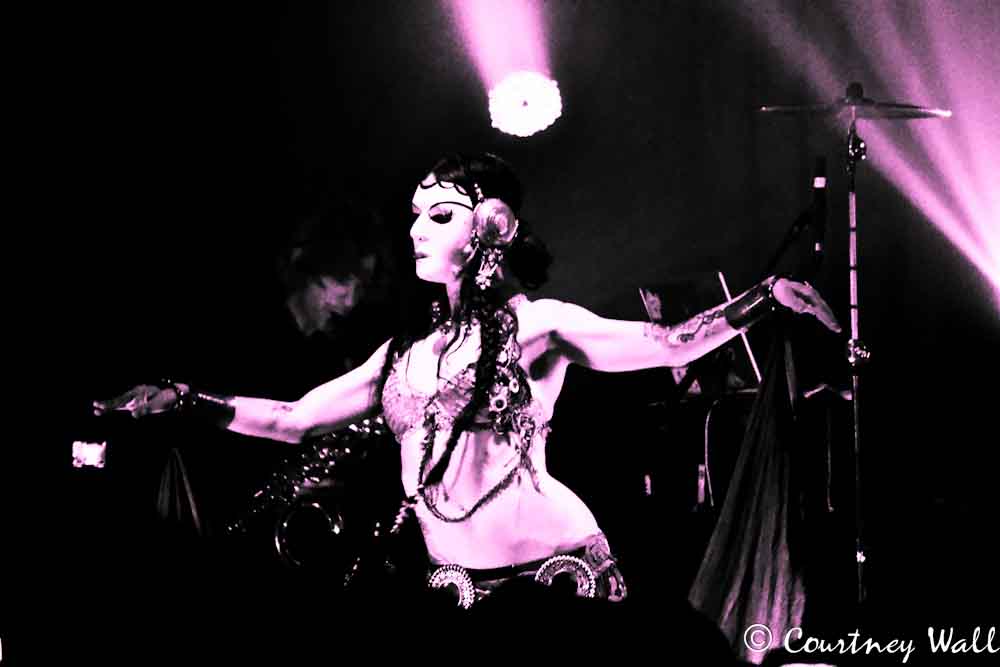 The Plus Fest with Beats Antique ~ May 4th, 2012 ~ Cat's Cradle, Carrboro, NC (near the UNC-Chapel Hill campus)
PLUS FEST - 40 acts, 10 cities, 1 night…all free; thanks to Barcardi. The Cat's Cradle in Carrboro, NC, was fortunate enough to host one of these events. Upon walking in the door I was immediately struck by the wide range of ages brought together by this event. Although I had not seen Beats Antique yet, I had read that they would never make it big since they were dependent on the 35+ age group. Luckily we were not alone this night, since at least half the crowd was 21-35. Barcardi had a table set up which offered free drinks and earplugs. On stage was a live magic show with random patrons participating in the tricks. Although the original line-up was DJ Laura, Big Freedia, and Beats Antique, due to unforeseen medical issues, Big Freedia had to cancel. This announcement opened the stage for DJ Laura to kick things off and most likely play a much longer set.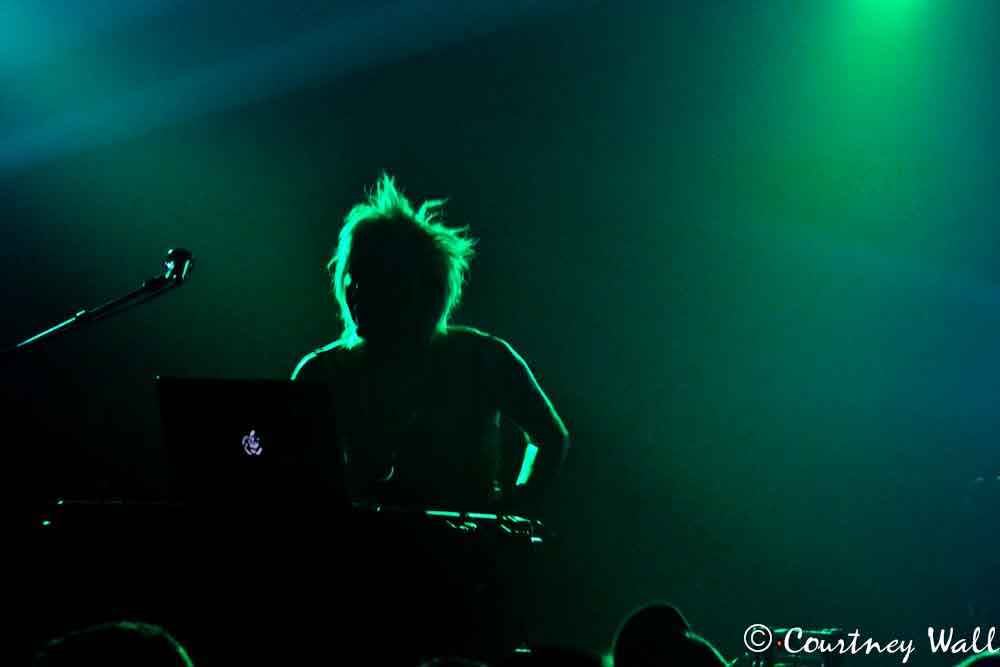 DJ Laura took the stage around 9:00 pm under the blue lights and immediately got the crowd jumping. She had some thick beats interwoven with such well known songs as the Jibb's "Does your chain hang low" and "Zombie" by the Cranberries. After a few more "air slapping" tunes she got the crowd singing by dropping into Biz Markies' "Just a Friend." After asking the crowd if they wanted one more, she closed her set with "I've got five on it" by Luniz. Her set was very upbeat and really primed the crowd for what was to come.
Shortly after 10:30, three guys - proper members David Satori & Tommy Cappel and a guest saxophonist who played the majority of songs at this show - entered the stage followed by the sensual belly dancer Zoe Jakes. The show was dedicated to MCA, of the Beastie Boys, who sadly passed away earlier that day. The show started with the violin heavy song, "The Lantern," accompanied by Zoe dancing rhythmically with a mask. The music of Beats Antique makes you dance whether you want to or not and I found myself moving my body in ways my body had never moved before. For the next song, David pulled out a sitar and Zoe played a bass drum. I now understand what the music category "world fusion" means and the mix of electronic beats with Middle Eastern music was electrifying.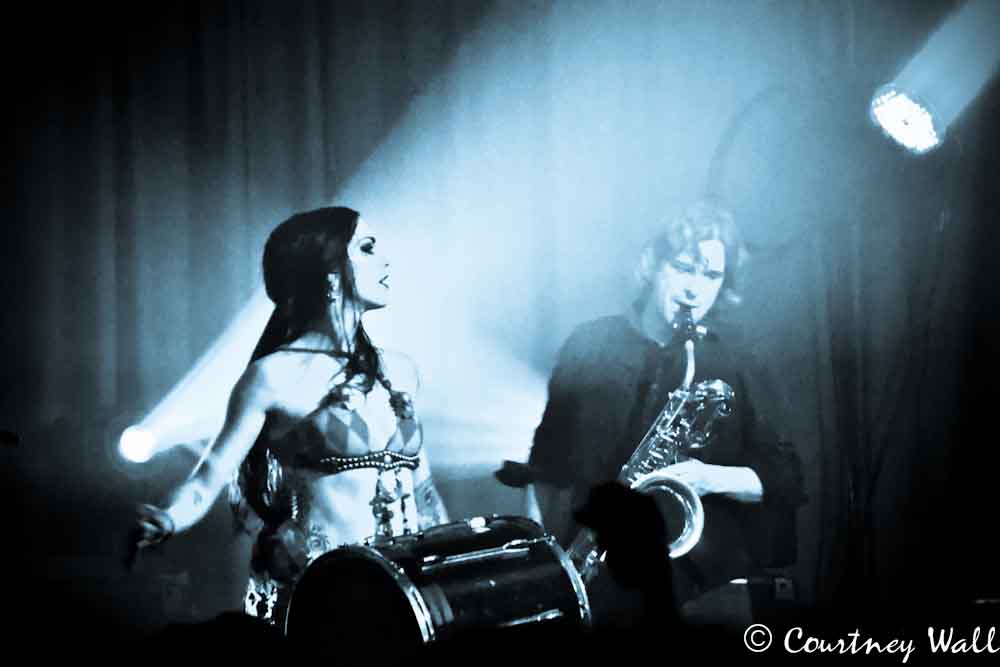 Apart from the delicious sounding tunes, Beats Antique has a very artistic stage presence as the next few songs demonstrated. For example, the band brought out a second belly dancer for a performance with giant green feathered fans. This led straight into "Roustabout," which has a circus sound off the 2008 album Collide. This song was choreographed with a delightful routine from the second dancer dressed as a monster chasing Zoe, who was dressed as a little girl with a Raggedy Ann doll. The saxophonist had switched to an oboe for this song. Throughout the 20-plus song set, there were many changes between Tommy (drummer) and David (keyboardist/satori/drums), which usually indicated the level of dub in the song. Most of the 20-plus songs included 3-4 songs from each of their 5 albums - Tribal Derivations (2007), Collide (2008), Contraption Vol 1 (2009), Blind Threshold (2010), and Electrafone (2011). I have become a big fan of each of these albums but the song "Skytalk" on Electrafone has become a recent anthem in my life. Since the show, it has become one of those songs and I've had a hard time getting it out of my head. That's a good thing, by the way :-)
"Would you like some baritone saxophone?" Who doesn't! This was a question posed to the audience later in the show and subsequently made the crowd roar. Throughout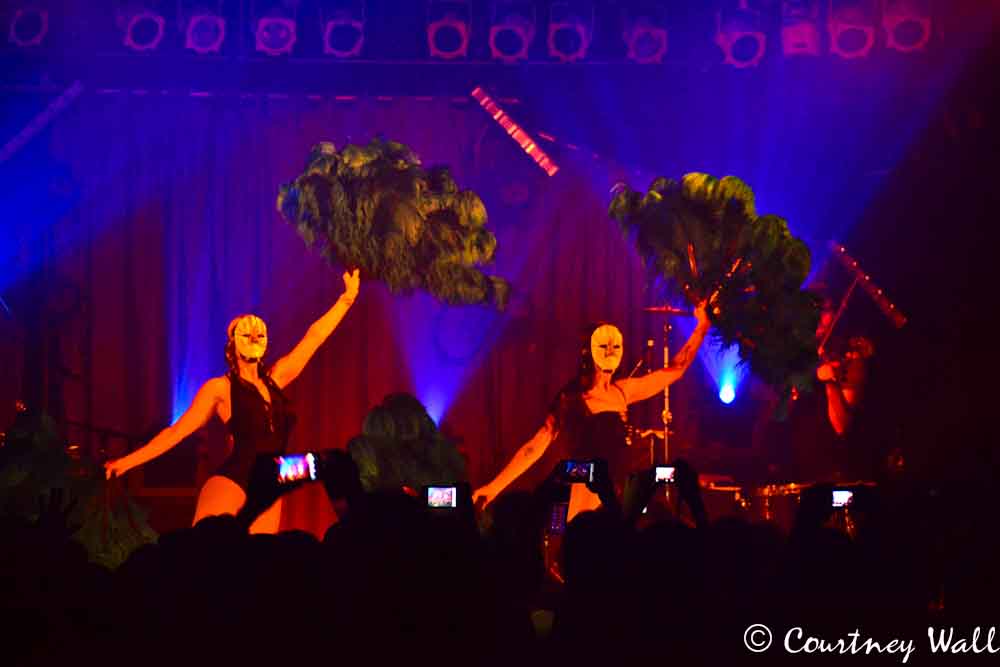 the show, there was a mix of sounds I've heard throughout my life including sounds from the bands Morphine and Galactic, with always the hint of electronica and dub. The set closed out with several Indian influenced songs, with one choreographed to dancing skeletons. The music continued to be upbeat and it was hard to stand still no matter how tired I got. Several times during the end of the set I found myself lost in the music. The set finally ended with everyone on drums and shaking their hips. After a brief break while the crowd shouted "Beats Antique," the band re-took the stage for the encore wearing animal masks. The first song of the encore was "Roustabout," which David explained to the crowd they had played the first time at the Cat's Cradle while opening for Bassnectar. Throughout the song, the band members threw additional masks into the crowd. By the end of the song, most of the first few rows of the audience were wearing animal masks. Earlier in the night I had seen a few people in the audience wearing these masks and then knew the lucky people that had already seen the band. After this merry sounding song ended, they went directly into the second song of the encore, "Cat Skillz," which is a high energy song off of their latest album Electrafone. During this song, I'm not sure if anyone could have stood still even if they had wanted to. I sure know I couldn't. Finally, the show came to an end and we left the show hot, sweaty, and grinning from ear to ear, as it should always be. I will always remember my first Beats Antique show – I have a feeling it won't be my last.
Review and Photos by Courtney and Kerr Wall
Edited by Rosemary A.W. Roberts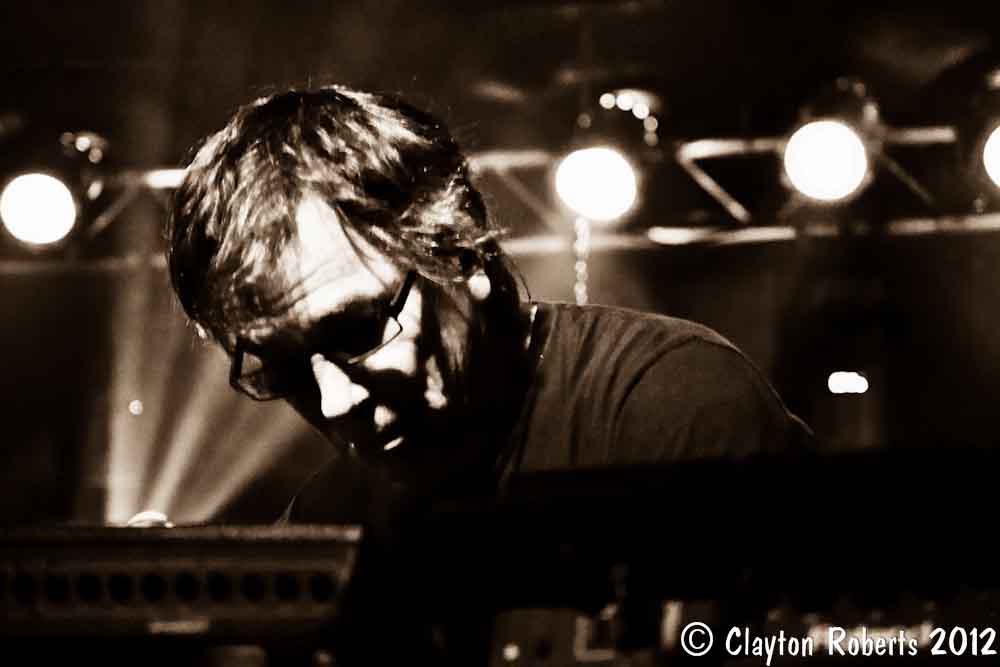 Mickey Hart Band ~ Mysterium Tremendum ~ Soul Kitchen Music Hall ~ Mobile, AL ~ 04-28-12
Talent; Passion; Spirit: those three words seem to embody the experience given to a downtown Mobile, AL crowd, who were gathered at The Soul Kitchen for a special night of musical delight. Mickey Hart, most known for the nearly 30 years he spent as drummer and percussionist for the Grateful Dead, has assembled a talented group of musicians, and they are touring around their recently released album Mysterium Tremendum. The Mickey Hart Band is comprised of Crystal Monee Hall (vocals, guitar), Tim Hockenberry (vocals, keyboards, trombone), Gawain Matthews (guitar), Ben Yonas (keyboards), Ian "Inkz" Herman (drum set), Sikiru Adepoju (talking drum), Dave Schools (bass), and of course, Mickey Hart (drums, percussion, cosmic sounds).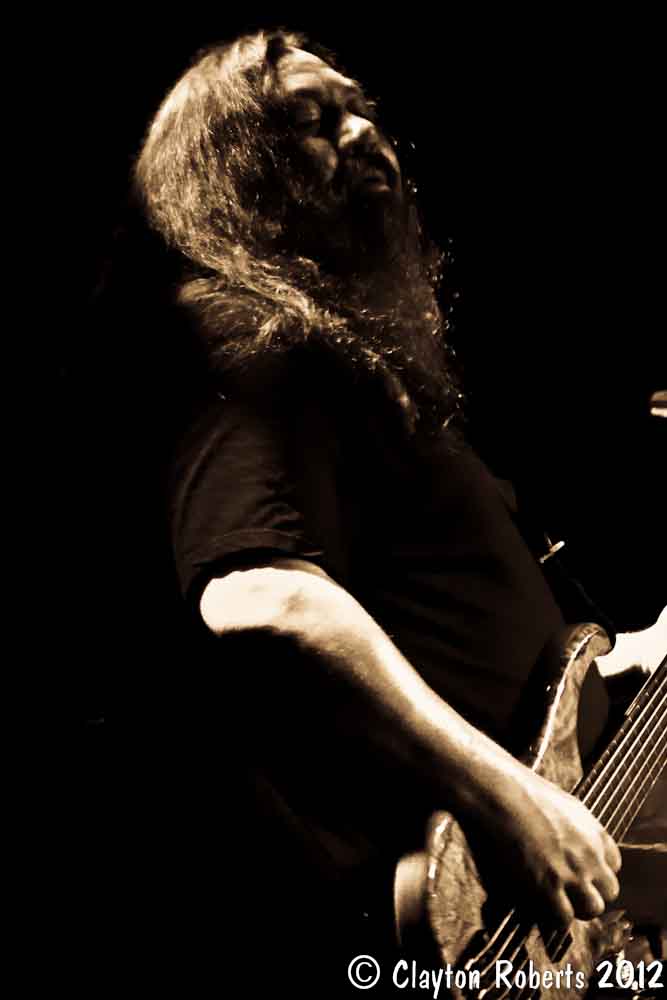 I took the liberty of adding "cosmic sounds" to Mickey Hart's instrumentation listing, though I'm not sure what terminology would convey the actual nature of what Mr. Hart has accomplished on this album. He worked with scientists to transform light wave data gathered from across the Universe into sound, a process called sonification. Thus Mysterium Tremendum is a uniquely cosmic creation that incorporates sonic representations of solar winds, pulsars, galaxies, black holes, and cosmic radiation into each of the twelve songs on the album. I listened to the album before I read about how it was made, and my initial impression was that it has strong tribal, ancestral Earth roots, while also reaching outward in Space. The deep percussive driving rhythms and the deep-space sounds (which are, in fact, literally deep-space sounds!) have the effect of simultaneously transporting the listener forward and backward in Time, placing us in a Here-and-Now that seems intriguingly illuminated by both the Past and Future. Lyrics by Hart and also by longtime Grateful Dead lyricist Robert Hunter entice the listener to raise their consciousness and think towards the stars. Mysterium Tremendum uses sonic markers from as distant as The Big Bang and as near as our own Solar System to bring a sense of awe and wonder to the musical experience, and the resulting exuberance produces a deep gratitude for Life itself.
With that in mind, let me take you back to the Soul Kitchen, where the Mickey Hart Band took the stage amidst the loud cheers of the crowd. Opening the show with a Grateful Dead treat of "Samson & Delilah" was an instant way to win over the audience, and although I wasn't expecting much Dead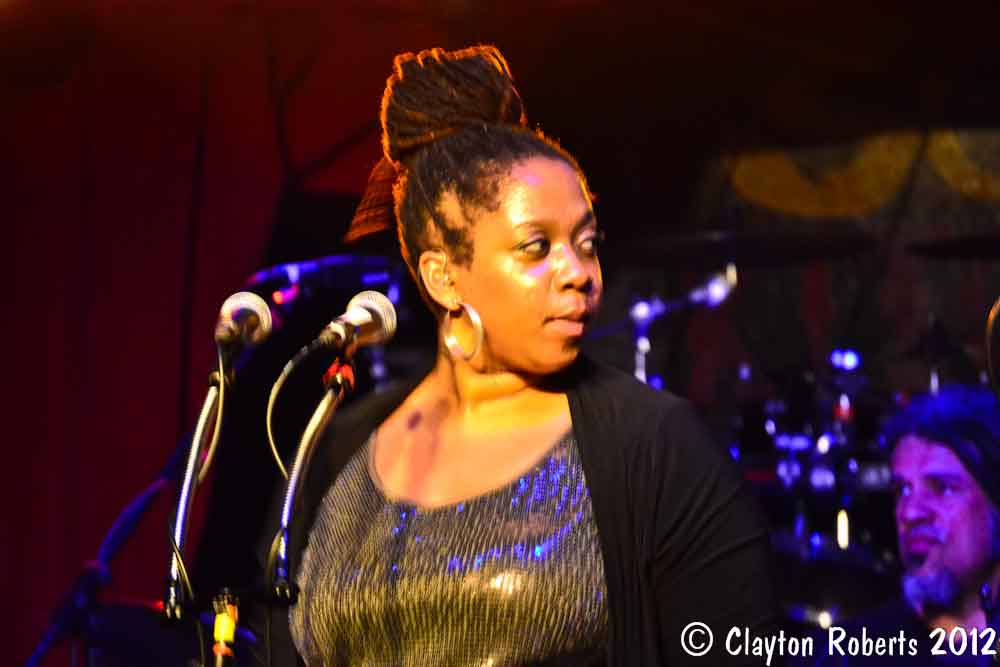 music, peppered throughout the set were a smooth "West L.A. Fadeaway", a heartfelt "Brokedown Palace", and a spirited closer of "Not Fade Away". Truly cosmic Magic, however, was made when the band brought Mysterium Tremendum to life for us.
Talent: the Mickey Hart Band has so much, it seems bursting at the seams. The vocal harmonies of Crystal Hall and Tim Hockenberry are lovely and full of life, weaving a sonic net of joy. Gawain Matthews' guitar soars right when you need it to; Ben Yonas and Hockenberry use their keys to add depth to the musical layers. Very few bass players can lay it down like Dave Schools, as all the Widespread Panic fans at the Soul Kitchen can attest to. Ian Herman holds the solid foundation with his drum set, while renowned talking drum expert Sikiru Adepoju punctuates the musical conversation.
Passion: I have never seen a drum master play with more talent and passion than Mickey Hart. To watch him constantly in motion, working every square inch of his complex drum and percussion set, was an incredibly inspiring pleasure. His passion is felt and likewise returned by his bandmates, whom he drives with his dedicated and committed rhythms.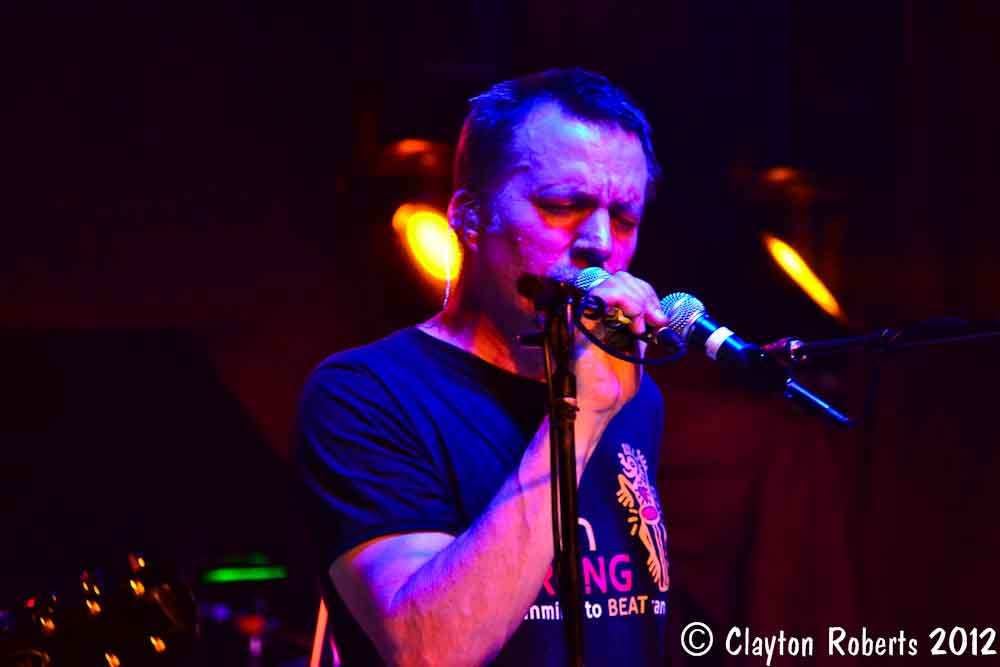 Spirit: a near-tangible Spirit of celebration and cosmic delight was brought into being as the band surrendered to the moment, and the audience followed suit. The sounds of our Universe came to life, and we danced with the pulsing pulsars, the singing sun, and the vastness of space and time. I am so grateful I was granted the chance to experience the feeling of Mysterium Tremendum permeating the atmosphere at the Soul Kitchen. If you've been searching for a catalyst to catapult you towards a higher plane of consciousness, the Mickey Hart Band has the answer.
Review by: Rosemary A.W. Roberts
Photos by Clayton Roberts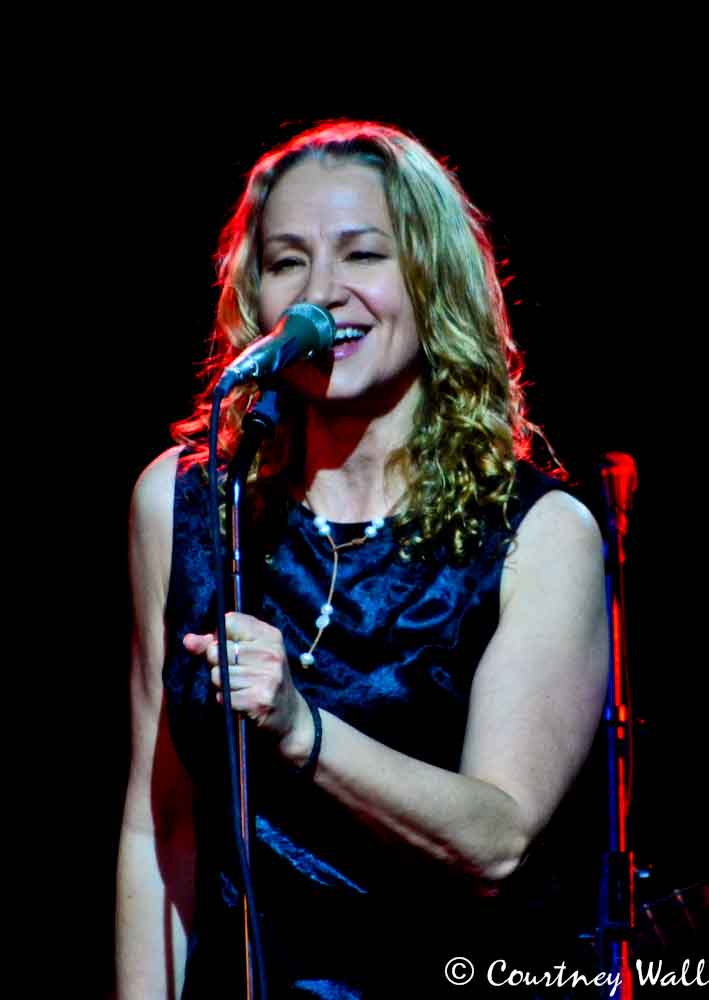 Joan Osborne - Monday April 9, 2012 at the Lincoln Theater, Raleigh, NC by Courtney and Kerr Wall
It was the Monday night after both Easter and Spring Break. I had just been thrown back into my rigid family schedule, when it was time to rush down to the Lincoln Theatre for the concert. During the moments leading up to the show, I was beginning to think I had bit off more than I could handle. However, when Joan took the stage in an all black, form fitting outfit and belted out "I'm Qualified," I knew I had made the right decision and all the troubles from the previous 12 hours quickly vanished.
The approximately 90 minute set was very heavy with songs from her new album Bring It On Home, which includes a lot of blues and R&B covers. The next 2 songs from the show were also from the new album which included Ray Charles's "I Don't Need No Doctor" and Muddy Waters' "I Want To Be Loved." The Muddy Waters classic opened the door to a nice slow guitar solo by Andrew Carillo who is backing Joan on both the album and tour. Next, she sped things up with Slim Harpo's "Shake Your Hips," which really got the crowd moving as Joan was really working her own hips on stage. After all the excitement she took a break and introduced the band, before heading into Bill Withers' "Same Love that made me Laugh."
Upon hearing Otis Redding's "Champagne and Wine" I noticed how well this album was translating live. There was so much raw emotion and sensuality that came through much better live. At this point of the show Joan sent the band, minus keyboardist Keith Cotton, out for a "cocktail" and deviated from the album with some new material. "This Is Where We Start" and "Work on Me" are songs from Love and Hate which is still a work in progress. With just keys and Joan's voice, there was a definite jazzy feel in the air. The band returned as Joan pulled out a guitar to play Van Morrison's "Tupelo Honey." If you were a fan of the hit album Relish and were looking to hear some songs off that album, then the next 2 were for you. The upbeat "Spiderweb" came out next and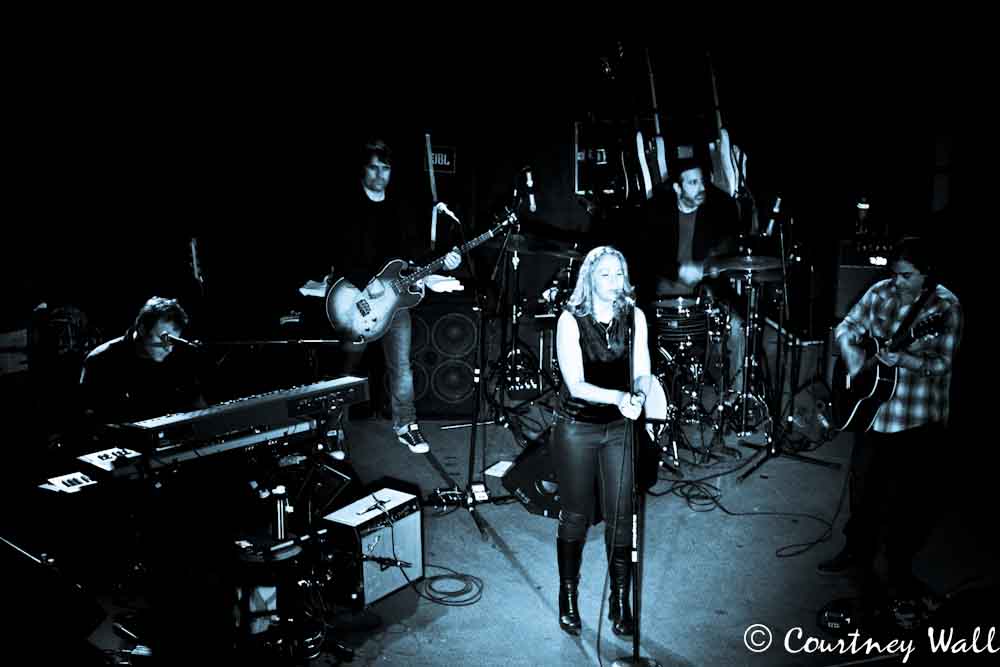 really got the crowd moving. This song had high energy and provided the most musical liberty. This went into a beautiful version of "St. Teresa" which got her a standing ovation. Next, she went back into the current album with "You're Welcome," which is a tune about lots of breakfast foods that ended with Joan whistling. Joan informed the crowd that "it was easier to whistle after eating fried chicken", which was a reference to the delicious barbecue her band ate that day in Raleigh. Joan closed the set down with the hip shaking "Rhymes" by Al Green.
Upon returning to the stage for the encore, she dedicated the first song "Brokedown Palace" "for all you deadheads." This was a hauntingly beautiful rendition, sung only as Joan can. I was lucky enough to see her sing this song with "The Dead" at Jones Beach, NY in 2003. Next, she sang "Roll Like a Big Wheel," which got the crowd moving again. For the second time everyone but Joan and Keith left the stage and Joan sang her hit song "One of Us." This version seemed much more raw and stripped than the radio version. Although it was a small venue, Joan Osborne brought her big voice. It was a wonderful night of music and I'm glad I had a few hours to escape with Joan.
Review by: Courtney and Kerr Wall
Photos by: Courtney Wall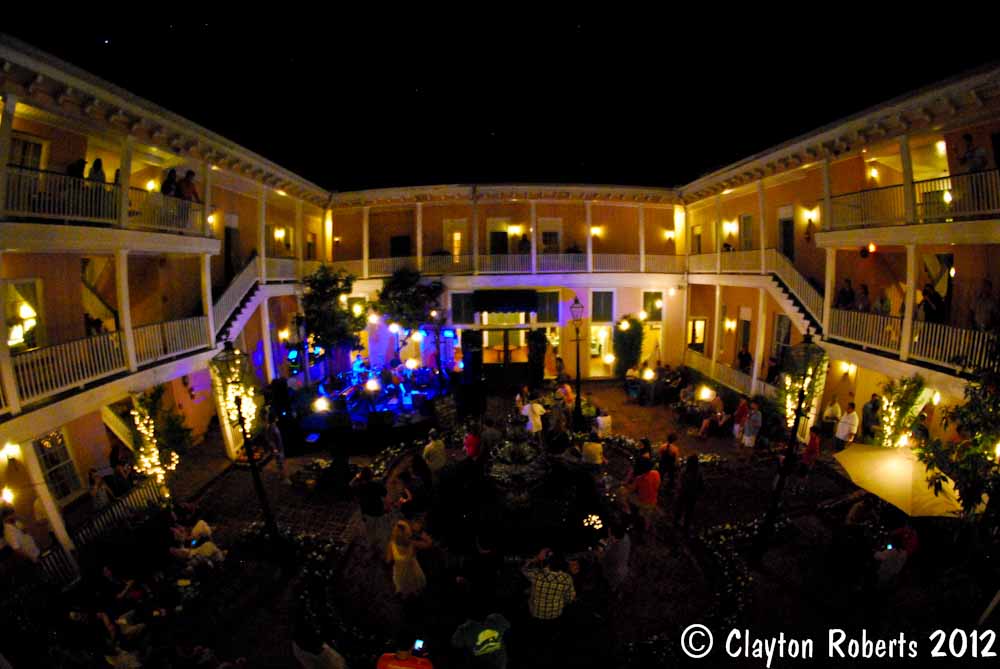 Malagafest – The Malaga Inn, Mobile AL – 03-24-2012
*Rollin' In The Hay * Ryan Balthrop with Brooks Hubbert * Honey Island Swamp Band * Grayson Capps & The Lost Cause Minstrels*
An inspired idea became a well-realized success when The Malaga Inn, Bon Secour Productions, and Prime Suspect Productions teamed up to bring the inaugural Malagafest to downtown Mobile, AL. Originally built as a pair of townhomes circa 1862, The Malaga Inn is a lovely and unique place to stay in the heart of downtown Mobile. The Southern charm of the historic building has been preserved in its transformation into a Boutique Inn. There are 39 individually designed rooms and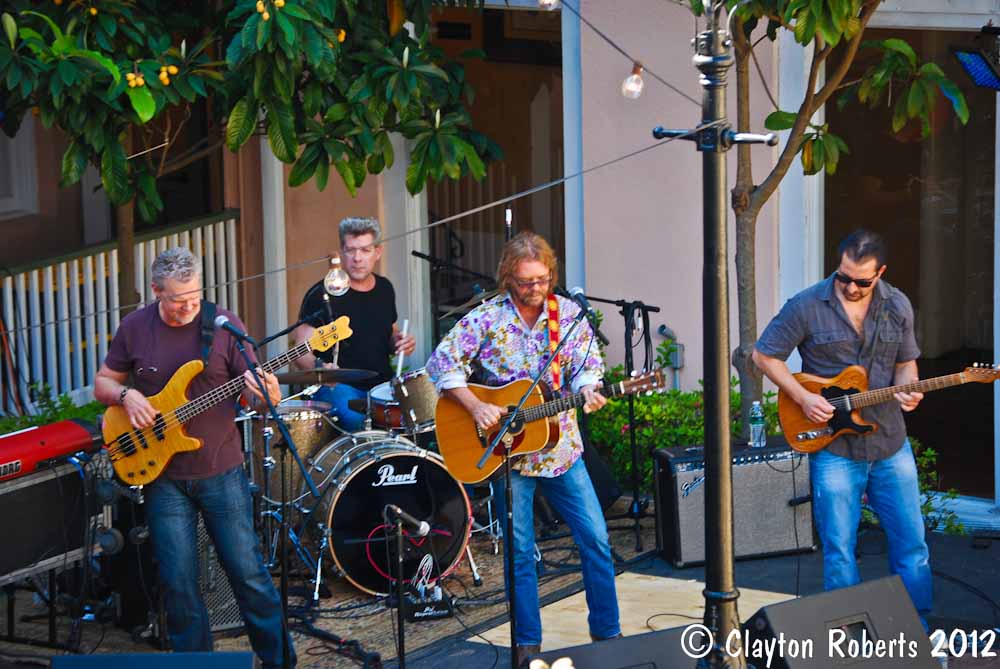 suites, each with its own personality and décor, which evoke the feeling of being immersed in the Civil War-era South, but with 21st century additions like TVs, free wi-fi, and a swimming pool. www.malagainn.com
In the center of the three-story open air balconies which most of the rooms open onto is a classic picturesque Courtyard, with an elegant fountain, beautiful flowers, and graceful trees. In one corner of the Courtyard, Malagafest set up the stage which would host four bands from 3pm to the midnight hour. This ingenious arrangement made for an amazing musical event unlike anything I'd ever experienced. First of all, the acoustics of the Courtyard turned out to be really good, and all the bands sounded great from all locations. Secondly, Malagafest was literally a festival in your own backyard if you were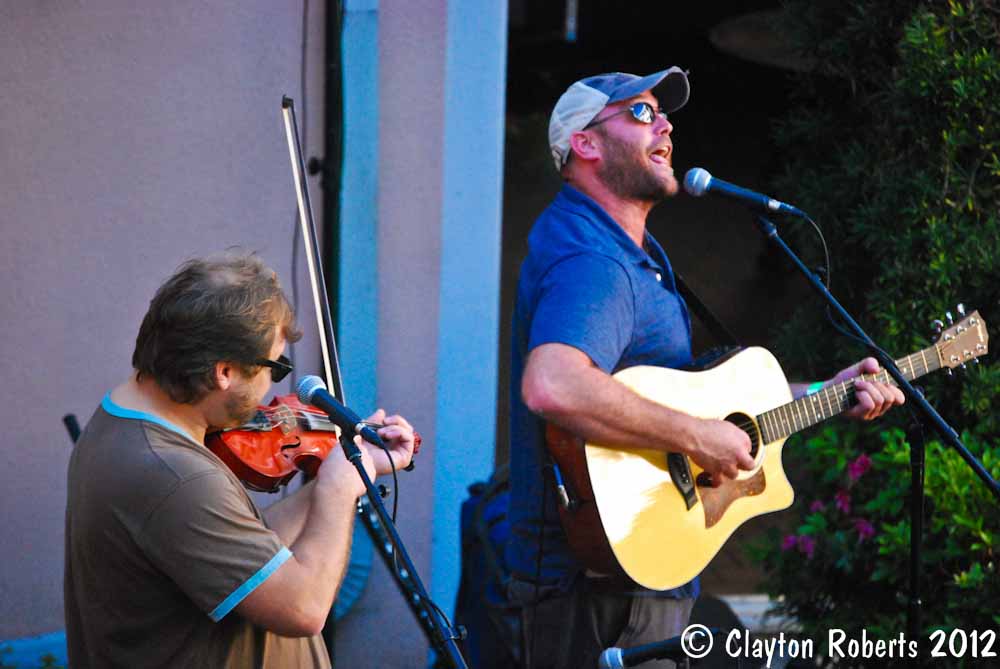 among the guests who rented rooms for the evening, as the hotel was completely reserved for the festival on that day. It was like being at a big house party with your friends! Folks were scattered throughout the courtyard, or hanging out in their rooms with the doors open, or dancing on the balconies overlooking the action. Prime Suspect Productions provided the lighting and sound, and did an excellent job of creating a first-rate concert experience. To complete the entertainment, Moe's Original Bar B Que brought their delicious food to the party. Even the weather was perfect, with a sunny beginning, and a clear comfortable evening with a stunning celestial display.
Of course, the ultimate facet of Malagafest was the music; and like all the other festival aspects, the music far exceeded any expectations I may have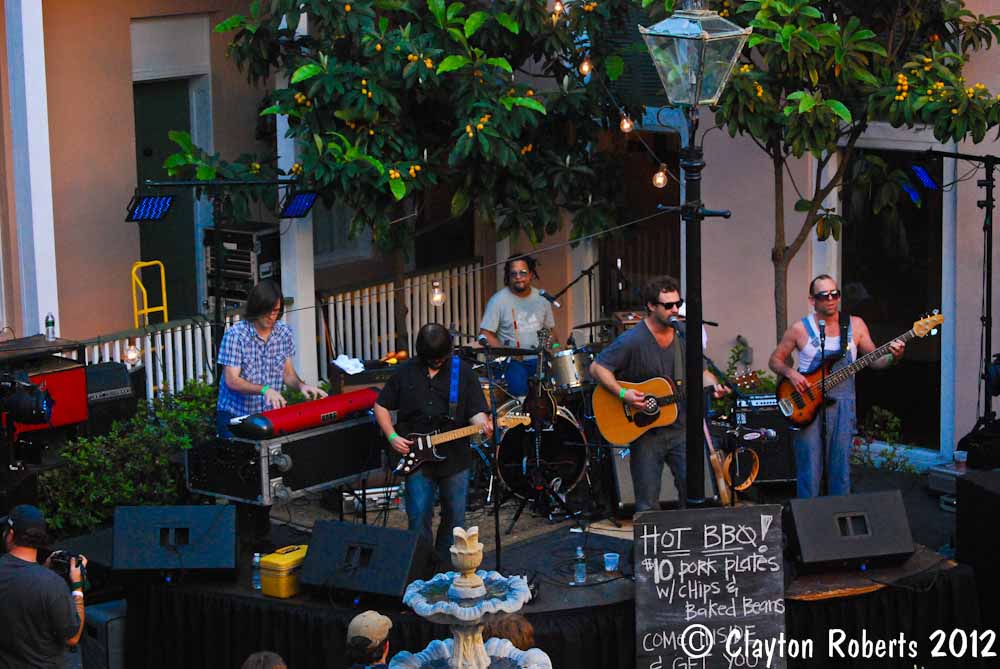 had. The beloved Alabama-based band Rollin' In The Hay kicked off the party with their signature Renegade Bluegrass style. Fan favorite tunes like "Jerry and JB" and "Miracle Ticket" got the incoming crowd in the groovin' mood. Next up was Mobile-native singer/songwriter Ryan Balthrop with Brooks Hubbert. Ryan's soulful voice soared amongst his acoustic guitar and Brooks's fiddle, fitting in perfectly with the backyard social vibe of Malagafest.
Bringing some New Orleans flavor was Honey Island Swamp Band, who have definitely captured the hearts of fans in Mobile. The southern-bred five piece band stirred up a Bayou Americana rock-out, with flourishing Hammond B3 organ embellishments, engaging guitar work, and some lively mandolin accents. Songs like "Chocolate Cake", "300 Pounds", and "Josephine" had the crowd dancing joyfully. The rocking rolled on, as Grayson Capps & The Lost Cause Minstrels took the stage with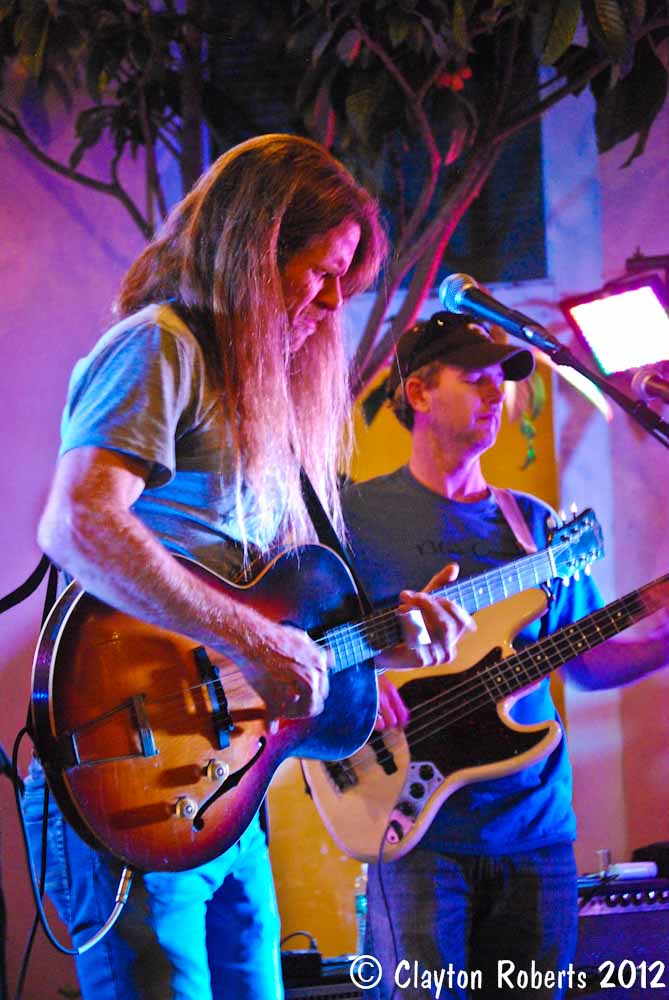 downhome Alabama southern comfort and style. This band has truly evolved into a treat, striking a balance between the songwriting prowess of Grayson Capps and the amazing ability of the band members to stretch out and jam in space. They allowed the crowd to revel in our Southern roots, and then delve deep into a psychedelic-infused wonderland with skilled and thrilling keyboard/organ, multi-textured rhythmic drumming, and free-floating alluring guitars.
By the end of the evening, the general consensus was that Malagafest was an absolute success! Festival producers and hosts were pleased with the results; the musicians all enjoyed the experience; and the crowd was supremely satisfied, all agreeing they would love to do it again. I think we at Jams Plus Media can speak for many when we say with sincerity that we hope Malagafest will become a recurring festival in the city of Mobile, as it truly provided a musical entertainment atmosphere of celebration and delight.
Review by Rosemary A.W. Roberts
Photos by: Clayton Roberts

Experience Hendrix Tour ~ The Wharf Amphitheatre ~ Orange Beach, AL ~ 03/17/12
How does one even begin to describe an evening of music in which about a dozen of the most accomplished guitar players and musicians in the world come together, on one stage, to pay tribute to the incomparable Jimi Hendrix? I guess you begin the same way I began this incredible concert experience: in gratitude and awe. For those of us who never were privileged to see Jimi Hendrix perform, the all-star guitar experience put together by Experience Hendrix is a dream come true. After a brief video intro featuring amazing footage of Hendrix in action, CEO/President Janie Hendrix came onstage to prepare us for a three-hour musical voyage no one would forget.
he first wave of gratitude peaked as the sole surviving member of the Band of Gypsies, bassist Billy Cox, began the evening with a smoldering-hot "Stone Free" and "Hear My Train A Comin"; to have the opportunity to see a living legend like Billy Cox was very special. During the evening, a cavalcade of world-renowned guitar stars rotated across the stage, while a lovely display of celestial stars rotated across the sky. From the band Indigenous, Mato Nanji joined Cox to get the ball rolling. Dweezil Zappa brought his axe out for a sweet "Freedom" with a liberated and flourishing solo. Next to join the party was legendary guitarist for The Doors, Robby Krieger, armed with a gorgeous Gibson SG. "Manic Depression" had Krieger all over that Gibson, playing all up on the neck and back down, and he and Zappa tag-teamed and provided some very Hendrix floating-sustain-release that had my eyes rolling back in my head, in a really good way!
Eric Johnson then commenced the "Burning of the Midnight Lamp", with lightning-fast fingers. "Wait Until Tomorrow" was fabulous; Johnson and Zappa worked well together, and absolutely sent me to the edge. "Love or Confusion" contained precisely enough psychedelic delight, and also found room for Eric Johnson's signature soaring sounds. Next onstage was Eric Gales, whose blues-rock roots and upside-down guitar technique make him naturally suited for the Experience Hendrix tour, and his rendition of "May This Be Love" was beautifully sung and played. The second wave of gratitude peaked as Johnson and Gales showed us the "Power of Soul", one of my favorite Hendrix songs; and during Johnson's exquisite solo, I detected a brief tease of his own "Cliffs of Dover". When Johnson then began scratching across his strings, we knew the psychedelic avalanche was on its way, and "Are You Experienced?" echoed through the amphitheatre, with imagery on the screen to aid the cosmic journey.
When Los Lobos guitarist David Hidalgo came onstage, he immediately got down to business with the intensity of "Can You See Me?", and then along with Nanji, graced us with an awe-inducing "Little Wing" full of fluidity and beauty. Robby Krieger came back to provide some slide guitar for a hard-rocking "Killing Floor". Next, Chuck Campbell of the Slide Brothers brought out his pedal steel to join the others for "Hey Joe", a most memorable collaborative effort. Joining Chuck was his brother Darick Campbell on lap steel, pedal steel virtuoso Robert Randolph, and funk-master bassist Bootsy Collins; and they unleashed a blistering "Purple Haze", much to the delight of the Orange Beach crowd. In a shiny-striped suit with his star-shaped bass guitar, Bootsy led the crowd to clap and sing "Excuse me while I funk up the sky / Jimi's music will never die!" Then Eric Gales returned, and he and Bootsy worked the stage and the crowd into a frenzy with "Foxy Lady". Continuing the constant rotation, Billy Cox came back with David Hidalgo to give us "Them Changes".
With only enough pause to exchange personnel, Brad Whitford of Aerosmith strolled onstage, with Jonny Lang who used an acoustic guitar to render a powerful "All Along the Watchtower". Lang traded out the acoustic for his electric guitar, and the band delivered "Fire" with smoking-hot passion, and "Like A Rolling Stone" with deep emotion. Robby Krieger came back for a wild ride with "Rock Me Baby", and then Jonny's soulful voice took the lyrical lead with "The Wind Cries Mary". And yet a third wave of gratitude peaked for me, as "Spanish Castle Magic" would've torn a hole through the roof if we weren't already outside! Billy Cox came back to introduce "Red House" as one of Jimi's favorite songs to play. The evening closed on a high-flying note with "Voodoo Child (Slight Return)", and the crowd was absolutely mind-blown from the incredible guitar-studded tribute show.
At the beginning of the show, Jimi's sister Janie Hendrix posed this question to the crowd: "Are you experienced?" And at the end of the magical night, the entire audience at The Wharf Amphitheatre could proudly answer "Yes, we are!" My deepest thanks to all the musicians who made such an amazing event possible, to Janie Hendrix and Experience Hendrix, and to The Wharf Amphitheatre for helping ensure that "Jimi's music will never die!"
Review and Editing by: Rosemary A.W. Roberts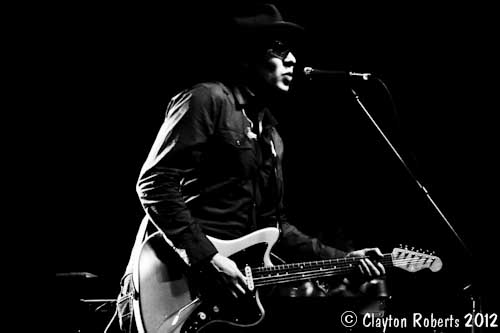 Big Head Todd & The Monsters with Van Ghost ~ Soul Kitchen Music Hall ~ Mobile, AL ~ 03-12-2012
On a Monday night in Mobile, the Soul Kitchen Music Hall brought in the perfect cure for the Monday blues: an early-show concert featuring Big Head Todd & The Monsters! When I learned that Chicago-based band Van Ghost would be the opening act, I thought of Bear Creek 2011; and though I didn't see them there, I remembered Jennifer Hartswick speaking very highly of them, and I knew she sometimes played with them. Much to my delight, Jennifer was accompanying Van Ghost to the Soul Kitchen, and I was thrilled! As the band took the stage, they unleashed a hard rockin' tune that engaged the crowd. The band would keep things interesting by changing pace throughout their set; several of the slower songs (like "Domino Effect") showcased Jennifer's sultry voice to perfection, and there was plenty of good-dirty funk to groove with.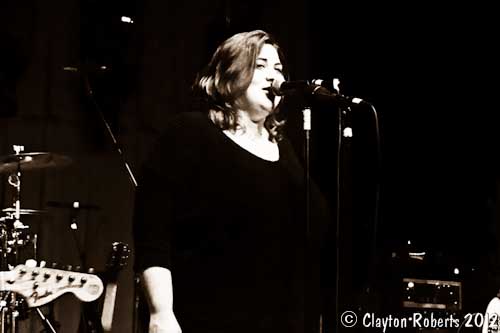 What a nice surprise to hear this band and discover that not only was their music enjoyable, but the musicians are each quite skilled. Lead vocalist / guitarist Michael Harrison Berg had an easy-going voice and vibe, bassist Klem Hayes played with cool confidence, drummer Greg Marsh provided slick rolling beats, and lead guitarist Grant Tye brought plenty of chops to keep a guitar girl like me happy. And of course, if you're familiar with the Trey Anastasio Band, then you know how incredible Jennifer Hartswick is: her voice soars with heartfelt soul, and when she picks up her trumpet, you know you're in for a treat, as her melodic improvisational phrasing is so smooth and satisfying. Keep an ear out for Van Ghost, and definitely see them if they arrive in your town!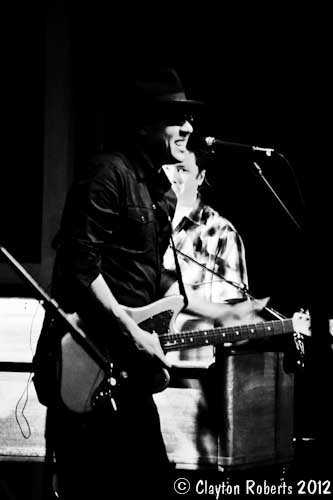 After a brief intermission, headliners Big Head Todd & the Monsters appeared, with a fanfare of crowd cheers to greet them. The veteran rockers from Colorado have an amazing stage presence, and immediately had the crowd ready to rock. Early in their lengthy set, the band played a lively version of John Lee Hooker's "Boom Boom", and continued curing our Monday blues with a clever nod to The Soul Kitchen as they played Robert Johnson's "Come On In My Kitchen". In 2011 under the alter-ego name Big Head Blues Club, they released the album 100 Years of Robert Johnson, and I was excited to hear how well they roll with danceable blues.
The eager audience was grateful to hear one of BHTM's major hits from 1997, the beautiful "Please Don't Tell Her"; and "Resignation Superman" was a real rocker, with vocalist/guitarist Todd Park Mohr ripping a terrific solo. The crowd went ballistic for the exquisite "Bittersweet", played with so much fresh passion it's hard to believe the song is about 20 years old. "Broken Hearted Savior" was warmly rendered and received.
BHTM is the real deal, and put on a truly enjoyable show. Lead vocalist and guitarist Todd Park Mohr wielded his axes with grace, and sang with depth and clarity; he sounded great! I did not realize just how talented a guitarist he is; but Mobile crowds are notoriously adept at identifying great guitar work, and rightfully hollered and applauded Todd for his talents. Drummer Brian Nevin is wildly entertaining, and kept the show flowing from one song to the next with precision. Bass guitarist Rob Squires brought a funk-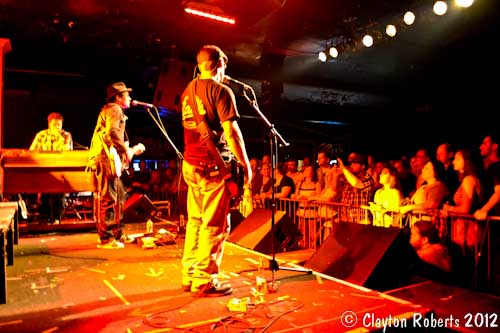 laden low end that held solid all night. And keyboardist Jeremy Lawton demonstrated both beautiful key melodies, and also delicious work with a pedal steel guitar, adding another layer of flavor to the rich sounds. I was thoroughly impressed with Big Head Todd & the Monsters, and would definitely recommend seeing them live. Hats off to the Soul Kitchen for bringing this great music to Mobile!
Click Here for full Photo Gallery
Review and Editing by: Rosemary A.W. Roberts
Photos by: Clayton Roberts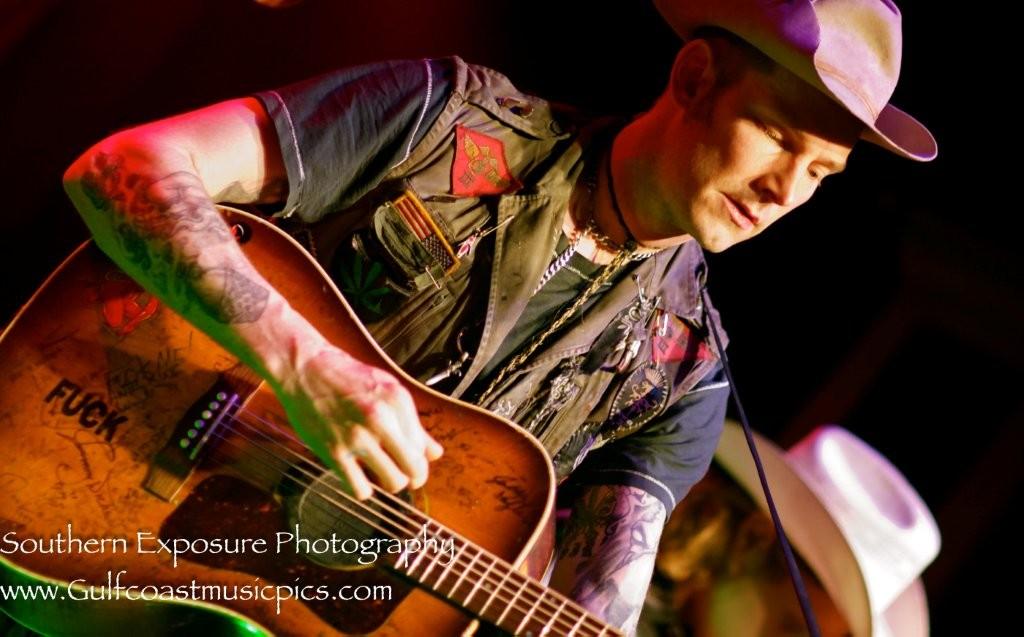 Hank3 – Soul Kitchen Music Hall – Mobile, AL – 03-04-12

For years my brothers and nephew have been telling me how "badass" Hank3 is and that I need to check it out. These comments generally went in one ear and out the other due to the simple fact that I don't listen to country music. When I saw Hank3 on the calendar at Soul Kitchen Mobile I thought I'd go photograph it for the experience. So, I made the short journey across Mobile Bay to see a band that I knew absolutely nothing about. Little did I know this show would prove to be one of the most entertaining musical encounters in my memory.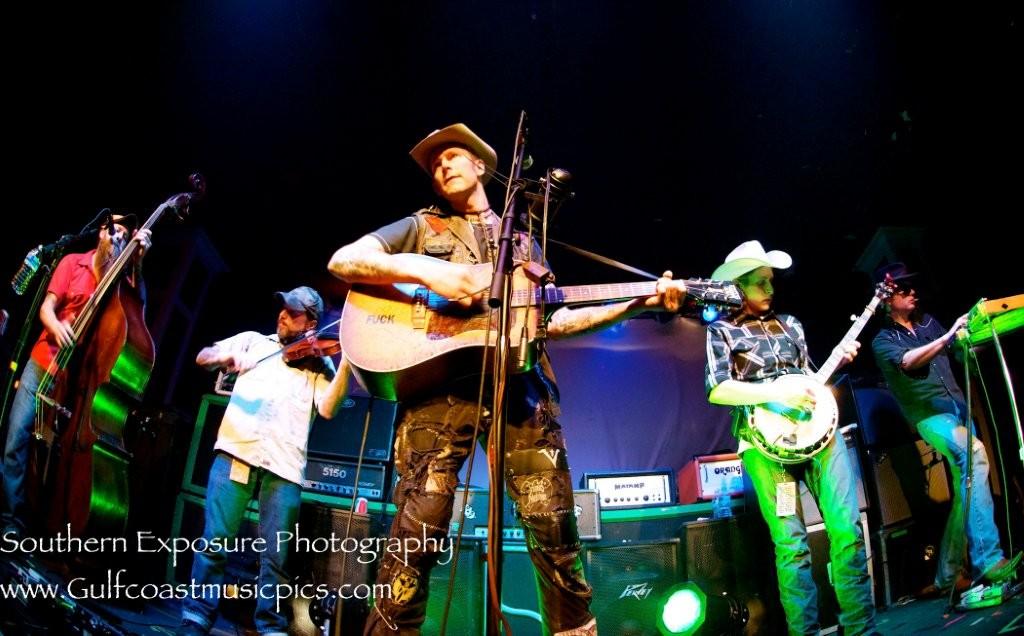 I was captivated within the first thirty seconds of the show, thinking to myself," this ain't country, my friend; don't know what it is, but not country." I made my way back and forth through the photo pit attempting to get some killer shots, all the while excited about this new experience. Behind me the crowd was going nuts and I understood why! Hank3 performed about 12 "Outlaw Country" songs, then handed his electric/acoustic guitar off for an electric guitar. At this moment, with the exchange of an instrument and the push of a few pedals & switches, Hank3 is transformed into HellBilly, Hank's "stoner rock" band. I've been listening to this genre of music since I was a kid and this band has their stuff together, sounds nothing like a multi-genre band; HellBilly sounded as though this is all they study and all they play. This music crushed all reservations I previously had for this show. Country music my ass, HellBilly was my favorite!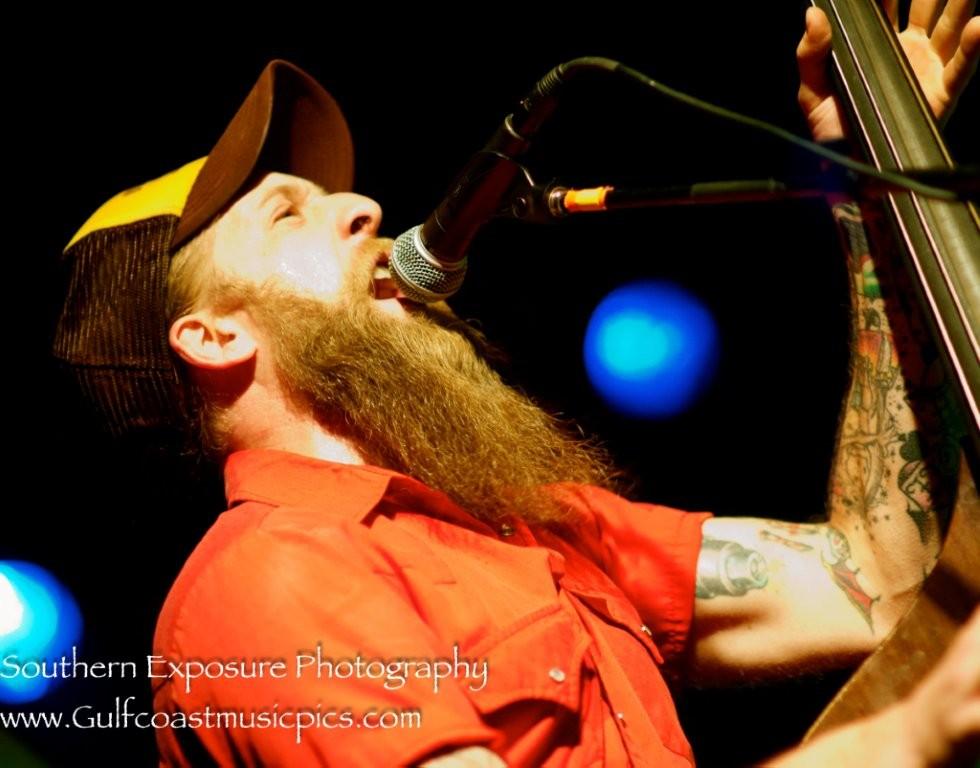 After about 8 songs the band took a five minute break then Hank3, or the artist formally known as Hank3, emerged from side stage, ponytail unbound, hair dangling in front of his face. The only light on was a film being projected against the back wall of the stage showing random vintage film clips from different political events throughout history. This is Hank3's band called Attention Deficit Domination, a "Doom Metal" band of strange arrangements and even stranger formation. It was Hank3 and his drummer (a two piece band) pelting out some of the heaviest hitting, yet strangest music I've heard. By this time, only hardcore Hank3 fans, SKM employees and a few photographers were left. The night started off by Hank telling the crowd that he prides himself on giving the longest show for the least money. I'm sure after the fourth genre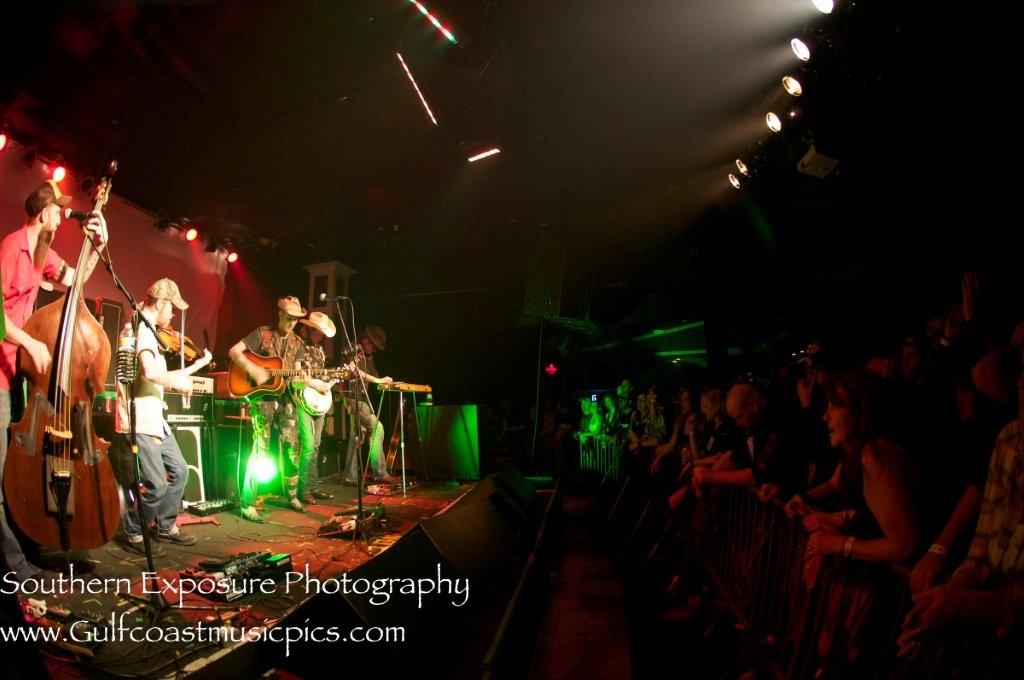 change, this time into Hank's, 3 Bar Ranch, which falls into a self-named genre called "Cattlecore", the crowd that came for the musical bargain felt they got their money's worth! This night proved that there is always room for one more. I will definitely do this again!


Click Here for full Photo Gallery

Review and Photos by: Mike Kerr, Southern Exposure Photography

Edited by: Rosemary A.W. Roberts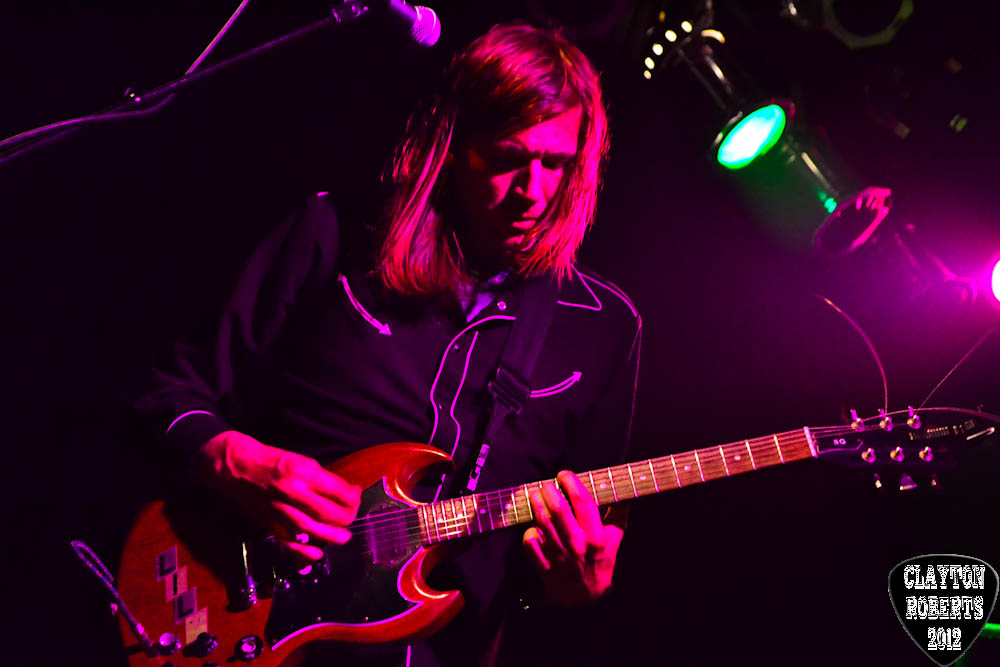 The Lemonheads / Meredith Sheldon / Billy the Kid & the Southside Boys ~ February 18, 2012 ~ Vinyl Music Hall, Pensacola, FL
On a windy and rainy Saturday night, we arrived at Vinyl Music Hall in Pensacola, FL, in excited anticipation of a show that would fulfill one of our youthful dreams. For many of us who spent some teenage and college years in the 1990s, The Lemonheads were one of those bands that were in heavy rotation in our CD players. In particular, I have fond memories of riding in the car, windows down, and the album It's A Shame About Ray blaring from the stereo. So when we learned that Evan Dando and band mates were coming to Vinyl to play that iconic album in its entirety, we were determined to be there, and not even the awful weather would keep us away!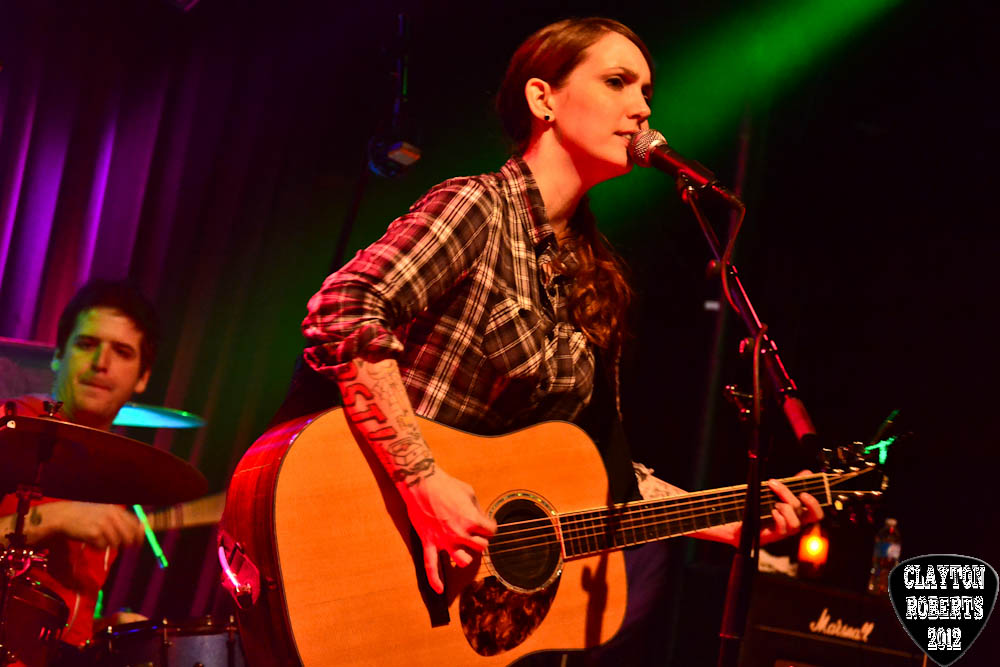 The evening began with Billy the Kid & The Southside Boys, a band strongly fronted by Canadian songwriter Billy (The Kid) Pettinger. She began the set in solo spotlight with her acoustic guitar, and her gentle, lovely voice. Billy is a true songwriter, putting depth and truth in her lyrics, whether she's singing about young soldiers "Back In the Sand", or a girl in a destructive relationship like "Alison". She was joined onstage by the Southside Boys, featuring drums, bass, and electric guitar. The set was a nice mix of reflective ballads and danceable folk rock. Billy's friendly stage presence and the feel-good vibe of the band made for a fun start to the night.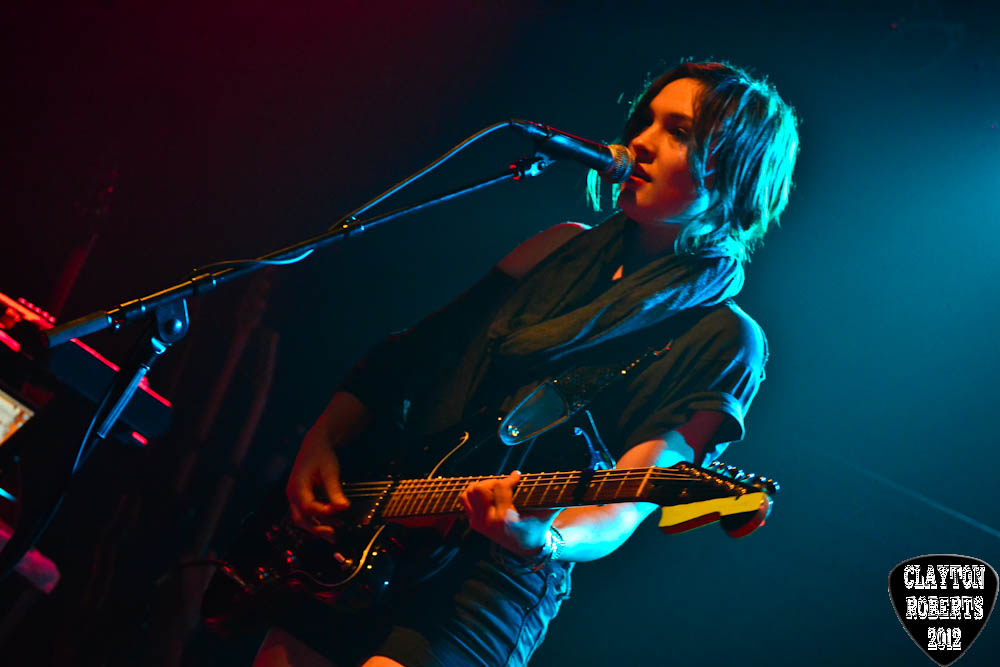 After a long interlude, Meredith Sheldon came onstage with her electric guitar and sang a slow thoughtful solo piece. A drummer, bassist, and synthesizer player were added to the mix, and the set got progressively hard-rocking and had a soothing groove to it. I particularly enjoyed the interplay between the drums and bass, as they held the driving rhythm with a solid intent. I must admit, though, that two acts and two hours are a long time to wait for a headliner, and it seemed the crowd was beyond ready to see The Lemonheads.
Finally, Evan Dando appeared; and it seems the years have been kind to him, and perhaps his long hair helps keep his appearance youthful. He strolled over to stage right and picked up an acoustic guitar, and from the first notes it was clear that his voice has also stood the test of time. Seeing Evan play like this, solo and acoustic, allowed the poignancy of songs like "All My Life" and the humor of songs like "Being Around" to shine. He seemed very comfortable in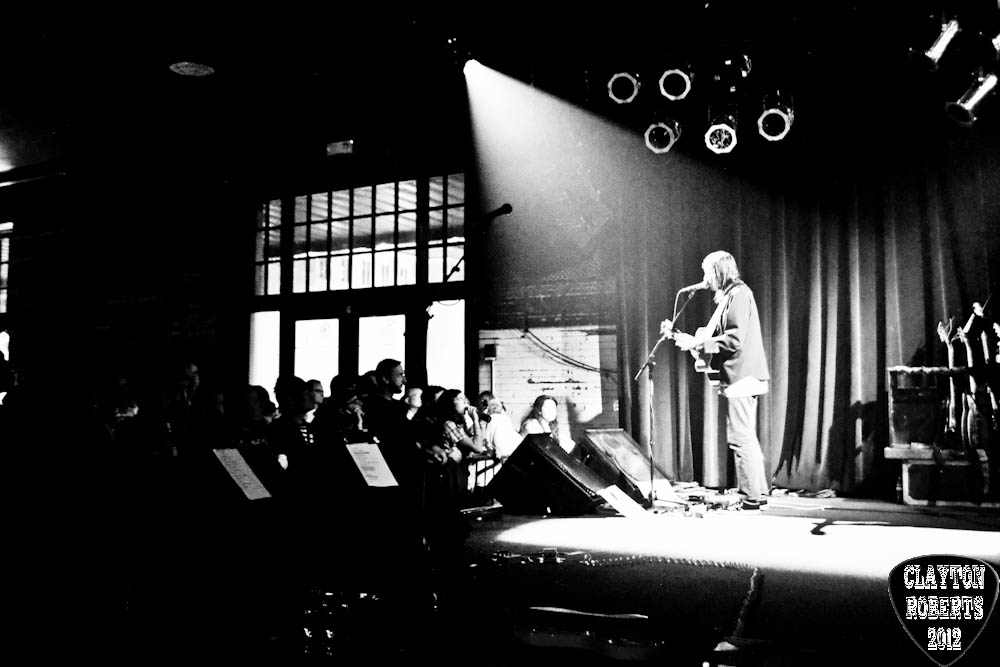 this mode, and would often say "Thank You" as the audience responded to each song with applause.
When Evan traded in his acoustic for his electric guitar, and current Lemonheads drummer Chuck Treece and bassist Vess Von Ruhtenberg came onstage, the crowd ignited in a frenzy of nineties nostalgia, knowing that the crushing guitar opener of "Rockin' Stroll" would next ensue. The next half hour was a pleasing pursuit down a lane laden with memories, and the Vinyl audience was glad to be along for the ride. With genuine Lemonheads flavor, we rocked through "Confetti", "It's A Shame About Ray", and with hope in our past, Evan Dando nailed "Ruderless". "My Drug Buddy", "The Turnpike Down" and "Bit Part" held up to expectations, and Vess Von Ruhtenberg provided some of the familiar album harmonies. "Alison's Starting to Happen", "Kitchen", and "Ceiling Fan in my Spoon" rocked intensely as they should, while "Hannah and Gabi" was as sweet as ever. "Frank Mills" found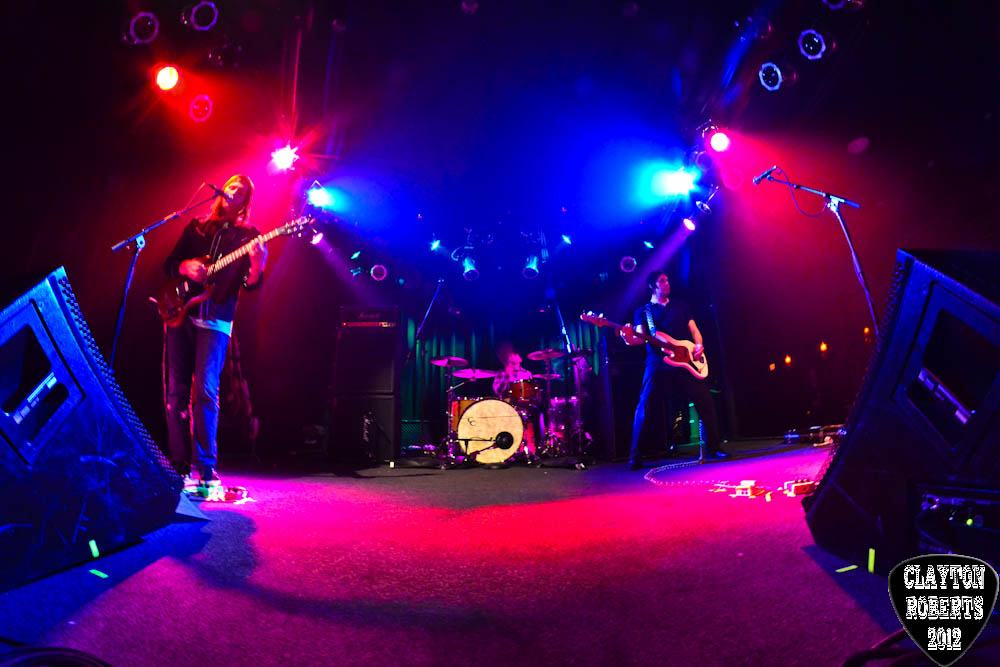 many of the guys in the crowd in a sing-along, which I found amusing. And I was pleased that "Mrs. Robinson", which was NOT on the original release of It's A Shame About Ray, did not find its way into the setlist, though some in the crowd would certainly disagree with me.
Another Evan Dando solo acoustic segment followed, and then Chuck Treece and Vess Von Ruhtenberg returned to rock out, with the final encore of "Style" closing out the show. It was well beyond the alleged midnight curfew when we left the venue, after a long fun night of musical delight. I'm not sure what turn of fate allowed Von Ruhtenberg to join us at Vinyl (Fred Mascherino has played bass for many recent shows), but he and Treece were confidently entertaining, providing the punch needed to allow Dando to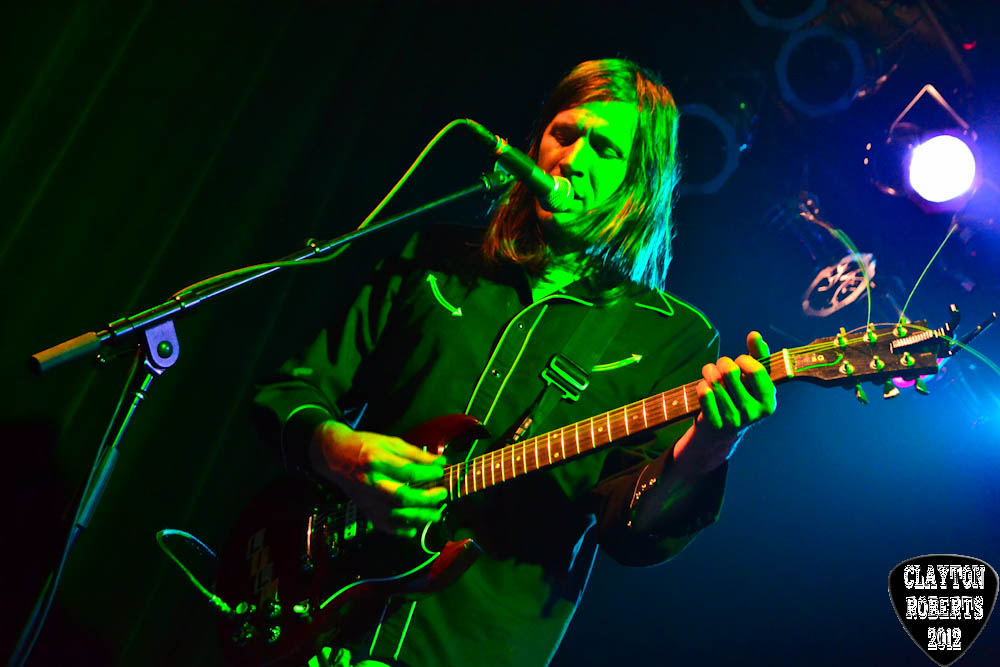 perform in Lemonheads style. Vinyl Music Hall definitely did Pensacola a favor by bringing us The Lemonheads, giving us a reminder that music is a great way to stay young-at-heart.
Click Here for full Photo Gallery
Review by: Rosemary A.W. Roberts
Edited by: Rosemary A.W. Roberts
Photos by: Clayton Roberts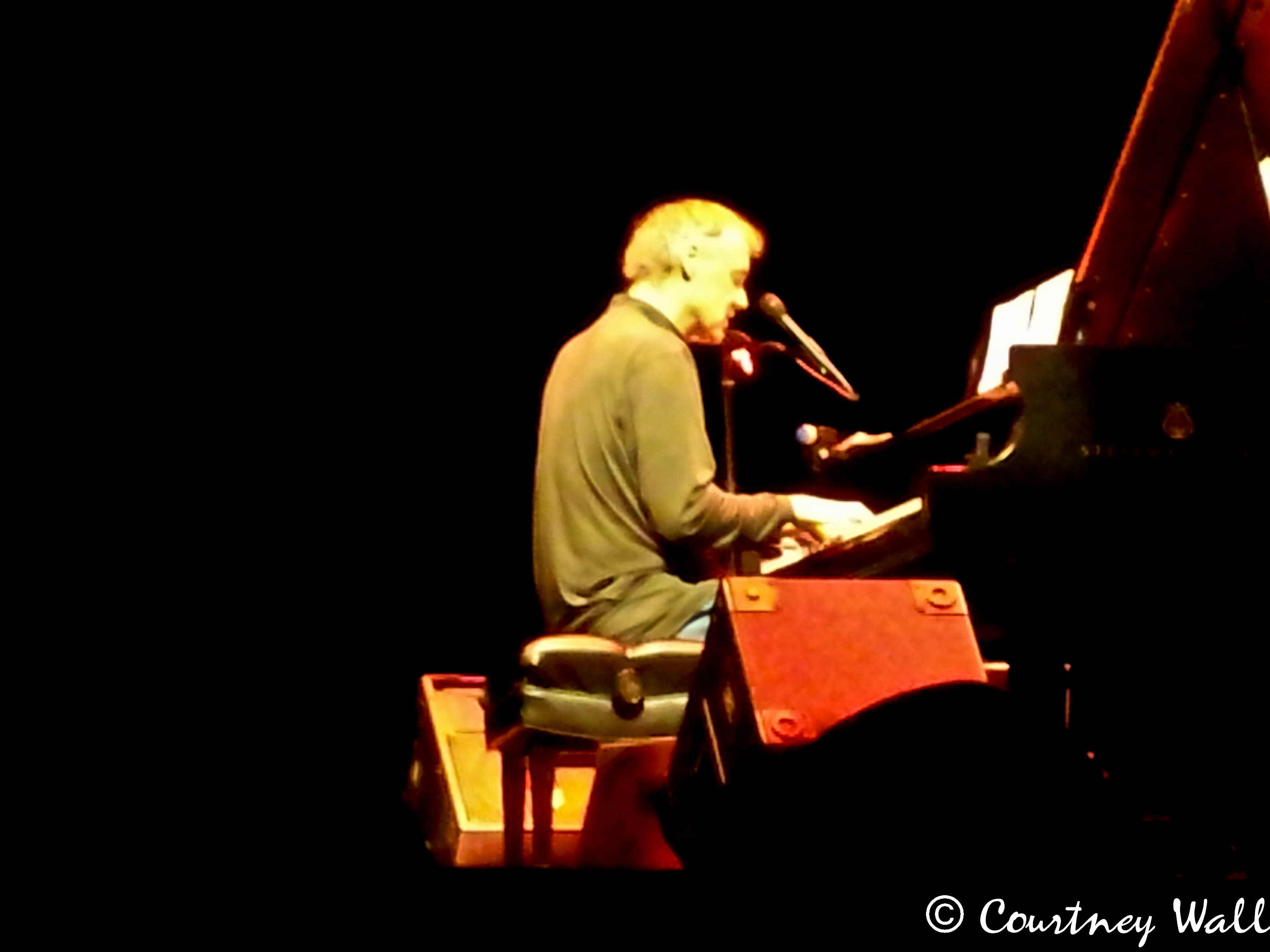 Bruce Hornsby ~ February 14, 2012 ~ Carolina Theatre, Durham, NC
"An Intimate Evening with Bruce Hornsby"
The evening had all the makings of a great night – a concert on Valentine's Day at the Carolina Theatre, a beautiful old movie theatre recently renovated for shows. As we walked in, there was just a Steinway & Sons concert grand piano on stage. Would Bruce live up to the excitement in the air? He sure would – he more than met expectations. If you were expecting to see Bruce belt out many of his greatest hits from the late 80's and early 90's, you probably ended up being disappointed with the show. But if you came into the building with an open mind, you probably ended up more than satisfied. We both felt it was one of the best shows we had seen in a long time. Personally, I had no idea the price of the ticket included both a music show and a comedy hour!! Bruce greeted the crowd in a very casual look in jeans and a long sleeve green shirt. The green color was apparently to show support for one of his sons who is a track runner for the Oregon Ducks. The other son plays basketball for UNC-Asheville, which he later referenced to rev up the Duke and UNC-Chapel Hill fans.
The first set started with "The Road Not Taken", "China Doll", and "Night on the Town". Bruce then proceeded to get on his "soapbox" – his words, not mine. He talked about his recent musical, SCKBSTD, with Spike Lee. He discussed his several collaborations over the years with Lee and how SCKBSTD is the license plate version of Sick Bastard, a title that some aren't thrilled with. After polling the audience on the title, he stated he "really didn't give a rat's ass about Maud from Mobile," and began a series of songs from the musical starting with "Paperboy." "Where's the Bat?" was a quirky song about a wife who fantasizes about killing her husband with a baseball bat! Bruce had the crowd laughing between most songs. The next SCKBSTD song, "Don of Dons" was about an elderly man with Alzheimer's who thinks he is Donald Trump. This song came with an anecdote about Bruce getting to spontaneously sing his song to the real Donald Trump himself at a NY Knicks basketball game. I can only imagine the real Don's face after some of the lyrics of the song.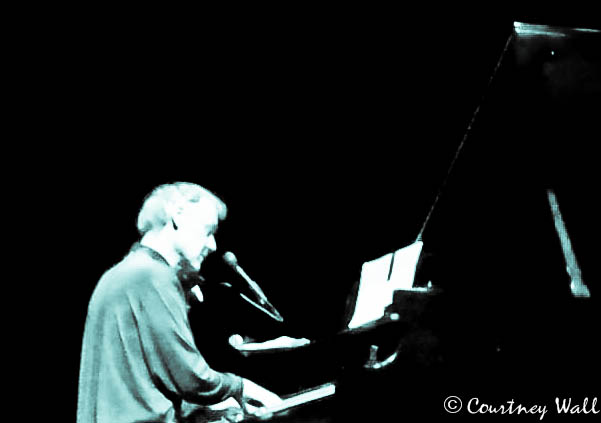 Bruce then performed a Grateful Dead version of "Valley Road." What a great song to play close to home. You can really hear his soulful voice during this tune. While deciding what to play next, a fan in the audience shouted "play more Dead!" This audience participation started a long night of verbal requests from the crowd - and I really think Bruce played off this energy. He then had some very entertaining talk about basketball, where he explained that his son plays at UNC-Asheville and played UAA basketball with players at both Duke and UNC. He finally announced to the Durham crowd that he pulled for both UNC and Duke, after UNC-A of course. He also fielded a question about whether or not he played basketball for the University of Miami. Bruce explained that while he had offers to play ball, he felt playing the piano was "the better path in life" and that it would work out better for him in the long run – the crowd laughed as everyone understood he made the right choice. To appease more Dead requests, he next played "Cyclone", a song co-written with Robert Hunter, off the new album Bride of the Noisemakers. He also told us that he received a New Year's Day present of new lyrics from Robert Hunter. To close out the first set, he played the Bonnie Raitt cover "I Can't Make You Love Me," and he reminded us he played piano on her original version. I have always liked this song, and I can say that his version is just as beautiful as the original. This was definitely a treat!!!
The second set might have been called the request set. Before the show, people in the audience brought requests down and placed them on the front of the stage. During the set break, someone picked up all of the requests, arranged them together, and placed them on the piano next to his sheet music. Bruce proceeded to come out, sit down, and sift through the stack of papers with song requests. "20/20 Vision" won out and started the second set. The next request was a painting on a piece of paper with a note from Scott, asking to hear "Sad Moon" so his girlfriend would have sex with him that night. Bruce laughed as he read the request to the audience and explained that he was happy to help Scott out. Before he started the song, he told us how he grew up in the Newport News, Virginia area. One night, he was sitting in the parking lot of a Taco Bell eating a bean burrito, when a woman knocked on the window and asked him if he wanted a date. He declined the women but sat there "where the red lights are low" and wrote the lyrics to the song.
Next, we were treated with the chorus of "Dirty Ground", a song he originally played with Jack Dejohnette. Someone from the audience had written down the entire lyrics to the song, and Bruce was perplexed at how this person even knew the lyrics since it was a relatively new song that came out in January of 2012. He told us that we only got the chorus because he didn't know how to play any more of song. He sure did play the chorus well. A beautiful, improvisational version of "The Way It Is" was next. He started this song similar to the radio version and even made a joke after the first solo that he thought that he "wasn't ever any good at playing the radio version solo." As soon as he said this, he completely changed the sound of the song. After several minutes, he left the song for a Mozart tune and then slowly brought us back to the "Way it is" in the final few stanzas.
Bruce brought us back to SCKBSTD with the song "In the Low Country" about some "stupid ass country people". This was another entertaining lyrical piece with the appropriate lyrics "we're having a ball in the low country." To keep things southern, he went with "Preacher in the Ring." The next song was "Mandolin Rain", a completely different version that he does with Ricky Skaggs. Actually, someone in the audience yelled out "Mandolin Rain" and Bruce said that we didn't want to hear it, but everyone disagreed at once. He told the audience that we might not recognize it and might not like it, but he "didn't give a damn." The song was beautiful, yet very sad. It forced me to really listen to the words of the song in a completely different way. I had always listened to that song in a cheerful way, but it really made me hear the pain in the lyrics of someone leaving you. After he finished, he said he is often asked why he changes some of his more popular songs; he said "why wouldn't you want to change something if you can make it better?" What a true statement, something we might all strive for in many aspects of life. The second set ended with the beautiful "Swan Song", after he told us that we were requesting all of the "pretty songs." I was very happy with the audience selections for this show.
For the encore, Bruce played the light and lively "Spider Fingers." He told us how he remembered playing the song early in his career in Raleigh. Someone from the crowd yelled "The Brewery!" Bruce chuckled and said "not that long ago," since the Brewery is a very small club on the North Carolina State University campus. He then said he used to get fired from bars for being too jazzy. He definitely brought that influence into the song tonight. He finished the song sitting Indian-style on the piano bench. Feeling the crowd's desire for the night not to end, he performed a second encore with "Soon Enough," also from SCKBSTD. This was a great song to close out one of the best shows I have seen in a while. It was both comedic as well as musically inspirational. It was definitely an intimate evening with Bruce Hornsby and I can't wait to see him again, either solo or with The Noisemakers.
Review by: Courtney and Kerr Wall
Edited by: Rosemary A.W. Roberts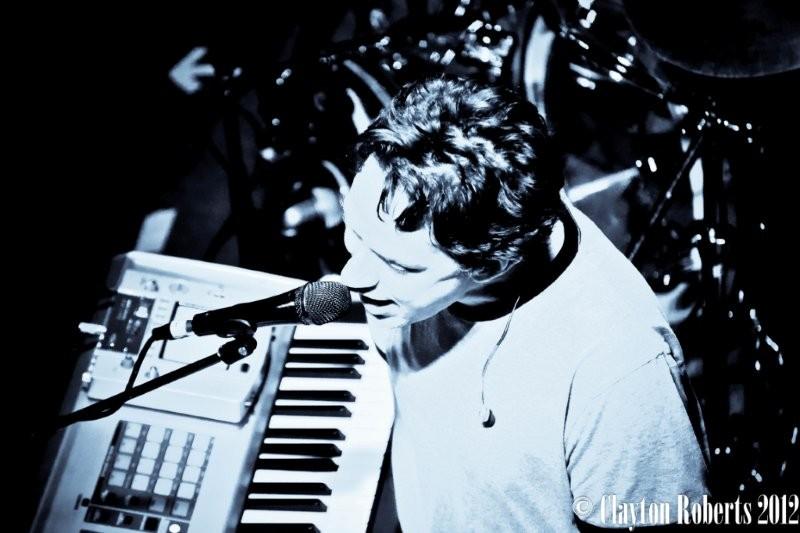 They Might Be Giants ~ February 4, 2012 ~ Tipitina's, New Orleans, LA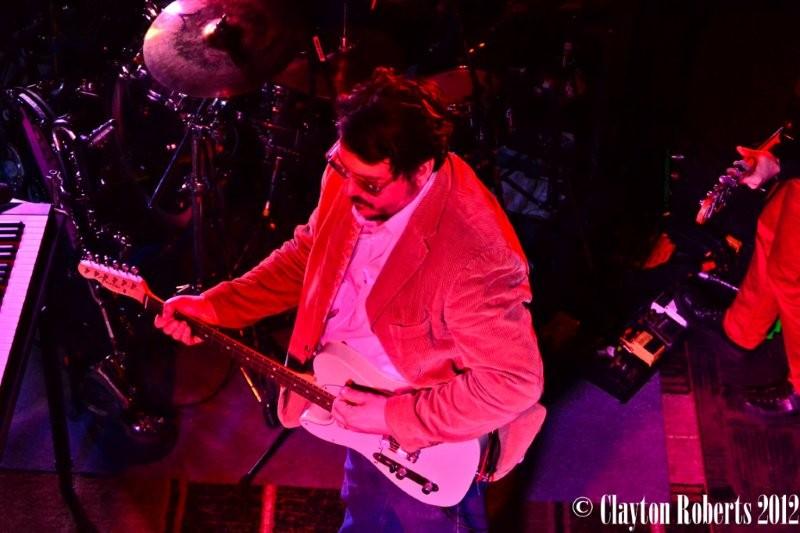 This show has been a long time in the making for me. I started listening to They Might Be Giants, some twenty years ago. This chance to finally see them live was one not to be missed. Touring in support of their new album "Join Us", from which we heard the first track "Can't Keep Johnny Down," TMBG walked out to what appeared to be a sold out crowd at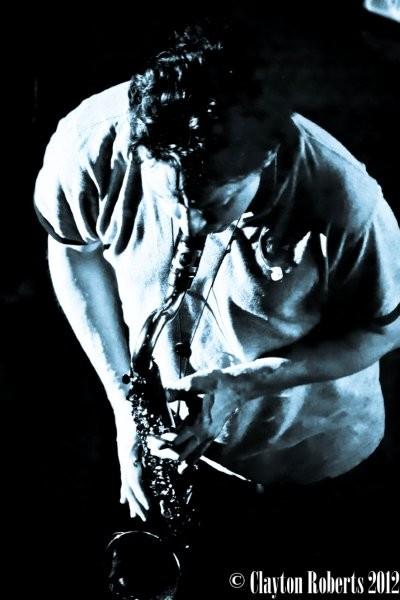 the legendary Tipitina's in New Orleans on the opening day of the Mardi Gras season 2012. John and John were exhibiting their traditional quirky mannerisms, and the crowd was eating it up. The concert started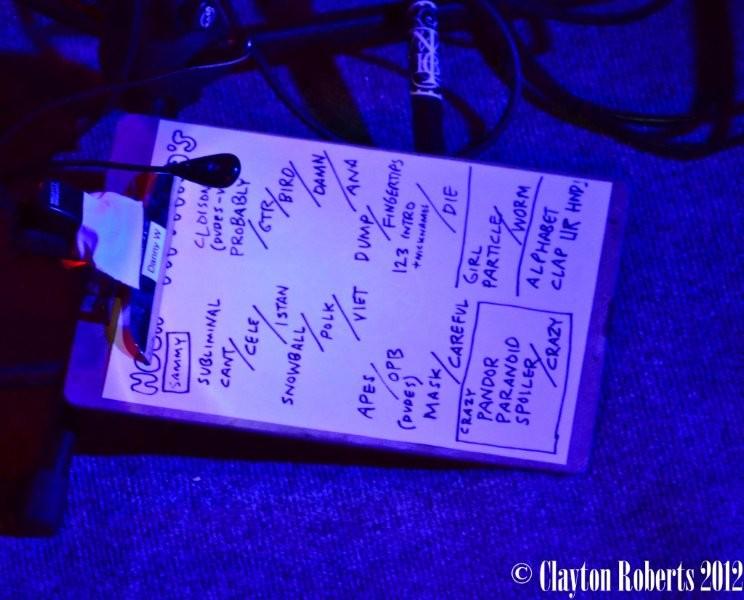 out with Johnathan Coulton opening up. He and his band got the party started and moving in the right direction, setting the mood for the Giants to follow. TMBG took the stage and we were off and running. As supporting tracks of "Join Us" were played, we were treated to other classics including Snowball in Hell, Istanbul (Not Constantinople), Birdhouse in Your Soul, and the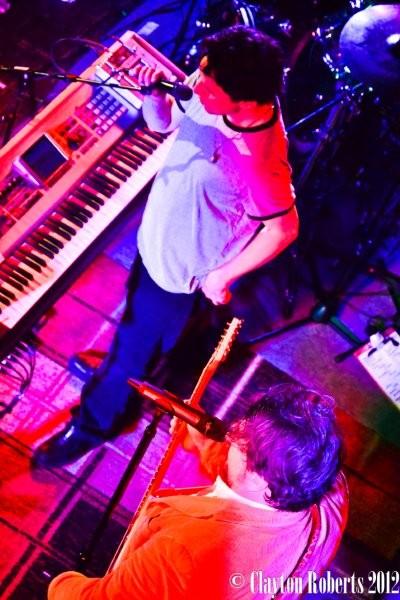 ever crowd pleasing Particle Man. During the show TMBG gave a signed vinyl copy of the new album to the birthday boy hanging out on the front row. The show had John and John leaving the stage at times for hand puppet skits, that were quite humorous and the audience enjoyed as well. They Might Be Giants was definitely another show for my bucket list, and I'm glad that I was able to witness them in their pure form.
Click Here for full Photo Gallery
Review and Photos by: Clayton Roberts
Edited by: Rosemary A.W. Roberts