2011 REVIEWS FROM JANUARY - JULY 2011
| | | |
| --- | --- | --- |
| Honey Island Swamp Band - July 24, 2011 - Callaghan's Irish Social Club, Mobile, AL | Bob Dylan with Leon Russell - July 27, 2011 - Pensacola Civic Center, Pensacola, FL | Furthur - July 30, 2011 - St. Augustine Amphitheatre - St. Augustine, FL |
| Col. Bruce Hampton and The Pharoah Gummit - June 5, 2011 - Callaghan's Irish Social Club, Mobile, AL | Grensky Bluegrass - June 12, 2011 - Callaghan's Irish Social Club, Mobile, AL | |
| Garage A Trois - May 10, 2011 - The Soul Kitchen, Mobile, AL | | Wavy Gravy's 75th Birthday Bash - May 27, 2011 - The Beacon Theatre, New York City |
| Widespread Panic - April 15-16, 2011 - Oak Mtn. Pelham, AL (Interview with JB following review) | Bruce Hornsby w/ Tea Leaf Green - April 26, 2011 - Saenger Theatre, Mobile, AL | The Greyboy Allstars - May 6, 2011 - Tipitina's - New Orleans, LA |
Click Here for reviews from 2010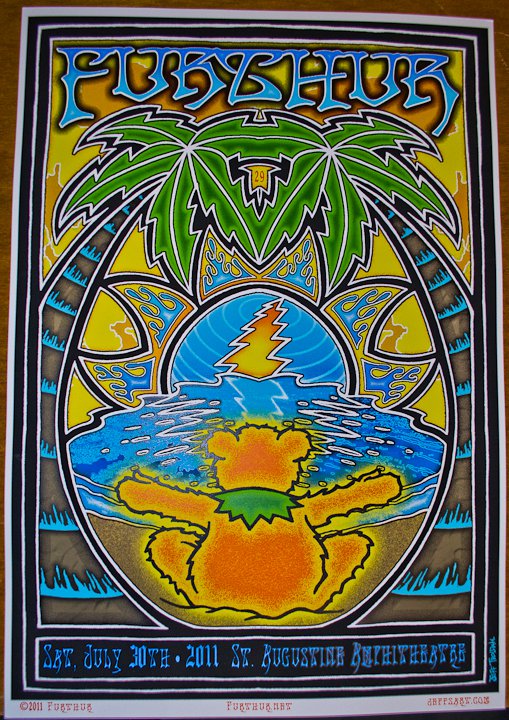 Furthur (Bob Weir and Phil Lesh) 7-30-2011 - St. Augustine Amphitheater - St. Augustine, FL
THIS SPACE IS GETTING HOT, YOU KNOW THIS SPACE IS GETTING HOT!!
On Friday July 29th my dad, some friends, and I drove over to St. Augustine, FL to see a sold out Furthur show. The show was on the 30th, but we decided to get there a day early so we could have time to party and tour the oldest city in the country. St. Augustine is a BEAUTIFUL place, I would recommend everyone to visit. We woke up on the 30th and went around to tour the city before the show. Show time was at six thirty and Furthur is known to start right on time, so we got to the lot around four forty-five. We met up with some friends who had a good parking spot and partied there before the show. While we were walking around we realized that it was HOT, VERY HOT. There were not many clouds in the sky either, which was not helping the heat. I thought since we were right on the Atlantic Ocean, there would be some what of a cool breeze, but there was not that much of a breeze. I also noticed that the lot was not as full as it normally is at a Furthur show. I assumed it was because they played in Simpsonville, SC the night before and were playing in Alpharetta, GA the next night, so a lot of people did not want to travel down and back. Everyone who did come enjoyed the lot! There was a band called SpongeCake & The Fluff Ramblers, who played in the lot before the show to get everyone pumped up. I thought they were pretty good and stopped to listen for awhile.
Around six ten, we decided it was time to walk inside and get ready for the show. When we got inside we noticed how small the amphitheater was. I found out that it holds a little over four thousand people. The place was really interesting looking. The roof above the stage, pit, and first level of seats looked like a circus tent. It looked pretty neat when you stood at the top of the amphitheater and looked around. Our seats were right in the middle and in the front row of the 300 level.
They were perfect seats, except for the sun beating down on us! The sun was to the left of the stage, so everyone was feeling the heat till the sun went down around nine. The band came on stage around six forty-five, which was weird since they are always on time. Everyone was FREAKING out and then the started with a jam that sounded familiar. All of a sudden they hit the licks to "Jack Straw" and everyone BELTED out "WE CAN SHARE THE WOMEN, WE CAN SHARE THE WINE!" I got goose bumps instantly! When it was Phil Lesh's turn to sing, his voice sounded really good for someone who is seventy one years old and had a liver transplant. After a HUGE JAM, they paused for a couple of seconds and then John Kadlecik, lead guitarist and vocalist, hit the fat sounding licks to "Althea." Everyone was looking at each other thinking WOW, what a way to open a show! When Kadleick sang "This space is getting hot, you know this space is getting hot," everyone in the crowd started to SCREAM because it was in fact REALLY HOT! The next song they played was a Furthur original, "Big Bad Blues." "Stagger Lee" was next and that was a crowd pleaser. "He's Gone" followed and it was special since Jerry Garcia's birthday was two days later. They jammed long and when they finished they paused for a moment and went into "Just A Little Light," a late eighties Grateful Dead song written by the late Brent Mydland (Grateful Dead Pianist). "Just A Little Light" went into Lesh's original "Celebration," which is not played very often. After "Celebration," Bob Weir pretty much stopped the show and said they will be back in a little bit. The band and the crowd were getting too hot, so I think that is why they stopped after only playing seven songs for an hour long.
Normally they only take a fifteen to twenty minute long set break, but they took an hour long break to let the sun go down. Around eight forty-five the sun was almost down and they came back on stage. I don't know what it was, but I felt that this set was going to be great since they had such a long break. Since it was now dark you could see the HUGE led screen they had behind them that made patterns throughout the show. They came out full blast with "Cassidy." Starts out slow, then builds and builds into this awesome jam that lasted almost twelve minutes. "The Wheel" was up next and when they sang "If the thunder don't get you then the lightning will," there was lightning on the led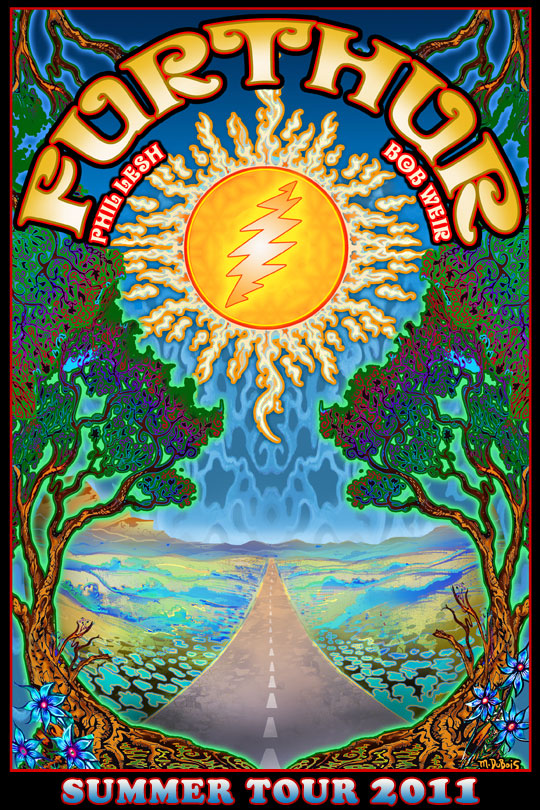 screen. The crowd loved it! After "The Wheel," the band never stopped playing till the end of the show, every song was jammed into each other. "Mountain Song," a Furthur original that I had never heard before, was pretty good. They jammed into a crowd favorite "Uncle John's Band" and everyone sang along. Another Furthur original, "Colors of the Rain" was next and on the led screen they had different colored rain drops falling during the whole song. Next came the HIGHLIGHT of the night! "Help on the Way" into "Slipknot," a CRAZY, psychedelic, Grateful Dead feeling jam. "Slipknot" morphed into a great "Playin' in the Band," which morphed into "Franklin's Tower," which then morphed into "Playin' in the Band Reprise!!" The crowd was going NUTS and the band walked off stage for a break before the encore. Lesh came out as he always does before the encore and talked about the reasons why you should become an organ donor. When he was finished talking the rest of the band came out and played the beautiful song "Brokedown Palace." At about ten thirty, the band finished up and bowed to the audience. We were worn out from an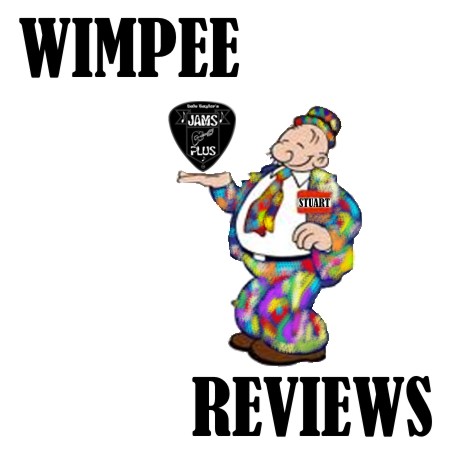 AMAZING show! Furthur always seems to show me that they are one of the best bands out there!
Review by Stuart Wimpee
Edited by Rosemary AW Roberts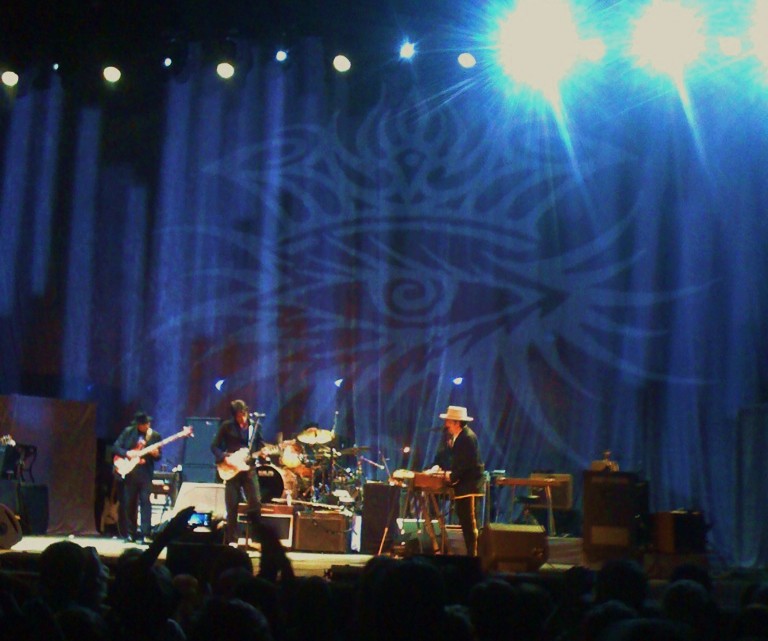 Bob Dylan and his band with special guest Leon Russell - Pensacola Civic Center, Pensacola, FL 7-27-2011
Well scratch this one off the bucket-list. July 27th Wednesday night, my dad and I decided to ride over to Pensacola, FL to see Bob Dylan and his band with special guest Leon Russe d eight thirty only to catch the last twenty minutes or so of Russell's show. When we walked in Russell's guitarist, Chris Simmons was solo playing Robert Johnson's "Walking Blues." It was an awesome song to walk in on, to say the least! Russell was still on stage sitting at his piano while Chris played and when he was done, the rest of the band came back on stage and they started to play "A Song For You." Russell was in his normal all white suit and white cowboy hat. His voice sounded pretty good too. "Papa Was A Rolling Stone" by the Temptations was next and they had everyone in the place dancing. They slowly faded out and the bassist teased "Paint It Black" by the Rolling Stones, then they busted into the encore "Roll Over Beethoven" by Chuck Berry. It was very upbeat, snap your fingers Rock n' Roll, which again had everyone in the audience up and dancing.
The band left the stage about eight forty-five and the overhead lights came on and "Higher Ground" by Stevie Wonder was the house music. Nice way to keep people dancing. When the lights came on I noticed that the stage was in the middle of the Civic Center and that there was a curtain that blocked off everyone getting to the other side of the building. It was an older crowd, but there were still some young faces there, me being one of them. Also, I noticed that it was a little more than half full. I guess since it was on a Wednesday night people did not want to party, but still it's Bob Dylan and Leon Russell.
Around nine twelve some man came on the loud speaker and gave a GREAT introduction and Mr. Bob Dylan and his band took the stage! The whole band was wearing all black and Dylan was wearing an all black suit with yellow trim and his signature hat, which was white. Everyone was cheering and clapping, then Dylan went to the keys and they started playing. When he sang, you could tell that his voice was not the same.
I'm not saying his voice was bad, just not the same. When they played "Things Have Changed," Dylan played the harp and everyone LOVED it! I have to admit that he still can play the hell out of some harp! When they played "Tangled Up In Blue," it was completely different than the original version. I imagine that Dylan would get tired of playing a song the same way for that many years. He actually played every song differently than the original version. Dylan mostly played the keys with some harp every other song and only played guitar a couple of times. When he did play the guitar, he had some nice licks. The show was slow, normal, Dylan songs till they got to "Highway 61 Revisited."
That had to be the highlight of the show for me! They ROCKED that song and made sure that you knew Dylan still had it! My dad and I went down close to the stage for the last couple of songs to really get the feel for the show and to see Dylan up close. He looks really good by the way! The first encore they played two of the most popular songs, "Like A Rolling Stone" and "All Along The Watchtower." My favorite was "All Along The Watchtower," because the drums sounded really good! They left the stage and we kept yelling for more and to our surprise, they came out for a second encore! "Blowin' In The Wind" was the choice. It was mellow and a good way to end the show. The show was over around eleven and we were back in Mobile by twelve. On the drive home, I realized I just saw a living legend and was satisfied.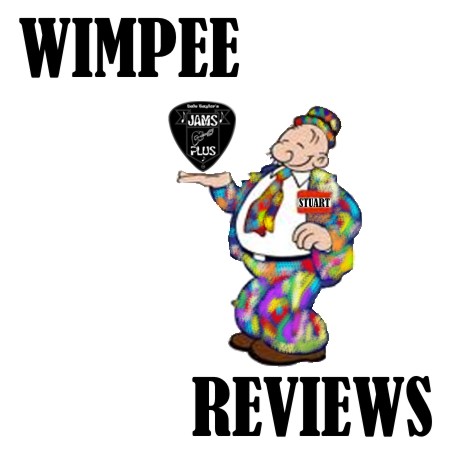 SETLIST: http://www.boblinks.com/072711s.html
Review by Stuart Wimpee
Edited by Rosemary AW Roberts
Photos by Stuart Wimpee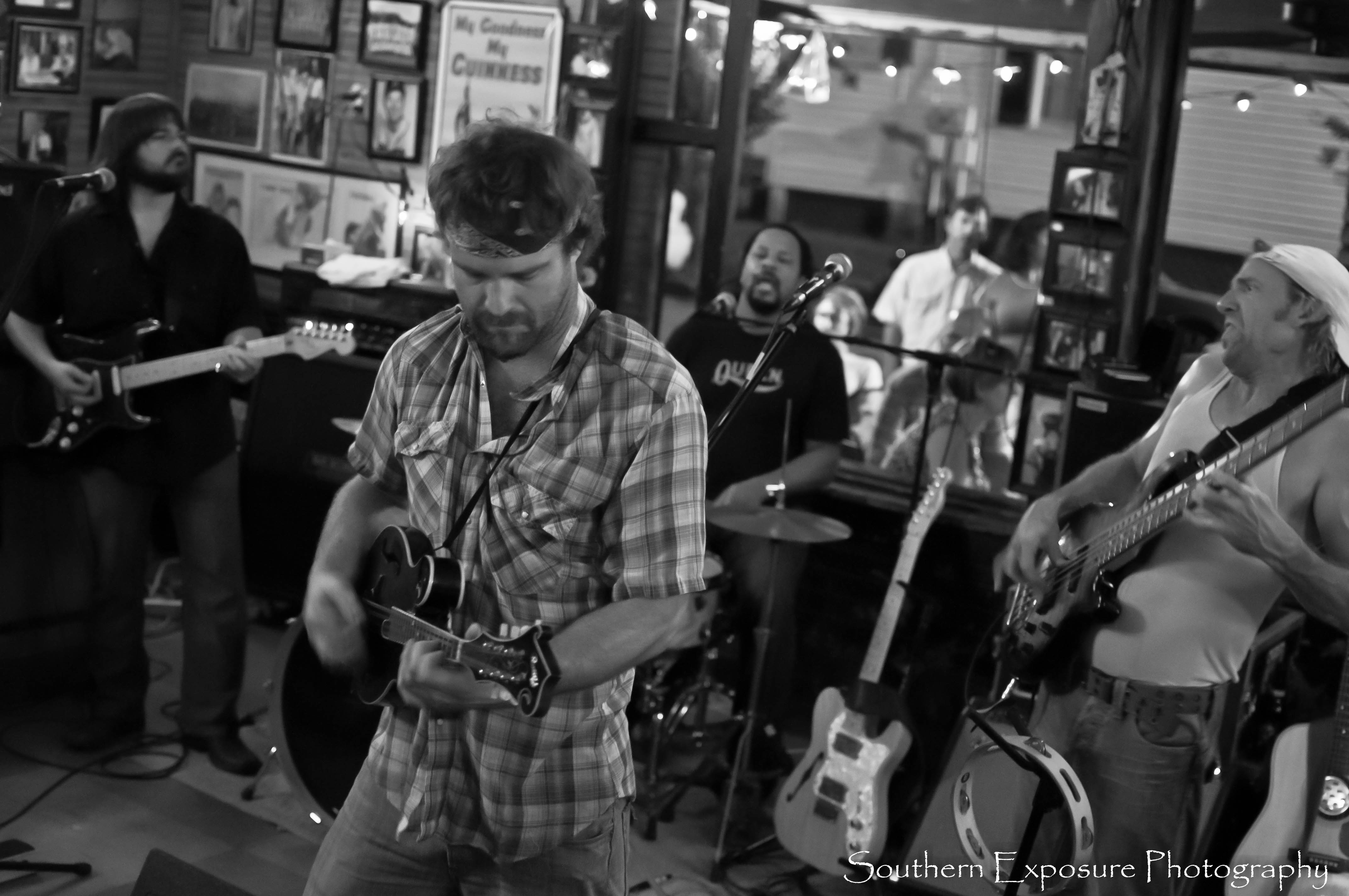 Honey Island Swamp Band - July 24, 2011 - Callaghan's Irish Social Club, Mobile, AL

On a breezy Sunday night, Honey Island Swamp Band drove over from New Orleans to end the weekend with a jamming Rock n' Roll show! They are a big band with 5 members and a lot of equipment. You could tell that this was going to be an intimate show they weren't going to forget. Before the show started my dad and I had a long conversation with the bassist Sam Price. We talked about music and all the places Honey Island has played. Price was saying that Callaghan's and the neighborhood reminded him of New Orleans. When he said that, I knew that they were going to put on a great show!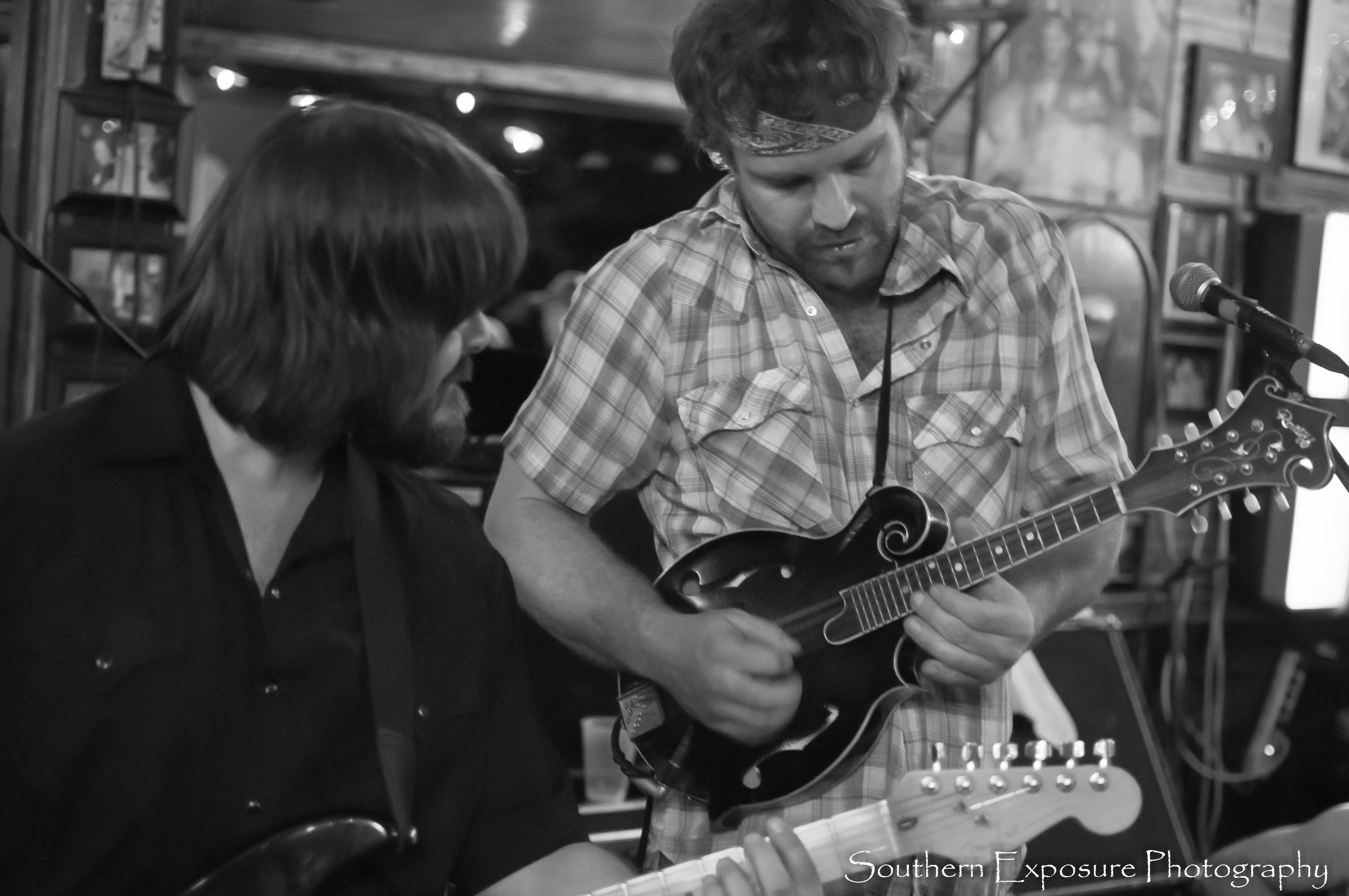 The beginning of set one the band was warming up with some slow songs that sounded great. The lead singer Aaron Wilkinson played acoustic guitar, mandolin, and harp for the whole first set. The crowd was starting to get bigger towards the end of the set and the energy was definitely getting stronger. The last two songs of the first set were good ole southern JAMS! You could tell this band is from New Orleans. Chris Mule' the lead/slide guitarist was ripping some solos left and right. Trevor Brooks was right there with him on the Hammond B-3 organ. Holding it down on the drums was Garland Paul. Together the whole band was warmed up and ready to JAM!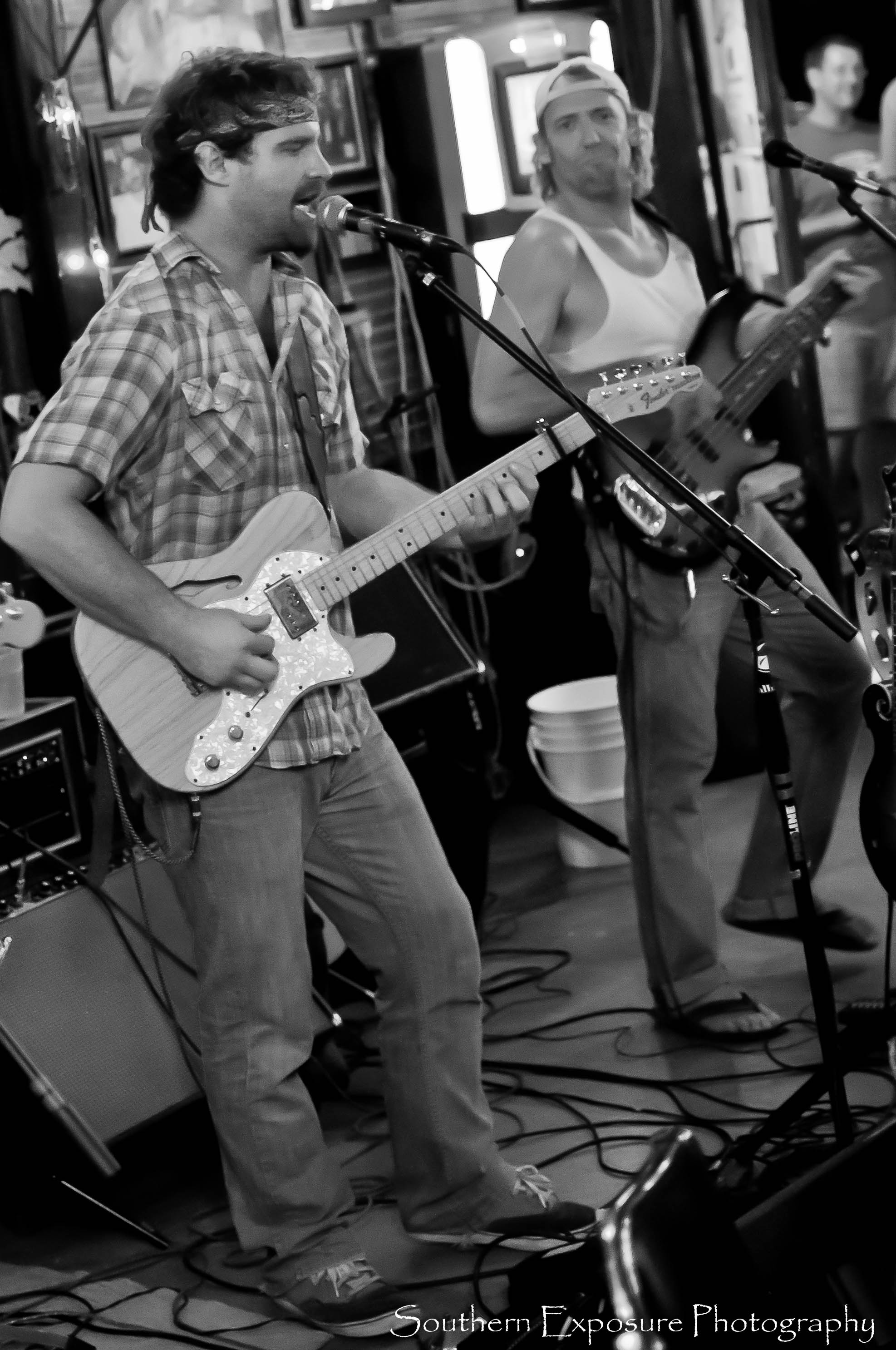 After everyone had a short break to regain their thoughts and drink some more, the band came back and started off with a slow welcome back song. After the first song the band played loud Rock N' Roll the rest of the night! Wilkinson switched from acoustic to electric for the majority of the second set. Everyone inside and out was dancing and having a great time! They played a couple of covers, but the crowd pleaser had to be when they played Bob Dylan's "Gotta Serve Somebody". Everyone was singing along with the band and dancing on tables. By the end of the night the crowd chanted one more song and JT (owner of Callaghan's) gave the approval to the band to play one more. After it was all said and done Honey Island Swamp Band came to Mobile and ROCKED Callaghan's! What a great way to end the weekend!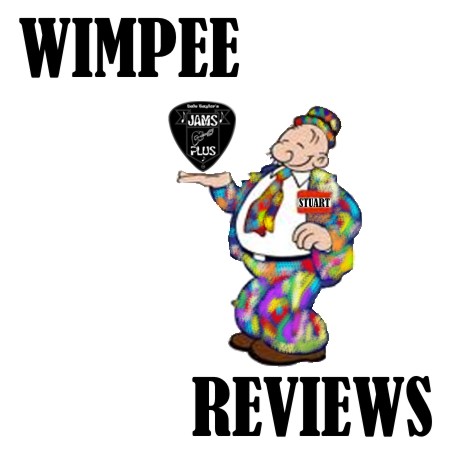 Review by Stuart Wimpee
Edited by Rosemary AW Roberts
Photos by Ali Kerr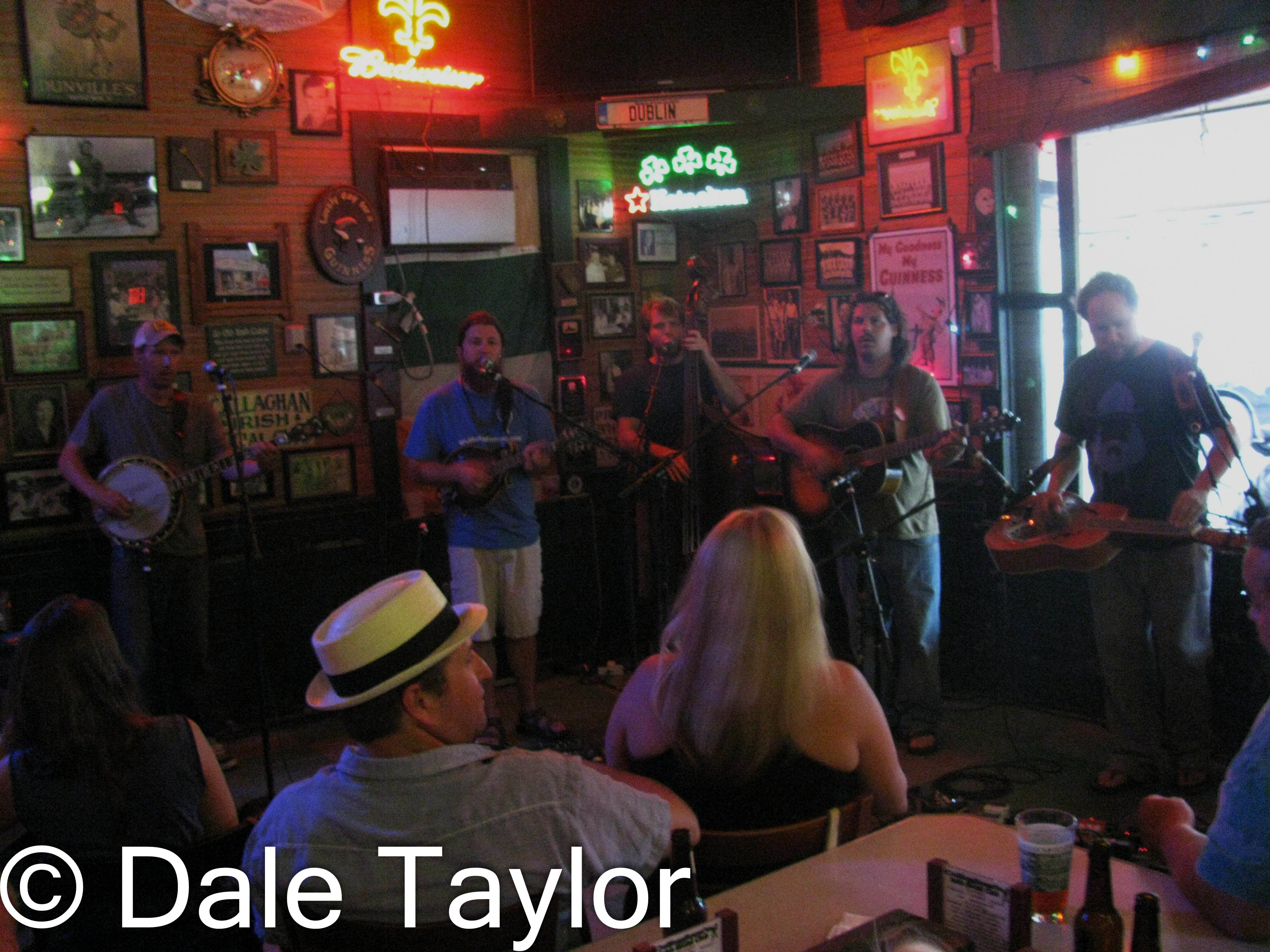 Grensky Bluegrass - June 12, 2011 - Callaghan's Irish Social Club, Mobile, AL
Pulling up Sunday evening to Callaghan's Irish Social Club, I knew it was going to be a great night of music. Finally getting into the Port City after a two day run at the famous Bonnaroo Music Festival, Greensky Bluegrass was here to give us a good ole' pickin' time. These Telluride Bluegrass winners have already shown most of the nation they were for real. Now Mobile, Alabama will get a taste of that jam band bluegrass that started in their hometown of Kalamazoo, Michigan. Straight from the start they hit us with the traditional classic "Sitting On Top of the World" all the way to a crowd pleasing pickin' and grinnin' version of Michael Jackson's "Beat It". Talking to Guitarist, Dave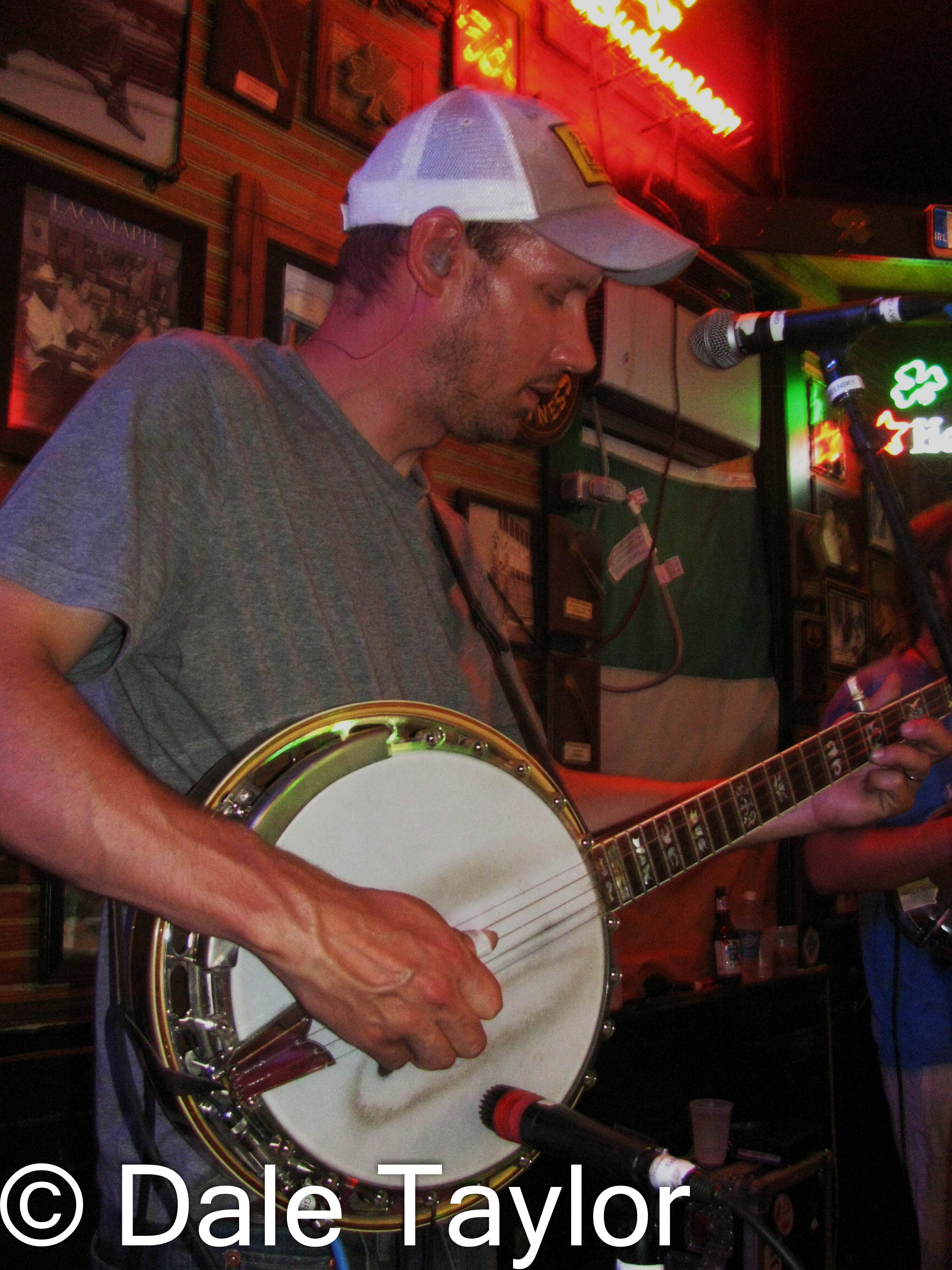 Bruzza at set break, he said "We learned that song as a last minute deal the day Michael Jackson died. Being children of the 80's we grew up on the king of pop, and felt it was appropriate. We never knew it would become so popular." Along with traditional American tunes and a great version of The Grateful Dead's "China Cat>I Know you Rider" this packed out establishment got a great night from an excellent band. They are on tour now and more information can be found at greenskybluegrass.com or check them out on facebook. They are a youthful solid band that will be around for a while.
Review by Dale Taylor
Edited by Rosemary AW Roberts
Photos by Dale Taylor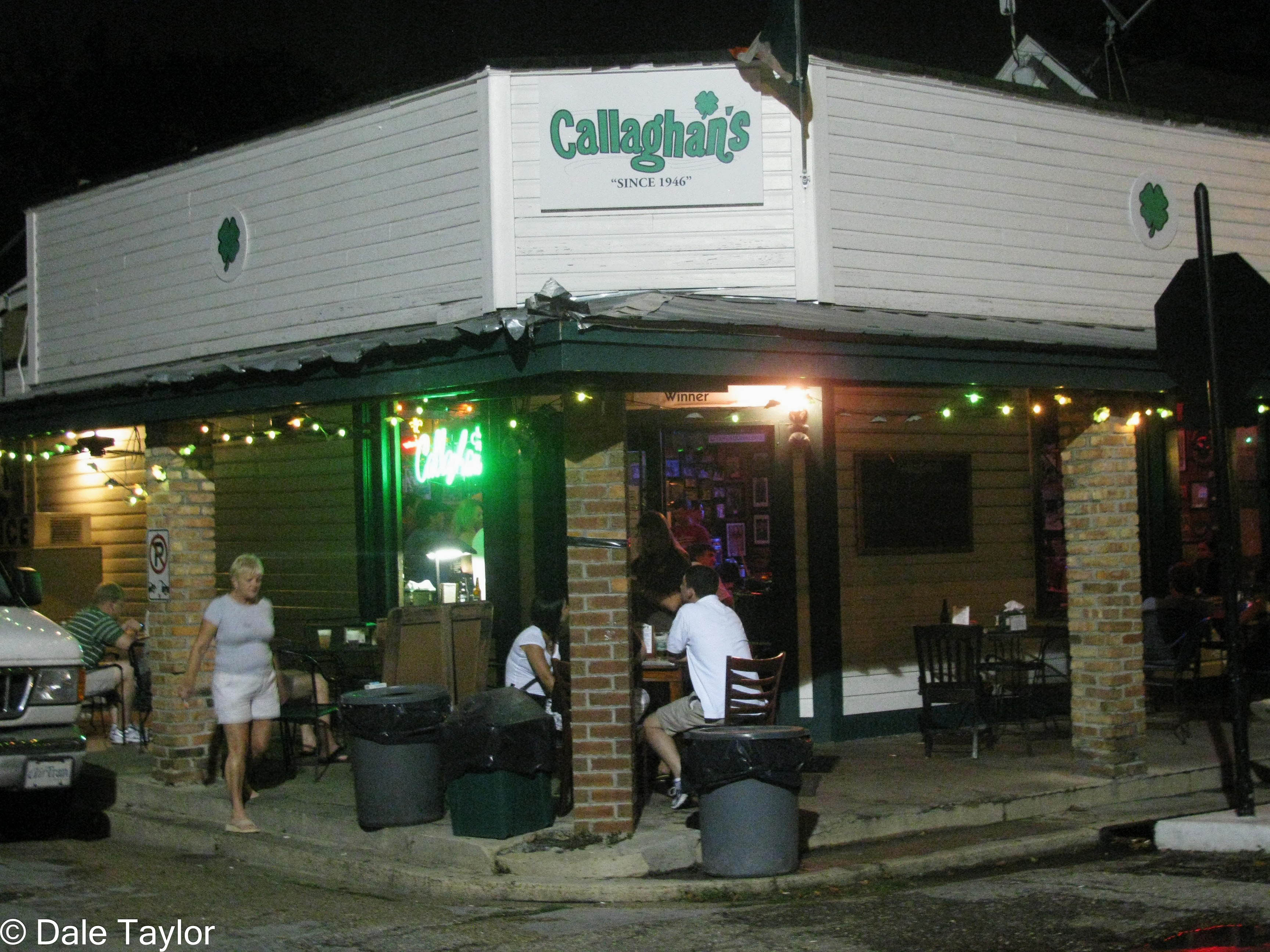 Col. Bruce Hampton and The Pharoah Gummit - June 5, 2011 - Callaghan's Irish Social Club, Mobile, AL
As you drive east toward Mobile Alabama heading toward downtown, there is a small street named Marine Street. You drive down this narrow road through a neighborhood like you are going home. If your home is Callaghan's Irish Social Club, then you are on the right track. This small little Irish Pub in the middle of the Oakleigh District has housed so many really good musical acts on a Sunday night here on the Port of Alabama; acts including Holy Ghost Tent Revival, Greensky Bluegrass, Grayson Capps, Will Kimbrough, and Lisa Mills just to name a few. But tonight they were bringing the Granddaddy of the Jam Scene as John Bell of Widespread Panic likes to call him, or "One of My Biggest Influences!" according to Bassist Mike Gordon of Phish. The Colonel has played and launched careers of men such as Jimmy Herring, Jeff Sipe, and Bobby Lee Rodgers. Tonight the Colonel comes with a new crew of up and coming talents, by the name of Pharoah's Gummit. One of the members is the brother of Derek Trucks, drummer Duane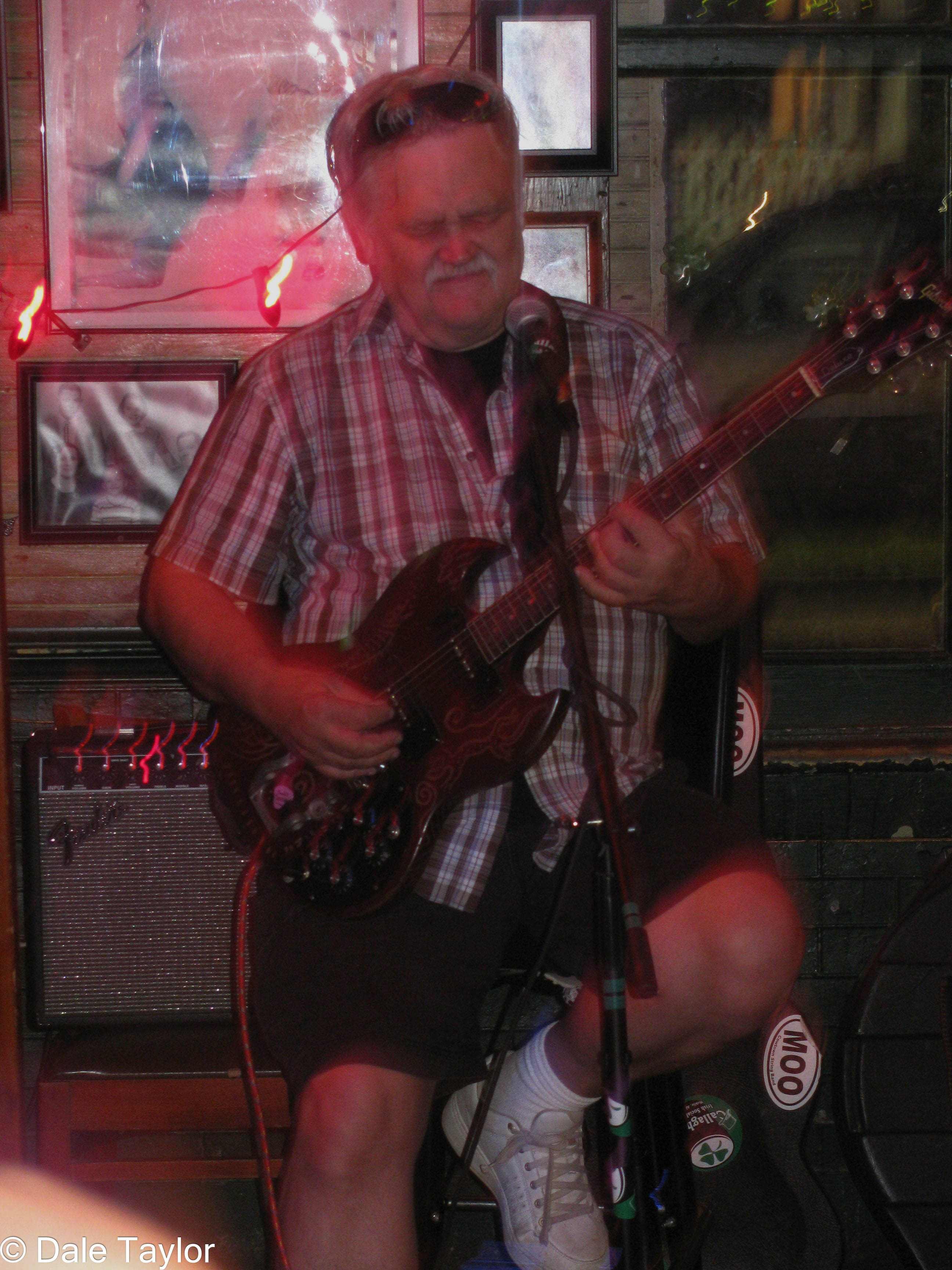 Trucks, who plays like he is on a nine piece kit, but when you focus your eyes, you see this magician only playing a three piece kit. Mobile's own Chris Spies of Kung Fu Mama and now Grayson Capps and The Lost Cause Minstrels, always brings a nice keyboard accompaniment. With this five piece band packed into the corner of this Irish Pub, which is a Callaghan's tradition, we all knew that they were going to heat this place up and have us begging for more. This is exactly what we got!
Col. Bruce punched us right in the kisser from the start and never let up. He played a perfect mix of Classic Colonel tunes in styles ranging from Blues, Jazz and even a little Country Swing. The joint was jumping with a packed house and people overflowing into the streets. Col. Bruce has told Jams Plus Media in past interviews that what he looks for in a musician is someone who is not afraid to take a chance, and can play a solid mix of classic American style riffs. And as always the Granddaddy can pick 'em, and pick 'em well. It is amazing to watch this group of extremely talented musicians follow this Professor of Groove, and hang on to his every move. When you have a minute to turn around and view the crowd you see that the the whole Pub is doing the same. People who know the Colonel or even talked to him for a brief moment, knows that this man brings more to the stage than just experience. He brings a lesson for all of us all to learn. Learn we better, or our musical life will be missing a very important part, which has History, Passion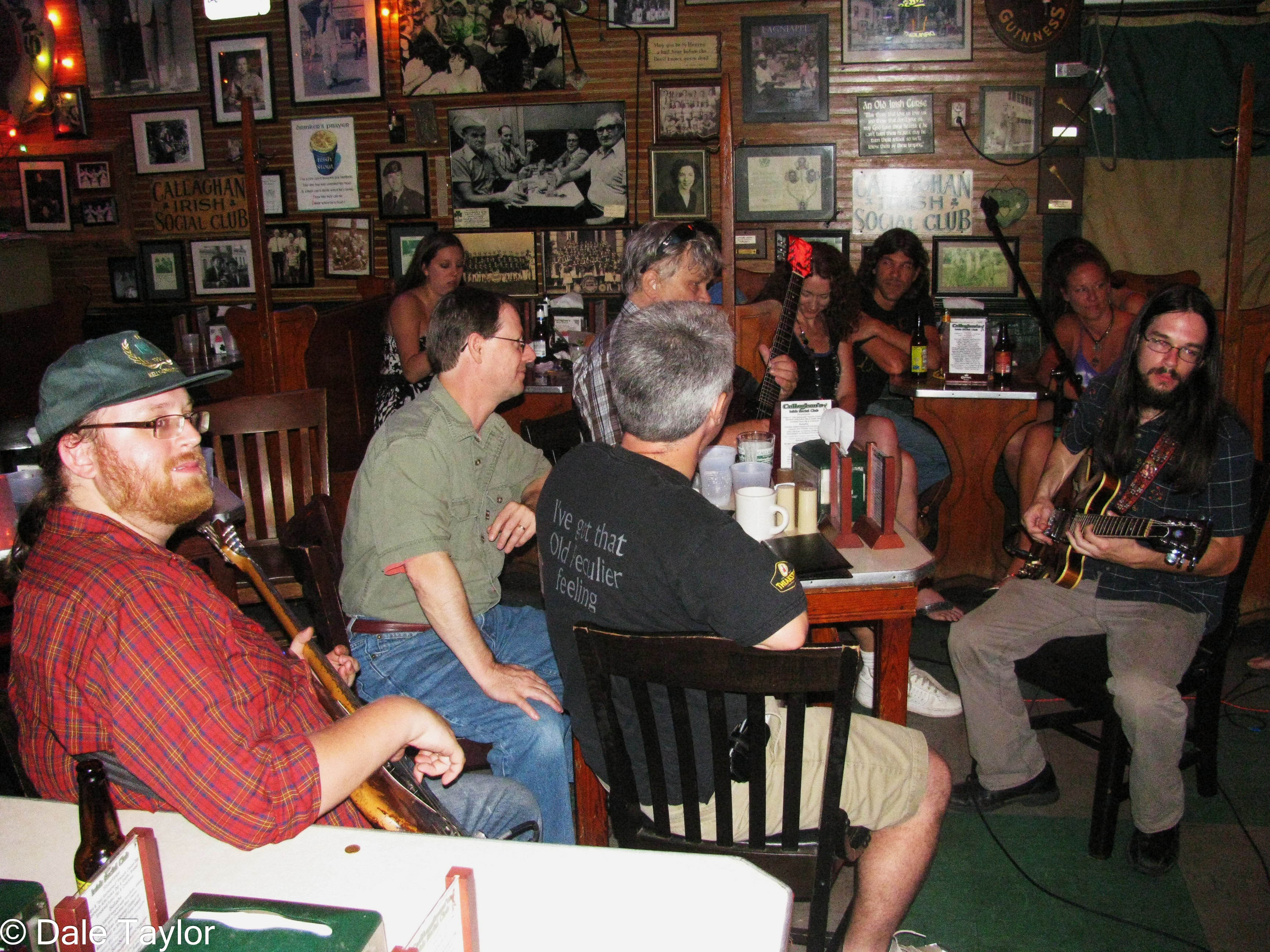 and a twist of Insanity.
As they perfectly ripped "I'm So Glad", the band lead by the Colonel, they decided to end the show by sitting down with the guests to play the last song , which could have been called "The Sit Down Jam". As the show ended and I made my way back to say goodbye to Col. Bruce Hampton, I found out in a conversation with him, which is always interesting to say the least, he will be back in Mobile, Alabama to shoot a movie. What!? When!? Where!? In the Port City of Mobile, you ask? Hmmmm... I cannot say. But do know that Jams Plus Media will keep you updated as we find out more about this epic film.
Review by Dale Taylor
Edited by Rosemary AW Roberts
Photos by Dale Taylor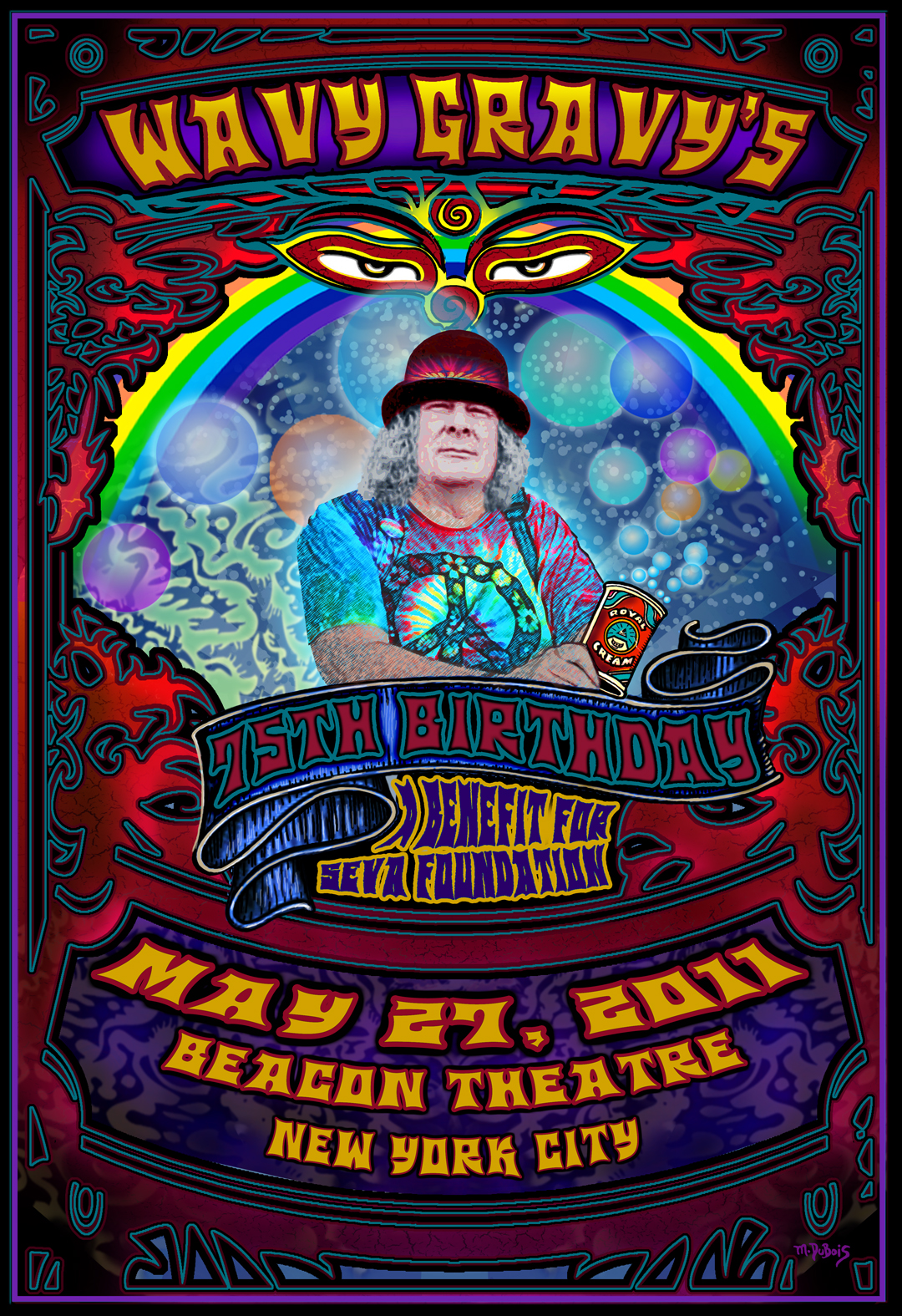 Wavy Gravy's 75th Birthday - May 27, 2011 - The Beacon Theatre, New York City
Wavy Gravy, born Gravy's real name, celebrated his 75th birthday at The Beacon Theatre in New York on May 27, 2011. It was said by David Crosby that "it really wasn't Gravy's birthday", but one thing Gravy can do is get people together to help support things he cherishes. In this case, besides his 75th year of life, Wavy pulled in several artists and fans to promote and support SEVA, Camp Winnarainbow and a new movie documenting the works of these foundations called Saint Misbehavin'. Birthday or not, this guy really knows how to pull together a party.
The show opened with a "keynote" address by one of Gravy's long time friends and supporters, SEVA executive director Dr. Larry Brilliant. He told us why we gathered there, SEVA, Camp Winnarainbow and Wavy wanted it, then he outlined the flow pointing out that we would be premiering trailers from Wavy's new movie. The first trailer showed Wavy at several points early in his Saint Misbehaving life including Woodstock and on a bus hundreds of miles away from civilization taking medicine to remote villages. He said they embarrassed governments into action; if hippies can do it they should be able to do it better. The music in that trailer flowed right into the sound of the first artist.
Buffy Saint Marie opened up solo with an all acoustic anti-war anthem, dressed in black denim. Her characteristic vibrata sound covered her, what seemed to be, otherwise smooth voice. The song she chose marked the times in which she and Wavy met and described some current events more than what the foundations were about, but as it turned all of the remaining artists stuck to their normal repertoire as well.
Dr. John, Mac Rabinack, from New Orleans followed Buffy. He swaggered out to a Grand piano and played like he was in Pat O's getting the crowd to sing along. He never did let on to the answer of "How Come My Dog Don't Bark When You Come Around", but went on to play "Do That Mess Around" and "If I Don't Do It, Somebody Else Will." Buffy helped him close his set wielding a tambourine for "The Saints Go Marching In" and "Iko". I thought the crowd was just getting hungry with stirs of hot tuna, but it turned out the next artist had a connection to the Hot Tuna.
Jorma came out with an acoustic guitar accompanied by Barry Mitterhoff on mandolin and opened with "Second Chances". After that little jam, Steve Kimock came out with a guitar to play a supposedly unrehearsed "We'll Get Together". They knocked out three more and closed with "Must I Hesitate". The whole thing was incredibly overwhelming; thank goodness for the video breaks!
Bruce Hornsby came out to tickle, stroke and beat the keys into submission. He played "dig a hole?" then moved into a crazy song from his musical "Sick Bastard" called "Where's the Bat?" which left the writer wondering if Bruce was going to be hanging outside the theatre with a bat (he wasn't). He played "Talk of Town" alone then Jorma and Steve K. came back to play "San Francisco Blues". It was great to reminisce of the first time seeing Bruce Hornsby at the Pensacola Pavilion, and then to realize this will probably be the last time this combination plays together in public at a great venue like the wonderfully remodeled Beacon!
Steve Earle and Allison Moorer were supposed to perform together, but Steve had to let us down explaining Allison was home with their son who had a 100+ fever. As a tribute to her, he sang solo with an acoustic guitar starting with "I Love You With All My Heart". Jorma helped Steve out on Home Town Blues (Apologies of Doc Watson), then Steve closed his set alone with "This City Won't Wash Away".
After Steve, the stage shifted to a more modern sound when the petite Ani Defranco stepped out armed with nothing but a guitar nearly as big her. She, as usual, did not shy away as she tamed that guitar and filled the stage. She tore through four aggressive songs, "Lipstick on Whores", "Balance", "If I'm Not Getting Happier" and "When I'm Gone". She shared her usual sharp wit between songs and moved the show on to Jackson Brown.
Jackson sat alone at the keys much like Bruce and whipped up some crowd favorites. He started pulling the show back around full circle reminding the crowd of the era which started Wavy's way. Brown flawlessly pulled off "Didn't We Believe in Love", "Livin' That Heaven Away", "deluge?" and "Running on Empty". This could have made the show, but no, there was more to come.
A short intermission gave the stage hands time to set up for Crosby and Nash who played songs old and new and gave us a full set. The opener was "Eight Miles High", "Let the Water Carry Us Away", "Just a Song Before I Go", and "Who Runs this Land" before we got some new solo tracks. David's experimental jam named "Critical Mass" was a recorded series of voices overlapped in a dreamy, rhythmic jam which led into a Nash original called "Wind on the Water". They closed it out with "It's Been a Long Time Coming" and "Wooden Ships".
When Crosby and Nash left the stage people started moving for the door only to be recalled by a closing rendition of "Teach Your Children Well" with every artist except Dr. John and Steve Earle.
Happy Birthday Wavy Gravy!
Review by Chris Bentley
Edited by Rosemary A.W. Roberts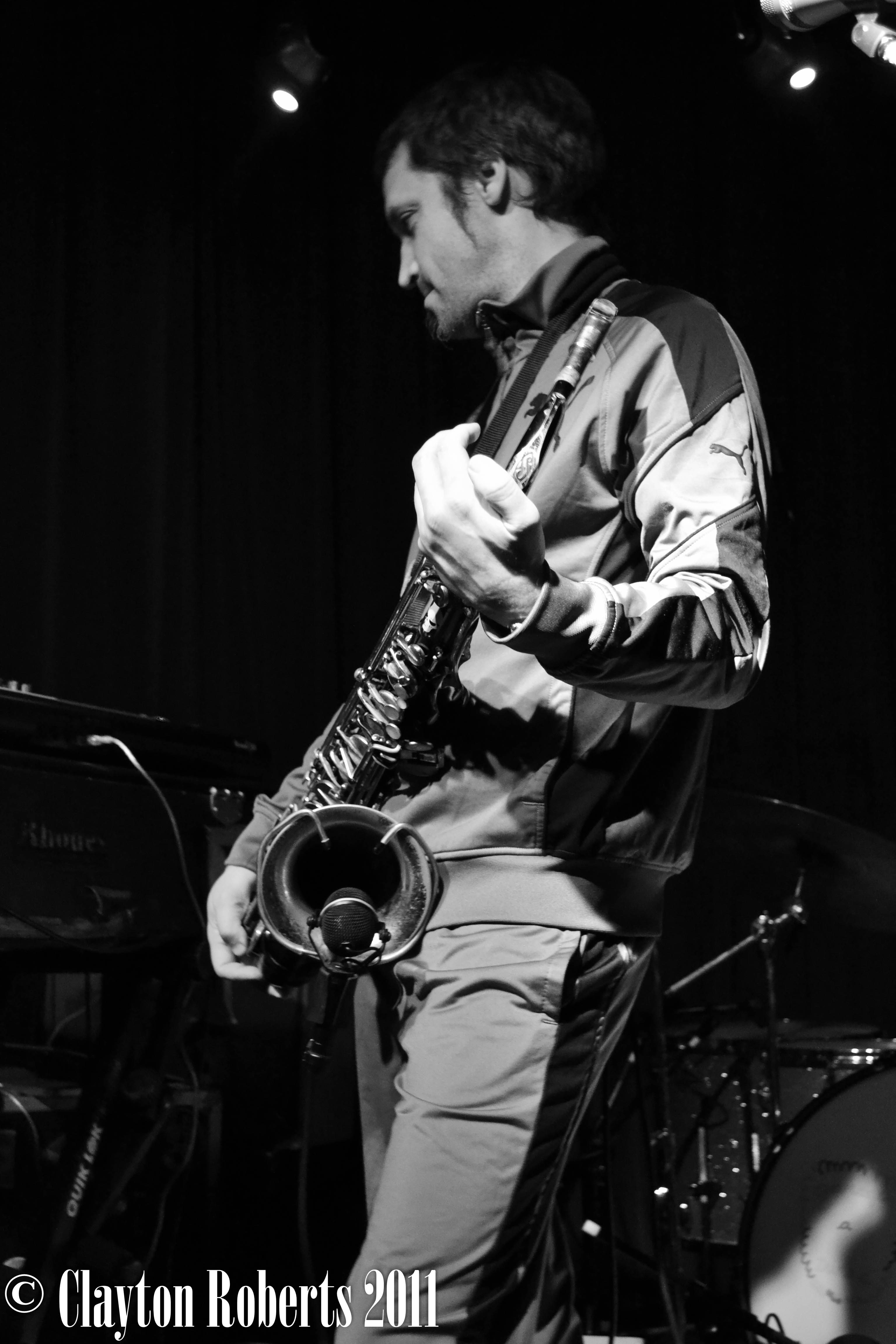 Garage A Trois - May 10, 2011 - The Soul Kitchen, Mobile, AL

Well it was the first show after Jazz Fest, and who else but New Orleans own Garage A Trois, was out on tour still going strong. This early week show was a nice gift as it was a good ole' Mobile, AL crowd ready for some New Orleans Jazz Fusion Funk. This is exactly what we received. I guess a wild roller coaster ride is how I would best describe the show, it was very groovy then morphing into a space like jazz fusion, then right back to the funk. The members of the band treated us to a half time treat as they were selling merchandise from the stage and also allowing photos and autographs to take place. Marco Benevento treated us to an interesting DJ set during this set break, and then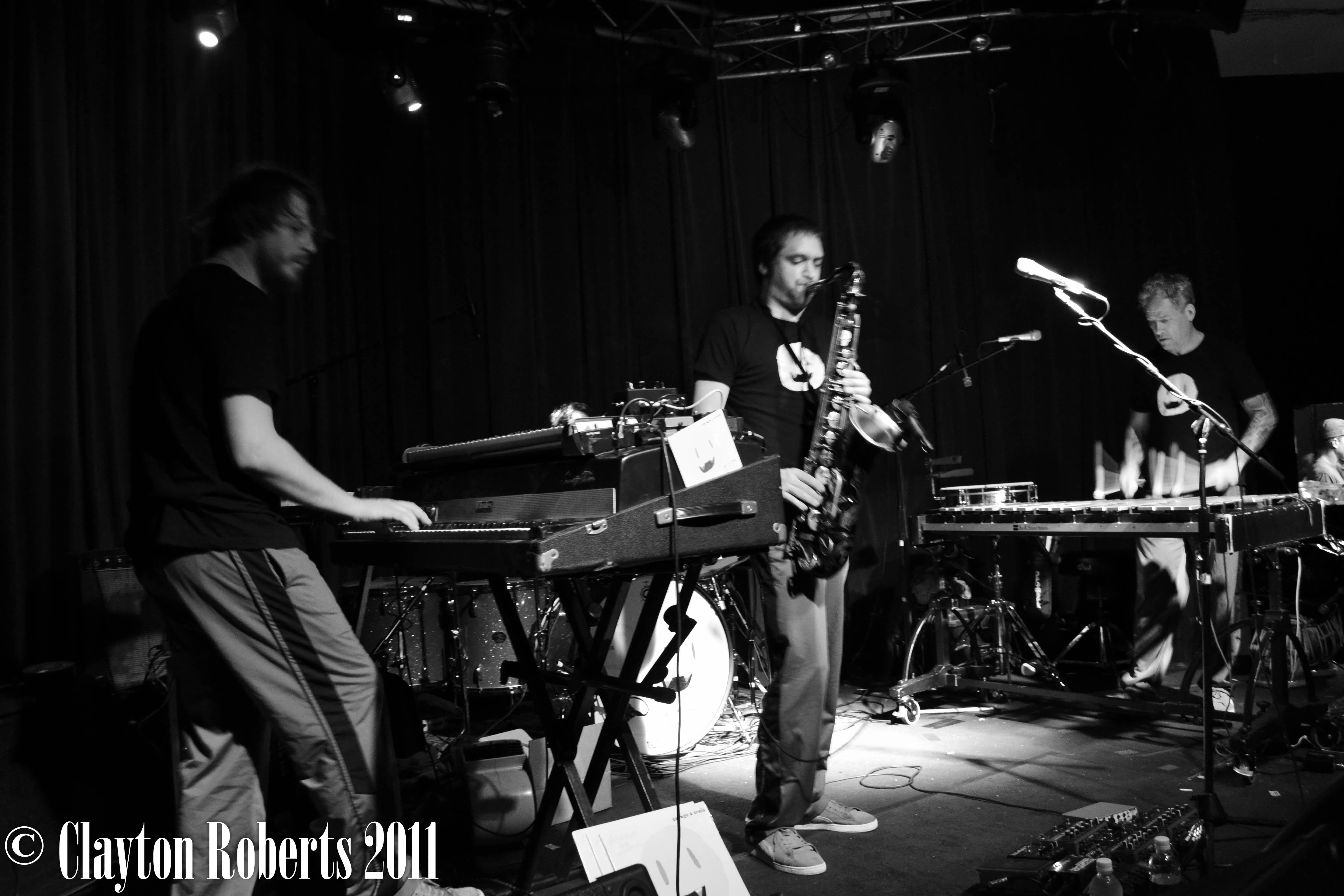 that morphed right into the second set. Skerik, Stanton Moore, and Mike Dillion were top notch as always, and I really enjoyed the addition of Marco Benevento, as it gave the band a slightly different sound than the earlier Garage A Trois with Charlie Hunter. The tempo increased straight into many teases that could be heard from the keen ear, and then WAIT! Is it? Why Yes, a nice funked out version of Sweet Leaf. The set closed not long after midnight and all went their way. Thanks to Brad at the Soul Kitchen for a fun front of house show.
Review by: Clayton Roberts
Photography by: Clayton Roberts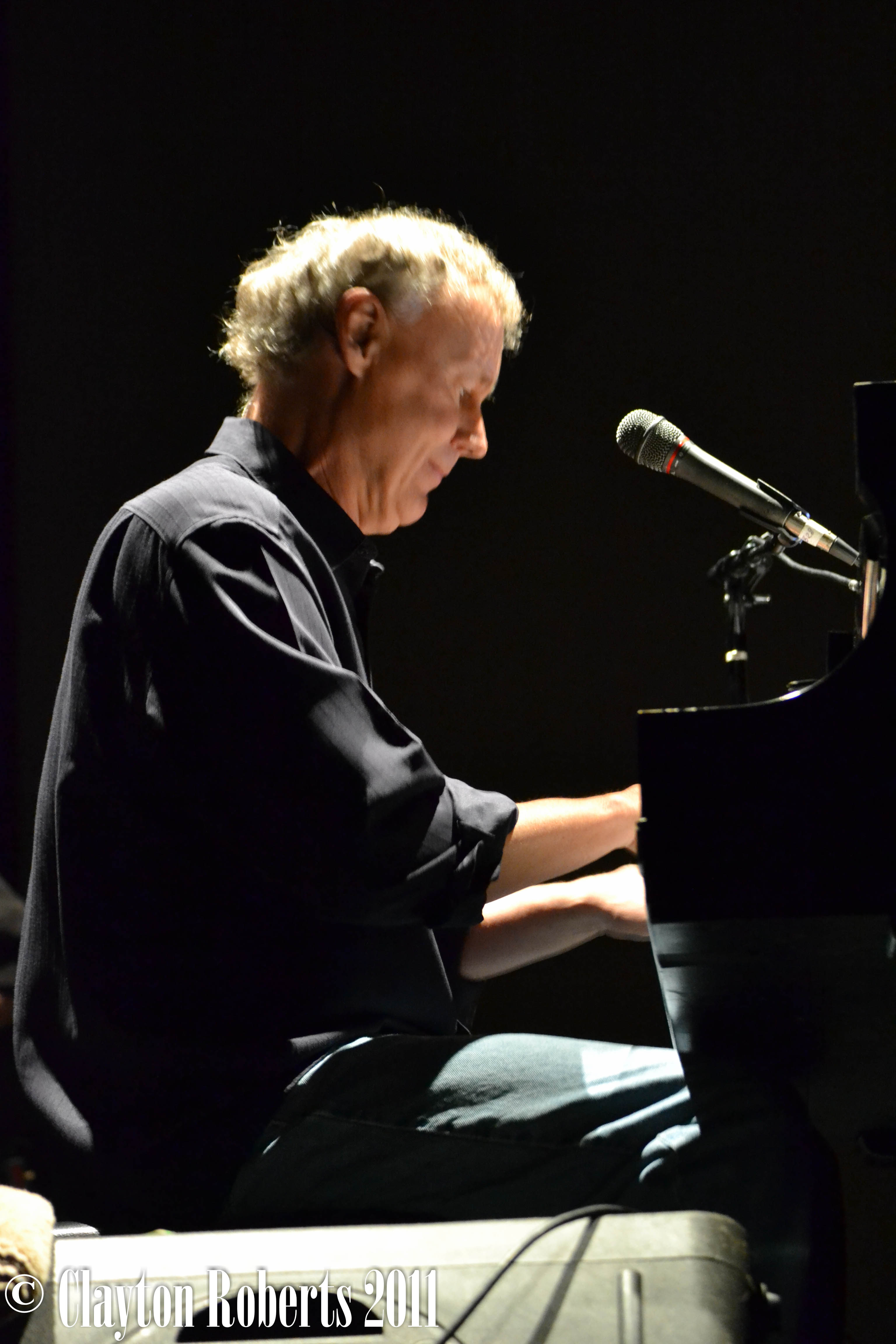 Bruce Hornsby with Tea Leaf Green - April 26, 2011 - The Saenger Theatre, Mobile, AL
The Saenger Theatre in Mobile, Alabama graced us with a fine evening, provided by opening act Tea Leaf Green, and a musical main course of Bruce Hornsby and the Noisemakers. Having heard Tea Leaf Green on Sirius XM radio, I was glad for the chance to see them live. The music had a friendly feel-good vibe, with well-constructed vocal harmonies; their double-dose of percussion lends depth and force. For a band that hails from San Francisco, there were times they could've passed for a Southern rock band, with harmonica accents and ripping guitars.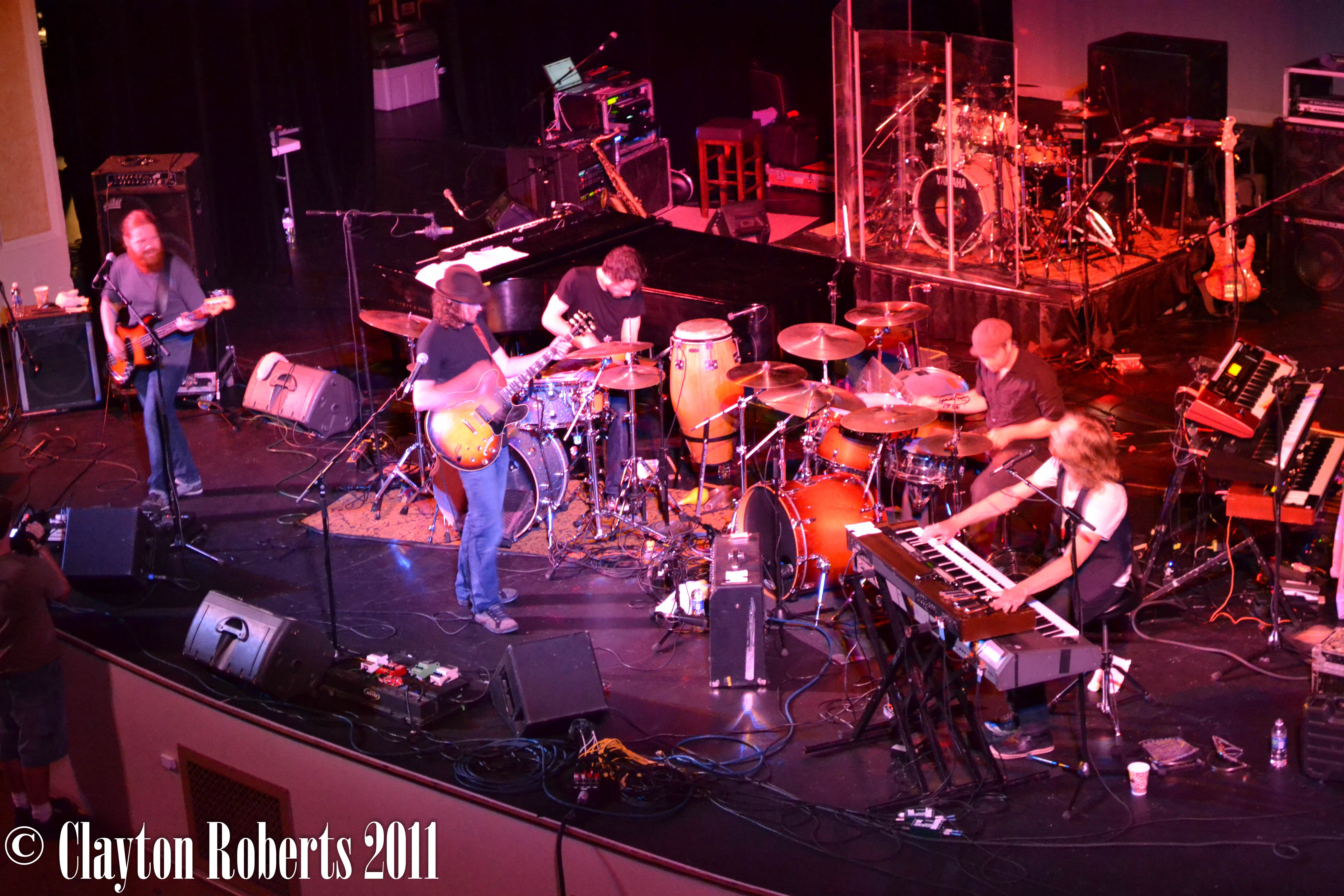 Tea Leaf Green's new album "Radio Tragedy" is set for release June 4, 2011; the new song "All Washed Up" has a Latin flavor with rollicking percussion; the album's title song is heartfelt and soulful. What I perhaps most enjoyed were the moments when they ventured into jams; the venue and audience don't always allow for full exploration, but I was glad to hear Tea Leaf Green flirt with that avenue, and I would love to see them again.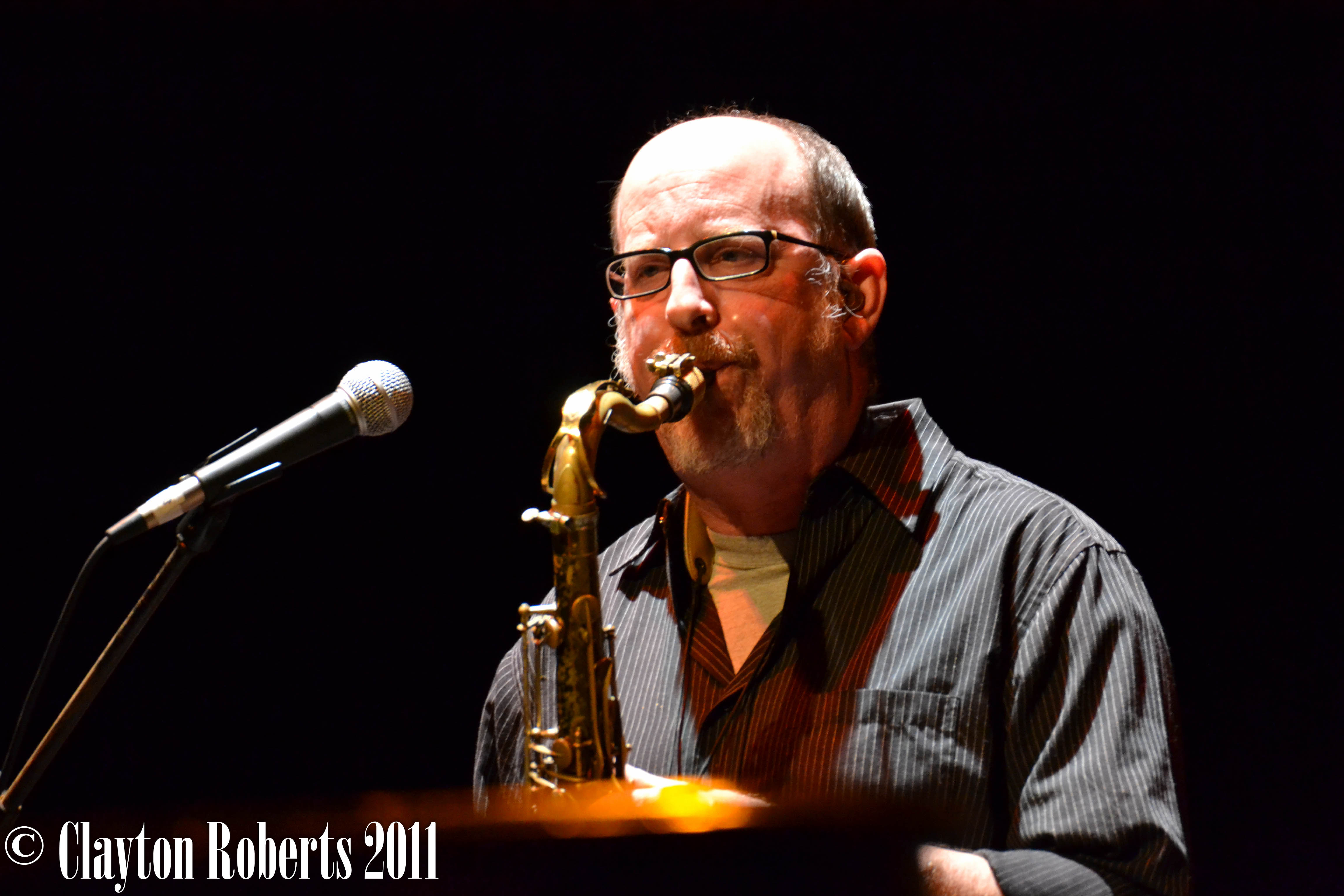 Bruce Hornsby and the Noisemakers took the stage for the first time in Mobile, and we can only hope the warm welcome we gave will entice them to return. In addition to being a superb pianist, Bruce is a truly great entertainer, drawing in the audience with conversational banter, and bringing a full range of musical styles to the table. Bruce commented on the shortage of on-paper song requests, and was met with a stream of audience members putting their requests on the front of the stage; he proceeded to pick up and read all the papers, spreading them out atop his grand piano. Thus, the audience was given a role of active participation in creating the musical treat we would receive.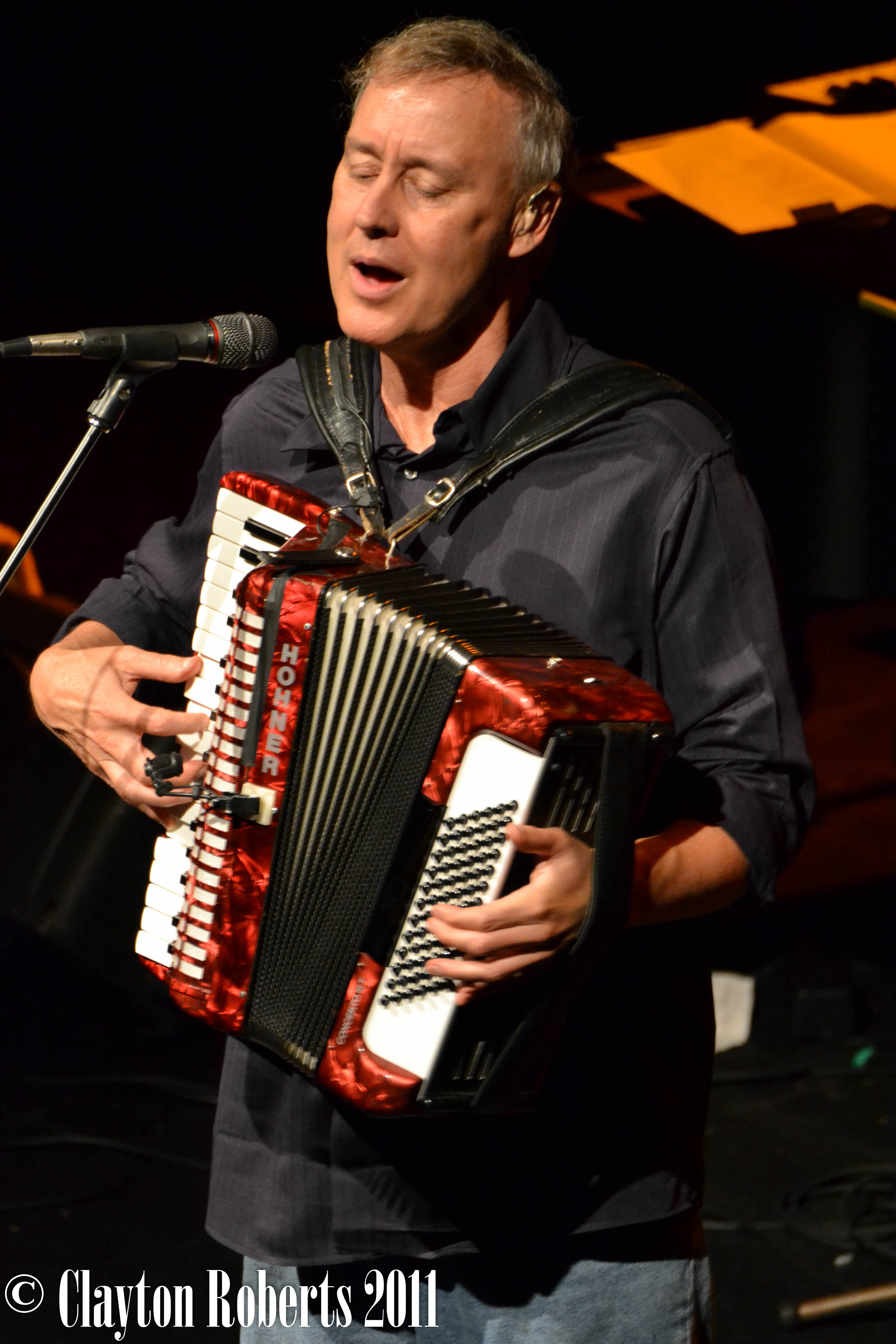 Bruce Hornsby and the Noisemakers played collaborative songs, like "Go Back To Your Woods" (co-written with Robbie Robertson), and "The End of the Innocence" (co-written with Don Henley). They played a new song that featured Bruce on an Appalachian dulcimer. The audience was granted their radio fix with classics like "Mandolin Rain" with a lovely lilting piano solo, and an awesome bluegrass version of "The Way It Is". Bruce picked up his accordion for "Jacob's Ladder" and the most requested song of the night "Rainbow's Cadillac". The Noisemakers are somewhat misleadingly named, as the only "noise" they made was beautiful music! All the musicians are very talented, and the jazz elements sprinkled throughout the show showcased their skills; one major highlight of the night was their rendition of "Sneaking Up on Boo Radley". The encore of "The Valley Road" was the perfect ending to a wonderful musical journey. I hope Bruce Hornsby and the Noisemakers enjoyed playing in Mobile as much as we enjoyed having them here, they put on a fantastic show!
Review by Rosemary A.W. Roberts
Edited by Rosemary A.W. Roberts
Photography by Clayton Roberts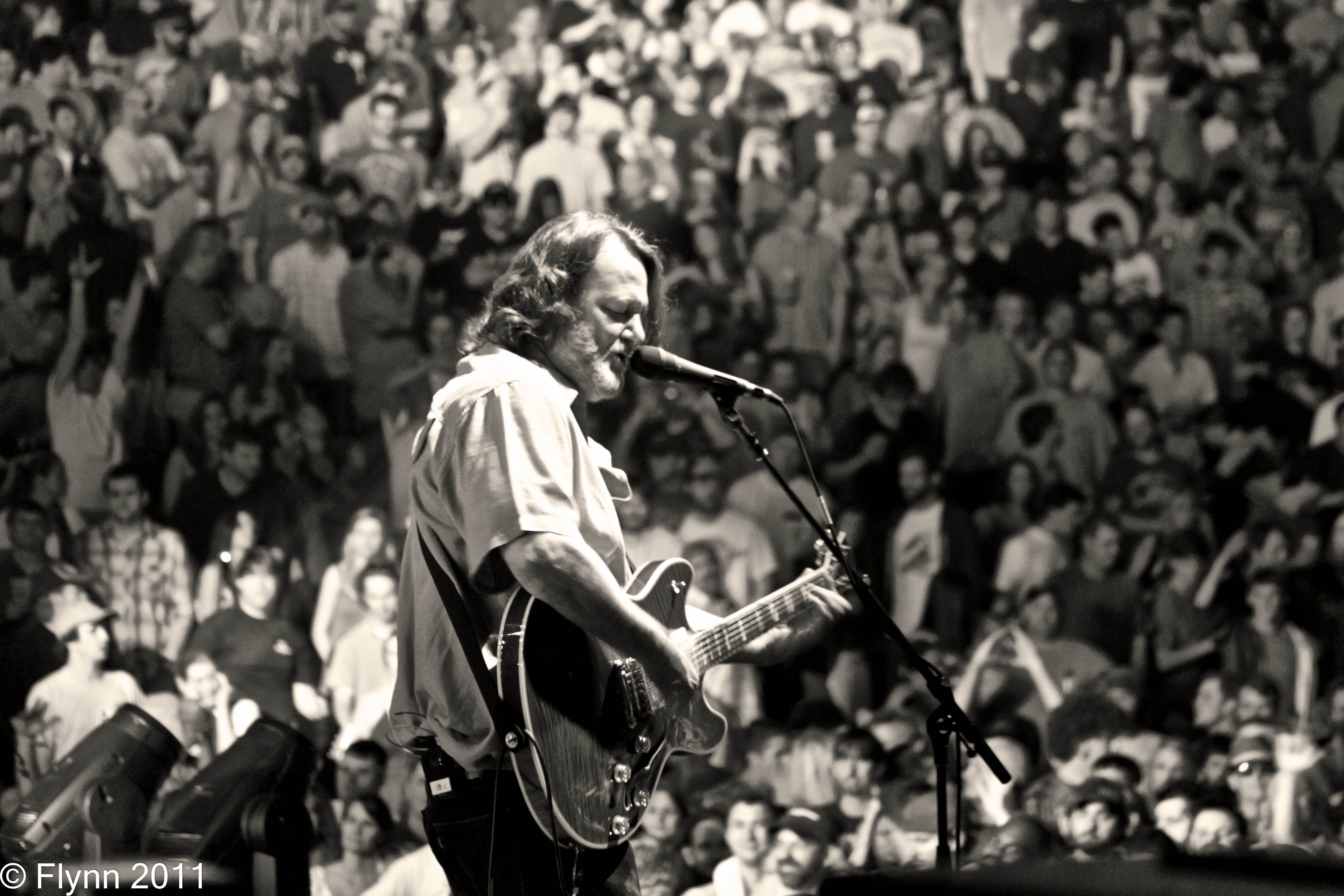 Widespread Panic - April 15-16, 2011 - Oak Mtn. Amphitheatre, Pelham, AL (special Jams Plus Media interview with John Bell after reviews)

After a long wait for this grand announcement of the return to Oak Mtn. for the tour closing shows, bad weather made the band change the first night of the two night stand of Oak Mtn., to BJCC Arena in Birmingham, AL. This was surely to be a special show as this last minute change only built excitement in the air. The Charlie Daniels Band opened up the evening with a great good ole' boy feel. Then the powerful Widespread Panic took the stage and treated us to a fabulous show and the covers of Riders of the Storm by The Doors, and Feeling Allright by Traffic, were top crowd pleasers. Pigeons, North, Hatfield to open the show was a solid opening to this pair of shows. The energy throughout this show was enhanced by a good ole' home team crowd. However the crowd was anxiously awaiting the show at the original venue of Oak Mtn., the following day.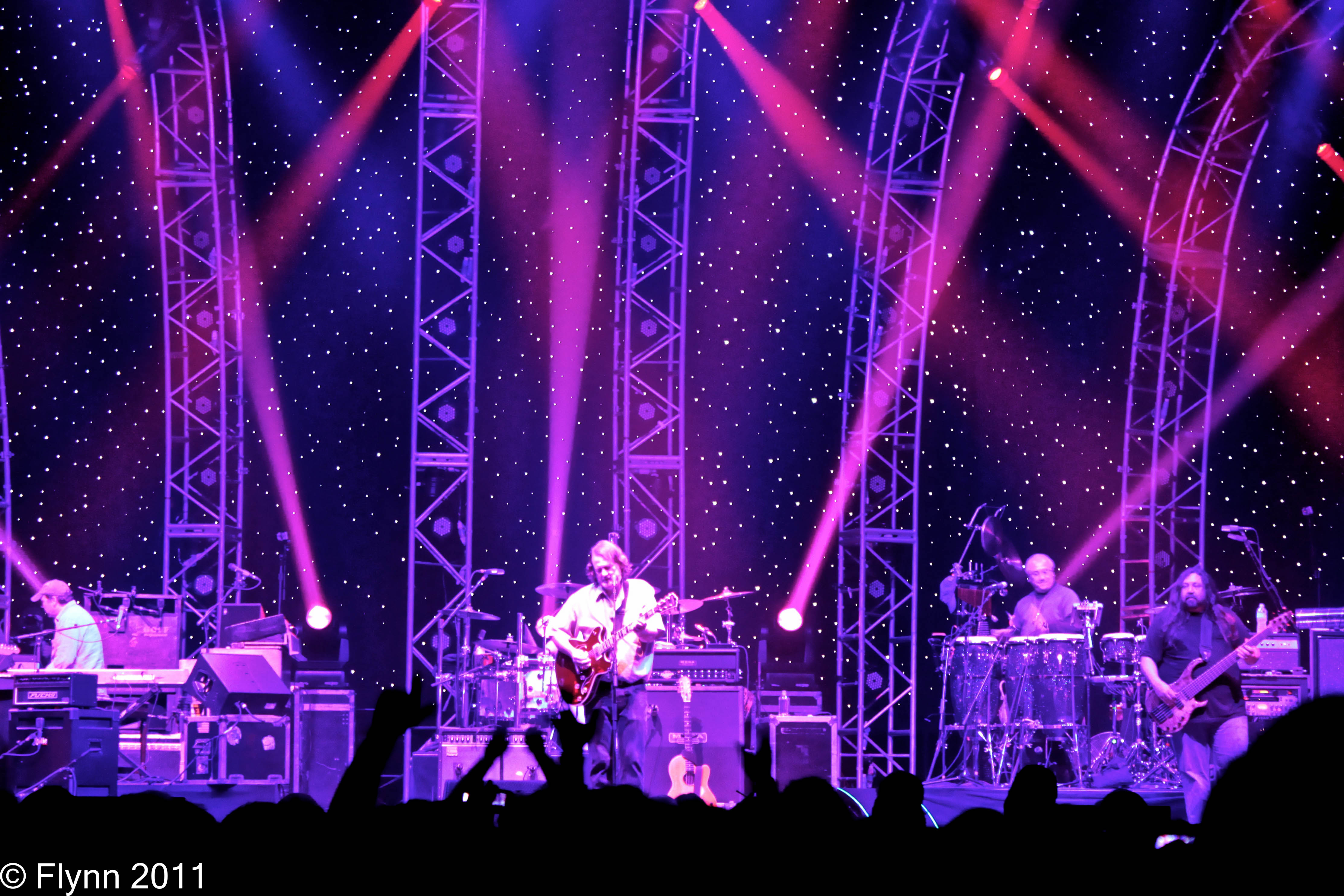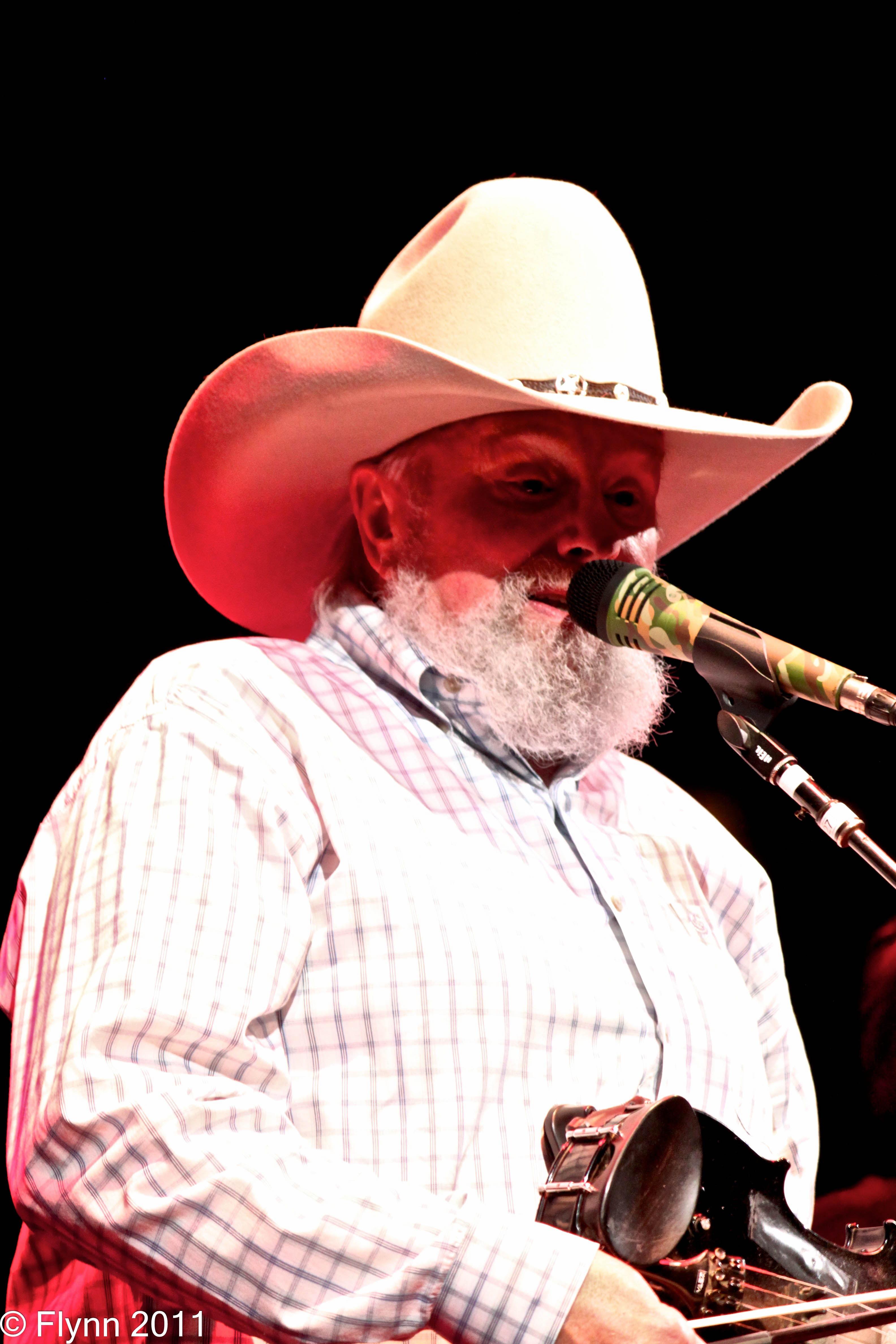 Now for Saturday, with the original venue setup and ready to rock! Big Gigantic opened up, setting the pace for what was sure to be a homerun performance by Widespread Panic. They opened with Chilly Water, (Wow! maybe one for me, see my interview with JB below!), straight into Impossible, Contentment Blues, B of D, back into Chilly Water. Okay the crowd is now fired up. Next up Down on the Farm another huge favorite rarity. All Time Low, and Blue Indian are always a good time, and the energy stayed intense. Ain't Life Grand, and then the Red Hot Mama >Tie Your Shoes > Red Hot Mama, and then the encore of Pilgrims, and Conrad finished off what was truly an amazing tour closer two night stand.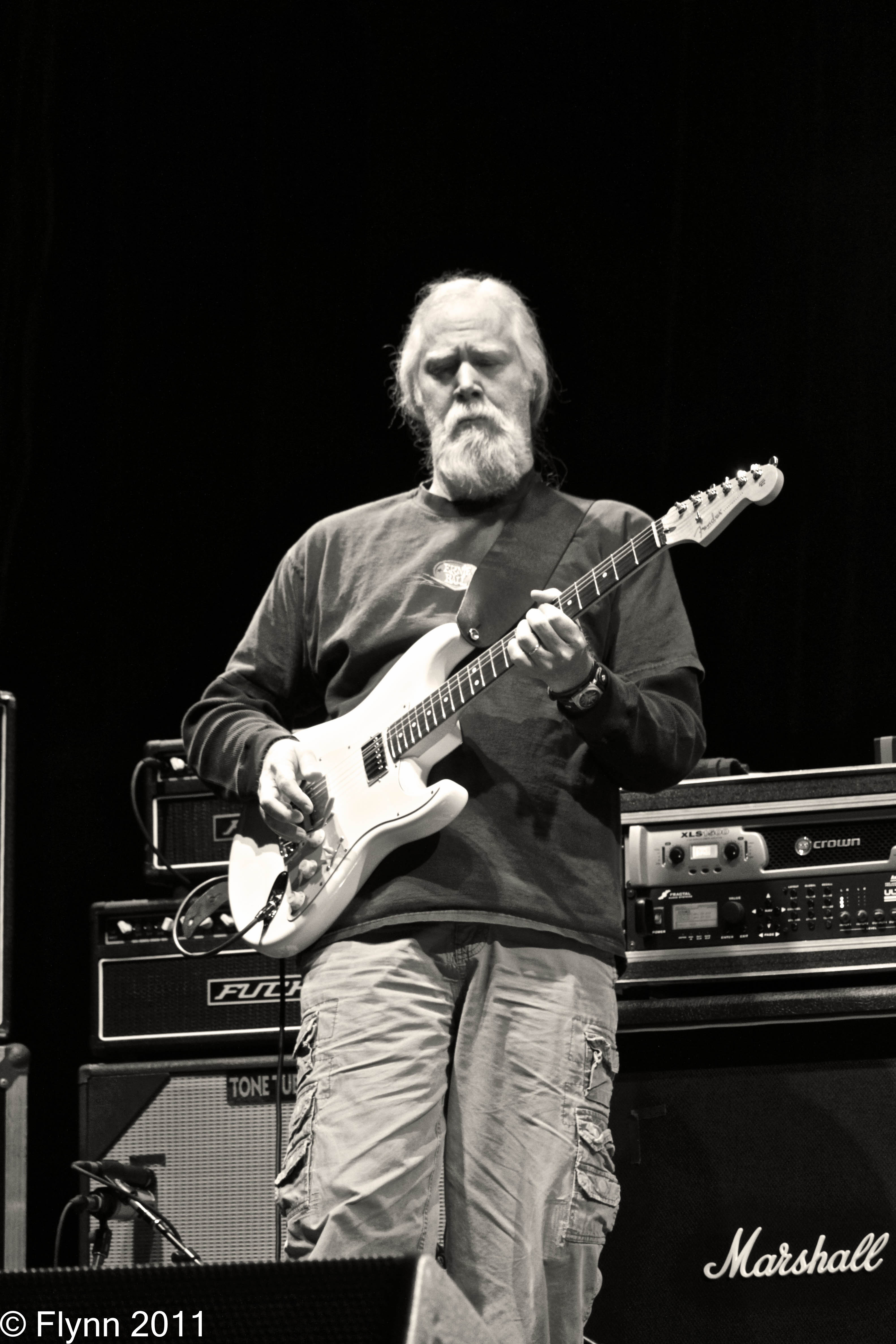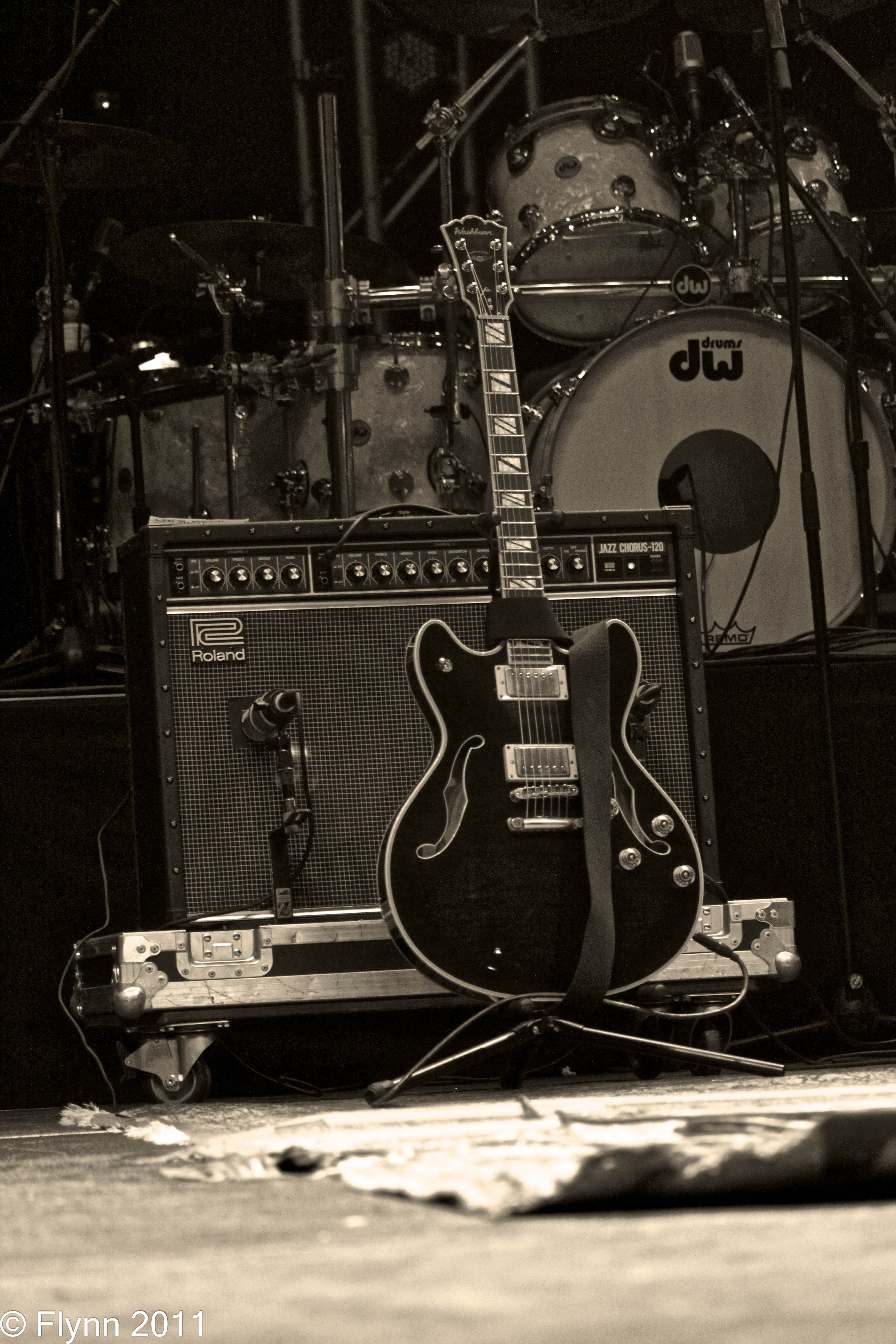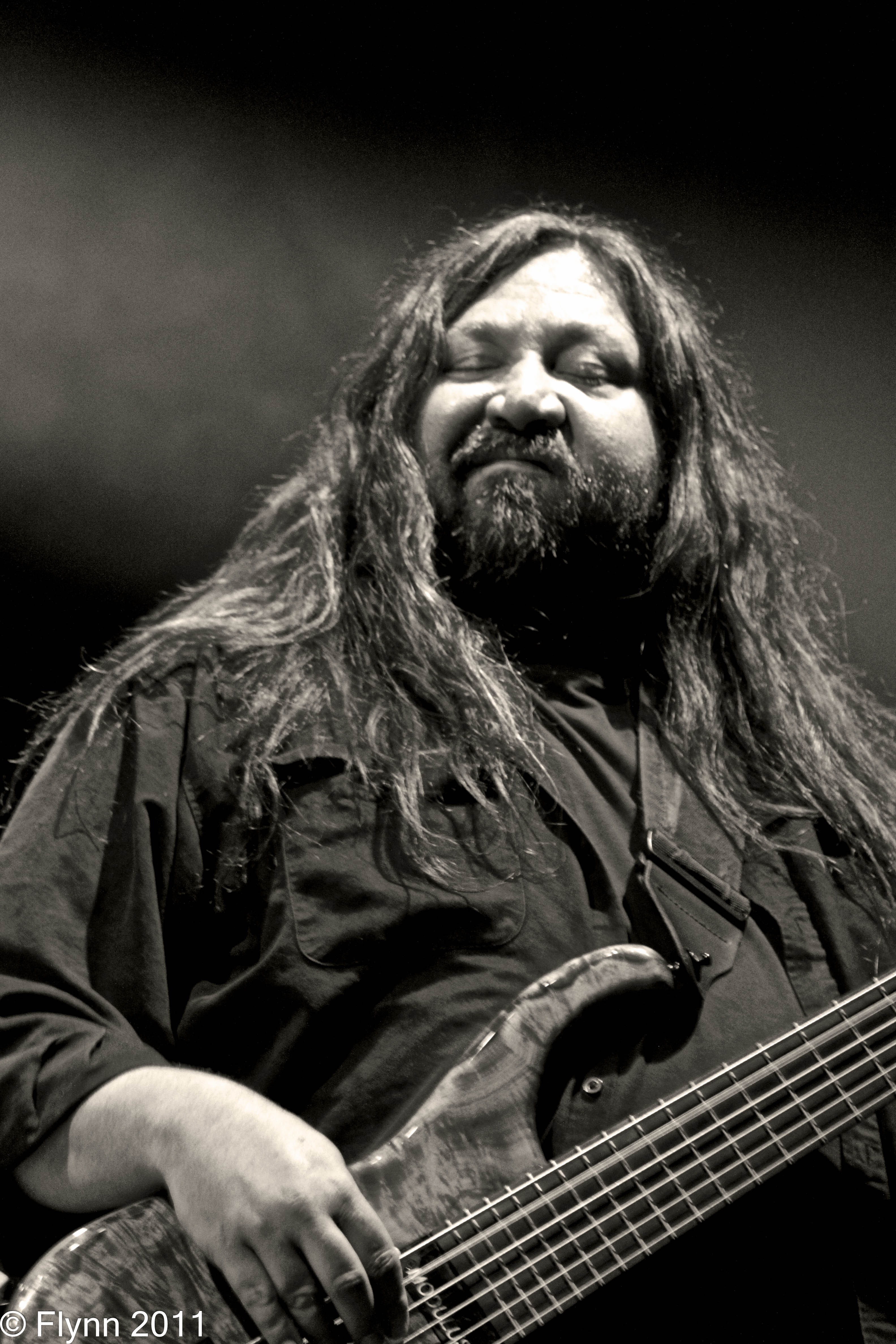 Jams Plus Media's own Flynn Pritchett was able to get a quick interview prior to the Oak Mtn. shows here is part of the interview:
FP: Hi there John, Do you prefer John or JB?

JB: Oh either one really, I'm good with either.

FP: Right on, well I appreciate you taking a little time out to talk with me today.

JB: Yeah No problem.

FP: Well the main reason I wanted to talk with you today was that you have some shows coming up at Oak Mtn.

JB: Yeah, we sure do, they are coming up next weekend, pretty quick.

FP: Well you know the last time you guys were at Oak Mtn. there were some pretty heavy emotions going on. I know that whole spring run was pretty intense, but it all seemed to culminate at Oak Mtn. I just wanted to know how you were feeling about coming back to the venue.

JB: Well you know Birmingham has always been real good to us. We started out playing at the Nick and then jumped straight to Oak Mtn. The fans have always been real receptive to us there.

FP: Yeah, the first time I had the pleasure to see you guys was for the HORDE tour back in 93. I remember it being the last show of the tour and Blues Traveler had the road crew up on stage for some fun antics. It's been fun to watch the crowd build and grow from that HORDE tour to now.

JB: Yeah that tour was a gas. With HORDE you had a bunch of bands that were all small regional bands make the jump to playing those summer amphitheaters. We could all benefit from each others success. Yeah man, that tour sure was a real gas.

FP: Yeah certainly quite the traveling road show, I would imagine.

JB: (Laughs), Yes it was.

FP: Well I see you guys are making your first trip over to Japan coming up soon.

JB: Yeah, we are keeping an eye on that.

FP: Yeah I was wondering, obviously with recent events, has that changed your plans at all?

JB: Well, we certainly want to make the trip, but you know they have a lot going on so we are really keeping an eye on that, but we really want to make the trip.

FP: I also know that you guys are headed to The Hangout Festival soon, and I see you have a nice little break between the Oak Mtn. shows and The Hangout Festival. Do you have any special plans for your time off?

JB: Oh you know, probably just do a little gardening.

FP: Really, do you have quite the green thumb? What are your favorite things to grow?

JB: Well I just like to play, maybe grow some little things green beans and flowers. You know my wife and I own a wellness center in Clarksville, GA. So we like to grow lots of flowers for that. It can get to be quite the job.

FP: Yeah, I know my wife has been knee deep in getting a community garden going in our neighborhood, I know it can get a bit overwhelming. I find myself getting quite dirty quite often.

JB: Thats cool, you know it is good for the soul.

FP: Yeah …watch something grow from nothing.

FP: With so many of the guys living spread out, I know Dave is out on the west coast now, what is the writing style that has developed recently?

JB: Well we all do our own thing, when we get together you know we bounce a lot of stuff off of one another, plus now we can share stuff with ipods and the internet, but you know before a tour we always get together and try stuff out. We also keep a full practice setup backstage at every show, so you know there is plenty of time for us to try stuff.

FP: I know that you guys have written in the past with Jerry Joseph (Jack Mormons) or Danny and Eric (Bloodkin). Do you know of anyone that you would consider your writing partner these days?

JB: Well you know, I tend to just let the inspiration hit me, I am pretty comfortable with just being all about Widespread. We all have ideas and then just bring them together. But you never know what direction that inspiration will take you.

FP: You know with the music industry being as crazy as it is these days, lots of bands like Gov't Mule, and Little Feat are doing these exotic destination style shows like Jamaica or Mexico, and having great success. Have you guys ever been approached to do anything like that?, and if you have what are some of the places that you've talked about?

JB: Man its funny you mention that. I'm not sure how much I can say but we've been talking about someplace in Mexico. You know the US economy is pretty funny right now, and I'm not sure how official anything is yet, but maybe someplace like Cancun. I know that it's certainly on the table.

FP: Wow that would be great.

JB: Yeah I know we've been talking about it

FP: How bout that. It seems like a great way for bands to connect with their target audience that's for sure.

FP: Right on John well I really appreciate you taking some time out to talk with me today, I won't keep you but I have to ask before I let you go. Chilly Water. Great Song? Or the greatest song?

JB: (Laughing), You know man, that's one of our earliest songs, and I'm certainly glad that we wrote it and that the inspiration came our way, but I couldn't presume to say anything other than its just one of our songs, (laughing).

FP: Right on, is there anything in particular that you are listening to these days? What is the last thing you put on your ipod?

JB: My ipod. Well lets see. You know I just put some Jimmy Cliff on there.

FP: Well that's great considering the season change going on right now.

JB: Yeah, you know Bob Marley pretty much embodies that whole reggae feel for me, but Jimmy Cliff is really great too. Especially his early stuff. He gets a little gangster at the end there, but that is ok. That is good too.

FP: Right on John, Well thanks again, and I'll be seeing you guys at Oak Mtn., I'll be taking some pictures. So yeah. See you soon!

JB: Right on Flynn looking forward to it. I'll see you then.
Review by Flynn Prichett
Edited by Rosemary A.W. Roberts
Photography by Flynn Pritchett