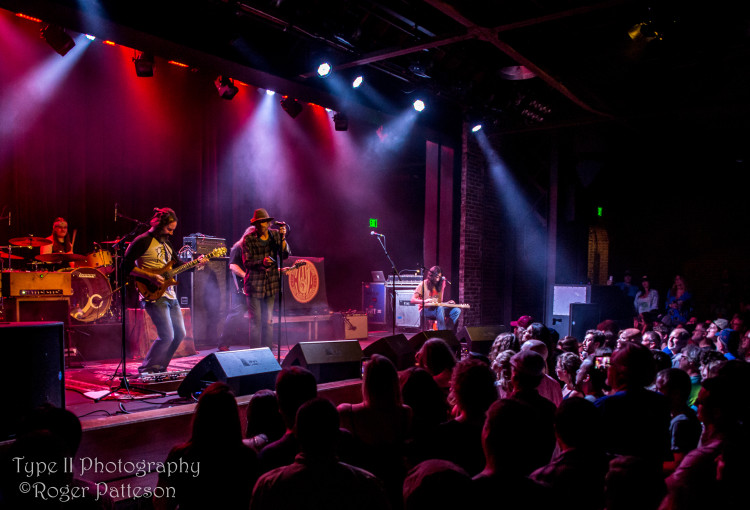 Hard Working Americans – Birmingham, AL – 8/23/15
Hard Working Americans
Words by Travis Wages, edited by Roger Patteson
Photos by Roger Patteson
After leaving the Southern Brewers Festival in Chattanooga, TN, the Hard Working Americans landed in Birmingham, AL for a Sunday night delight at downtown's Iron City venue. The band is currently chugging along on their "High Up On It" tour. The country rock supergroup features singer-songwriter Todd Snider on lead vocals, Neal Casal on lead guitar (Chris Robinson Brotherhood and the Cardinals), Widespread Panic bassist Dave Schools, Chad Staehly on keyboards (Great American Taxi), Duane Trucks on drums (Allman Brothers lineage and current Widespread Panic drummer) and most recent member, young Jesse Aycock on lap-steel and electric guitar.
With the sounds of outlaw country and gospel ringing in fan's ears, courtesy of the opening band fronted by Elizabeth Cook, the crowd gave full attention to the Hard Working opener and Gillian Welch cover of "Wrecking Ball" that set the mood "…look out boys cause I'm a rollin' stone… ".  Settling into the venue, Iron City provided a dynamic sound on the floor and its balcony seating with a full stage of lights and multi-color ambience. Duane led off with a swinging drum beat for "Mission Accomplished" from the band's album, "The First Waltz", and the crowd was set in for the ride. The band shortly rolled into a fan favorite with "Mountain Song" featuring a melodic, yet sharp lead from Neal Casal. The Birmingham crowd could not resist the urge to dance and stomp their feet to the band's next honky-tonkin', ass kickin' "Stomp and Holler" showing the band's country rock sound with Staehly's slamming keyboard work.
Frontman, Todd Snider, regaled the crowd with a show of whiskey bliss and abandon that evoked the fans to pump fists and boogie! There was certainly no lack of enthusiasm on the band's part and the crowd escalated with each gyration and hoot and bended E string. Dave Schools and company portrayed a genuine connection with each other and the crowd throughout the night with hearty smiles and a musical chemistry betrays the reality of this being each members "side project". The band held nothing back on their newly added song "Someday Past the Sunset", showcasing Snider's raspy, soulful voice against a backdrop of swamp spawned School's bassline and an Aycock pedal whine that evokes thoughts of everything southern and raw. "Down to the Well" was well placed mid set with a slow, driving sound that kept the Sunday night crowd swaying and swinging. From their self-titled album, the Americans showed off their rendition of "Blackland Farmer" and sandwiched a "Born to be Wild" and "Playing in the Band" jam that reached a new climax for the night seeming sinister yet satisfying.
As the band had left the stage, the Alabama crowd couldn't sit still and eagerly awaited a huge three song encore. The Hard Working Americans could be described as Americana Country Rock featuring edgy lyrics, swampy basslines, and a twangy yet melodic guitar section that scream southern rock. The band's encore featured a crowd sing-a-long with "Straight to Hell" and a driving "Mountain Jamboree". The Hard Working Americans seem to have a blast together and definitely live up to their name.
HWA continues their late summer tour with more southern stops in Fayetteville, AR; Tulsa, OK; and Kansas City, MO before heading to golden Colorado with shows in Nederland and Durango.