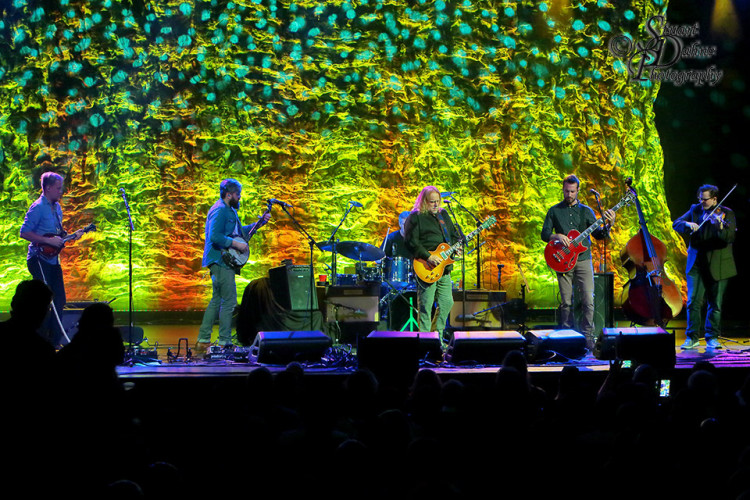 Warren Haynes Ashes and Dust Tour
Warren Haynes Ashes and Dust Tour
10-08-15 The Warner Theatre, Washington, D.C.
Words and Photos by Stuart Dahne
Last night, Washington D.C. got their first look at Warren Haynes' new project based on his latest release "Ashes and Dust" on Concord Records. I had the opportunity to listen to Warren's performance from the week before at The Tower Theater in Upper Darby Pa. so I had a little insight as to what to expect. From the moment that this show started my expectations were exceeded! First off, The Warner Theatre is just a beautiful place to experience a show, and this show was true to that beauty! The show opened with Chessboxer and then Justin Townes Earle, wow, what a way to attempt to get us ready!
These guys were both great and a real treat to start off the evening! After a slight break with just enough time to see some old friends, the stage started to fill up! Out came; Warren Haynes – guitar and vocals, Jeff Sipe – Drums, Matt Menefee – banjo, Royal Masat – bass, Sterling Masat – mandolin, guitar, and banjo, and Ross Holmes – fiddle
Opening up with Bob Dylan's "Tough Mama" with its melodic entrance and then that infamous "How Ya Doin" and the game was on and the crowd exploded!!! The energy was so high that you had to wonder where they could go next but that seemed to be no problem for any of the players!!! WOW!
So next Warren took us through 3 new songs from the Ashes and Dust release, "Is It Me or You", "Company Man", and "Beat Down The Dust" and by this time it was obvious how much fun that the band was having!!! There were grins on every face! Out of these 3 songs it was "Beat Down the Dust" that really grabbed my attention! Warren told his little story to introduce this song, "He was traveling through America and He stopped to get a bite to eat. He was sitting at a table when he overheard a conversation from a booth around the corner; Some pretty heavy sh*t about keeping our country, keeping America Great! They were saying some pretty harsh things about anybody who wasn't one of them! Not wanting to give up the power that they feel entitled to! So Warren was wondering, Who Are These Guys? So He walks around to get a glimpse and he says; Oh Sh*t, that's Donald Trump!!!" The song is so political yet so inviting at the same time! Nice job Warren!!! Yes It Is Time To Beat Down The Dust!
The next shift took us into some of Warrens other endeavors, Banks of the Deep End from the Gov't Mule's recording "The Deep End", Jessica from Warrens days with The Allman Brothers Band, and then "No Celebration" from Deja Voodoo!! By this time the vibe was electric, people are sweating and needing something to drink, OMG, so what do they do next but to play Stevie Nicks' "Gold Dust Woman" and just floored everyone!!! Now that everyone had chilled out a bit they went into an amazing rendition of "All Along The Watchtower" that made me think that no one else should ever play this song, the song gradually built and built and built until it felt like we were all going to just take off!!!!
Dusk till dawn, a Warren Haynes song that was first performed live in March of 2013 with The Allman Brothers Band really highlighted Warren's creative spirit as this song really is different from the norm of what I might expect from Warren, with a soulful yet haunting feel this song just lifted you up and carried you away. Following this was another song from Ashes and Dust called "Stranded in Self Pity" which has been waiting in the wings since it was first performed live in 2004 at The Cricket Pavilion, Phoenix, Az. The artistic juices were flowing here and the best way that I can describe this is "Progressive Bluegrass with a hint of Polka and some haunting New Orleans sides"! (check it out)
Now, just when you thought that they couldn't do any better, what did they do but TURN IT UP!!!! They put the proverbial pedal to the metal! This is where they went into what I call an innovative overdrive with  Warren's 2004 Grammy nominated Instrumental Illness > Machine Gun (Jimi Hendrix) > Instrumental Illness, here it appeared that all eyes were on warren in order to manipulate through this intricately orchestrated funky jam! Next came the Drum Solo highlighting Jeff Sipe's amazing talents and skill! This set up the band to go back to 1972 and pull out "Blue Sky" From the Allman Brothers "Eat A Peach" and play it in a manner that just paid tribute to such a great song and a great time! To end the set Warren chose "Spots of Time" off of the new "Ashes and Dust" release, a Warren Haynes and Phil Lesh collaboration from 2007; "Do you remember how young we were or is it just me, Imagining like I always do, When we were once wild and free… Wild and free"! Although many of these songs from this new project may be new some of these are decades old however Warren has successfully made them all feel brand new!
The encore of Little Feat's  "Skin it Back" with the amazing Ron Holloway sitting in was the perfect ending to a show that I could have never imagined would have moved me in such a way that it did! Ron's funky tones, once again, made an old song feel real fresh!
Warren Haynes, Thank You!
What People Are Saying About Warren Haynes Ashes & Dust 10-08-2015 at The Warner Theatre, Washington D.C.
I came to the show excited to see Warren's new project and I was blown away by the great energy and Warren seemed really inspired with these new players. Great to see Warren having such a good time!!
Janet Griffin ~ Maryland
When they played Jessica the ushers got busy; everyone got up and into the aisles and started dancing By the end of the tune people were standing and screaming. I loved the passionate and energetic rendition of The Watchtower. Bob Dylans's version should be retired.
Mary Olson ~ Virginia
Best Warren Ever. I love the new album and having heard a couple of live shows and couch touring the Tower, I was thrilled beyond belief with last night's show. Jessica and Instrumental Illness were killer.
Ben Marks ~ Maryland
The Warren Haynes show was epic last night. He can play anything on guitar. He makes it look easy. All the great ones do. I didn't know what to expect with his new style of band. Warren knocked it out of the park.
John Jurrius ~ Maryland
Warren's new band and sound was great with the violin & banjo bringing a new dimension to songs like Jessica & the Instrumental Illness/Machine Gun medley. Bravo Warren on this new sound.
Scott Pendleton ~ Maryland
After listening to the show last night at the Warner Theatre and watching people in the isles stomping there feat bluegrass style, bluegrass is still alive like when my brother would take me at the young age of  10 years old to Bluegrass concerts with Doc Watson, Earl Scruggs , John Hammond, and Lester Flatt. Warren wrote "Company Man" based on his dad the working man. Encore with Warren dueling his Les Paul with Ron Holloway's sax with a Liittle Feat song "Skin It Back" was exceptional.
Tom Libera ~ Washington D.C.