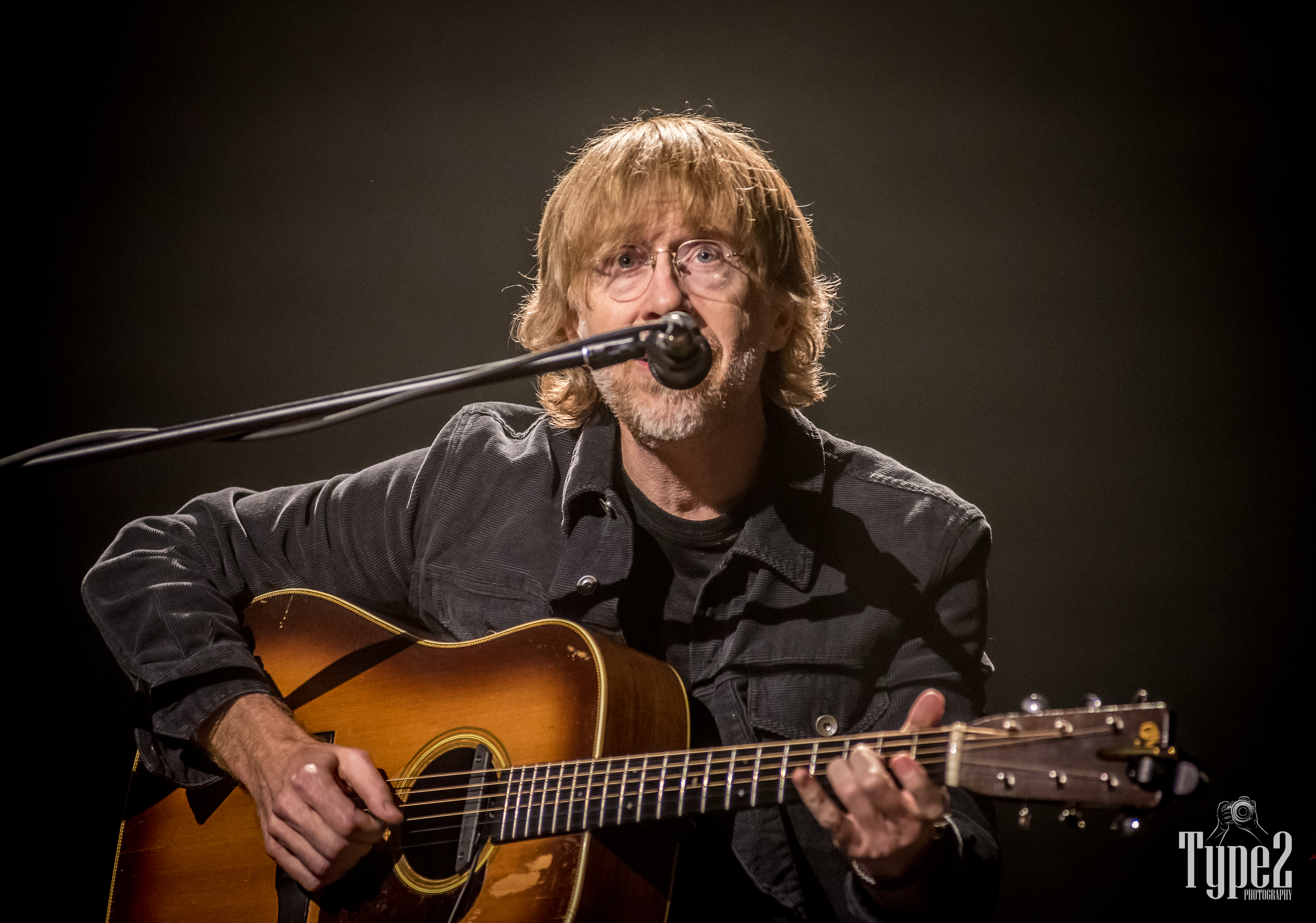 Trey Anastasio Acoustic at The Ryman
Photos and words by Roger Patteson of Type 2 Photography
Setlist adapted from Phish.net
10/27/19 – Sunday night church service at The Ryman was delivered by none other than a seated Trey Anastasio! Those in attendance were saved by a 20 song set and 5 song encore of Phish originals all from the tune of a big, hollow body 6 string.
Being a solo show, adaptations were made to each song to make up for the missing percussion, base, keyboards, and rhythm that is normally present when these songs are played. Some of that looked like a foot tap on the stage; a wrist pop on the back of the guitar; some wooing and bepopping by Trey; and a whole lot of backup vocals from the crowd. On that note, the crowd on crowd crime varied from everyone telling everyone to be quiet with a "shhhh" to everyone following Trey's command to sing along. For some, there was a sense of quiet intimacy that wanted to be maintained among the pews and wooden floors while others were going to sing aloud no matter what. Never a dull moment with these lovable fans.
By far, the highlights of the night occurred with the storytelling. Whether it was fuzzy Farm Aid memories of crippling high hang out sessions with Willie Nelson and Neil Young and their herbal foray into planning music; updates on Bella; playing "Free Bird" with Wynnona Judd; or trying to keep up the strumming with Ricky Skaggs, the crowd was absolutely glued to the laughter and emotion coming from Trey.
SET 1: Theme From the Bottom [1], Water in the Sky[1], Brian and Robert[1], Free[1], Snowflakes in the Sand[1], Summer of '89[1], Limb By Limb[1], Blaze On[1], If I Could[1], Turtle in the Clouds[1], The Inlaw Josie Wales[1], Ghosts of the Forest[1], Back on the Train[1], Sample in a Jar[1], AC/DC Bag[1], Lifeboy[1], Backwards Down the Number Line[1], Possum[1], Waste[1], Bathtub Gin[1]
ENCORE: A Life Beyond The Dream[1], The Wedge[1], My Problem Right There[1], Say It To Me S.A.N.T.O.S.[1], More[1][1] Trey solo acoustic.