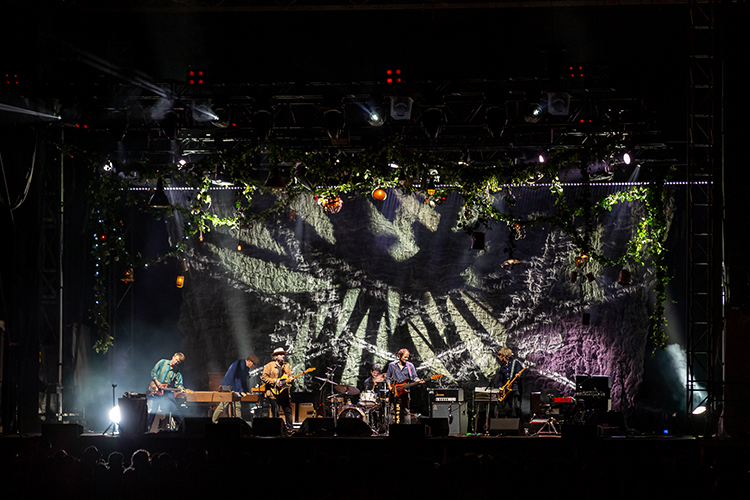 Solid Sound Festival 2019 Day Two – Wilco, The Feelies, The Minus Five,C​ate le Bon, Tortoise, OHMME, Mduo Moctar, Milo
July 6, 2019
Day One & Two Photo Gallery: https://jamsplus.smugmug.com/TonyVasquezPhotography/Solid-Sound-Festival-2019/
Day two of Solid Sound Festival jammed packed lineup included a variety of kid actives, artist signings, ax throwing, pop-up performances, yoga, plenty of food options, art, and of course a ton of live music.
A few personal standout sets included Mdou Moctar's performance in Courtyard C as he played his blend of contemporary Saharan music with mesmerizing loops all the while shredding with a joyful smile. Another fantastic set in Courtyard C was Chicago based OHMME. The rendition of the title track from 2018 release Parts echoed hauntingly throughout the open spaced courtyard setting.
The Minus Five impressive lineup lead by Scott McCaughey's included Kurt Bloch, Linda Pitmon, Joe Adragna, and Mike Mills & Peter Buck of R.E.M. Even the Dream Syndicate's Steve Wynn joined the group for a couple of tunes in the jammed packed Courtyard D. 
Tortoise the Chicago based instrumental quintet played a regular set after their Friday night performance in the Hunter Center where they performed a live score to the silent sci-fi film Le Jetee.
Inside the museum Wilco's Pat Sansone along with Jonathan Kirkscey, Robby Grant performed two pop-up sets in Building 5 as Mellotron Variations. Over in the Hunter Center John Hodgman and Jean Grae had the audience laughing.
Joe's Field lineup which featured Cate Le Bon with her subtle but yet stunning stage presence was a treat to take in. The Feelies brought on Jeff Tweedy to do a rendition of Neil Young's "Don't Cry No Tears." Closing out the main stage, Wilco performed as though they haven't missed a beat even after their prolonged time away from touring. The band was hitting on cylinders Saturday night as the setlist covered the band's deep catalog and also included two new tunes "Empty Corner" and "White Wooden Cross."
Setlist: Hell Is Chrome, Muzzle of Bees, I Am Trying to Break Your Heart, War on War, Company in My Back, I'll Fight, Shouldn't Be Ashamed, Empty Corner (new song), Box Full of Letters, Remember the Mountain Bed, Hesitating Beauty, Bull Black Nova, Laminated Cat (Loose Fur), Reservations, Side With the Sides, Theologians, Someone to Lose, Impossible Germany, Red-Eyed and Blue, I Got You (At the End of the Century), Outtasite (Outta Mind),
Encore: A Shot in the Arm, I'm a Wheel
Skyway Man at Solid Sound Festival 2019. Photo by Tony Vasquez

Skyway Man at Solid Sound Festival 2019. Photo by Tony Vasquez

Skyway Man at Solid Sound Festival 2019. Photo by Tony Vasquez

Skyway Man at Solid Sound Festival 2019. Photo by Tony Vasquez

Skyway Man at Solid Sound Festival 2019. Photo by Tony Vasquez

Solid Sound Festival 2019. Photo by Tony Vasquez

Foxwarren at Solid Sound Festival 2019. Photo by Tony Vasquez

Foxwarren at Solid Sound Festival 2019. Photo by Tony Vasquez

Foxwarren at Solid Sound Festival 2019. Photo by Tony Vasquez

Molly Kerns & Joseph Thompson Solid Sound Festival 2019. Photo by Tony Vasquez

Solid Sound Festival 2019. Photo by Tony Vasquez

Solid Sound Festival 2019. Photo by Tony Vasquez

Julian Lage Trio at Solid Sound Festival 2019. Photo by Tony Vasquez

Julian Lage Trio at Solid Sound Festival 2019. Photo by Tony Vasquez

Julian Lage Trio at Solid Sound Festival 2019. Photo by Tony Vasquez

Solid Sound Festival 2019. Photo by Tony Vasquez

Mellotron Variations at Solid Sound Festival 2019. Photo by Tony Vasquez

Mellotron Variations at Solid Sound Festival 2019. Photo by Tony Vasquez

Mellotron Variations at Solid Sound Festival 2019. Photo by Tony Vasquez

Mellotron Variations at Solid Sound Festival 2019. Photo by Tony Vasquez

Milo at Solid Sound Festival 2019. Photo by Tony Vasquez

Milo at Solid Sound Festival 2019. Photo by Tony Vasquez

Solid Sound Festival 2019. Photo by Tony Vasquez

Solid Sound Festival 2019. Photo by Tony Vasquez

Solid Sound Festival 2019. Photo by Tony Vasquez

OHME at Solid Sound Festival 2019. Photo by Tony Vasquez

OHME at Solid Sound Festival 2019. Photo by Tony Vasquez

OHME at Solid Sound Festival 2019. Photo by Tony Vasquez

OHME at Solid Sound Festival 2019. Photo by Tony Vasquez

OHME at Solid Sound Festival 2019. Photo by Tony Vasquez

OHME at Solid Sound Festival 2019. Photo by Tony Vasquez

OHME at Solid Sound Festival 2019. Photo by Tony Vasquez

Solid Sound Festival 2019. Photo by Tony Vasquez

Solid Sound Festival 2019. Photo by Tony Vasquez

Solid Sound Festival 2019. Photo by Tony Vasquez

Solid Sound Festival 2019. Photo by Tony Vasquez

The Minus 5 at Solid Sound Festival 2019. Photo by Tony Vasquez

The Minus 5 at Solid Sound Festival 2019. Photo by Tony Vasquez

The Minus 5 at Solid Sound Festival 2019. Photo by Tony Vasquez

The Minus 5 at Solid Sound Festival 2019. Photo by Tony Vasquez

The Minus 5 at Solid Sound Festival 2019. Photo by Tony Vasquez

The Minus 5 at Solid Sound Festival 2019. Photo by Tony Vasquez

The Minus 5 at Solid Sound Festival 2019. Photo by Tony Vasquez

The Minus 5 at Solid Sound Festival 2019. Photo by Tony Vasquez

The Minus 5 at Solid Sound Festival 2019. Photo by Tony Vasquez

The Minus 5 at Solid Sound Festival 2019. Photo by Tony Vasquez

The Minus 5 at Solid Sound Festival 2019. Photo by Tony Vasquez

The Minus 5 at Solid Sound Festival 2019. Photo by Tony Vasquez

Solid Sound Festival 2019. Photo by Tony Vasquez

Jean Grae and John Hodgman at Solid Sound Festival 2019. Photo by Tony Vasquez

Jean Grae and John Hodgman at Solid Sound Festival 2019. Photo by Tony Vasquez

Mdou Moctar at Solid Sound Festival 2019. Photo by Tony Vasquez

Mdou Moctar at Solid Sound Festival 2019. Photo by Tony Vasquez

Mdou Moctar at Solid Sound Festival 2019. Photo by Tony Vasquez

Mdou Moctar at Solid Sound Festival 2019. Photo by Tony Vasquez

Mdou Moctar at Solid Sound Festival 2019. Photo by Tony Vasquez .

Solid Sound Festival 2019. Photo by Tony Vasquez

Solid Sound Festival 2019. Photo by Tony Vasquez

Solid Sound Festival 2019. Photo by Tony Vasquez

Solid Sound Festival 2019. Photo by Tony Vasquez

Cate le Bon at Solid Sound Festival 2019. Photo by Tony Vasquez

Cate le Bon at Solid Sound Festival 2019. Photo by Tony Vasquez

Cate le Bon at Solid Sound Festival 2019. Photo by Tony Vasquez

Cate le Bon at Solid Sound Festival 2019. Photo by Tony Vasquez

Cate le Bon at Solid Sound Festival 2019. Photo by Tony Vasquez

Cate le Bon at Solid Sound Festival 2019. Photo by Tony Vasquez

Cate le Bon at Solid Sound Festival 2019. Photo by Tony Vasquez

Cate le Bon at Solid Sound Festival 2019. Photo by Tony Vasquez

Cate le Bon at Solid Sound Festival 2019. Photo by Tony Vasquez

Cate le Bon at Solid Sound Festival 2019. Photo by Tony Vasquez

Cate le Bon at Solid Sound Festival 2019. Photo by Tony Vasquez

Tortoise at Solid Sound Festival 2019. Photo by Tony Vasquez

Tortoise at Solid Sound Festival 2019. Photo by Tony Vasquez

Tortoise at Solid Sound Festival 2019. Photo by Tony Vasquez

Tortoise at Solid Sound Festival 2019. Photo by Tony Vasquez

Tortoise at Solid Sound Festival 2019. Photo by Tony Vasquez

Tortoise at Solid Sound Festival 2019. Photo by Tony Vasquez

Solid Sound Festival 2019. Photo by Tony Vasquez

Solid Sound Festival 2019. Photo by Tony Vasquez

Solid Sound Festival 2019. Photo by Tony Vasquez

The Feelies at Solid Sound Festival 2019. Photo by Tony Vasquez

The Feelies at Solid Sound Festival 2019. Photo by Tony Vasquez

The Feelies at Solid Sound Festival 2019. Photo by Tony Vasquez

The Feelies at Solid Sound Festival 2019. Photo by Tony Vasquez

The Feelies at Solid Sound Festival 2019. Photo by Tony Vasquez

The Feelies at Solid Sound Festival 2019. Photo by Tony Vasquez

The Feelies at Solid Sound Festival 2019. Photo by Tony Vasquez

Wilco second night set at Solid Sound Festival 2019. Photo by Tony Vasquez

Wilco second night set at Solid Sound Festival 2019. Photo by Tony Vasquez

Wilco second night set at Solid Sound Festival 2019. Photo by Tony Vasquez

Wilco second night set at Solid Sound Festival 2019. Photo by Tony Vasquez

Wilco second night set at Solid Sound Festival 2019. Photo by Tony Vasquez

Wilco second night set at Solid Sound Festival 2019. Photo by Tony Vasquez

Wilco second night set at Solid Sound Festival 2019. Photo by Tony Vasquez

Wilco second night set at Solid Sound Festival 2019. Photo by Tony Vasquez

Wilco second night set at Solid Sound Festival 2019. Photo by Tony Vasquez

Wilco second night set at Solid Sound Festival 2019. Photo by Tony Vasquez

Wilco second night set at Solid Sound Festival 2019. Photo by Tony Vasquez

Wilco second night set at Solid Sound Festival 2019. Photo by Tony Vasquez

Wilco second night set at Solid Sound Festival 2019. Photo by Tony Vasquez

Wilco second night set at Solid Sound Festival 2019. Photo by Tony Vasquez

Wilco second night set at Solid Sound Festival 2019. Photo by Tony Vasquez

Wilco second night set at Solid Sound Festival 2019. Photo by Tony Vasquez

Wilco second night set at Solid Sound Festival 2019. Photo by Tony Vasquez

Wilco second night set at Solid Sound Festival 2019. Photo by Tony Vasquez

Wilco second night set at Solid Sound Festival 2019. Photo by Tony Vasquez

Wilco second night set at Solid Sound Festival 2019. Photo by Tony Vasquez

Wilco second night set at Solid Sound Festival 2019. Photo by Tony Vasquez

Wilco second night set at Solid Sound Festival 2019. Photo by Tony Vasquez

Wilco second night set at Solid Sound Festival 2019. Photo by Tony Vasquez

Clipping at Solid Sound Festival 2019. Photo by Tony Vasquez

Clipping at Solid Sound Festival 2019. Photo by Tony Vasquez