2013 HIGHLIGHTED CURRENT REVIEWS
| | | |
| --- | --- | --- |
| JJ Grey & Mofro/The Gregg Allman Band ~ 12/31/2013 ~ Florida Theatre. Jacksonville, Florida | PHISH ~ 12/28-31/2014 ~ Madison Square Garden, New York, NY | |
| | | |
| | | NOFX 20th Anniversary--House of Blues--New Orleans, LA--December 14th, 2013 |
| | Jeff Crosby and the Refugees—Gallatin Riverhouse Grill—Big Sky, MT—12/7/2013 | 11th Annual Brendan & Jake Acoustic Holiday Show—Park West—Chicago, IL—12/7/2013 |
| | | Zac Brown Band—Brick Breeden Fieldhouse—Bozeman, MT—11/22/2013 |
| | Joe Bonamassa --BJCC Concert Hall--Birmingham, AL--November 18, 2013 | Trampled by Turtles ~ November 14, 2013 ~ UNC Memorial Hall, Chapel Hill, NC |
| | | |
| Widespread Panic ~ Tuscaloosa Amphitheatre ~ Tuscaloosa, Alabama ~ 10/3/2013 | The Lumineers with Dr. Dog ~ The Farm Bureau Insurance Lawn at White River State Park ~ Indianapolis, IN ~ October 7, 2013 | Umphrey's McGee – The Klein Memorial Auditorium – Bridgeport, CT – 10/17/2013 |
| | Empire of the Sun--The Tabernacle--Atlanta, GA--09/18/2013 | Hail to the King Tour: Avenged Sevenfold with Deftones ~ Klipsch Music Center in Noblesville, Indiana ~ October 5, 2013 |
| | | |
| "HEARTBREAKER TOUR" CAPTURES THE HEARTS OF INDIANAPOLIS on July 27th, 2013 | Umphrey's McGee and STS9—The Palace Theatre—Louisville, KY—08/15/2013 | The Locked and Reloaded Tour 2013 – Miranda Lambert and Dierks Bentley ~ August 9, 2013 ~ Noblesville, IN at Klipsch Music Center |
| Paul McCartney—Bankers Life Fieldhouse—Indianapolis, IN—07/14/2013--The Magical History Tour | The National with Daughter ~ August 4th, 2013 ~ Murat Theatre, Indianapolis, Indiana | |
| | | |
| David Byrne & St. Vincent ~ Whitney Hall in Louisville, KY ~ July 2nd, 2013 | O.A.R.—The Lawn at White River State Park—Indianapolis, IN—06/29/2013 | Phish—Encore Park—Alpharetta, GA—July 16-17, 2013 |
| Dave Matthews Band--Klipsch Music Center—Noblesville, IN-- June 21, 2013 | | |
| Widespread Panic, June 9th, 2013 at Redhat Amphitheater, Raleigh, NC | Tom Petty and The Heartbreakers- Klipsch Music Center- Noblesville IN- 6/15/2013 | |
| | | Zac Brown Band / Blackberry Smoke / The Upright Willies—Klipsch Music Center—Noblesville, IN—06/09/2013 |
| | | |
| | Black Francis / Reid Paley / BROOKS–Vinyl Music Hall—Pensacola, FL—05/07/2013 | |
| | Royal Southern Brotherhood—Soul Kitchen Music Hall—Mobile, AL—RECORD STORE DAY 04/20/2013 | The Devil Makes Three—The Deluxe in the Old National Centre—Indianapolis, IN—04/25/2013 |
| | Widespread Panic—The Palace Theatre—Louisville, KY—04/16-17/2013 | Jim James/ Cold Sparks ~ The Brown Theatre- Louisville, KY ~ 04/17/2013 |
| The Whipstitch Sallies / The Stampede String Band / James and the Drifters—The Vogue Theater—Indianapolis, IN—04/05/2013 | North Mississippi Allstars / Arum Rae—Soul Kitchen Music Hall—Mobile, AL—04/06/2013 | The Heligoats—Satori Coffee House—Mobile, AL—04/12/2013 |
| Yonder Mountain String Band—Babcok Theatre—Billings, MO—03/20/2013 | They Might be Giants—Paradise Rock Club—Boston, MA—04/03/2013 | Galactic with special guest David Shaw; Opener: The Nigel Hall Band—The Vogue—Indianapolis, IN—04/04/2013 |
| Elton John ~ March 23, 2013 ~ UTC McKenzie Arena ~ Chattanooga, TN | The Casualties--The Pit—Jacksonville, FL--3/22/2013 | |
| | | Slightly Stoopid—The Congress Theatre—Chicago, IL—03/09/2013 |
| Lotus at the Cat's Cradle, Carborro, NC (near UNC-Chapel Hill campus) February 27, 2013 | Lindsey Stirling--Deluxe Old National Theatre--Indianapolis, IN—03/12/2013 | Big Sky's Big Grass Bluegrass Music Festival |
| | Conspirator ~ The Tabernacle ~ Atlanta, GA ~ February 16, 2013 | Dark Star Orchestra—Vinyl Music Hall—Pensacola, FL—02/19/2013 |
| The Avett Brothers – The Embassy Theatre—Fort Wayne, IN—02/14/2013 | Del McCoury Band ~ Princess Theatre ~ Decatur, AL ~ February 14, 2013 | Tea Leaf Green Live at 20th Century Theatre ~ Cincinnati, OH ~ February 15, 2013 |
| Dark Star Orchestra—Buskirk-Chumley Theatre—Bloomington, IN—02/06/2013 | Lotus—Jake's—Bloomington, IN—02/06/2013 | Umphrey's McGee—The Blue Bird—Bloomington, IN—02/10/2013 |
| Dark Star Orchestra—The Vic—Chicago, IL—02/02/2013 | Jimmy Buffett & the Coral Reefer Band-- Pensacola Bay Center--Pensacola, FL—02/05/2013 | The Punch Brothers Live at The Brown Theatre ~ Louisville, KY ~ February 5, 2013 |
| Keller Williams--Alabama Music Box--Mobile, AL—01/24/ 2013 | | Keller Williams—The Vogue—Indianapolis, IN—02/01/2013 |
| Future Rock--The Bluebird Bloomington, IN—01/17/2013 | Greensky Bluegrass--12th & Porter--Nashville, TN—01/20/2013 | Bone Thugs 'N' Harmony ~ Brewster's Megaplex ~ 1/25/2013 ~ Jacksonville, Florida |
| Grace Potter and The Nocturnals--The Egyptian Room--Indianapolis, IN-- 1/12/2013 | B.B. King—The Saenger Theatre—Pensacola, FL—01/08/2013 | Yonder Mountain String Band ~ Marathon Music Works ~ Nashville, TN ~ January 11, 2013 |
| Jason Isbell & The 400 Unit ~ Shoals Theatre ~ Florence, AL ~ December 22, 2012 | Gregg Allman / Royal Southern Brotherhood – The Saenger Theatre – Mobile, AL – 12/30/2012 | Widespread Panic-- Time-Warner Cable Arena--Charlotte, NC--12/31/2012 |
Click Here for reviews from August - December 2012
Click Here for reviews from January - July 2012
Click Here for reviews from August - December 2011
Click Here for reviews from January - July 2011
Click Here for reviews from 2010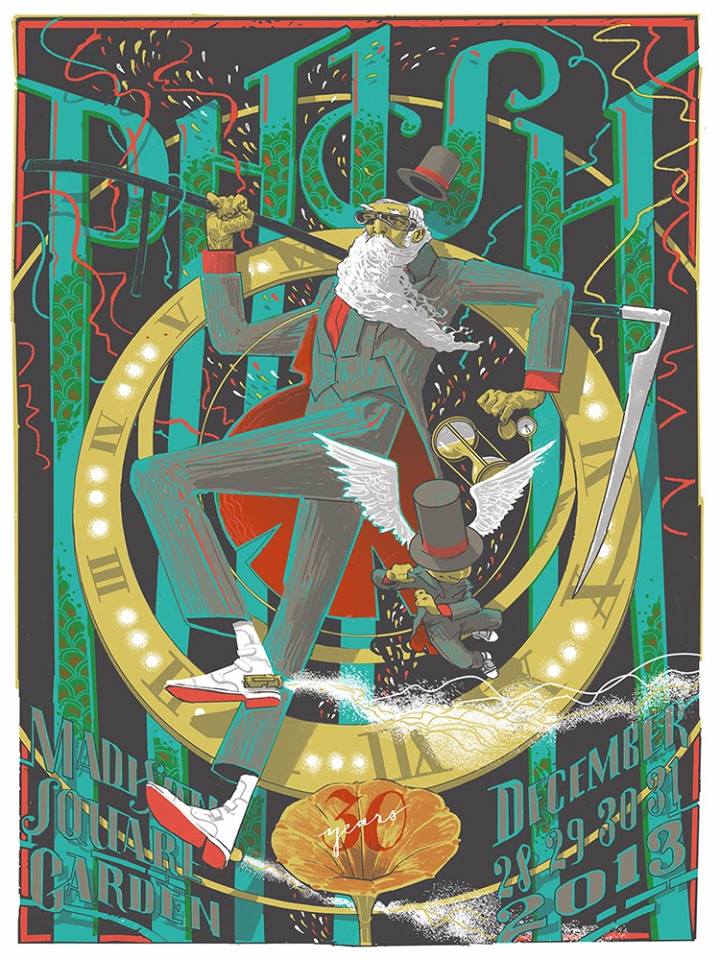 Phish-- New Year's Run--Madison Square Garden—New York, NY—December 28th-31st, 2013
Written by: Kristi Reinhardt
Edited by: Rosemary A.W. Roberts

Excitement was in the air as Phish fans geared up for their 30th year anniversary NYE MSG run. With four nights ahead, fans were eager to see what the band would bring in the newly remodeled Garden.

Breaking open the tour on the 28th, Set One brought a powerful "Wolfman's Brother", showcasing a new pedal effect from Trey, followed by Simpson signals and "Monica", a new song from the 2013 Halloween Wingsuit set. This time "Monica" was played on their regular set up which gave the song a more "Phish like" sound than the acoustic version debuted in Atlantic City. Phish opened the second set with "Sand" which in my opinion is always awesome! The boys did some serious jamming this set taking "Sand" into "Piper>Back on the Train>Tweezer>Backwards Down the Number Line" coming full force into "Steam". The "Steam" jam is always a hit, creating some crazy sounds.

The 29th was solid and packed full of punches. With a crisp "Moma Dance" opener, you knew the show was going to be a heater. Phish played 2 songs from the Wingsuit set, "The Line" and "555". "555" gets dark and funky and leaves a lot of room for improvisations and jams. Second set was introduced by a
"DWD>Carini" opener. "Carini" was the jam of 2013 and it was great to see the band bring it into their 30th anniversary NYE run. The second set included 6 songs, all solid jams and seamless transitions.

The 30th was smoking hot, straight from the opening licks of "Kill Devil Falls" which reached high peak releases. Typically these releases are saved for the later part of the show. "Bathtub Gin" and "Wombat" continued the heat, along with "46 days". Keeping things fired up, the second set began with a 20 minute unfinished "Chalkdust Torture" which led into a "Mike's / Groove" sandwich that we
all know and love. Except filling the "I am Hydrogen" spot was another new song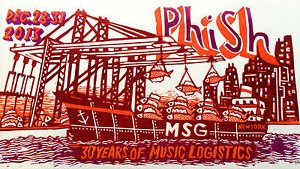 from Wingsuit, "Devotion to a Dream," which debuted a new "Mike's Song" package. This was an all-around excellent show.

New Year's Eve brought extra excitement as the Garden filled with sequins, flashing glasses, and sparkly hats. "AC/DC Bag" and "A Song I Heard the Ocean Sing" was a solid way to start the night. And what would a MSG show be without a climactic "Fluffhead", which included alternate lyrics saying "Fluff came to New York."

After the conclusion of Set 1, Trey and Page carried a keyboard cake out to the stage with a giant 2D mountain backdrop behind it, a replica of the Colorado '88 release. The band sliced and served cake to fans. After the cake was served, a video was played of Fishman driving around in a "JEMP" truck collecting props from previous New Year's shows, driving down to NYC. The truck then emerged into the arena, stageside. Set break music were all songs that dated back to around 1983. At the end of set break, the truck was moved to the center of the floor where the band played the entire 2nd set. The band was using all their original equipment that they were using 30 years ago, including hockey
sticks as microphone stands. I've seen around 75 shows and this was one of the best sets I have ever seen. The set included a "Glide" opener, "Llama", a rare "Colonel Forbin's Ascent>Fly Famous Mockingbird" and "Icculus" where Trey says to the crowd, "Some of you aren't getting the message and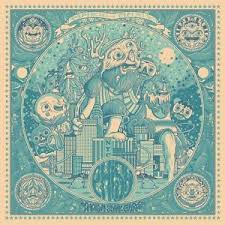 it's pissing us off." He referenced playing "Icculus" every night at Nectar's 30 years ago and never would have imagined playing it 30 years later at MSG. Compared to some of their cheekier New Year's gags, this act was done with class. It was amazing!

The final set of the MSG run opened with "Character Zero". It ended 10 seconds before midnight, when the countdown to 2014 began. "Auld Lang Syne" played as balloons and confetti dropped section by section. A highly anticipated "Fuego" finally entered the show and the band rocked it, even with hundreds of balloons hitting the stage. "You Enjoy Myself" closed the set which I loved. I hadn't seen
"YEM" for a while since they didn't play it at Dick's or Boardwalk Hall so I was ready for it. During the encore break, a video montage of photographs and video played. At the end of the video was a "Save the Date" card for Phish's 60th anniversary show (December 31st, 2043) which had each band
member digitally aged. The show ended with "Grind" where the band (instead of days lived) said the number of days they will have been alive in 60 years.

Overall it was a great run in a beautiful venue with an amazing band surrounded by generous people. Can't ask for anything better than that!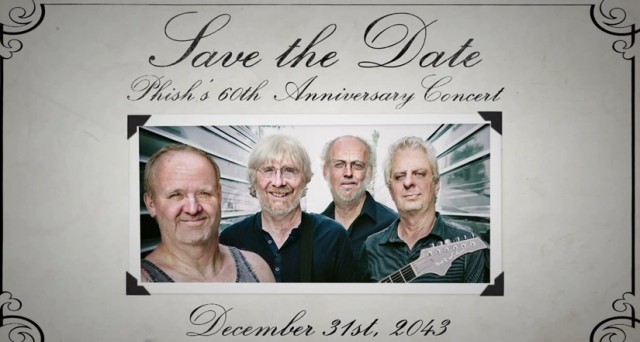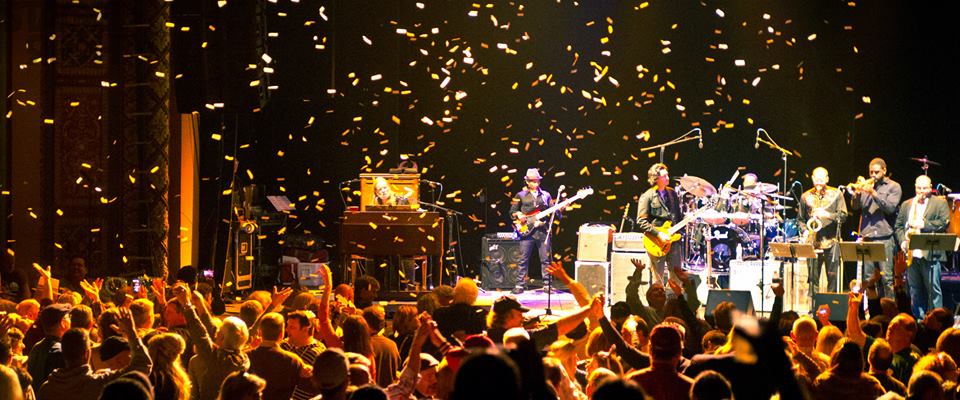 JJ Grey & Mofro/The Gregg Allman Band ~ 12/31/2013 ~ Florida Theatre. Jacksonville, Florida
Written by: Joey Pye
Edited by: Rosemary A.W. Roberts
Rolling Stone Magazine had named the JJ Grey & Mofro and The Gregg Allman Band show at the Florida Theatre slotted at #2 on their list of "must see New Year's Eve shows". I couldn't imagine any show beating it. It was my wife and I's anniversary and we decided to skip our usual Atlanta run and enjoy a night at home. Expectations were high as it seemed like a perfect match. Both artists share similar individual talents in that they are both excellent songwriters/singers and both shift from piano to guitar with ease. I was extremely excited to see them share the stage.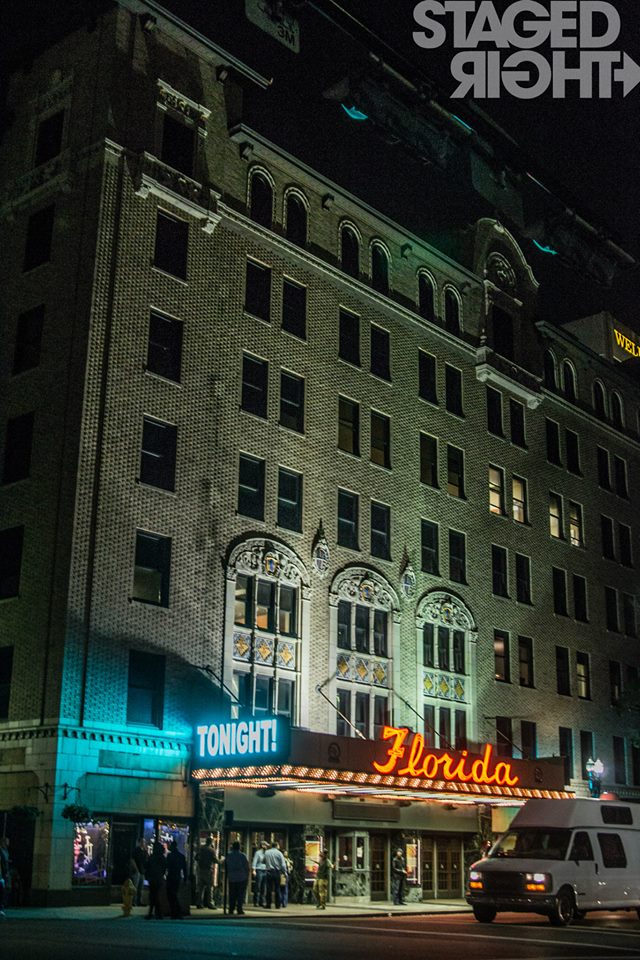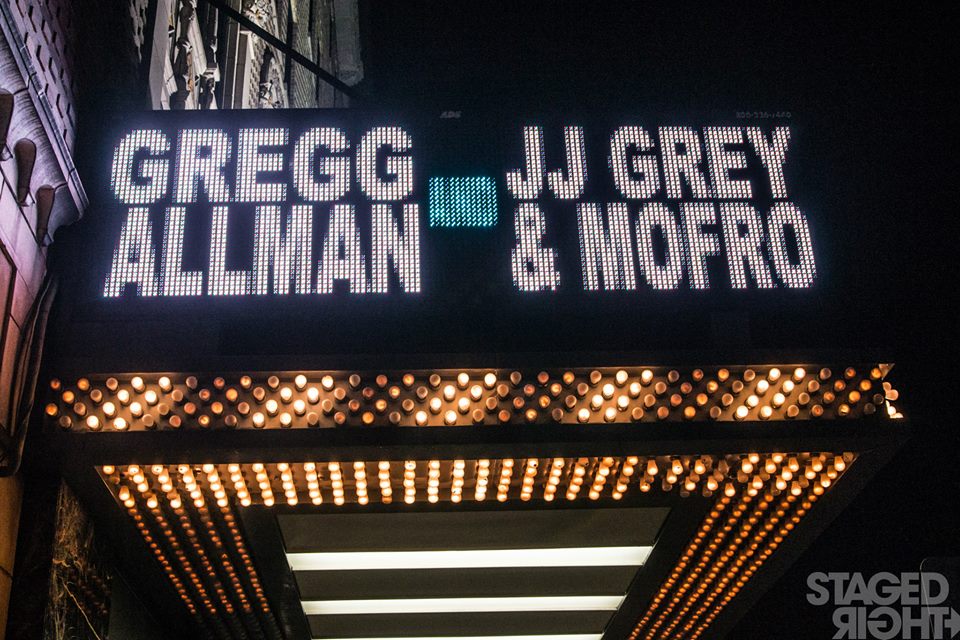 It wasn't until shortly before the concert that I found out the two bands were scheduled at different times and JJ Grey & Mofro was slotted to open. JJ lit up the room with his extraordinary stage presence. He glided across the stage, shaking his tambourine, spilling his usual introductory banter with that all so familiar smile. He really got that crowd fired up with subjective introductions to songs like "Lochloosa" and "This River", which are both about the immediate area. JJ is native to Jacksonville and my wife and I have seen him a couple dozen times. We are particularly fond of his earlier albums like Lochloosa and Blackwater. After Orange Blossom Special it seemed as if the songs were becoming more radio friendly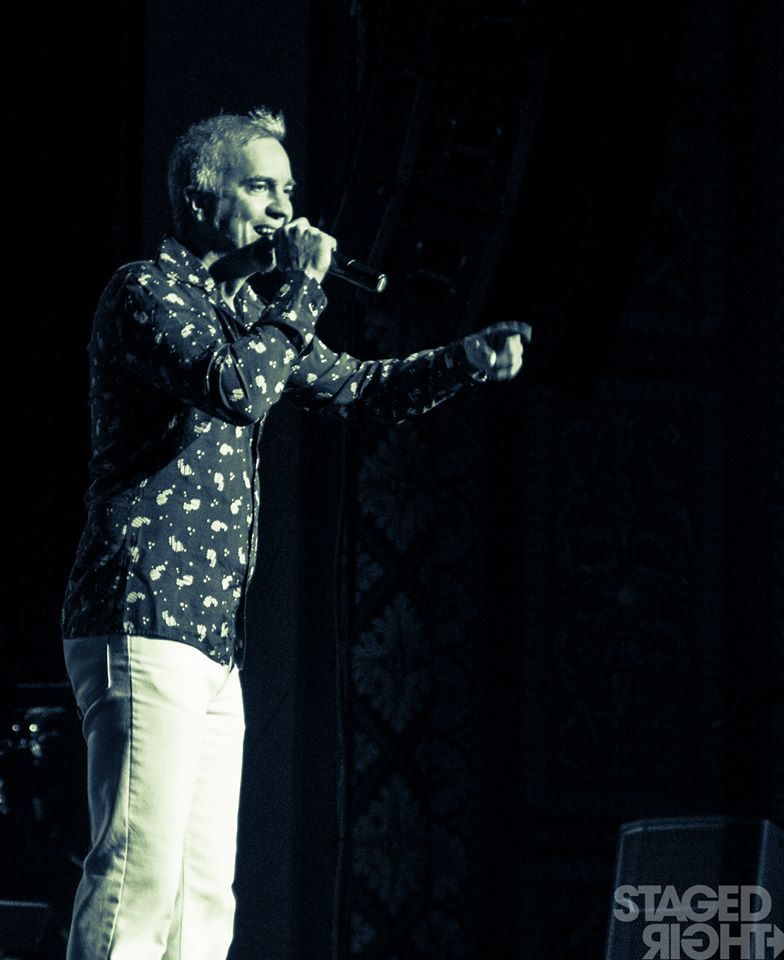 and appealing more to my wife. He played a few songs off his new album This River during his set and they were amazing. He opened with an upbeat "Your Lady, She's Shady" and immediately I was on my feet and ready for more. JJ has an uncanny ability to make you boogie down. His stage performance has always been consistently phenomenal and his new songs like "Tame a Wild One" are undeniable proof. He also has the power to write powerful lyrics as in "Somebody Else", matched with a voice that I can only compare to the likes of Aretha Franklin, providing for a magical and seamless show. He jumped from old to new songs, playing one of our favorites "Ho Cake" and finally even appeasing us, the jaded indigenous, with another new one, "This River". This was by far, hands down, the best JJ Grey show I have been to yet.
Setlist:

Your Lady, Hide and Seek, A Woman, 99 Shades, Brighter Days, Country Ghetto, Sweetest Thing, Ybor City, Lochloosa, Tame A Wild One, Slow Hot Sweaty, Ho Cake. Encore: This River, Orange Blossoms*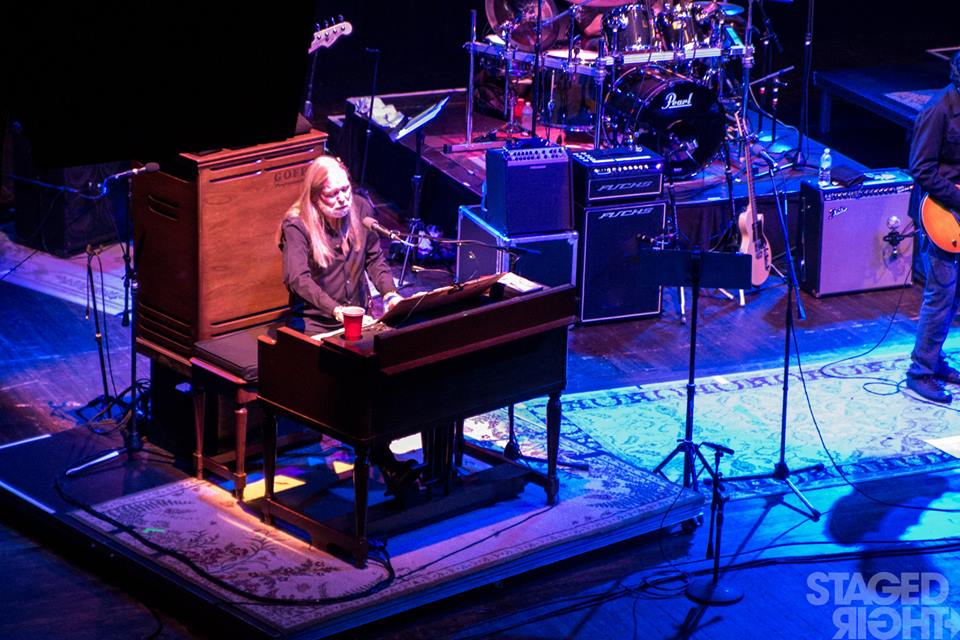 The Gregg Allman Band was scheduled to go on a half hour after JJ's 1.5 hour show. He came out with his band after a short while, spry and full of life. This was not the first time we had seen Gregg either. In fact, my wife has read his book and absolutely loves The Allman Brothers Band. The last few times we had seen Gregg, he had been under the weather and his stage presence was limited and stationary. I was extremely excited to see him jump back and forth from the piano to the guitar with such poise and agility. Presumably, we kind of expected an Allman Brothers Band set with minor variations; boy were we wrong. If you are going to a Gregg Allman Band show expecting an Allman Brothers Band show, you are in the right place for the wrong reasons. He did play Allman Brothers classics, some of which sounded much like the ABB versions, like an excellent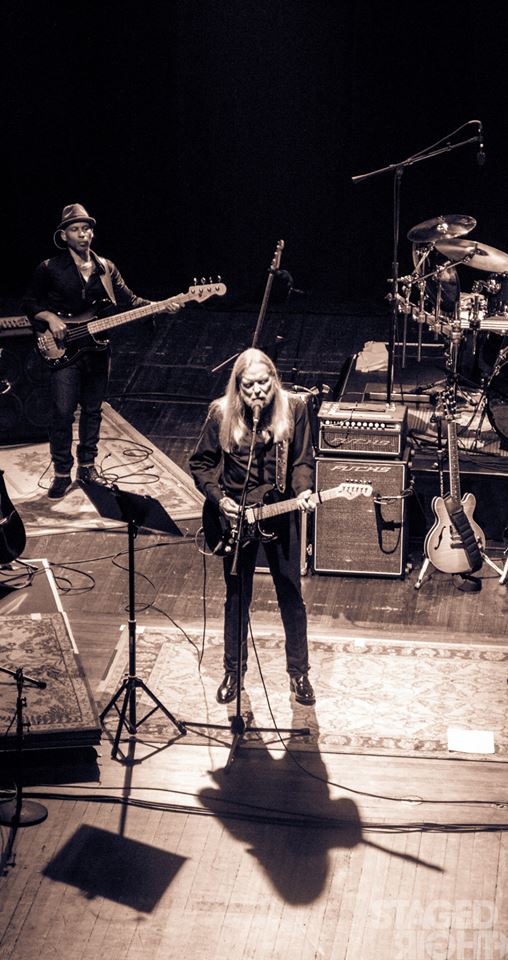 "HotLanta>Ain't Wastin Time No More". Hearing him play an acoustic "Melissa" still gives me goosebumps as I write; but when he played "Whipping Post", it was clear that the Gregg Allman Band is not just an attempt to seek fortune off of his name, but rather his personal take on his and their songs. He played songs from his early ABB days with Duane like opener "Statesboro Blues" and ranged to his new album, Low Country Blues, with "I Can't Be Satisfied". He played songs from his days with Cher, like "I'm No Angel". He even gave props to later ABB and Gregg Allman Band member, Warren Haynes, playing his song 'Before The Bullets Fly". He rang in the New Year with an appropriately placed "Midnight Rider" that will be truly unforgettable. He encored with the same encore he did at my first ABB show, "One Way Out" which nearly brought tears of nostalgia.
Setlist:

Statesboro, I'm No Angel, Queen of Hearts, Cant be Satisfied, Aint Wastin Time, Dont Keep me, Bullets, Melissa, (band intros>blues til countdown>Auld Lang Syne), Midnight Rider, Kerosene, Whipping Post. Encore: One Way Out*
As for the Gregg show, it was my first experience with his band and I am looking forward to the next. Although I never got to see the two share the stage, Gregg did bring out JJ's incredible horn section for a few tunes. All expectations were satisfied with a second helping. Since the show I have been shuffling through JJ's new album and any/all Allman songs I have with this ridiculous smile on my face as I think about the stories I can tell my future grandkids about how we brought in the 2014 year listening to Gregg Allman sing "Midnight Rider".
*Track titles and setlists are written as they were printed on the official set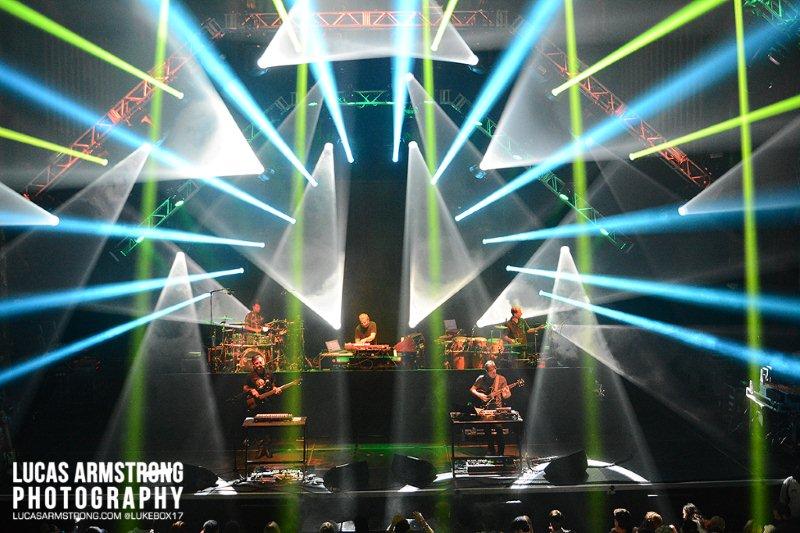 STS9--The Tabernacle--Atlanta, GA—12/28/2013
STS9 returned to the stage for the second night of a 5 night run leading up to New Year's Eve, at The Tabernacle in Atlanta GA on Dec, 28th 2013. It's a little known fact that this run of nights marked the 30th performance by Sound Tribe Sector 9 at the Tabernacle. That's a record, beating out any other band ever to play this venue multiple times. Atlanta is the place STS9 calls home, and perhaps it's fitting that a locally-grown band holds the honor of most concerts at The Tab. STS9 has a rich and colorful sound, catering to the more artistic side of the electronic jam band scene. Sound Tribe is whom I consider to be the creators of this jamtronic rock music that is becoming increasingly popular. Since STS9 first hit the scene in 1998 we've seen more and more bands mimic this style in their own way.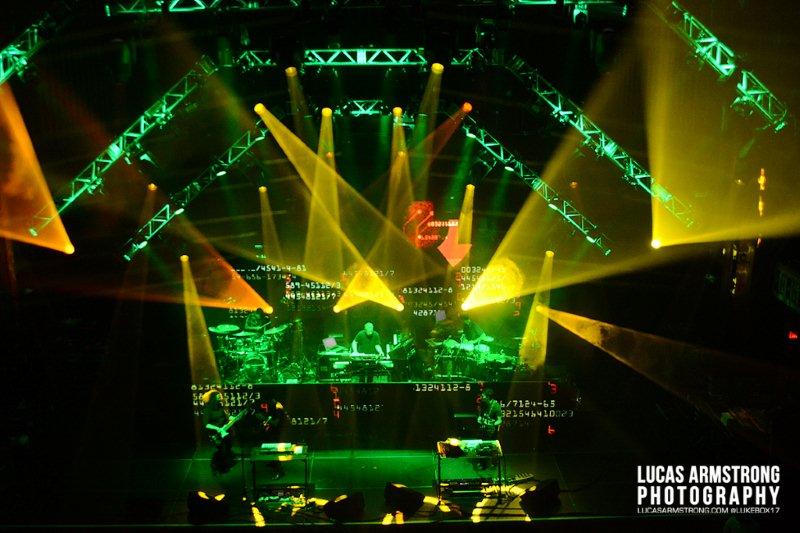 The evening was cold and rainy. Everyone who came entered the venue soaked to the skin, but once inside it was one hot party and the chills soon wore off. The stage went dark and the crowd roared in anticipation. The guys entered the stage and opened up the night with "Bigs" then jammed their way into "1...2...3...", which created a great warm up jam for the rest of the first set. "Empires", "F. Word" and "Crystal Instrument" seemed to fly by as the crazy laser light show brought the party into full swing. Murph (David Murphy) took a moment to thank everyone for coming and then they rocked out a great version of "Song 2", followed by "Metameme" and "Looking Back On Earth". Then, as if being awoken from a daze by a slap in the face, we got one of the greatest versions of "ROYGBIV" ever performed, hands down my favorite moment of the night.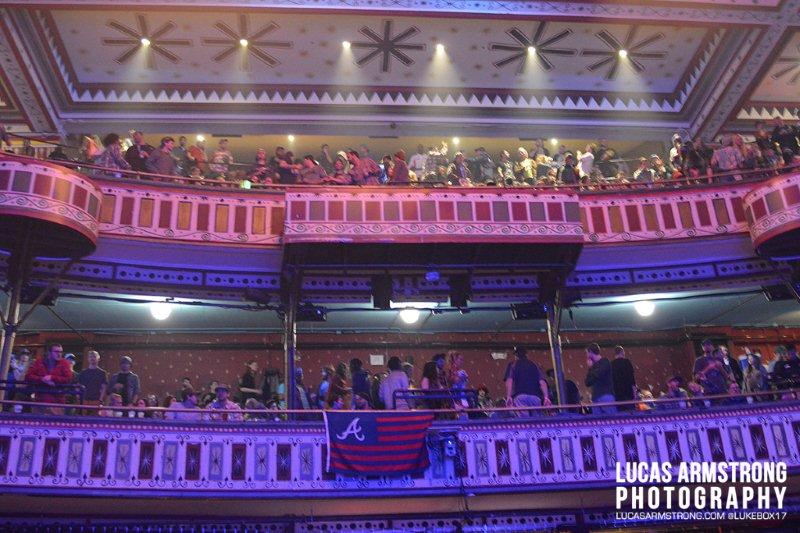 Then out of nowhere, Alana Rocklin strolls onto the stage with her bass...what? Wow! Alana is from the band J.U.S.T.I.C.E. League, and this was truly unexpected. A glorious half hour (at the least) of improvisation together with STS9 ensued, as they jammed "Hidden Hand Hidden Fist" and covered "Shakedown Street", then took a 25 minute set break.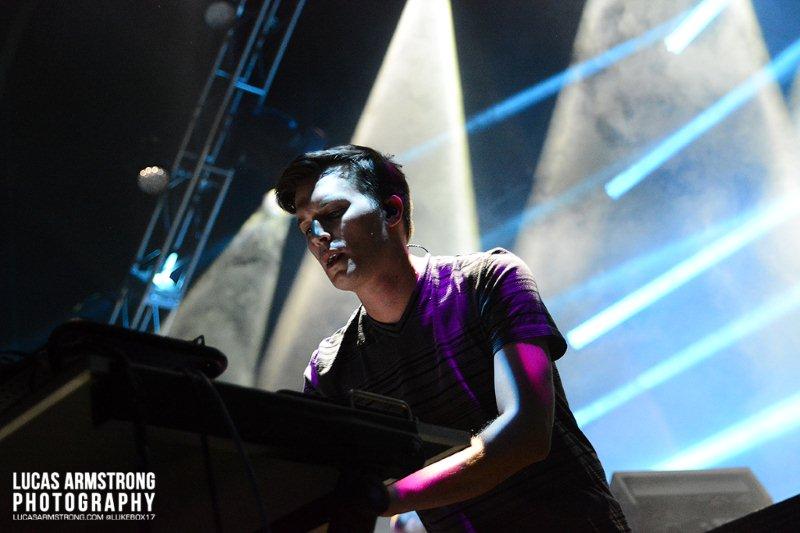 The Second set was twice as energetic as the first. The guys broke out "Hubble", my personal favorite "Arigato", "Golden Gate", then chilled out with a beautiful extended "Water Song". Twisting things up with "Open E", "Tooth" and "Moon Socket" was a great way to end the set. The encore was opened up with STS9 and guest Alana Rocklin on "Gobnugget"; then the band closed out the night with "Instantly".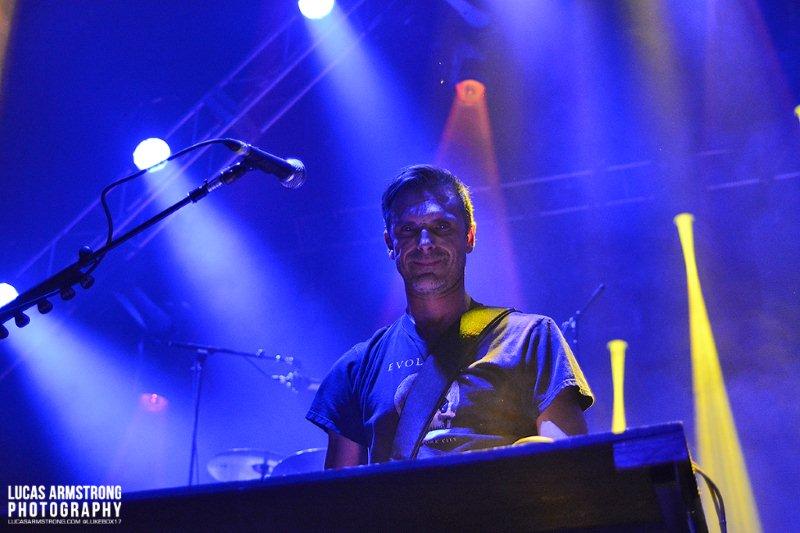 It was a great night for STS9 and I think if you're considering heading to Atlanta for any of these nights yet to come, you will not be disappointed. Fans of this band are friendly, the Tabernacle is a world class venue and Atlanta in general is an exciting and vibrant city. STS9 never fails to entertain.
Great Music, Great Vibes, Tribe Love!
FULL PHOTO ALBUM HERE
Photography and review by: Lucas J Armstrong, Twitter & Instagram #lukebox17
Edited by: Rosemary A.W. Roberts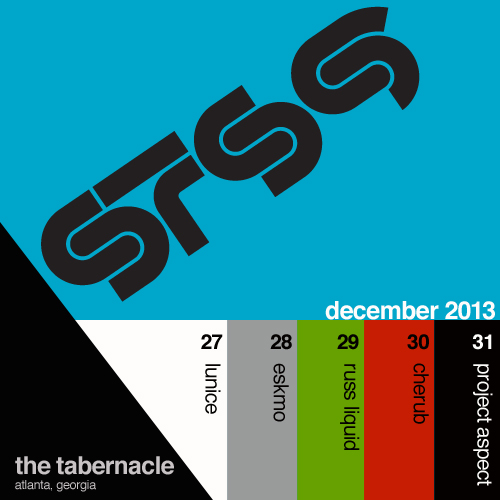 STS9—The Tabernacle—Atlanta, GA—12/27/2013
Written by: Kristi Reinhardt
Edited by: Rosemary A.W. Roberts
STS9 at The Tabernacle was quite the experience! I've seen the band once before, about 10 or so years ago, and was very much looking forward to what the night would bring. This was the first of 5 nights at the Tabernacle. The atmosphere was incredible. Everyone was happy and anxiously anticipating what lay ahead. The "jamtronica band" brings along a stream of dedicated followers. The fans were decked out in everything from sequins and Egyptian wear, to karate uniforms, a carrot costume and so much more.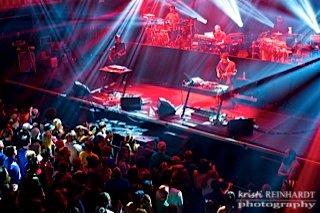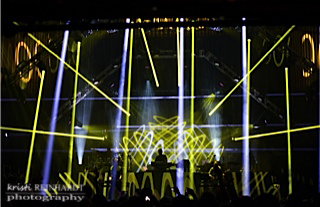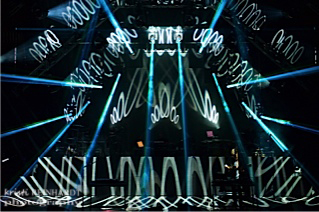 When the band took the stage, the energy was high. STS9 opened with "Mischief of a Sleepwalker". The room was immediately filled with colorful lights and a gentle sound. The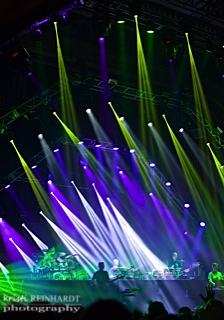 next song "One A Day" took the energy up a notch and you could clearly see the excitement from keyboardist David Phipps. The atmosphere was euphoric. Beaming lights, dancing fans, and serious trance jam infused music. The great part about STS9 is not only the music and the atmosphere, but the lights are out of this world. I've seen a lot of light shows and this was like nothing I've seen before. I was mesmerized by what was happening all around me.

The music is open to interpretation as there is an absence of lyrics. Every listener can make their own decisions on what the music is about. This is a jam band at heart with traditional rock instruments, yet sampling and electronically produced dance music plays a prevalent role in their sound. They have a talent for being able to build up a song as well as seamlessly transition into another tune. The music is a wide mix of spacey-electronic, rock, funk, and jazz, all mixed together to create a complex, lightweight sound. When comparing the band I saw 10+ years ago to the band I was seeing now, you can tell that continuous evolution and development is something the band strives for.
The performance was nearly flawless. This band, along with its close fan base, makes an exciting show to check out. The next time they come back to Atlanta, you will definitely see me there!
Set 1:

Mischief of a Sleepwalker

Set II:

EHM

Awesome featuring Cool Kids (STS9 remix) >The Unquestionable Supremacy of Nature

E: This, Us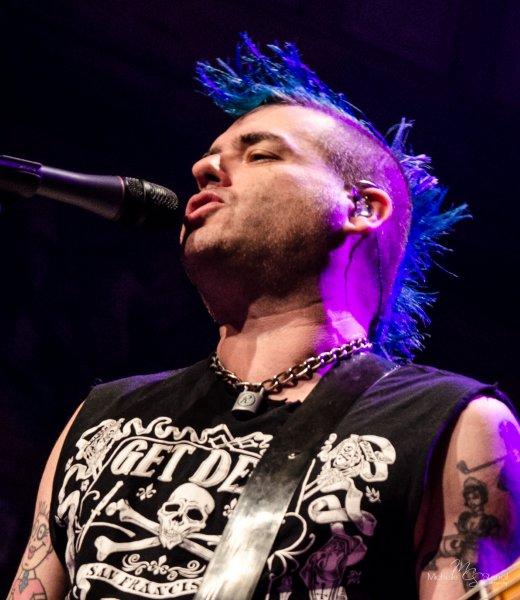 NOFX 20th Anniversary--House of Blues--New Orleans, LA--December 14th, 2013
December 14th 2013 was my first visit to House of Blues in New Orleans and my first "punk" show in two decades. NOFX, from my native state CA, have been playing the scene since I attended college in San Diego. Honestly, I was not too sure what to expect and I quickly found myself absorbed with the two opening acts, Masked Intruder from Wisconsin and Dillinger Four out of Minnesota. HOB was packed with people of all ages and the view from the second floor balcony kept me safe from the mayhem that was taking place on the standing room only floor below. Both opening acts were very different and laid down sets that fired up the crowd and got it really geared up for NOFX.
Out comes "Fat" Mike Burkett - Vocals & Bass, Aaron "El Hefe" Abeyta - Guitar & Vocals, Eric Melvin - Guitar & "Mel Yell" and Erik Sandin – Drums, looking like they just walked out of 1984. There was no light show; in fact the lights were turned up bright white. There were no gimmicks, just fast tempos and rousing lyrics.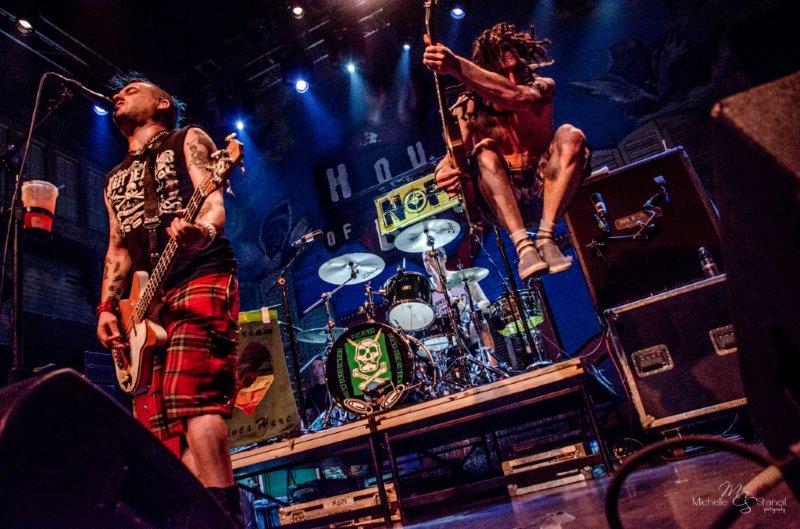 Tucked away in the near stage photo pit, I dodged flying beverages, clothes and other things I won't name here. With one eye behind me watching for flying objects and people, I still managed to stay captivated by NOFX's true hard core punk and Santa Cruz-like surfer vibe. It was fun! The crowd was so into it, they sang every word. Mike and El were crazy on the stage with endless energy. The music was edgy, raw and it was a damn good time.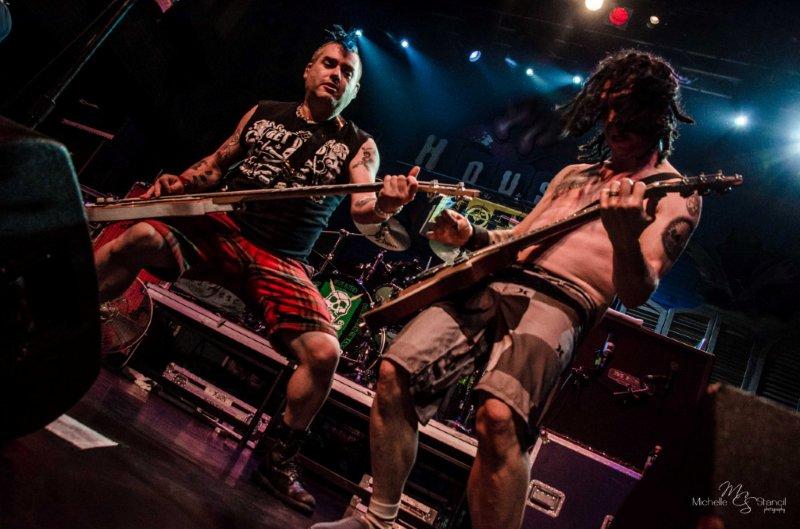 I think the pictures speak better about the night; words don't seem to do it justice!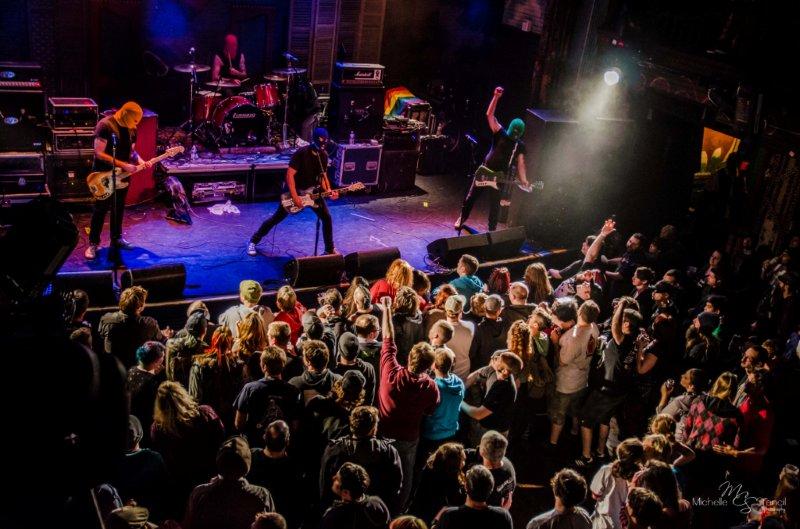 Photos and Review by: Michelle Carroll Stancil
Edited by: Rosemary A.W. Roberts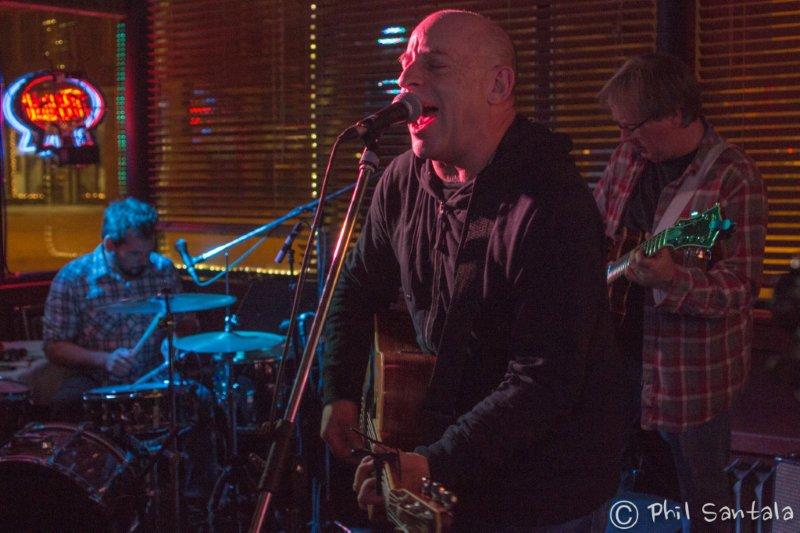 Jerry Joseph--Mint Bar--Livingston, MT—Dec.20th-21st, 2013
Photos and Review by: Phil Santala
Edited by: Rosemary A.W. Roberts
On the longest nights of the year the Mint Bar in Livingston Montana really starts to heat things up. The Mint has helped close the end of Jerry Joseph's annual winter run since the jump out of the Zebra Lounge in 2009. Technically the shows on December 20 and 21 might have been billed as "The Denmark Veseys" which is Jerry Joseph on acoustic guitar and Steve Drizos on drums. The weekend also featured Pat Kinney on acoustic guitar and Tom Garnsey on electric guitar, sitting in extensively throughout both nights.
The snow and darkness chased The Denmark Veseys down from Missoula Montana's Top Hat while a crowd began to pack The Mint. Livingston and The Mint are interesting places, both relics of a by-gone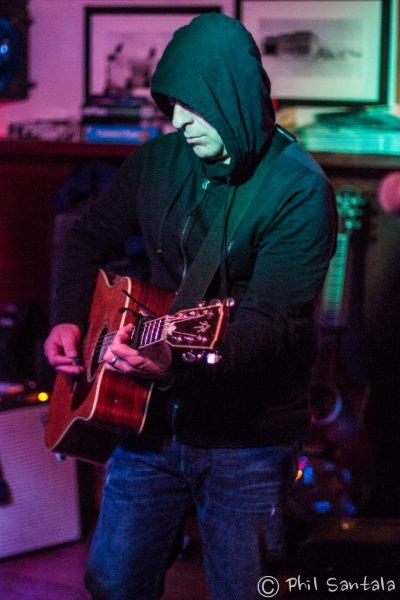 era. A quintessential Montana small town, it seems like time stopped for much of the city in the 1940's. Bright neon signs and art deco facades line the few streets. Big brick buildings, too, stand the test of time. The interior of the cozy Mint bar features old photographs of the area and town on the walls, like a whiskey soaked museum. The stage is non-existent and is marked by the arrangement of amps, speakers, and pedals lain out on the floor. Jerry often seems to get...not lost in the crowd at the front, but absorbed and surrounded by it. Lots of face time and eye to eye contact exchanges between patrons and musicians. The resulting shows are strong from this connection, and provide a more soulful experience, in tune with the stripped down sound of The Denmark Veseys. It's even the only two nights of the year The Mint charges a cover, and considered to be well worth it by out-of-towners and locals alike.
The cover and the drive are both worth it. This became apparent midway through the 1st set Friday night. Tom Garnsey joined Jerry and Steve for a ludicrous "Altar in Your Box> The Beautiful Dirt> Breakfast at Lucille's> Altar in Your Box" jam to end the set. Tom's musical chops pair nicely with the Veseys. The bare bones sound of Jerry's acoustic, with the often muted percussion behind him, is pure blues. Slow, soulful and methodic. Its deep rhythm oozes and pulsates out of the speakers. Tom's background in the Bozeman, MT based "Hooligans" (the oldest established Americana folk, funk, rock band in the area) blends exquisitely behind Jerry's sound. But the blending doesn't stop there. Tom's electric guitar didn't melt faces tonight; instead it brought the funk up a perceptible notch. It's hard to accurately describe the pairing of the two sounds. Like sweet and salty, cheddar cheese with apple pie, bacon and ice cream. Tom knows when to fan the flames of Jerry's fire, breaking out the bellows and roaring sound waves into the room. Just as quickly he backs off, leaving a void into which air, and one's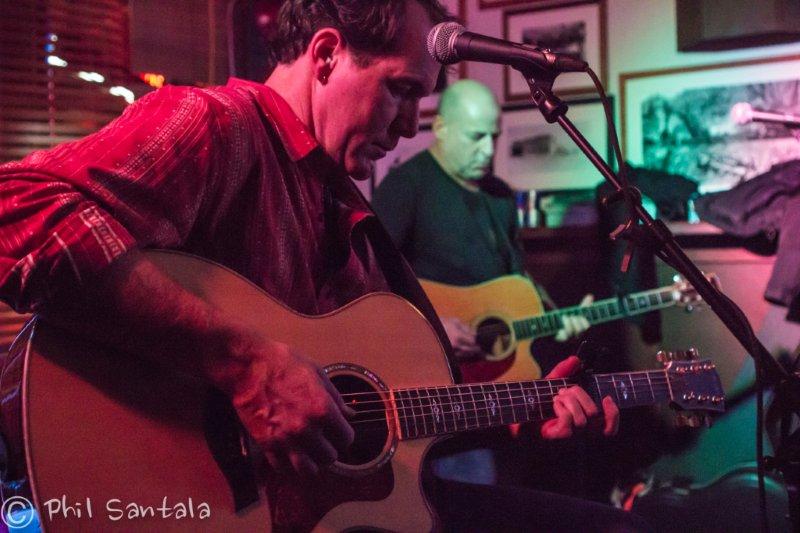 breath, quickly rushes back into. Each action, the starting and stopping, is as uplifting and syncopated as the other. Stripped down, the Jackmormons and Little Women songs can have their intricate parts picked out. In the case of "Altar In Your Box", its chord structure can sound close to the oft covered Michael Stanley tune "Let's Get the Show on the Road."
If slow methodic soul wrenching jams were the staple of Friday night, mash-ups, raps, jams and nasty-ness were the staples for Saturday night. Pat Kinney, hailing from Logan, UT where he spends his time guiding, patrolling, and skiing in the mountains, was present for both nights extensively, but lent his acoustic styling brilliantly during the second set of Saturday night's show. He also has been a longtime musician and friend to Jerry. This closeness and intimacy with Jerry is apparent in the subtle way his acoustic playing blends with Jerry's.
Early in the second set the original composition "New Psychology of Love" was weaved with the Rolling Stones' cover "Beast of Burden": one song about finding love, the other about being broken down looking for it. The juxtaposition is pure Jerry Joseph. Like the uplifting rhythm of "Ten Killer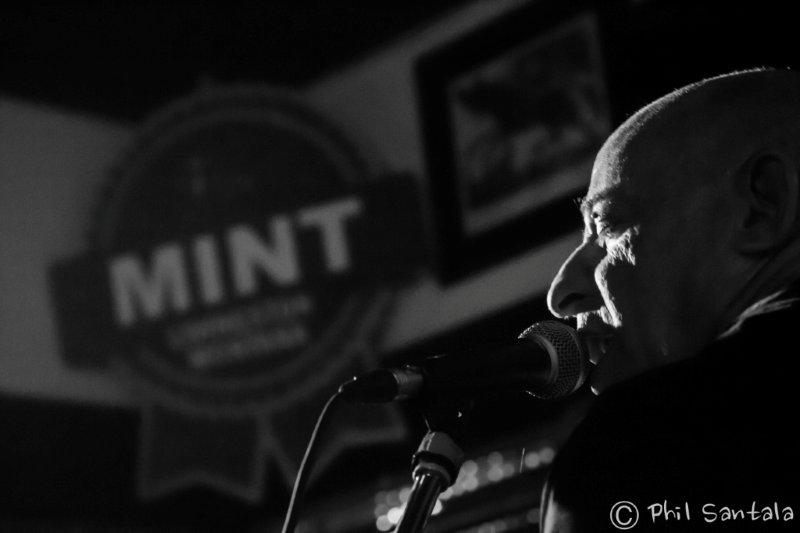 Fairies" combined with its absolutely depressing lyrics of finding peace in one's faith in the face of death.
Not ready to face death on the longest night of the year? Well good; because the end of the second set was all about finding life, love, peace and somebody to dance with. "Good Sunday" spun out of the world as it wrapped its way through the jams and raps. In the end it looked something like "Good Sunday> I Wanna Dance With Somebody> Cosmic Concerto (rap)> I Wanna Dance With Somebody> Let It Be> Silent Night (Rap)> Good Sunday." That's right, a Jerry> Whitney Houston> Jerry> Whitney> John Lennon> Christmas> Jerry melody. Simply unexpected and nearly unprecedented! At times during this slow rampage Jerry would abandon the microphone, and walk out into the crowd. While the call and response old blues style of singing is a move of Jerry's when he is really feeling "it", the nonexistent stage makes this more of a transcendental experience than most. Stepping past the speakers and amps and into the crowd he is able to blur that 4th wall. Audience and performer were able to come together as Jerry called out to us to "let it be...Lord...let it be." Then just as seamlessly he moves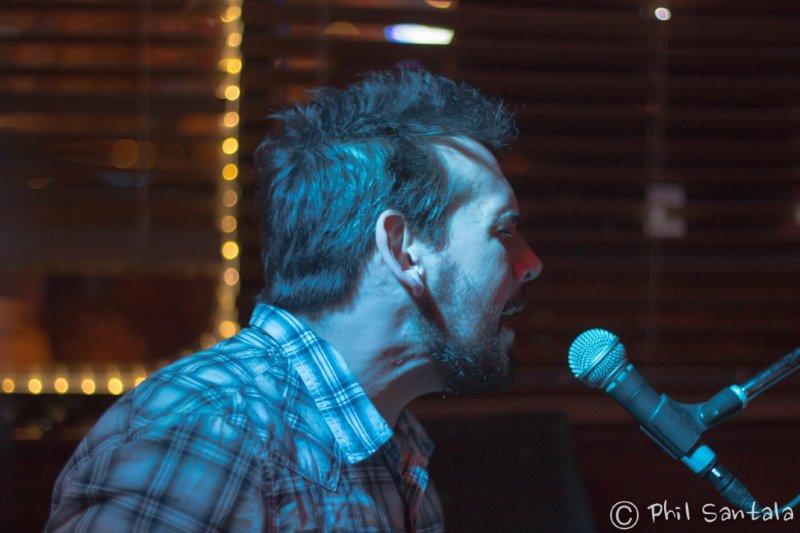 back into the stage area as he signals the troops to rally round, and steps back into the role of leading performer.
Just as quickly, it seems we too must move back into the cold night. Out into the darkness the weary, battered, tired shepherds of the jamband scene stumbled, with the winds blowing the patrons along. Once more into the cold dark night, now the longest of the year, we collectively pushed ourselves. Powder on the slopes, loved ones back at home, jobs to attend to in the morning...whatever it was that beckoned us back from this evening's festivities, we all carried with us a rhythm in our tired step and song in our beating hearts, something to help let it be, something to shine at least until tomorrow.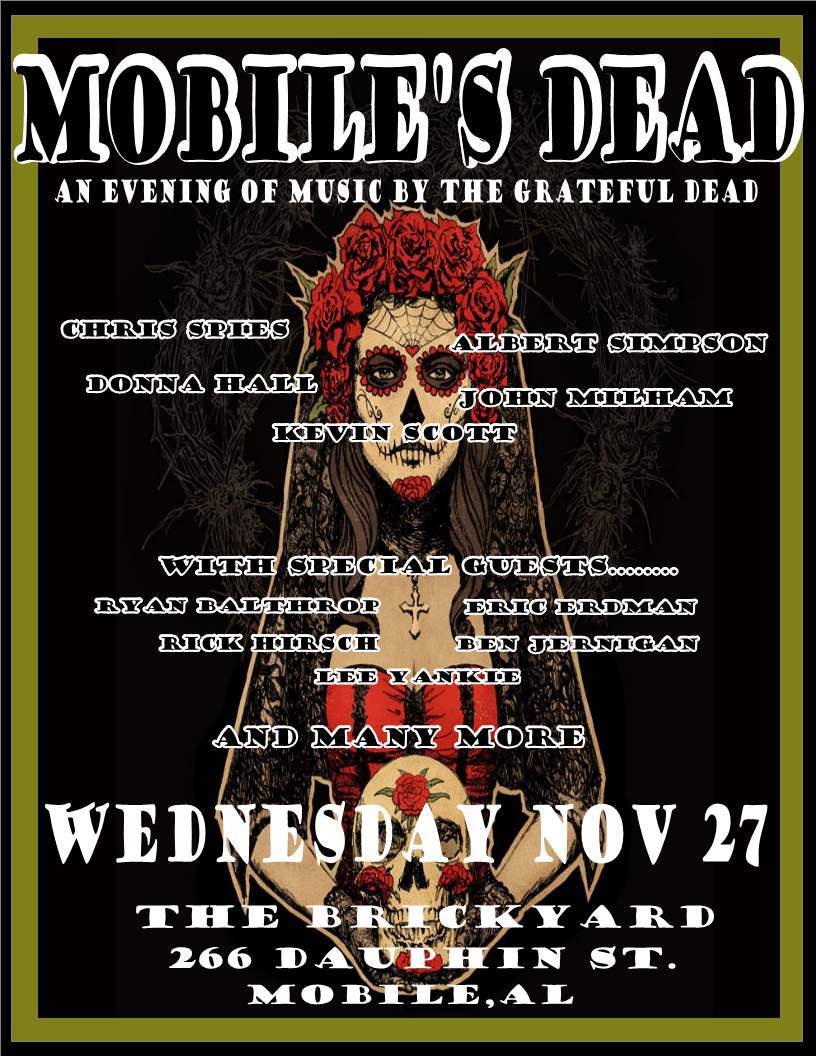 Mobile's Dead—The Brickyard—Mobile, AL—11/27/2013
Mobile Musicians Get Grateful on Thanksgiving
It's been quite a while since Mobile has had any kind of local Grateful Dead tribute band, even for one night. But on Thanksgiving Eve, some of the area's best and most beloved musicians gathered for a night of merriment that paid homage to the influential rock band. The brain-child of local talent keyboardist Chris Spies, the all-star band of regional and local artists, simply called Mobile's Dead, featured singer/songwriter/guitarist Albert Simpson (Highly Kind), bassist Kevin Scott (Col. Bruce Hampton, Grant Green Jr. Band), drummer John Milham (Grayson Capps and the Lost Cause Minstrels) and vocalist Donna Hall (Wet Willie) along with a rotating line-up that included Rick Hirsch, Eric Erdman, Ryan Balthrop, John Cook, Lee Yankie, Ben Jernigan and more.
"I wanted to do some sort of show during Thanksgiving because Mobile is one of those towns that you see people home during the holidays that you don't see for the rest of the year," explained Spies. But putting a band together may have been a bit more difficult than he thought. "You would be surprised at all the musicians who turned up their noses and looked at me like I was insane when I asked them to participate in a show full of songs from the Grateful Dead." When he turned to friends Albert Simpson and Kevin Scott, formerly of Highly Kind, a band that used to play Mobile frequently, Spies found them completely "on board", he said on Mobile's Dead event page on Facebook. "I've known Albert forever. He used to live in my front yard in his tour bus. Albert is the first person I thought of that knew a ton of Dead songs and could really pull them off and make them sound good live. I met Kevin when he was playing with Albert years ago. Since then Kevin has turned into a MONSTER bass player." Once word got out the show was a go, more musicians started to get on the bus and Mobile's Dead was born.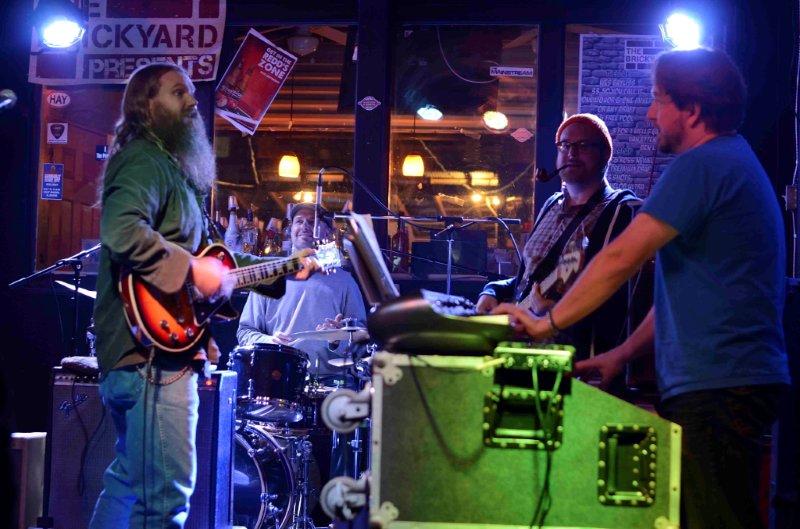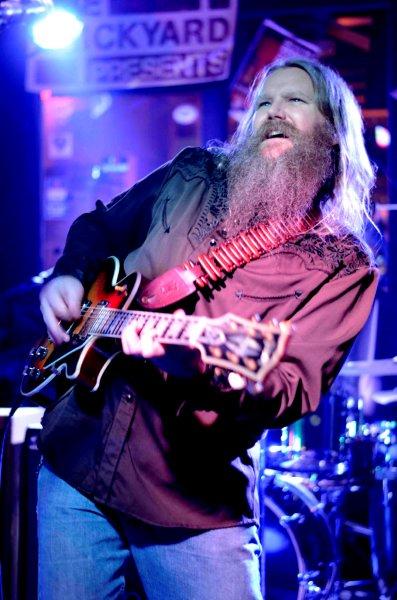 But what about the audience? Thanksgiving Eve generally sees a lot of folks out, but would they come for Grateful Dead music? After all, Mobile isn't exactly hippie-central. Spies and Brickyard owner Noell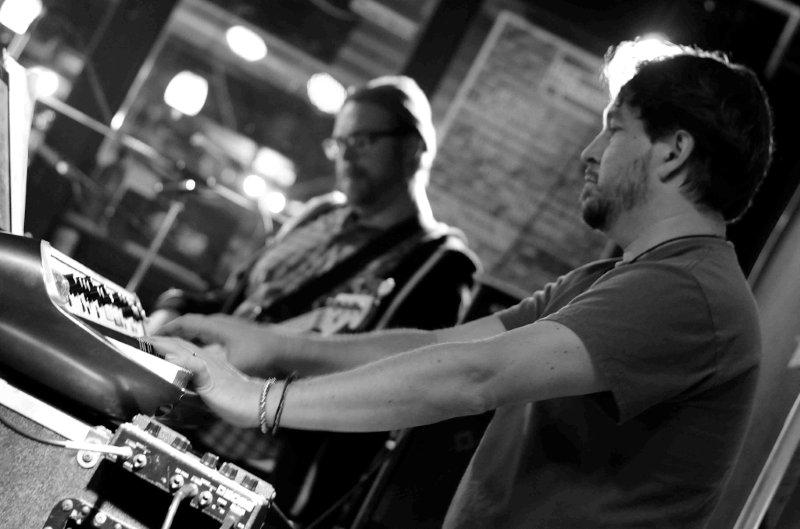 Broughton were definitely taking a risk, but as the song says, "You just gotta poke around!" The place was jam packed. Never underestimate Grateful Dead fans nor Mobile's appreciation for its tremendously talented musicians. "It was a gamble that really paid off. I think a lot of people were starving for this type of thing in Mobile," said Spies.
What exceeded expectations more than anything else, though, was the music itself. I've heard all of these musicians play before, and of course they are all professionals, but could they really pull this off? I've also heard a lot of Grateful Dead covers… and I mean A LOT! To say this was massively impressive, especially considering they had very little time to rehearse, is an understatement. The core of the band was as strong as if they had been playing together for years. Simpson, the "Jerry-dude," was dead-on both vocally and on guitar. Donna Hall, dare I say, was a better "Donna Jean" than Donna Jean, blending perfectly with Simpson as well as Balthrop and Jernigan and soaring on "Going Down the Road Feeling Bad." Spies' keys were on fire all night spreading flames from the stage to the floor especially on favorite "Scarlet Begonias > Fire on the Mountain." Clearly the goal was not to reproduce the Grateful Dead. Each musician brought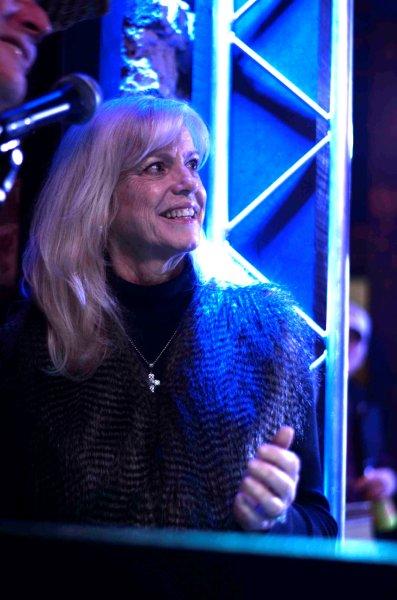 their own special flare, putting a fresh, sometimes unpredictable, yet stimulating, twist on fan favorites like "Bird Song" and "Franklin's Tower." Lee Yankie's steamy slide solo on "I Know You Rider" had the other band members giving him a nod as he slyly snuck in "China Cat Sunflower" riffs -- a song they did not play. The highlight of the night had to be an impressive "Eyes of the World > Ripple." "Eyes" alone was a musical superjam featuring solos from each of the band members starting with Simpson's sultry, classic Dead guitar licks that made me wonder if Jerry himself wasn't playing. Yankie continued to enthrall the crowd as he and Spies turned up the psychedelia and then, Spies, eyes locked on Milham, then Scott, turns it into a jazzy, high octane throw down. Fourteen minutes in and I heard exuberant expletives flying from folks unable to contain themselves. "@%*&! What the #@%& is that?" And that was before the nasty lines of Scott's solidly intelligent, jaw-dropping 6-minute bass solo and the staggering display of Milham's percussive chops and rhythmic sense of humor on what would turn into a 30-minute, still unfinished, jam. They somehow eased this into a "Ripple" that would have the crowd helping out on vocals, coming together as one Mobile Dead family. Before finishing off with a jubilant "Turn On Your Love Light" led by Ben Jernigan, the guest-musicians hit Spies with an unexpected Hank Becker tune, "Standing Around in the Rain," in remembrance and celebration of this local star who would have loved this night of Grateful Dead. The band also dedicated the song to Wayne Mills with Simpson adding that he would have wanted everyone to party.
The energy between musicians and the crowd was electric all night long and the show's success has ensured there will be a repeat next year! (I wonder if we can talk Spies into Phish for Valentine's Day?) Mark your calendars and let's make sure this becomes tradition!
SET I




Bertha




Friend of the Devil




Sugaree




Scarlet Begonias>




Fire On The Mountain




Deal (enter me)




Me & My Uncle




Bird Song




Deep Elem Blues




Franklin's Tower

SET II




Alabama Getaway




Shakedown Street




Jack-a-Roe




Eyes of The World




Ripple




GDTRFB




I Know You Rider




Standing Around in the Rain (Hank Becker Song)




Turn On Your Lovelight
Written by: Shari Hartmann
Edited by: Rosemary A.W. Roberts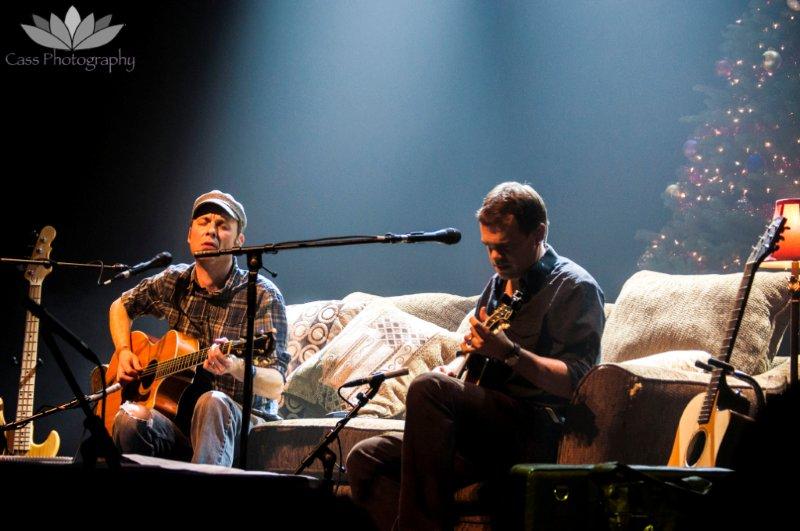 11th Annual Brendan & Jake Acoustic Holiday Show—Park West—Chicago, IL—12/7/2013
Written by: Cassidy Maley
Edited by: Rosemary A.W. Roberts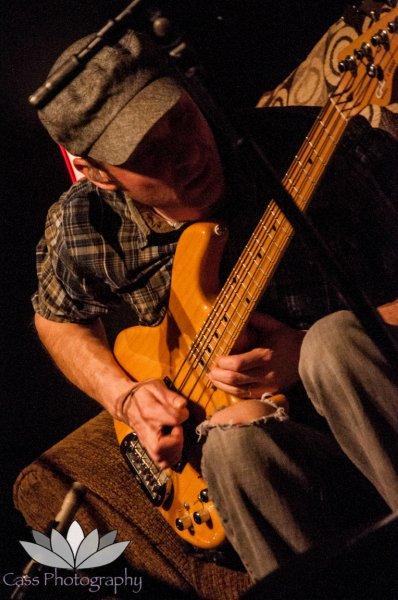 Saturday December 7th was a special night at the Park West in Chicago, IL. It was a night of unique holiday spirit hosted by Brendan Bayliss and Jake Cinninger of Umphrey's McGee. This is a yearly tradition, where the two guitarists from Umphrey's McGee unplug and lay down their own interpretation of Holiday Spirit.
It was an especially personal show at the Park West. In my previous experiences here, it has been much more crowded, but on Saturday, they had a table and chair for each guest. There was space to move around and from about any angle you could see the stage. This setting was perfect for the type of show it was, personal, intimate, and simple. Missing were the intense light show and rock sounds typical of Umphrey's McGee, replaced by a couch and a Christmas tree. Brendan had a glass of red wine and Jake a Heineken.
They started off with one of my favorite Umphrey's tunes "Puppet Strings" with a special twist, an all acoustic performance. In my many years of following this band across the country, I have never seen this side of Brendan and Jake. The song took on a whole new meaning, it was raw and soulful and the lyrics spoke so much more with the bare bones of two singers and two guitars. Jake went right into "Dim Sun" from their newest album Death By Stereo, a simple guitar riff that led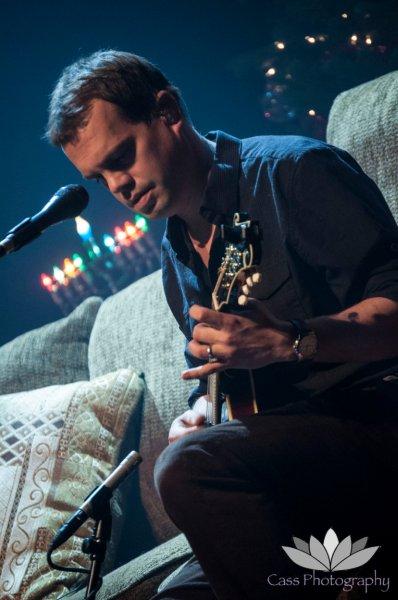 right into "The Pequod"> "Passing," "Uncommon" and right back into "Puppet Strings."
They also played the well-known Pink Floyd song "Wish you were Here" dedicating it to everyone that couldn't be with us in the holidays. They also brought out drummer Chris Meyers to play on the smallest drum set I've ever seen. Jake mentioned it was donated by his son. The night went on with the guys switching instruments, Brendan on mandolin and piano at points and Jake switching to bass guitar. Chris Meyers even got his time in the spotlight doing a funny impression of Robert De Niro and singing his own version of "Santa Claus is Coming to Town." The other highlights of the show consisted of a beautiful rendition of "Hajimemashite," "Hangover," and the song that put Umphrey's on the map "Front Porch."
Overall I had a very unique experience at this show. It was unlike any other holiday show I have ever seen, and also a side of Umphrey's McGee that I didn't know existed. The setting was personal and warm, and set appropriately in their home turf. I loved every minute of music, and I think that I have found a new Holiday tradition.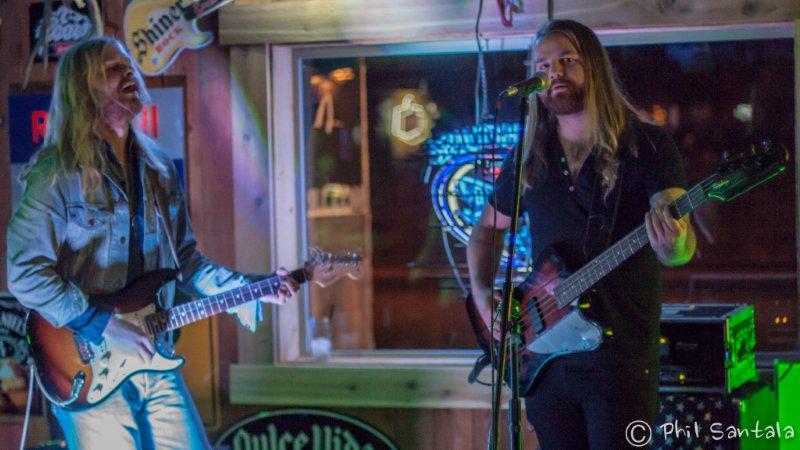 Jeff Crosby and the Refugees—Gallatin Riverhouse Grill—Big Sky, MT—12/7/2013
Written by: Phil Santala
Edited by: Rosemary A.W. Roberts
When the bitter cold subzero temps blew into Montana for a week, one might think the world would slow down. But unlike the oil in your car or the grease on your chairlift bull-wheel, not even the cold can slow Jeff Crosby and the Refugees down. Fresh off their multi-show engagement in Idaho, they wheeled into Bozeman for a quick Friday night show at the Zebra Lounge followed by a chilly blast down the Gallatin Canyon to perform at the Riverhouse Grill (formerly the Half Moon Saloon).
Jeff Crosby and the Refugees are a band poised on the edge of greatness. Heralding from the small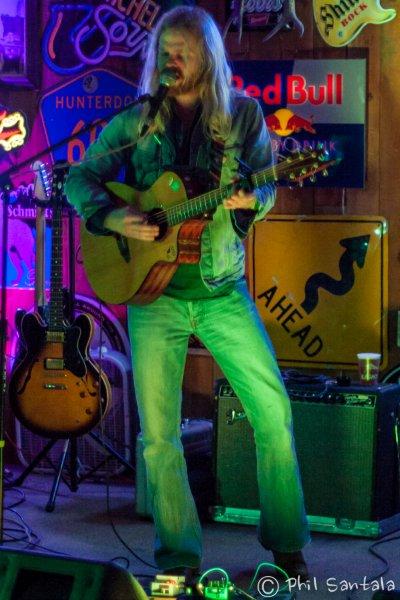 town of Donnelly, ID they have worked the small act market in the northwest region gathering a small but fanatical base. The slow crawl to fame has been bolstered along the way by larger touring acts taking notice. Jeff, both with his band and solo, has toured with and opened for Jerry Joseph solo and with the Jackmormons. Recently the two bands combined for a run, which featured Jerry Joseph playing with the Refugees and Jeff. It's not just fellow jam bands who have taken notice either. Two songs, "Oh Love Oh Lord" and "This Old Town" from Saturday night's set, have been featured on the FX channel's show Sons of Anarchy.
Jeff Crosby's style draws some stunning similarities to Americana Rock sensibilities and jam band improvisation styling. Touring with his older brother Andy Crosby on bass, combined with their sound, draws the obvious comparisons to both the Black Crowes and the early Allman Brother s Band. Certainly the bearded brothers' looks do not hurt with those comparisions. Jeff has heavy influences in latter day jam bands as well, including apparently Phish. While these styling have been muted a bit as his own voice and music has gained ground in his life, the influence cannot be denied. The set list from Saturday night represented these diverse influences. Covers included Led Zeppelin, Jerry Joseph's "The Road Home", Otis Redding's "Hard to Handle" and David Allen Coe's "Long Haired Country Boy." It's this last song that really captures what Jeff Crosby is all about: fighting not to be pigeon-holed into one musical box. His musical style shows that. With the look and sound of a much older man, Jeff carries with him the humble attitude of a man amongst men, but lights up the stage during solos with the best of them. Oh, and his guitar face is as memorable and expressive as the best in the business, which may not be a crucial requirement for success, but it certainly bodes well for him.
Part rock, part jam, and part country would be the best way to describe The Refugees. The small side stage could hardly contain Jeff, and at times it seemed like he just needed more room to roam physically, to match the improvisational chords ripping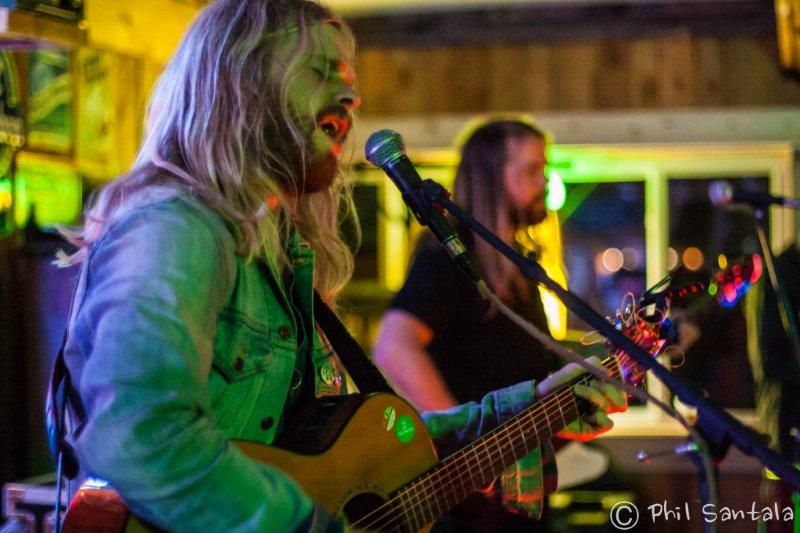 out the speakers. That alone speaks volumes for the attitude with which The Refugees tour. The cover price is often low (this night was 5 bucks) or more often non-existent. But the music and effort in no way matches that. The crowds may at times be sparse, but the enthusiasm of the fans or band more than makes up for that. While Jeff's shows and fan base seemed in the past to be mostly Northwestern based, the recent move by Jeff to Los Angeles has expanded this base. There will be a time, I am sure of it, when people who see Jeff now will tell their friends about seeing him for 5 bucks at [insert local watering hole name here]. Wouldn't you like to be able to say that too? Jeff Crosby is a man on the move, and just sick (and shredding) enough to be totally confident; keep an eye out for him, and see him if you get the chance.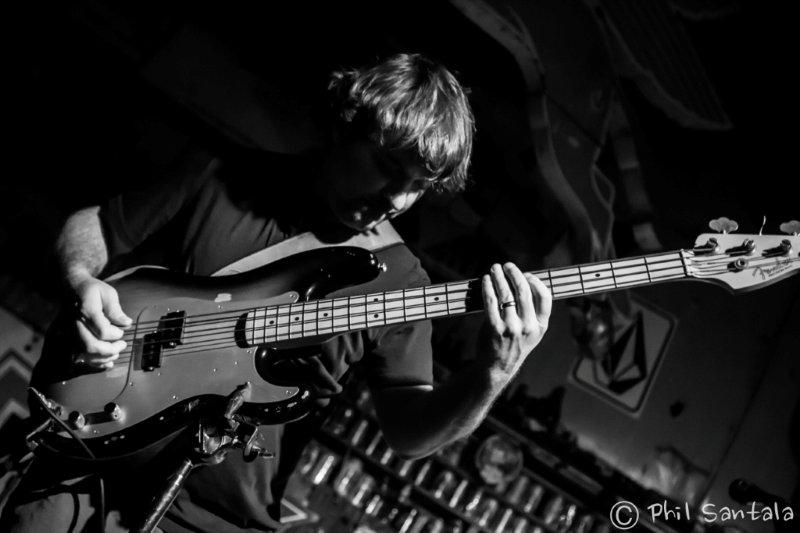 Keller Williams—The Filling Station—Bozeman, MT—11/23/2013
Written by: Phil Santala
Edited by: Rosemary A.W. Roberts
Keller Williams, the master of the loop, returned to the icy east slope of the Rockies for a sold out show in Bozeman Montana. Fresh off the road from Missoula's infamous Top Hat, Keller stopped into the former gas station and repair shop The Filling Station to bring his multifaceted, layered, one-man show to an eager crowd. One of the smallest venues on his circuit, certainly much smaller than any future stops at ski towns in Colorado, the boisterous attendees would not be subdued by the cold or the higher ticket prices. Previously in Bozeman Keller has played the much larger Emerson Center, where tickets were half the price, and the crowd twice as large. But for the lucky few here on this night the ride was worth the price of admission.
The Filling Station is a fitting place for such an eclectic musician to play. The venue itself is as multifaceted as the man; it seems like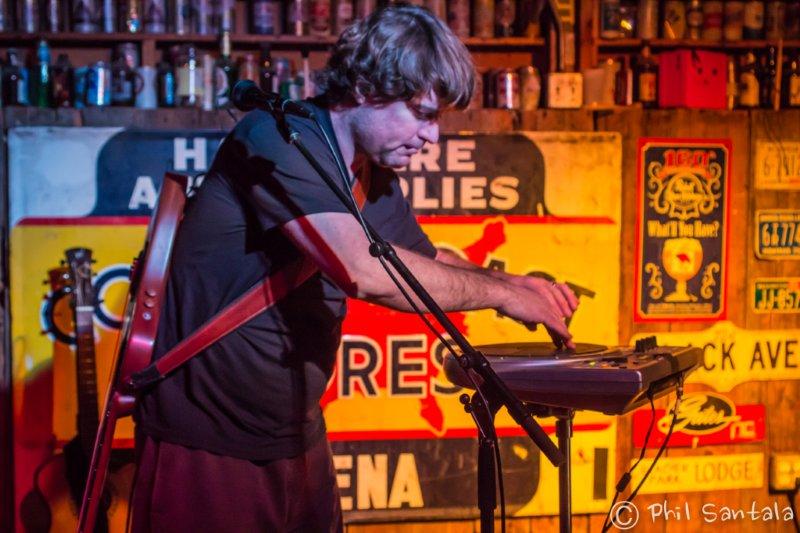 the show was taking place inside a forgotten barn on the reality show American Pickers. Old beer bottles, oil cans, and vintage signs of all types hang everywhere. Over the stage and Keller Williams, there hung an old Mobil Oil wooden horse logo. While massive in size it still gets lost among all the clutter. Jams, too, seemed to get lost in all the clutter that night, at least until Keller picked them back up again and looped them back out. Slowly the master would build the loop, scurrying from instrument to machine then back again, playing with the guitar slung around his back at times, then opting for the suspended bass on the side of the stage at other times. Occasionally, when the loop was laid down tight and firing on all cylinders, he would make a lap around the stage, to the hoots and hollers of the crowd packed into the front of the venue. Phish covers meandered into String Cheese Incident jams, back into Phish covers with just a sprinkling of Grateful Dead songs as well, with originals mixed in to balance the musical palate. Clear favorites of the night were the original songs "Doobie in my Pocket" and "Best Feeling" which were wrapped somewhere in the "Staying Alive> Antelope>Runaway Jim>Fire On the Mountain (jam)> Best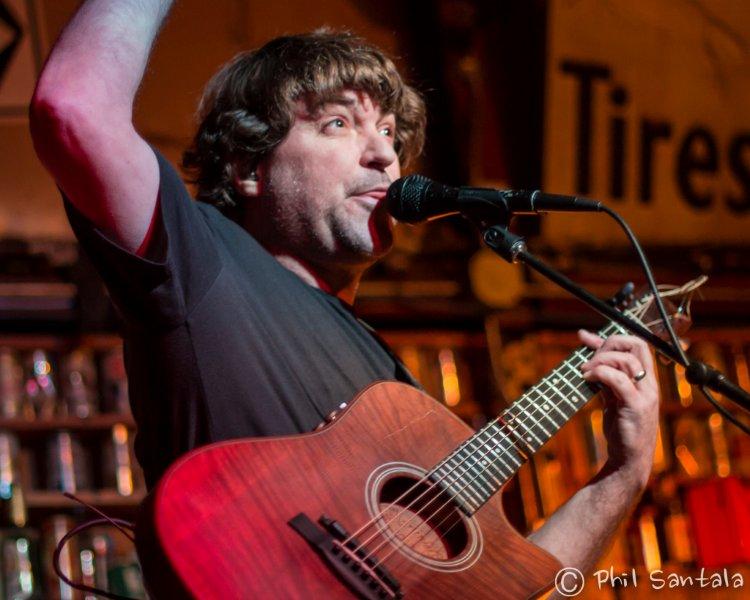 Feeling>Fire>Doobie>Gate Crashers Suck" melee that was the second set. The encore was an extended cut of "This Must Be The Place (Naïve Melody)" by the Talking Heads. The cover was deep and twisted, marked by changes in tempo and pitch, a move characteristic of Keller Williams when he is really on fire. Needless to say it was extremely well received by the still-packed house.
While it's nice to see Keller when he branches out into his side projects, which (unlike most musical acts) are larger projects than his normal touring set up, he is still at his heart the one man band. When the jams first get going it's hard for many, or even any, to see where they might lead. But with only one man it's easy to follow along and get into step… and if you get lost, trust in the loop, it will always lead you back around!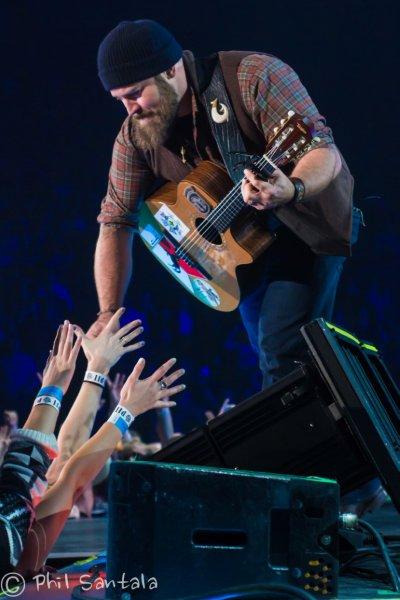 Zac Brown Band—Brick Breeden Fieldhouse—Bozeman, MT—11/22/2013
Written By: Phil Santala
Edited By: Rosemary A.W. Roberts
The Zac Brown Band (ZBB). Even if you have never heard them, you have heard of them. And even if you are convinced you have never heard them, you probably have heard them. In Montana it's hard to escape the juggernaut that is country music, a genre into which ZBB has been has been placed and embraced by. But if that's all there was to it, why would I be here covering the event for a jam-band based web presence…The answer is complex, but at the same time very simple, for the love of music.
Without any pretext and only a minimal understanding of the band's catalog, the Bozeman Montana show at the Brick Breeden Fieldhouse was something jam-fans in this region could easily wrap their head around. It was a typical late-fall show here, icy and cold. Bitterly cold. Opener Trombone Shorty and Orleans Avenue remarked on the bitter temps and proliferation of Stetsons while warming the crowd, and themselves, up. The audience seemed initially skeptical of the New Orleans rhythm and funk based band. That didn't dissuade Shorty and crew from putting it all out there for their opening set. Somewhere around the time that Trombone Shorty almost passed out holding a note for forever, and his bass player ran down the extended front stage area and started break dancing on his back while jamming, the crowd started to get it: these guys love music, a lot! It may have been the weather which prompted the stand out tune of the set, the "St. James Infirmary Blues", an American Folk song which Shorty performed at the White House in 2012, and whose lyrics are often open to interpretation and variance. Tonight this variance was fittingly retrofitted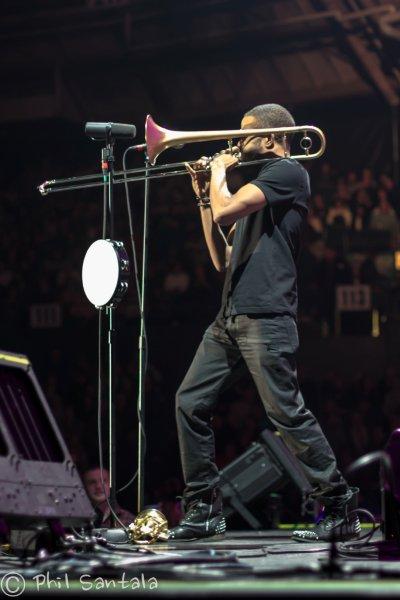 with a line of "when I die I'm gonna' come back with a Stetson hat…" a line which elected cheers from many in the pit sporting just such fair.
Zac Brown Band's intro onto the stage was as odd as their exit, and as eclectic as their show. Like the Phish "Storage Container Jam" at Super Ball, the band was hidden from the audience by large white curtains while broken pieces of their many, many top 10 hits were sporadically fired out at the audience, with lights flashing behind various individual and collective members of the band, projecting them up onto the screen. When the curtain dropped Zac strode out to an obviously adoring crowd. The venue, filled with fans much more ravenous for these tunes than me, did their best to keep pace with the band throughout the night. While the band ran through hit after hit I noticed something. Not just the crowd, but the overly-polite security personnel were singing along at times. That is not something you often see at jam band shows. Maybe the un-rowdy close to capacity crowd, coupled with the knowledge of the songs being played, worked together to make for an especially docile and helpful venue staff.
But ZBB doesn't just run through their hits, which is surely what the crowd pays to see. They bring with them a dose of the music they love to listen to and play. This might be why Zac Brown has been seen all over the jamband scene: playing with The String Cheese Incident, having John Bell join him onstage, and even covering Widespread Panic songs at his shows. While no Panic tunes were played tonight, the covers were wide and varied. Bass player John Driskell Hopkins sang the Metallica cover "Enter Sandman", and there were covers of Van Morrison's "Into the Mystic" and an acoustic version of Nirvana's "All Apologies." While playing through many of his own tunes and covers Zac would be backed by not only his band, but also Trombone Shorty and his horn section as well, whom Zac cited as being "one of the most badass horn players you're ever gonna hear."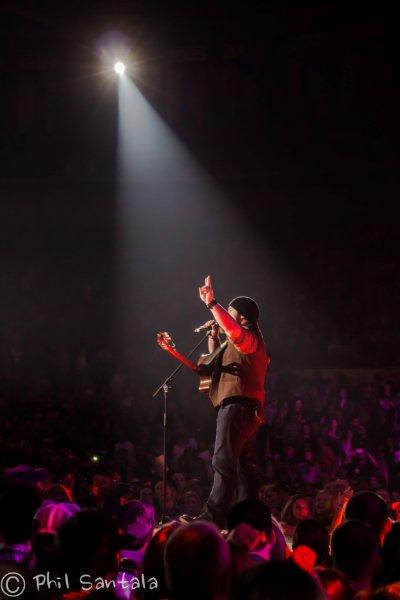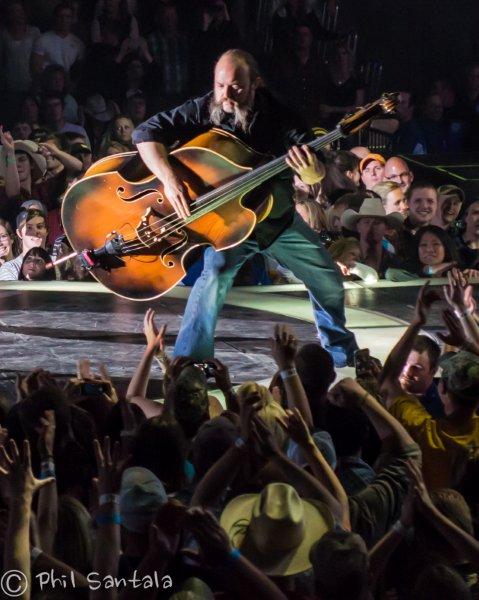 The risks and musical forays didn't just stop at the covers, or the switch half way through the show to an acoustic format around a single microphone set up on the front of the extended stage. A few songs into the acoustic set the ice and cold would reappear. A stripped down extended jam of James Taylor's "The Frozen Man" was featured during a drum circle like setting. All members of ZBB had drums, either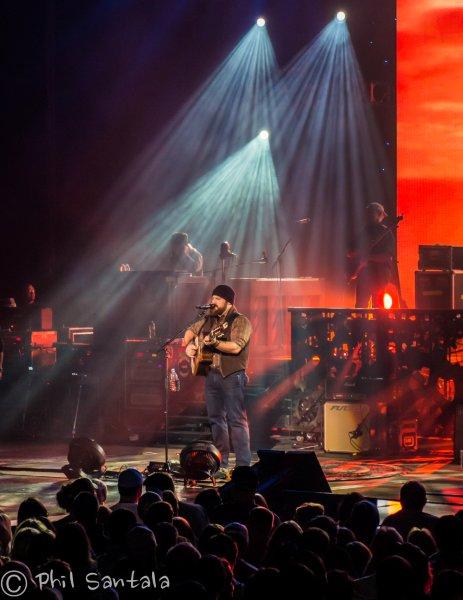 hand drums, bongos or some other improvised percussion instrument for the number. It was an extremely bold move considering the Stetson wearing cowboy/girl ratio in the venue that night. It was also a musical risk that was pulled off beautifully.
The show ended as it had begun, weirdly. The band would return to a blacked out stage with the curtain again, and when it dropped all the members wore skeleton masks and costumes. It was unexpected to say the least. During this portion of the set the song "Day for the Dead" featured a vocal jam that seemed to loosely resemble a Phish "YEM" jam, and is also a song which boasts Dave Grohl (Nirvana, Foo Fighters) as a fellow composer. While the significance of some of the show may have been lost on me, the overall message of this show was not. While ZBB might be known to the masses for their country hits, they are at their heart a group of musicians who love to make and play music. Like all good musicians, their influences, talents and skills are diverse and varied. This blending is what has lead to many collaborative efforts over the decades, and brings not only musicians and musical styling together, but fans as well. If ZBB brings a little bit of drum circle, James Taylor, and jamband-ness to the masses, I say, what's not to love?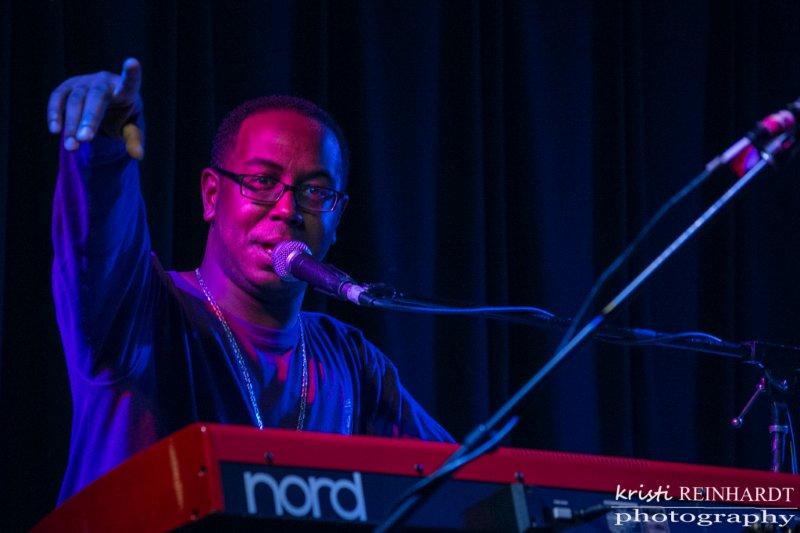 The Nth Power—Sun Vinyl—Atlanta, GA—12/08/2013
Written By: Kristi Reinhardt
Edited By: Rosemary A.W. Roberts
Looking for some good soul music? Look no further. The Nth Power is the newest supergroup to hit the funk scene. Their debut tour, the "Thank You" tour kicked off December 3rd in DC. I got to check them out at Vinyl in Atlanta this past Sunday along with Georgia Soul Council opening the show. When I walked in I immediately knew it was going to be killer. Georgia Soul Council originally formed as the backing band for Otis Redding III, which explained their roots in funky soul music. They also explore jazz and rock and know how to seriously jam. If you're a fan of anything funk, Georgia Soul Council is sure to please you.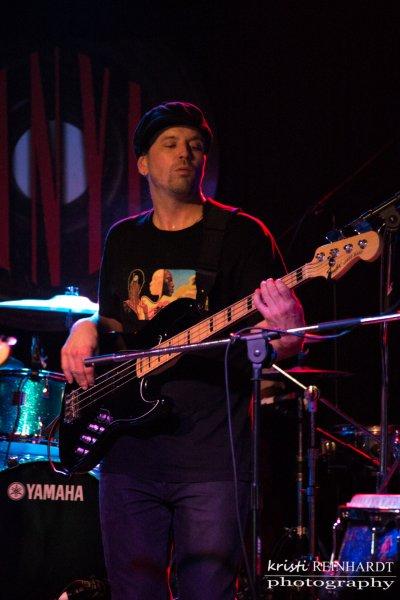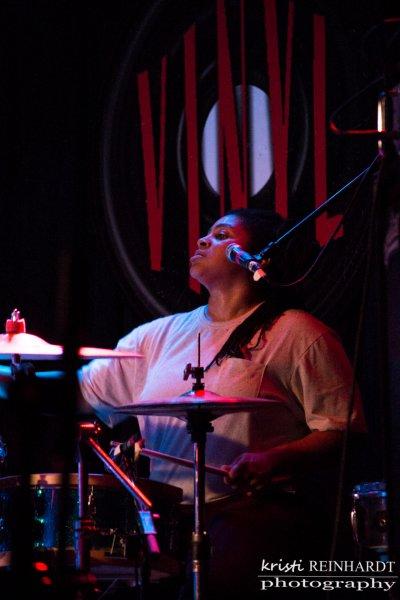 I was excited to see what The Nth Power was going to bring to the stage. The band consists of five of the most talented players on the funk/soul circuit today. Nigel Hall of Lettuce on keys, Dumpstaphunk's Nikki Glaspie on drums (one of the hardest hitting drummers I've ever seen), Nate Edgar of John Brown's Body on bass, front man Nick Cassarino of Big Daddy Kane on guitar and percussionist Weedie Braimah of Toubab Krewe. This band is big and will truly get your feet moving, along with your soul.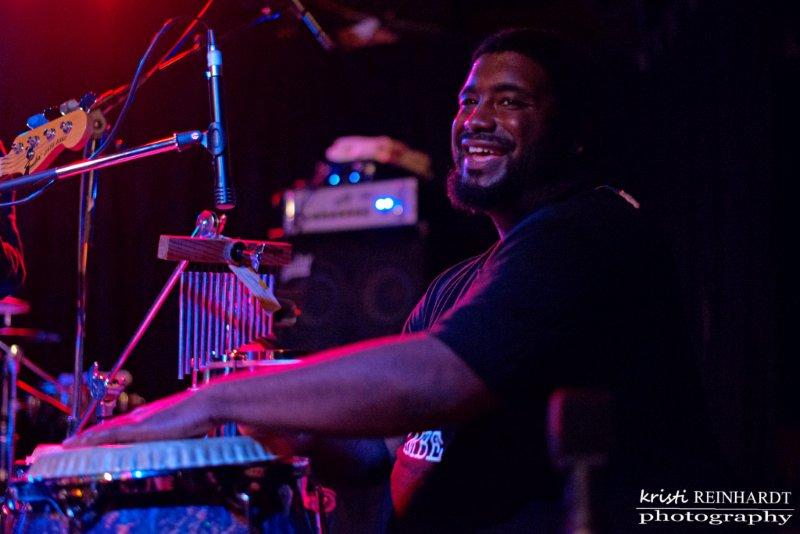 The Nth Power started the show with Nigel and Nick creating a slow melody that soon had the entire band coming together. Immediately, the band had the crowd gathered around the stage. With songs like "I See Love in Your Eyes," and "Only Love" you are bound to feel something listening to this band. With each member's solo exciting the audience, everyone brought something to the table creating a true collaborative on-stage force. Each member got to share the spotlight throughout the night. During the show, Nigel took the time to thank the crowd and said, "This is OUR band. And it's all original music." Their December tour follows their release of their album Basic Minimum Skills Test, a six song EP. With dates still ahead in the Midwest and east coast, this is a band you don't want to miss.
TOUR DATES
12/03/13 Tue Gypsy Sally's - Washington, DC
12/04/13 Wed The Blind Tiger - Greensboro, NC
12/05/13 Thu The Charleston Pour House - Charleston, SC
12/06/13 Fri Asheville Music Hall - Asheville, NC
12/07/13 Sat The Pour House Music Hall - Raleigh, NC
12/08/13 Sun Vinyl - Atlanta, GA
12/10/13 Tue 3rd & Lindsley - Nashville, TN
12/11/13 Wed 2720 Cherokee Performing Arts Center - St. Louis, MO
12/12/13 Thu Concord Music Hall - Chicago, IL
12/13/13 Fri Drom - New York, NY
12/14/13 Sat Thirsty Moose Taphouse - Portsmouth, NH
12/15/13 Sun The Spot Underground - Providence, RI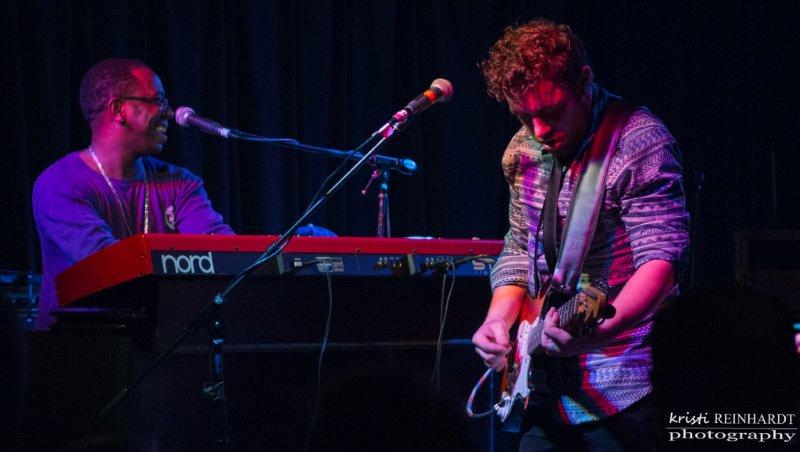 Trampled by Turtles ~ November 14, 2013 ~ UNC Memorial Hall, Chapel Hill, NC
Written By: Nolan Beasley
As the lights dimmed in UNC-Chapel Hill's Memorial Hall, a staple on the campus of this famous Southern University, the anxious, excited and jubilant crowd welcomed Trampled by Turtles to the stage. As natives of Duluth, Minnesota, one would never know that the band members were not born and raised in the south, surrounded by bluegrass and old-timey music. That being said, they did immerse themselves in the sounds and traditions of those musical styles and their corresponding instruments, combining it with their own touches, hints of folk music and other unique rhythms and melodies, transforming an old sound into an entirely rejuvenated experience. This experience was mesmerizing to all, on a stage best suited for performances of the Nutcracker and Shakespearean plays, yet still a perfect fit for the folk inspired band.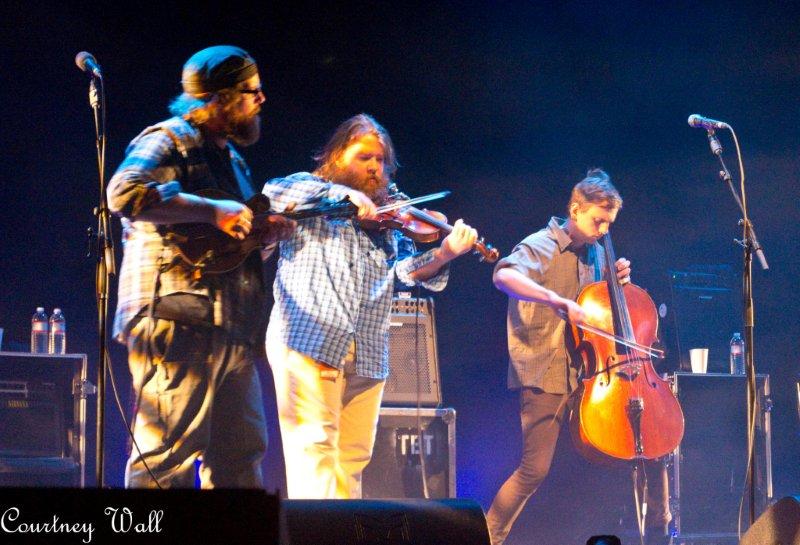 Perhaps Memorial Hall, representing the rich history of UNC and its culture, was the best possible venue for Trampled by Turtles to showcase their sound as it blends old traditions with new, catered to a ready audience of mostly young adults. Trampled by Turtles' deft handling of their instruments and mastery of their style during this concert experience exemplified why modern bluegrass and folk music have stormed onto the scene in college towns across America, and proved why the current explosion in popularity is not a mere fad, but a true appreciation of the art and the artists. Trampled by Turtles has become synonymous with the explosion of popularity in modern bluegrass, and their name always tops the various lists of the critical "bests" in the category. They cannot be accused of being a "jamgrass" band, but this concert further proved why that is not an issue. The brevity of each song hearkens to the roots of the style, while the acute listener will notice that each piece is absolutely bulging with various intricacies in the music.
On this night, the band was preceded by Apache Relay, which was an excellent choice. The Nashville band played a country rock style that shouted of Band of Horses mixed with old country, giving it a distinct southern twang that really set the mood for what was to come next. From one mode of southern music to the next we went as Trampled by Turtles came to stage. Rather than rush out with their fastest and biggest hits, the band built up at a relaxing pace, profiling some of their slower-paced and beautiful songs intermixed with some of their memorable instrumental tunes, leading to a crescendo of incredibly fast and heart-pounding music. The band led us on a journey through instrumentals like "Risk" and slower masterful songs such as "Victory," "Widower's Heart," "Separate," the eerie sounding "Gasoline," and "Alone," the song best described as a microcosm of the entire concert with its slow build up to a rapid-paced, energetic ending. The band, like veteran story-tellers with Dave Simonett at the lead, then led us to faster selections such as "Walt Whitman," and "Codeine," as their lyrical pathway intersected hit albums Palomino, Stars and Satellites as well as early releases.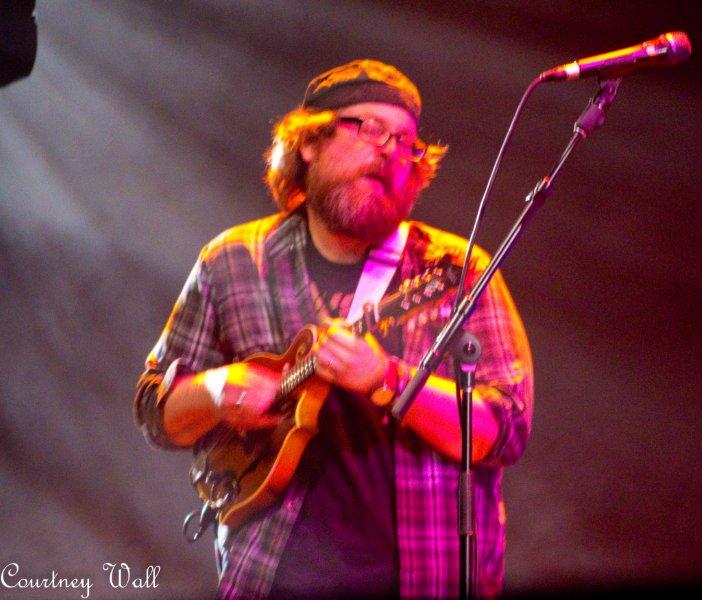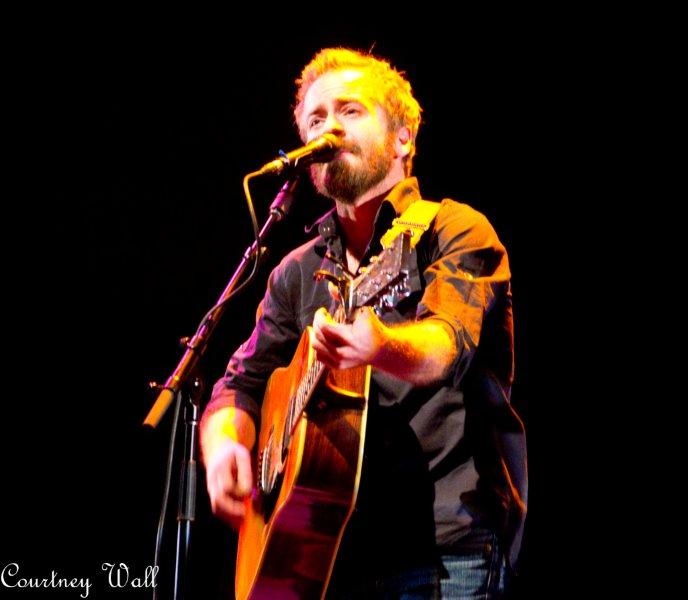 Throughout the concert, one's eyes could not be taken away from the pace and sheer amazing skill of Erik Berry and Ryan Young on the mandolin and fiddle respectively, and just how they are indeed bona fide artisans of their craft. Dave Carroll's style of banjo play, with more strumming than "picking," shows a further blending of newer folk inspired ideas into traditional bluegrass, and coupled with bassist Tim Saxhaug's choice of not using a stand-up bass, offers a breath of fresh air into tradition. It is easy to see why the band is acclaimed and considered to have assisted in essentially creating a new style of music. As for the concert's aforementioned crescendo, the entire venue erupted in excitement as the band began to play "Wait So Long," and sang along through its entirety. Though some bands may take issue with having one super popular song, Trampled by Turtles looked to be exuberant as they played this particular tune, soaking in the crowd's energy. In fact, the majority of the crowd seemed to be knowledgeable fans of the band and sang along with all of the songs, never allowing a drop in energy. While that dreaded circumstance of low crowd energy may plague other bands in the midst of their sets, based on this concert, it should never be the case for Trampled by Turtles.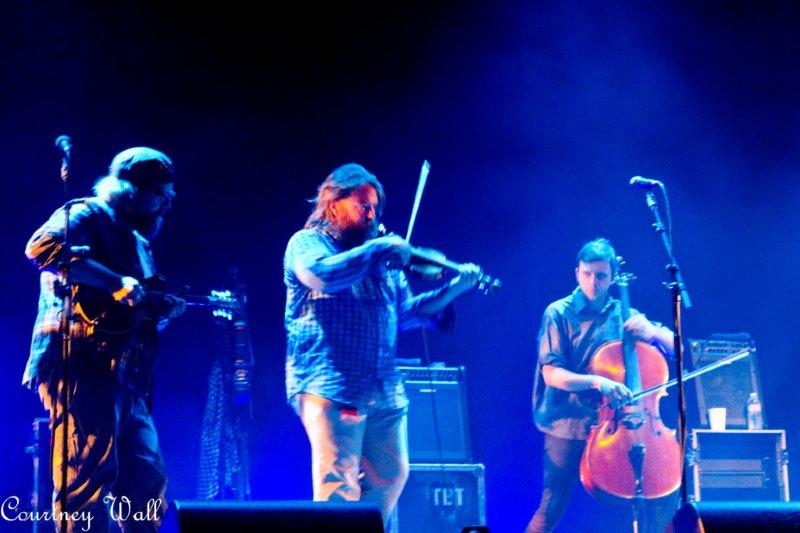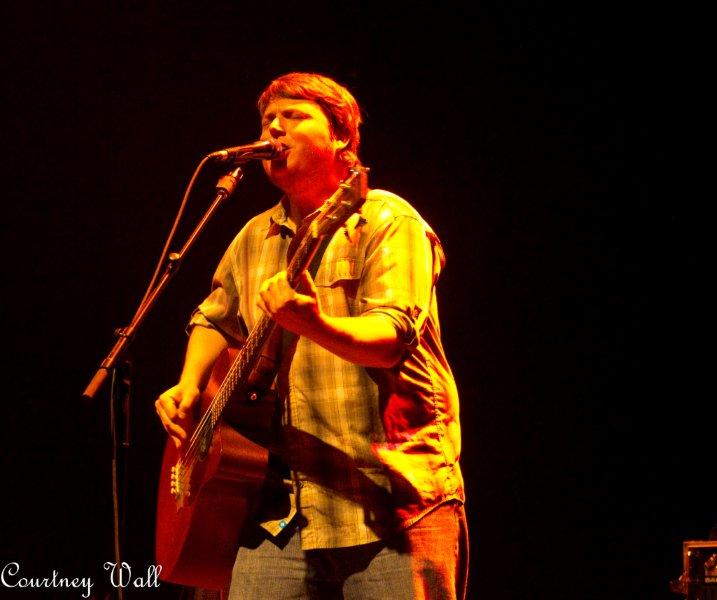 As for the encore, the band showcased bassist Tim Saxhaug on vocals singing "Swimming Alone," and it must be said, that this act should become more than just a one song per concert event. The bassist who had showed a high degree of energy the entire concert manifested that attribute into an unexpected delight of a singing voice. As the band finished, the crowd was left dazzled and wild, fully satisfied with the experience. Seeing Trampled by Turtles in concert is more than just lights and sounds, it is about watching the energy of five dedicated and highly talented artists on stage and taking in the complex sounds of an old musical tradition being reborn.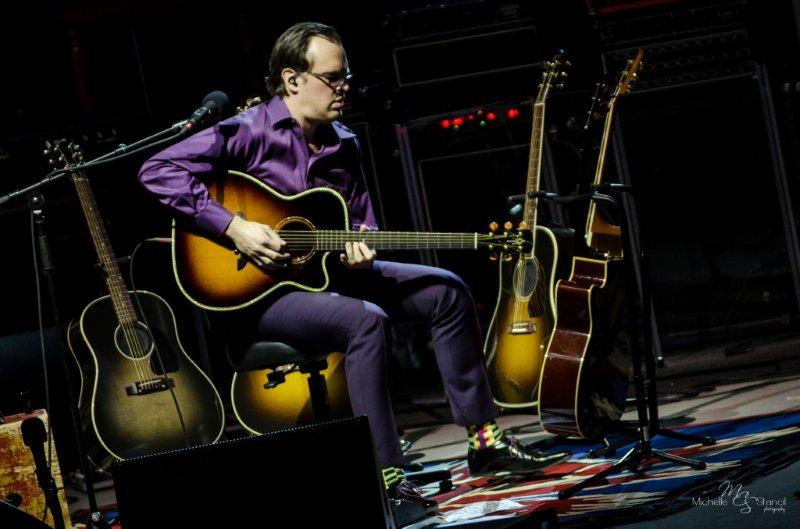 Joe Bonamassa --BJCC Concert Hall--Birmingham, AL--November 18, 2013
Bonamassa Opens for Bonamassa Tour
Tour history: The tour started on November 2nd in Cleveland, OH and wraps up after 28 stops in San Diego on December 14th.
The BJCC in Birmingham, AL is home to both an Arena and a Concert Hall, and both venues were booked on November 18, 2013. The audience was diverse, as the Eagles concert-goers mingled with us in the courtyard at the BJCC before we all went our separate ways for our 8pm concert start time. The BJCC Concert Hall was small and intimate, with not a bad seat in the 3000 seat venue. There were Bonamassa first timers, like myself, and there were die hard Bonamassa fans of all ages. Those who looked over the 'writer's little helper' setlist I received gave rave reviews, which filled me with increasing expectation for my first Bonamassa experience.
The stage was simple and symmetrical with bright, clear white lights that revealed our evening's opening act - Joe Bonamassa, acoustic. At the first guitar note, the audience pre-show energy shifted onstage, with Bonamassa at its center. The nine song acoustic set began with "Woke up Dreaming" which filled the hall with Joe's acoustic mastery and compelling vocals. Seated in a chair, Bonamassa looked conservative but cool in his slick purple button down, sunglasses and highwater slacks that revealed colorful and funky socks.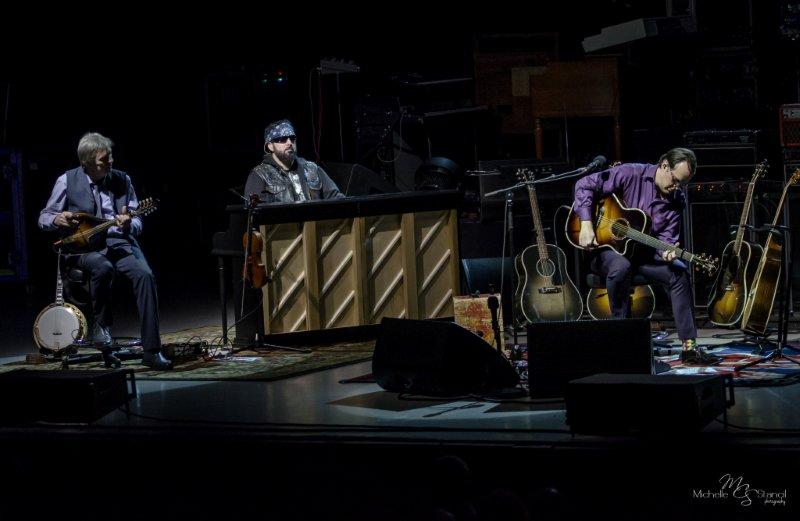 Surrounded by an arsenal of guitars, he was accompanied by his acoustic band from the 'An Acoustic Evening at The Vienna Opera House' DVD which includes Irish Banjo, Mandolin and Fiddle player Gerry O'Connor, Swedish Nyckelharpa player Mats Wester, as well as world-renowned percussionist Lenny Castro and new keyboardist, Derek Sherinian. The collaboration between the unique array of instruments and Bonamassa's guitar & vocals was balanced yet cutting-edge all at the same time. It was a raw unplugged experience. I was mesmerized by Bonamassa's hands and my soul was grabbed by the tense tempos and his voice. I did not want it to end; but it did end, with "Athens to Athens". Yet, we still had an electric set to savor.
Set 1 - Acoustic

Woke up Dreaming (2003, Blues Deluxe)

Seagull (2009, The Ballad of John Henry)

Jelly Roll (2009, The Ballad of John Henry)

Black Lung Heartache (2011, Dust Bowl)

Around the Bend (2009, The Ballad of John Henry)

Jockey Full of Bourbon (2009, The Ballad of John Henry)

Stones in My Passway (2012, Driving Towards The Daylight)

Ball Peen Hammer (pics) (2007, Slow Gin)

Athens to Athens (pics) (2010, Black Rock)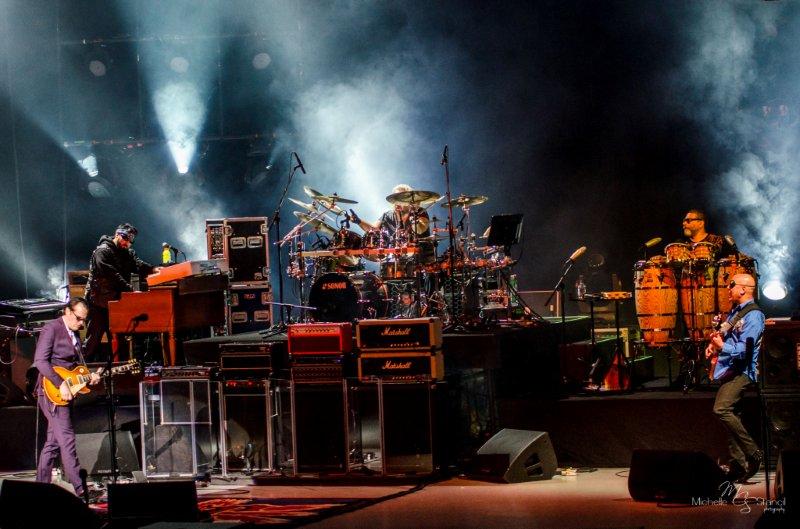 After a 15 minute intermission, Joe Bonamassa began the electric set with "Dust Bowl" and "Who's Been Talking". Although my personal listening preferences in the office or vehicle are the acoustic songs, sitting there live, the electric set was jaw dropping. I was hooked. The lighting kicked up the visual aspect of the show and Bonamassa glided around the stage almost in a trance creating his blues-rock sounds. His talented touring band included Carmine Rojas (bass), Tal Bergman (drums), and new touring keyboardist (and fellow Black Country Communion member) Derek Sherinian. Bonamassa moved between instruments, and brought out guitar after guitar, including his bright red double necked guitar.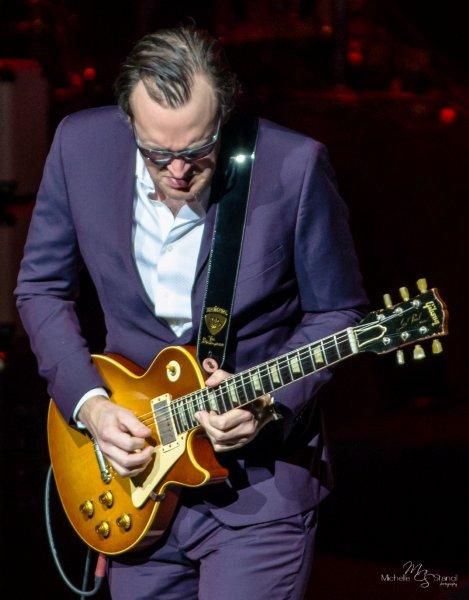 During the first part of "Mightnight Blues" the magic was interrupted by a fire alarm. After a bit
of confusion and no reaction, Bonamassa and his band cleared the stage and we were all escorted outside for a brief evacuation. Upon our return, Bonamassa took to the mic, said that was a first for him, and proceeded to tell the audience about the adjacent building beef hot dog cooking fiasco. Then without hesitation, he and the band fell right back into the song. For the next hour, the remaining six songs of the set electrified the building with long, elaborate guitar solos and complex arrangements. The encore, although welcomed, was a sad reminder that the show was coming to an end.
When it was over, I felt like I had been holding my breath the entire concert.
Although Bonamassa is not always embraced by blues traditionalists, there can be no denying that he delivered a captivating show… a journey from blues fundamentals to pushing the boundaries. There was not much overt flash and entertainment during the performance, but that would be a distraction from what we were all there to experience…. a Bonamassa intense concert. And that is exactly what we experienced.
Set 2 - Electric

Dust Bowl (pics) (2011, Dust Bowl)

Who's Been Talking (pics) (2012, Driving Towards The Daylight)

Midnight Blues (2012, Beacon Theatre - Live from NY)

Dislocated Boy (2012, Driving Towards The Daylight)

Driving Towards the Daylight (2012, Driving Towards The Daylight)

Slow Train (2011, Dust Bowl)

Look Over Yonder's Wall (2010, Black Rock)

Sloe Gin (2007, Slow Gin)

Ballad of John Henry (2009, The Ballad of John Henry)

Encore

Django (solo w/ keyboard) (2006, You & Me)

Mountain Time (2002, So, It's Like That)
Review and photos by: Michelle Carroll Stancil
Edited by: Rosemary A.W. Roberts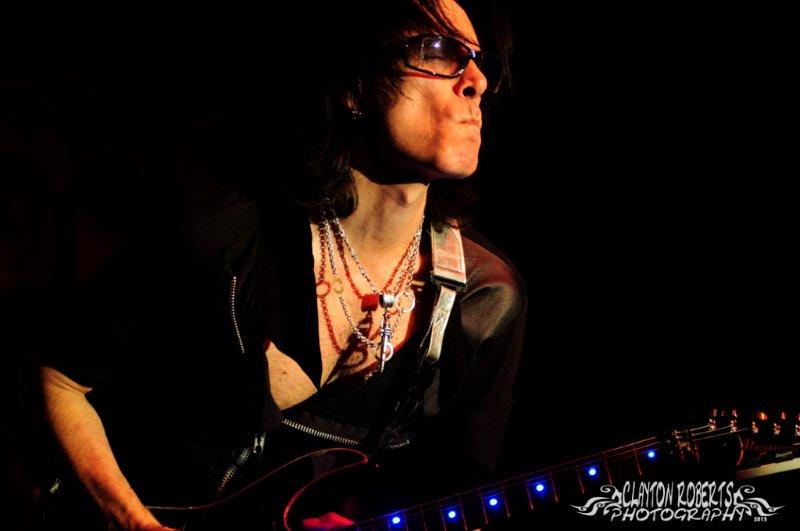 Steve Vai—Soul Kitchen Music Hall—Mobile, AL—11/14/2013
Phenomenal, extraordinary, marvelous: these are all words that strive to describe the musical entertainment that arrived at Soul Kitchen Music Hall on November 14, 2013. Our beloved hometown venue gave Mobile a great gift wrapped in colorful paper and tied with a giant bow, as they presented renowned guitar virtuoso Steve Vai in a concert experience like no other. Vai has enjoyed an extensive and varied career, touring with Frank Zappa (for whom he played "impossible guitar parts") and David Lee Roth, before embarking on his solo endeavor. His co-designed Ibanez JEM guitars are instruments of beauty, in both sight and sound. And when it comes to showmanship, Steve Vai is certainly in the upper echelon, with an animated enthusiasm that enlivens the entire audience.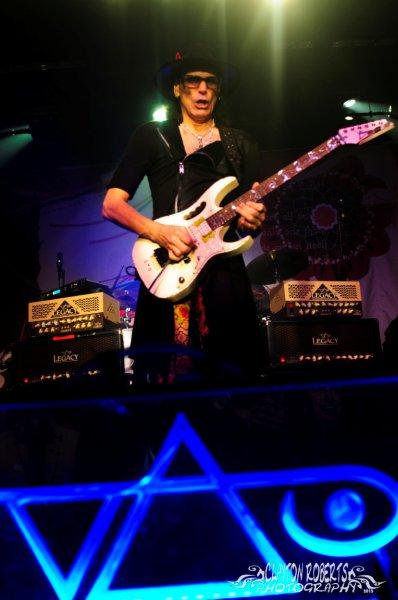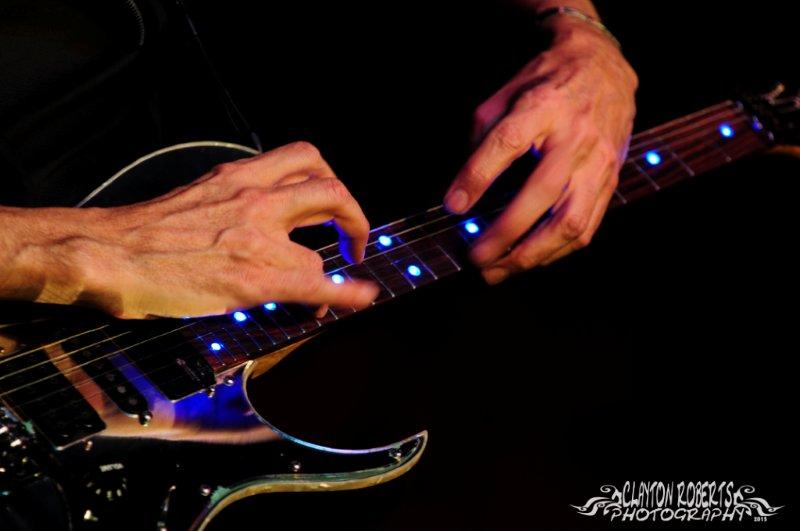 Emerging onstage with guitar blazing, Steve Vai led his talented band through a single-set show that boasted over two hours of electrifying delight. Dancing around the stage allowed all corners of the packed crowd to witness Steve's lightning-speed finger work and agility. The musical styles varied throughout the night, with something sure to please all listeners. Songs like "Racing the World" (off his 2012 album The Story of Light) and "Building the Church" have a soaring, ethereal quality that transport the listener to a higher plane of reality. Others like "Velorum" and "Gravity Storm" are driven by hard rocking intensity with a hint of darkness. The deliciously dirty strut of "The Animal" is sure to entice you to get your groove on, while "Tender Surrender" highlights a softer side of graceful melody. There were even acoustical interludes, with guitarist Dave Weiner playing a lovely piece off his solo acoustic album A Collection of Short Stories: Vol.1 (2012), and Steve Vai taking a moment to sing a love song and show that his electric guitar prowess does, in fact, translate well on acoustic guitar too.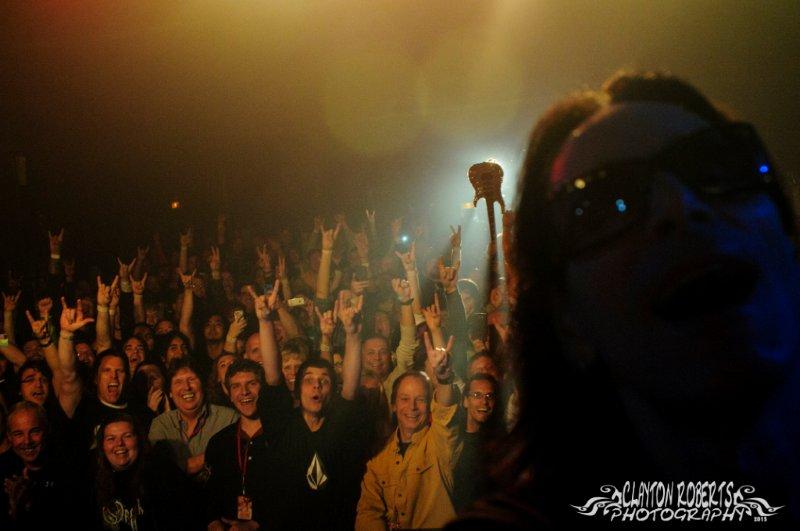 In addition to the highest caliber of musicianship provided by guitarists Vai and Weiner, bassist Philip Bynoe, and drummer Jeremy Colson, the concert was punctuated by unique theatrical aspects that put the experience over the top. While Jams Plus Media photographer Clayton Roberts was working the first three songs, Steve Vai said "Hey! I'll show you how to take a *** picture!", borrowed his camera, and took a selfie-style photo of himself and the crowd! There was amusing stage banter between Steve and his bandmates, allowing the audience a comfortable feeling of involvement. Steve Vai would periodically direct the crowd response with a raise of his hand, or with well-timed light cues. The intriguing backdrop was modeled upon the album cover of The Story of Light, and the central "eye" featured a light that would periodically glance around the room. Now that I think about it, the concept of LIGHT played prominently throughout the show. One of Vai's guitars was a slick beauty with blue LED lights for the dot inlays on the fretboard. At one point, Jeremy Colson strolled onstage with a strap-on…wait for it…drum kit that was outlined with multi-colored lights, quite a sight to see and hear. And in other-worldly intrigue, a darkened stage was graced by a guitar-shredding entity wearing a robotic mask and suit with lights that changed colors and patterns! The audience showed their appreciation all night, and at the end of the show when we chanted our desire for an "Encore!" Steve and the band obliged us.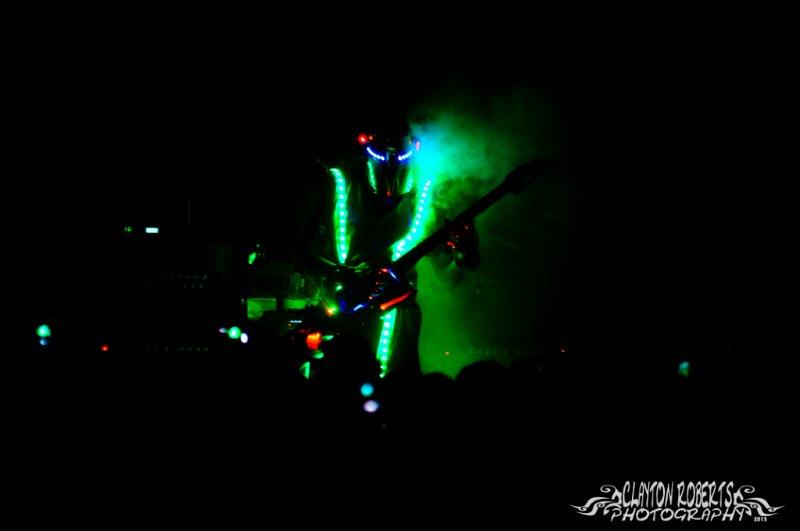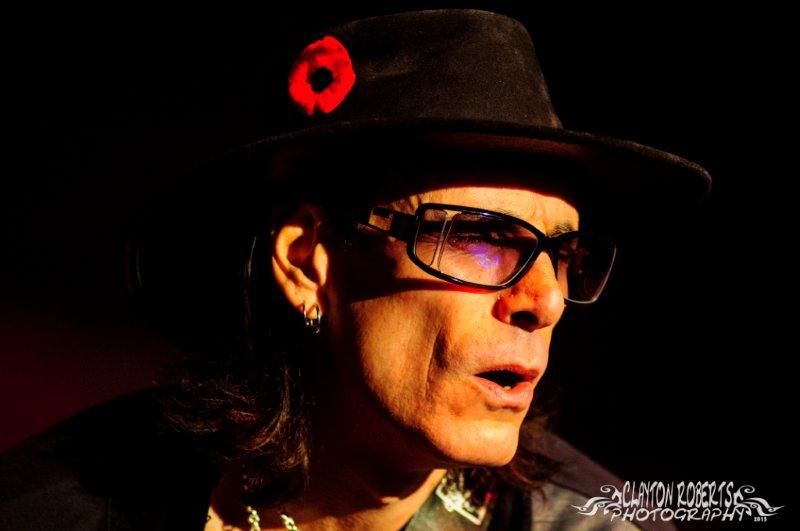 From start to finish, Steve Vai gave Mobile AL an amazing concert at the Soul Kitchen, which included a song written on the stage with the help of two young audience members. He has such a distinctive demeanor, and ignites the crowd's astonishment as he fingerwalks the fretboards, wields a wicked whammy, uses his cutout top grip to coax out special sound waves, and plays behind his back or with his tongue. My guitar fetish was fully satisfied by Mr. Vai; if you admire great guitar, you must go see this man! There are still a few remaining U.S. concerts in 2013, before the band heads further south; check it out at www.vai.com/tourdates. Steve Vai told us his band intended on making us feel really GOOD before we left that night; they certainly succeeded in their mission!
Written and Edited by: Rosemary A.W. Roberts
Photos by: Clayton Roberts - FULL PHOTO GALLERY HERE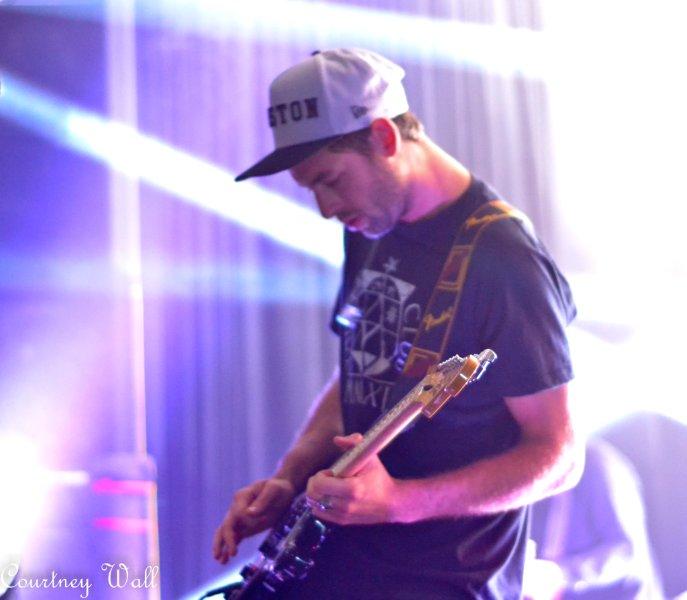 Phantogram--Cat's Cradle--Carrboro, NC--November 1, 2013
This was the first time that I would see Phantogram since Bonnaroo 2012. When I saw them at the festival, I knew absolutely nothing about them. But as I got closer to the tent they were playing, I was immediately drawn to their music, along with tens of thousands of other festival goers. Over the last year, I have listened to their album, Eyelid Movies (2009), and all four of their EPs – Phantogram (2009), Running From the Cops (2009), Nightlife (2011), and Phantogram (2013). The band, which is made up of Josh Carter and Sarah Barthel, create music that is powerful, rhythmic, electronic, catchy, and above else, makes my body move – everything I want in music. I was interested to see how this sound would translate at a smaller venue such as the Cat's Cradle in Carrboro, NC.
The show was sold out and most of the crowd had already arrived by the time the opening act, Giraffage, had finished his set. As Phantogram made the stage, after a short intro, they quickly went into "Running From the Cops." At one point in the song, Josh took the mic while rapping the lyrics and went out to the edge of the stage, which made the crowd go wild. Both Josh and Sarah have great stage presence and they made use of it throughout the one and a half hour set. The next song, "As Far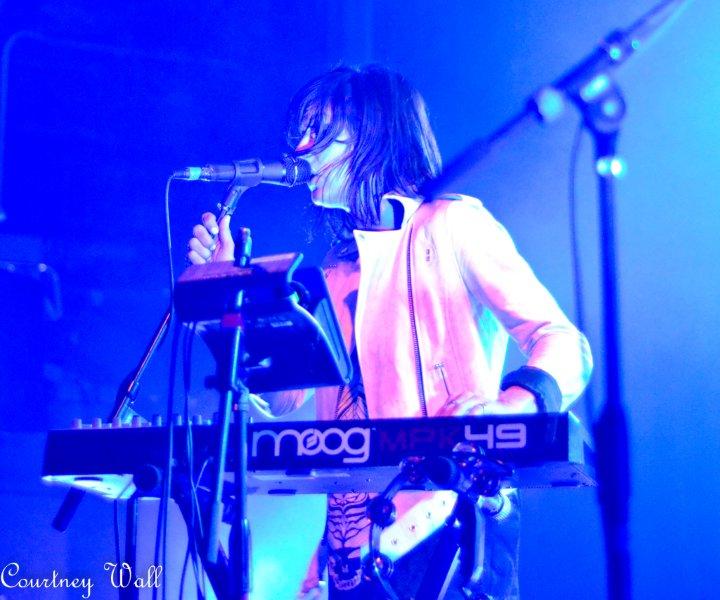 As I Can See," gave Sarah the opportunity to take the mic, belt out the lyrics to the song, and dance rhythmically for the crowd. Next, they played two new songs including one from the new EP, "Black Out Days." The second new song, "Nothing But Trouble," had some great samples throughout and an intense guitar solo to abruptly end the song. They then moved into three crowd favorites, "Turning Into Stone," "16 Years," and "Turn It Off." Each of these songs has very powerful and dark lyrics, which is another immediate draw to Phantogram. I also like how they share the singing duties. Sarah sings the majority of songs and backs up most of Josh's songs. Her voice is powerful and seductive while she belts out both verse and chorus to her songs, or while singing backup for Josh.
The next section included two new songs, "Howling" and "Bad Dreams," from their upcoming album, Voices (2013). Before "Howling," Sarah said to the sold out crowd that "you guys have amazing energy tonight and every time we come here." She then let the crowd know that they were "about to play another new song we aren't technically supposed to play." The final section of the set included another new song, "Day You Died" and several more crowd favorites - "Don't Move", "When I'm Small", and "Mouthful of Diamonds." The show ended with a new song from the recent EP (Phantogram – 2013) – "Celebrating Nothing." We certainly had something to celebrate this evening. I look forward to their upcoming new album, Voices (2013), later this year. Throughout the entire set, they played 6 new songs out of 15 songs total, with at least 2 songs from their brand new EP. The crowd was really into the band and you could tell from the band that they definitely feed off the crowd's energy. Great show – I just wish it was a little longer!
Setlist: Intro, Running From the Cops, As Far As I Can See, Black Out Days, Nothing But Trouble, Turning Into Stone, 16 Years, Turn It Off, Howling, Bad Dreams, Don't Move, Day You Died, When I'm Small

Encore: Mouthful of Diamonds, Celebrating Nothing
Written by: Kerr and Courtney Wall
Edited by: Rosemary A.W. Roberts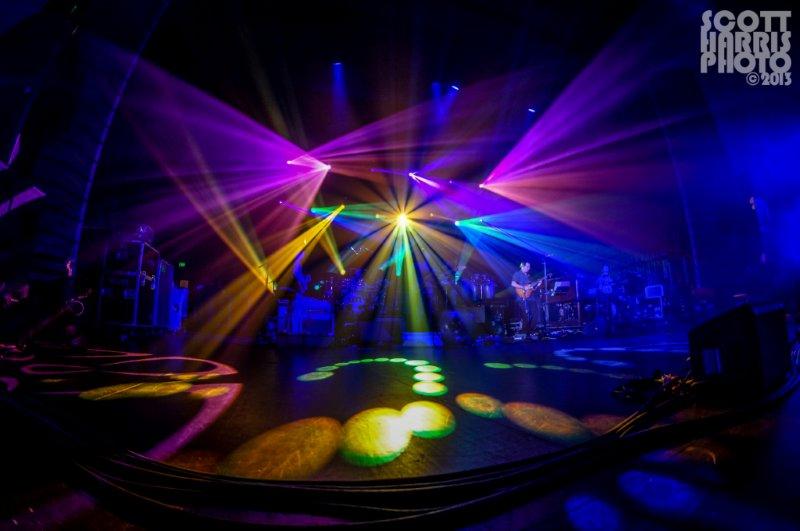 Umphrey's McGee – The Klein Memorial Auditorium – Bridgeport, CT – 10/17/2013
Written By: Scott Harris
Edited By: Rosemary A.W. Roberts
Anticipation was high for Umphrey's McGee's return to the historic Klein Memorial Auditorium in Bridgeport, CT on Thursday, October 17th. Last year, Umphrey's marked their first appearance at The Klein with a scorching and incredibly well-received performance. Several songs into Umphrey's first set on Thursday, guitarist Brendan Bayliss commented that Umphrey's had a fantastic time at The Klein last August on his supposed "24th" birthday (the show featured a cake presentation) and expected the audience to bring IT once again. Both the band and the fans did just that.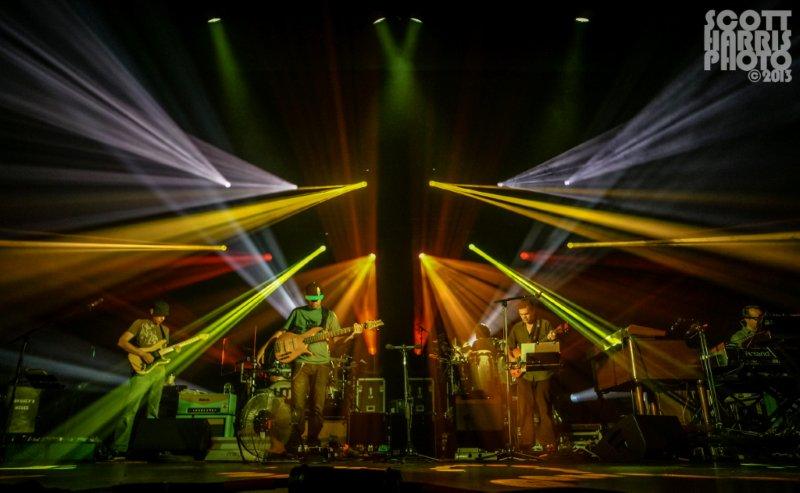 To mark Umphrey's return to Bridgeport, Thursday's setlist was written by former Umphrey's Lighting Crew Chief and Connecticut native Wade "Wyllys" Wilby, who left the band in 2010 to pursue his DJ career. Umphrey's is often referred to as 'one of the best cover bands in the business', and Thursday's performance once again showed why. Wilby's setlist featured covers from a wide range of musical genres and eras, each song delivered in Umphrey's unique progressive improvisational rock style.
The first set included a take on Bananarama's 80's classic "Cruel Summer", which was an Umphrey's debut (though members of the band performed it previously on their tour this summer with STS9), as well as Waylon Jennings's "Luckenbach, Texas (Back to the Basics of Love)". Country isn't something often expected at an Umphrey's show – and, in fact, the band hadn't performed Jennings' tune since 2009 – but Umphrey's executed it with aplomb. Highlights from the first set also included Umphrey's originals "Syncopated Strangers", which interweaved a jam of George's Benson's smooth jazz classic "Breezin'", and coveted rarity "All Things Ninja" to close out the set.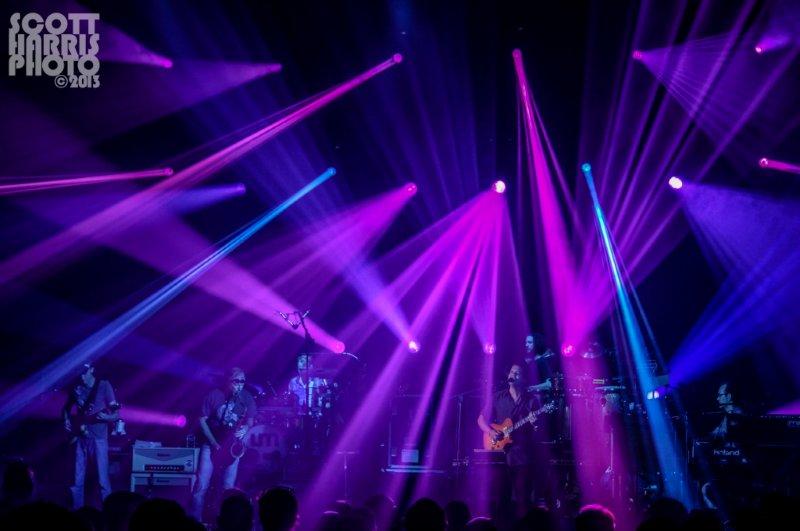 Umphrey's bookended a monster second set at The Klein with "All in Time" (inclusive of Jimmy Stewart vocals). Sandwiched in between were blazing versions of "The Triple Wide" and "Ocean Billy", the latter featuring special guest and friend of the band saxophonist Bill Evans, with whom members of Umphrey's have recently played as part of Evans' Soulgrass. The second set also featured a take on The Smashing Pumpkins' early 90's hit "Cherub Rock", which blended in seamlessly with Umphrey's raging originals. As Wilby's setlist only had question marks for the encore, Umphrey's busted out yet another cover, Led Zeppelin's 1979 studio classic "Fool in the Rain."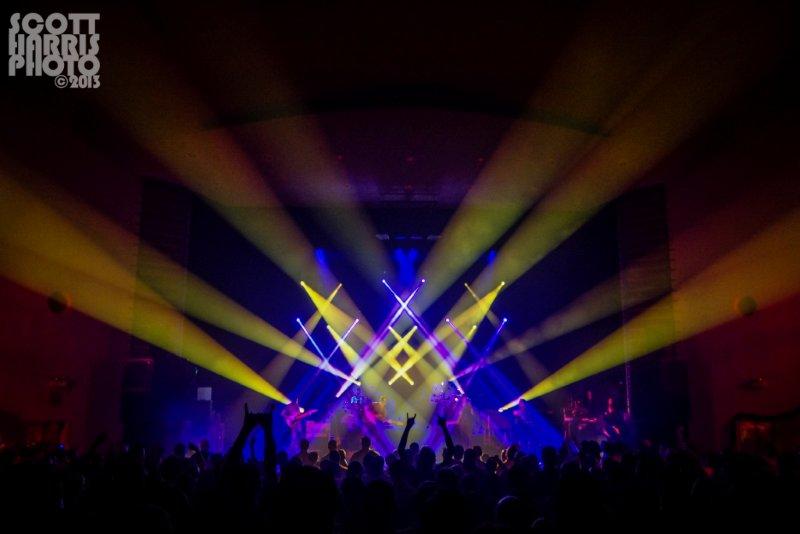 No Umphrey's show would be complete without stunning visuals from Lighting Designer Jefferson Waful. Umphrey's was recently ranked as having the #1 live music lighting design by Denver Westword thanks to Waful's masterful work. On Thursday, Waful took advantage of working with a larger rig than at last year's show and the results were readily apparent as beams of light permeated throughout the auditorium.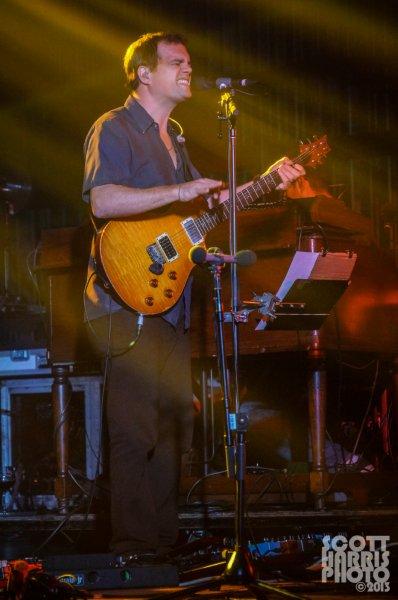 Setlist (from www.allthingsumphreys.com):
Set 1: Jekyll & Hyde > Walletsworth, Domino Theory > Cruel Summer[1] > Domino Theory, The Fussy Dutchman, Syncopated Strangers[2], Luckenbach, Texas (Back to the Basics of Love), Day Nurse > Wellwishers, All Things Ninja
Set 2: All In Time[3] > The Triple Wide > The Bottom Half, Women Wine and Song > Room to Breathe, Ocean Billy[4], Cherub Rock > All In Time
Encore: Fool In The Rain[5]
[1] debut, Bananarama
[2] with Breezin' (George Benson) jam
[3] "Jimmy Stewart" with vocals
[4] with Bill Evans on saxophone
[5] with Ten Years Gone (Led Zeppelin) intro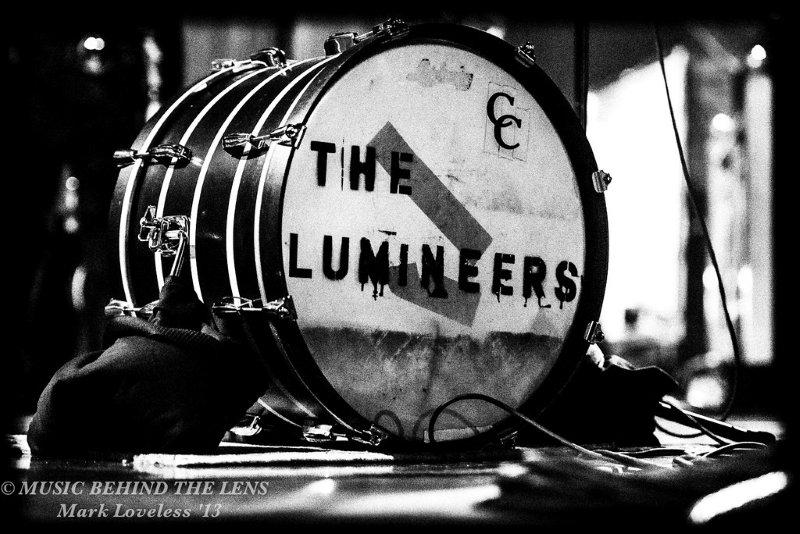 The Lumineers with Dr. Dog ~ The Farm Bureau Insurance Lawn at White River State Park ~ Indianapolis, IN ~ October 7, 2013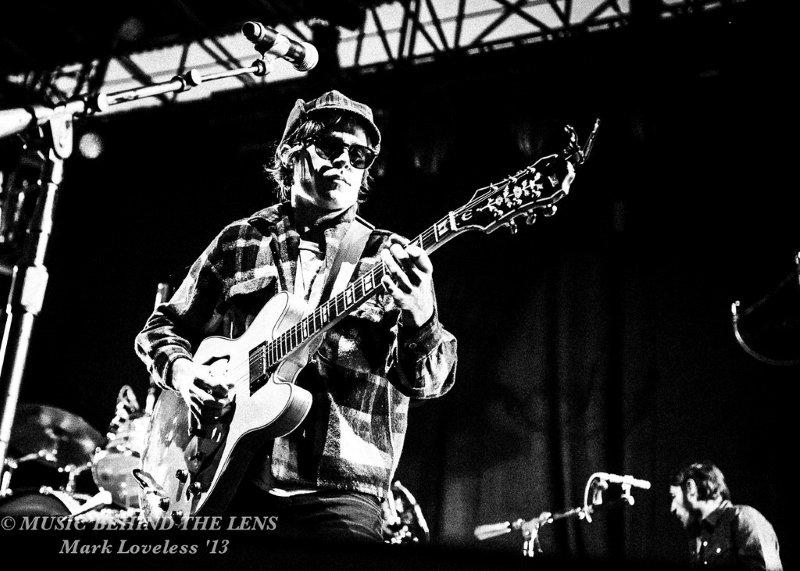 Despite the show being canceled on Saturday evening in Indianapolis due to torrential downpours and heavy winds, the sold out crowd still made their way to The Lumineers show on Monday evening. Opening prior to The Lumineers was an Indie Rock band with huge influences from The Beatles and The Beach Boys in Dr. Dog. These up-and-comers are garnering notice among the jamband community, because they have an electrifying live show, and have put forth a heavy tour schedule. Chances are, they'll be playing a town near you; check out their tour dates here: http://www.drdogmusic.com/tour/
The Lumineers are turning heads lately, selling out a lot of venues and gathering the attention of the media almost like The Beatles and The Beach Boys did. Hailing from New Jersey most critics would say their career began in Denver, Colorado. Although The Lumineers have been a great collaboration since 2005, their spark began in 2012. Their debut album The Lumineers peaked at number 2 on the Billboard chart. Thanks largely due to social media, their national buzz would be a huge influence in the success of the band. They have had music top the charts in Canada and the U.K. as well as in the U.S. Guitarist and lead vocalist Wesley Schultz had this to say a year ago in American Songwriter, "It's really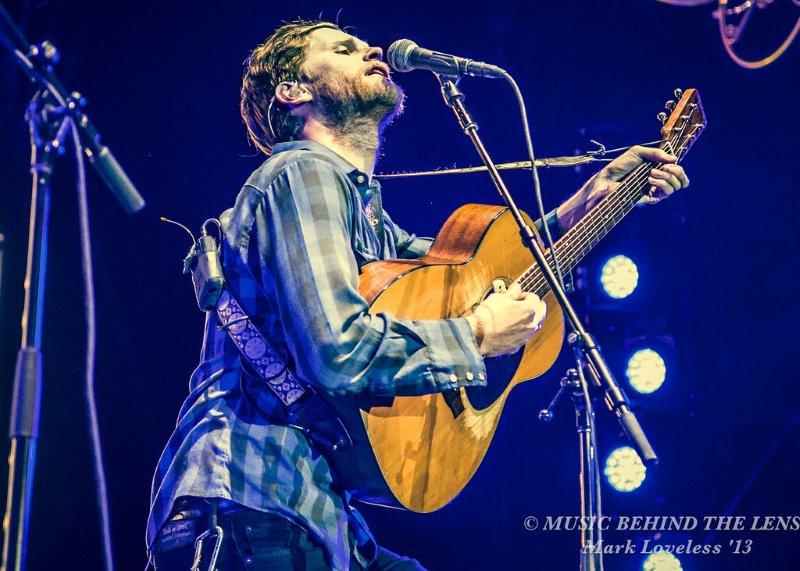 arbitrary to any of us, especially to Jer and Neyla and I... because we've never really had an album out in this way... I'm really thrilled, but Ia also take it with a grain of salt... I think basically, I feel really lucky because I know how fickle the business, theindustry is." At the tail end of 2012, the band would be nominated for two Grammy Awards, Best New Artist and Best Americana Album. They would also receive nominations for Top New Artist and Top Rock Artist from the Billboard Music Awards. This Grammy-nominated folk band would allow no rest for the wicked, as they hit the stage really quick, with thunderous drumbeat in "Submarine." Oh and lets set the record straight, although the band may not have a huge collection of music under their belts, they still jammed, threw down and got the crowd completely pumped up from the opening song to the very last. The band would play a crowd favorite and first single, "Ho Hey." The band would even cover a Bob Dylan classic, "Subterranean Homesick Blues."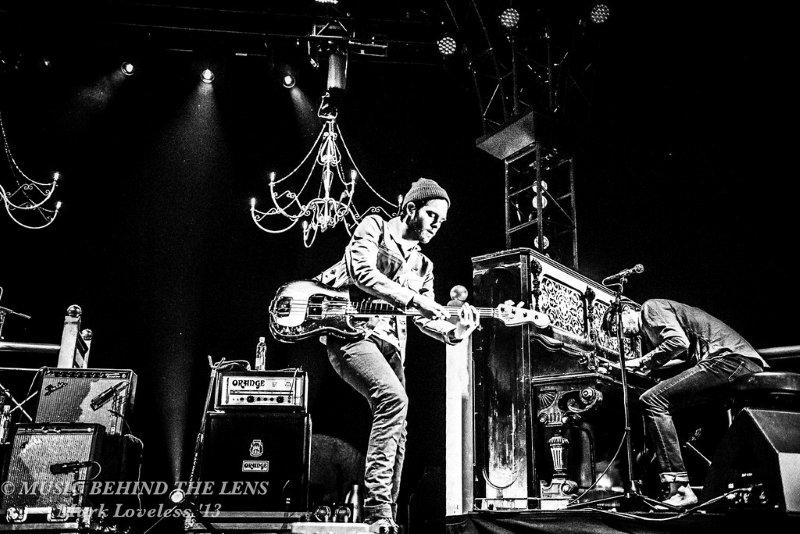 Schultz, who spent his childhood with a pencil in his hand always drawing, saw in his future he would someday be an artist. He just gave up a pencil for a guitar, and the rest is beginning to be history. The band may be literally shocked about their phenomenal success in such a short period of time. Their entire 2013 tour has been a complete sellout in the U.S. Europe, and Australia. Not only are they selling out their shows, but they are also playing on some of the biggest stages that any band would dream of playing. Please be sure to continue to support The Lumineers. Also be sure to check out their latest album, The Deluxe. One way to determine the success of a quick rising band is if their second album is as good as the first. There should be no hesitation; it's miraculous.
FULL PHOTO GALLEREY HERE
Written By: Mark Loveless
Edited By: Rosemary A.W. Roberts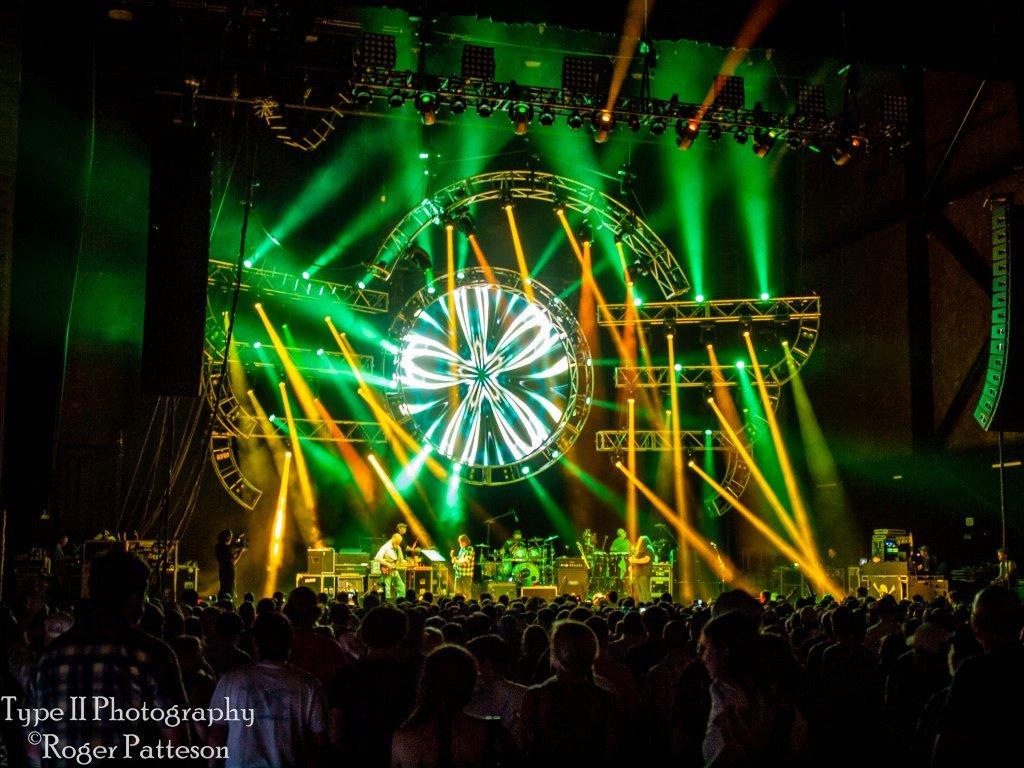 Widespread Panic ~ Tuscaloosa Amphitheatre ~ Tuscaloosa, Alabama ~ 10/3/2013
With the fall season quickly approaching the Deep South, Widespread Panic wasted no time turning the thermostat up a notch with their return to Tuscaloosa, AL. Upon arrival at the venue, the usual crowd had gathered with lot goods aplenty and the usual hooping, dancing, and sampling of burritos taking place on the lawn across the street. Amidst homecoming festivities for the University of Alabama in full swing, the town got a solid dose of rock & roll to add to the party.
The boys from Athens, GA got busy setting the tone for the evening with the conventional "Holden Oversoul" sandwich opener. Paying homage to the Grateful Dead, a "Cream Puff War" in the middle really got the energy flowing throughout the venue. The band then brought some deep, blues rock back to the south with "Little Kin" into Chuck Berry's "Let It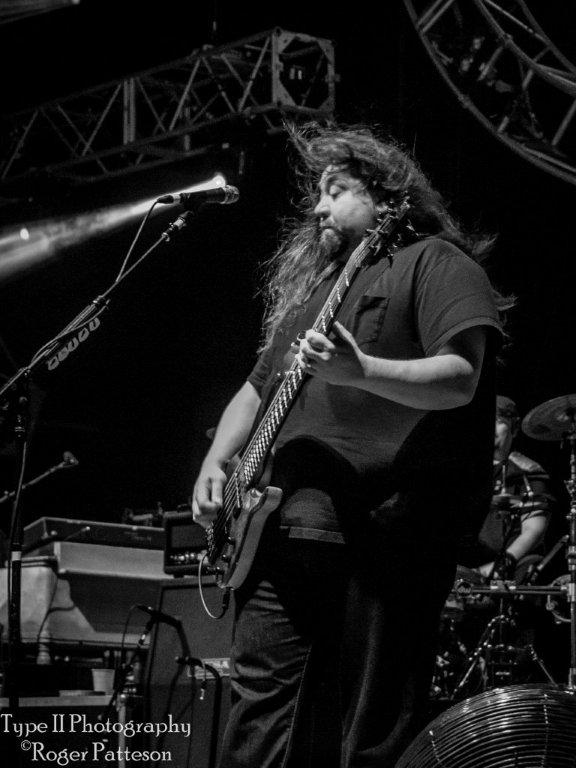 Rock" which always hits home in Alabama. A change of pace came briefly with the soulful "Tickle The Truth". JoJo Hermann seemed really psyched to be in Tuscaloosa, as evident by his play and vocals in "1 x 1" setting up "You Got Yours". The dancing slowed a bit with a beautiful cover of the Talking Heads "City of Dreams". When the crowd sings along with John Bell on the line "Southern U.S.A.", fans are reminded there is no place they would rather be. As quickly as dreams of southern belles and sweet tea arrive, they disappear with a jolting rendition of Jerry Joseph's "North". "Imitation Leather Shoes" closes out the first set which is classic Panic dating back to the Don't Tell The Band album of 2001.
The 2nd set immediately got started in the right manner with a "Disco" opener. The disco ball on the screen behind the band was a nice touch by Paul Hoffman. Dave Schools' bass seemed super heavy as it dropped into "Second Skin". The darkness of that tune gave way to the lighter, well known "Space Wrangler". After an eleven year absence, Panic brought "Quarter Tank of Gasoline" back into their rotation in 2011 and Tuscaloosa was fortunate enough to hear this Bloodkin cover next. Set 2 was getting into full swing when a town known for its "Bear" (Bear Bryant) received an eleven minute version of "Bear's Gone Fishin'". The "Driving Song" sandwich that followed turned the heat up to the level of scorch, with the meat being a rager of "Tie Your Shoes", quickly becoming the highlight of many a fan's night. "Breathin' Slow" into "Drums" brought a reprieve from the intensity of the previously mentioned seguesterpiece, only to be a false advertisement for calm as "Fishwater > Life During Wartime > Drum solo> Bass & Drums > Jam > Fishwater" put the crowd back into its frenzied state. From the bass bombs dropped by Dave Schools to the surgeon-like precision of Jimmy Herring's guitar playing and everything in between, it left the crowd wanting mo' mo' mo'. Fortunately, encore was yet to come.
With great anticipation for what would unfold, one couldn't help but think back to 2011 when Widespread Panic made its return to Tuscaloosa and the venue was at full capacity. The crowd on this night seemed small, maybe reaching 60%, but it's about quality over quantity right? Encore started off slow with the grievous "Old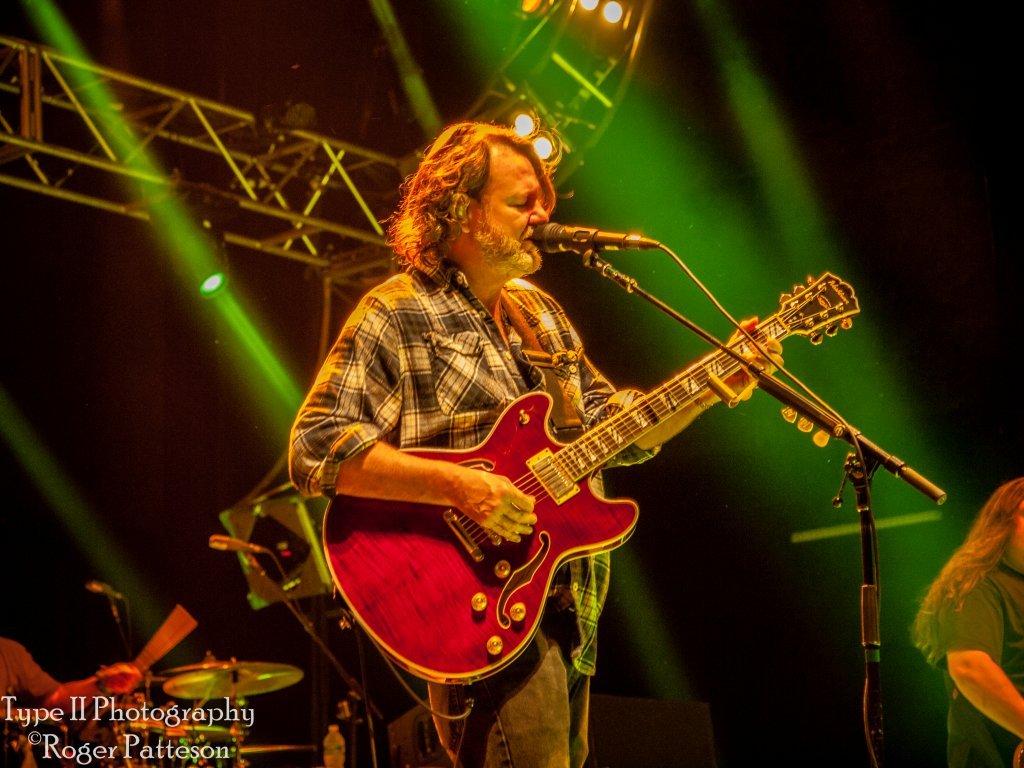 Joe" making its way back onstage. Some love it, but to each his own. Things improved one hundred percent with "Tail Dragger", a dirty, Howlin' Wolf cover that John Bell can belt out better than anyone. "Love Tractor" brought back more classic Panic memories and put the cap on a fantastic night of music in Tuscaloosa. By the time this is read, WP will have destroyed a two night run with progressive jam band favorite, Umphrey's McGee, in Charleston, SC. No doubt, this will be another run for the memories.
More photos: HERE
Written by Adam Gilliam
Edited by: Rosemary A.W. Roberts
Photos by Roger Patteson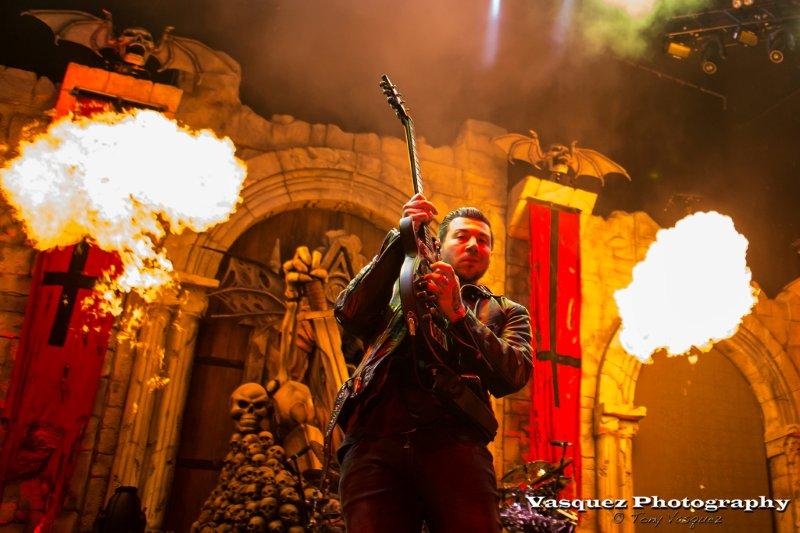 Hail to the King Tour: Avenged Sevenfold with Deftones ~ Klipsch Music Center in Noblesville, Indiana ~ October 5, 2013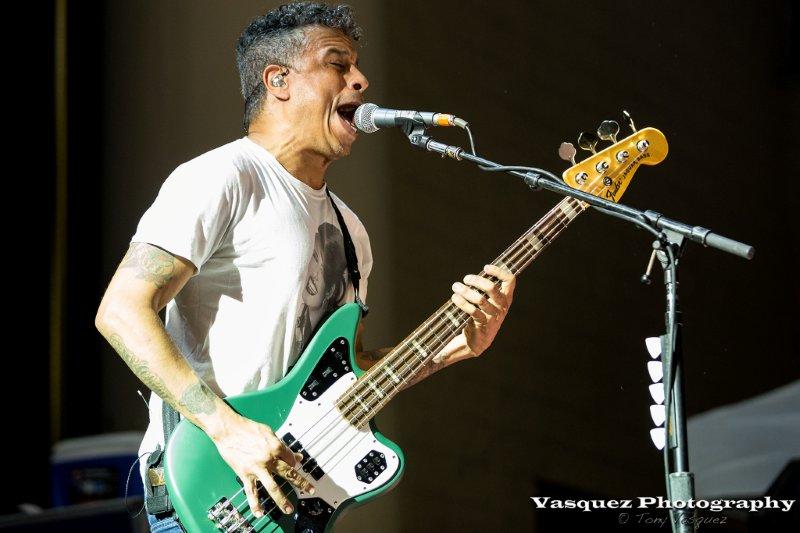 As we walk up to Klipsch Music Center, hoping that the monsoon we just drove through will veer to the southeast, hordes of people are funneling in through the front gates. Girls are dressed to kill in the tightest fitting clothes they could find: laced-up corset tops, skin-tight jeans and black dresses, along with miniskirts and fishnets; more often than not, wearing boots, instead of strappy heels. The dudes are dressed in black t-shirts and jeans as far as the eye can see, with almost all the shirts paying homage to some metal group... and that's why everyone is here, isn't it? To pay homage to the metal.
Shortly before the Deftones come on stage, the crowd is restless, waiting for the music to begin. Then suddenly, the band appears, striding across the stage to their respective instruments. The lead singer Chino Moreno leaps onto a box set near the center, like some soapbox of old, from which he can preach it, speak it, sing it and scream it. It doesn't take long. After a quick hello to Indianapolis which causes the crowd to go wild, the band drops into a loud, driving rhythmic frenzy, the vocals half-singing, half-screaming, and to all their fans the sound is intoxicating. The set lasts for nearly an hour; throughout, random shouts pierce through the wave of sound, from fans expressing their joy at hearing the songs they want to hear,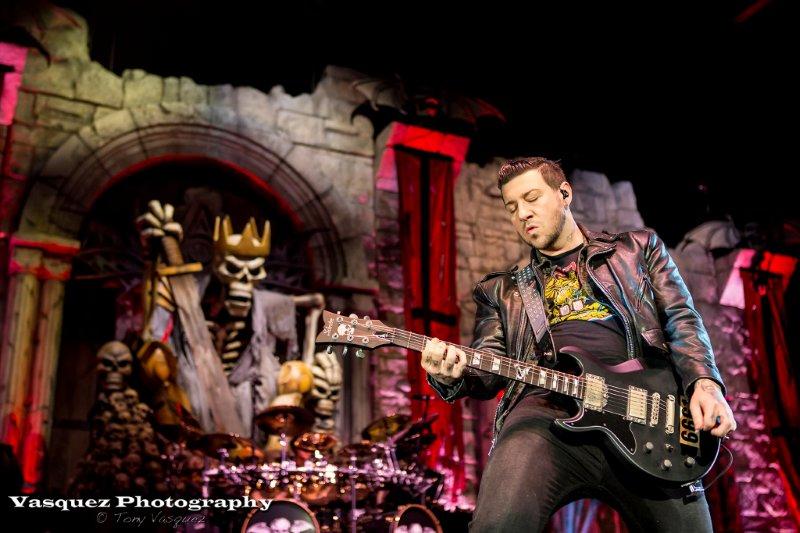 played by a band that rarely ventures far from the west coast. But, like all things worth enjoying, the set eventually comes to an end and the wait is on again, this time for the headliner, Avenged Sevenfold.
It takes a while for the band to come on stage, and the sound of conversation floats through the pavilion, like a cloud of smoke. Most of the bits that can be heard are related to how many times a person has seen Avenged Sevenfold, what songs they played last time, or how much longer we'll have to wait. About halfway through the intermission, the outer curtain is dropped, and Avenged Sevenfold's coat of arms is revealed upon an inner curtain. The crowd roars its approval, and each time a sound check is run on an instrument, you would think the band themselves are playing.
Finally, the time comes for Avenged Sevenfold. The inner curtain is pulled to each side of the stage and everything is revealed. Flames burst forth in lines across the stage before the throne of a giant skeleton, whose hand rests on the hilt of a giant sword, stabbed point-first into the ground. His golden crown reflects the light of the fire as his empty eye sockets survey the crowd. The time has come. Hail the King!!! From the darkness surrounding stage right, the drummer Arin Ilejay enters; and at first, I'm not so sure that he doesn't just rise up out of the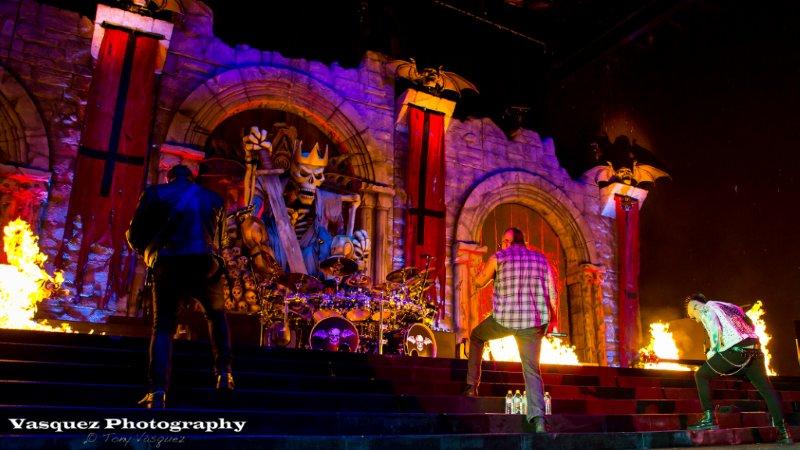 upper part of the stage. The rest of the band enters from various other places. I don't know if it is symbolic at all that the drummer entered first, but from the first moment, the drums are thunderous! I can feel it in my chest with every beat, and other than a cannon shot that fires during the first song, nearly bursting my eardrum, nothing else announces so clearly that metal has come to Indianapolis. There were plenty of explosive guitar attacks from Zacky Vengeance and Synyster Gates, throbbing bass work from Johnny Christ, and the scalpel-sharp vocals of M. Shadows. But nothing, not even a fight that breaks out in the pit right below center stage, could speak so succinctly to the gathered metalheads as the drums could speak. Despair. Despair. All Hail the King!
Written by: Zen Wild
Edited by: Rosemary A.W. Roberts
Photos by: Tony Vasquez
Link to images:
Avenged Sevenfold: http://smu.gs/1aiZ2Cb

Deftones: http://smu.gs/17M9m6U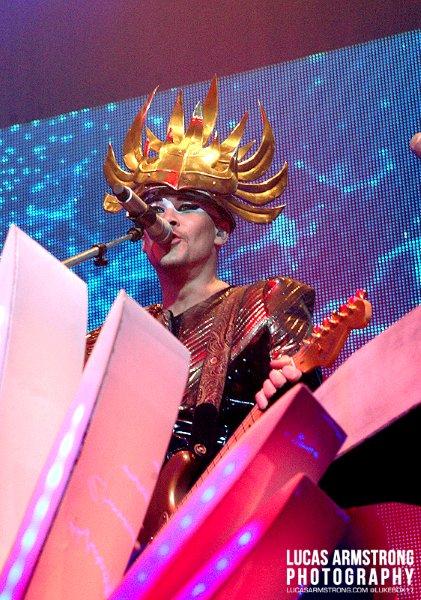 Empire of the Sun--The Tabernacle--Atlanta, GA--09/18/2013
Taking a much needed break from reality on Thursday September, 18th we ventured into downtown Atlanta, GA to the Tabernacle. It was a foggy pink and purple fantasy as the band Empire of the Sun took the stage donned in their elaborate Egyptian-emperor costumes. It was clear that the audience loved this 'niche' band, the music was hard to hear over their immediate screams of joy.
Empire of the Sun has a sound like no other band out there right now. The native Australians set out to 'do something that has never been done before' with their first CD, Walking on a Dream. They achieved this by creating a sound that is part David Bowie (the cool Bowie from the 80's) and part spun techno dance beats. With lyrics like "Loving you every minute because you make me feel so alive" and "We are all searching for the thrill of it", it is clear that their mantra is about love and the joy of life.
As the band started to play, I asked myself: "Where am I? Was I just dropped into the movie, The Labyrinth?" As if the pink and purple laser show didn't create enough ambiance, the stage was joined by a cast of back up dancers in tight spandex suits layered with feathers and plastic. The dancers deserve another article all their own. All of their dances were really artistic performance pieces. With several quick costume changes between songs they amped up the crowd and created a truly tripped-out Tron/Space Odyssey feel to the stage show.
As soon as lead singer Luke Steele began singing "Standing on the Shore", the crowd started eating up his presence like rock sugar candy. It was tough to see the band through a group of fans (nicknamed 'Empyreans') wearing feather headdresses. Several fans also donned a white slash of face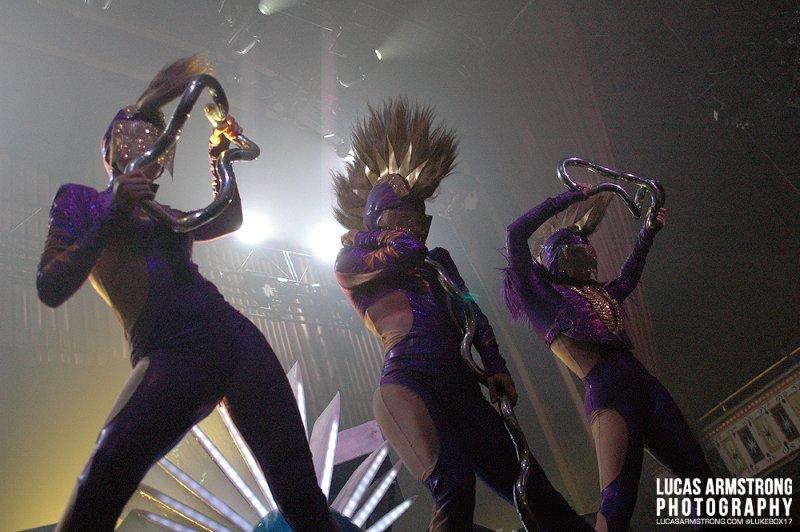 paint across their eyes, mimicking Luke Steele's look. As the band moved through the set, the crowd started to dance, and soon it spread to the balconies. I was told that Usher had snuck into the balcony to watch the show as well as several of the cast members of Dumb and Dumber Two. I thought to myself, 'Wow, Empire must be really doing something right to draw in the A-listers'. As the show continued, I became in awe of the band and Luke Steele.
During the third song, Luke Steele came across the pit to touch the hands of his fans. This created a whirlwind as fans rushed to greet him. I felt like a teenager as I gripped his arm as he passed and I admit, I screamed like a little girl! At times, it seemed as if the band was pumping pure happiness through those fog machines. Confetti dropped from the ceiling not once, but twice during the show, escalating the crowd's mood even higher.
Towards the end of the concert a gigantic costumed monster reminiscent of Slimer from Ghostbusters came onto the stage and attempted to 'put out the crowd' with two giant smoke hydrants that he was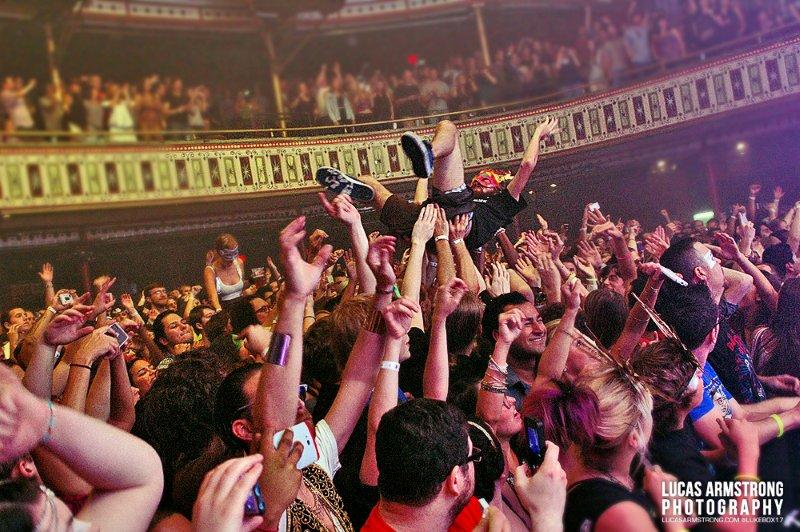 holding like fire extinguishers. Now I have seen it all.
After the concert, I would have happily gone back into the Tabernacle and experienced it all over again. Empire of the Sun is a truly unique band and the fun I had that night was unparalleled. I strongly recommend trying to catch them while you can on their first world tour. Please see www.empireofthesun.com for more info on the band.
Written by: Heidi Appel
Edited by: Rosemary A.W. Roberts
Photos by: Lucas Armstrong (Full Photo Gallery HERE)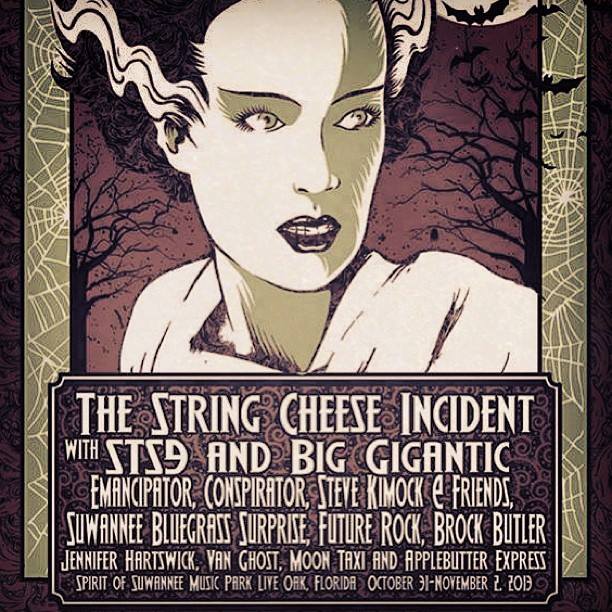 In the hollows of the Spirit of Suwannee Music Park in Live Oak, FL, a new event is brewing for all to celebrate Halloween 2013. Now since The String Cheese Incident is throwing this bash, we like to call it "Hulaween" and all of the zombies, witches, goblins, werewolves, mummies, and hula-hoopers will be there, will you? The "Suwannee Hulaween" will run from October 31st through November 2nd and will include 3 nights of Cheese, and on Halloween night a very special 3 set show. So bring your best costume and be ready for trick or treating of a musical kind. This event will close out the East Coast run of incidents for 2013, so come and celebrate the finale. The others in the cast set to take the stage to support the weekend of music are the following:
Suwannee Hulaween Lineup:
The String Cheese Incident (3 nights)
STS9 (late night)
Big Gigantic (late night)
Emancipator
Conspirator
Steve Kimock & Friends
Suwannee Bluegrass Surprise
Brock Butler
Future Rock
Moon Taxi
Van Ghost
Jennifer Hartswick
Applebutter Express
We would also like to draw your attention to a few acts in the above line-up that we highlight, as the others really don't need an introduction. While getting your spook on check out:
Brock Butler

of Perpetual Groove fame will bring his one of a kind "one-man-band" performance to this spooky encounter and you will be sure to get down.

Future Rock

out of Chicago will have you in a dancing frenzy before their energetic electronic rock set is finished, and the accompanying light show will only add to your sensory overload.

Moon Taxi

, well if you still haven't seen this act you are missing out. Be sure to catch their set.

Applebutter Express

will be bringing their ukulele funk to the party, so get ready for a throw down, funky style!

Van Ghost & Jennifer Hartswick

are veterans of Spirit of Suwannee Music Park festivals. Jennifer Hartswick, when not touring with the Trey Anastasio Band, is also a member of Michael Harrison Berg's Van Ghost. We are positive you will want to catch both of these sets for their Americana / Classic Rock-laced tunes with those incredible horns.
Now while at the festival, we want your help in tagging and sharing your photos and videos simply by using the hash tags and references below. You are what makes this event great, so we want to see what you see, experience what you experience, and overall just share this great inaugural event with you. (See links and tags below)
Suwannee Hulaween Links:
www.facebook.com/suwanneehulaween
Twitter + Instagram: @HulaweenFL (#HulaweenFL)
Spirit of the Suwannee Music Park Links:
www.facebook.com/musicliveshere
Twitter: @SOSMP (#Suwannee)
We have received very special information on how to give you the Ultimate Incident by upgrading to one of the following packages, just released so don't miss out on these very special offerings. We are very excited to see you this year at Suwannee Hulaween, and look forward to getting a little spooky with you. See Ultimate Incident VIP packages below:
THE STRING CHEESE INCIDENT SUWANNEE HULAWEEN ANNOUNCES
ULTIMATE INCIDENT VIP PACKAGES
Be a Mummy, Werewolf, Goblin, Witch or Zombie VIP at
Spirit of the Suwannee Music Park October 31 – November 2, 2013
VIP upgrades MUST be accompanied by an existing ticket from the Elevate or Front Gate site to be honored or deemed valid for entry to Suwannee Hulaween at the Spirit of the Suwannee Music Park over Halloween weekend 2013. To upgrade to VIP, call (386) 364-1683. For tickets and more information please visit the new Hulaween website, www.suwanneehulaween.com.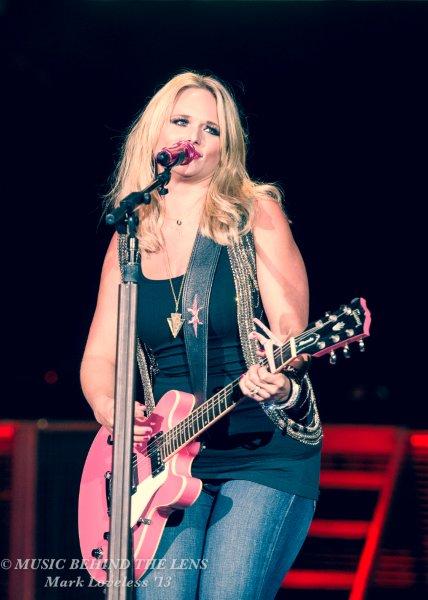 The Locked and Reloaded Tour 2013 – Miranda Lambert and Dierks Bentley ~ August 9, 2013 ~ Noblesville, IN at Klipsch Music Center
Country music has always been the heart and soul of the Midwest and there was no mistaking that last evening at The Locked and Reloaded Tour featuring Miranda Lambert and Dierks Bentley. The tour name sure fits these two rising country stars.
Dierks Bentley is a Phoenix-bred badass that makes his stage presence in a jean jacket and trucker hat. Bentley, a headliner himself, got the crowd locked into rowdiness real quick as he ran across the stage like a punk rocker with an acoustic guitar. Miranda Lambert is no longer the outsider in country music, as she has become a crowd favorite. However, Lambert still remains as the Nashville outlaw with a wild-girl-gone-bad image that made her famous. Lambert reloads the crowd as soon as she walks on stage while not carrying a shotgun but an electric guitar instead, with her band gracing by her side.
Despite cool temperature, Bentley warmed the night up from the start as he opened with "Am I the Only One." Bentley turned the runway stage into the red carpet as women practically threw themselves onto the stage. Bentley made his presence rapidly as he ran across stage like Johnny Ramone. The band continued to play crowd favorites "5-1-5-0," "Feel That Fire'" and "Sideways." Bentley also played an up-tempo track off his upcoming album Riser called "I Hold On," a song about love, faith and family. Dierks did a tremendous job locking in the attention of the crowd just in time for Lambert to reload with some of her crowd favorites.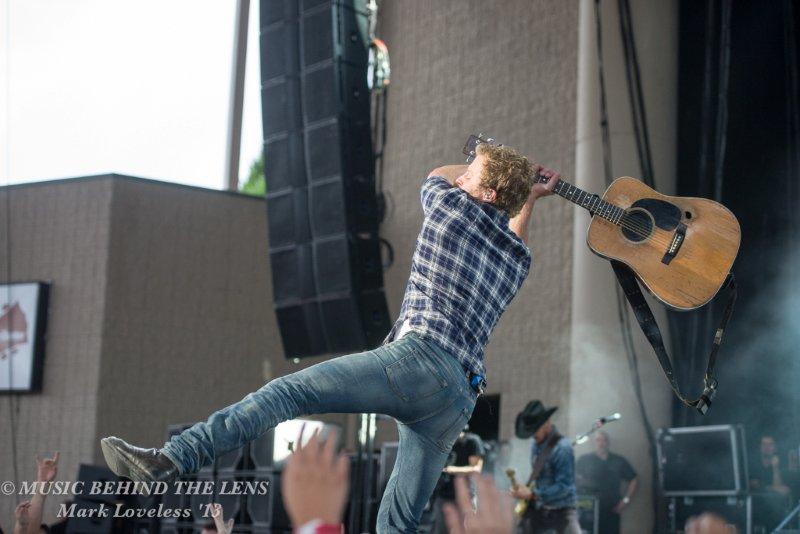 As the popular bad girl took stage the fans turned paparazzi with cell phones snapping any possible photo they could get. Lambert did not hesitate at all getting the night rollin' as she opened with an up tempo crowd favorite, "Fastest Girl in Town." She slung and wailed on her pink electric guitar like Slash keeping her presence known. Lambert would continue her night by playing crowd favorites such as "Gunpowder and Lead, "Baggage Claim" and "Kerosene." Lambert and her band really gathered the crowd's attention as they played a classic Beatles tune, "Get Back."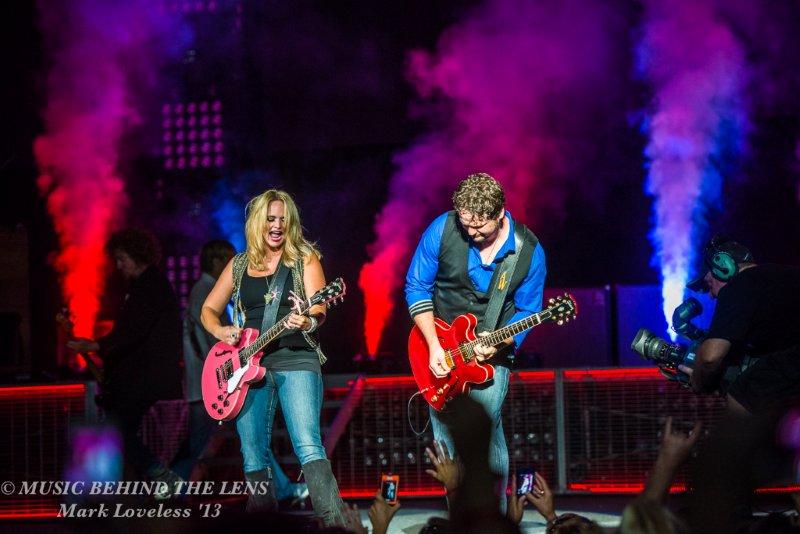 The Locked and Reloaded Tour really set the theme for both of these artists really well. Both artists have the wild-badass image that got the crowd's attention from start to end. The moment you thought their sets were ending, both would reload and come back around getting the crowd pumped up even more. Bentley and Lambert are and should be household favorites in the country music scene. Neither one should be underestimated with their image and music lyrics.
FULL PHOTO GALLERY HERE
Written & Photos By: Mark Loveless
Edited By: Rosemary A.W. Roberts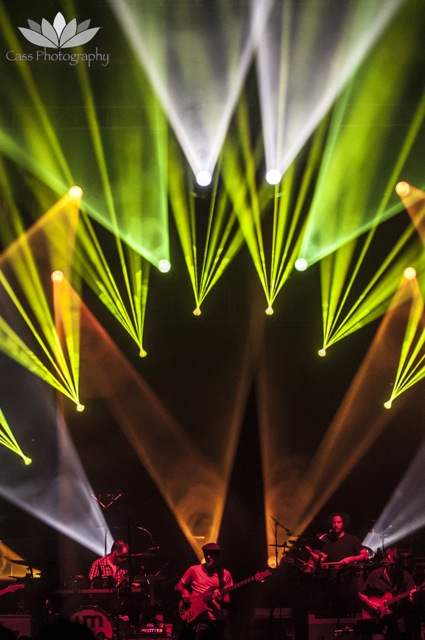 Umphrey's McGee and STS9—The Palace Theatre—Louisville, KY—08/15/2013
On Thursday, August 15th, I kicked off my three-legged tour with Umphrey's McGee and Sound Tribe Sector 9 at The Palace in Louisville, KY. This is the first time these two headlining bands have toured together since 2008, and it hopefully isn't the last. This was my first time to this venue and I was very impressed. Not only was it very easy to find, and had cheap parking, but the venue was just beautiful. An intricately carved steeple stood in front of the building with "Palace" carved and lit beautifully in it. The inside was just as impressive. The entry way had a ceiling with faces carved in marble and huge archways. As you walked into the theater it almost appeared as though you were outside. The ceiling was high and painted blue, with twinkling lights that were reminiscent of stars. I only wish it wasn't a seated venue. This caused many interruptions during the show as ushers were constantly shining lights to direct people and shoving people out of the aisle ways. Of course, the dedicated fans would not let this damper their good time, and neither would I.
For this show, Umphrey's McGee opened. It was as epic as any Umphrey's McGee show. I have to say, they had more lights for this tour then I've ever seen. If you're epileptic you might need to watch out. Light Tech Jefferson Waful always impresses me with not only his huge display of lights, but perfect timing with the band. Opening with "1348" into "Der Bluten Cat," a song with perfectly woven in Beethoven riffs, we knew we were in for an epic rock show. They played a Police cover called "Miss Gradenko" for only the 38th time since the band has been together, according to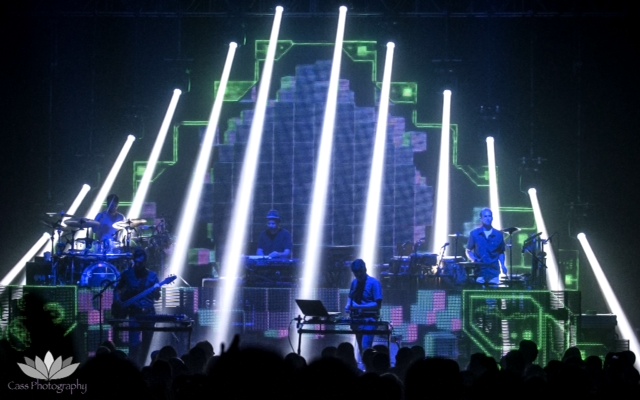 www.allthingsumphreys.com. They closed the set with a unique and power packed set of songs, "Triple Wide," >" Don't Fear the Reaper," (Blue Oyster Cult) > "Triple Wide,"> "1348."
Sound Tribe Sector 9 (STS9) took the stage after a brief set break. They started with a familiar tune with a recognizable guitar riff, "Ramone & Emiglio." I feel that even though STS9's style is very different from Umphrey's, they complement each other well because of the technicality of their jams. STS9's style is more electronic than Umphrey's, but is still complexly put together so that each component fits as well as a puzzle piece. Sound Tribe went on to play a forward moving trio of "Biggs'" > "…1..2..3," and "…Some are Angels." The light show was just as amazing as Umphrey's. STS9 has a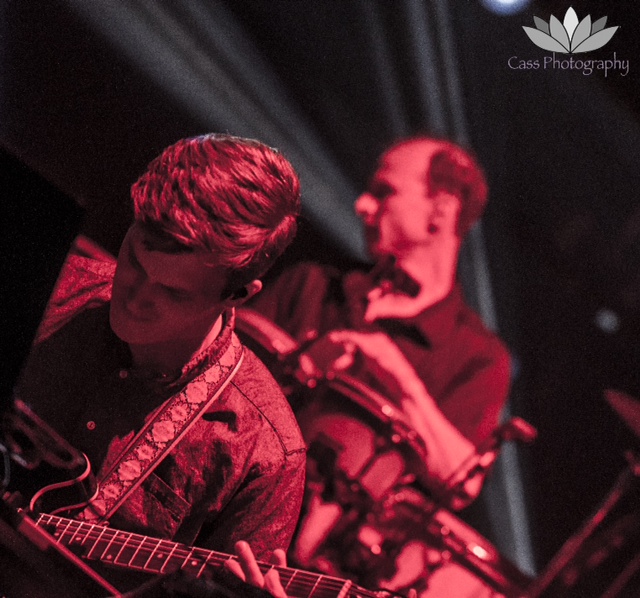 pyramid of LED screens where they project images as well as using a set of free moving stage lights. It is truly unique among the jam band scene. They closed the set and invited Jake Cinninger up for an encore of "Sympathy for the Devil" and "When the Dust Settles."
This was a great opening night for the Midwest leg of this tour. Both bands put on an amazing show. The lights were like nothing I have ever seen, and I can't wait for the next two nights ahead.
Written & Photos by: Cassidy Maley
Edited by: Rosemary A.W. Roberts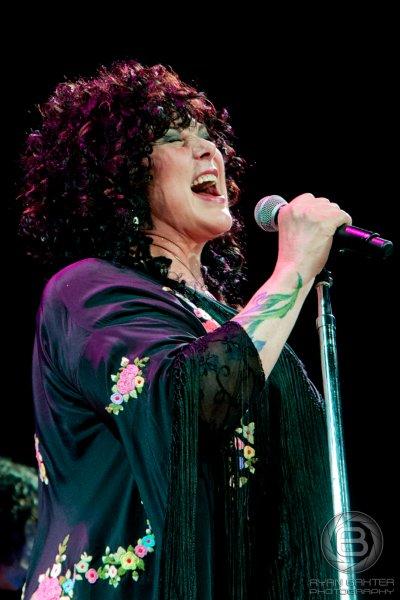 "HEARTBREAKER TOUR" CAPTURES THE HEARTS OF INDIANAPOLIS on July 27th, 2013
The rain didn't dampen the fans' enthusiasm at Klipsch Music Center on Tuesday night as they made their way in to witness one of the greatest concerts I have had the pleasure of seeing, and I am sure many will agree. The "HEARTBREAKER TOUR" included the most fascinating women of rock history, Ann & Nancy Wilson, who front the legendary band Heart, along with Jason Bonham's Led Zeppelin Experience.
It all came to fruition when 2013 Rock and Roll Hall of Fame inductees Ann and Nancy Wilson first met Jason Bonham, son of late Led Zeppelin drummer, John Bonham, when they performed "Stairway To Heaven" together at the Kennedy Center Honors tribute to Led Zeppelin in December 2012. With over 6 million views of the performance on YouTube, it was decided to take the show on the road.
The show kicked off with Jason Bonham's Led Zeppelin Experience commemorating his father's legacy with a slideshow behind them of John Bonham. Led Zeppelin is undoubtedly one of the most innovative, influential bands in music history laying the foundation for many to follow. Jason Bonham's Led Zeppelin Experience does the original Led Zeppelin justice. Concert-goers were amazed at how well the band creates the Zeppelin "vibe" pouring out the hits "Rock and Roll", "Black Dog", "When the Levee Breaks" and more with an encore performance of "Whole Lotta Love". Vocalist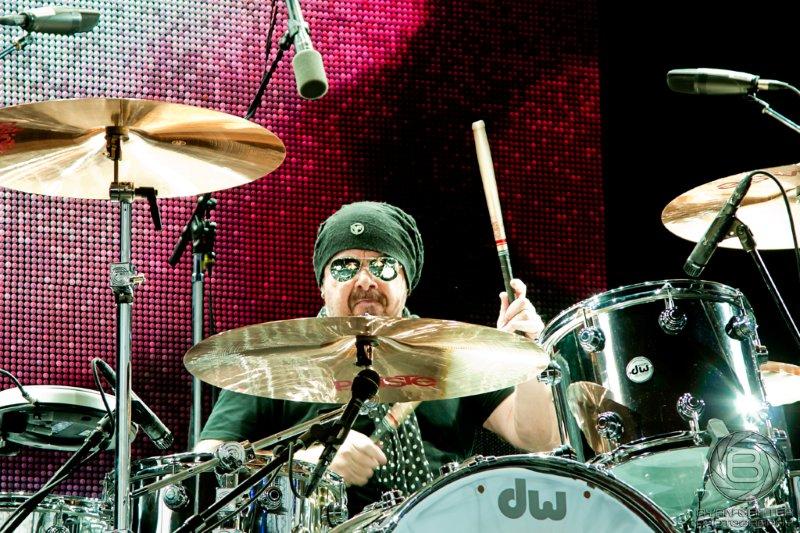 James Dylan did a dead on Robert Plant, with Bonham in command of the band during the entire performance from behind his drum kit.
As the sun went down over Klipsch, headlining act Heart took the stage with an eccentric light show. After 4 decades of touring, Ann Wilson steps out on stage dressed from head to toe in black and opens up with their signature song "Barracuda" with her powerful voice radiating while her sister Nancy Wilson played out the guitar riffs. With the crowd singing along, they went on to perform their hits "What About Love?", "Magic Man", "Crazy On You" and "These Dreams". With her long blonde hair blowing, Nancy took center stage and performed a solo rendition of Elton John's "I Need You To Turn To".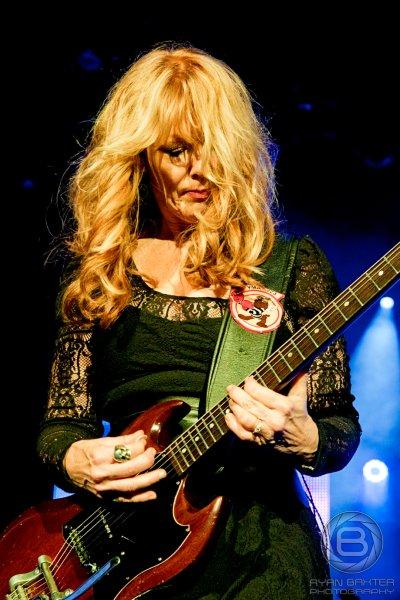 As Jason Bonham made his way back to the stage to join the ladies, the crowd was wowed by 30 minutes of nothing but Zeppelin tunes, starting out with "The Song Remains The Same". As the duo of the Wilson sisters and Bonham slipped into "Kashmir", fans were simply in amazement at the harmony this carried; some were even brought to tears. To close out the night was a stunning performance of the classic "Stairway To Heaven" with Ann's vocals owning the song, hitting every note without flaw.
In conclusion, this tour is an experience that fans will remember for a lifetime. Ann and Nancy Wilson, arguably two of the most influential women in rock and roll history, still have "Heart".
Written by:
Dana Franklin
RBaxter Photos
Edited by: Rosemary A. W. Roberts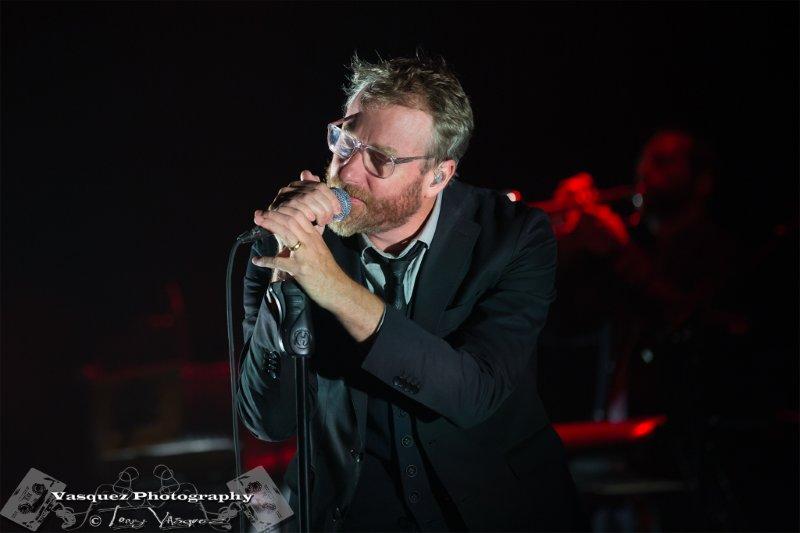 The National with Daughter ~ August 4th, 2013 ~ Murat Theatre, Indianapolis, Indiana
The National graced Indianapolis with an August 4th show at the Murat Theatre. In a word, it was inspiring. The energy in the crowd was palpable all the way up to the back rows of the balcony, where some audience members stayed on their feet throughout the show, dancing and playing air guitar. The rest of the crowd appeared riveted, their full attention glued to the stage.
With his scholarly appearance and intellectual song writing, frontman Matt Berninger wouldn't seem out of place instructing an English class, but to see him pacing onstage between songs and roaring some of his more earnest lyrics lends a violent and magnetic contrast to his stage presence. The band's maturity and creative intelligence bleed through in their lush melodies and lyrics of deep human emotionalism and unpretentious sociopolitical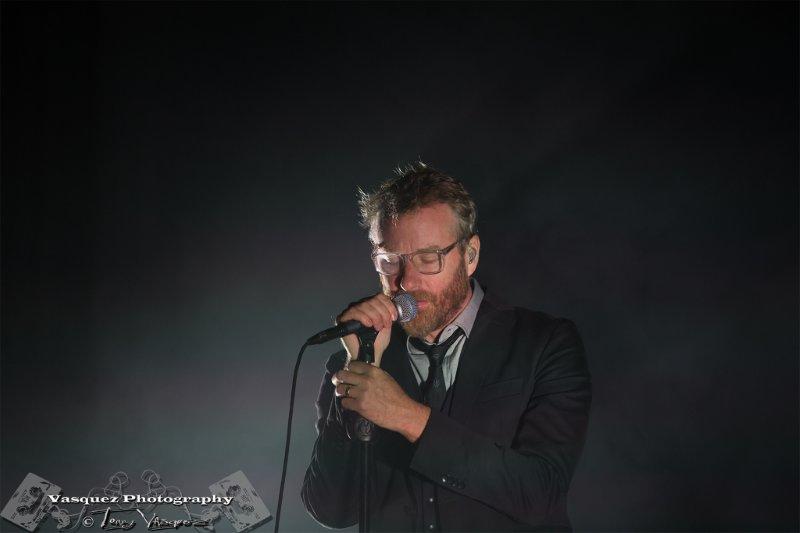 commentary. Their songs often build like a storm. Sweet instrumentation and Berninger's monotone voice are like a steady rain, lulling and rhythmic. Then they intensify into a thundering frenzy of horns, cymbals, and belted-out vocals.
The National played a perfect selection of songs from their catalogue including several tracks from their newest album Trouble Will Find Me. They played "Don't Swallow the Cap," "Pink Rabbits," and "I Need My Girl" from the new album and many of their standard crowd favorites including "Secret Meeting," "Squallor Victoria," "Conversation 16," "Fake Empire," and "Baby We'll Be Fine." Their encore set was brilliant with Berninger plunging far into the crowd on "Mr. November" and ending with a gorgeous acoustic medley sing along to "Terrible Love"/"Vanderlyle Crybaby Geeks," the whole crowd singing at the top of their lungs on the repeated lyrics "All the very best of us, String ourselves up for love."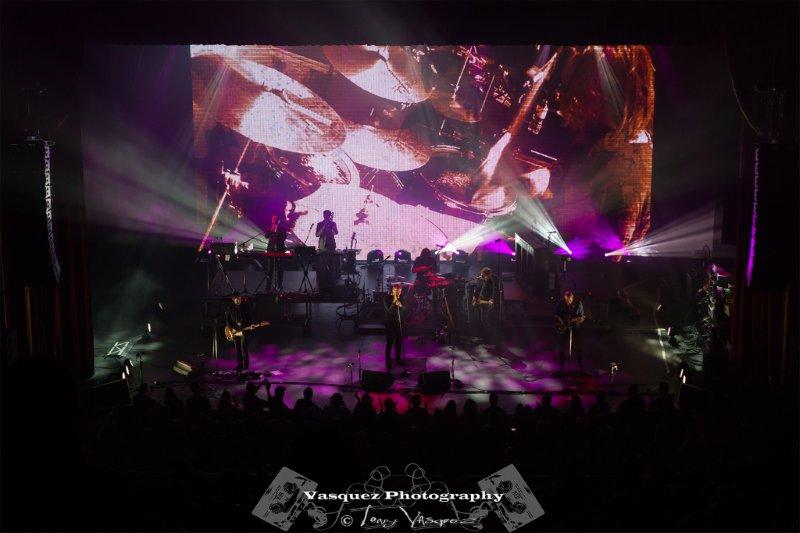 This show was one that I not only saw but felt. With goose-bumps on my arms and emotion stirring in my core, I left the Murat Theatre with a spectacular music buzz.
London-based Daughter opened the evening with a well-received set of moody indie folk. Their sound is one of rich sonic ambience with sweet guitar reverb and soft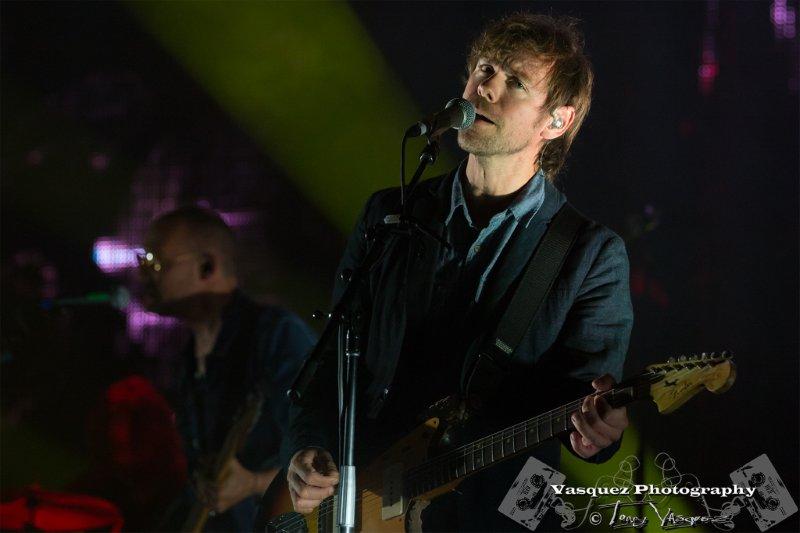 vocalization from lead singer Elena Tonra. The vocals smack a bit of Leslie Feist with an electronic sound that hints toward Sigur Rόs. They played their track "Youth" off their debut album If You Leave as well as their song "Home." Their set was laced with sweet banter suggesting the band's excitement and nervousness over opening for The National, and one affirming moment when a member of the crowd gushed that the band members "are all so attractive." Daughter's set was a refreshing way to begin the evening, and I'll be looking for them on future tours.
Written by Brittany Vasquez
Edited by Rosemary A.W. Roberts
Photos by Tony Vasquez
Gallery Links: http://jamsplus.smugmug.com/TonyVasquezPhotography/The-National/31002998_9xTpXw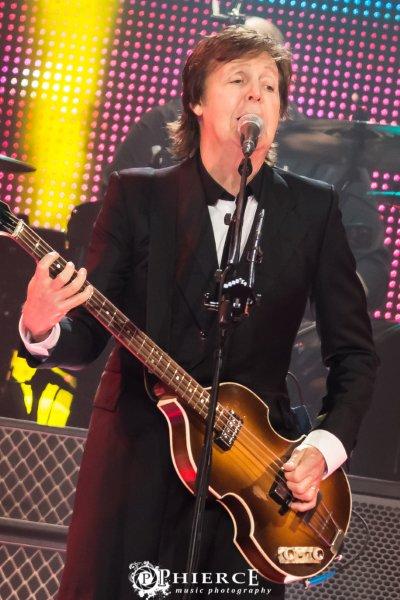 Paul McCartney—Bankers Life Fieldhouse—Indianapolis, IN—07/14/2013--The Magical History Tour
On Sunday, July 14th, 2013, Paul McCartney took the stage to a roaring ovation in front of a sold out crowd at Bankers Life Fieldhouse, in Indianapolis. McCartney, one of the most iconic and influential musicians in the history of music, lived up to his reputation for being the perfect showman. For almost three full hours, the fans were treated to a 38 song setlist that was laden with hit after hit. The classic "Eight Days A Week" kicked things off, a song which had never been played live until the current McCartney tour. This live debut was followed by the Wings classic "Junior's Farm", before quickly slipping back to the Beatles era for a quite memorable performance of "All My Loving." The hits never ceased, and every song's performance was just as appealing as the next. Two other un-performed Beatles classics off of the Sgt. Pepper's Lonely Hearts Club Band album, "Being for the Benefit of Mr. Kite," and "Lovely Rita" were personal favorites of mine, both were just breathtaking.
In addition to the stellar performances of all the classic tunes, the fans were treated to a mind blowing visual show giving each song a wonderful aesthetic of charm. From the arena shaking pyrotechnics on "Live and Let Die," to the projection screen mind trip on "Helter Skelter" I was completely floored with the production on display. Other notable highlights included "Something," "Band On The Run," and "Lady Madonna". The crowd even participated as backup singers as Sir Paul led quite an orchestrated sing along, with the highly recognized Na-na-na-na's at the end of "Hey Jude." Every tune had something else to offer, and as a fan you couldn't help but be magnetized by the experience.
McCartney's sense of humor and personable charm also shined, as his quite concrete storytelling drew all ears, and personal moments spanning throughout his musical career became quite the added bonus. Stories about Jimi Hendrix and about meeting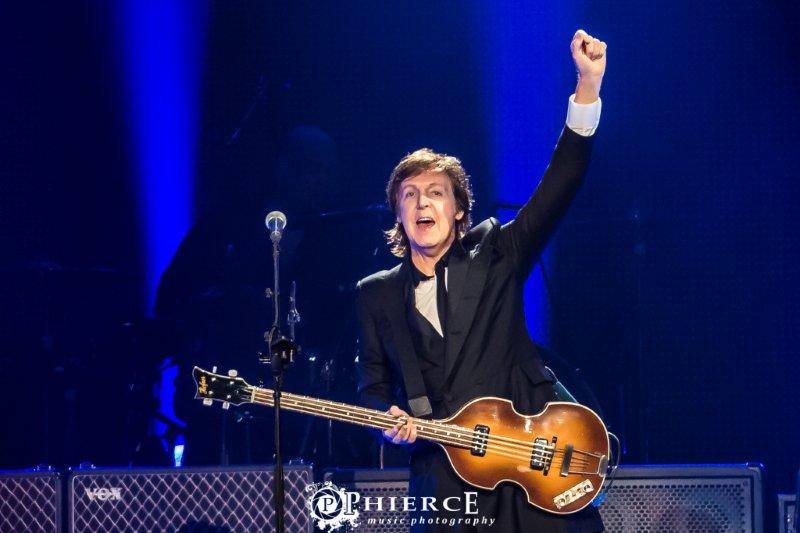 the Russian government led us on a 'magical history tour'. McCartney was flamboyant but accessible, because he made you feel as though you were right on stage with him, singing those great songs of yesterday. McCartney delivered in Indianapolis, and if he comes back I might have to go for round 2. I could honestly say, this was quite possibly my favorite concert that I've ever attended. I'm still in awe of how a 71 year old could have so much energy, and deliver such an incredible performance. I guess that's why he is considered one of the best in the history of music. I wouldn't or shouldn't have expected anything less.
Written by: Ty Goodwin
Photos by: Keith Griner
Edited by: Rosemary A.W. Roberts

Widespread Panic ~ Oak Mountain Amphitheatre ~ Pelham, AL ~ 7/19/13
Review by: Jared Murray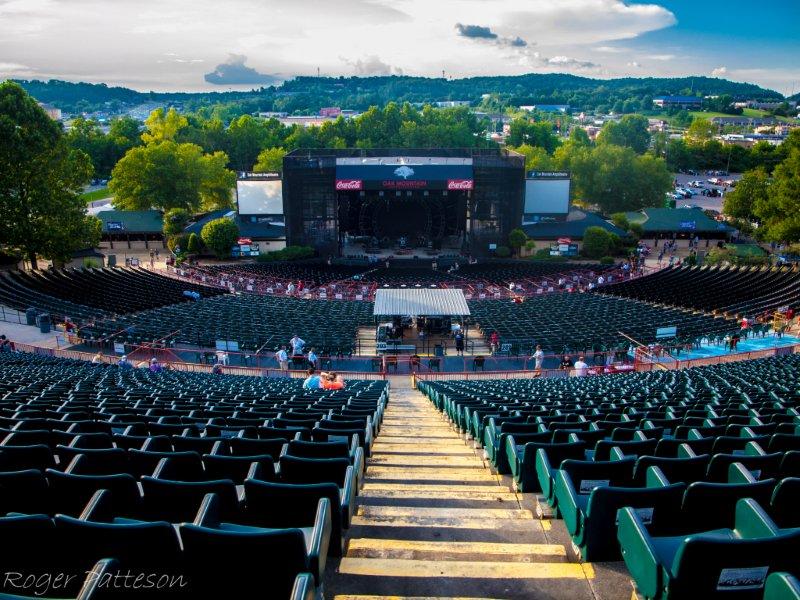 Widespread Panic turned Pelham, Ala., into a city of dreams for their fans on night one of the tour closer at Oak Mountain Amphitheatre on Friday night. The site has gone down in history in the plethora of venues that Panic enjoys to play the most. The amphitheater holds some good memories for Widespread Panic, and Friday night set an everlasting stamp from the solid jams to the bust-outs, which added more memories to the atmosphere. The boys have always been known to deliver the goods at Oak Mountain, and did more than just that with their 23rd appearance in the good ol' South. Well, lets get down to business shall we?
The first set took sail with "Lets Get Down To Business," a tune from the side project band with Vic Chestnut known as "Brute." Getting down to business is exactly what Panic had in mind for the rest of their Friday night. From the jaw dropping bass lines from bass player Dave Schools to the phenomenal guitar playing from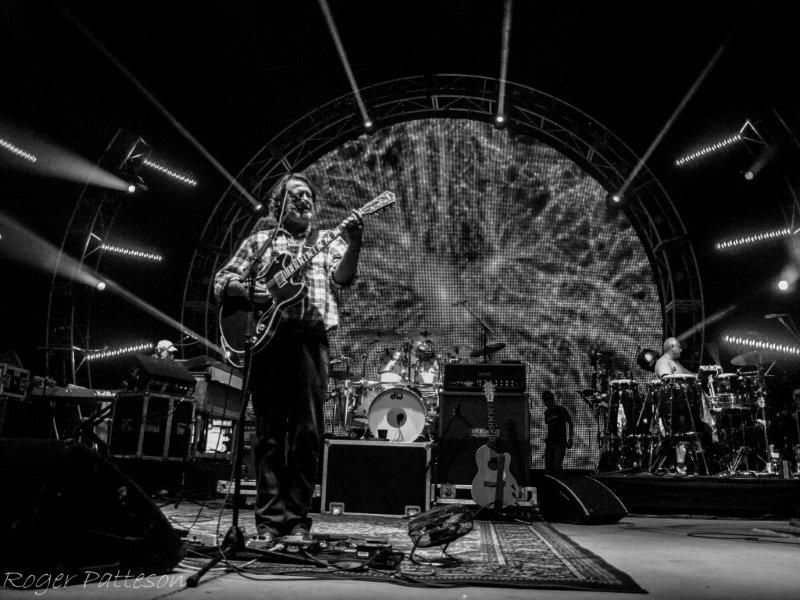 lead guitarist Jimmy Herring, this show took a astonishing stance for the start of a tour-closing run. One of the highlights of the first set was the phenomenal guitar play by Jimmy in the stunning "Pleas" > "Mr. Soul" segue while paying respects to a certain Neil Young. Other highlight's included the Howlin Wolf original "Smokestack Lightning" which indeed foreshadowed more covers to come, and also contained some very soulful John Bell vocals. The crowd then jumped up on the camels back for "Last Straw" and typical set opener/closer "Give."
The 30-minute set break gave fans just enough time to get their $5 water's and prepare for the throw down that was about to take place during the second set. Opening the second half would be a dark "Thought Sausage," which laid the groundwork for "B of D". From the inspiring and stretched out "Bust it Big" to the "Maggot Brain" that followed, this set had the crowd locked in right from the start. After the large amounts of rain the south has seen this summer, it laid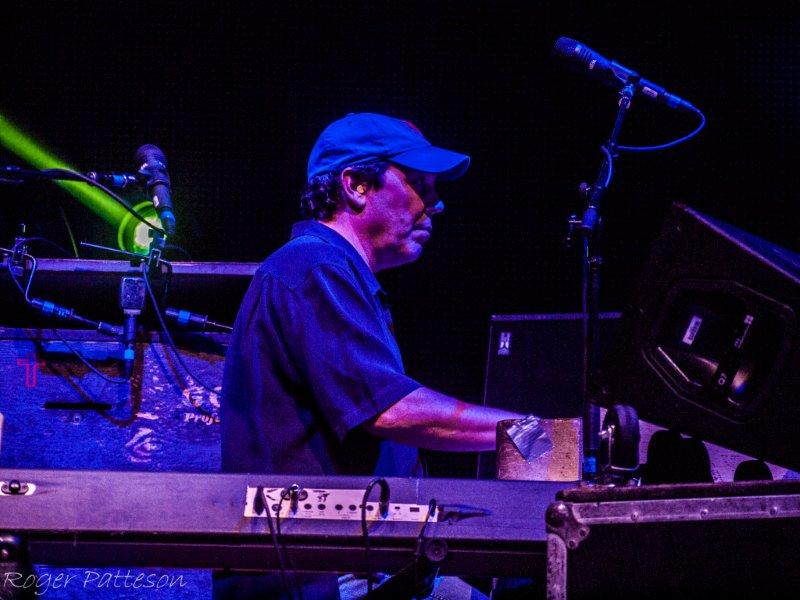 off for this night of Panic, but the crowd still failed to stay dry because of the classic dark "Chilly Water" that was up next. With the surrounding area (Birmingham) being heralded as "magic city", the boys from Athens would then transcend into bust-out city with a Muddy Water original "Baby Please Don't Go" which had only been played twice in Panic history and was last played on October 28, 2011, in Chicago. Next in rotation was the first ever "Tie Your Shoes" > "City of Dreams" > "Tie Your Shoes" sandwich, which left the crowd in awe and was a major highlight in set two. Then "Conrad the Caterpillar" slid right in to end the second set just right.
The clouds split over Oak Mountain making room for some stars to come in for the encore. This night ended just right with a glorious and enjoyable Todd song "Down," and a well-placed "Good People" right before they topped off the night with the classic dirty Panic tune "Imitation Leather Shoes." This show was a great way to start off the two-night run to end the tour. It surely leaves you wondering what Saturday night could possibly bring.
Widespread Panic ~ Oak Mountain Amphitheatre ~ Pelham, AL ~ 7/20/13
Written By: Emily McCormick
The second round of the famous Oak Mountain double-header certainly didn't disappoint. On a warm, damp summer evening, the boys got us going with the classic kick-off crowd pleaser, "Ain't Life Grand" with JB on mandolin. From JoJo's dance-worthy notes to those unforgettable lyrics, we can all agree the night was in full gear. The second song of the evening, "Hatfield", slithered in for what would be fitting for the rainy evening in store. As we all gathered in for Charlie's story, a sweet little "Born on the Bayou" tease entered the game.
"Love Tractor" a fan favorite ragged in hard and fast, as Jimmy certainly disappoint. He defiantly keeps the momentum going throughout this jam. After everyone had settled in nicely for what would be one of the finest shows on this year's tour, we were able to catch our breaths with the mellow "Blue Indian". JB's voice is on-point in this sweet little tune, and the guys were meshing well, tight and clean. Next in line comes Howlin' Wolf's "Tail Dragger". Nothing could follow up an old classic like a good, hard-core, Jerry Joseph tune, "Climb to Safety". There again, Jimmy's power is front and center here and the momentum continued as it moved into "Proving Ground" with a bluesy shift in attitude and energy. There wasn't a soul in the venue that didn't get chills when the sarcastic favorite, "Jack" hit the scene. This song is truly a favorite of mine as I remember days of old. Set one was rounded out by "Chest Fever" – a fun energetic tune followed by Henry Parsons Died. Perfect end to a perfect first set.
Set two opened up with a powerful "Holden Oversoul" to set the stage for more excitement, keeping with the earthly theme led by Hatfield, Tractor and Henry Parsons Died. "Sleepy Monkey" was a welcomed reggae tune, making its mark before the high-energy songs that were to follow. The SM > "Sharon" was amazing and strong. Sharon is always highly-anticipated as a mountain staple or any two-night run for that matter. What seemed like a second set crescendo finally gave way to a nice breather with "On this Mountain Side", which was introduced by the boys during the recent four-night Red Rocks run. It gave us a moment to enjoy JoJo's skills while preparing us for the rest of the second set which was mind-blowing Panic at their best. As always, "No Sugar Tonight/New Mother Nature" a high-energy Guess Who tune blew it up. JB & Co brought the heat as we strapped in tight for a "Rebirtha > Coconut > Fishwater ride. Coconut always finds its way into sets in just the right place. After we all regained our composure, JB and JoJo tugged at our hearts with a heart-felt "Vacation" – a song that, well, you know…pulled us in. The last song, a Talking Heads song, "Life during Wartime" rounded out the final set.
The encore started out with a phenomenal "Genesis" which showcases JB at his best. We got things going again with "All Time Low", of course Jimmy killing it. Winding down what I consider one of the best shows of the tour, was the Vic Chestnut "Protein Drink/Sewing Machine" combo. The dark and dirty Protein Drink played against the fun Sewing Machine was a perfect way to end our time at the most magical venue around. This combo was a strong finish and certainly kept the fans wanting more.
PHOTOS BY ROGER PATTESON ~ MORE PHOTOS

Phish—Encore Park—Alpharetta, GA—July 16-17, 2013
Phish is running the roads for their Summer 2013 tour and have amassed 30 years of picking up phans on the way. The band returned to "Hot 'lanta" in the Peach State of Georgia for a 2 show run and a stop back at Encore Park in Alpharetta. They had previously played the venue in July of 2010 and returned for 2 nights in 2011; that ended with the ever-popular (and even scary if you were present), "Mound>Tornado, Storm, Lightning, Wind>Mound" show. But the South loves the boys from Vermont and the energy level in 2013 was super high. First set was solid with a couple of gems from the album Rift. "Pebbles and Marbles" found its way on to the tour and a sweet sound of "Ocelot" grooved us through to the sundown. And with "Antelope" ending the set, as a fan base we knew that previous show repeats were on the table, and anything could happen now, with a second set to go. Nice!
07-16-13 Set 1: Kill Devil Falls, Mound > Bathtub Gin, Army of One, Rift, Horn > Possum, Pebbles and Marbles, Ocelot > Cavern > Run Like an Antelope
The second set had many great twists and turns, with an opener of The Velvet Underground classic "Rock-n-Roll" that jammed us in to the second playing of Led Zeppelin's "Heartbreaker", which included Page playing with some new toys. And we love when the boys get new toys! And I guess I owed the next song to my stuffed animal Mardi Gras fish I had on the front dash of our car, named King Makisupa; he and I were both very happy. Trey made his reference to a girl on the front row "Who was smoking hot" and when he looked back "She was smoking pot". The second set is regarded by some Phish fans as the best set of the tour thus far. The Zeppelin classic was teased four more times throughout in "Wilson", "Tweezer", "Hood" and "Character 0". For me, and I can only speak for one Phish fan, this was going to be a great 2 day run.
07-16-13 Set 2: Rock and Roll -> Heartbreaker -> Makisupa Policeman > Chalk Dust Torture > Wilson > Tweezer -> Silent in the Morning > Birds of a Feather, Joy > Harry Hood > Character Zero

Encore: A Day in the Life > Tweezer Reprise
Now in my time of following bands like Phish and the Grateful Dead I have always enjoyed the travel from one show to the next; but as Bear (Shay Taylor) was going to see, nothing is more relaxing than a 2 show run. But classic to Alpharetta, the word "rain" came into the weather report. And we faced yet another threat of rain on this summer tour that has had fans soaked for their love of this band. The show started with rain and an opener of "Runaway Jim" and also showed the previous show repeat of "Moma Dance" and a Phish debut with the Trey Anastasio Band tune "Frost"; they also hit TAB again on "Alaska".
07-17-13 Set 1: Runaway Jim >The Moma Dance, Funky Bitch, Divided Sky, Gumbo, Nellie Kane > Frost, Alaska, Guyute, Stealing Time From the Faulty Plan > Suzy Greenberg
As we all did our best to stay dry during set break, the band figured to bring the waterworks on. Second set included the Who classic "Drowned" and Phish also poured us some "Water in the Sky". The return of the Apples in Stereo cover "Energy" included about a six minute JAM that had Page back on the toys. Fishman had his chance to debut his new toy in the unfinished "Fluffhead" on the Marimba Lumina that gave us a very Dead-ish feel to the show. "Piper" included another tease of "Heartbreaker" and we also enjoyed a tour rare "Fast Enough for You" and a first time "Mike's>Wedge>Weekapaug" sandwich. Mmmmm, yummy! And they put a Dylan cherry on top with the "crowd on their feet" tune of "Quinn the Eskimo" as an encore. Wow! Thanks guys!
07-17-13 Set 2: Punch You In the Eye > Drowned -> Water in the Sky > Energy -> Fluffhead > Piper > Fast Enough for You > 2001 >Mike's Song > The Wedge > Weekapaug Groove

Encore: Quinn the Eskimo
As always the vibe is positive, the fans are friendly, and the energy between band and Phan is like no other you will ever experience. So if the Phish come to a town that is near you? Go! Go with all that you can go with. Because they are a band that will change the way you hear and view music forever.
Written by: Dale Taylor
Edited by: Rosemary A.W. Roberts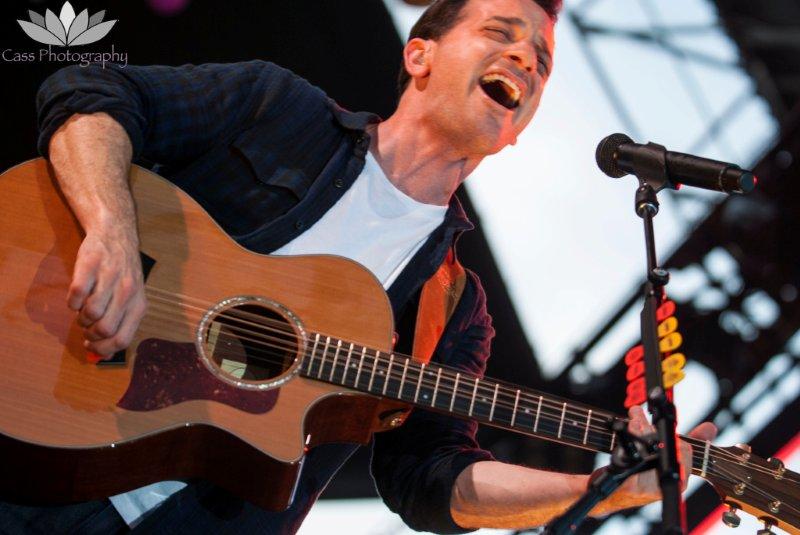 O.A.R.—The Lawn at White River State Park—Indianapolis, IN—06/29/2013
On June 29, 2013, Of A Revolution, better known as O.A.R., made their yearly appearance at The Lawn at White River State Park in downtown Indianapolis, Indiana. It had been an unusually cool and rainy summer day, but as the evening slowly crept up, the rain clouds began to clear and made for a nice concert during a beautiful sunset.
O.A.R is a fairly well-known band in the Mid-West; although they hail from Maryland, they always find time to make a yearly stop at the White River State Park. O.A.R has five core members, but this show was special because they had a three-piece horn section sitting in with them. O.A.R. is known for their energetic stage presence and catchy songs. All eight members were dancing on stage, and feeding off of the energy of the crowd. After two opening bands, O.A.R went on to play a 24 song set. It was a long, pleasant night of music for everyone. They opened with the popular song "Taking on the World Today," featuring Evan Oberla on trombone and Jon Lampley on trumpet, and a power packed sax solo from band member Jerry DePizzo. They went on to play several of their popular tunes, mixed with teases from other well known songs. The song "Destination" had a "Fire on the Mountain" by the Grateful Dead tease woven in with the original melody. O.A.R. closed the night with a three song encore, and at the end they brought up members from the opening bands for the song "Live and Let Die," closing the night with a family style jam.
Set list:*Taking On the World Today, Untitled, Destination, Living In The End, 52-50, Heaven, Dinner Last Night, Hey Girl, Night Shift, I Will Find You, About An Hour Ago, Whatever Happened, Shattered (Turn The Car Around), Wonderful Day, Tragedy In Waiting, About Mr. Brown, Toy Store, That Was A Crazy Game Of Poker, This Town, Black Rock, Peace;

Encore: Love And Memories, Get Away, Live And Let Die
Written by: Cassidy Maley
Edited by: Rosemary A.W. Roberts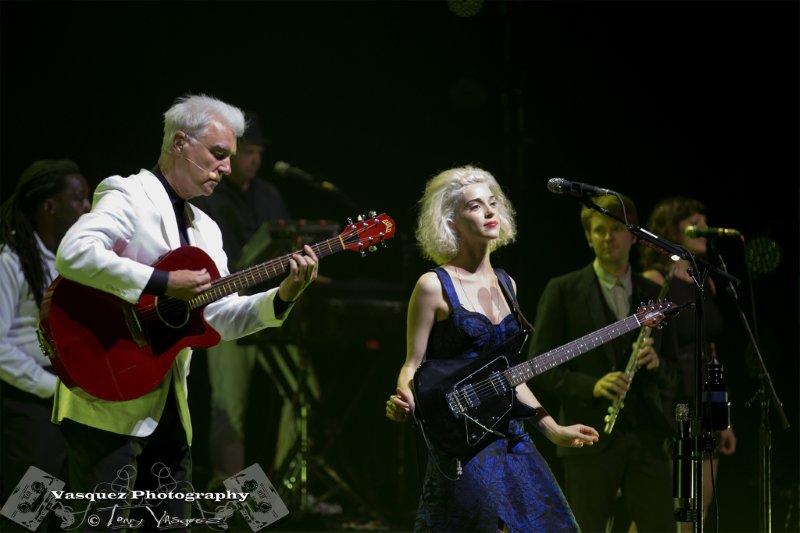 David Byrne & St. Vincent ~ Whitney Hall in Louisville, KY ~ July 2nd, 2013
I knew I was in for a special performance given the professional and artistic reputation of David Byrne, former lead member of the Talking Heads, and having seen Annie Clark's, a.k.a. St. Vincent's, shows before; but I was still blown away by their brilliant set at Whitney Hall in Louisville, KY. They opened the night with the horn-heavy "Who," the opening track from the collaborative album Love This Giant.
The set list was a healthy mix of St. Vincent's material including "Marrow," "Cheerleader," and "Northern Lights" along with tracks from the new album and a scattering of Byrne tunes which included "This Must Be The Place (Naive Melody)," "Burning Down The House," and "The Party / Road To Nowhere." They shared the stage throughout the night with Byrne hanging back at times and almost showcasing St. Vincent.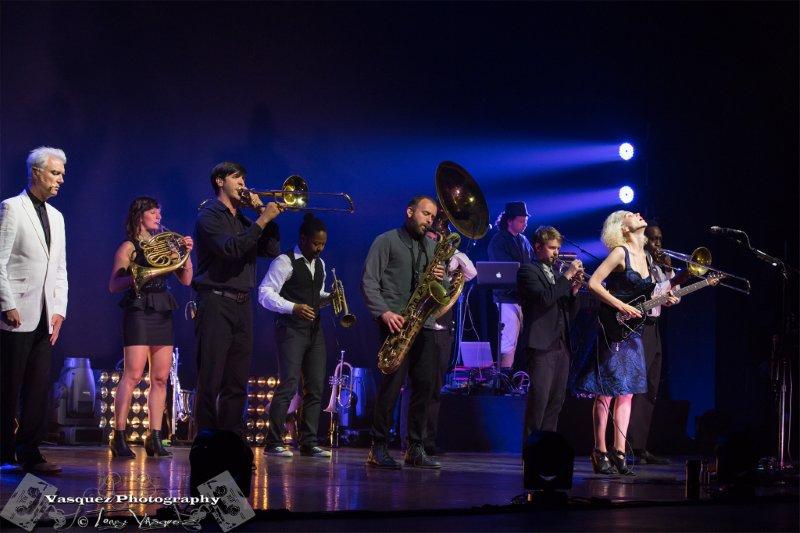 The night was a mix of choreographed steps, theatrics, and a tight brass section that accompanied both singers' distinctly different vocals. Byrne's quirky and whimsical dance moves were mirrored by St. Vincent and the backing band on several dance routines. Byrne's innate charisma combined perfectly with St. Vincent's unique electric guitar playing.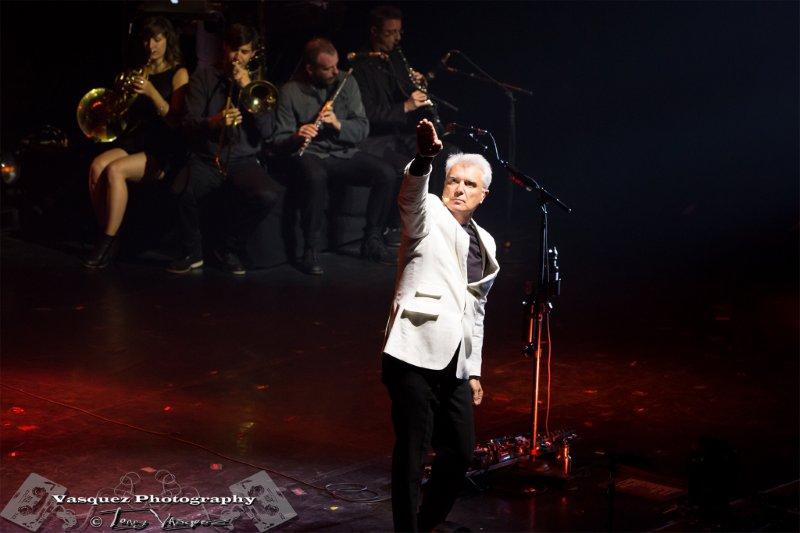 Byrne introduced "Outside Of Space & Time" by dedicating it to the Higgs boson particle. This particular song showcased the full, rich sound of The Brass Tactic. The encores and longer breaks in the music were handled with true stage theatrics, with the stage dimming while the musicians got into their positions for the next song.
St. Vincent shared the story of when she first discovered Byrne's music. When she was very young she watched the film Revenge of the Nerds and heard "Burning Down The House" for the first time. She spoke of how it moved and resonated with her and was one of the first moments of music inspiration she remembers. Though the two artists are from different eras, their year on the road together has made their stage chemistry gel into a sleek and polished performance.
Setlist: Who, Weekend In The Dust, Save Me From What I Want, Strange Overtones, I Am An Ape, Marrow, This Must Be The Place (Naive Melody), The Forest Awakes, Optimist, Like Humans Do, Lightning, Lazarus, Cheerleader, Lazy, I Should Watch TV, Northern Lights, The One Who Broke Your Heart, Outside Of Space & Time

Encore:
Cruel, Burning Down The House

Encore 2:
The Party, Road To Nowhere
Written & Photos by: Tony Vasquez
Edited by: Rosemary A.W. Roberts
Gallery: http://jamsplus.smugmug.com/TonyVasquezPhotography/David-Byrne/30338550_MnQfwZ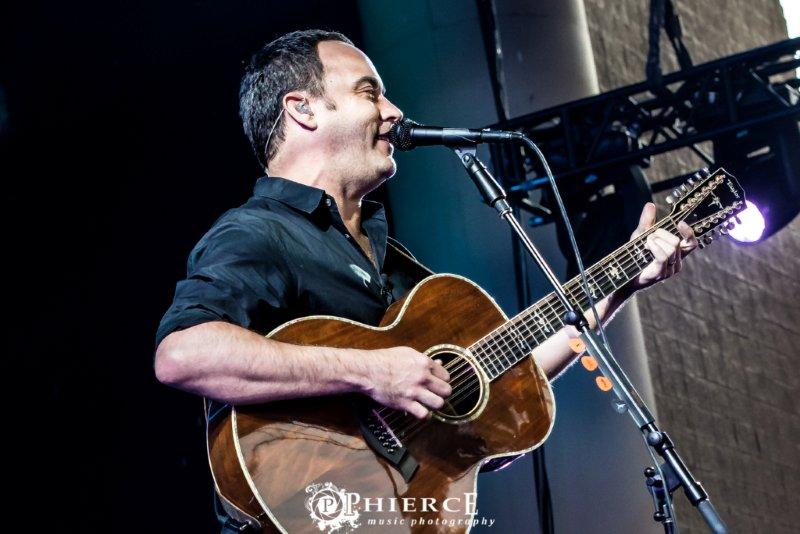 Dave Matthews Band--Klipsch Music Center—Noblesville, IN-- June 21, 2013
The last time I saw Dave Matthews Band in Indianapolis was 2009 when it rained and poured, but Dave came out on stage and gave his audience the show of their dreams anyways. On Friday, June 21 at Klipsch Music Center, dark clouds appeared to possibly be rolling in for another rainy show but instead we got lucky and beautiful weather delighted the night.
DMB is the only two-night run at Klipsch Music Center this summer and the campgrounds were bustled with rowdy day drinkers ready to make summer memories. The true DMB fans had their tickets ready for action both nights.
I now feel bad for ever saying I am going to see "Dave Matthews" without saying the "Band" at the end. Seeing them up close and live, it is clear how in-tune this seven-piece band is with one another. The layers of sounds are so well harmonized together. You can feel the energy of the music control the crowd.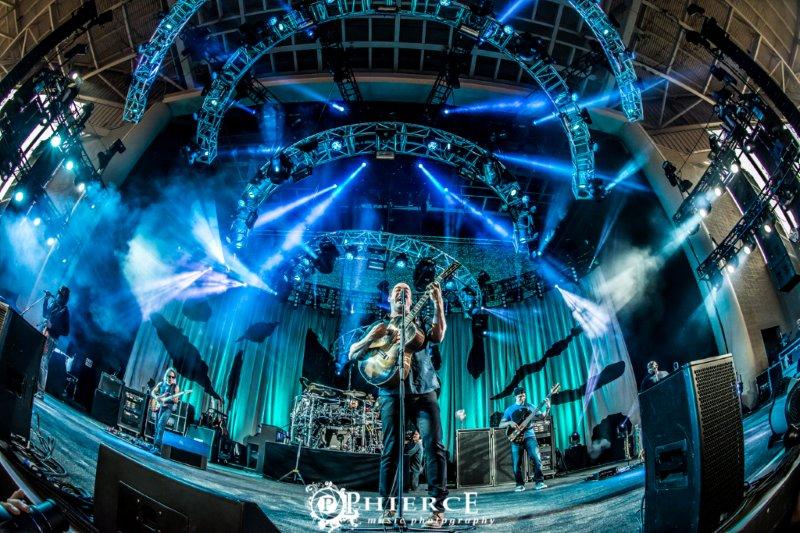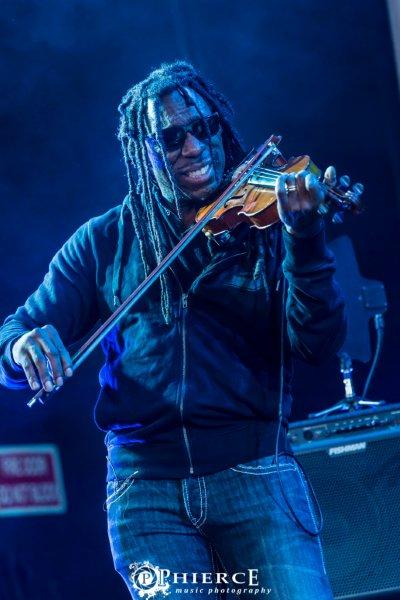 I was pleased when halfway through the set, I turned to my friend and said, "I wish he would play 'Crash Into Me.'" Then after an instrument switch out, he began singing what is probably one of the most elegant sex songs made. I was ecstatic because there was the chance he would play it Saturday instead. (Although Saturday's set list included "Crush," my other DMB favorite).
My favorite instrument solo was Rashawn Ross on the trumpet after the song "Squirm." Dave jammed on the guitar and then Ross belted back and reminded me that trumpets are beautiful instruments too.
The encore brought "Sister," "The Best of What's Around," and finally ended with "Ants Marching." Being one of those bands with tour followers, they had an entire choir from the audience as his back-up singers. Everyone knew when to fist pump in synchronicity and everyone sang along in bliss all night.
Written by: Lacy Bursick
Photos by: Keith Griner - MORE PHOTOS HERE
Edited by: Rosemary A.W. Roberts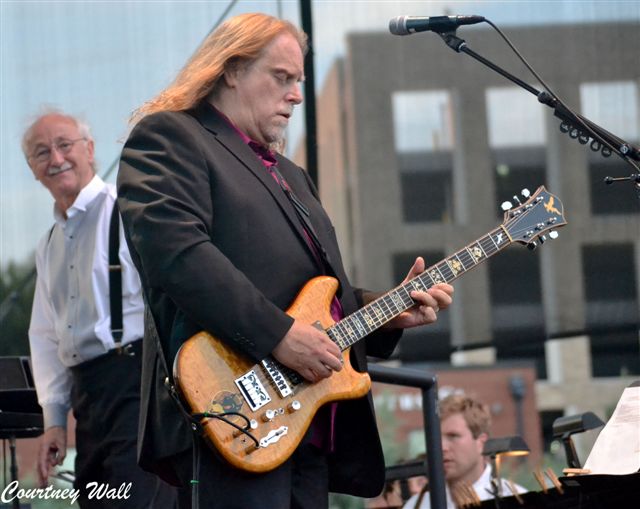 Jerry Garcia Symphonic Celebration featuring Warren Haynes
Thursday, June 20, 2013 at Red Hat Amphitheater, Raleigh, NC
On a beautiful night in Downtown Raleigh, NC, Jerry Garcia's guitar "Wolf" had life again. Warren Haynes played Garcia's guitar tonight and was accompanied by the North Carolina Symphony in the Jerry Garcia Symphonic Celebration at the Red Hat Amphitheater. The symphony, conducted by Albert-George Schram, who normally conducts the Columbus and Charlotte Symphonies, was a beautiful addition to the music of Jerry Garcia. Warren Haynes was joined by Jeff Sipe (Drums, Aquarium Rescue Unit), Lincoln Schleifer (Bass), Alecia Chakour (Background Vocals, Warren Haynes Band), Jasmine Muhammad (Background Vocals, Pittsburg Opera), and of course Conductor Schram and the NC Symphony.
The first set started with "Dark Star Orchestra," which seemed a likely choice to start one of the sets. They quickly moved into "Bird Song", which really highlighted the backing vocals from Chakour and Muhammad right from the beginning of the show. The next song, "Crazy Fingers," was slow and has a Caribbean theme. The jam between "Crazy Fingers" and "Scarlet Begonias" was very reminiscent of the Grateful Dead. They next played a very funky version of "Shakedown Street," which had a very playful intro into this song for several minutes. Warren had some great jams in this song that Jerry would have been very proud of. They then played "Standing on the Moon," which is a very soulful song, and then "China Cat Sunflower." There was an orchestral solo at the end of the song and they quickly moved into the last song of the first set, "Morning Dew." This was such a great song to have closed the set, with such a powerful build. When I think of a crescendo, I immediately think about an orchestra and how powerful this sounds with several dozen instruments of various types building up the intensity and energy. Close to the peak of the build, a train came and blew its whistle, which seemed to energize the crowd even further, and the crowd quickly screamed back in unison at the train. At the end of the song, Warren hugged the conductor and they walked off the stage together.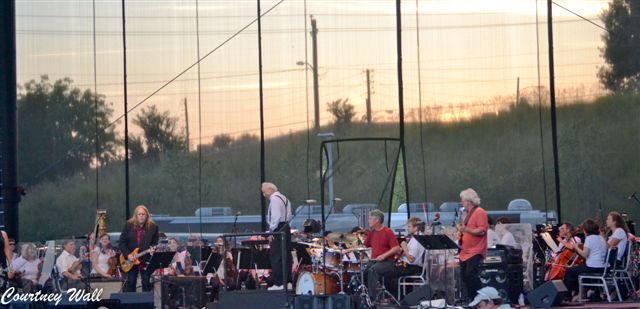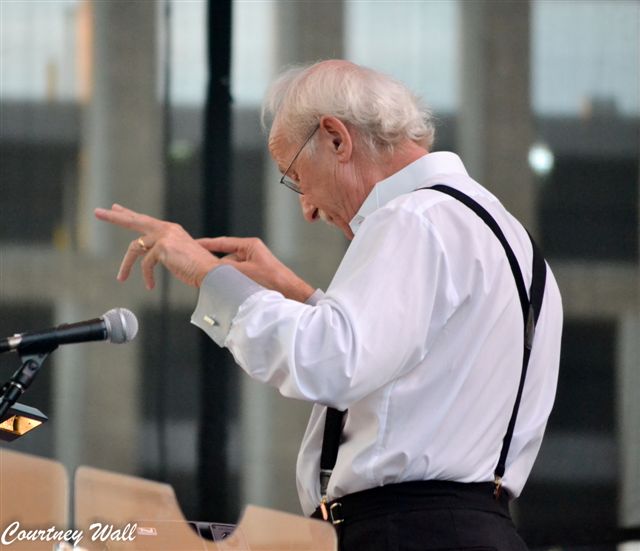 The second set started with "Mission in the Rain" and then was followed by a captivating version of "High Time." They then played the slow and bluesy "Black Peter", which had Warren on the slide. The next section included "Uncle John's Band," "West LA Fade Away," "If I Had the World to Give," followed by a short drum solo. All of these songs were very smooth and slower versions, which worked well with the orchestra. The final song of the second set was "Terrapin Station." This was by far the best song of the night and I really enjoyed hearing this song with the symphony backing. The song included a Slipknot teaser section in the middle. As they went back into Terrapin, it became a completely instrumental version with the background singers chanting "Terrapin" over and over. The build in this song was reminiscent of the build in "Morning Dew" in the first set and was so hauntingly beautiful that it brought a tear to many eyes in the audience. The encore included a Warren Haynes tune called "Patchwork Quilt," which is a song that honors the life and music of Jerry Garcia. Before the song, Warren told the crowd that he was honored to be part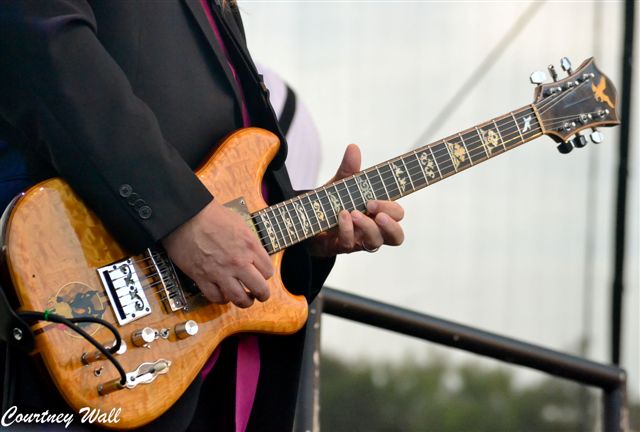 the first musician to be asked to take part in this celebration, which was organized by the Jerry Garcia Foundation. The show ended with "Stella Blue" with the lyrics "and when you hear that song come crying like the wind it seems like all this life was just a dream." It somewhat felt like a dream in Raleigh tonight listening to the music of Jerry Garcia played by Warren Haynes and backed by the North Carolina Symphony.
Written and Edited by: Kerr Wall
Photos by: Courtney Wall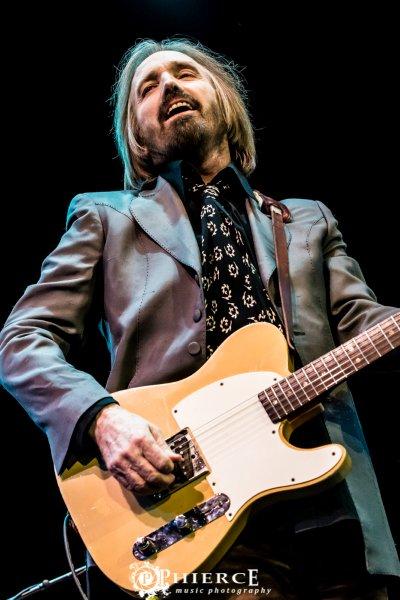 Tom Petty and The Heartbreakers- Klipsch Music Center- Noblesville IN- 6/15/2013
Tom Petty and The Heartbreakers brought their countless hits to a record setting crowd at Klipsch Music Center June 15, 2013. Promoting their new album titled Mojo, and promising a good time right out the gates, the boys made sure not to skip a beat from 1978 to 2013. It has to be a great feeling to have teenagers and folks even older than you belting out your lyrics at the top of their lungs decades after writing them, and it has to be an even better feeling when the same folks even belt out the new stuff.
Opening the night with the Byrds classic "So You Want To Be A Rock'n Roll Star" let everyone brace themselves for what was in store. Throughout the night Tom let the crowd know how much he loved playing in Indiana; after the first shout out leading into "Mary Jane's Last Dance" you could not help but believe him. Tom showcased his new album early in the set with "Good Enough". The lawn was meant for a Petty concert, strangers hugging each other out of pure joy and the most epic lighters-in-air moment courtesy of "Free Fallin".
Tom Petty gave almost a sermon in between songs with one of the best one-liners being "If you miss the 70s and 80s, it is okay", which led into "Listen To Her Heart". The fans that were in the audience could not help but leave feeling like Tom Petty and the Heartbreakers touched all the bases before heading home, even touching the Traveling Wilburys album with their version of "Tweeter and the Monkey Man". For the skeptic in the audience who was looking for one out of left field, the boys brought to the plate a special rendition of "Melinda", with "Learning to Fly" allowing everyone to have one arm around the person next to them and the other arm with their lighter in the air.
The sun provided the perfect weather and the moon the perfect backdrop. The set ended with Tom telling you that it is all right to not live your life like a "Refugee". When Tom and the boys came out for the encore the half moon that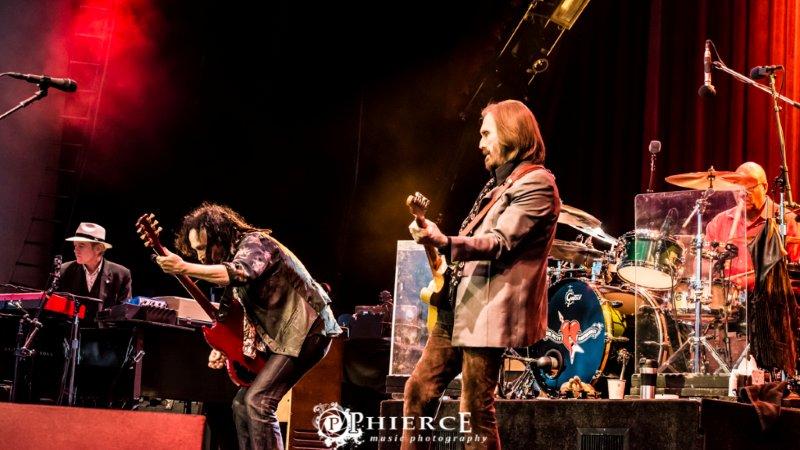 hung since the sun went down must have gotten the cue because not a cloud was in the sky until the first few chords of "Don't Come Around Here No More"; as if it was scripted, away went the moon. Legendary rockers Tom Petty and The Heartbreakers provided an incredible evening of music, with time to revel in the past, enjoy the present, and look ahead to a bright future.
Written By: Tyler Muir
Photos By Keith Griner ~ MORE PHOTOS HERE
Edited By: Rosemary A.W. Roberts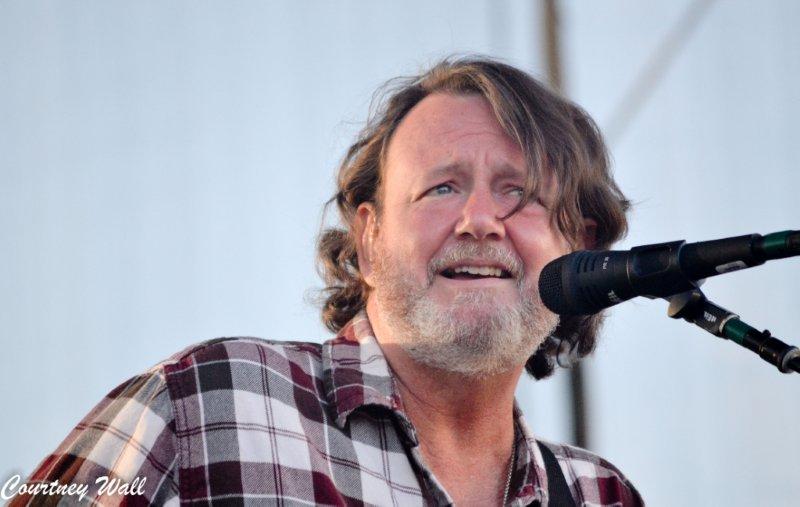 Widespread Panic, June 9th, 2013 at Redhat Amphitheater, Raleigh, NC
What a beautiful day for a Widespread Panic show. In Raleigh, the rain had finally stopped from Tropical Storm Andrea, which had moved through the area the previous few days and brought several inches of rain. When there are several days of built up energy from fans, you expect either a great show or at least a great crowd. Widespread Panic more than delivered, and as fans left the venue after the show, the outro music by The Gap Band flooded the streets of downtown Raleigh with "You Dropped A Bomb On Me." Widespread Panic definitely "dropped a bomb" this evening and the 3 and a half hour show incorporated songs from nearly every album that spans 30 years of studio work and relentless touring.
The first set started with the John Lennon song, "The Ballad of John and Yoko." This was a great song and I'm glad I finally heard this since they started playing it over a year ago. The band next moved to "From the Cradle" (Earth to America, 2006) and then "Bust It Big" (Night of Joy, 2004). Both of these songs were pretty dark and "From the Cradle" was perfectly placed considering the lyrics "Broke and soaking wet, floating around", could easily describe all of the rain we had in the Raleigh area the previous week. JoJo Hermann sung and commanded "Bust it Big" with a lot of help from many dark Jimmy Herring jams and then the band gracefully segued into "Henry Parsons Died" (Everyday, 1993).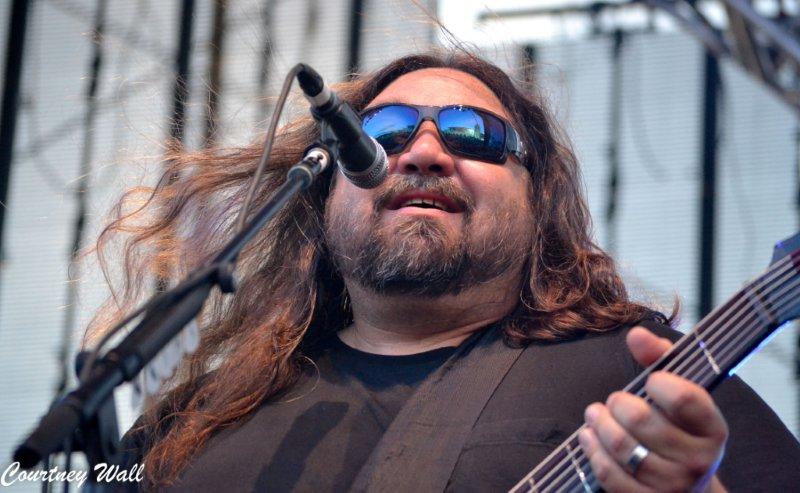 The next section included "Little Lilly" (Don't Tell the Band, 2001) > "Cotton Was King" (Dirty Side Down, 2010), and "Tail Dragger" (Wood, 2012). "Little Lilly" is a very uplifting song and Herring had a very nice Houser sound in the jam. During this section the band turned on the new light show and video screen that began displaying images, usually related to the songs. The first image was a picture of a cotton ball surrounded by fire as they started "Cotton Was King," which had a fantastic keyboard jam from JoJo. "Tail Dragger" is a very bluesy song with great Herring blues licks throughout. The final section of the first set included "Driving Song" (Space Wrangler, 1988) with "Down" (Don't Tell the Band, 2001) sandwiched in between. Pictures of leaves filled the screen during "Driving Song" to represent the first line of the song - "the leaves seen through my window pane remind me that it's time to move my life again." "Holden Oversoul" (Space Wrangler, 1988) closed the set and it was a great version, although it could have been jammed a little longer. Really great first set!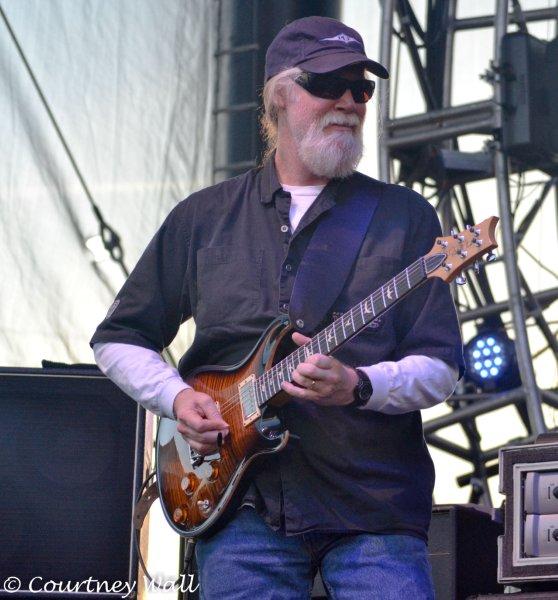 The 2nd Set started off with "Ain't Life Grand" (Ain't Life Grand, 1994) with John Bell (JB) on the mandolin. Such a great song to start a set and it had the crowd dancing and singing. The band next went into the Bob Dylan tune "Fixin' To Die" and then "Up All Night" (Free Somehow, 2008). "Up All Night" had some great synthesizer play from JoJo intertwined with some very melodic and patient groves from Jimmy. This jam was very Dead sounding and I could have listened to this jam for much longer, but sadly they brought the song back around and ended it.
The next section included a powerful set of songs "Rebirtha" (Bombs & Butterflies, 1997) > "Greta" (Bombs & Butterflies, 1997) > "Stop-Go" (Space Wrangler, 1988). For me, this was the best part of the night. The funk from "Rebirtha" was incredible and jaw dropping. Herring's solo was beautiful and things got real quiet and then JoJo started a very rhythmic organ sound and then the funk ensued. Dave Schools started a pretty dirty bass line with nice backup licks from Herring. The segue into "Greta" and the middle jam were very spacey and the bass solo from Dave Schools in the middle of "Stop-Go" was his best work of the night, with him really strumming the guitar. The song ended with a vocal piece of the Bob Marley tune "3 Little Birds," which is always a wonderful treat during this song. I have to say that the most improved member of the band from the last time I saw them nearly 2 years ago was Herring, who is much more patient and respectful with his jams and solos.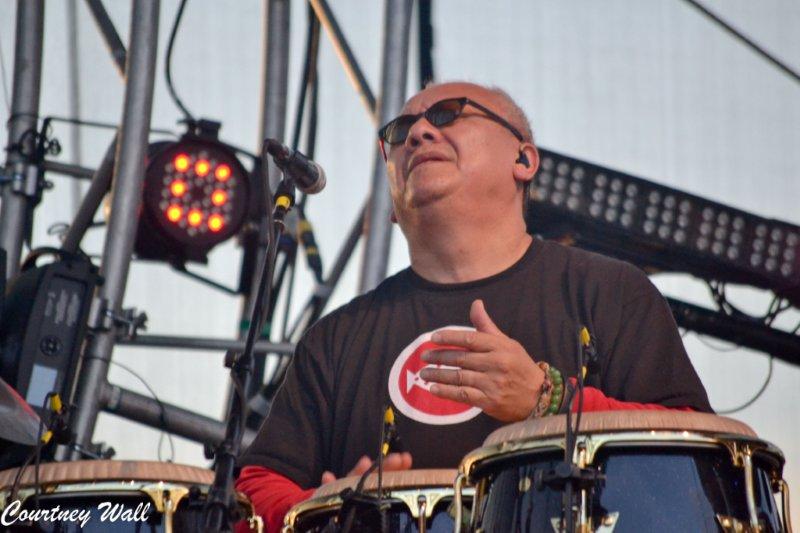 The next section included "Walkin' (For Your Love)" (Widespread Panic, 1991) > "Arleen" (Riley) > "Papa's Home" (Everyday, 1993). We got stop about halfway through "Walkin'", which is always great, but the best part of the song was the jam out into "Arleen." The middle section of "Papa's" was fantastic and this whole section is why you come to Widespread Panic. If you don't like the songs and more importantly, don't like the jams in these songs, you probably won't come back to see Panic. "Arleen" began at exactly 10:13 EST, which the band did several times when Mikey was still alive but not sure if they have done this with Jimmy. The line from "Arleen" is "Well I get up every morning about 10:13, Six pack of stout, and a stick of sensi." I definitely heard "LA Woman" teases before they dropped into "Arleen." This was also one of the better "Papa's" that I've heard live over the years. The 2nd set closed with the Jerry Joseph tune "Chainsaw City."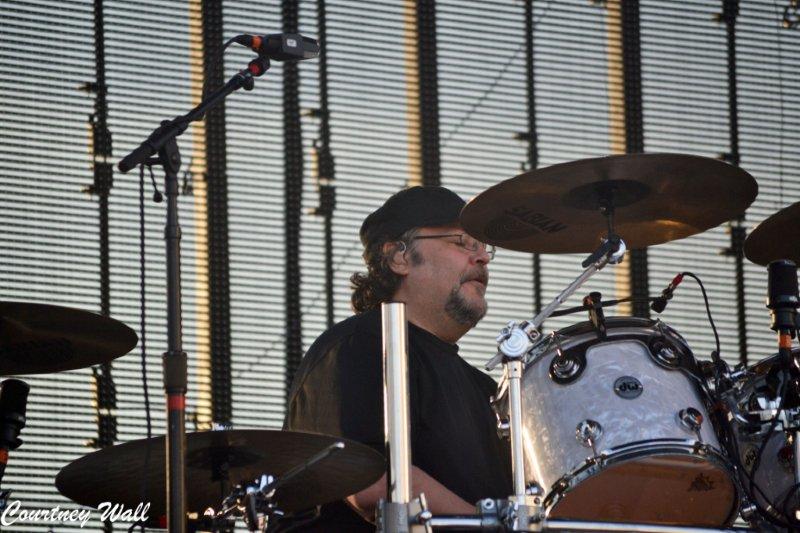 The band encored "Can't Get High" (Ain't Life Grand) and "Can't Find My Way Home" (Steve Windwood). As I stated earlier, the outro music leaving the venue was "You Dropped A Bomb On Me" (The Gap Band, 1982) and Widespread Panic definitely "dropped a bomb" on Raleigh June 8, 2013. Great show!!!
Setlist

Set 1: The Ballad of John and Yoko, From the Cradle, Bust It Big > Henry Parsons Died, Little Lilly > Cotton Was King, Tail Dragger, Driving Song > Down > Driving Song, Holden Oversoul (66 minutes)

Set 2: Ain't Life Grand, Fixin' To Die, Up All Night, Rebirtha > Greta > Stop-Go*, Walkin' (For Your Love) > Arleen > Papa's Home, Chainsaw City (88 minutes)

Encore: Can't Get High, Can't Find My Way Home (9 minutes)

Notes: *w/Three Little Birds rap
Written By: Kerr Wall
Photos By: Courtney Wall
Edited By: Rosemary A.W. Roberts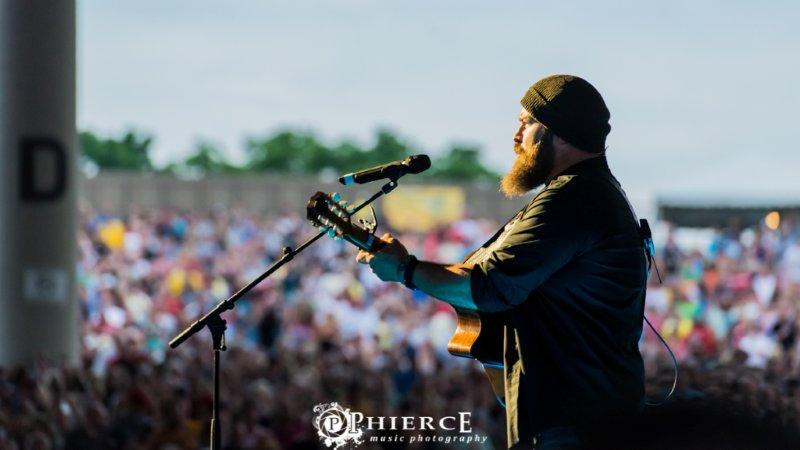 Zac Brown Band / Blackberry Smoke / The Upright Willies—Klipsch Music Center—Noblesville, IN—06/09/2013
The forecast called for a chance of rain Sunday June 9th, 2013, but it did not seem to bother anyone who showed up at the Klipsch Music Center that day. From the time the gates opened, The Upright Willies had everyone in ear shot dancing to their favorite classic songs from pop culture; "Wagon Wheel" seemed to be one song they covered that had everyone feeling the groove. Spirits were high the entire night and anticipation was building for the evening's main event.
The music venue was completely packed, and you could tell everyone was there to have a good time. So many smiles and friendly faces abounded, you would have thought many of these folks were having the best day of their lives. The lawn and pavillion areas were both full, along with all the concession areas. It was great seeing such a diverse crowd, and they were all sharing in that universal thing we call fun.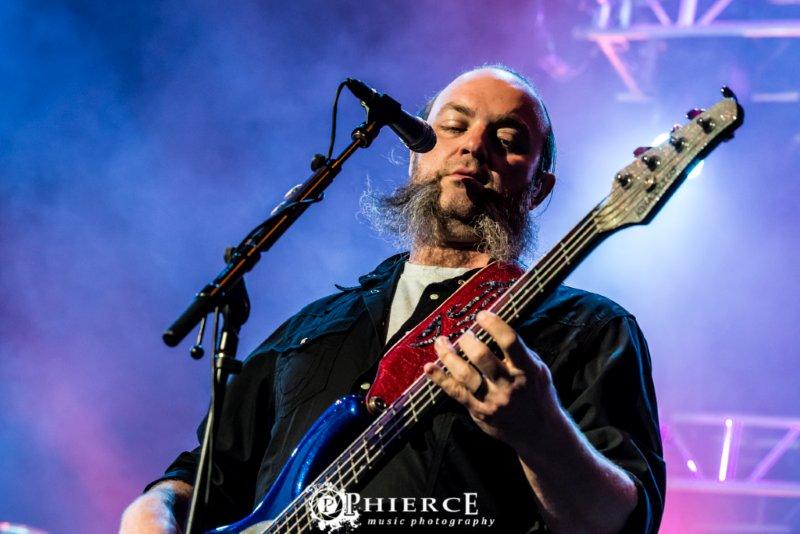 While the Upright Willies were playing a small stage up by the gates to keep the crowd happy, Blackberry Smoke was the first band to take the main stage. Promoting their newest album The Whippoorwill, Blackberry Smoke came out to represent. If you have not heard the album, please check it out; it is solid from start to finish, which is rare in today's music industry. My favorite song off the new album is "Sleeping Dog", and when they lead into the Allman Brothers Band classic "Midnight Rider" in the middle of it, I was in heaven. One song off their album that sticks with me the most is "One Horse Town", and I was happy they played it so well that night. Although they've been together since 2000, Blackberry Smoke's stage presence evokes the feeling that they have been around for decades, and their lyrics are insightful. The woman sitting next to me had brought her friend and granddaughter, who was so little that she stood on her chair to see. Security saw this and actually had the heart to let her stand closer to the stage where she had perfect viewing: this story sums up all the awesome vibes I experienced this night.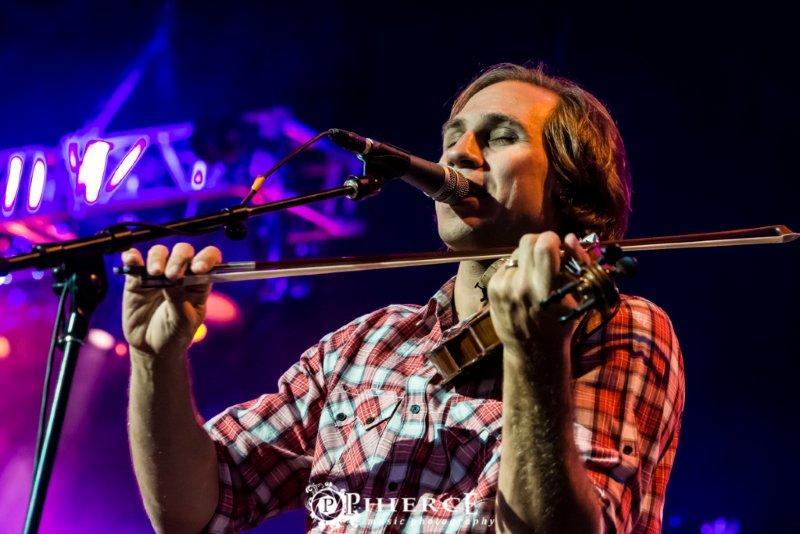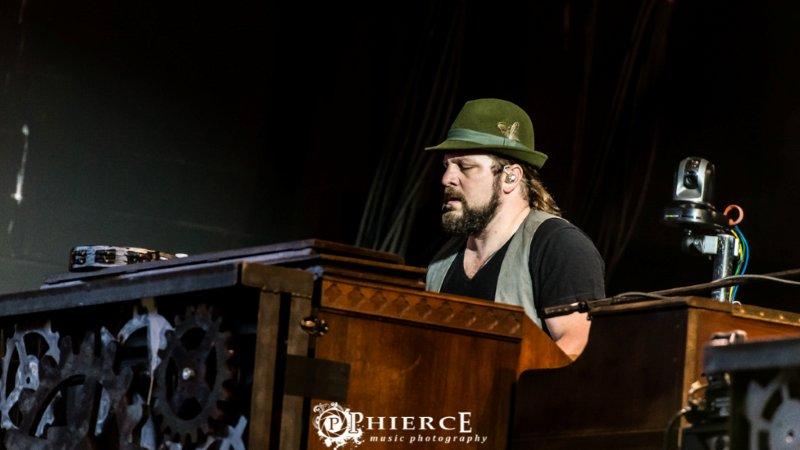 After a short intermission the great Zac Brown Band took the stage. If you do not know much about them please do some research; Zac Brown has his own charity which, in my opinion, is genuinely one of the best in the country. CampSouthernGround.org is what initially gave me respect for the man and he puts a lot of hard work into it. Of course, the countless hit songs this band creates are what bring so many people to their concerts. The lighthearted flavor of songs like "Jump Right In" and "A Different Kind of Fine" is balanced by the beautiful vocal harmonies in songs like "As She's Walking Away" and "Natural Disaster". Zac Brown Band is not only great in the studio, but these guys also know how to perform a fantastic live show, and it's often the covers that cause people to almost jump out of their skin. The Noblesville show featured Van Morrison's "Into The Mystic", Dave Matthews Band's "Ants Marching", and acoustic versions of Steve Young's "Seven Bridges Road" and David Gray's "Babylon". Later on in the encore, Led Zeppelin's "Kashmir" had everyone giving high fives to strangers all around, while The Charlie Daniels' Band's "The Devil Went Down To Georgia" caused everyone to do the do-si-do all while having boot stomping fun. Family truly seems to be a theme Zac Brown portrays, and it made me feel good to be part of such a family environment that night.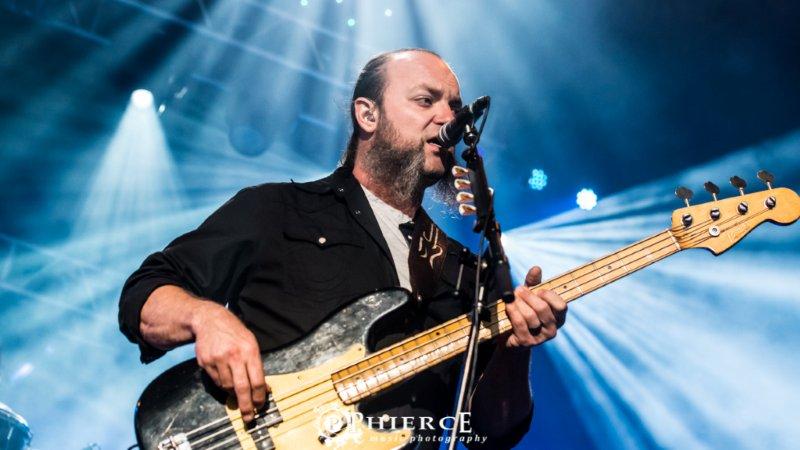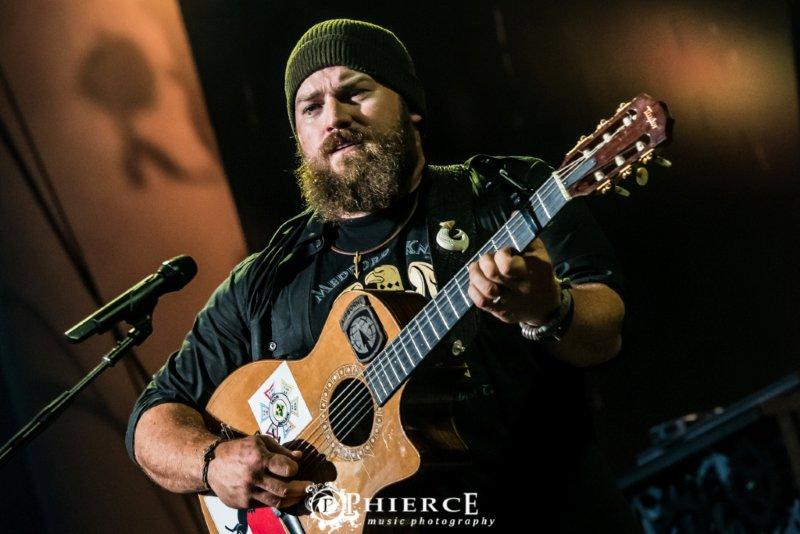 Written By: Tyler Muir
Photos By: Keith Griner - MORE PHOTOS HERE
Edited By: Rosemary A.W. Roberts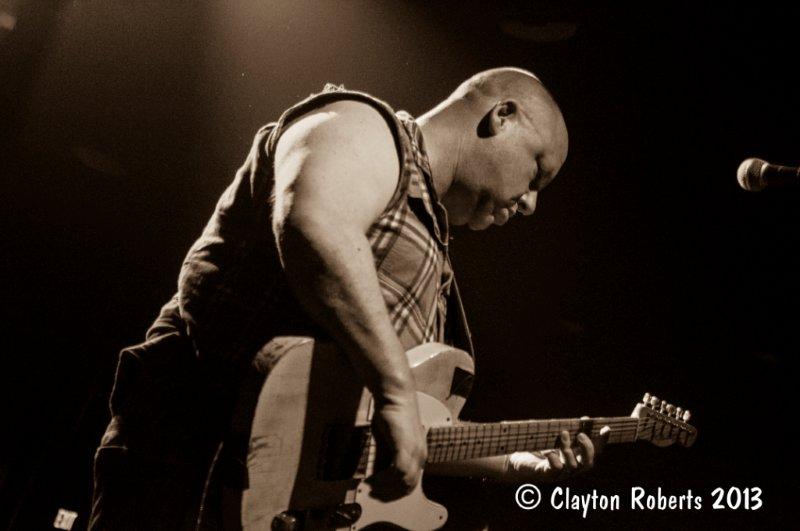 Black Francis / Reid Paley / BROOKS–Vinyl Music Hall—Pensacola, FL—05/07/2013
A Tuesday night concert can be tough to swing, but being a longtime fan of Frank Black and The Pixies gave me an undeniable reason to travel to Vinyl Music Hall on May 7, 2013. Headliner Black Francis, aka Frank Black, was playing for the first time in Pensacola, FL; and a crowd of punk enthusiasts and Pixies fans gathered for the show. Opening act BROOKS (Brooks Hubbard III) brought his unique one-man-band stylings to the stage, with his electric guitar equipped with a Sonic Clamp holding his iPhone. The ingenious device he invented (www.sonicclamp.com) gives Brooks easy access to a wide array of effects that he manipulates to create a full-rounded band sound. In addition to the instrumentation, Brooks makes use of beatboxing skills and some wicked vocal effects, and he delivers a wide range of styles, from ethereal sounding pleasantries to dance-rock vibes. Originally from Gulfport, MS, Brooks is definitely an entertaining musician to keep an eye out for; his set was energetic and enlivening.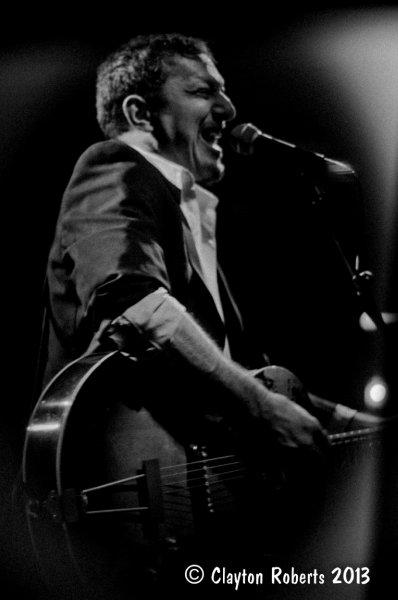 Next up was avant-garde Brooklyn, NY rocker Reid Paley, who strolled onstage in a slick black suit. He tuned up his gorgeous guitar (a Gretsch, I believe), and launched into his solo set. Opening with "See You Again", I was immediately struck by how powerfully Reid Paley's deep growling voice commands attention. With an edge of darkness, tunes like "The Anesthetist's Song" and "Better Days" display a talent for songwriting that captures the baseness of human nature. "Lucky's Tune" and "Lazarus in Brooklyn" were particularly rockin', and "Take What You Want" was a hard driving set closer. With an assured swagger and minimalist sound, Reid Paley provided a strong and solid segue into the main event.
When Black Francis arrived onstage with guitar case in arm, the crowd gave a warmly raucous welcome, and "Bullet" (Frank Black & The Catholics) was first out of the gun. With full understanding of what many fans hold in high regard, The Pixies' "Wave of Mutilation" was played next, as everyone in the room joined Black Francis to sing this punk anthem. Black's solo performance, just him and his guitar, spanned his vast repertoire, and included something for every fan. Frank Black songs like "(I Want To Live on an) Abstract Plain" and "Headache" were explored with fluid precision, with his unmistakable voice loud and proud. Hearing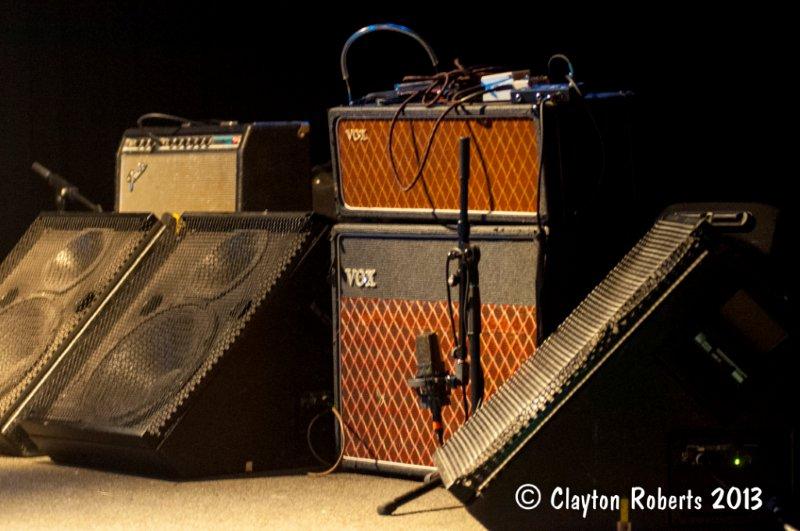 "Where Is My Mind?" (The Pixies) made it hit home that we were in the presence of one of alternative rock's pioneers, and other Pixies selections like "All Around The World", "Caribou", and "Mr. Grieves" kept the audience moving and reveling in abandon. Even solo, Black Francis brought power and urgency to "Six-Sixty-Six" (Frank Black & The Catholics) and "Los Angeles" (Frank Black). There were cover songs that Black absolutely transforms into his own unapologetic style, notably Tom Waits' "Black Rider", and Gary Green's "That Burnt Out Rock and Roll". Some of my favorite show moments were "Monkey Gone To Heaven" and "Gouge Away" off the Pixies' 1989 album Doolittle, which was an album that got lots of play in my mid-90s college days, and still is often visited for a raging listening session. Black donned a harmonica for additional accompaniment for "She Took All the Money" (Black Francis), and his song "You Can't Break a Heart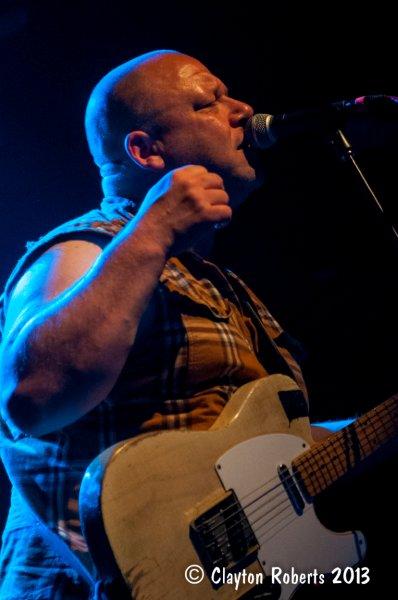 and Have It" came off well. The Pixies' classic "Velouria" was beautiful, providing a subtle sentiment in the midst of an ocean of intensity.
All in all, this was an evening fully infused with everything your alt-punk heart could desire. And perhaps having the music delivered by solo performers further emphasized the "alternative" flavor. Brooks gave us one interpretation, using loops and technology to fill the space. In contrast, Reid Paley and Black Francis demonstrated that music stripped down to its essence is raw and naked. And a little bit of both sides of the coin makes for an intriguing adventure. To continue the adventure, check out the audio interview that Clayton Roberts conducted with Black Francis, which is accessible at www.jamsplus.com/interviews .
Written and edited by: Rosemary A.W. Roberts
Photos By: Clayton Roberts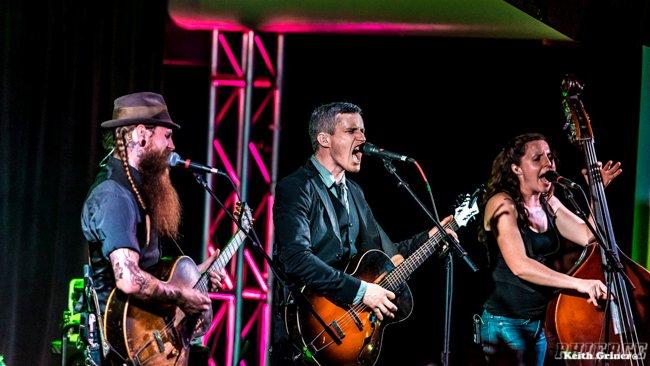 The Devil Makes Three—The Deluxe in the Old National Centre—Indianapolis, IN—04/25/2013
A devilish night was had by all in attendance April 25th at The Deluxe in The Old National Centre. The Devil Makes Three (DMT) brought their traveling old-time bluegrass roadshow to Indianapolis, Indiana and they did not disappoint. I have never witnessed so much ball room, salsa, and swing dancing amongst those in the crowd at a bluegrass show as I did during DMT. After selling out their last appearance in Indianapolis, DMT made sure this time around not only would there be enough room for everyone, but everyone would have enough room to dance.
Pete Bernhard, Lucia Turino, and Cooper McBean make up the fiendish trio, but if you're a guy like myself, it will be hard to take your eyes off Lucia Turino to pay attention to the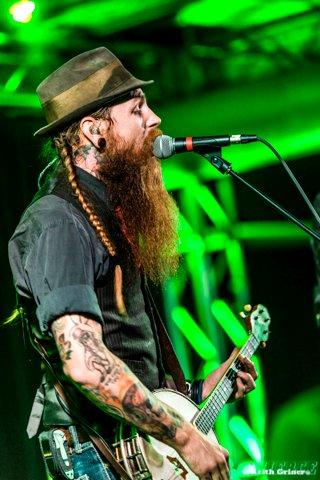 other two. I have never seen a musician make love to their instrument while playing it on stage as Lucia does her stand-up bass. From her facial expressions to her no-look hip thrusts, just watching her masterfully play her instrument is worth the price of admission. Throw in Cooper leading with banjo and Pete on guitar and they have something for everyone.
DMT brings out one of the most diverse crowds in any scene today. Gays, lesbians, hipsters, tricksters, hippies, straight-edgers, punk rockers, senior citizens, and lumberjacks were just some of the stereotypes I found walking by, while the wife and I sat on a big red comfy couch out in the beautiful lobby of The Deluxe. That, folks, is how you know the band is great, because they are reaching all types of people! "The times they are a changing" is a famous Dylan album, but after attending the DMT show Thursday I believe in Dylan's idea.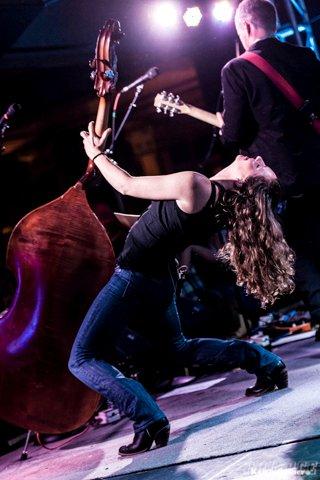 The DMT library is full of instant classics and their depth keeps growing with each song they create. "Old Number 7" is a drinking classic of theirs that got the house praising their favorite liquor while "Black Irish" let those in audience know what DMT is all about if they did not already. Download a DMT album today if you do not have one yet; they are bringing back that old Vaudeville style music and everyone should support music that leads. If you are in the Midwest and can catch a show in The Theater, Egyptian Room, or the Deluxe at the Old National Centre please do so; any one of these three rooms in the Centre is a great place to see a show.
Written by: Tyler Muir
Photos by: Keith Griner - More Photos Here
Edited by: Rosemary A.W. Roberts

Royal Southern Brotherhood—Soul Kitchen Music Hall—Mobile, AL—RECORD STORE DAY 04/20/2013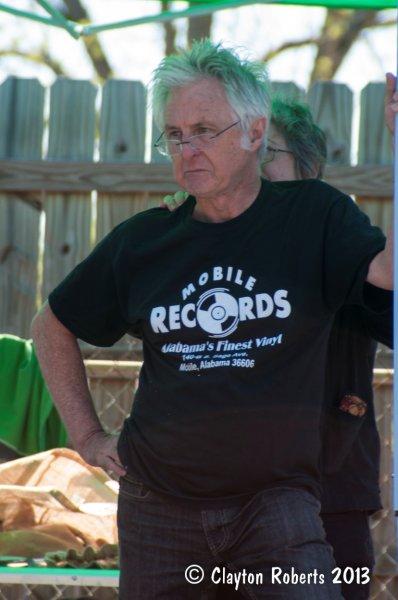 Since 2007, the third Saturday in April is celebrated by music lovers everywhere as Record Store Day, when special edition vinyl (and CD) releases are often accompanied by games, promotions, and sometimes live music. On Record Store Day 2013, Mobile Records and store owner Keith Glass provided quite a remarkable day for Mobile, with stacks of fresh vinyl, vintage vinyl, and live music outside in the gorgeous sunshine. To open the musical showcase, local Mobile band The Volks kicked things off right. The band mates may be young, but their style seems to reach into an older time, with a 1950s and 60s flavor and a strong British rock influence; they were excellent! Other great performances were given by The Hillbilly Hobo, The Sunshine Factory, and 20,000 Leagues Under the Sea.
The afternoon was also highlighted with a special appearance by members of Royal Southern Brotherhood, who would be playing at the Soul Kitchen later that night. Mike Zito (guitar), Cyril Neville (percussion), and Devon Allman (guitar) brought their instruments and voices to Mobile Records, playing a short but sweet sit-down-and-groove set. It was great seeing these guys browse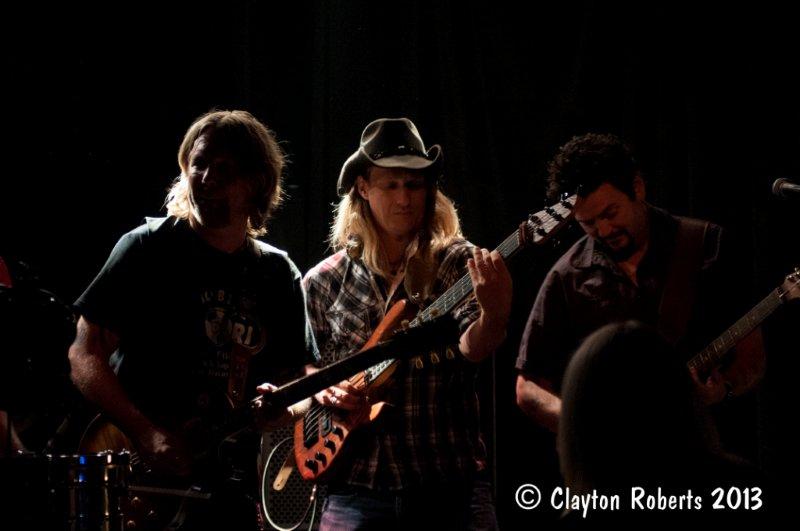 the shop for a bit, greeting fans kindly, and giving us a foretaste of what we could look forward to that evening.
In the front room of the new and improved Soul Kitchen Music Hall, things got heated up righteously when Royal Southern Brotherhood opened their set with the scorching "Fired Up!", enticing the crowd to gather around the stage and dance to the Latin flavor. Mike Zito led the vocals on "Hurts My Heart", with a sway-friendly melody. "Moonlight Over the Mississippi" sounded sultry, with Cyril Neville driving the percussion, and singing with heart and soul. One of my favorite qualities of this band is the versatility obtained by having so many talented vocalists in the mix. Devon Allman provided his expressive deep vocals for "Left My Heart In Memphis",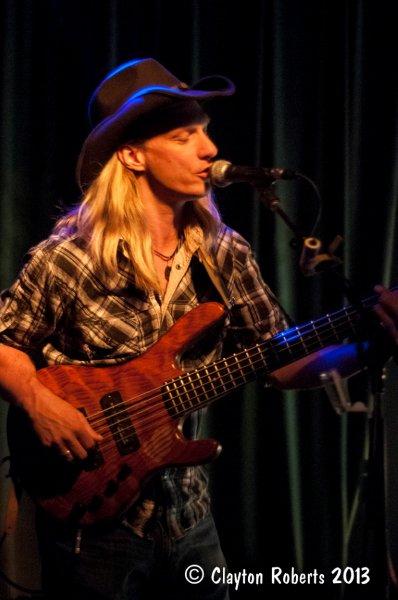 quite a lovely song.
Of course, along with the gorgeous voices, there's plenty of instrumental prowess throughout Royal Southern Brotherhood. Cyril Neville's percussion weaves and intertwines with the drums of Yonrico Scott providing a pleasant depth of sound. About two-thirds through the set, Yonrico and bassist Charlie Wooton took some time to jam out, with rhythm circulating through the room. The dual-attack guitars of Devon Allman and Mike Zito are in a constant state of delicious interplay, and they are both fluent and melodic guitarists, a pleasure to hear and see. The band truly works well together, allowing them to deliver a splendid version of "Fire On the Mountain" (Grateful Dead) that will definitely get you moving. "Sweet Jelly Donut" was lots of fun, and kept the crowd dancing; in fact, I think we were all dancing all night; it was certainly that kind of show!
To close out the encore, the band tipped their hat to Devon's father, Gregg Allman, when they covered "One Way Out" by the Allman Brothers Band. And they sure did it right, and the crowd joined in, singing "…Might be your man, I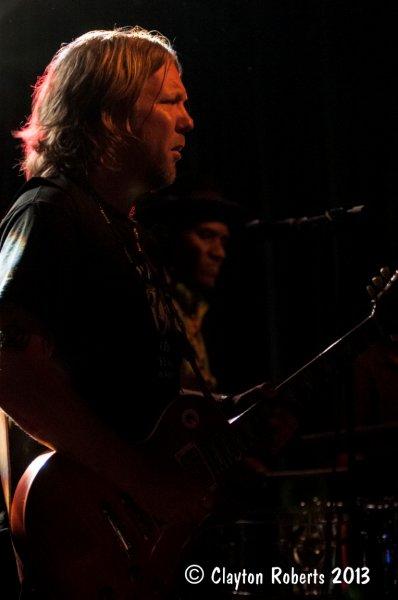 don't know!" loud and proud. It was such a high-intensity, enjoyable evening that we were all left wanting more. Royal Southern Brotherhood are a band I would recommend everyone checking out; they're touring quite extensively this year, go to http://www.royalsouthernbrotherhood.com/tour-dates/
And look for a show near you! As always, our thanks to the Soul Kitchen Music Hall for bringing such great music to Mobile!
Written and Edited By: Rosemary A.W. Roberts
Photos By: Clayton Roberts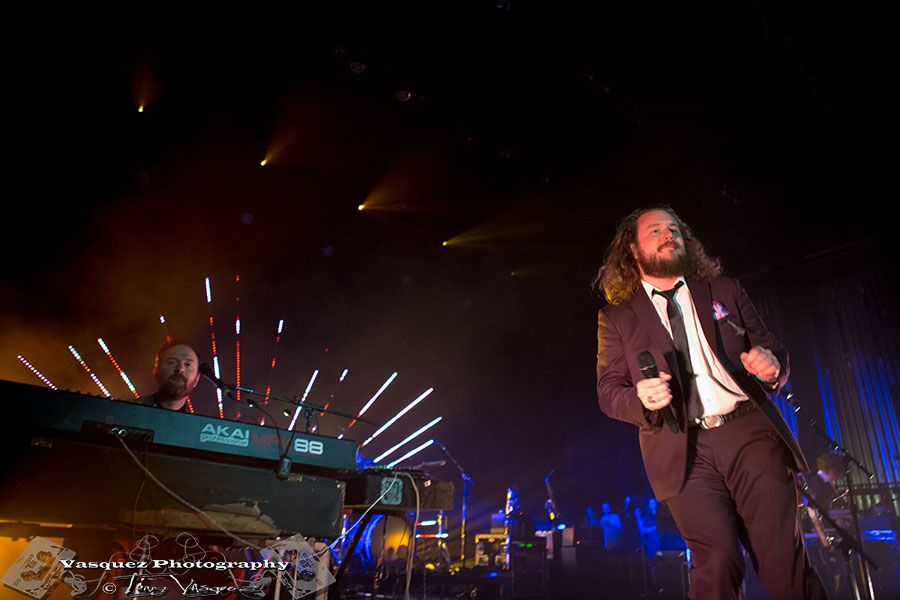 Jim James/ Cold Sparks ~ The Brown Theatre- Louisville, KY ~ 04/17/2013
The historic Brown Theatre in Downtown Louisville, Kentucky provided the perfect setting Wednesday night for Jim James' sold-out hometown concert. Though James is typically associated with his widely popular band My Morning Jacket, this show kicked off the tour for his new solo venture. Despite the theatre being filled to capacity there was not a bad seat in the stadium-style venue. This lavishly restored theatre features modern updates, ornate beauty, and perfect acoustics for enjoying live performances.
James performed the entire new album Regions of Light and Sound of God with a backing band of four members, including Louisville musicians Kevin Ratterman and Dave Givan. Ratterman (keyboards and guitar) has worked with My Morning Jacket in the past, helping with the engineering on the Circuital record. Givan, an old childhood friend, was featured on percussion and executed a solo that excited the crowd and drew an explosive response.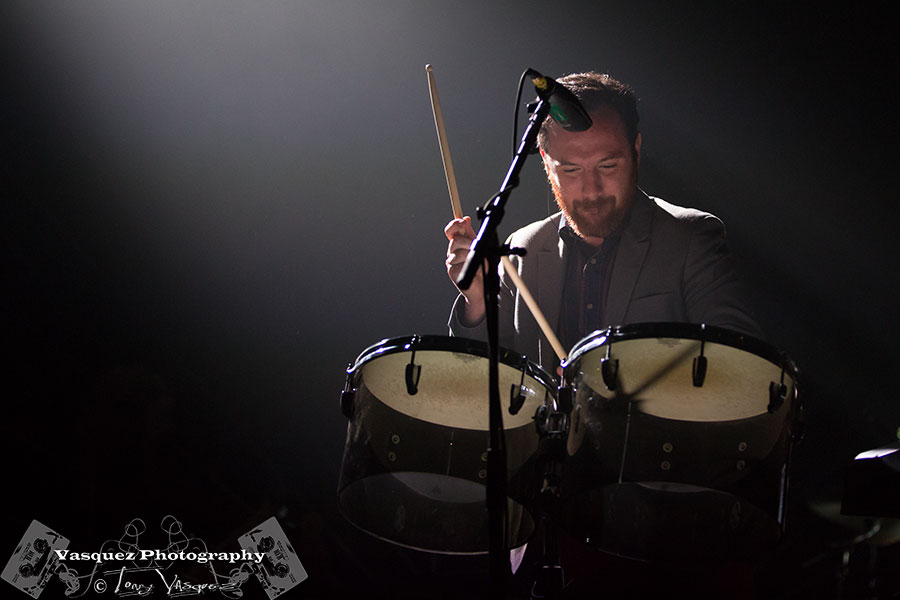 The set primarily showcased Jim's powerful vocals and rhythmic movements on stage. James used the flying-V guitar displayed prominently on stage sparingly, yet powerfully for solos, though he favored his acoustic guitar for the encore. James also stepped out of his standard stage presence to include a couple saxophone solos. The energy of the set was a mesmerizing groove laced with psychedelic R&B. The emerging lyrical theme had James exploring spirituality, love, and a call for change toward a more positive outlook on life.
After the band had played the new album in its entirety, James played a few solo acoustic songs including My Morning Jacket's "Bermuda Highway" and "Wonderful (The Way I Feel)." The band followed with several songs by the collaborative band Monsters of Folk, including "Dear God," "The Right Place," "Losin Yo Head," and "His Master's Voice." They also included a New Multitudes cover of the Woody Guthrie song "Changing World".
James spoke sparingly to the crowd to give props to the University of Louisville men's basketball championship and to observe a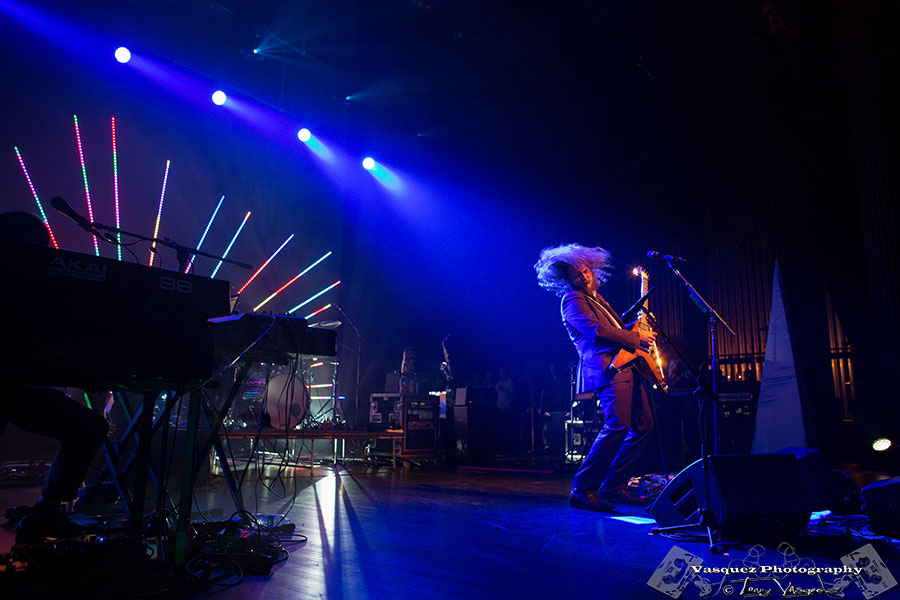 powerful moment of silence to remember the victims of the Boston Marathon bombing. James referenced comedian Patton Oswalt's social media post and asked the crowd to remember that despite the tragic bombings, "most of humanity is good."
Providing the opening set was Cold Specks, a moniker used by the London-based, Canadian singer/songwriter Al Spx. The band performed their set with a stripped-down, Deep-South, gospel feel that set the tone for James' soulful performance.
Written by: Tony Vasquez
Edited by: Rosemary A.W. Roberts, www.jamsplus.com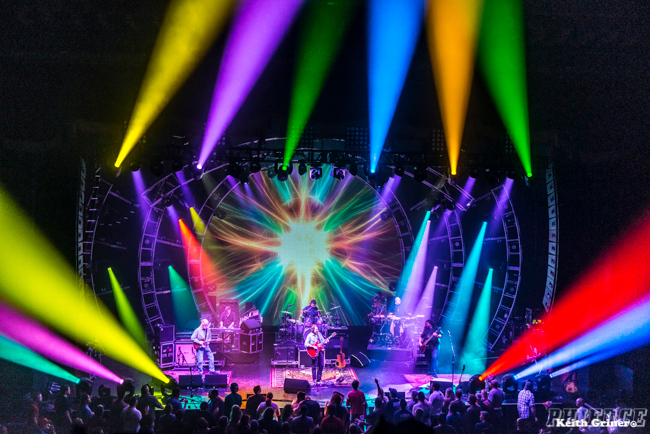 Widespread Panic—The Palace Theatre—Louisville, KY—04/16-17/2013
Panic filled the streets of Louisville, Kentucky for the nights of April 16th and 17th. Widespread Panic graced the stage of The Palace Theater the only way they know how, bringing the heat and showing no mercy. Each night highlighted different aspects of the band and showed that after all these years they still dominate the scene we all love. They were even nice enough to bust out some old tunes; who doesn't like a bustout?!
There are very few theaters left in the Midwest that hold the old charm that once was as American as apple pie, and The Palace Theater still holds every ounce of that Americana. Though it is a venue in downtown Louisville, it still allows hippies to be hippies and Shakedown Street to thrive. Everyone could be seen each night before and after the show getting their share of everything from collector pins to grilled cheese. At The Palace Theater there is not one bad seat in the place.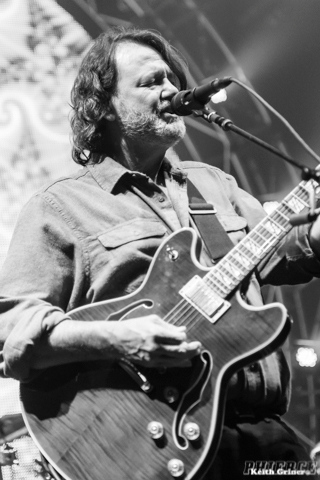 Night one for me represented the old Widespread Panic everyone knows and loves. They started the night with "Papa Legba" the old Talking Heads favorite. First set was chalk full of the solid Panic standards with "Barstools and Dreamers" checking to make sure your heart was still in it. Intermission was much needed since first set start to finish did not let you catch a breath.
Second set continued the Widespread Panic classics as if the band were a DJ on a radio station having an all request hour. "One Arm Steve" had everyone happy to be back in their seats and "Christmas Katie" gave everyone the "Pinch me so I know I am not dreaming" moment. The audience gave back every bit of energy that the band gave them. The Chuck Berry favorite "Let it Rock" solidified that old school rock feel of the night and closed out second set. A communal cosmic hug could be felt when the band closed the encore with "Can't find my way home" the Blind Faith cover.
I knew second night was going to be infamous when they came out first set playing my favorite song of theirs, "Pigeons", and they did not slow down from there until set break. "Shut up and Drive" followed by "Stop-Go" and just to make sure you were not napping a "Cream Puff War" that got down to the nitty gritty; and that, folks, only made up the first half of first set. Only Panic can make a Cat Stevens song such as "Trouble" sound so jamtastic! That was followed by "Cotton was King" and by the set ender "Junior" the Junior Kimbrough cover; not only was the hair on my ears standing up but I needed some fresh air to let my arm pits breathe.
Second set of second night continued where first set left off, more of the classy Panic stuff. After "Proving Ground" everyone was wondering what favorite was up on deck and then out strolled members of Bloodkin. Bloodkin is a band like Widespread Panic that represents the peachy state of Georgia everywhere they go. Bloodkin played the after party following the first night in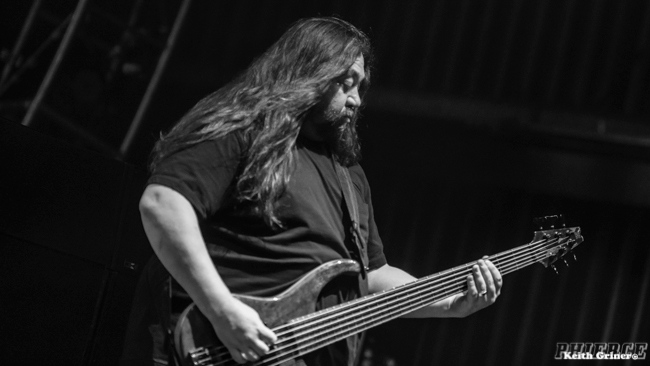 Louisville and they had everyone talking about them in the lot before night two. When Danny Hutchins and Eric Carter of Bloodkin joined Panic on stage everyone instantly began to try and guess what Panic song was about to be played; to everyone's surprise two Bloodkin songs followed, "Wet Trombone Blues" and "Success Yourself". I do not think there could have been a better way to be introduced to the band Bloodkin; they will definitely be on my shuffle on my favorite listening device from now on. Just to make sure to sew up a tight second set, Panic closed with "C. Brown" into "Driving Song" followed by second set closer "Chainsaw City"; I do not say OMG that often but OMG was second set money!
As if that was not enough, the band came out for the encore with "May your glass be filled". I thought they were gonna end second night as they started first night with a Talking Heads cover, but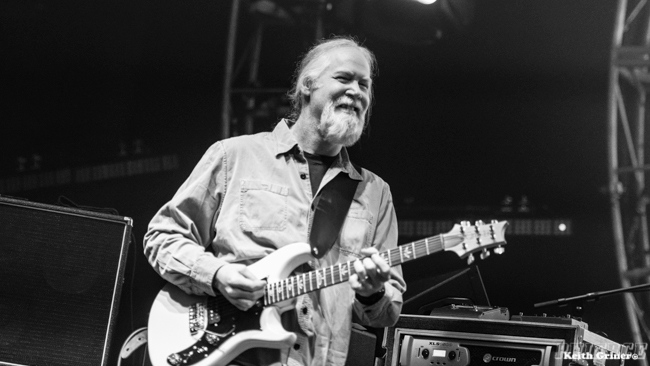 "Heaven" did not end the night; they saved the last song for everyone's favorite, "Tall Boy". It was an honor to have Widespread Panic be my first two night run review and it was a pleasure to be introduced to The Palace Theater and the city of Louisville by doing so. Both The Palace Theater and Louisville are gems to the Midwest and should be visited by all.
Written By: Tyler Muir
Photos By: Keith Griner
Edited By: Rosemary A.W. Roberts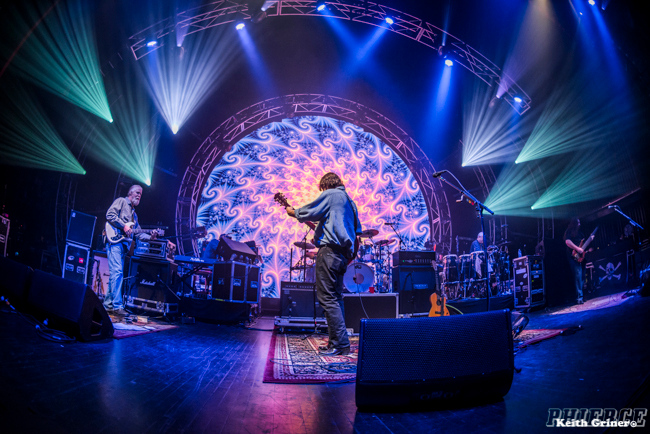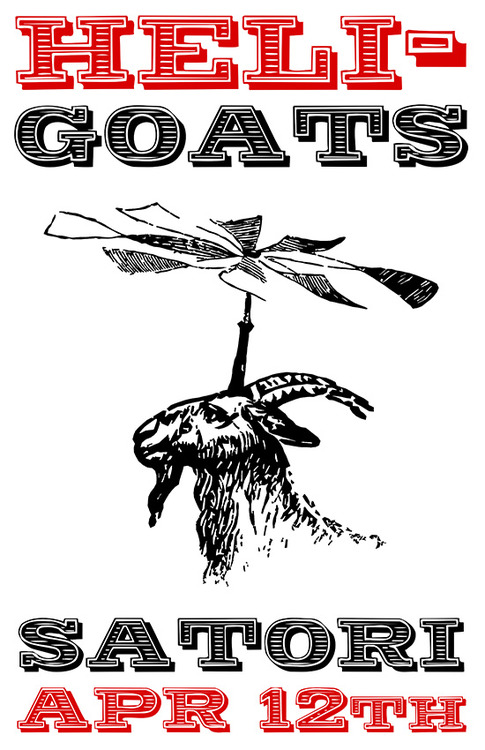 The Heligoats—Satori Coffee House—Mobile, AL—04/12/2013
Since the end of 2009, a University of South Alabama student association called the Independent Music Collective (IMC) has been sponsoring a concert series in Mobile, AL that features mainly roots, indie, and Americana musicians. Many of their concerts have been held at Satori Coffee House, a cool-vibe establishment close to USA's campus whose owner Chuck Cox has been supportive of the Mobile music scene for many years. For Jams Plus Media's first IMC concert experience, we headed to Satori for The Heligoats, a band lauded by NPR as "criminally underheralded". Having recently heard and thoroughly enjoyed their newest album Back To The Ache, I was eager for the chance to experience The Heligoats in a live setting.
We entered the charming coffee shop and made our way to the back room, where Chuck lets the IMC set the scene. Cozy couches and rows of chairs faced the stage, and intriguing canvas paintings lined the walls, creating a very intimate atmosphere akin to having a concert in your own living room. Faculty advisor for the IMC Justin St. Clair explained to me that the musicians they've hosted have all been appreciative of the attentive audiences who come to relax and truly listen to their music in this engaging environment.
As we settled down on a couch, The Heligoats made their way onstage; for this show, vocalist/guitarist Chris Otepka and guitarist Steven Mitchell would perform as a duet, with Chris's acoustic guitar and Steven's electric guitar creating a nice balanced sound. The music of The Heligoats is driven by indie-folk melodies, accentuated by intelligent and thought-provoking lyrics. Edgy and poetic, with a touch of science and environmental consciousness, songs like "A Guide to the Outdoors" entice you to listen. Early in the set, "Rubber Stopper"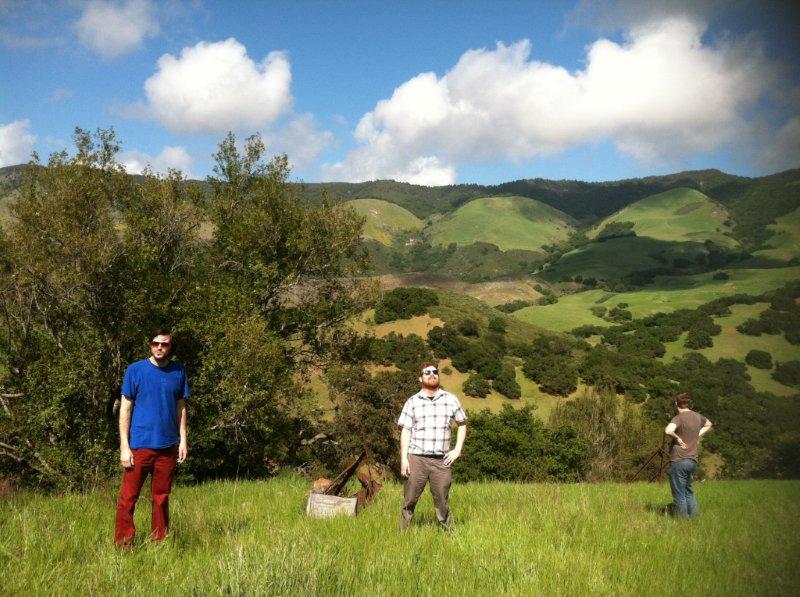 had a nice groove featuring dreamy guitar effects from Steven Mitchell. From Back To The Ache, "Tofutti", "Sleep Study", and "Sulfur, Baby" played out nicely with the pared down sound of the duet.
Between songs, Chris Otepka often told amusing anecdotes; he even showed us some pinecones he picked up "at school", while visiting the University of South Alabama campus. His smart sense of humor found favor with the captivated crowd, and wry lyrics in "Mercury" and "Watertowers On Fire" brought out some laughter, too. "Dancing to the Blues" was one of my favorites of the night; Chris's voice seems to "smile", with a pleasant comfortable tone. The evening ended appropriately with the lyrics of "Goodness Gracious"…good night. We enjoyed the music so much that after the show ended, we stayed to pick up the albums Goodness Gracious and The End of All-Purpose on vinyl.
The Heligoats provided a truly enjoyable concert experience; I would definitely recommend checking them out, whether you see them on tour or pick up one of their albums. I'm glad we got a chance to check out what the Independent Music Collective does so well, namely bringing unique musicians to Mobile in an intimate setting. Check them out at musicinmobile.org; and Mobilians, mark your calendars for May 3, 2013, when the IMC presents Eef Barzelay at Satori Coffee House, 8pm.
Written and Edited By: Rosemary A.W. Roberts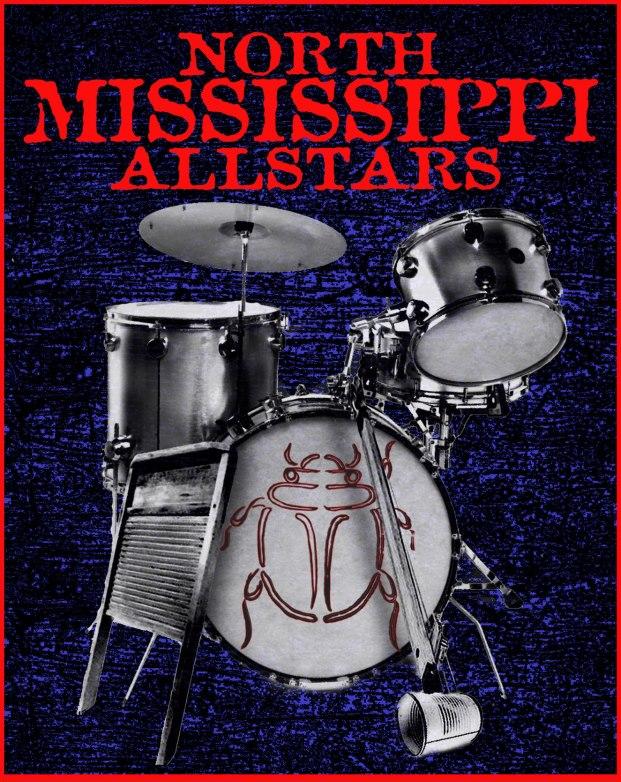 North Mississippi Allstars / Arum Rae—Soul Kitchen Music Hall—Mobile, AL—04/06/2013
As a longtime fan of North Mississippi Allstars (12 years?!), I relish every opportunity to see them in concert. I especially adore being able to see them at home in Mobile, AL; and thanks to Soul Kitchen Music Hall, that opportunity arises almost annually. But on April 6 2013, an old tradition acquired a totally new ambiance, as the music hall owners Brad Young and Maggie Smith are completing major renovations to the venue. The stage is now at the far end of the large room, the ceiling has been altered to improve acoustics, the restrooms are clean and beautifully painted: it's a brand new Kitchen!
We arrived amidst the solo performance by Arum Rae, a singer/songwriter with a lovely voice. She serenaded the crowd with an electric guitar and a bluesy Southern vibe. The minimalist approach worked well to highlight Arum Rae's sultry vocals, and provided a gentle starting point for what would become a hard-rocked evening.
Shortly after a lucky fan won a prize package for the Hangout Fest (courtesy of Meyer Realty), the lights were dimmed, and the projection screen was activated; and then North Mississippi Allstars (NMA) received a warm welcome back to Mobile. Well, it was a "welcome back" for the brothers, drummer Cody Dickinson and guitarist Luther Dickinson; and it was a first-time "welcome" for bass guitarist Lightnin' Malcolm, who fits right in with the North Mississippi Hill Country vibe. The night was howling with one long, hot set, filled with fan favorites.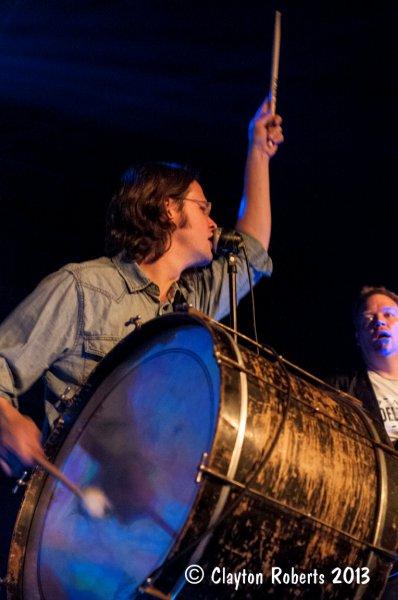 "My Babe" found Luther marching around banging on a big bass drum. "Up Over Yonder" provided that lovely strutting stroll, and everyone loves to "Shake 'Em On Down". It's always a good night when NMA gives you a strong dose of dirty grooves, and plenty were to be had with songs like "Shake", "Goin Down South", and a set closing "Snake Drive". I consider it quite a pleasure to hear "Have Mercy", with its slow-smoldering fire. As always, "Po Black Maddie > Skinny Woman" brought genuine Hill Country-style blues right to the doorstep, and the fans opened the door to let it in. And "Mean Ol' Wind Died Down" found the crowd singing in chorus, and a bit of a heavenly sensation pervaded the room.
The band dynamic was fluid and free-flowing, and periodically Luther Dickinson and Lightnin' Malcolm cross paths mid-stage and trade off lead guitar and bass guitar, allowing for variety, keeping things fresh. Lightnin' Malcolm's song "Workin'" was new to me, and had a cool flavor the crowd was digging. Malcolm on guitar for "So Many Women" works quite well, with Luther holding down the bass. Cody Dickinson proved himself a man of many talents, providing keyboard lead and vocals for "KC Jones", heading across the stage to play bass, and giving a reason for fans to always demand "More Washboard!" with his unique electric washboard skills. The crowd got the chance to see more atypical instruments, as Luther utilized his coffee can guitar for "Rollin' and Tumblin'", and brought out the cigar box guitar for "Mississippi Boll Weevil". Luther allowed his bandmates a stage break while tipping his hat to the locals with Bob Dylan's "Stuck Inside of Mobile with the Memphis Blues Again", and also performed a solo "Jumpercable Blues". One of the highlights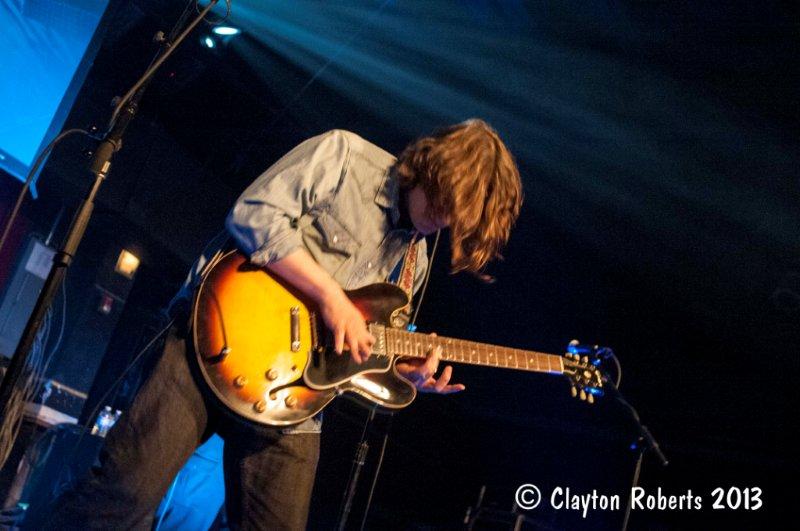 for me was hearing Luther tear up "Hear My Train A'Comin'" a la Jimi Hendrix, capturing Hendrix's ability to transport me to another dimension.
An appropriate end to the delightfully lengthy set was "All Night Long", which has lately featured Malcolm on guitar and Luther on bass. The audience definitely left with a soul-full of North Mississippi Allstars; the Soul Kitchen cooked it up righteously! Our thanks, again, to the Soul Kitchen for bringing the sweet sounds of NMA to Mobile, and thanks to the band for delivering a smokin' hot night of smiling and dancing…keep it up!
Written and edited by: Rosemary A.W. Roberts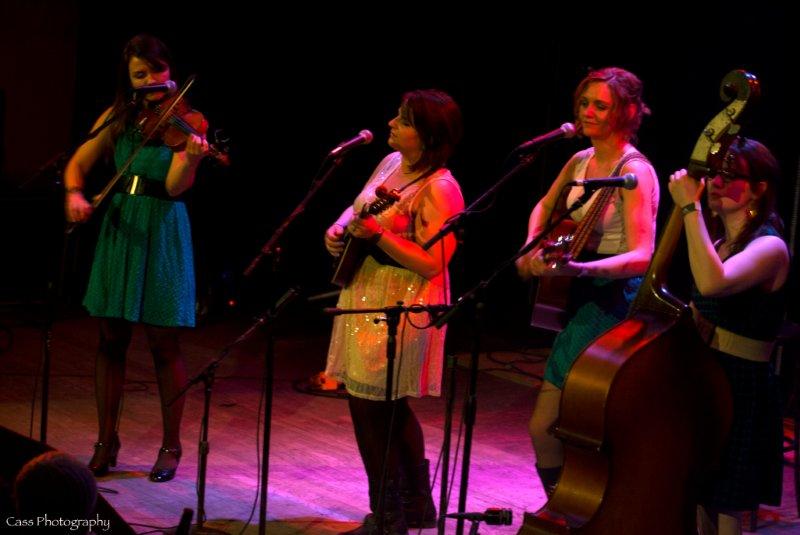 The Whipstitch Sallies / The Stampede String Band / James and the Drifters—The Vogue Theater—Indianapolis, IN—04/05/2013
Folk, Bluegrass and Americana music filled the Vogue Theater Friday night April 5th. The three bands who would take the stage are all bands with their roots in the area and they are bands who represent their genres respectfully well. It was a treat to chat with members of the bands throughout the night to get a grasp on their passion not only for the music they create, but also for the styles they grew to love. These young bands are filled with so much all around talent that the future will be whatever they choose it to be.
James and the Drifters were first to take the stage. The Huntington, Indiana band is an all-around powerhouse bringing strong lyrics, stage presence, and likeability with them; making this band's future look very bright. Their song "Buffalo" is a song that shows they have a place not only in the folk scene but also on radio stations and in homes across this country. I totally could see myself with the car windows down during a beautiful day cruising while on a road trip singing along to James and the Drifters. They just have that sound that though it is indescribable, when you hear it you know they are doing something right. I really felt lucky being introduced to this band Friday night.
T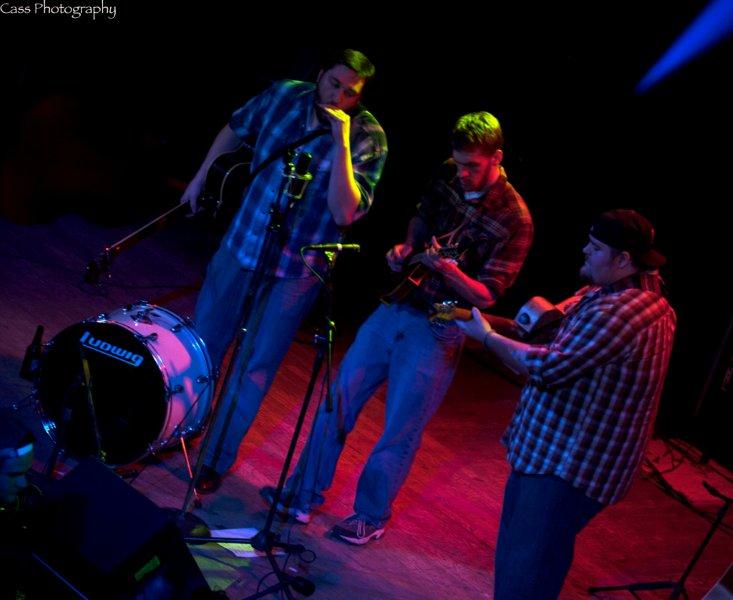 he second band to take the stage was The Stampede String Band. This three-man folk/bluegrass band showed off their skills by only using one mic. The Moonsville, Indiana band displayed their passion and heart for the music they love with their song "Just a man", showing the growth this young band has already had. The boys celebrated their two year anniversary at the Vogue Friday night and were delighted to be able to tell how fun the past two years have been with the audience. It's always nice to see young musicians pay homage to the classics they grew up listening to. Keep an eye out for The Stampede String Band, it really will be fun seeing what the future holds for this band.
It is a pleasure to see four women make up a band. Then to have these four women be incredibly trained not only in the instruments they play but also in the genres of music they love, I have died and gone to heaven. Allie Burbrink, Katie Burk, Kat Erickson, and Sam Roberts all have their own personality and style on stage, but when their powers combine in The Whipstitch Sallies they are one well-oiled machine. These girls can pair up against any guy groups in their field and hang alongside the best of them. You will definitely want to follow the career of this great band and I encourage you to snag a copy of their work as soon as you can.
From their signature originals to old standard classics, The Whipstitch Sallies put their own unique spin on everything they do. In the few short years The Whipstitch Sallies have been in existence they are building a strong fan base by creating loyal fans everywhere they go. It is like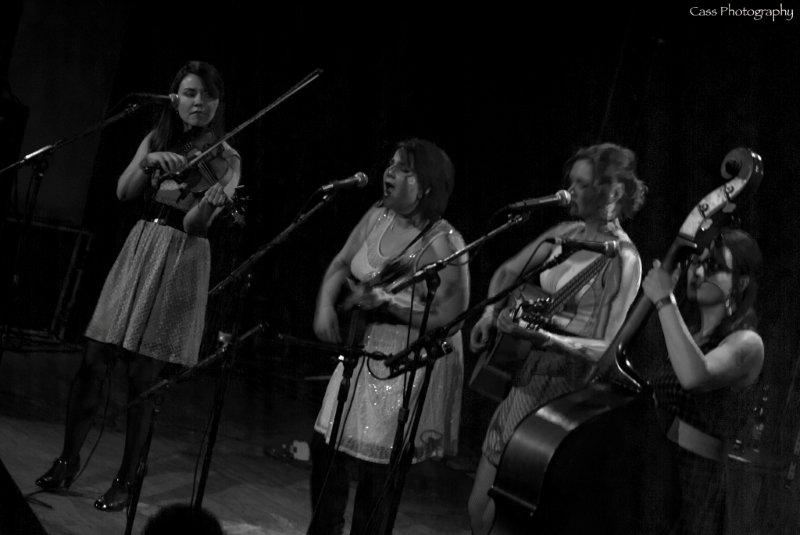 enjoying a warm piece of apple pie listening to them play, and listening to them share their knowledge of the music they love in between songs while they are on stage is a delight. "Got Me a Letter" is a song by The Whipstitch Sallies that I feel sums up their wit and spirit well. I want to thank The Whipstitch Sallies for taking time out of their night to give me an interview; you can check out the interview at www.jamsplus.com/interviews.
Written By: Tyler Muir
Photos By: Cassidy Maley
Edited By: Rosemary A.W. Roberts,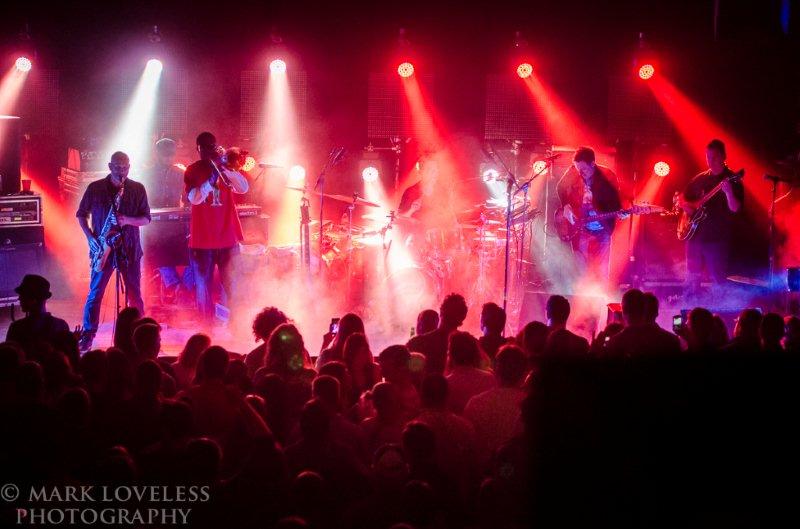 Galactic with special guest David Shaw; Opener: The Nigel Hall Band—The Vogue—Indianapolis, IN—04/04/2013
Funk and Soul was the theme at the Vogue Theater Thursday April 4th, and New Orleans was well represented. From start of the night to the end, funk was beating off everyone's chest and intensity was surpassed only by the talent. Crowd participation was encouraged and all in attendance could be heard doing their part to help out with back up vocals. It was as if the Vogue was celebrating Mardi Gras on this special night.
Opening the night of funk and soul was a band that you must take notice of. If you have not heard of the Nigel Hall Band, immediately visit www.nigelhallmusic.com before you finish this article. The band was made up of members of Lettuce and Dirty Dozen Brass Band. Nigel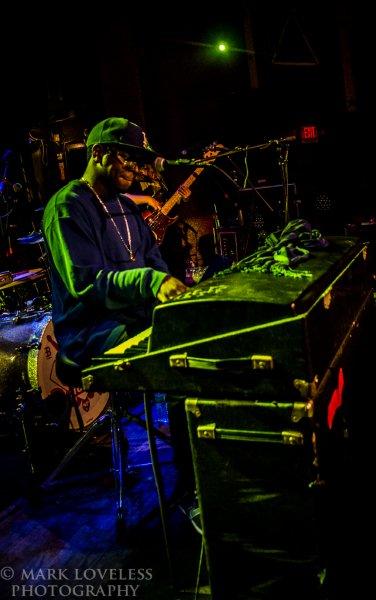 Hall honestly had an all-star cast behind him and it was obvious they meant business from the start while all in the name of fun. As soon as the Nigel Hall Band started, everyone was on their feet dancing. Nigel puts heart and soul into his lyrics with his timeless voice and beautiful style. You could not help but feel their strong rhythmic groove of electric bass and drums to Nigel's jamming of the keys. The band especially showed their fun side covering Missy Misdemeanor Elliott's "The Rain (Supa Dupa Fly)". The Nigel Hall Band is definitely a band that could tour the country successfully on their very own talent and should not be overlooked.
Damn, was Indianapolis lucky to have Galactic back in the area Thursday evening! Straight out of the gate it was obvious they were bringing the love and soul of New Orleans with them as they opened with two back-to-back songs of nothing but groovy horn blowing in "Karate" and "Balkan Wedding." By song three, "Hey Na Na" Indy was in for a special treat as David Shaw from the band The Revivalists took over vocals. Shaw is like a man possessed, running around the stage, standing on the guardrails, leaning out to the crowd with the microphone; and it sure did not take him long to get the crowd roaring. I cannot stress how incredible it was to have Shaw on vocals for such hits as "You Don't Know "and everyone in the Vogue was in awe when the band busted out their own version of a Beatles classic "I am the Walrus" with a twist of funkadelic straight into their very own classic "Heart of Steel." They were bringing so much funk straight to everyone's core that it was a nice relief when they let their hair down and belted out the iconic Old Dirty Bastard's classic "Got Your Money". The only way the night could have gotten any better is if the Vogue passed out free bourbon whiskey all night. Just to make sure the fans got their money's worth Galactic closed their set with an extra strong version of Led Zeppelin's "When the Levee Breaks."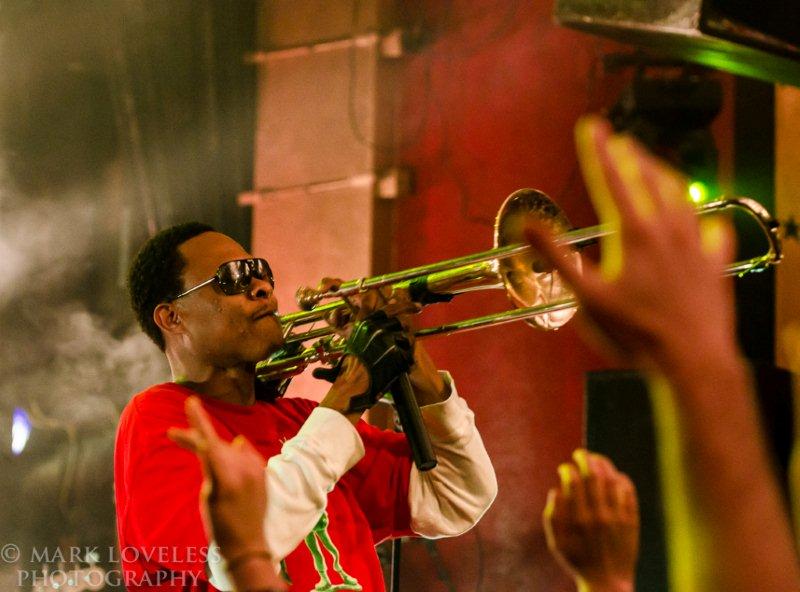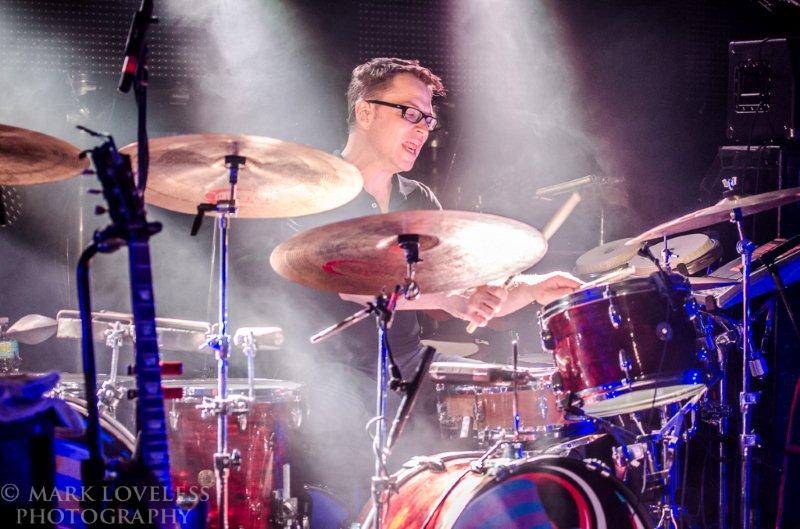 I cannot thank 92.3 WTTS & Indy Mojo enough for bringing Galactic back to the Vogue. It was also a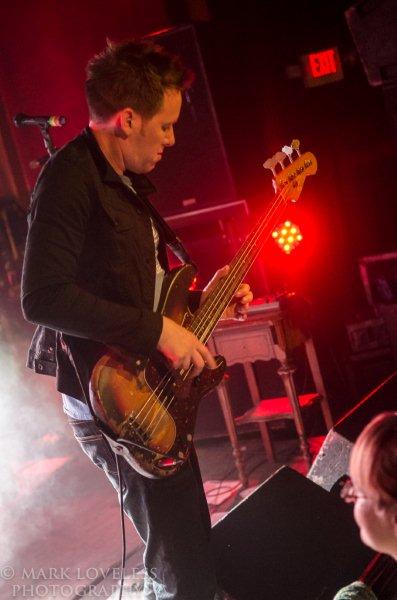 special treat having David Shaw do vocals for Galactic, and having the soulful Nigel Hall lead such an awesome all-star cast was pure bliss. Personally I have been waiting for Thursday night to reemphasize if I should go ahead and book plane tickets to attend next year's Mardi Gras in New Orleans. The next time that Galactic, The Nigel Hall Band or The Revivalists come to a town near you, please do not hesitate twice, purchase tickets and GO!
MORE PHOTOS HERE
Written by: Tyler Mcgee
Edited by: Rosemary A.W. Roberts, www.jamsplus.com
Photos by: Mark Loveless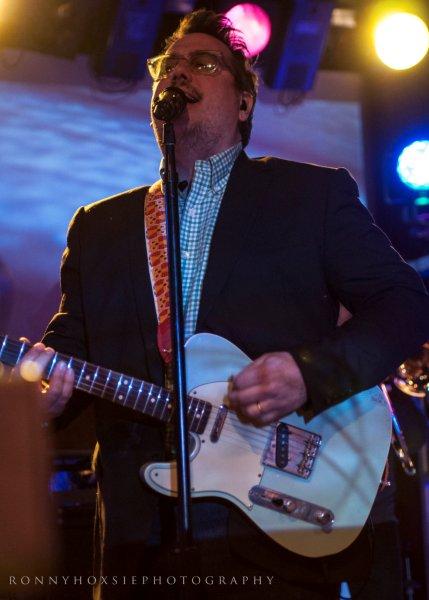 They Might be Giants—Paradise Rock Club—Boston, MA—04/03/2013
April 3rd in Beantown was the setting for one heck of a show from the band They Might be Giants (TMBG). There was a party-like atmosphere on full display from a sold-out crowd at the Paradise Rock Club.
During the two-hour performance, the band and singer-multi-instrumentalist John Linnell and singer-guitarist John Flansburgh, plus three touring musicians, performed a wide range of material that included the 1990's "Birdhouse in Your Soul" and "Fingertips".
TMBG kicked the party off with "You're on Fire",which is the first track off their latest album Nanobots in which John Linnell got the packed house moving and grooving. After the second song it was time for the band to start their hilarious onstage banter which brought cheers and laughter from the crowd, reminding me of a comedy club I used to frequent on the south side of Dorchester. It seemed that humor was definitely a big part of their show as they jammed through songs like "Circular Karate Chop" and "Call You". As the concert rolled on there were times that the routines tended to drag a bit, just stretching the joke a little too far, for an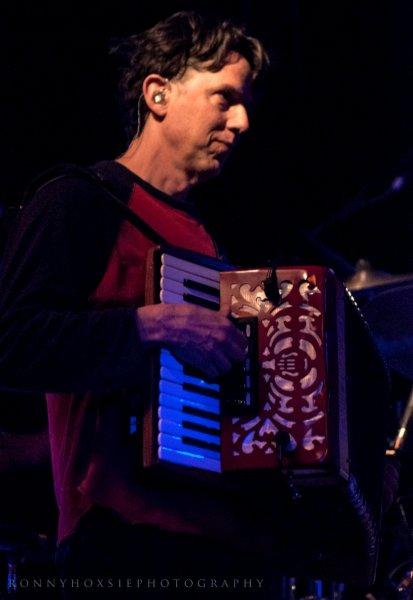 audience that was singing along with every song TMBG was throwing out to them.
TMBG performed such favorites as "Instanbul (Not Constantinople)", "Ana Ng" and "Birdhouse in Your Soul". Through these songs Dan Miller and John Flansburgh were dazzling the crowd with some nice guitar rhythms, while dancing about a stage that seemed a little on the crowded side for this energetic band that never tired through this strong performance.
All in all, I thought it was a very solid performance music-wise from the band; and as far as the comedy portion of the show, it was absolutely hilarious! TMBG have been doing this for over 30 years now and there is no doubt they have been enjoying every minute of it, and their loyal followers have been enjoying it with them!!
Written By: Ronny Hoxsie
Edited By: Rosemary A.W. Roberts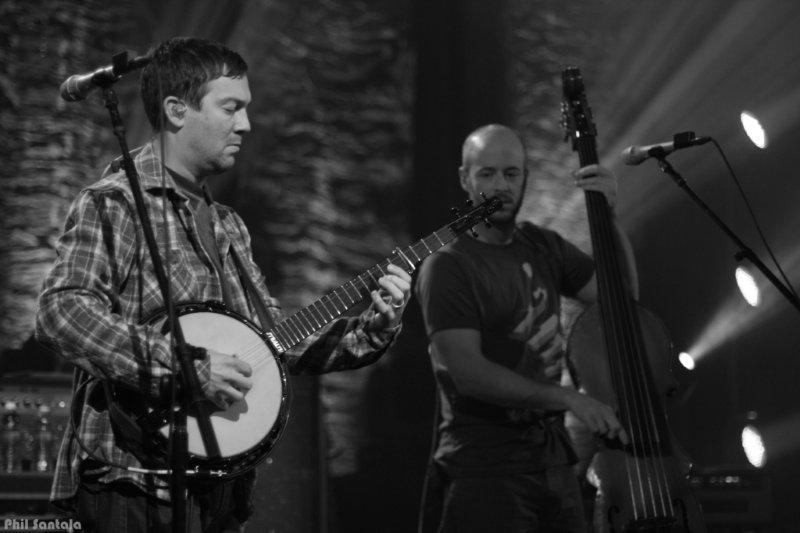 Yonder Mountain String Band—Babcok Theatre—Billings, MO—03/20/2013
Let's just call a spade a spade. Billings, Montana is a weird town. Wednesday's Yonder Mountain String band show proved this to be the rule, rather than the exception. It was a whistle stop for these Colorado based newgrass boys on their way to sold out shows in Bozeman and Missoula. Much like the upcoming shows at the Emerson Cultural Center and the Wilma Theater, the Billings show took bluegrass into a decidedly old fashioned venue, The Babcok Theater. In its storied history in downtown Billings the Babcock has played host to many different incarnations: theater, cinema, weekly boxing match host, and more recently independent film venue and concert hall. The crowd inside the venue was as varied as the building's illustrious history. Young dreadlocked kids, preppy gym rats, tight pants hipsters, old meat-in-the-seaters (people who sit for the show), middle aged couples square dancing in the isle, this blue collar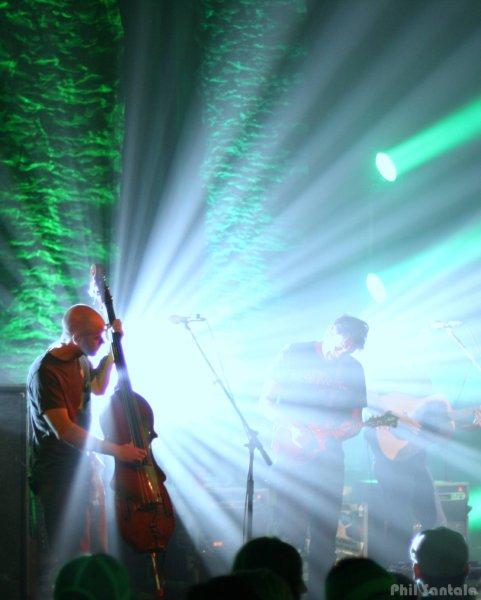 town takes all types. They all came together, danced, often seemed to have a good time, and defiantly almost occasionally killed each other.
Fans in Billings get riled up, I mean REALLY riled up. Bands feed off energy like that for sure. Shout-outs were given to the "rocking balcony crowd" by mandolin player Jeff Austin. Jeff's energy was unmistakable throughout the night. At times his body and facial movements seemed to be channeling Joe Cocker onto the stage. He was twisted, contorted, and ready to pop like a tightly spooled watch spring. It appeared the energy in the Babcock was also ready to go to such a place. During the 2nd set Jeff had to admonish people in the pit to "cool off…there's no need to kill each other…" as near fights broke out over coveted floor space. This type of scene might not be limited to the town of Billings; it might very well play out over venues throughout the US. Still, it seems silly when the back third of the venue is wide open. Granted you might miss seeing Adam Aijala's cool collected riffing, Dave Johnston's pie-in-the-sky grinning and picking, or Ben Kaufmann's cool as a cucumber upright bass strumming from way back there. But you would also miss out on the prolific amounts of beer being spilled, and the near fisticuffs that broke out.
Still, such energy and its effect on the band could not be missed. With the worms coming out of the can all around them the band really opened it up. It could have been a night they laid back in the cut for sure. Coming off larger billed shows in Aspen at the Belly Up, and on their way to capacity crowds in Bozeman and Missoula this show could have been a snoozer, instead of the fiery sleeper it was. (Sleeper, in this case, is a commonly used term for a stellar show in an overlooked venue or town.) The band played to the melting pot audience by throwing in well-received covers. Their usually spot on, finger-pickin' good bluegrass was there as well. "Snow on the Pine> Girlfriend is Better> Snow on the Pines" left patrons gasping for air while stumbling blurry eyed and thirsty into the set break. But the 2nd set original song stand out would be a briskly paced, and perhaps a bit too short, "How 'Bout You" that clocked in at just around 5 minutes. But if it was bluegrass jamming one was looking for, the closer of the second set would not disappoint. "Little Rabbit> Whipping Post> All the Time" was a 20 minute hip shaking jam. The bands cover of "Whipping Post" was amazing, and a treat to be heard. Old timers in the crowd rose to their feet, and the younger generation leapt off the ground. Jeff belted out the lyrics like the love child of Warren Haynes, Joe Cocker, and Greg Allman.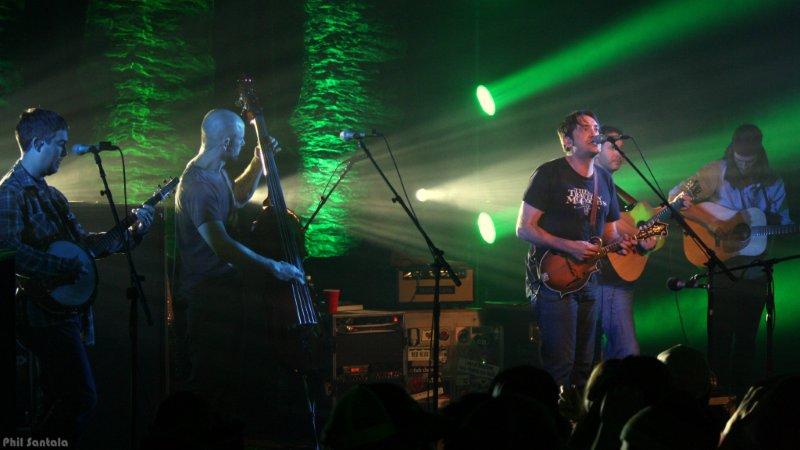 Versatility is the name of the newgrass game these days, and the Yonder boys showed this as they closed out the evening with the Ozzy Osbourne thriller "Crazy Train". While it's hard to capture the heavy metal sound with a four piece bluegrass band, this cover hit the spot, and left no doubt that Yonder Mountain String Band had seen the times were changing in Billings. This sleepy blue collar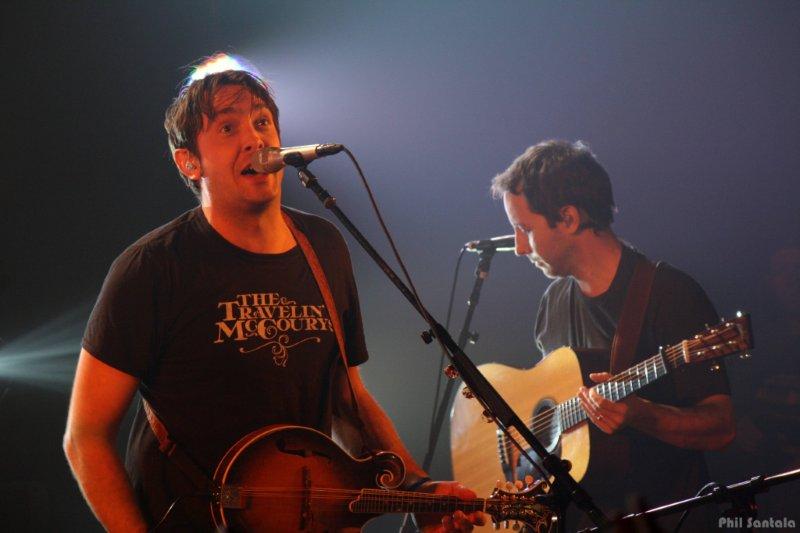 town is just starting to come into its own on the Montana music scene. Hopefully as more big acts like this stop through it helps boost the local up-and-comers in the music scene. After-shows and openers will be needed to book into bills to fill out the nights. Locals may look forward to a time when a 200 mile round trip show isn't needed to catch a decent show. These "Blue Collar Blues" just might be "Not Far Away" from being a thing of the past, like "Snow on the Pines."
Written and Photos By: Phil Santala
Edited by: Rosemary A.W. Roberts, www.jamsplus.com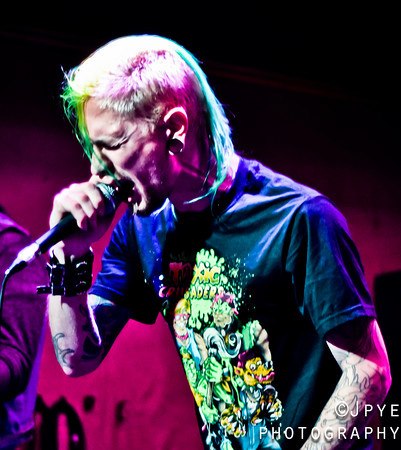 The Casualties--The Pit—Jacksonville, FL--3/22/2013
Viva La Resistance!!!
The smaller room of the Megaplex was filled with combat boot stomping, Oi screaming "hawkheads" ready to mosh to their favorite hardcore punk band and ironically, passively tear someone apart. The Casualties and their opening acts are notorious for bringing that old school Sex Pistols punk scene back. They have "hawks" or mohawks that are so punk they were scraping the paint off the Pit's ceiling! The all too familiar aroma of clove cigarettes and stale PBR sent me back to the days I used to go "vest up" for punk shows in my youth.
It seems as if the punk scene is resurfacing as The Casualties dropped their latest record, Resistance, three years after their last studio album We are all we have. I have not seen them since they came with the Warped Tour, to Jacksonville in 2001. Playing alongside were The Reachers, Poor Richards, In Defence and a friend of mine's band, Full on Assault; it was good to see them in an indoor venue for the first time. Several local opening acts are typical of a punk show with the genre being so fast-paced; track listings are seldom over 4-5 minutes long, giving ample time for bands to play their hearts out. Most punk bands are a four-piece, consisting of bass, percussion, guitar (lead/rhythm) and solo vocals, leaving a strong responsibility to stage/song performance. The smokin' pace of the drummer double kicking his bass drum, paired with strong distorted riffs from the guitarist, sets a chaotic melody for the lead singer to convey the vocals without screaming; which inherently became a staple of the music. A few bands like The Reachers, In Defence and Full On Assault have 5 members, rounding out a lead guitar with a thrash metal vibe to it.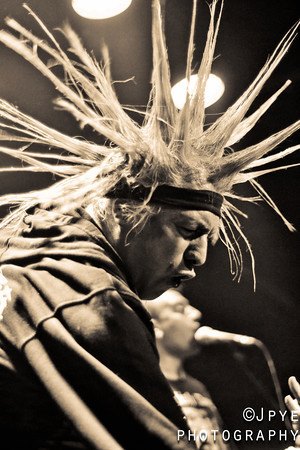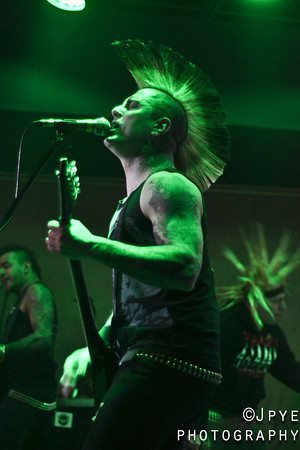 The crowd was priming up like a diesel engine, as Full on Assualt played their popular "Shit Whippets" track, jestfully poking at trash fans or "wookies" that huff methane. There is no filter to these bands. They come for the hardcore and stay for the hardcore. They take pride in their "Oi" punk roots and the fact they never sold out, as they claim most modern punk has. The Casualties can be described as the poster children for "Oi" punk, keeping with the same band dynamic, sticking to the same melodic anarchy and lyrics that are almost indecipherable until the "Oi" melody. The fans moshed around, stomping in their combat boots and throwing their elbows with menace in their eyes. The irony behind the mosh dance is the "rules" in play. They may kick and elbow each other, but as soon as someone goes down, everyone becomes a teddy bear turned wannabe paramedic! I witnessed several moshers get thrown on their head and concussed, busted lips and noses, and even one girl stage dive face first with no one to catch her! But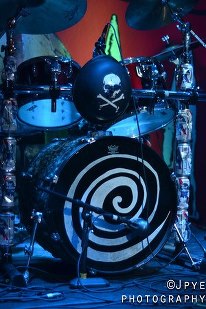 as soon as someone goes down, the whole dance stops and tends to the wounded dancer. It is quite a treat to see from the outside, especially holding a camera!
The Casualties pleased new fans by playing the first half of the show filled with new tracks and some old ones here and there. They pleased us ole timers with some classics like "Fight for your life", "Underground Army" and even a Ramones cover with "Made in NYC". The boys still have it and they let everyone know it, encoring with oldie but goodie, "Riot". Even after 20 years of touring they bring it like the first time I saw them. The Casualties are as punk as punk gets and should have been on the cover of "Punk and Disorderly".
MORE PHOTOS HERE
Written & Photos By: Joey A. Pye
Edited By: Rosemary A.W. Roberts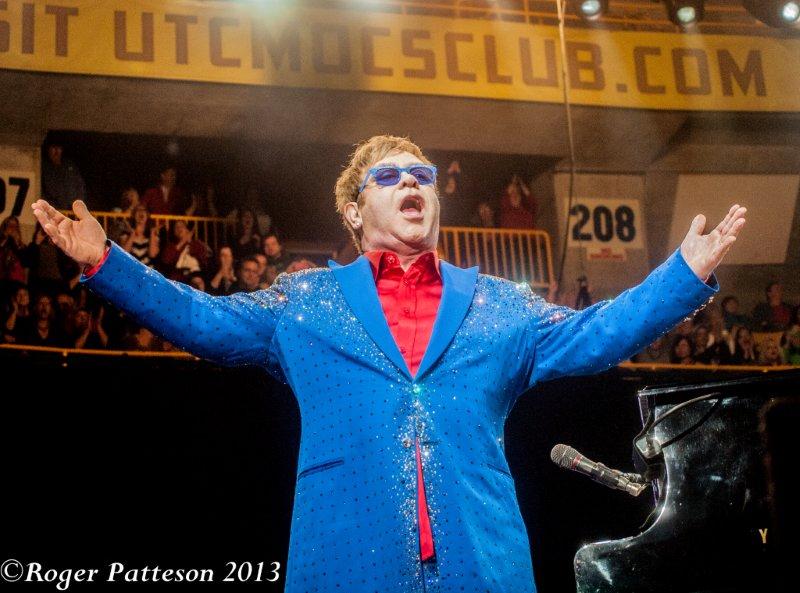 Elton John ~ March 23, 2013 ~ UTC McKenzie Arena ~ Chattanooga, TN
With a career spanning more than 4 decades, creating more than 30 albums, and delivering more than 3,000 live shows, Sir Elton John is no stranger to performing, and perform he does. At two days shy of the age of 67, Elton effectively laid down a rock show to remember in the UTC McKenzie Arena in the downtown area of Chattanooga, TN.
Traffic was at a standstill for every direction approaching the college venue. Fans of all ages and backgrounds decided to park blocks away and make the trek. If you were lucky enough to park near the venue, a generous fee of $5 was all that was charged. Hospitable arena staff and Live Nation personnel were happy to help the sold out crowd of 10,000 to their seats. Front row security guards had a full time job keeping eager fans in their actual seats. From anywhere in the venue, the small, bright, rectangular screen of a smart phone could be found held high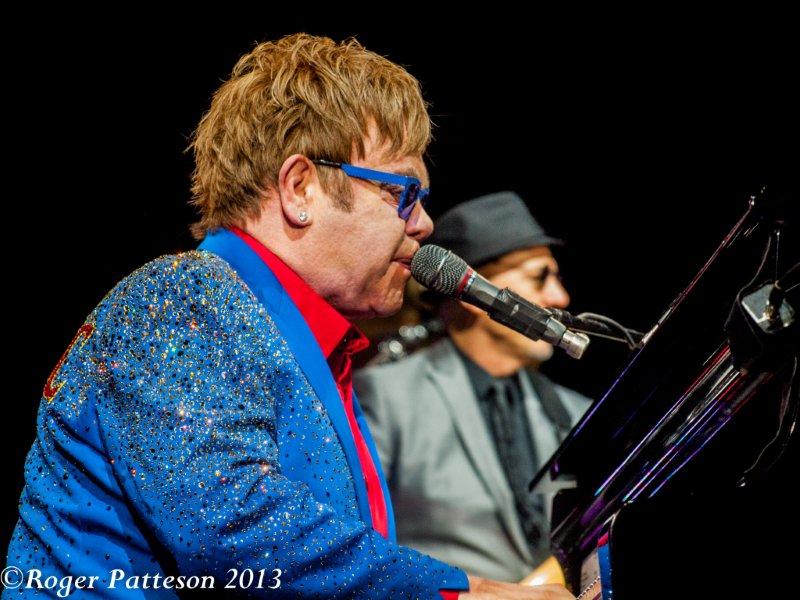 in the air. Instagram and Facebook would, in effect, also be at the show.
The lights dropped, the crowd roared, and the band led off with the intro riffs of "The Bitch is Back", in truly well played timing, as Elton emerged up the steps to the stage. The crowd was treated with the dancing on the piano antics of yester year as Bitch closed. "Benny and the Jets" opened next, followed by "Tell Me When the Whistle Blows", an emotionally charged "Levon", and the blue jean baby'd, LA lady'd "Tiny Dancer". Before starting "Holiday Inn", the song's inspiration was explained with a short narrative describing when he first started touring the U.S. Apparently, playing the same venues in the same cities over and over results in a fondness for certain accommodations and the green and yellow hotel chain became the obvious choice.
"Believe", "Mona Lisas and Mad Hatters", "Philadelphia Freedom", "Candle in the Wind", and "Goodbye Yellow Brick Road" gave a relatively calm crowd a reason to stay in their seats. This would change at the mere mention of "she packed my bags last night pre-flight, zero hour 9a.m." as "Rocket Man"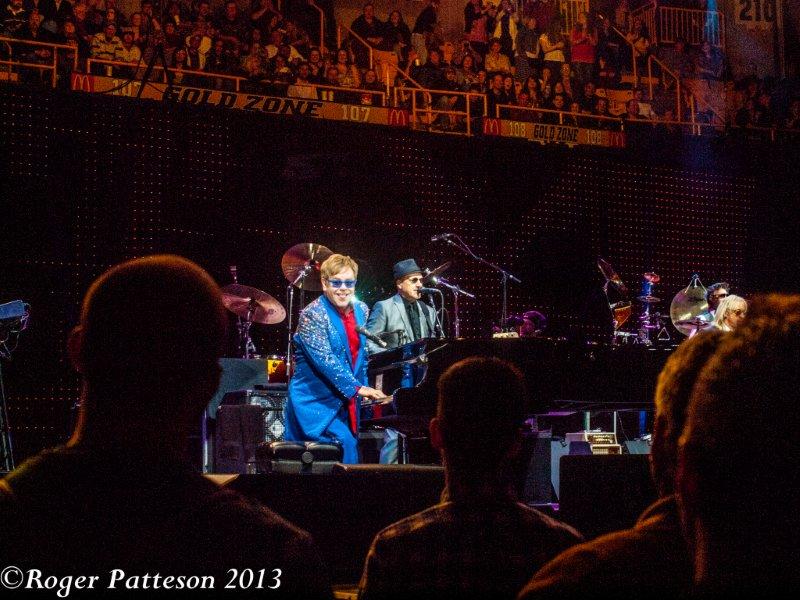 began. Gaining approval was a giant cloud of smoke that blew around Elton when he said he was "…gonna be high as kite by then…". "Hey Ahab" launched from Rocket. A sweet, slow, bluesy piano jam started "Guess That's Why They Call It The Blues". The arena was treated to some sick drums and lights during "Love Lies Bleeding". The funk of "Take Me to The Pilot" and Yellow Brick Road's "All The Young Girls Love Alice" kicked things up a notch before a three song emotional and heartfelt medley of "Daniel", "Sorry Seems To Be The Hardest Word To Say", and an Elton solo mission, "The One", emerged.
With the spotlight brightest on the man at the piano, a moment was taken to share the love for his companions along for the ride. On drums, Nigel Olsson; Matt Bissonette on bass, after Bob Birch's untimely death last year; Davey Johnstone on guitars/vocals; Kim Bullard on keyboards; Ray Cooper on percussion; and a host of beautiful backup singers lead by mother and daughter Rose and Lisa Stone of Sly and the Family Stone fame.
Like a true survivor, "I'm Still Standing" brought its early 80's synthesized flare to life. For a moment, we were treated to a little tease of "Camptown Races" before a throwback to the tunes of the 50's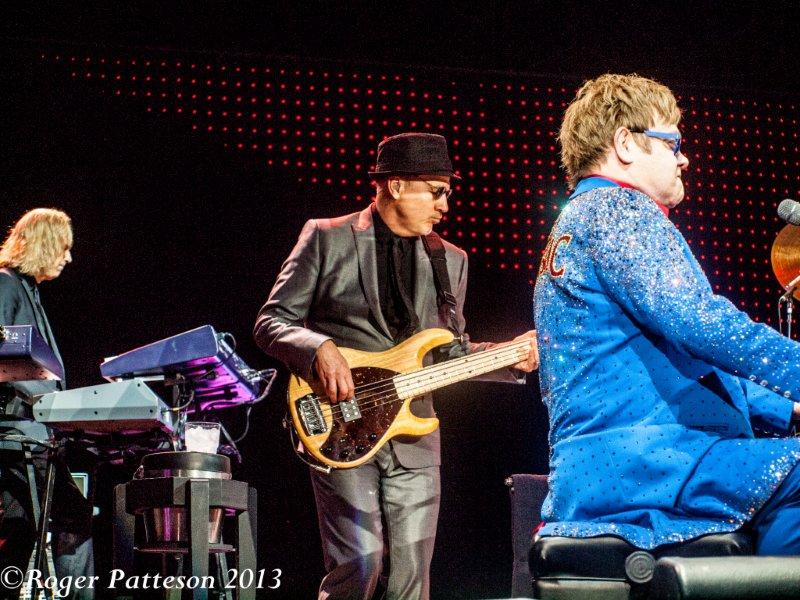 with "Crocodile Rock" materialized. The "La la la la la" being chanted by the crowd was as loud as the blue sequined, "Fantastic" embellished coat being worn by Elton. Delivering the same set list as the previous night in Montgomery, AL, the weekend show would appropriately receive a "Saturday Night's Alright For Fighting" to end the two hour set.
One thing for sure about an Elton John show is the absolute unquestionable love he has for his fans and the desire to please them. At the end of every song, minus two, he stood and bowed, to all 4 directions of the 360 degree arena seating, making direct eye contact with many a fan and telling them "Thank YOU". Add that to the approximate 50 autographs he signed for the front row fans and a solid, class act is what you have. To top it off, a return to the stage encore would conclude the evening with a song netting over 1700 times played and being fully dedicated to the fans with "Your Song".
Elton's tour continues with stops in Texas, Tennessee, Ohio, North Carolina, and an impressive thirteen night stay in Las Vegas, Nevada at the world famous Caesar's Palace. In June, the madman across the water heads back to Europe for the majority of the rest of 2013. Check out his new website at www.eltonjohn.com for the latest news and thanks for sitting in on another segment from Jams Plus Media.
Review and Photos by: Roger Patteson
Edited by: Rosemary A.W. Roberts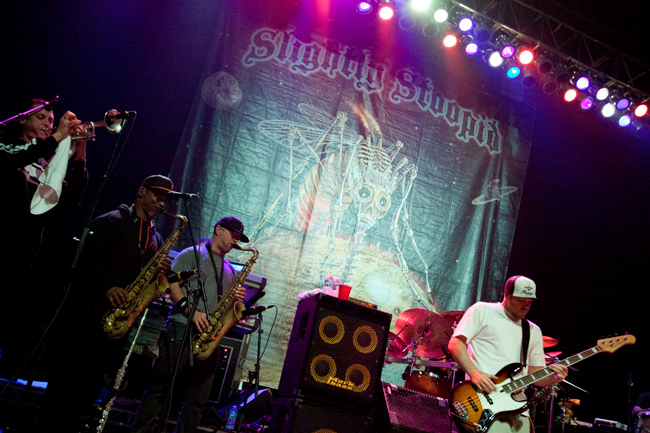 Slightly Stoopid—The Congress Theatre—Chicago, IL—03/09/2013
Chicago is obviously no stranger to various types of music acts, and Saturday, March 9th, 2013 was no different when the California based Reggae-rock band Slightly Stoopid came to the city. Yes, Slightly Stoopid once again rocked it in the Midwest when their fan-pleasing, seven piece group made way on stage.
The glassy-eyed Chicago crowd was warmed up with Stoopid's opening act, Tribal Seeds. They played a fun, "smoking" hot kind of pre-show. Tribal Seeds was happy to welcome Stoopid's guitar, bass and vocal man, Miles Doughty to their set a few songs before Stoopid was fully welcomed to the Congress Theater. Doughty prepped the crowd for the upcoming Stoopid set, singing and moving from the stage to tops of speakers and back to the stage, making Chicago fans go crazy.
The pumped crowd stuffed into the main floor of the Congress Theater and was restricted to the main floor, on account of the balcony being closed for renovation. Assuming one could fight the parking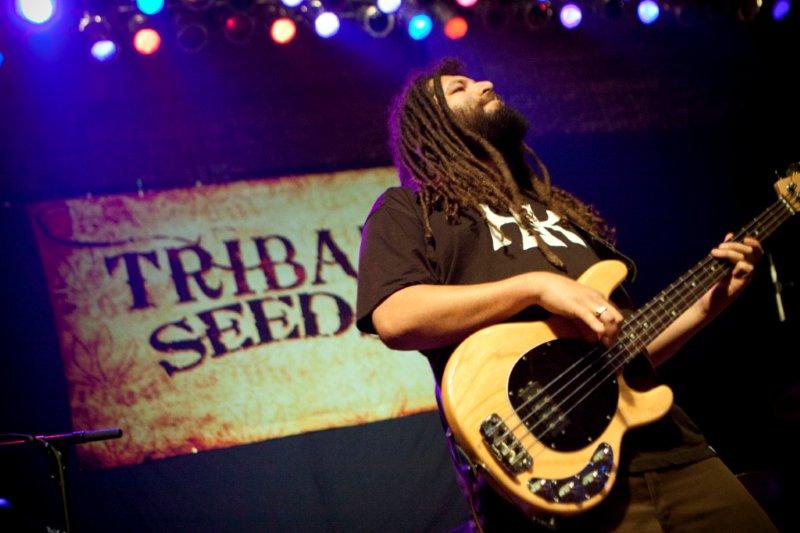 crowd in the neighborhoods surrounding the theater, the typical Congress Theater security didn't seem to bother the Stoopidheads packing the floor. As expected, security hurried to relieve any crowd surfer making his or her way to the front quickly; exit to your right please. Being crammed into the crowd was worth it, especially since set up times in between the groups was speedy and fans didn't have to wait long for Stoopid's full arrival. The cozy bunch was ready and Slightly Stoopid brought it to the Midwest. Having their own studio space must have paid off for the band since from older to newer hits, the lively group was well rehearsed and ready to keep this night moving smooth. The band worked from the crowd's energy, giving everything they seemed to desire. Stoopid pulled the Stoopidheads into the music and gave a coaster of twists and turns from newer music and back to punk-rock style. During the evening, there were a few lighters waving gently in support as well.
Stoopid's sound was crisp and clear, not overly loud but the crowd definitely knew this wasn't grandma's car speakers. The rock, reggae, blues, hip-hop, punk rock sound all came together without any stress. Sounds from the latest 21 track album, Top of the World filled the night and the crowd was in love. The saxophone and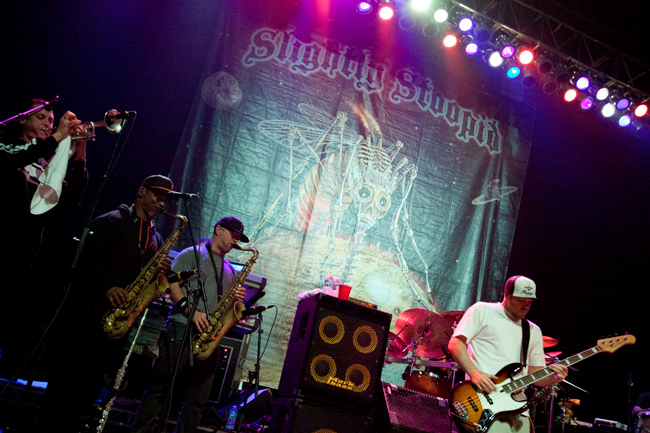 trumpet sounds brought the crowd in and pleased the ear.
If you weren't lucky enough to make it to Chicago for Slightly Stoopid's appearance or just need more Stoopidness in your life, be sure to catch them again soon. Their schedule is nearly full of nightly shows all around the U.S. Playing locations vary anywhere from Pittsburgh to Oklahoma City to Texas and back to the Midwest; and don't forget their homecoming in California. With all the dates available, one certainly can find a show close to home. Stay Stoopid.
Written by: Tory Marks
Edited by: Rosemary A.W. Roberts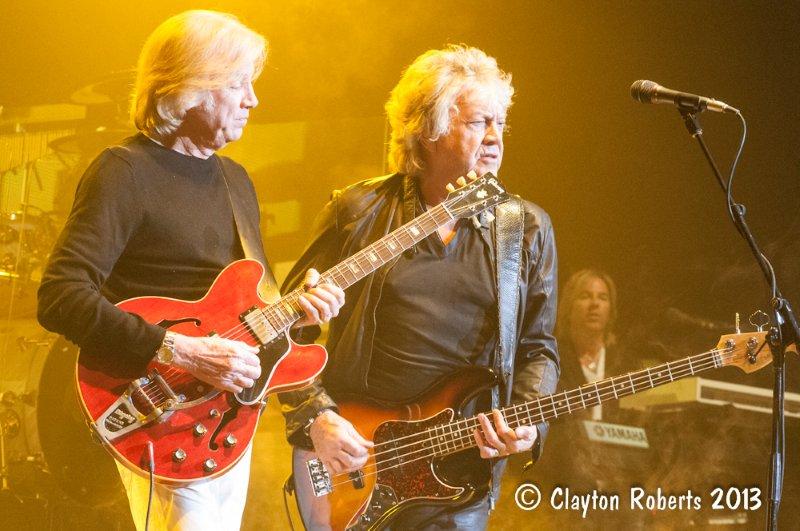 The Moody Blues—Beau Rivage Theatre—Biloxi, MS—03/16/2013
Celebrating 45 years since the release of their groundbreaking album Days of Future Past, The Moody Blues toured the US extensively in 2012, finishing with a handful of March 2013 shows. A comfortably cool evening and sky filled with stars seemed a fitting way to enter the Beau Rivage Theatre in Biloxi, MS, on our way to see a sold-out concert by the veteran rockers. Having enjoyed their music throughout my life, I was thrilled for the chance to see The Moody Blues perform live. The opening synth-pop rocker "Gemini Dream" reeled in the crowd from the start, and it was immediately impressive how on-point the band sounded. As a child of the 1980s, I loved hearing "The Voice"; and I must say, the voices of guitarist Justin Hayward and bassist John Lodge have withstood the test of time, sounding fabulous. The triple screen visuals enhanced the concert experience, morphing from colorful psychedelic swirls, to familiar album cover graphics, to photographs of the band members through the years. Fog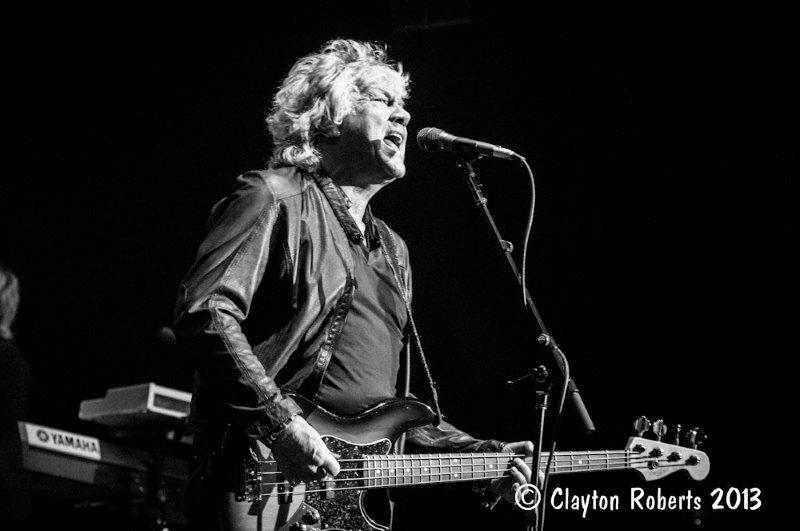 enveloped the stage as the band rocked through "Steppin' In A Slide Zone". The huge sonic build in "You and Me" held plenty of power, driven by the drums of founding member Graeme Edge and Gordon Marshall.
The audience enthusiastically cheered as the familiar opening strains of "Tuesday Afternoon" danced through the air, and the flute accompaniment by Norda Mullen fit perfectly, while Hayward and Lodge wove a tapestry of sound. Continuing to pull from Days of Future Past, Hayward traded in the dark red Gibson guitar he used most of the evening for a Fender Stratocaster, and Lodge grabbed another Fender bass. The vocals of saxophonist/keyboardist Julie Ragins allowed the band to deliver the psychedelic rocker "Peak Hour" with plenty of pizazz. Throughout the concert, The Moody Blues switched seamlessly from 1960s classics to 1980s hits, so it was not a stretch to next hear "I Know You're Out There Somewhere", with keyboardist Alan Hewitt lending synthesizer sounds. One of my favorite tunes of the night, "The Story In Your Eyes" absolutely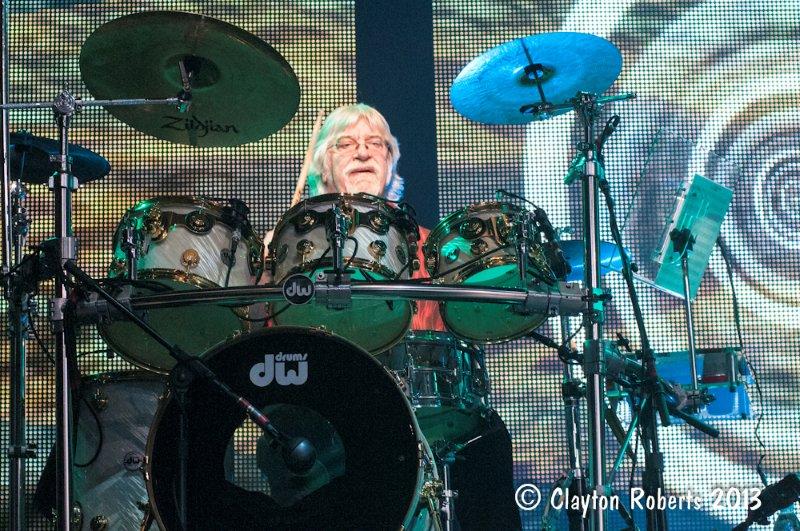 rocked, with both Hayward and Lodge working their axes to the max. "Your Wildest Dreams" took me back to my childhood, fondly remembering when the song came out and how it captivated me with beautiful vocals, which were pleasingly rendered for me live all these years later. A peaceful yet massive sonic excursion occurred during "Isn't Life Strange" with precision timing by Edge and Marshall.
Graeme Edge stepped out from behind his drum kit and approached the front of the stage to speak about this 45th anniversary tour, and stayed up front with a bright blue tambourine for "Higher and Higher", dancing around the stage with amazing youthfulness and tons of energy. The hypnotic beauty of "Are You Sitting Comfortably" was a lovely interlude, and "I'm Just A Singer (In A Rock and Roll Band)" brought some fierce rock to the party. Edge came center stage with white light beams reminiscent of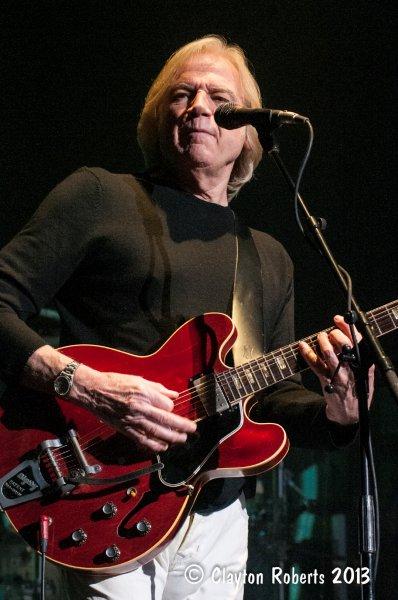 starlight, and began the familiar narration: "Breathe deep The gathering gloom / Watch lights fade From Every Room… Red is gray And yellow white / But we decide Which is right / and which is an Illusion…" Then the room erupted as The Moody Blues played one of their most beloved songs, "Nights In White Satin", and the song seemed even bigger and more beautiful hearing it live. To finish the amazing set, "Question" was performed to perfection, with the rapid-fire attack sections and the soaring peaks providing quite a ride. After a standing ovation from the thrilled crowd, the band returned to encore with "Ride My See-Saw", ending the evening with a blast of power. What a great concert! It is clear The Moody Blues are still passionate about their music; they have great stage presence, and seem truly appreciative of their fans. I would definitely recommend seeing The Moody Blues if you get the chance!
More photos HERE
Written and Edited by: Rosemary A.W. Roberts
Photos by: Clayton Roberts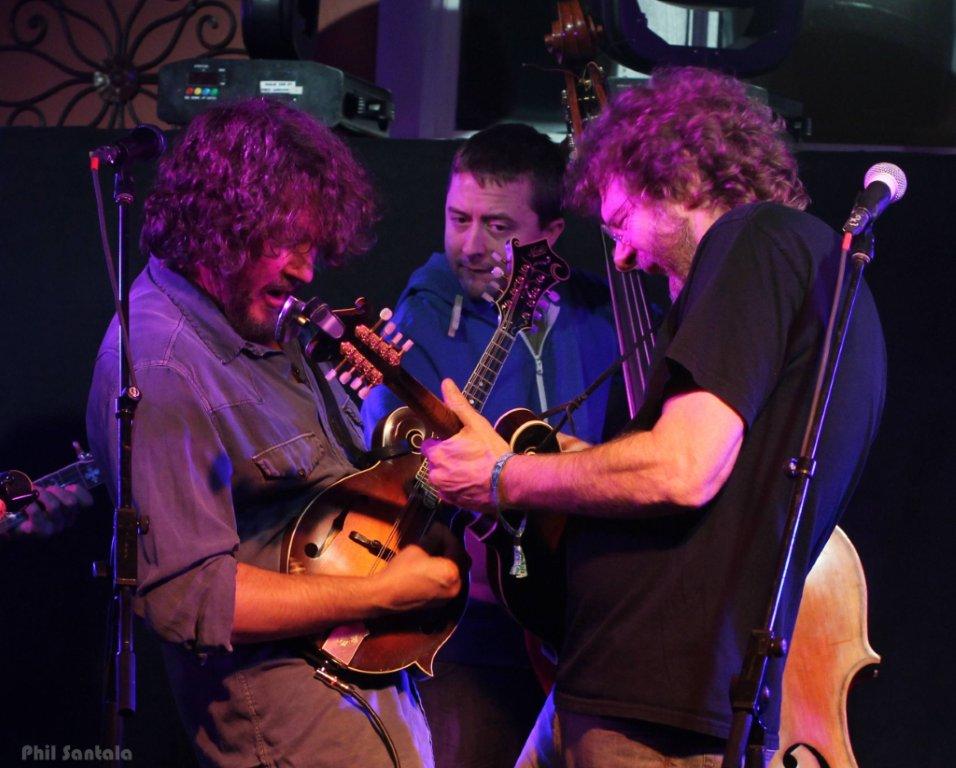 Big Sky's Big Grass Bluegrass Music Festival…
It's like Jamcruise, minus a boat, or like Telluride Bluegrass Festival, but in the middle of winter. Musicians and concert goers mingle, in the venues, around the stages, into the night and onto the slopes. Jam sessions have been known to sprout up by outdoor fires, and around indoor lounges. All the while the snow piles up deeper, and the blue grass keeps shining thru.
The Big Grass regional showcase served as a spring board to introduce festival goers to the local acts that would be playing the next few nights in varying capacities. The regional band showcase demonstrated that Big Grass seeks to encompass all the Bluegrass color spectrum, from traditional, to new grass, to the Colorado blended "poly-ethnic-Cajun-slamgrass". The logistics of Friday night's local artist roundup alone are enough to boggle one's mind. Six local/regional acts, racked up in 30-40 min sets back to back to back to...well in theory it seems daunting. In reality, without dedicated sound checks it should be frightening. But set breaks were quick, 10 minutes or so, and the sound checks on the fly were smoothly accomplished and seemed to be unnoticed by the attendees. Jeff Lord-Alge of the greatest Yellowstone area sound machine I-Mix Pro demonstrated that this was far from his first rodeo.
But it was the Friday night Whiskey Jacks show that showcased all that this line up has to offer. The Emmitt-Nershi Band was joined on stage by resident blue grass extraordinaire, Sam Bush. Sam's appearances over the last few years have increased in frequency this year. There is even some talk and hope that Mr. Bush could become the headline "artist in resident" for Big Grass, helping in the future to bring new acts and guide the direction of this annual event. Andy Thorn's look as he took to the stage encapsulated the atmosphere in the barroom; it was a simply electric (bordering on an evidently illegal) smile! Highlights from Friday evening included the irreverent String Cheese Incident tune "Johnny Cash." But the clearly evident winner would have had to have been the dueling Mandolin throw-down during "Breakin' Thru", a tune which was widely popular and extremely well received when it appeared on the Nashville Sessions where Sam Bush was also featured along with Drew Emmitt. An extended sing-a-long with the crowd that also featured opening act Pete Kartsounes occurred during the Bob Marley tune "One Love." This tune celebrated the feeling of the evening, and what would have been Bob Marley's birthday this last week as well. Of course it could have been prompted by Bill Nershi's comments about the barroom smelling "a whole lot like Colorado."

Saturday night seemed to bleed from Friday into Sunday. Emmy nominees Special Consensus blew away the smaller crowd in the Talus Room, a smaller seated venue that served its purpose well. Tired legs from rocking all night and riding all day seemed like they could use a break, and the seats quickly filled up with energized fans who would be dancing away the night again shortly. The Del McCoury Band was enthusiastically received on the main stage, but their sound suffered here a bit. In a room this size and with the raucous crowd in tow, at times it was hard to hear the band unless one was towards the front two-thirds of the close-to-capacity room. Sam Bush joined Del on stage for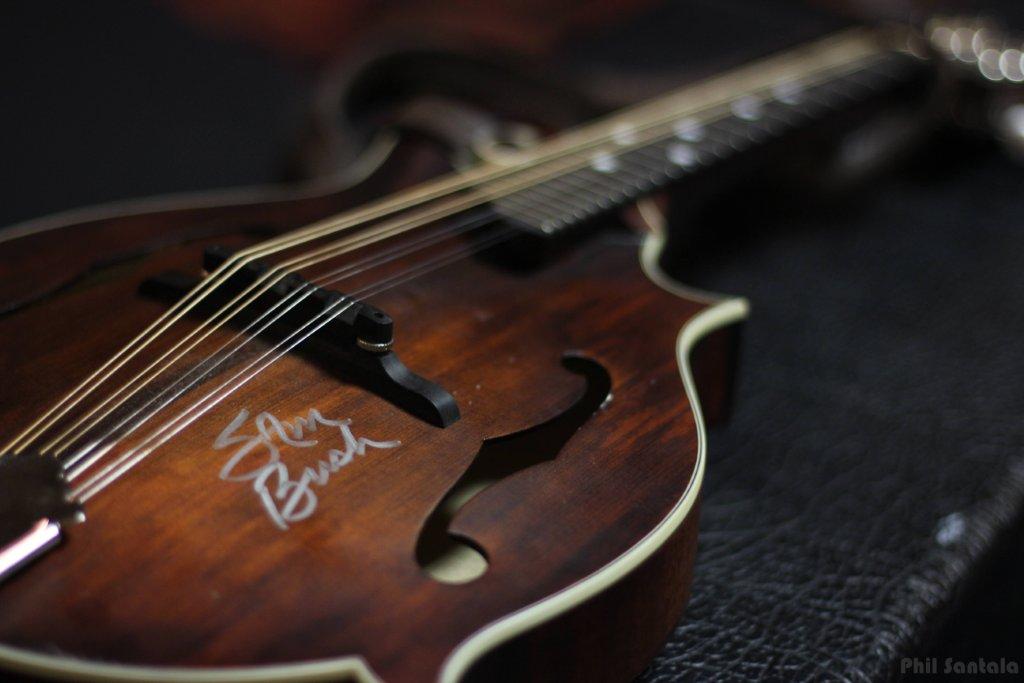 a few tunes, joking that he had told Del that he "still had time to change…" explaining to the crowd that the suit was just Del's "street clothes." Members of the Del McCoury Band, and/or Traveling McCourys joined Emmitt-Nershi on stage that night and lit up Whiskey Jacks late into the evening as the snow fell deeper and harder outside.
It was Sunday night that was the clear peak of the weekend run. The evening's early highlights were Bill Nershi sitting in with the Traveling McCourys for a number of Bluegrass standards, including a few selections from the David Grisman/Jerry Garcia album Old and In the Way in the Talus Room. The clear standout of the evening would of course be the grandmaster of the weekend's fun: Mr. Sam Bush. The Sunday evening crowd had clearly not diminished in capacity by much. They still came to get down, and the seats in the front of the house had been moved off to the side to allow the boisterous crowd to really get down. That being said, it was a little disconcerting to hear a repeat from Friday when Sam had sat in with Emmitt-Nershi. Hearing the Muddy Water's tune "I'm a Man" Friday night was indeed a treat, but its placement and repetition again early in Sunday's set seemed to diminish the effect. One might be able to quibble over which rendition nailed it better, but such an argument is moot. Unfortunately, Bob Marley's standard "One Love" would as well repeat itself in a nearly identical spot, falling into an end of the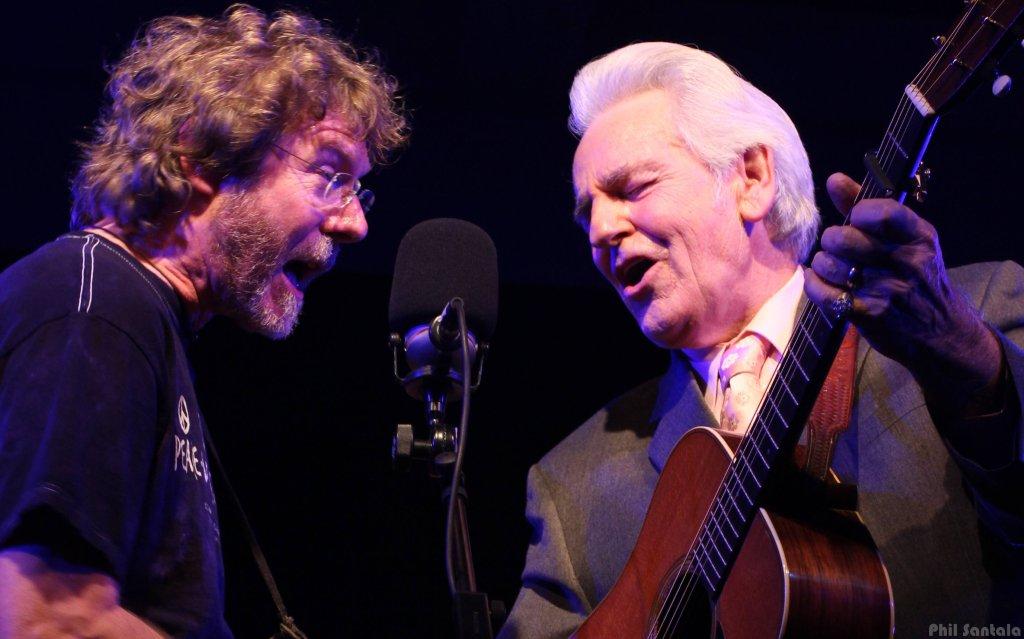 show position again Sunday night. With additional guests on vocals, Sunday night would be the clear winner of the "which is better?" argument. Again, this should be a conversation that just is not had. Repeats on a tour are expected and often welcomed as cannon fodder for such debates, but within festival weekends they are clearly taboo.
Still, the energy and presence that Sam Bush brought to Big Sky all weekend could not be denied. His smiles, infectious/rambunctious attitude, and jokes/witty remarks permeated the air. His stage presence is reminiscent at times of Trey Anastasio ala Phish 3.0. Dancing around his fellow musicians as they play, cheering them on, and knowing just when to let the spotlight fall off his shoulders and onto another are the mark of a truly gifted musician. No where was this more evident than the Sunday evening festival send off with 13 musicians on stage for a tribute to Levon Helm, whom Sam described as "the heartbeat of America…and one of the greatest musicians…" The over 20 minute rendition of "Up on Cripple Creek" was absolutely an amazing showcase of just some of the talent gathered in Big Sky for this winter's weekend festival. It wasn't just the song, or the gathering of musicians on stage to perform it that topped it off so well. It was the presentation of it. Every musician on stage was given a chance to take a stand-out solo shot, promoted by Sam. In this epic bluegrass throw down, the clear winner by the crowd's response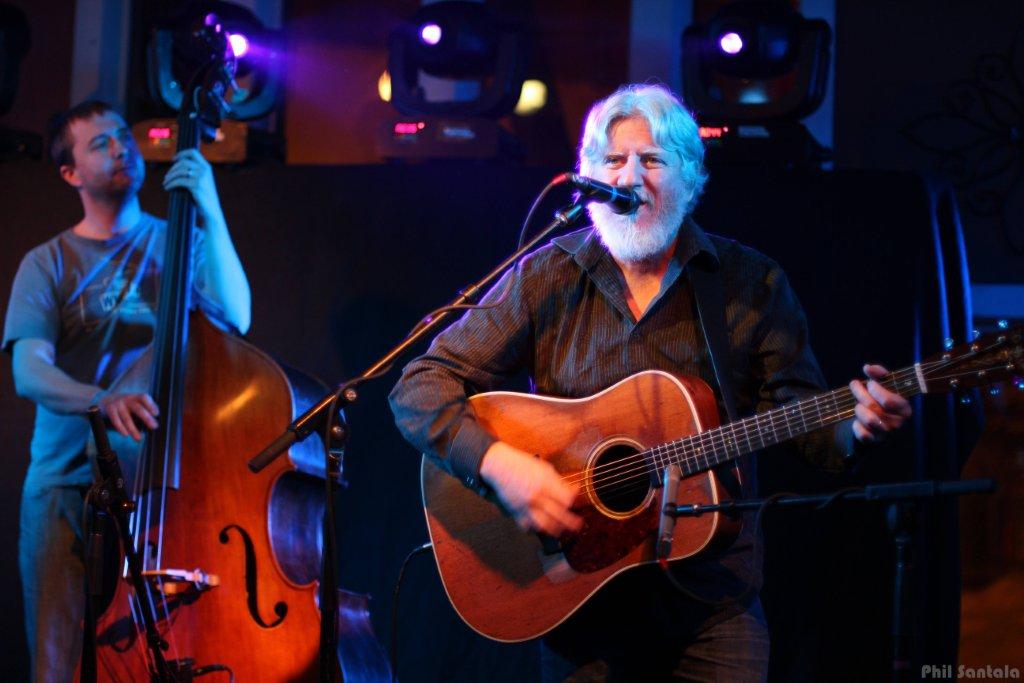 would have to have been Bryan Bowers on the Autoharp. It was with a huge round of applause that Sam Bush and guests would leave the stage, the crowd clapping and gasping for air.
Pete Kartsounes closed out the festival with an extended set featuring his roommate from Boulder, banjo player Andy Thorn. The Whiskey Jacks venue serves a great purpose here. It provided festival goers with a more intimate, late-night feeling show with which to wind down the weekend festivities. If the late night shows move to the ballroom next year to accommodate the sold out crowds Friday and Saturday, it would seem that the Sunday night show could still be left in place here. Wind down in no way describes the music this evening, but rather describes a loosening of the festival weekend atmosphere. Eventually in all festivals this time must come, the end of the weekend and the return to reality. Pete plays a style of bluegrass and modern which was demonstrated by his mixing in of AC/DC's "You Shook Me All Night Long" and the Beatles tune "Eleanor Rigby."
As the end of the festival wrapped up, it was hard to see who was more excited about the weekend, and the weather. Numerous shout-outs were made by artists to the show promoter, local Steve Merlino. An equal number of artists made references to the knee to waist-deep powder conditions to be had a-plenty on the slopes after a strong system moved in Saturday evening. Bluegrass and skiing seem to go hand in hand. Maybe it's the musical roots in the mountains of the eastern U.S. Certainly it's more modern ties are to be had too. Bands like Leftover Salmon helped push the genre along while cutting their chops playing for passes to resorts in the high mountains of Colorado. Whatever the connection may be, the big skies of Montana and the bluegrasses of new and old mingled sweetly for a few snowy days and winter nights.

The Big Sky Big Grass music festival, now in its seventh continuous year, is coming into its own and starting to show some serious legs. The move off of President's Day weekend may have hurt overall attendance for Sunday night, but the send off Sam Bush gave this event went on to prove the proverb, never miss a Sunday show. The move off the famed long mid-winter ski weekend does something else as well. It frees up the hotels, slopes, and surrounding activities from the crush of ski-vacationers. There in lies a huge draw of this festival, and it's now slotted move out of that weekend. Less people, better deals on flights and hotels, and more powder (snow) to be had for riding. Rumor has it that the festival dates will be announced well ahead of the line up next year to provide concert attendees to book better rates on hotels and rooms. Additionally, an attempt has been made to recruit Sam Bush as the "Master of Ceremonies" for this event, a de-facto role which he seems to be playing already. One thing is for sure, wherever you fall on the spectrum; from hard core rider who enjoys bluegrass, to bluegrass aficionado who mildly enjoys amazing winter days and activities (umm, Yellowstone National Park anyone?), Big Sky Bluegrass Festival is an event not to missed.
Written & Photos by: Phil Santala
Edited by: Rosemary A.W. Roberts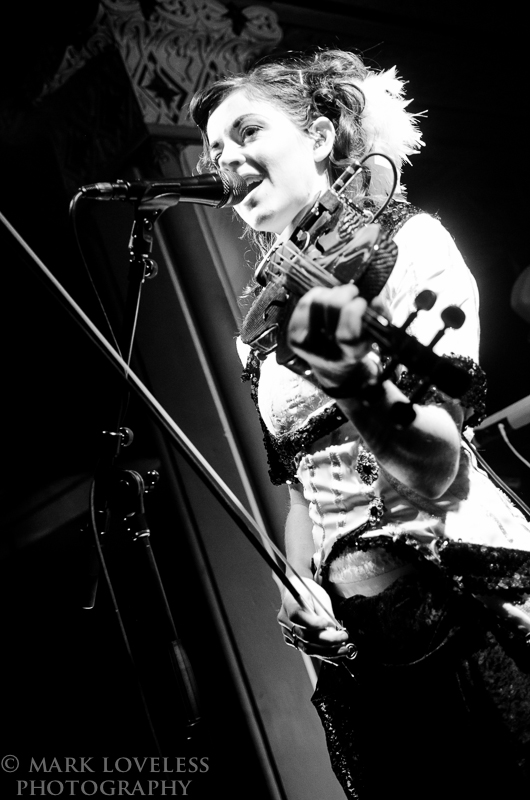 Lindsey Stirling--Deluxe Old National Theatre--Indianapolis, IN—03/12/2013
On a Tuesday evening in March, Indianapolis witnessed a genre of music that I was not even sure how to classify at the time. Remember back in the ancient times those string-like puppets that you pull on the string real fast, and suddenly the puppet would make a quick jolt with it legs or arms? Well Lindsey Stirling reminds you of a marionette with balancing yoga poses that would suddenly leap in the air, skip across the stage, spin like a Texas tornado and bend frontwards and backwards, all while playing a theatrical piece of classical violin music backed by a thundering drummer and keyboardist. The crowd at the Deluxe was completely different than anyone would expect for a dub step violinist. The crowd ranged from kids of all ages to 60-plus aged folks.
Before Stirling would transform herself into a leaping leprechaun she would open the night with a taste of classical violin music. Another great theatrical piece was her third song of the night, "Spontaneous Me." "Spontaneous Me" is a perfect example of Stirling showing off her astonishing dancing skills while not missing a note on the violin. By the fourth song of the night Stirling was showing that she is more than just a violinist in an original song, "Electric Daisy." Huge thanks should also go to Stirling's cinematographer Devin Graham, who contacted her shortly after her performance on America's Got Talent. Graham's cinematography helps set the mood for each song that Stirling performs; "Electric Daisy" made you feel as if you were in the mountains of Colorado, while "Crystalize" made you feel as if you were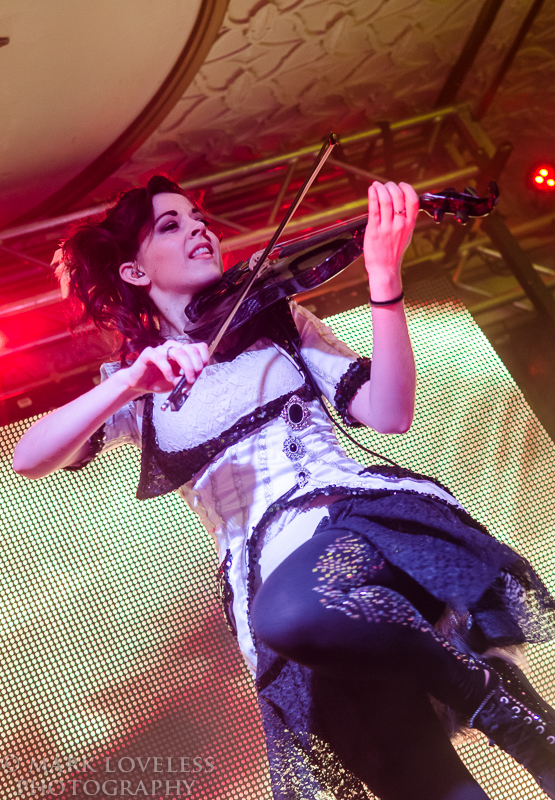 surrounded by ice sculptures. Midway through her performance Tuesday night she pulled out of the hat a classic video game theme song for all the gamers in the crowd as she went into "Zelda." Again Stirling has an astonishing and unique stage performance as she includes something for all age groups like Just Dance or Dance Party for children on the big screen. Stirling would also grab the dub step fans' attention as she played her favorite song off her new album Lindsey Stirling, called "Zi-Zi's Journey". Lindsey would close the night off with "Crystalize" an extremely popular selection in Stirling's list of music. "Crystalize" is what helped make her dream come true with the power of the Internet and YouTube in which she has received over 50 million visitors for this one song.
Although Stirling's set was approximately 80-minutes long she provided something for all groups. If someone would have said I was going to photograph a Mormon dub step, hip-hop classical violinist, I probably would've turned my back and walked away. However, after seeing this up and coming star a few years ago on America's Got Talent, I just knew someday this "cartoon figure" was going to make a name for herself. Lindsey Stirling made the comment to the crowd mid way through her epic and mind blowing set that she was told her type of music was not marketable. In fact she was told she would not make it with this type of music.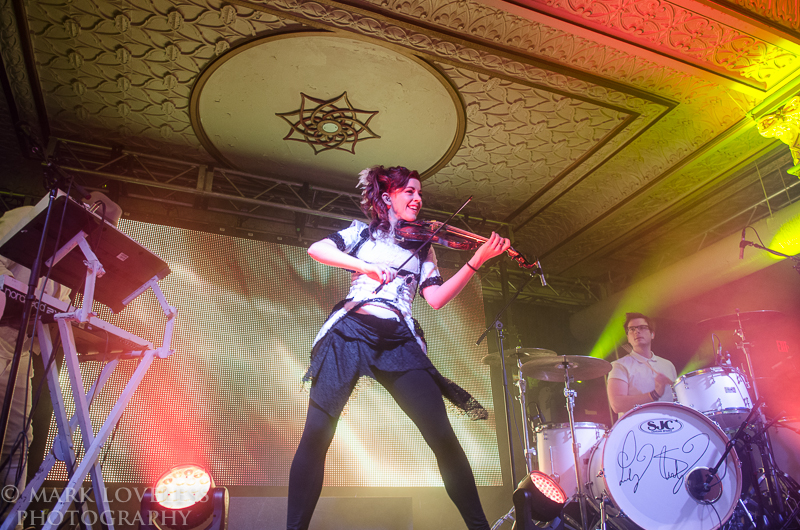 Well, Stirling was not a fictional character then and definitely is not one now. Just in the last 5 months alone she has made an album without the help or endorsements of a large record label and has sold out every show thus far. Now, who was it that said Stirling would not make it with this type of music?!
MORE PHOTOS HERE
Written/Photos By: Mark Loveless
Edited By: Rosemary A.W. Roberts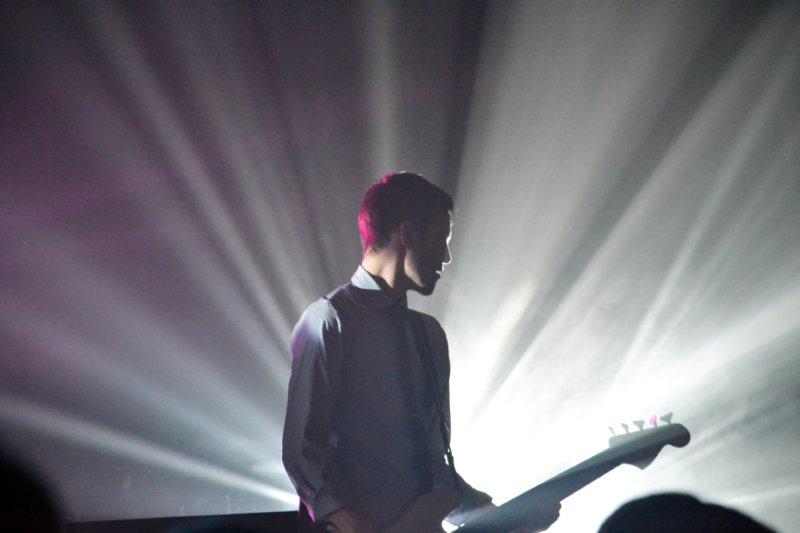 Lotus at the Cat's Cradle, Carborro, NC (near UNC-Chapel Hill campus) February 27, 2013
I have been hearing about Lotus for years and I was extremely excited to finally get the chance to see them at the Cat's Cradle in Carborro, NC. I have been listening to Lotus through Pandora and really loved the songs I heard. Most of these songs were from their older albums such as Germination (2003) and Nomad (2004). But to get ready for this show, I ferociously listened to their more recent albums and EPs in order to get a feel for their current sound. And it wasn't surprising that I couldn't get enough of their latest studio work. Albums such as Lotus (2011) and Hammerstrike (2008) totally blew me away, while Feather on Wood (EP - 2009) was one of the best selections of studio songs I've heard in years.
We arrived at the Cat's Cradle just outside of the University of North Carolina Chapel Hill campus early to get set up to take pictures and make sure we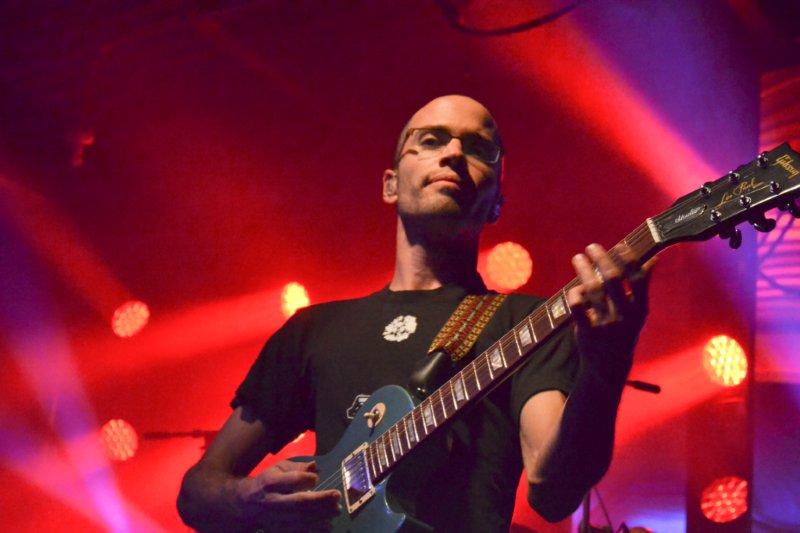 didn't miss any of the opening act, Moon Hooch. After reading about their recent ban from the NYC Subway system for starting impromptu raves, I definitely had to see this band. What I took away from this set: 2 saxophones + 1 drummer = 1 RAVE; need I say more. After listening to their debut album, I wondered how this would translate to the stage, but I must admit that it translated even better live. I was very impressed with Moon Hooch and I see a very bright future for this band.
Lotus started the first set with "Suitcases" (Nomad, 2004). It has the perfect balance of electronic and rock, with a guitar riff that is very hard to get out of your head. The crowd was electric and the show was off to a great start. The second song was "Neon Tubes", off the new album Build (2013), which had come out earlier in the week. As with many current electronic jambands, Lotus' sound continues to push the electronic boundaries. "Neon Tubes" has really great transitions, and a great bass line from Jesse Miller that was thumping hard at the Cat's Cradle. The next song was the heavy hitter "L'immueble" that I've heard on a few shows, but of course it's not to be found on a studio album. Although Lotus' guitar player, Mike Rempel, usually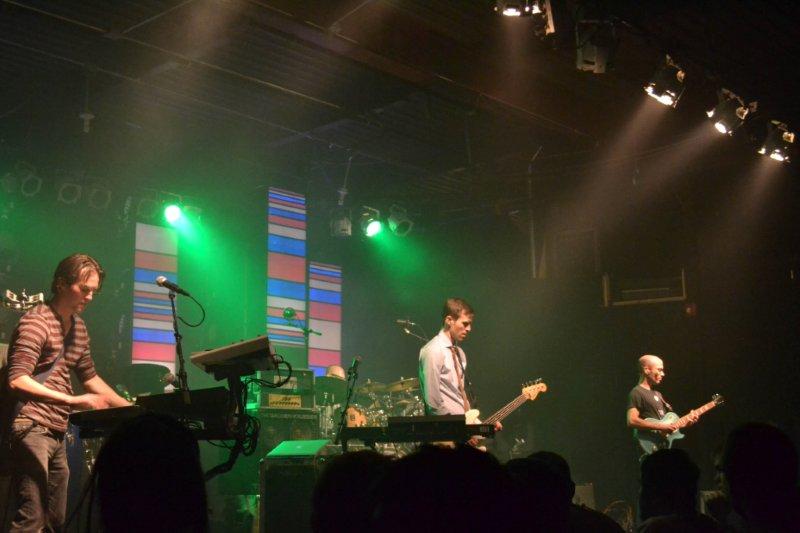 doesn't have many complicated guitar sections, the riffs that he puts together make for some of the happiest and most soulful music I've heard. The way he is able to capture these sounds in both the studio and on stage is truly masterful. It always brings a smile to my face when I see a musician with shut eyes lost in his own music. Needless to say, there would be many moments throughout the night where Mike's eyes were closed. The build at the end of "L'immueble" was glorious and had me moving my body in various motions I hadn't felt in a while.
The next 2 songs, "Cutinuo" and "Middle Road", were also from the new album Build. "Cutinuo" really allows Luke Miller the opportunity to show off his keyboard skills and the song has a perfect blend from each of the musicians. I really like the vocal sample provided by Jesse Miller in "Middle Road" and the live version gave Mike the opportunity to show off some of his jamming skills. Lotus' traditional jamband sound definitely comes out in the middle jam of this song. The next 2 songs, "Gilded Age" and "Intro to a Cell" are also not found on any albums. "Gilded Age" appears to be a very new song left off of Build. "Intro to a Cell" has been played many times over the years and has some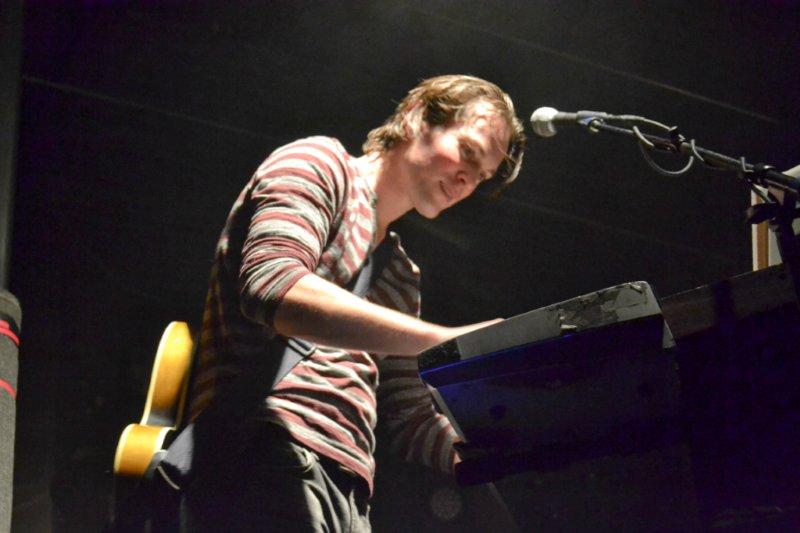 very spooky and funky keyboard and guitar sounds. It was also a treat to hear this song with former Lotus member, Steve Clemens, on drums. The final song of the 1st set was "Ashcon" (Build, 2013) and although not that easy to dance to, it has some interesting samples and bass lines. An interesting note about the first set was that there were no segues, which is rather uncommon in many Lotus' sets. This wouldn't be repeated in the 2nd set.
The 2nd set started off with "Golden Ghost" off the self-titled album (Lotus, 2011). This is one of my favorite songs off that album, so I was excited to hear it live. "Debris" is another brand new song and must have come out after the final selection of songs for Build. "Debris" has the potential to be a huge song. The next song was a crowd favorite "Plant Your Root" (Nomad, 2004). For me, this was one of the best moments of the night and I could tell from the crowd they agreed. "Plant Your Root" has very intricate guitar riffs and allows the band to test their improvisation, which finally segued into the cover of "Ghosts N' Stuff" by DeadMau5. Fists were pumping throughout the crowd when the first keyboard lines to this song started. The next song was the heavy hitter "Livingston Storm" off Nomad (2004) and I must admit this was the first time in the night I found myself completely focused on the drums and percussion provided by Mike Greenfield and Chuck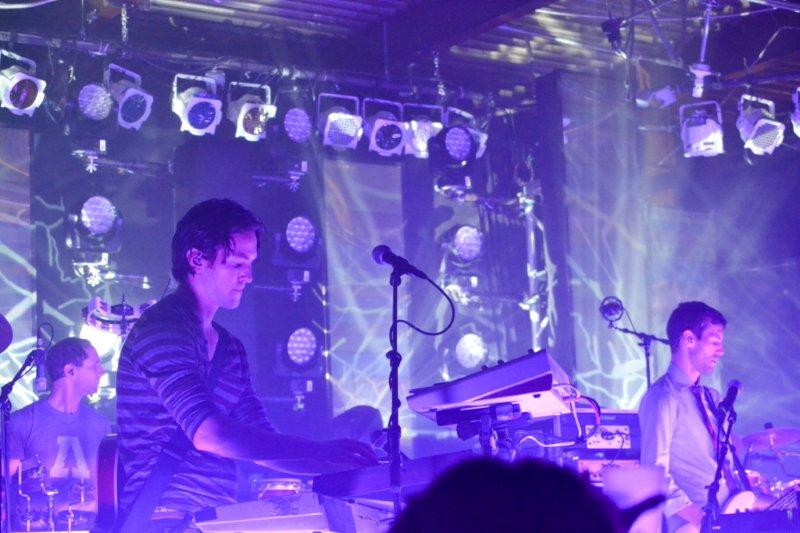 Morris, respectively. I had heard Mike Greenfield's name many times over the years in association with the Disco Biscuits and Conspirator, so it was nice to finally get to see him play. The two of these guys really provide a solid foundation for the 3 men up front to explore their instruments. "Livingston Storm" was followed by another song off Build entitled "What Did I Do Wrong," which has quickly become one of my favorite songs off the new album. It has a similar theme and architecture to "Ashcon" and might be a little easier to dance to.
The next song of the 2nd set was "Invincibility of Youth" (Hammerstrike, 2008). The guitar riff in "Invincibility of Youth" is one of the most soulful sounds I heard all night and the percussion in the middle section jam was fantastic. The final song of the 2nd set was "Wax" (Escaping Sargasso Sea, 2007). I'm not sure how often this song is a set closer but it had great placement for this show. Since it has very intricate and complicated sections and is usually a 15-20 minute song, it gives each member the opportunity to have a turn at leading the band. The final build in "Wax" is such a powerful section of the song and it left the crowd going wild and begging for more. After a very brief moment off stage, Lotus came back and finished the night with "Hammerstrike" (Hammerstrike, 2008). This nearly 10-minute version was a treat and ended the night perfectly. Overall, this was a fantastic night and I plan on seeing Lotus as much as possible over the next few years. I'm truly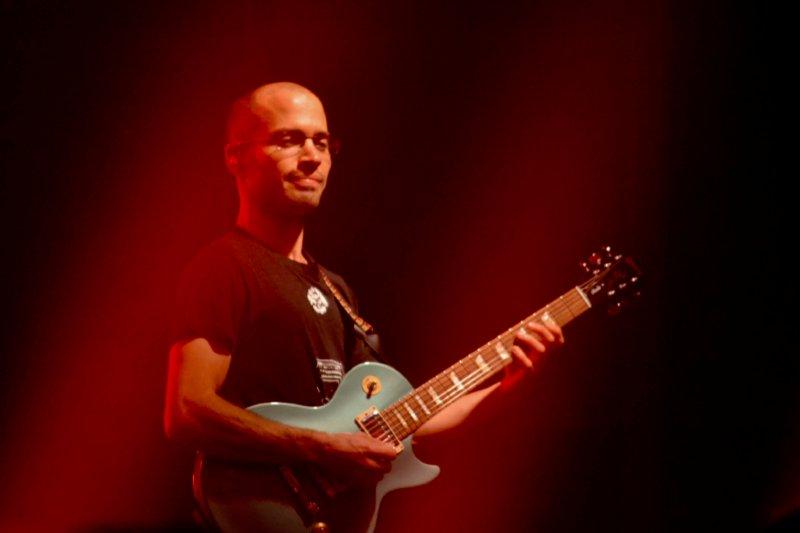 sorry it took this long to finally see them live.
2-27-13 – Cat's Cradle – Carrboro, NC
I: Suitcases, Neon Tubes, L'immeuble, Cutinuo, Middle Road, Gilded Age, Intro to a Cell*, Ashcon
II: Golden Ghost, Debris, Plant Your Root > Ghosts N' Stuff > Livingston Storm, What Did I Do Wrong, Invincibility of Youth, Wax
E: Hammerstrike
*With Steve Clemens on drums
Written by: Kerr & Courtney Wall
Photos: Courtney Wall
Reviewed By: Rosemary A.W. Roberts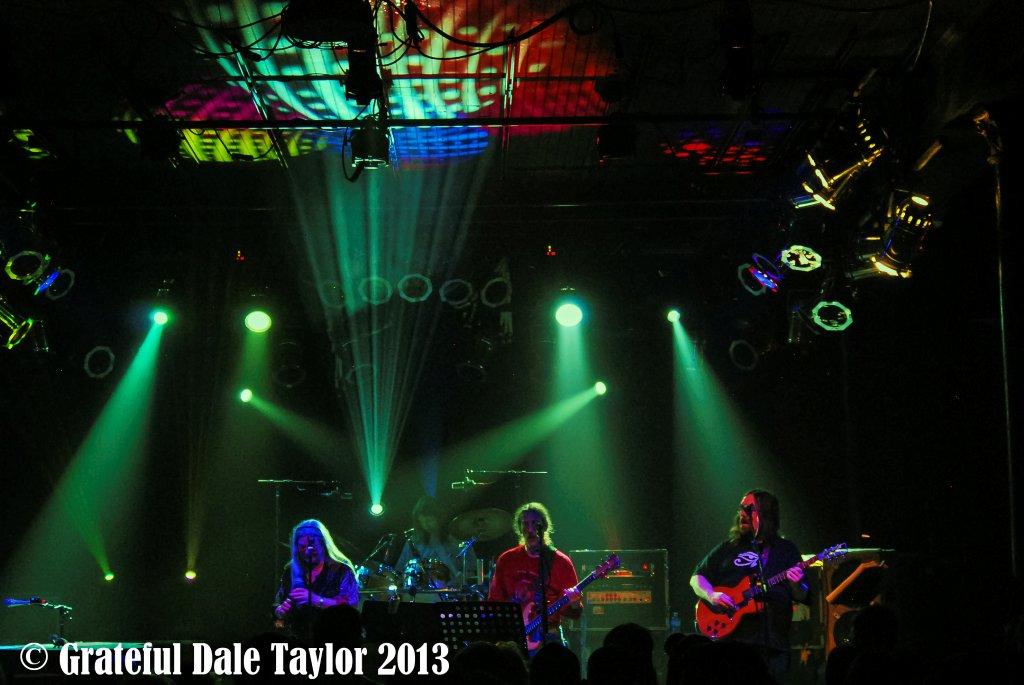 Dark Star Orchestra—Vinyl Music Hall—Pensacola, FL—02/19/2013
Although it took a while to fill in, a near-capacity crowd brought a tie-dyed vibe to Vinyl Music Hall, as they warmly welcomed Dark Star Orchestra to Pensacola, FL. Having toured for over 15 years, Dark Star Orchestra (DSO) is renowned for performing Grateful Dead shows in their entirety with keen attention to detail, adopting stage positioning, vocal arrangement, and types of instruments to match those of the original performances. But on February 19, 2013, mainly due to the absences of rhythm guitarist Rob Eaton and vocalist Lisa Mackey, the band took a foray into less familiar territory, playing a Jerry Garcia Band (JGB) show instead of a Grateful Dead show. As an especially authentic touch, the female vocalist who performed the original April 1, 1976 show (and who also spent seven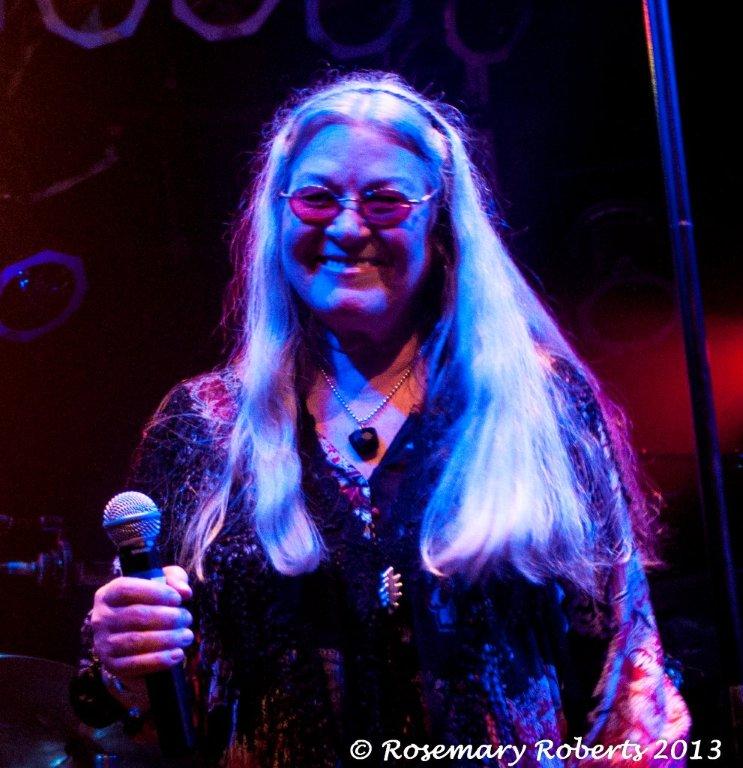 years as a member of Grateful Dead), Donna Jean Godchaux-MacKay would be with the band on this night, which made me even more excited about seeing DSO for the first time!
Right from the start with the opener "Sugaree", I was impressed with how lead guitarist/vocalist Jeff Mattson sounded very much like Jerry Garcia, in particular the tone of his guitar. "Catfish John" was quite a crowd-pleaser, and by the time JJ Cale's "After Midnight" started, everyone was immersed in the groove, as if we'd jumped on board a time machine and found ourselves at the Palace Theatre in Waterbury, CT in 1976. I was happy to hear Jimmy Cliff's "Sittin' In Limbo", done with a thoughtful and gentle rhythm and pace that would underlie much of the show. "Friend of the Devil" was played as JGB tended to play it, slow and sweet, taking time to savor the melody. A very enjoyable "Tore Up Over You" allowed the band to rock a bit, and keyboardist/vocalist Rob Barraco took advantage of the space he was given and enthusiastically tore it up, as did Jeff Mattson. "I'll Take a Melody" found Mattson's vocals particularly pleasing, while the awesome set closing "Don't Let Go" found bassist/vocalist Kevin Rosen deep in the pocket, and really had the band swinging.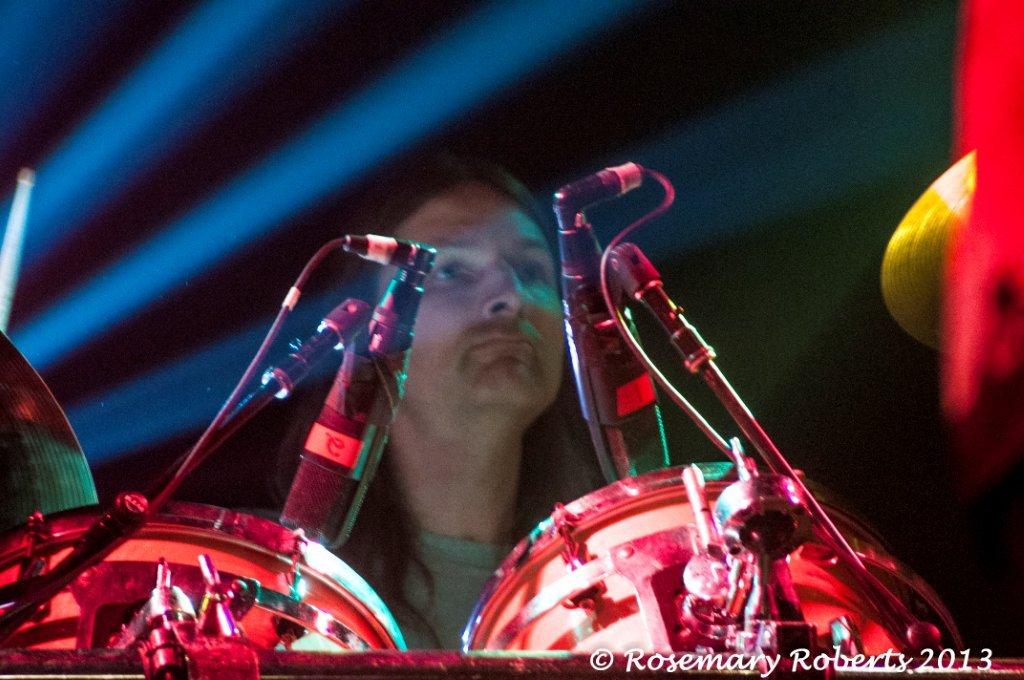 After a brief setbreak, Dark Star Orchestra returned to the stage with a romantic, tender-hearted sentiment, as Motown classic "How Sweet It Is (To Be Loved By You)" was followed by Grateful Dead's "They Love Each Other". Next, Donna Jean was given a chance to shine with "A Strange Man", and she put her heart and soul into it; her voice sounds perhaps even lovelier now than in the past, and she looks absolutely beautiful, dancing and singing with grace. The Southern crowd showed their delight as a cover of The Band's "The Night They Drove Old Dixie Down" was played slow and deliberate, and the entire audience sang along. "The Harder They Come", another Jimmy Cliff tune, continued the laid-back easy vibe, while drummer Dino English kept the reggae beat rolling. "My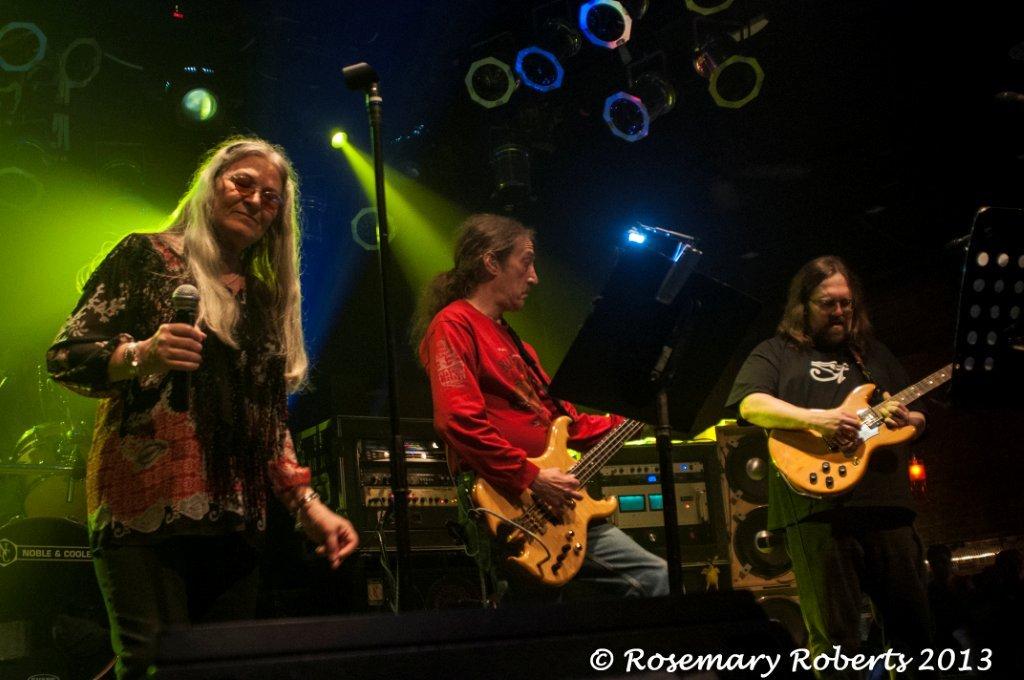 Sisters and Brothers" amplified the peaceful unity that seemed to pervade the venue. To end the set, a righteously jammed out "Lonesome And A Long Way From Home" sealed the deal, and the thunderous applause from the crowd was a testament to the success of the show. A bonus encore of "That's What Love Will Make You Do" gave Rob Koritz some drumming time, and finished out the wonderful evening.
Having never seen Dark Star Orchestra perform a Grateful Dead show, I cannot attest to the band's ability to recreate the "Dead" experience. But I do feel they definitely did justice to the memory of the Jerry Garcia Band with the performance they gave in Pensacola. Throughout the night, DSO was patient and unhurried, taking plenty of time to jam out and stretch their musical muscles. Thus I can imagine that they do the same when they play Grateful Dead shows, thereby genuinely conveying the improvisational nature of the concerts. I do think we were blessed to see and hear Donna Jean Godchaux-MacKay performing with the band; it truly made the show an even greater treat. I definitely left the show feeling "Grateful", and would welcome the chance to see Dark Star Orchestra again!
Written and Edited By: Rosemary A.W. Roberts
Photos By Rosemary A.W. Roberts and Grateful Dale Taylor: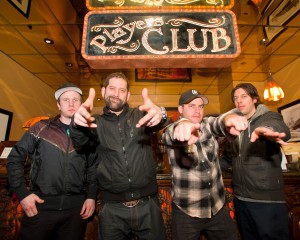 Conspirator ~ The Tabernacle ~ Atlanta, GA ~ February 16, 2013
Downtown Atlanta on a Saturday afternoon can be quite busy and hectic. February 16th was of special caliber. The calendar of events in the entertainment section would hold an odd combination of "what to do". A national cheerleading championship, the Ringling Bros. circus, 35mph blustery, cold winds, as well as an international hair/wig convention were all on tap, and…Conspirator, opening for moe. Jams Plus Media chose the latter.
After a stellar night at Aura Music Festival down in Live Oak, FL and on their way north to Minnesota, Conspirator made a stop at the renowned Tabernacle to join forces with a hot, winter touring moe. As ALWAYS, the Tabernacle provided a superb backdrop for Marc Brownstein (bass), Aron Magner (keyboards), KJ Sawka (drums), and Chris Michetti (guitar) to bring their heavy hitting, funky dance, incredible drops "jamtronica" to the stage and turn some jam band'ers into believers. With the Electronic Dance Music (EDM) world blending nicely into the jam band scene, Conspirator is lavishly sitting on top of the hill.
It's nice to see musicians having fun, pushing their conception of their own music to heights and distances that seem to even surprise themselves. This phenomenon was noted numerous times when KJ's drums would go warp speed into a build-up and a smile would cross Marc's face as he pounced on a low bass note, signaling the crowd to change direction and bust out that new dance move they'd been reserving. Michetti's fret work was ridiculous, giving Magner the tough job of keeping the electronics a step ahead. Most of the performance was driven by low, metallic bass and complemented by rising and lowering beats by drums but, at any minute, Chris' guitar work could take the lead or be summed up by seriously sick effects being born on Magner's keys.
With the latest EP, Unleashed, recently being given the green light for release (January 29), the show featured most of the album's six tracks including "Pow Wow", "Hammer Down", "The Commish", "Right/Wrong", "Accent", and "Tumblr". Just a few weeks out, and this album is gaining steam. Atlanta welcomed it nicely with a packed house full of dancing fans, flat brims to boot.
Check out Conspirator's new album for your listening pleasure at http://thissongissick.com/blog/2013/conspirator-unleashed-ep-download-premiere/ and see them live this March among the western half of the U.S., as well as a stop at the Bonnaroo Music and Arts Festival this June.
Written By: Roger Patteson
Edited By: Rosemary A.W. Roberts
Photo is official press photo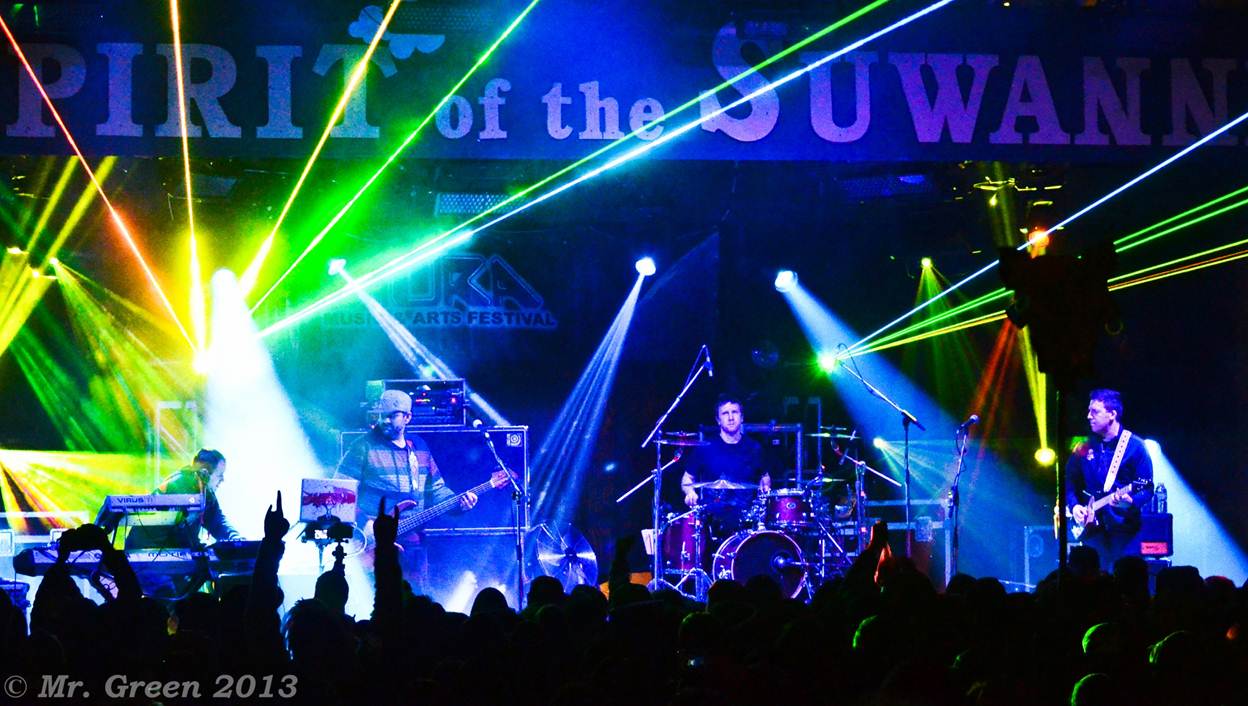 Aura Music Festival—Spirit of Suwannee Music Park—Live Oak, FL—Feb.15-17, 2013
Aura Music Festival kicked off this year's festival season in style. While it was quite frigid outside, the weather proved to be no contest for the warmth that the music could muster. The Spirit of Suwannee Music Park hosted yet another memorable weekend for all those who attended.
The park did not seem to liven up until dusk on Friday as all the work-weary travelers began to flock to the sacred grounds for a little R & R. Perpetual Groove was awaiting the last duo of shows that they were going to play together and the fans turned out for this final spectacle. Not only was the music fantastic but the light show was absolutely mind blowing on both nights. They really went out in style and gave the fans a good show.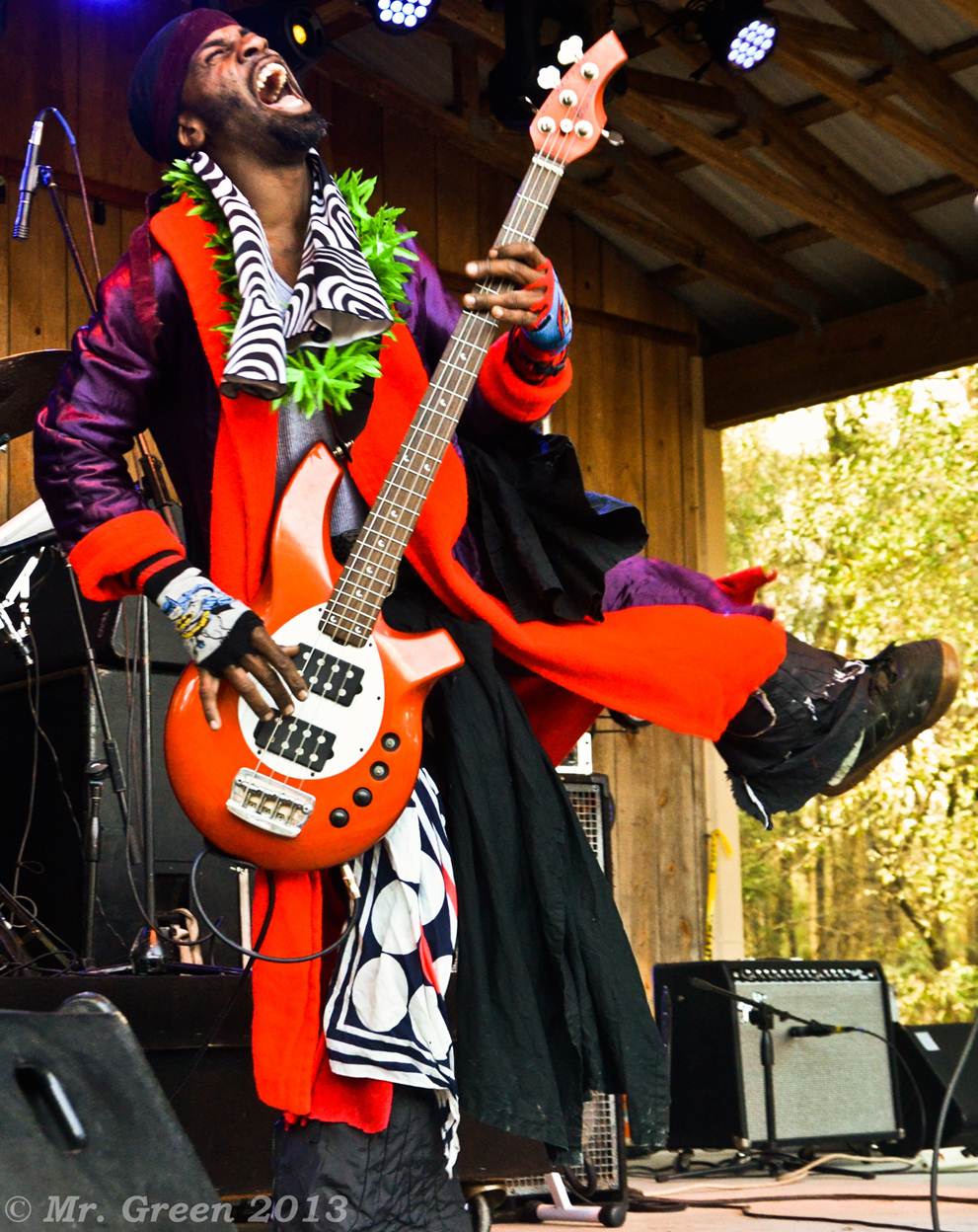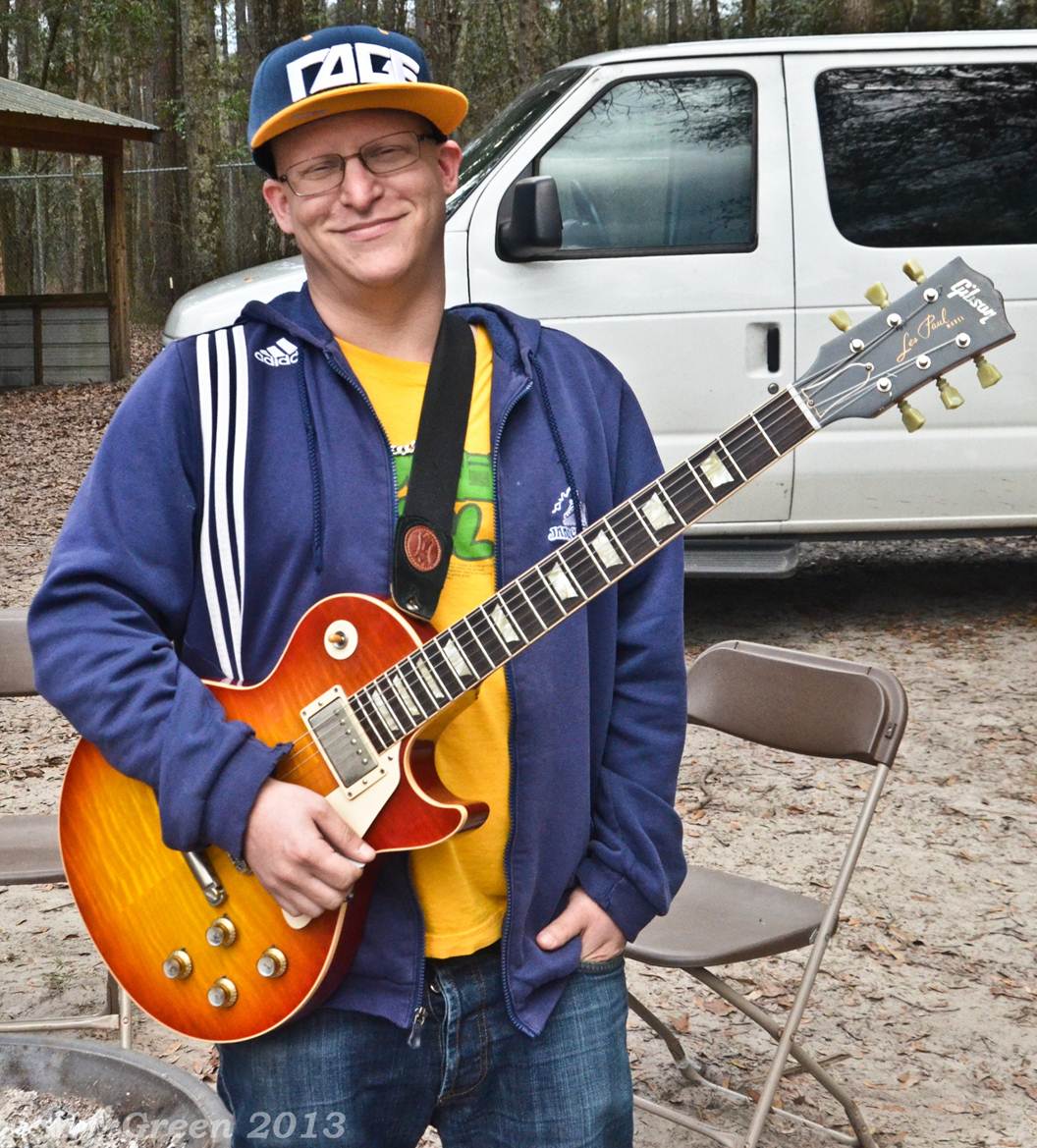 Another one of the talented acts that graced us with their presence is the up and coming Yo Mama's Big Fat Booty Band. This band has so many talented members that have such diverse musical backgrounds, and this brings so much life to the stage as you see them interact with each other and the crowd. Their faces illuminated as the music poured out of their souls and into the ears of all those fortunate enough to catch their set on Saturday. Each of them is so humble and happy to be performing. Their attitudes and outlook are very refreshing to see in the age where it is commonplace for artists to be shut off and arrogant.
Kung Fu and Nigel Hall played a phenomenal Stevie Wonder tribute on Saturday afternoon. Nigel started by saying that they were going to play the set just as "Stevie would have done it" and they did not disappoint. The body language, inflection, and the songs chosen all were to the liking of the fans. The chemistry between the band members was evident as they took us on a journey through Stevie's work. Todd Stoops and Adam Smirnoff both gave some of the best performances that I have ever seen them give. When they reenacted "I Just Called To Say I Love You" the crowd erupted and sang along to the tune. This set was so much fun to experience and be a part of!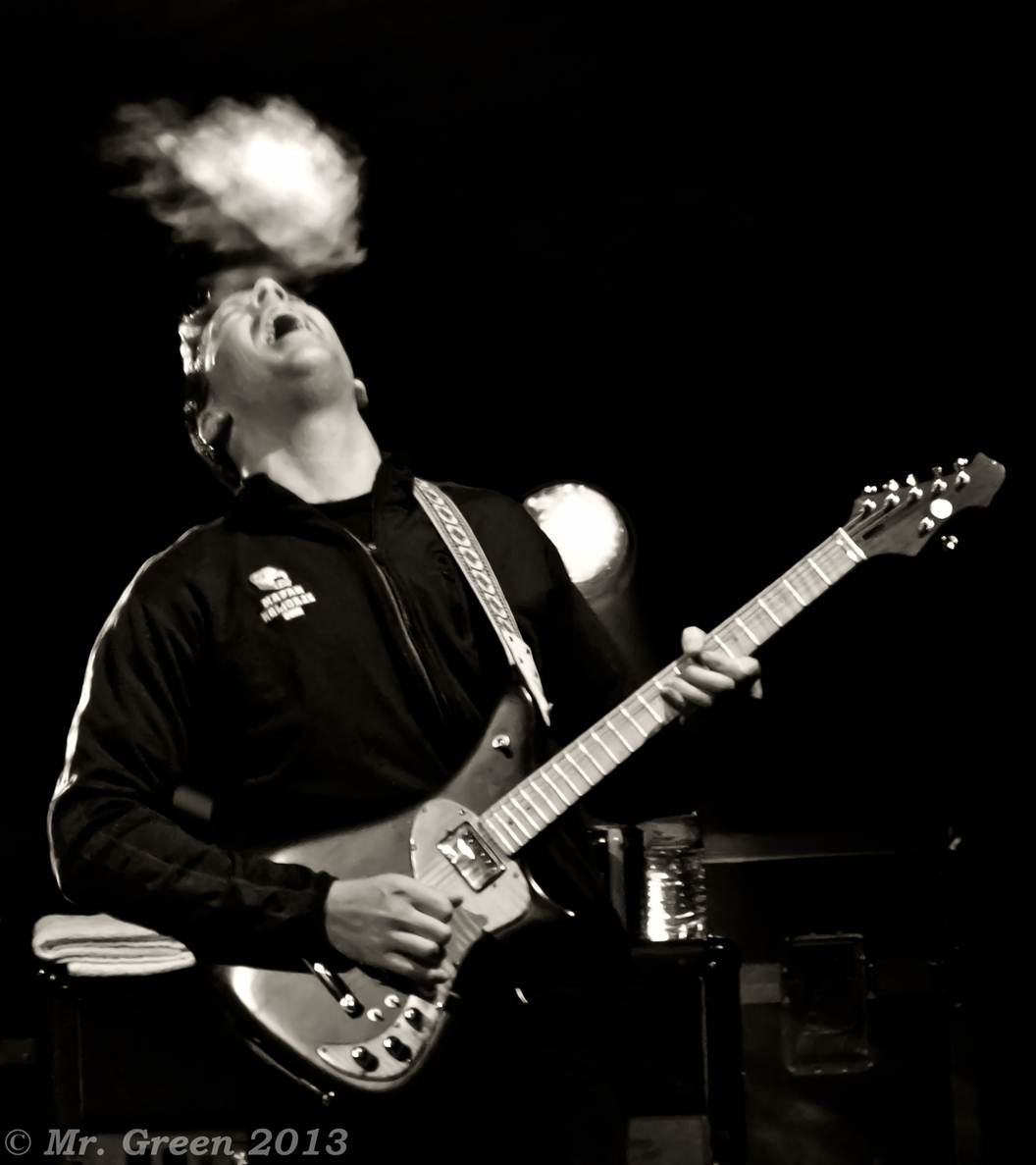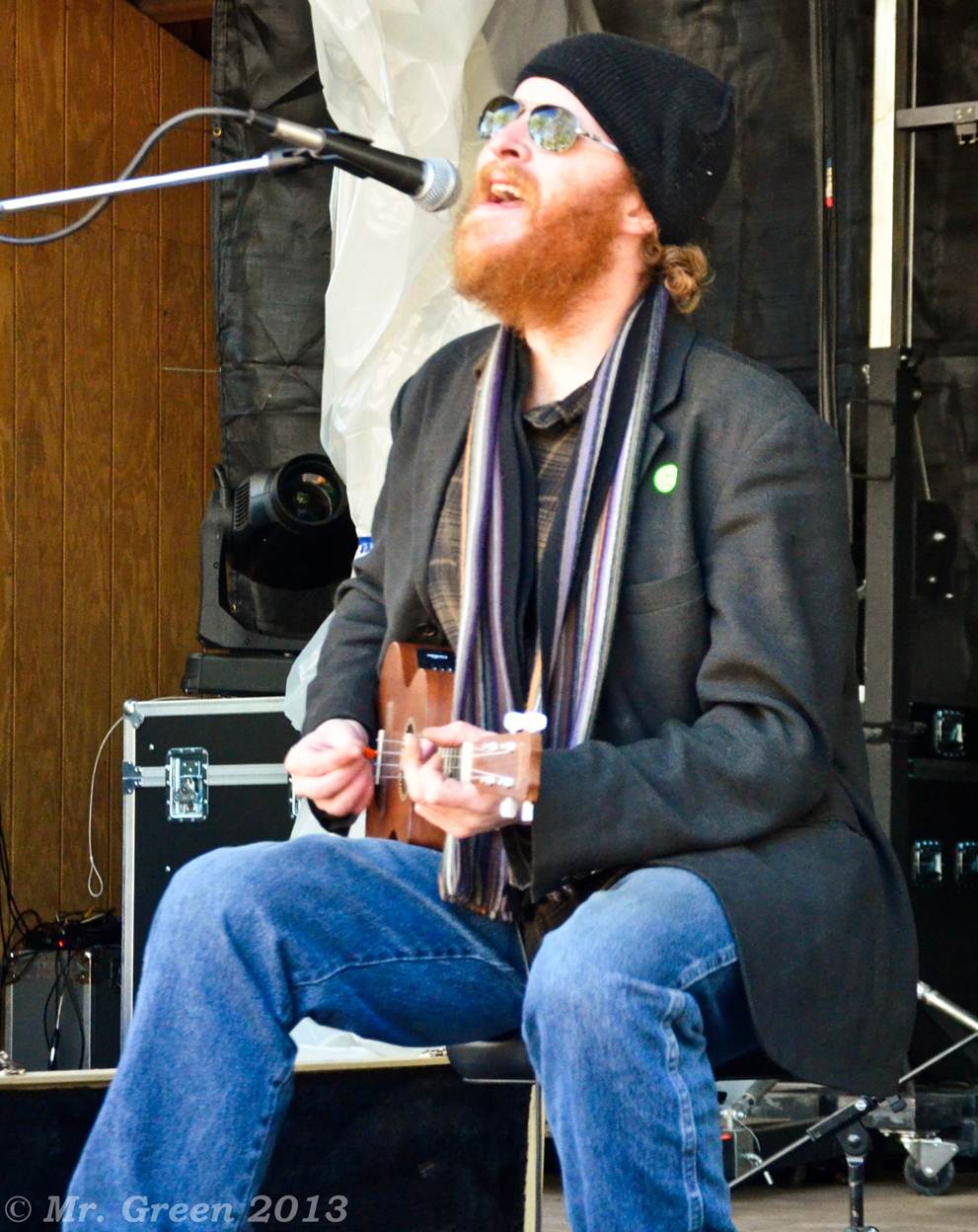 The weather was a bit warmer on Sunday for a couple of the best sets all weekend: Brock Butler and The Lee Boys. Brock started the day out with his acoustic set after having played his last with Perpetual Groove the previous night. His set was graced with several artists throughout it and the music was unmatched. He picked away at his acoustic guitar and sang at the top of his lungs with such ease and tranquility that a mellow mood permeated through the crowd as he performed. The people begged for more as he played his last song, but the show had to go on.
And go on it did with The Lee Boys. The mood was a somber one before the performance as the passing of one of their relatives was still fresh on their minds. Though, as they hit the stage you couldn't even tell that something detrimental had occurred. Roosevelt Collier and the boys gave it their all as they always do at every show that I've ever seen them perform.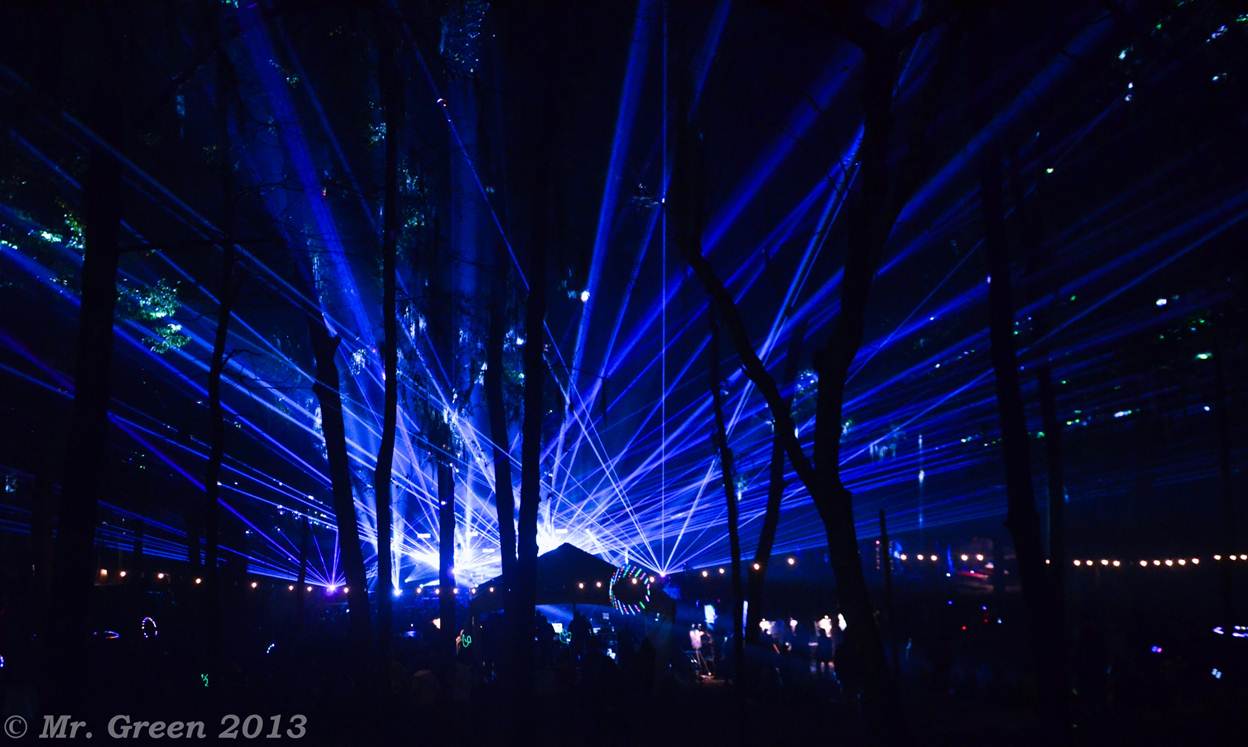 Smiles occupied their faces as they filled the Sunday morning with reverberations of joy and happiness. You move me. Keep up the incredible work, gentlemen.
Aura Music Festival was a success. All of the artists, photographers, vendors, and patrons brought a special feel to the grounds and we were happy that Jams Plus Media was a part of it. We look forward to seeing all of your beautiful faces again for many years to come.
Written & Photos By: Jacob Green
Edited By: Rosemary A.W. Roberts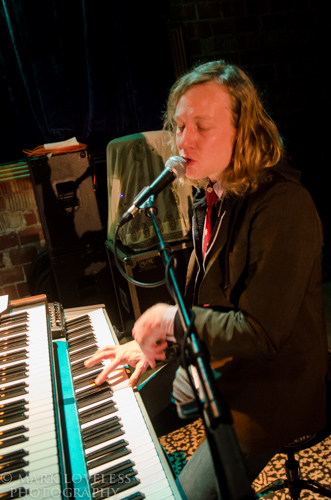 Tea Leaf Green Live at 20th Century Theatre ~ Cincinnati, OH ~ February 15, 2013
Tea Leaf Green stormed into the small vibrant 20th Century Theatre Friday night for an onslaught of jam band music. It did not take the band long to warm up as they started the evening with an 8 minute jam in "Ride Together" straight into yet another crowd favorite "Vote on Tuesday." Tea Leaf Green, a small quiet San Francisco band that does not seem to get a lot of publicity, sure can get loud real quick and make a name for themselves that fans will not forget. Tea Leaf did not hesitate long to get the crowd involved as they played an unforgettable psychedelic tune with Reed Mathis on a thumping bass mixed with mind-blowing guitar rifts from Josh Clark and Trevor Garrod tearing up the keys in "Franz Hanzerbeak." This song is a life changer when heard live! I promise you will go home the same night and YouTube it! Garrod would play another crowd favorite keyboarding jam in "Jezebel" from the album Rock 'n Roll Band. Tea Leaf Green is the perfect example of a rock 'n roll band that once they get on a jamming frenzy, they will take your mind with it to another world and back all within matter of minutes. Clark shows this quality in a rock 'n roll acoustic jam with a hint of soul in "Ocean View," a classic from late 90's. The band would play one straight set with an epic encore. The first set would conclude with another astonishing shredding guitar rift from Clark with "Zoom Zoom" straight into "Ride Together." The band would return to stage so the crowd could really get their moves on with "Truck Stop Salley" with Trevor jamming on the keys, harmonica and jumping up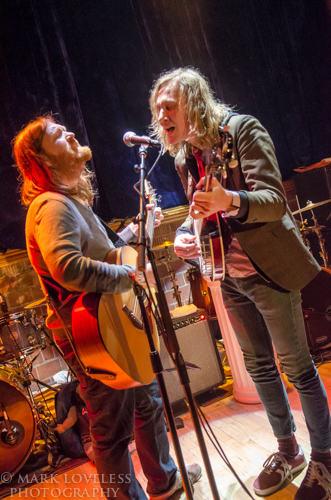 on his stool. In all reality there is nothing quiet about this band. Yeah, they may not be part of the so-called mainstream but these fellas are loud, proud and produce some of the best catchy jam band tunes out there. Please take a moment and listen to Live at State Bridge, which you can download from Tea Leaf Green's website or iTunes.
Set List:

Ride Together >Vote on Tuesday, Cottonwood Tree, Barnicle Betty, Franz Hanzerbeak, Broom >, Dreaming Sleeping, Gemanating, Jezebel, Nothing Changes, Papa's in the Back Room, Oklahoma Home, Ocean View, Sleep Paralysis > Relax, Zoom Zoom >Ride Together

Encore: Truck Stop Salley
Written & Photos By: Mark Loveless - More Photos HERE
Edited By: Rosemary A.W. Roberts

Del McCoury Band ~ Princess Theatre ~ Decatur, AL ~ February 14, 2013
On a night when most were consumed with expensive dinners, floral gifts, and boxes of cocoa madness, Del McCoury and his posse of stringed warriors strapped on their matching black suits and set up shop at the famed Princess Theatre in Decatur, AL.
The historic theatre, located in Decatur's downtown district, provided a cozy environment for its 600 guests. A dancing crowd it wasn't; but, amazed and full of smiles they were, especially since they designed the majority of the set list. Throughout the two hour show, Del and band obliged most of the requests that were shouted from both floors of the two story building. This dynamic never fails at leaving a lasting impression with those attending and certainly added to the intimacy that was already in the air.
With grace and grandeur, Del McCoury (guitar), Ronnie McCoury (mandolin), Rob McCoury (banjo), Alan Bartram (bass), and last, but certainly not least, Jason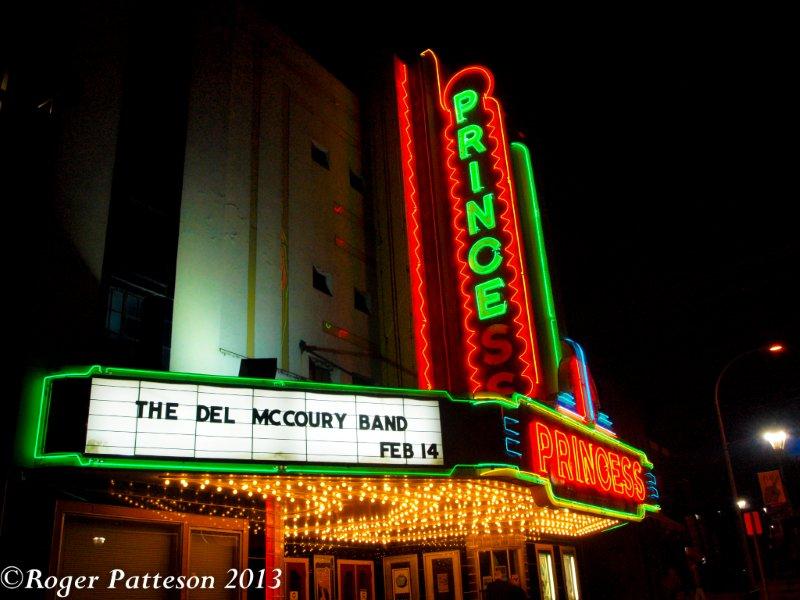 Carter (fiddle) took the stage and warmed the hearts of bluegrass fans both old and young. Frank Sinatra showed up with "Learning the Blues"; "Get Down On Your Knees and Pray" of Marty Stuart and Bill Monroe fame; "I Feel the Blues Moving In" made popular by Emmy Lou Harris and Dolly Parton; and Neil Young's "Hello Lonely Woman" were just a handful of special guest covers. One request that came multiple times was "Rocky Top" to which Del replied, "We only play that when Bobby Osborne is with us." Other highlights included "Rain and Snow"; crowd favorite "52 Vincent Black Lightning" and "What a Waste of Good Corn Liquor". After Liquor, Jason made mention to the crowd that they would ironically sing about alcohol before the heavy ending gospel part of the show.
Classic, trade off Bluegrass with "accompaniment" and "breakdown" play structures are common place at a McCoury show. No matter which instrument takes the spotlight, the other members will usually offer a little nod, complete with a smile, showcasing the obvious respect and appreciation these musicians have for each other. The end result is flawless play, leaving the oldest church goer, youngest jam band fan, or middle aged country and westerner happy and ready for more. Multiple awards at the Grammy's and IBMA (International Bluegrass Music Awards) over the years are just credentials on the surface of what this band accomplishes each time they set out to perform. The real experience comes when watching them live.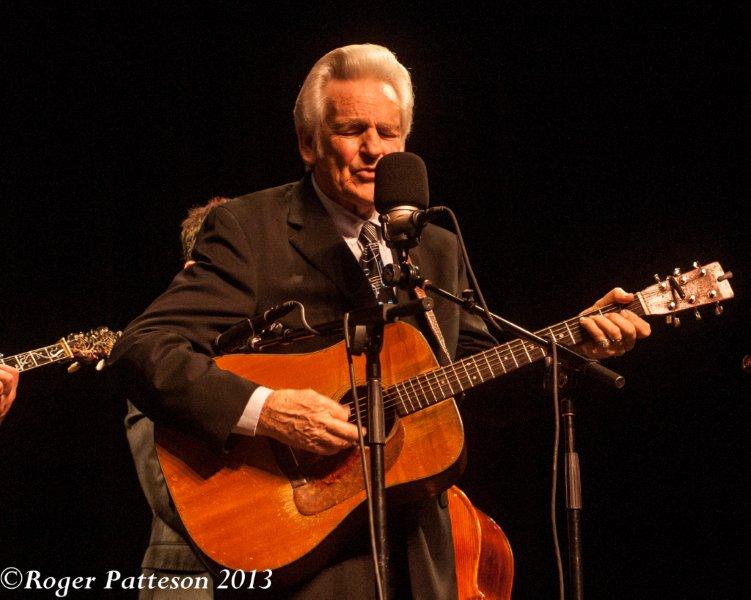 This spring and summer, Del and gang will continue sharing their love and music at numerous personal tour and festival appearances including Merl Fest, New Orleans' Jazz Fest, DelFest, Romp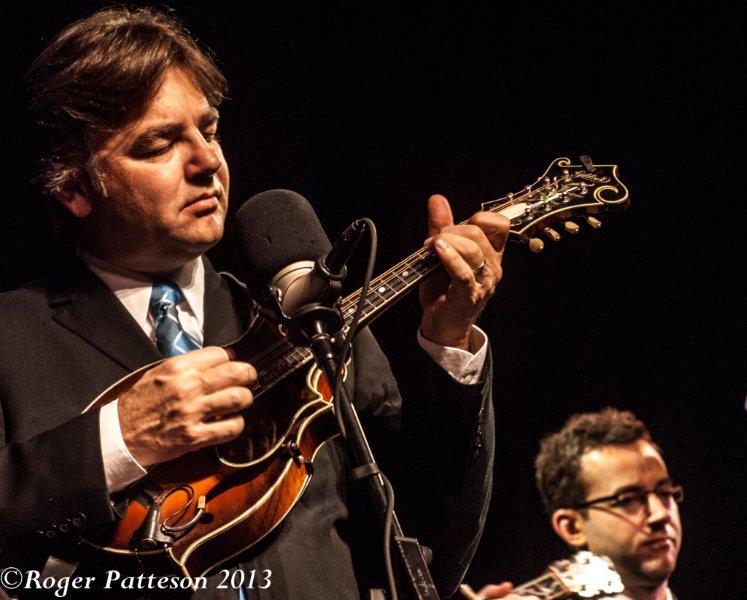 Festival, Bonnaroo, and the Red, White, and Bluegrass Festival. Collaborative work with Preservation Hall Jazz Band, Sam Bush, J.D. Crowe, Bobby Hicks, and Bobby Osborne will also take place in 2013. With little time off the road in 2013, an opportunity to indulge in this great, Americana act is very likely. Don't Miss Out.
MORE PHOTOS HERE
Written & Photos By: Roger Patteson
Edited By: Rosemary A.W. Roberts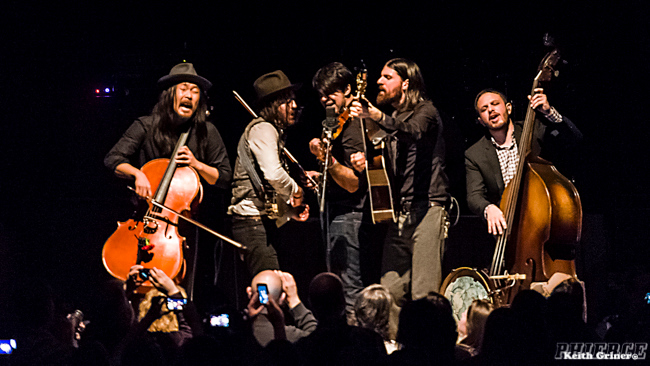 The Avett Brothers – The Embassy Theatre—Fort Wayne, IN—02/14/2013
The Embassy Theater was the place to be on Valentine's Day this year. The place was packed and love filled the air. Everyone's heart was beating a little heavier and it wasn't just because of the kick drum. If you have not seen a show in Fort Wayne, Indiana at The Embassy, I highly recommend it. It is a shame The Avett Brothers cannot bottle up their energy and sell it.
Jill Andrews started the night off right with her genuine stage presence. Her stage banter in between songs is something that is lacking in today's singer songwriters. She had the audience eating out of her hands by the end; and when she had to stop in the midst of a song she had just written because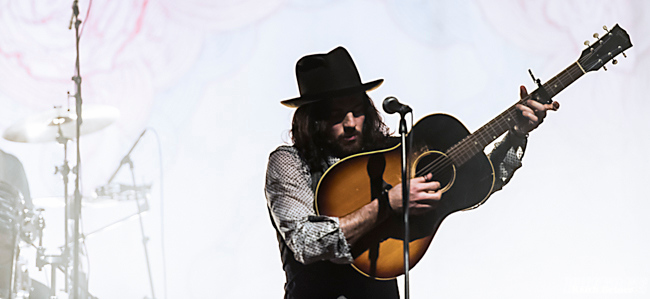 she forgot how it went, the audience cheered as if she had just played their favorite song. It will be really fun to watch Jill grow and I recommend you all find her on the internet until she comes to a town near you.
The Avett Brothers bring so much energy to the stage, you cannot help but get caught up in the emotions they shell out . The packed house that was the Embassy Theater gave back every gram of energy the band gave off. Roses may wilt but the memories made by the band will be talked about every Valentine's Day, for those in attendance. There was no better public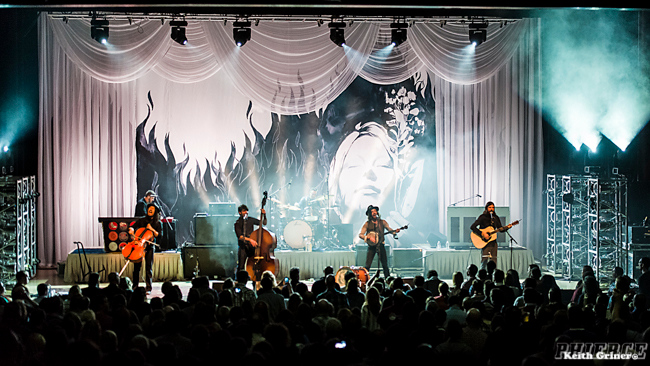 place you could have shared February 14th in Indiana with your loved one than the Embassy Theater.
The setlist could not have been put together more masterfully. When the crowd needed a moment to hug up tight with their significant other because they had been bouncing to and fro for song after song, in came a beautifully written slow jam to bring everyone's feet back on the ground. The encouragement from the band to the crowd for their participation was not needed, from the lyric reciting to the energy matching, the crowd was as ready as the band to bring what was needed to be brought. The special treat of the night came at the end when the stage hand brought out the single mic; the band huddled together with their instruments and played one of the best versions of "Shady Grove" I have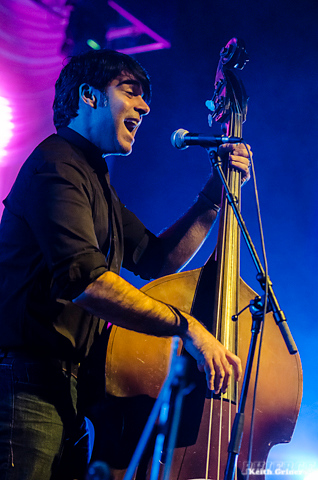 ever had the pleasure of hearing live.
Just as much as the performances from the two musical acts blew me away, so did the venue. The Embassy Theater has been around for 84 years and appears inside and out as if it has not aged a day in its life. The Embassy truly is a gem in Indiana and it kind of makes me sad I just found out about it in 2013; better late than never, though. They constantly are bringing big named acts and I highly recommend "liking" the venue on your favorite social media outlet, along with Jill Andrews and The Avett Brothers; the Cosmos is the limit with these three things.
Written By: Tyler Muir
Photos By: Keith Griner - More photos HERE
Edited By: Rosemary A.W. Roberts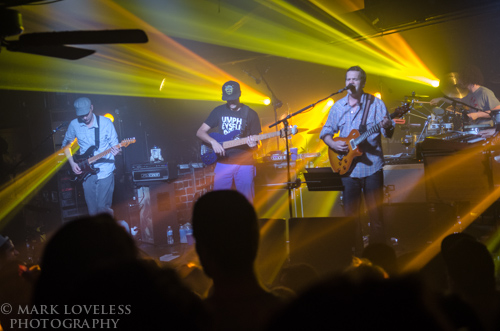 Umphrey's McGee—The Blue Bird—Bloomington, IN—02/10/2013
On Sunday February 10th, 2013 Umphrey's McGee made their first return home since the early summer months of last year. They sold out the Blue Bird in Bloomington Indiana days in advance. The Blue Bird is a very small venue for a band like Umphrey's Mcgee, but a few years ago this place was their stomping ground. I can remember seeing shows at the Blue Bird that weren't even sold out. It's safe to say that in the recent years the name Umphrey's Mcgee and their signature rock n' roll jam style has exploded. A crowd where I once knew every face has turned into a nationwide movement.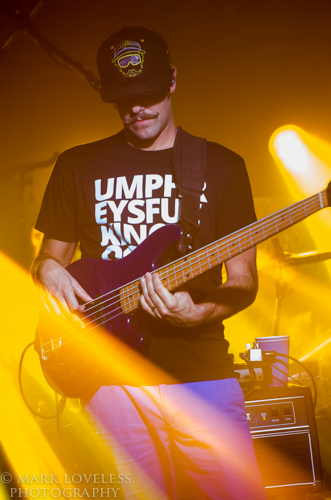 Umphrey's took the stage in classic style with "Cummins Lies," a song with no lyrics and no explanation for such a title. Their lights, run by the coveted Jefferson Waful, were very impressive for the limited space. This was one of the best lighting set ups I have seen in the Blue Bird. It would have been even better if I could have seen the stage. The venue was packed to the brim and only those with the privilege to be near the stage could really see and appreciate what was happening. Immediately the temperature in the Blue Bird started rising as the crowd began to dance to the rock n' roll. Their first set had some great rarely played jams where they left "Nothing too Fancy" unfinished and closed with "Conduit."
The second set felt even more crowded than the first. Everyone pushed forward towards the stage as the opening chords of "The National Anthem," (originally played by Radiohead) rang through the tiny venue. Umphrey's took the crowd on a journey in this second set that could only really be described as face melting. They played "1348>Higgins>1348," which is a classic Umphrey's combination that weaves the two rock tunes together in an almost elegant manner. They then played what I consider to be the gem of the show "Come as Your Kids." Umphrey's is very well known for their 'mash-ups.' This song is a combination of Nirvana, MGMT, and the well known 80's hit "You Spin Me Right Round" by Dead or Alive. The band has only played this song five times according to their website www.allthingsumphreys.com, a site where every imaginable statistic is kept for their fans to enjoy.
This show was truly a treat, and it was great to have my favorite rock stars back home. They closed out the set by
finishing "Nothing Too Fancy" featuring Jake Cinninger's quick fingers and forward moving rock rifts; the show ended with the crowd begging for more. This band never fails to impress. From the light show to the rock anthems, perfectly composed melodies, and silly stage antics, I don't think I will ever get tired of seeing this band around. Needless to say, I will be following them as they travel across the Midwest and provide more epic rock shows for their original fan base, because for some reason I feel like I've yet to see their best.
Written By: Cassidy Maley
Photos By: Mark Loveless - More Photos HERE
Edited By: Rosemary A.W. Roberts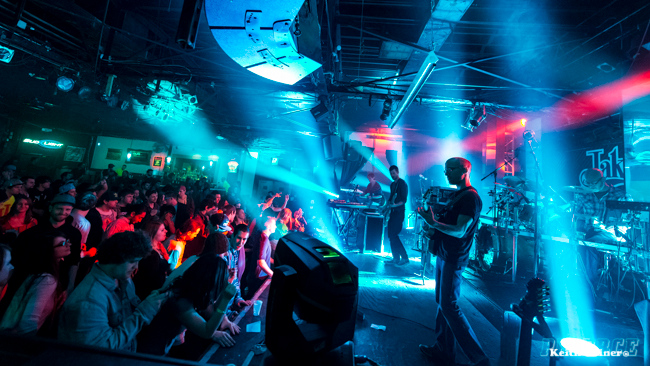 Lotus—Jake's—Bloomington, IN—02/06/2013
A busy night of music continued as I ventured toward Jake's, a venue I had not previously seen a show at and the setting for Lotus to play on a frigid Wednesday evening. The evening started off seeing Dark Star Orchestra, but I hastily made my way over to the unfamiliar venue to see one of my favorite bands. I was quite excited to be treated to two sets of music by the group and once the music started my excitement built even more. Initially, the amazingly created and well-executed new light show quickly caught my eye and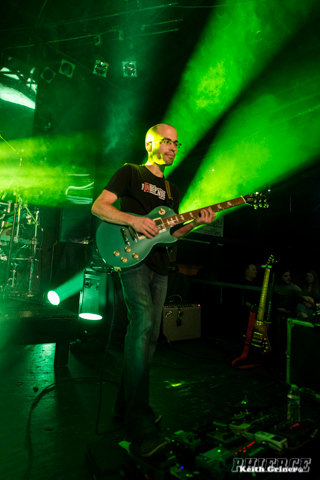 definitely added to the magic of the evening. Another special component of the evening was being treated with one of the most intimate Lotus shows I've seen thus far. It was truly a special treat.
Lotus started the first set with "Massif", a track off of their recent studio release Build, and one which proved to supercharge the crowd from the get go. "Golden Ghost", a track off of their self-titled album and one of my favorites from that release, proved to further energize the dance hungry crowd. Both tracks featured the booty-popping bass and dance inspiring synth melodic dance grooves with heavy rock sounds I've grown to love Lotus delivering. The heart of the first set featured the non-stop relentlessly hard-hitting dance latent rock grooves of the jam "Intro to a Cell>Triplet>Sunrain". This concoction of melodically funky yet dark electronic dance music sent the crowd into a frenzy, leaving me bonkers, while setting the tone for the rest of the evening. The first set ended with a bang, featuring "Jump Off", a fun and furious track further testing the limits of both the music and the dancing crowd. Euphoria had definitely settled in, leaving me and the rest of the patrons hungry for the second set to begin.
After a brief intermission, the second set began, and boy did it begin with a doozy. "Bellwether" was chosen to start and surpassed anything the band had delivered in the first set, which was surprising given the quality of music delivered thus far. Just when I thought my night had already been completed, Lotus blasted me with what was by far the best series of music I've seen them play in the six years following the group. This insane concoction of non-stop playing featured: "Did Fatt>Am>Lucid Awakening>Zelda Theme>Lucid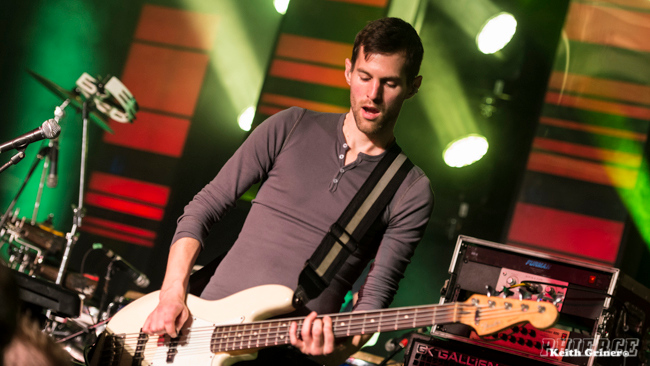 Awakening". They definitely tested the limits of the crowd with this dark and heavy dance rock jam. This was a very special treat for any true Lotus fan with "Zelda Theme" thrown into the mix. Also, I was personally bestowed with something special, this being my first time hearing the Zelda Theme played live. As a big fan of both Lotus and the classic video game, this was merely icing on the cake for the evening.
The second set neared an end and Lotus delivered one last hurray, playing the fun and funky dance track "Tip of the Tongue". I felt euphoric as the track tested my dancing limits and made me go wild. The band thanked the crowd and left the stage, leaving me for the first time joining in with the crowd roaring for an encore. After a brief moment, Lotus reentered the stage and began to play an encore which perfectly ended an already magical night of music. The encore featured "The Surf" and "Scrapple", with the two track encore proving to be another added bonus to the evening. I must note, I have a soft spot for "The Surf", given the notion that it is one of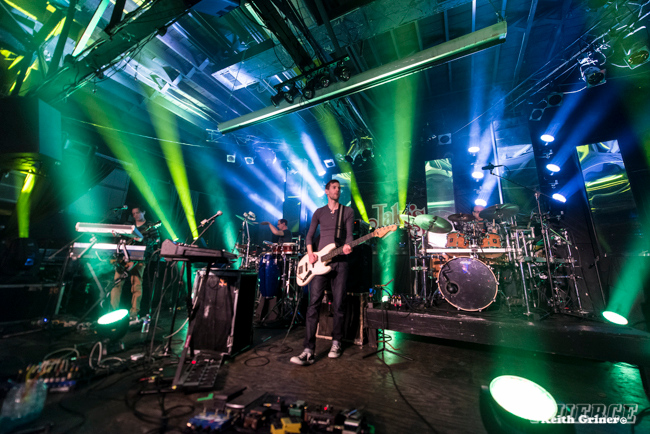 the few tracks featuring vocals by Lotus. It was a perfect end to a perfect two sets of music. Lotus is one of those bands that reaches deep within my soul and invokes a hungry fire from within. I truly love and respect everything they produce. If you are not familiar with the group, I highly suggest you find a show within traveling distance and go there immediately.
MORE PHOTOS HERE
Written By: Alex Toy
Photos By: Keith Griner
Edited By: Rosemary A.W. Roberts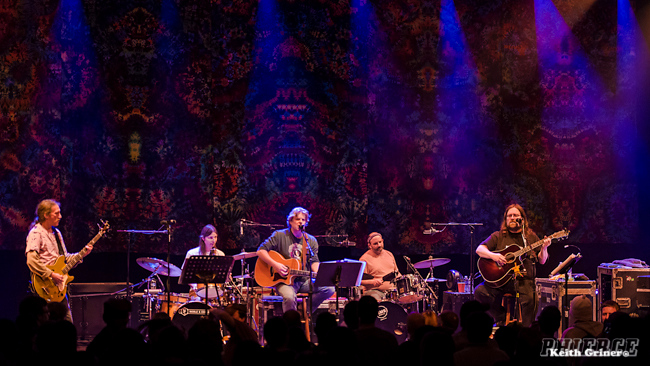 Dark Star Orchestra—Buskirk-Chumley Theatre—Bloomington, IN—02/06/2013
Bloomington, Indiana was a busy town on Wednesday, with two major names playing at the same time. The Lotus Experience played right around the corner from Dark Star Orchestra. Of the two headliners, I chose to go see the special all acoustic Dark Star Orchestra show at the Buskirk-Chumley Theater.
This was my first show at the historic venue. Walking in the front lobby I was greeted by a warm room that smelled of popcorn and guided by a friendly, helpful staff that contrasted many of the pushy, overbearing staff at some venues. The theater was seated with a small pit area near the stage. The crowd was mostly older, with some younger faces peppering the crowd. I felt very comfortable in the cream colored room. Everyone was friendly and excited to see this special show.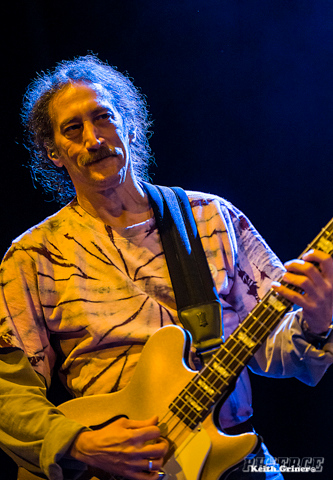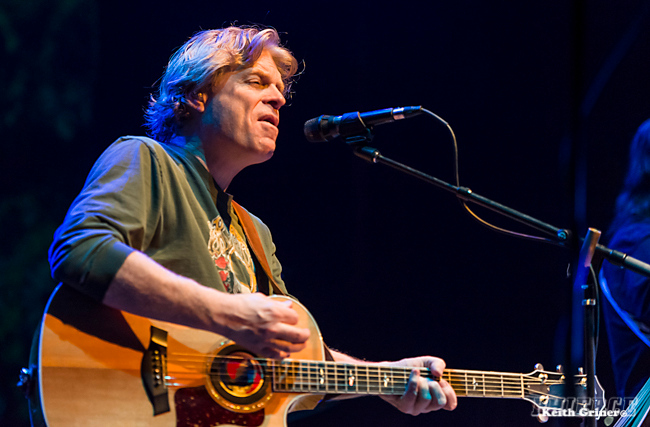 Once again Dark Star took the stage with no opening band and little introduction. They explained the special nature of this show, being all acoustic and a completely original set list. They invited the crowd to come dance, as many people seemed unsure if it was meant to be a seated show. The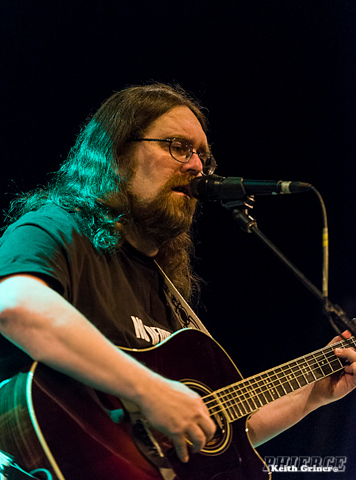 opening song "Dire Wolf" set the tone for a night of mellow deep Grateful Dead tracks, of course with Dark Star's own twists and turns. This tight-knit crowd seemed to know every word of every song, even the earliest of Grateful Dead hits like "Operator" or Bob Dylan's "It Takes a Lot to Laugh and a Train to Cry." About midway through first set, DSO threw in an original tune called "Run Mary" featuring dynamite lead singer Lisa Mackey's strong and soulful voice. It was truly a treat to see the band perform one of their own songs. They ended the first set with a great upbeat trio of songs, "Tell it to Me"> "Wake up Little Susie" and closing with "Rubin and Cherise."
For me, the first set was definitely the highlight of the show. They really mellowed things out in the second set, opening with a Bob Dylan tune called "Mountains of the Moon" and then "Box of Rain." They showed a softer side of the Grateful Dead keeping things low key and soulful as they let their light crew highlight the beautiful tapestry they feature at every show. They put a spell over the crowd for the first half of the second set. They ended on a special combination of some of my favorite songs "Birdsong">"Throwing Stones"> "Ripple."
Overall, it was an honor to see such a special and rare show. It felt intimate and comfortable. I almost feel as though I know Dark Star Orchestra on a better level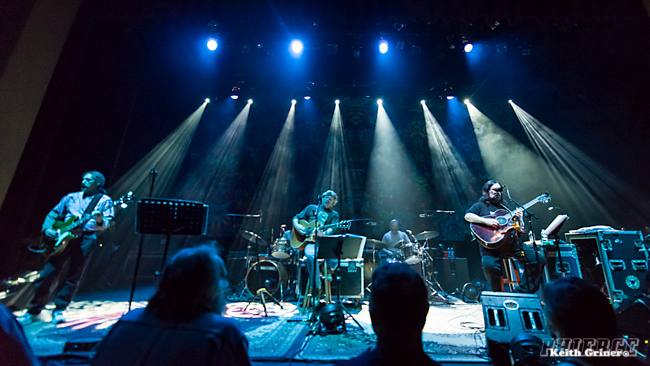 because they were able to show a bit of their personality as a band due to the smaller crowd and acoustic instruments. They closed announcing that the setlist was an original, and everyone agreed it had been quite a magical night.
MORE PHOTOS HERE
Written By: Cassidy Maley
Photos By: Keith Griner
Edited By: Rosemary A.W. Roberts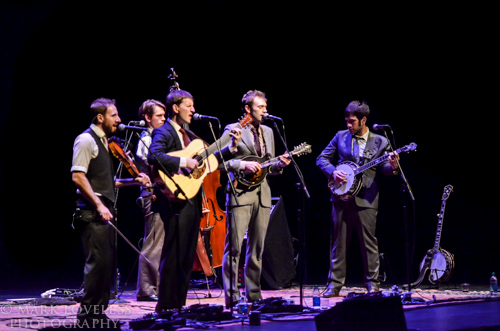 The Punch Brothers Live at The Brown Theatre ~ Louisville, KY ~ February 5, 2013
The Punch Brothers, a classy group of guys that play sell out theatres across the country, is turning a lot of heads these days. Chris Thile (formerly from Nickel Creek) and Chris Eldridge (from the early days of The Infamous Stringdusters) formed a band a few years ago that has been taking this country by storm. However do not underestimate the talent in banjo player, Noam Pikelny and violinist, Gabe Witcher. This intriguing string band has been known to play a Gillian Welch, Josh Ritter, John Hartford and perhaps even a Radiohead cover. In fact the band plays Radiohead's "Kid A" on their most recent studio album, Who's Feeling Young Now?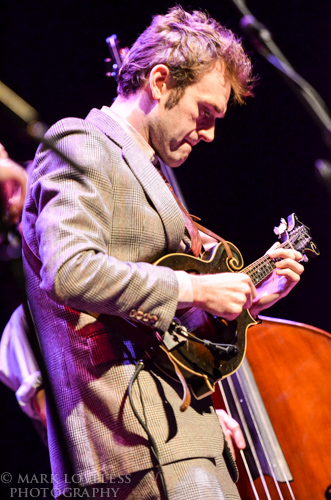 As I approached The Brown Theatre Tuesday evening, I was eagerly waiting for this mind-blowing performance. I've had the utmost respect for Thile since the Nickel Creek and his solo album days, How to Grow a Woman? Thile is to mandolin as Bela Fleck is to the banjo. Both have respect for their instruments and play them flawlessly with great charisma. Thile would open the first set with a flawless smooth mandolin jam in "Movement and Location" off their most recent studio album. From there the band would get the night roaring with a thumping bass from Paul Kowert followed by what seemed to be a never ending jam with Thile, Eldridge and Witcher in "Flippin," another release off the new album. Although the band seemed to play a lot from the new studio album, they did however play some great crowd favorites such as "Rye Whiskey" and "The Blind Leaving The Blind Third Movement." The set was so intense with great mandolin pickin' and beautiful violin pieces, it was difficult not to jump out of your seat and dance.
Thile would rejoin the crowd for an encore performance as he stood at the edge of the stage and played a Bach piece that completely silenced the crowd and brought goose bumps to the body. The band would rejoin Thile at the edge of the stage for a string picking in a Kentucky historical song, "Moonshiner." Although their stage setup may be simple, they play string music in it true nature. This is a group of guys who play for the love of string music, not for fancy stage setups.
Setlist:

Movement and Loacation, Next to The Trash, Flippin, Who's Feeling Young Now?, Two Hearted, Song for a Young Queen, New York City, Missy, Piney Woods, Patchwork Girlfriend, Hundred Dollars, Dixie Line, The Blind Leaving The Blind Third Movement, This Girl, Another New World*, Watch' at Breakdown, Rye Whiskey

Encore: Bach piece?, ?, Moonshiner

*Josh Ritter cover
MORE PHOTOS HERE
Written/Photos By: Mark Loveless
Edited By: Rosemary A.W. Roberts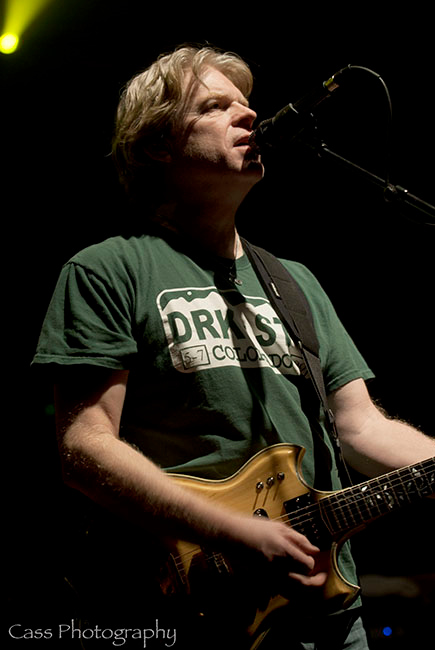 Dark Star Orchestra—The Vic—Chicago, IL—02/02/2013
Dark Star Orchestra kicked off their mid-west tour with a sold out show in their home-town, Chicago, at the historic Vic. The line was around the block and the Vic was packed to the brim. It was an interesting crowd of weathered, graying Deadheads and young, fresh faces all rushing towards the double doors to get out of the snowy February night.
Dark Star Orchestra (DSO) took the stage right away with no need for introduction or opening band. I felt honored to be able to see the show up front and personal out of the elbow to elbow crowd. With two guitar players and two drummers, this band is a force to be reckoned with, and is perhaps one of the most well known Grateful Dead cover bands. They opened the marathon set list with "Promised Land." The crowd was excited to hear the well known guitar rift played by talented Rob Eaton and almost immediately the temperature in the room raised ten degrees as everyone started dancing. By far the highlight of the first set was the closer, a 20 minute long "Dancing in the Streets." Lisa Mackey channeled Donna Jean, spinning in circles, leading the crowd through the ups and downs, bringing the first set to an exciting close.
In my opinion, the best was yet to come. After an extended set break, DSO took the stage with the same level of energy they ended the first set with. Starting with "Bertha" and transitioning to "Good Lovin'," they then slowed things down a notch to what seemed like a Grateful Dead ballad, but turned out to be a slow, sultry "Friend of the Devil" unlike any version of the song I've ever heard. After putting a spell over the crowd, they kicked up the tempo with the well known "Shakedown Street" and transitioned into DSO's trademark rhythmic drum breakdown which transcends into a space jam with guitarist Jeff Matson channeling Jerry Garcia's vision. They captured the interest of the crowd and took them on a transcendent journey finally resolving into "I Need a Miracle."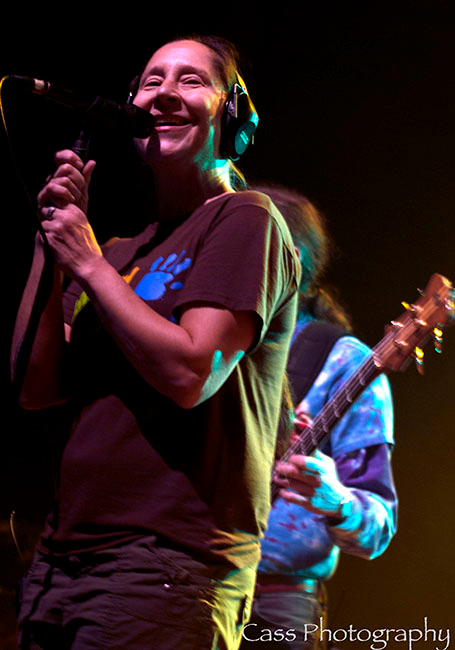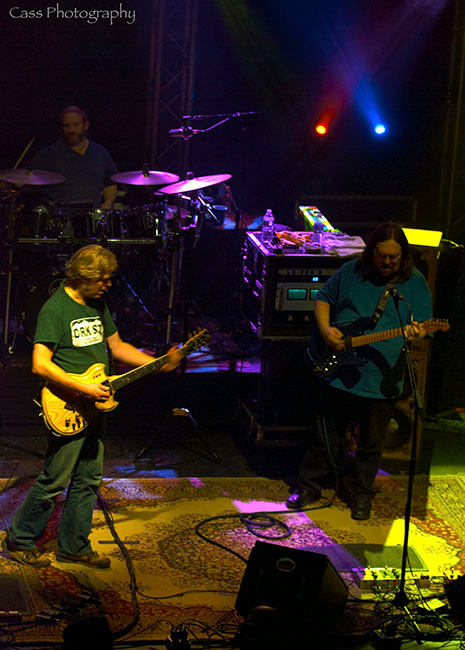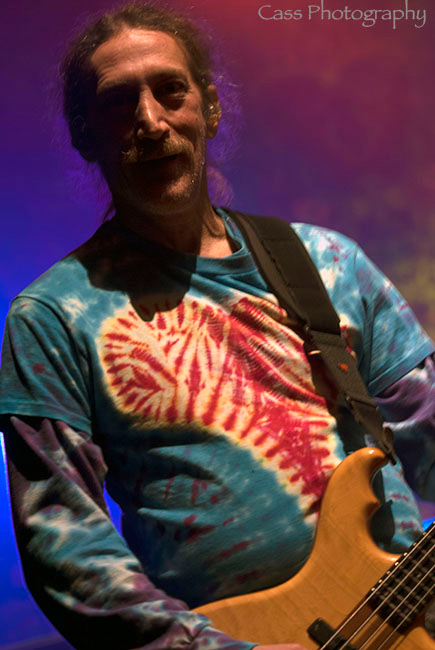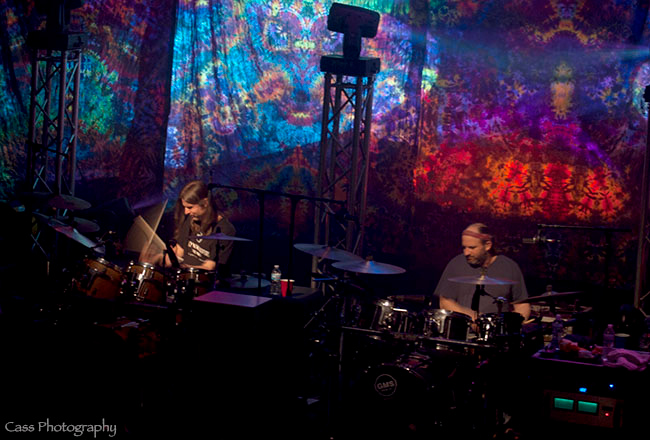 Dark Star Orchestra was excited and honored to be in their old stomping grounds. They encored with "Werewolves of London." As every voice in the crowed howled along with the band, I was reminded of why I come to see this wonderful group of people again and again. The music, the love, the crowd, everything was spot on Saturday night. Dark Star closed the night saying that this set list could have been played November 25th 1968, although it is listed on the website as an original set list.
More Photos HERE
Written and Photos By: Cassidy Maley
Edited By: Rosemary A.W. Roberts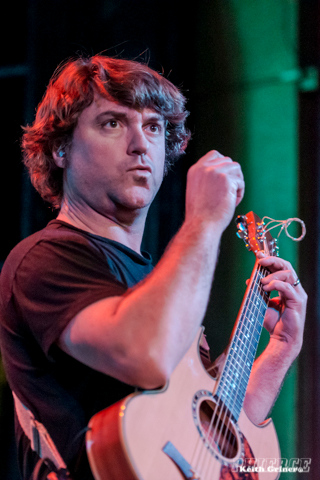 Keller Williams—The Vogue—Indianapolis, IN—02/01/2013
The temperature in Indianapolis was frigid on the evening of Friday, February 1st, but that didn't stop a long line of fans from waiting outside in order to enter the Vogue. Only a truly unique artist like Keller Williams could bring out the kind of loyal fanbase that didn't mind confronting the cold. After a swift entry (thanks to Indymojo) I enjoyed one of my favorite aspects of the venue: the coat check. One cannot truly groove in a bulky winter coat. I then headed upstairs and enjoyed the second bar stocked with imported beer. The balcony had not yet begun to fill, so I took a seat towards the right side and had a great view of the stage. I did some people watching from my post and enjoyed seeing the anticipation and delight on everyone's face.
A barefoot Keller strolled onto the stage right on time and warmed the crowd up with "Breathe," the title song off the album he recorded with the String Cheese Incident. The jovial "Jack Black of the Jam scene" twirled about the stage, gracefully on the air of the melody he provided. Afterwards Keller played two crowd favorites, "Cookies" and "Cadillac" off of his ninth solo album Dream. My only criticism of the evening was the next cover tune he played, "Mary Jane's Last Dance." Although this is a classic song (especially from an Indiana girl), it reminded me of how similar some of Keller's sets can tend to be. It would be interesting to see Keller change up some of his cover tunes and really surprise some of us repeat show goers. However, with that being said, I have never seen a bad show from the one man band and the second set just got even better.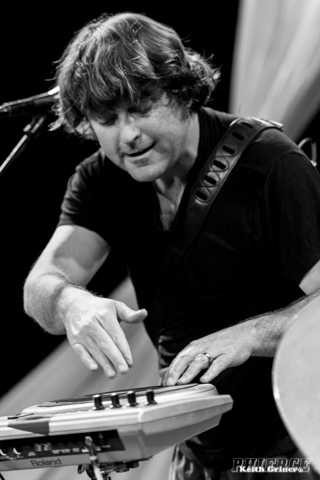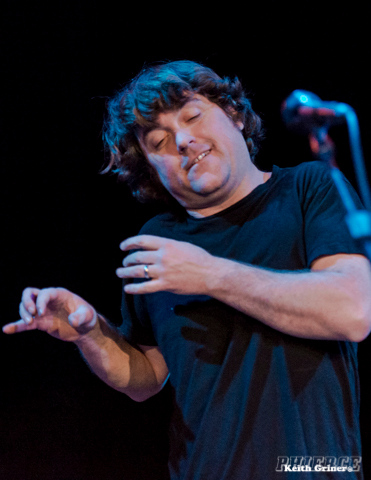 After a short setbreak he took the stage again and played the Indiana staple, "Gate Crashers Suck." The entire crowd joined in to sing every word, enthusiastically shouting the expletives the song is famous for. Hoosier fans have accepted this tune as their own anthem due to an unfortunate incident at a Noblesville Grateful Dead show that some witnessed but all remember. No matter how many times he plays it for us, it's still almost expected to be on the setlist. My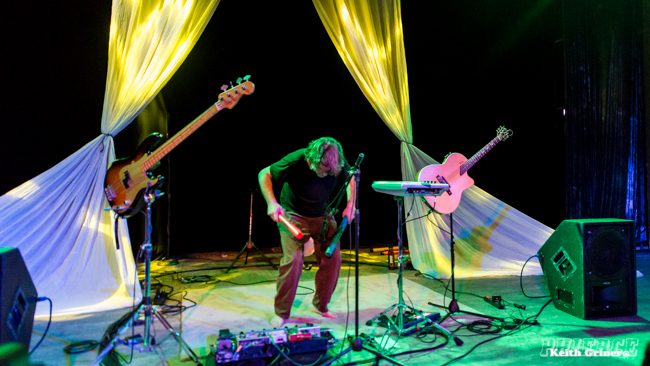 favorite moment of the whole evening was the encore. Keller played my favorite song, "Celebrate Your Youth", again from the album Dream. This mellow, yet upbeat song was the perfect ending to another great experience from Keller Williams.
MORE PHOTOS HERE
Written By: Megan Maudlin
Photos By: Keith Griner
Edited By: Rosemary A.W. Roberts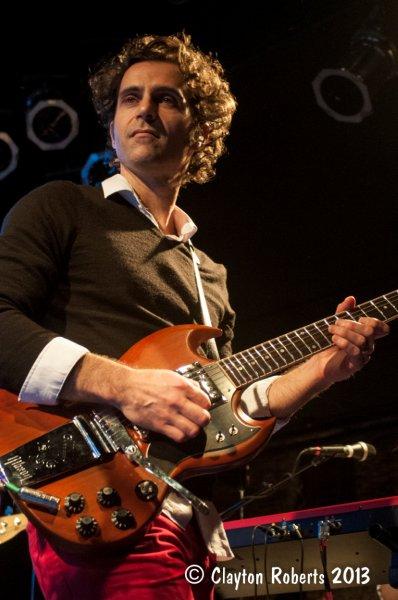 Zappa Plays Zappa—Vinyl Music Hall—Pensacola, FL—02/01/2013
In my early college days, my good friend Jeffrey Hall introduced me to the music of Frank Zappa, playing the album Over-Nite Sensation, singing every word. In addition to being surprisingly shocked by some of the lyrics, I was instantly impressed with the complex orchestration and the blistering guitar work. I've been a Frank Zappa fan ever since then, and though my familiarity with his catalog is a drop in the bucket (with over 70 albums, there is SO much to hear!), I hold his musical genius in high regard, and wish I could have seen him perform.
In April 2012, I had the pleasure of attending an Experience Hendrix concert, where I saw Dweezil Zappa play lead guitar on tracks such as "Freedom" and "Wait Until Tomorrow"; his skillful soloing easily grabbed my attention. So when I heard that Pensacola's Vinyl Music Hall would host Zappa Plays Zappa (ZPZ), I eagerly awaited the February 2nd concert event, excited to hear Frank Zappa's music LIVE, under the capable direction of his son. I try not to set expectations for a show, and just go open-minded; but any expectations I may have been stifling in my subconscious were completely exceeded by Zappa Plays Zappa!
The currently touring setlists draw from the full spectrum of Frank Zappa's repertoire, from the earliest compositions to the most recent, and from graphic freak-fest to sublime instrumentation. There was a comfortable flow to the show, with variant musical styles chasing each other throughout the night. The hard-rocking funk of "Pygmy Twylyte" gave way to a heavy "I'm So Cute" before reaching into the gently eccentric "Baby Snakes". ZPZ gave us a dose of slow blues with "Here Lies Love", and then let us be-bop along with "Let's Make the Water Turn Black". And whether you prefer the humor of "Harder Than Your Husband" or the intricate difficulty of "Moggio" (a song which, Dweezil informed us, used to instill intimidation in guitarist Steve Vai), ZPZ delivers something for everyone.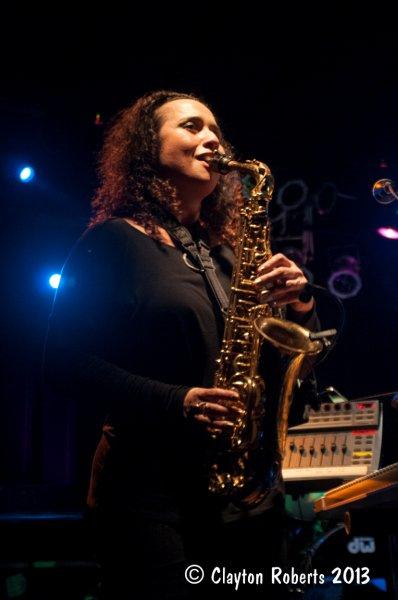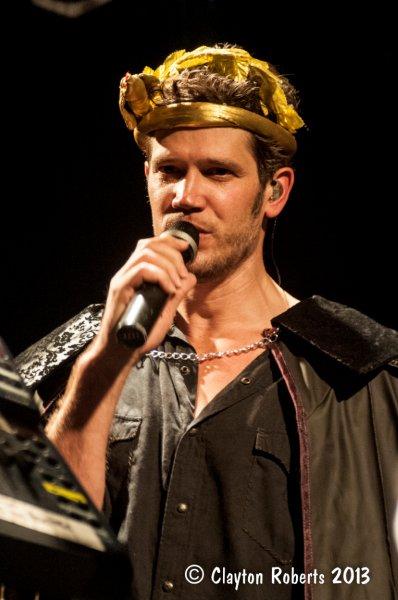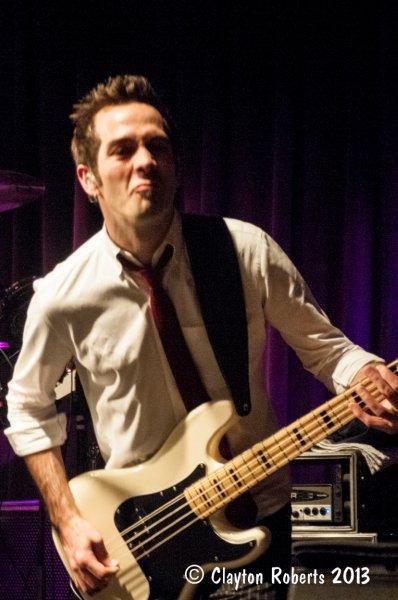 I was thoroughly impressed with the band's abilities, and with their mastery of Frank Zappa's material. Scheila Gonzalez brought the saxophone to the party with decisive emphasis, and vocal skills as well. Chris Norton's keyboards carried a wide range of synth sounds, and he provided another upper range of vocals to flesh out the full Zappa experience. Kurt Morgan was master of the bass, hitting every note and time change with precision. Joe Travers had a tall task on hand with the drums, with all the intricate time signatures and rhythms, and he certainly proved worthy of the task. Frank Zappa's vocals were so distinctive, and I was thrilled when I heard Ben Thomas singing the lead vocals in a tone that closely matched Frank's; he also rounded out the horns (trumpet, trombone), and dressed for the part of "The Evil Prince" to add the theatre element to the show. If you've never heard Dweezil Zappa play guitar, I highly recommend seeking him out, he is incredible. To hear his melodic strength highlighted in Zappa classics like "Montana", "Ride My Face to Chicago", and "Packard Goose" is a true treat; he had numerous stretches of fast-fingered brilliance, and also heartwarming beauty ("Outside Now" comes to mind). As someone who really loves guitar, I found his solos to be right on point, never feeling forced or long, always genuine and welcomed.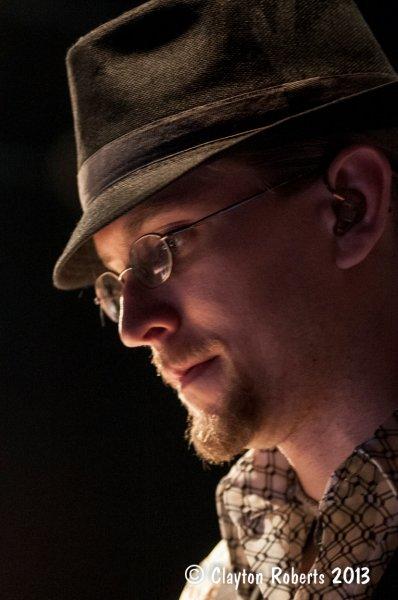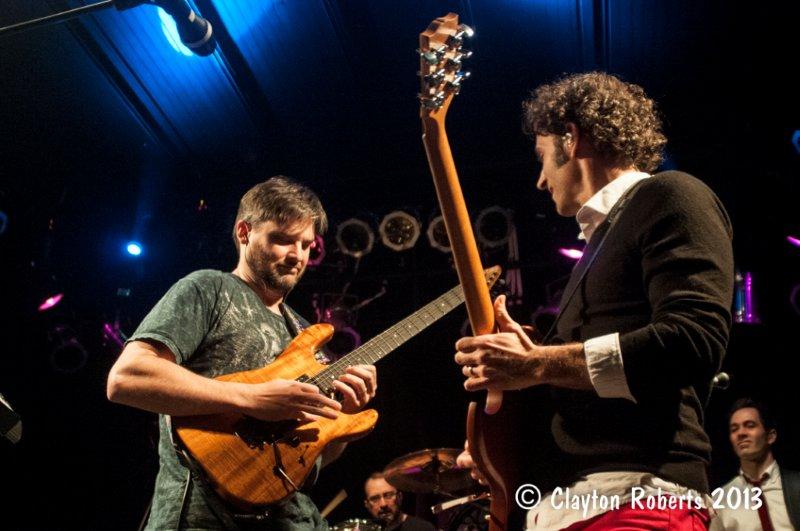 The three-song encore included a special treat during the awesome "Zomby Woof" as local guitarist and instructor Derryl Gabel was invited onstage to demonstrate his uniquely impressive finger style skills, and he and Dweezil exchanged scorching solos for a while, to the delight of the crowd. "Muffin Man" was reason to get down and revel in the deep dirty groove; and the closing "Strictly Genteel", which Dweezil said was one of his father's favorites,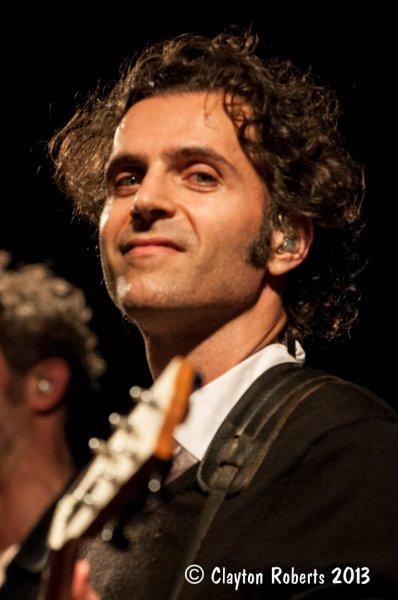 found the whole band strongly united and harmonious. Zappa Plays Zappa presented a fabulous performance, celebrating the excellence of Frank Zappa and his music, allowing the melodies to live on in tribute to his memory, continuing to share Frank's music with the world. Frank Zappa stated, "Music is the best"; and you will see that statement in action, if you get the chance to go see Zappa Plays Zappa.
SETLIST: Cosmik Debris, Hungry Freaks Daddy, Teenage Prostitute, Dirty Love, Echidna's Arf, Penguin In Bondage, Pygmy Twylyte, I'm So Cute, Baby Snakes, Tryin To Grow A Chin, Here Lies Love, Montana, Let's Make the Water Turn Black, Take Your Clothes Off When You Dance, Harder Than Your Husband, Wind Up Working In A Gas Station, Ride My Face To Chicago, Moggio, The Evil Prince, Debra Kadabra, Who Are the Brain Police, Outside Now, Packard Goose

ENCORE: Zomby Woof *with Derryl Gabel on guitar, Muffin Man, Strictly Genteel
Written and Edited By: Rosemary A.W. Roberts
Photos By: Clayton Roberts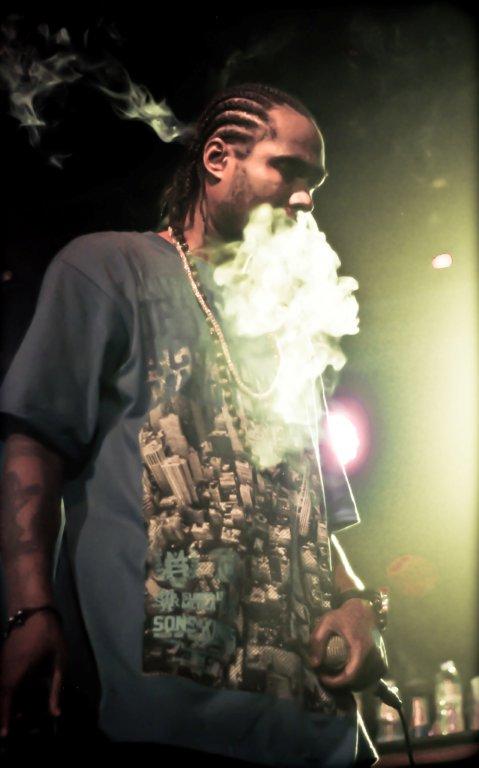 Bone Thugs 'N' Harmony ~ Brewster's Megaplex ~ 1/25/2013 ~ Jacksonville, Florida
Bone Thugs 'N' Harmony or "Bone/Thugs", are back on the road, mesmerizing fans after 20 years. They are finally reunited, after splitting up in the late 90's to do solo projects. Layzie-Bone, Krayzie-Bone, Bizzy-Bone, WishBone and Flesh-N-Bone are now on tour in efforts to bring the fans back together and give praise to fellow artist and friend, the late Easy-E. Bone Thugs 'N' Harmony, along with Easy-E, paved the road for many hip hop artists on the scene today. Known for their intense lyrical speed combined with overlaying harmonies, Bone/Thugs is controversially one of, if not the greatest hip hop group ever.
There is no doubt, that individually each member can successfully carry on as an artist; but to see them reunite as the original crew created a feeling nothing short of nostalgic bliss. I can remember 1998, catching a ride with the high school seniors, chopping the block to the tune of "1st of the Month" like it was yesterday. I was unaware of the concert until the day of, and felt like a kid again when I was approved to cover the event. The fans ranged from old school thugs to flat billed yuppies and each were equally enthusiastic. Accompanying Bone/Thugs were several opening acts some of which were surprisingly necessary and some that weren't necessarily surprising.
The night began with the familiar aroma of cigarette smoke, mixed with various cigar smoke, typical of Brewster's. Brewster's Megaplex is the new name of an all-so-familiar night club. With four rooms spanning the size of a mini mall, it was interesting to see how the attendance was going to turn out.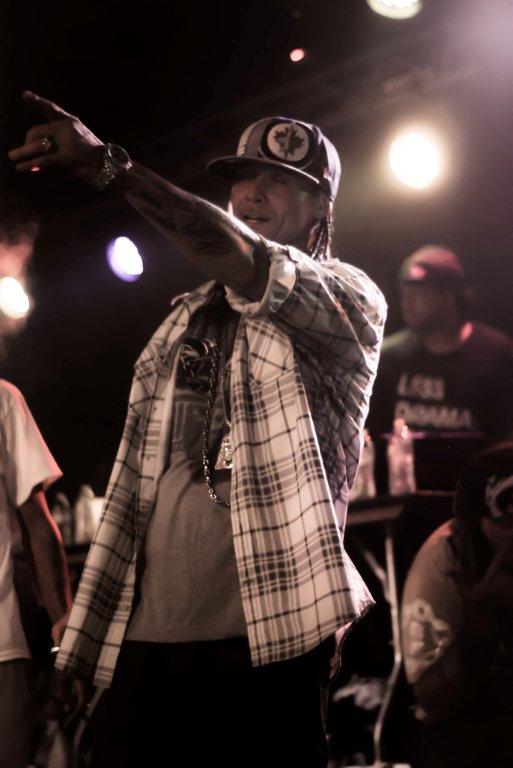 They put the band in the "Roc Bar", the second biggest of the quad. The place gradually filled as several local artists and volunteers hit the stage until Bone/Thugs showed. Unfortunately, the band was held up in transit and the early performers had to pick up the slack. I shot photos of several artists, circling around the stage like sharks until "BoGunner" took stage with demand. I was stunned, as I was looking through my lens and realized it was a high school friend, Chris. We played ball together and I had no idea he was pursuing a career as an artist. He crushed it and completely saved the night as Bone/Thugs did not show until after midnight.
In the end, all is well that ends well. The guys made up for it as they hit the stage for hundreds of eager fans. Patient fans got everything they wanted and more. They played old favorites from their second album Creepin on ah Come Up, "Thuggish Ruggish Bone" a tribute to Easy-E. They played other classics like "1st of the Month" and "East 1999" from their next album (1995) E. 1999 Eternal. They pleased the fans during the songs, whilst Bizzy Bone accepted memorabilia from the fans and dispersed it to the other members, making sure it was signed by all before personally returning each item. It was certainly a good show of character. I figured they would play until 2 am, but they made up for lost time by pushing through, highlighting other popular hip hop artists of the time with a cover of B.I.G's collaboration of "Notorious Thugs". They segued into similar fashion with Tupac, simultaneously hyping the crowd during the intro of "California Love". They closed around 3 am, with a well-placed encore dedicated to Easy, playing "Crossroads".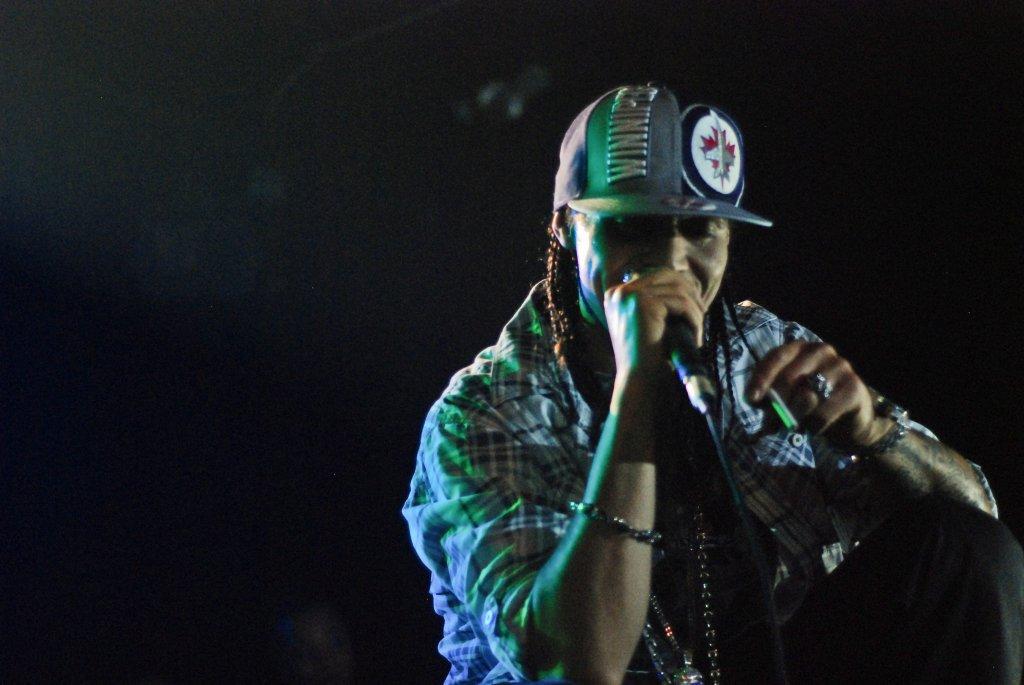 Every now and then you stumble upon those shows in your local folio weekly that make you clear your schedule because of opportunity. Be it local convenience, band break ups, band reunions or solo projects from reunion break ups, you always arrive knowing it is a roll of the dice. As I left The Bone/Thugs show I felt as if I won the jackpot and am glad I decided to go. If they would have had holograms of said artists...I swear I would have hung my concert boots up forever.
More Photos HERE
Review and Photos By: Joey Pye
Edited by: Rosemary A.W. Roberts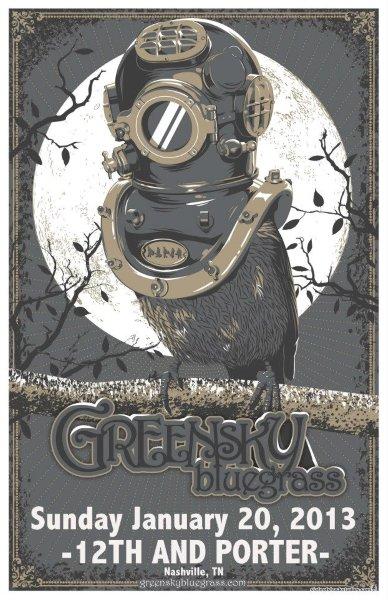 Greensky Bluegrass--12th & Porter--Nashville, TN—01/20/2013
Greensky Bluegrass tours a lot; take a look back at their festival and tour stops in 2012, where they've been this past January, and where they're headed in February and March for accountability on this claim. With the dobro magic (Anders Beck), pristine banjo (Michael Bont), mandolin leadership (Paul Hoffman), time keeping standup bass (Michael Devol), and faithful guitar sound (Dave Bruzza) this is American roots music at its illest. The very nature of bluegrass music mixed with Greensky's twist of interwoven jam begs for exposure and movement.
This stop in Nashville came after a successful show in the appropriate Appalachian haven of Asheville, NC. But, more importantly, this Music City appearance at 12th & Porter would be the last stop, or as the band called it, a "holiday", before a two week workcation in the studio to record their newest album in two years. Needless to say, Nashville would be blessed with a great show, giving fans exactly what they wanted: a lot of dancing, a little darkness, a little feel good, some shredding of strings, a little humor, and heartfelt jamming. The combination could have cranked on till the sun rose and not a single soul would've retired early.
First song opened with Bruzza driving the fast, dark, deep toned "Kerosene". "Climbing up a Mountain" was next, ironically appearing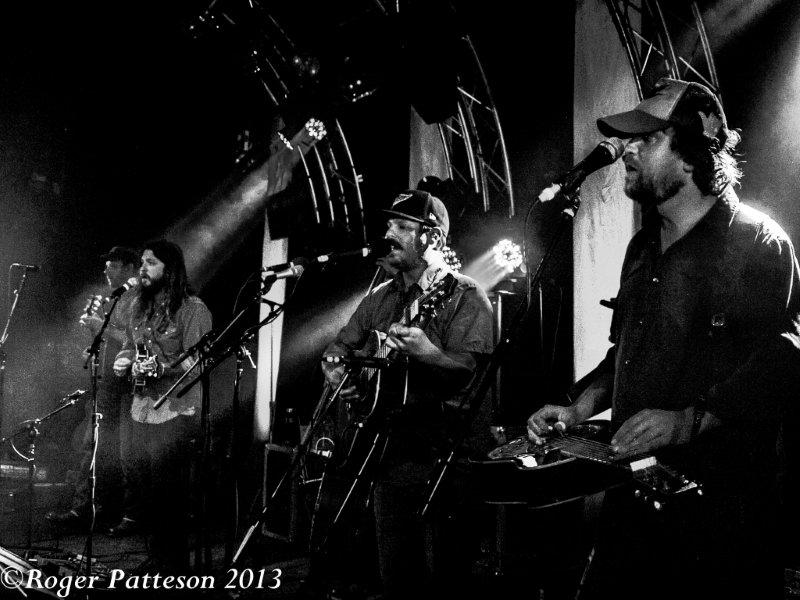 on the same date in 2012. Whether or not it was intentional, tradition is one thing synonymous with Bluegrass music and actually provided a little foreshadowing for the cover of "Clinch Mountain" by ol' timer, Ralph Stanley. "I'd Probably Kill You" was DEADicated to the band's road crew. "Better Off" let Paul take the lead on vocals, and again when Josh Davis' sweet and melodic "Dustbowl Overtures" was given the green flag. The show was rolling along quite nicely when a "Train Junkie" hopped onboard. It took off and traveled for 10 minutes, giving Paul, Anders, Bruzza, and Bont multiple chances to take the lead, a la "bluegrass breakdown and accompaniment". Nashville musician, by way of Michigan, and friend of the band, Rachel Davis, joined the guys on vocals for the next couple of songs with "Lose My Way" and one of her own, "Sweetwater Sea", off of her album Antebellum Queens. Then, to keep your bare feet up on your toes, Bont fires up his banjo with Anders not far behind to a little "Money For Nothing". There was no mention of MTV, opting for a "…play the guitar on the CMT…" as they closed out the first set.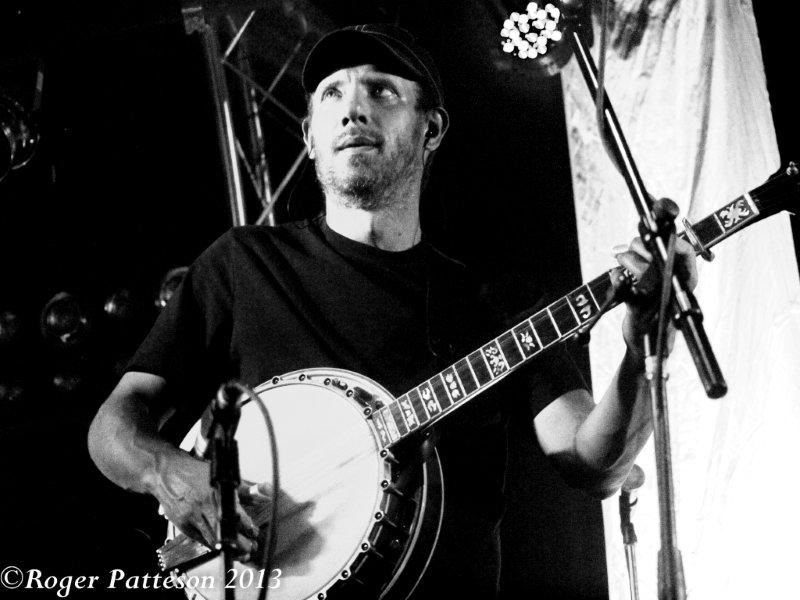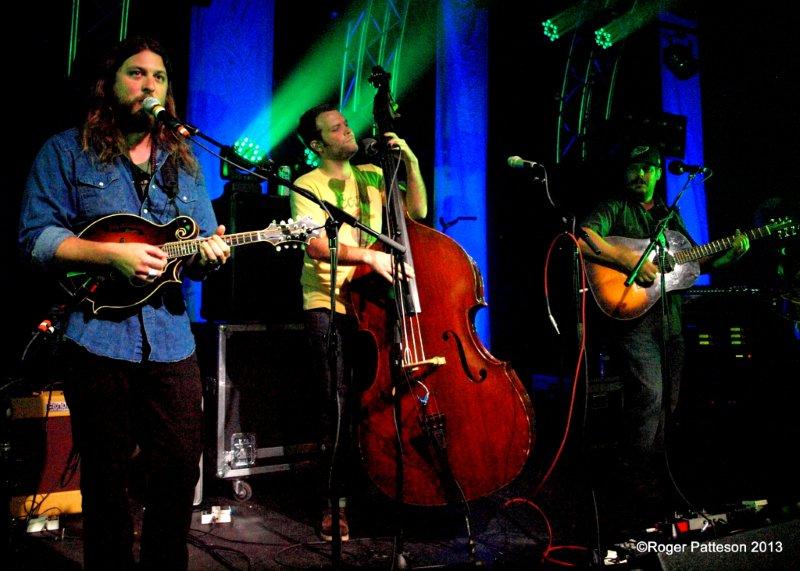 "No Idea", which saw some playtime at Summer Camp 2012, opened the second set. Townes Van Zandt's "White Freightliner Blues" and Traffic's "Light Up or Leave Me Alone" got the crowd fired up and dancing. Personal favorite "Into the Rafters" followed. I wish I could say one member dominates this song but the guys really fed off of the balance between each other. Rachel Davis returned once again, this time with her husband, Dominic Davis, bassist of Jack White band, as they both came on stage to take lead vocals and bass for Led Zeppelin's "Hey Hey What Can I Do?" It would go without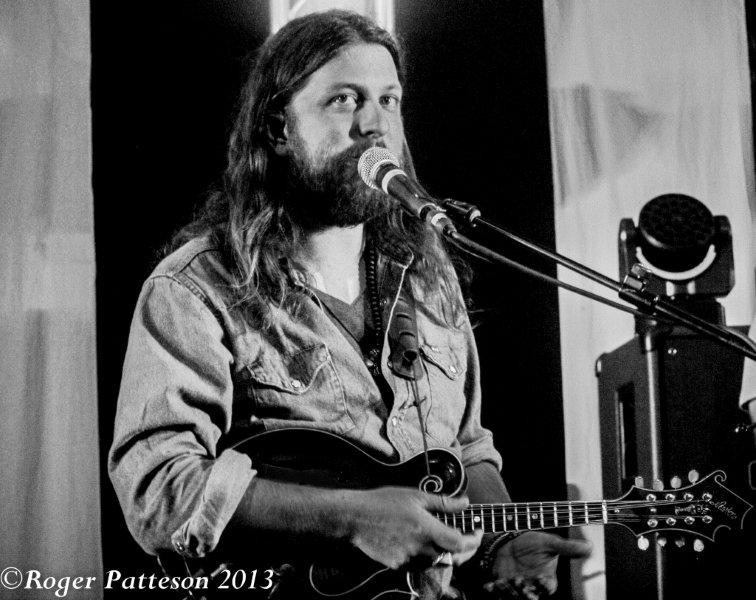 saying that this was well received by the crowd. "Out of Control" was that reality check for the crowd…or maybe a warning for what was coming next with the foot stomping adage, "Can't Stop Now". While heading for a breakdown, a little segue would occur into Little Milton's "That's What Love Will Make You Do", also of Jerry Garcia fame. "Can't Stop Now" literally wasn't done as we found its banjo-ness creeping back into the room for the sandwich win. Some more band introductions would find Dave Bruzza this time with descriptions such as "very humble" and "the man, the myth, the mustache". Material for the upcoming, new album strolled up next with "Leap Year", where the band asked the crowd to boo if they thought it shouldn't be on the new album. Nothing but cheers came at the end. We should safely expect it to be in regular rotation and on the new CD. Next was a short instrumental. Many of us would love to know the name of it. Maybe it was a little warm up or tuning but it was too beautiful to go unnamed. The stretch out and go somewhere song, "Don't Lie", stayed true to the fans, treating them with twelve minutes of feet energy and the second set closer. Encore was applauded for and granted with a "Demons", leaving the crowd with a sense of acceptance of who and what we are as individuals…no matter who and what we are or what our vices may be. Add a sweet little outro and…End show! A seriously fun and high energy show was enjoyedby all.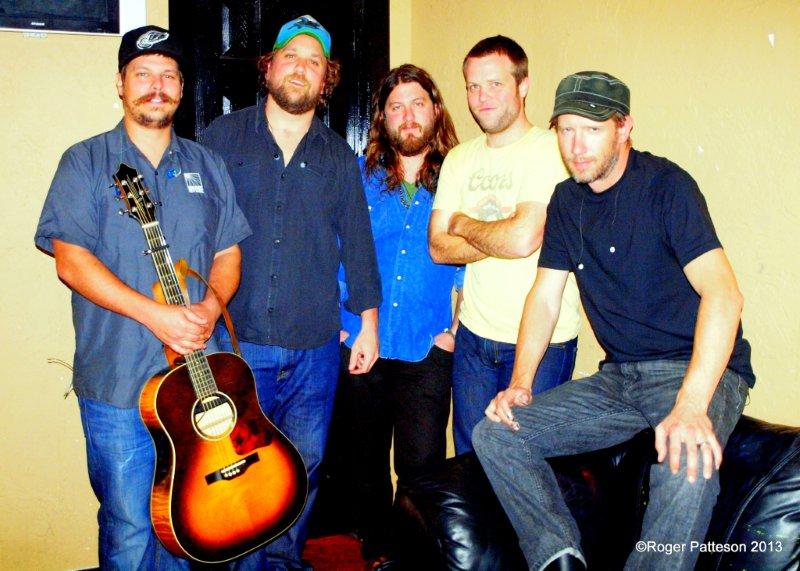 While the crew helped break down the instruments, the band also took some time to keep it real by shaking hands and pausing for photos and autographs within the crowd. Lighting guru, Andrew Lincoln, rapped for a minute with some fans and Greg Burns, tour manager, answered a lot of questions and maintained his hospitable nature while getting work done.
Prior to the show, a couple of hours were spent with the band and crew enjoying some lunch and an interview. Please stay tuned into Jams Plus Media for this in depth sit down to surface.

More Photos HERE
Written and Photos By: Roger Patteson
Edited By: Rosemary A.W. Roberts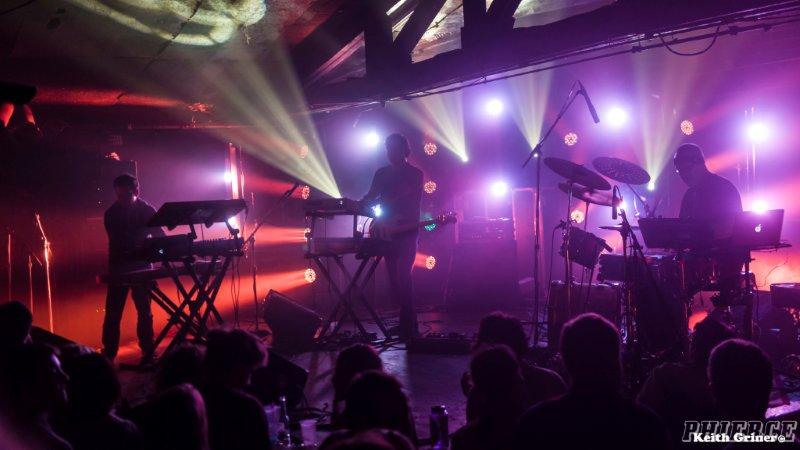 Future Rock--The Bluebird—Bloomington, IN—01/17/2013
The Bluebird started to fill up as the time passed until Future Rock would take the stage. The wait was fun with Manic Focus providing some awesome grooves slowly taking shape and gaining energy over the course of his set. The headliner, Future Rock is made up of three men: Felix Moreno (bass), Mickey Kellerman (keyboards & synthesizers), and Darren Heitz (drums).
The show was one long set as opposed to two sets in length. They got the ball rolling through the first couple tunes, "Tranzmission>Jam>FM1000", weaving them seamlessly together. Felix really let loose on the bass while keyboards and drums kept a good pace. "Nights" and "Midnight Madness", from their latest albums Nights and One Day (2011), kept the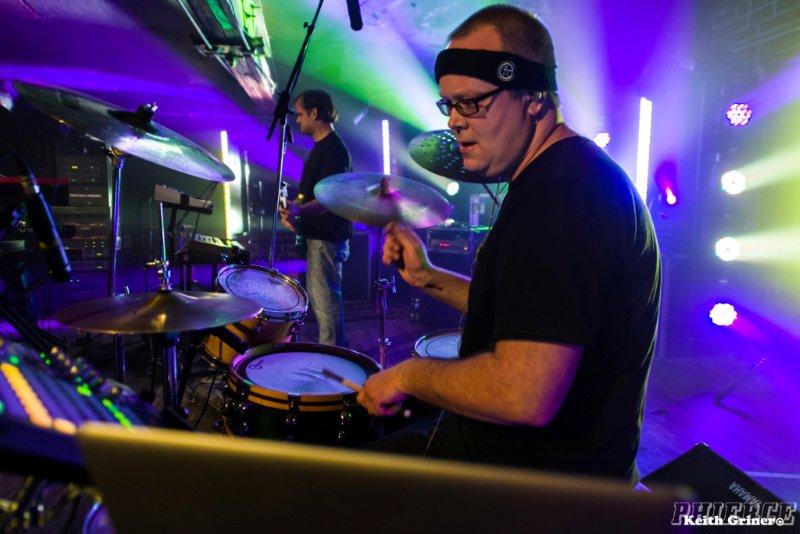 beat alive with subtle changes creating a flow which at times soared into the unknown and beyond. "Pathfinder" gave the dance party a breather with ambience while the focus was kept on keyboards and drums. It eventually drifted into "Ode to a Droid", which immediately brought the energy of the show back with a driving bass and drum beat. Synthesizers ruled this song with peaks and valleys while still keeping with the fast pace beat. "Spark" then created a robotic feel throughout most of its slot with its simple bass and drum beat with a slowly changing keyboards/synthesizers line, also simplistic in nature. Out of the shadows of "Spark" came a bass line pulling the jam back into a tight knit groove, "Pyramid". Every piece of the band was playing off each other phenomenally, migrating the beat from drum to bass to keyboards almost effortlessly. "Airplane Train Tracks" began with a repeating synthesizer line swelling and decreasing before bass took over and took it to a level not reached previously in the show. "Airplane" then turned into "One Day" which ended the show in a nice, chill fashion. Subtle changes in the music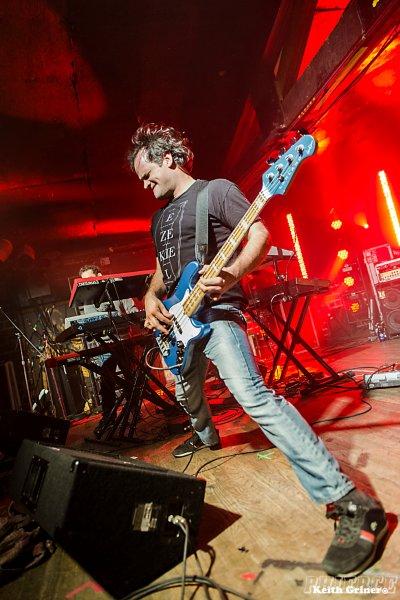 controlled this tune and sent everyone home with a smile.
The lighting for the show was very cool. Blue, red, and green lights were used to capture the rising and falling of each song. The color changes corresponding to sounds coming off stage were spot on, staying right with tempo of the music as well as changing when a keyboard line, bass line, or drum beat would take over its part in the song.
Set: Tranzmission>Jam>FM1000, Nights>Midnight Madness, Pathfinder>Ode to a Droid>Spark>Pyramid, Airplane Train Tracks>One Day.
Written By: Champe Behrman
Photos By: Keith Griner
Edited By: Rosemary A.W. Roberts, www.jamsplus.com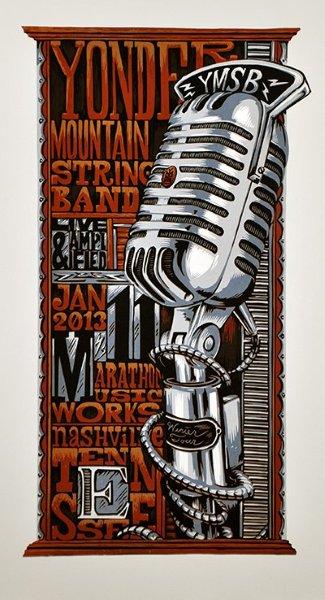 Yonder Mountain String Band ~ Marathon Music Works ~ Nashville, TN ~ January 11, 2013
After a stellar four night run closing up 2012 in Boulder, CO, a short 9 day break was all the guys could stand before beginning a 34 show stretch in the Volunteer section of the South. Kicking off Marathon Music Works 2013 concert season, Yonder Mountain String Band got down with some serious jamgrass.
Marathon Music Works comes to life by way of an old warehouse. When walking in, the first thing noticed is an amazing amount of old wood beams and rafters that really let you know you were in for an acoustic experience. Merchandise stand was housing some fine gear for this new tour including a custom skate deck, Kinfolk threads, and a solid, gorgeous official show poster created by AJ Masthay and his linoleum block process. The bathrooms are staffed by the most courteous concierges. Make no bones about it, tips are expected.
Left to right was set up with Dave Johnston (banjo), Ben Kauffman (sexy, red standup bass), Jeff Austin (mandolin), and Adam Aijala (guitar). The Del McCoury Band members, like Bela Fleck, have become the pinnacle magnet of special guest appearances in the jam world of Nashville. Enter one Jason Carter on fiddle and vocals and the extra microphone at far right of stage keeps that tradition alive and well.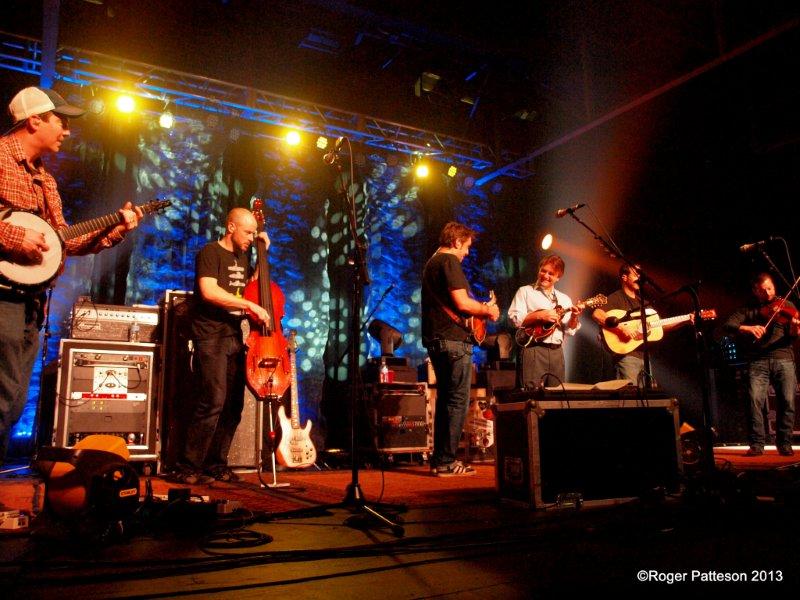 Lights drop, a nice little intro for Jason Carter and crowd appreciation, then a lightning fast "Illinois Rain" opens the set followed by "40 Miles From Denver". "Loved You Enough", "Strophe", and the metaphoric "All The Time" set the stage for a nicely spun, daunting "King Ebeneezer", tipping the 13 minute scale and made fully righteous with the addition of Future Man, Roy Wooten. Roy brought another one of his unconventional drum instruments onstage which also served as his seat. This one is simply known as "The Box". Maybe it was the recent legislative decisions in several states that sparked a "2 Hits and The Joint Turned Brown" or…maybe it was just another Friday night. Either way, the crowd obliged. Future Man would hang out through the end of the first set, making a "Don't Worry, Happy Birthday" that much more eloquent and closing with "Angel".
Set 2 began with "Jail Song", a solid, meaningful ballad. But, the guys went over the top with their direction of the Grateful Dead's "Althea". Bottom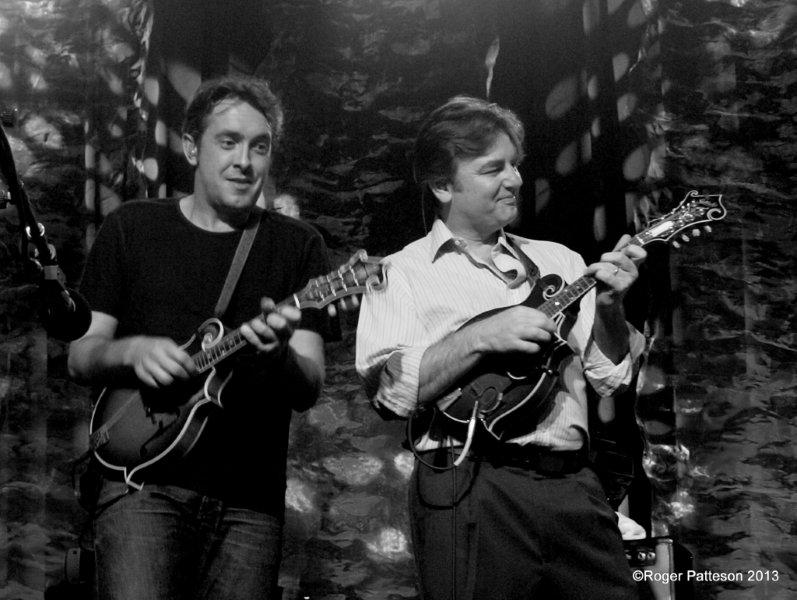 line, this song was meant for multiple stringed instruments getting together. Flawless play has had this gem on replay several times so far. "Katy Hill", "New Deal Train", and personal favorite, "Pretty Daughter", were given an extra set of shoes with yet another local joining the ranks. This time it was Ron McCoury and his badass mandolin magic. Jeff Austin's famous faces showed up big time during this stretch. At times, Jeff and Ron were found dueling together. Add Jason Carter's fiddle and this rare Yonder stage was on fire in pure harmony. Jeff humbly thanked the "best damn mandolin player on the planet" as Ron walked off the stage. A "Ten>Looking Back Over My Shoulder>Ten" sandwich closed the set. Future Man strolled back out for the encore with "Slime" and "Bloody Mary Morning".
All in all, this was a terrific show. "Althea" and the Ron McCoury segment were definite highlights if one absolutely had to pick. The acoustics of the building married nicely to the band. Ted Atwell, lighting director, painted the place with excellent backdrops providing some nice shots for the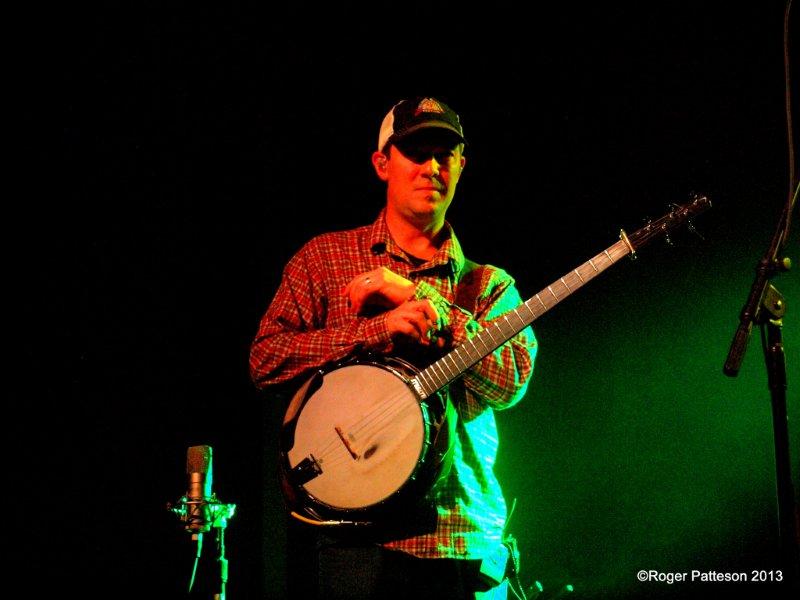 numerous photographers. Honorable mention goes to the venue for its "Polite But Firm" security staff, well managed photo pit, gracious dance space, elevated VIP area at the rear, zero tolerance of cigarettes inside, and bottled water that didn't tip the scale too heavily at $2.
More photos to be found HERE
"Artwork by AJ Masthay can be found here" (http://masthaystudios.com/)
Written and Photos By: Roger Patteson
Edited By: Rosemary A.W. Roberts

B.B. King—The Saenger Theatre—Pensacola, FL—01/08/2013
When you have a chance to see a living legend, you do yourself a favor by indulging the opportunity. This type of opportunity presented itself in full force when renowned blues musician B.B. King brought his band to Pensacola's Saenger Theatre; and based on the capacity-filled theatre, there were many people who jumped at the chance to see the legend.
The evening began with the B.B. King Blues Band, under the direction of trumpet player James Bolden, all dressed to the nines and laying down some great instrumental treats, ranging from swing to straight-up blues. Then the man himself, Mr. B.B. King, strolled onstage, greeted by a standing ovation and many cheers. He picked up his lovely black Gibson guitar, affectionately called "Lucille", and got comfortable in his chair, while Lucille did some wailing. At 87 years old, B.B. King surely still makes his guitar sing! "I Need You So"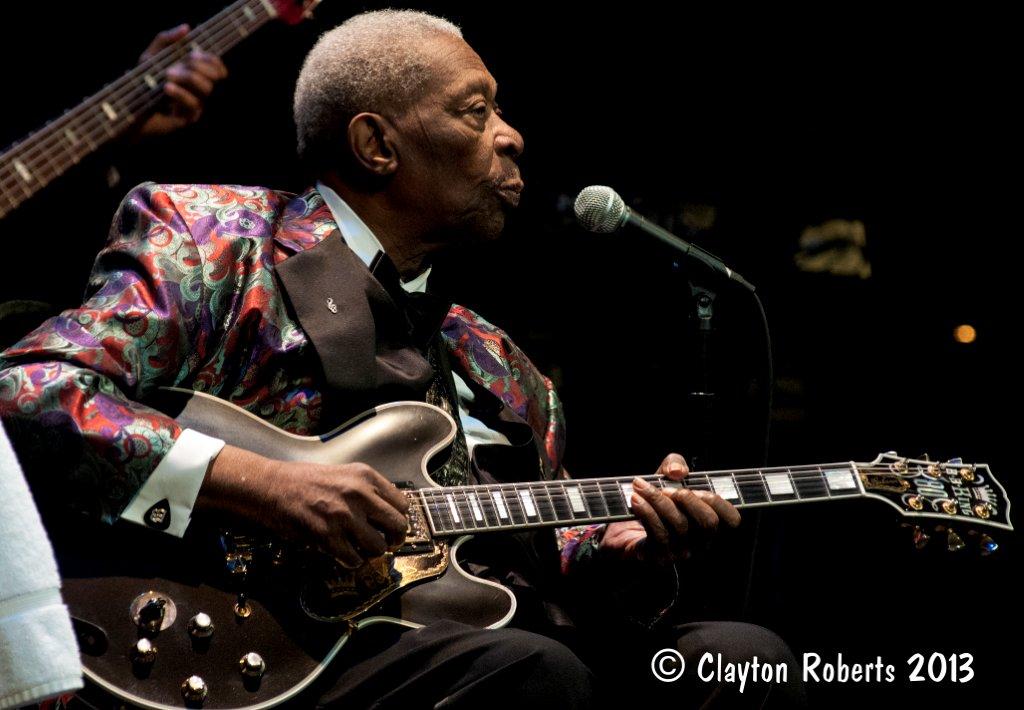 showcased his own lovely passionate voice. "Key to the Highway" found B.B. speaking his soul through the guitar notes, playing so purposefully and with such a pure tone. Next came a song dedicated to the ladies, "You Are My Sunshine", which became an audience-participating sing-a-long at Mr. King's request. One of the definite pinnacles of the performance came with B.B.'s iconic version of Roy Hawkins/Rick Darnell's song "The Thrill Is Gone"; the bluesman was dancin' in his seat, and his guitar work was steamy and dreamy. Near the end of the evening, a hot version of "Rock Me Baby" was dedicated to the gentlemen, and the whole crowd was given some more great guitar.
Throughout the set, B.B. King proved he is still a consummate performer and musician. His stage presence was warm and inviting, with a twinkle in his eyes, and many smiles for his fans. He shared various stories and a few words of wisdom, and much of the evening was conversational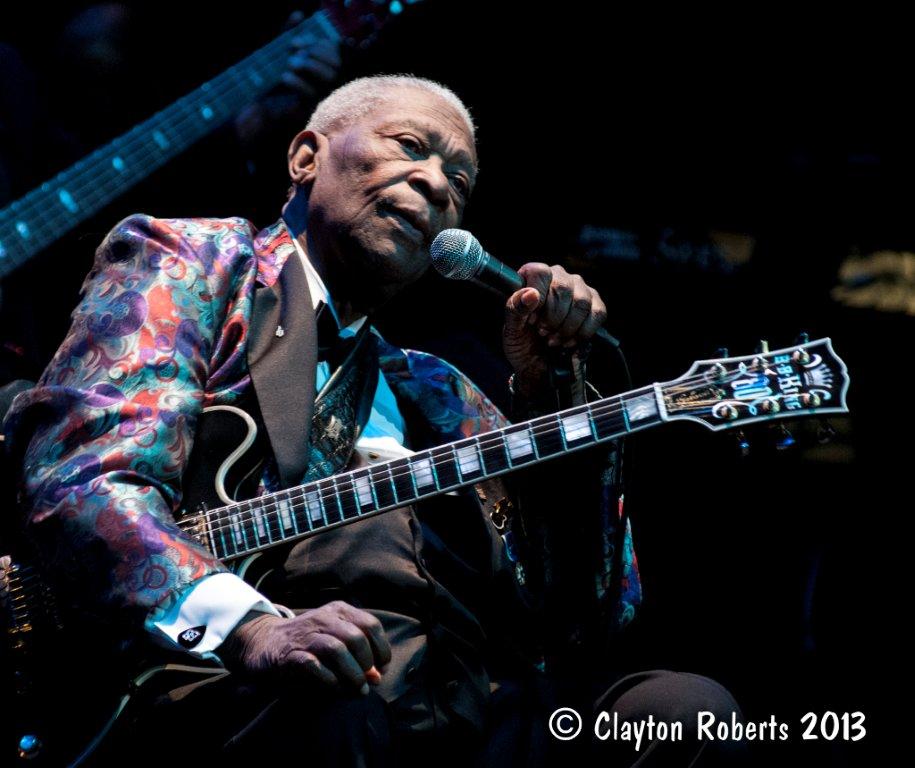 between him and his bandmates, and including some audience members who couldn't resist yelling greetings and admiration from their seats. The night seemed to end abruptly, with the crowd still wanting more as the ninety-minute show came to a close; perhaps if there had been an opening act, the music lovers would have had more of their fill. Overall, the joy of seeing legendary musician B.B. King looking and sounding so jubilant and lively was quite a thrill; when it comes to B.B. King, The Thrill is most certainly still here!
Written and Edited By: Rosemary A.W. Roberts
Photos By: Clayton Roberts

Grace Potter and The Nocturnals--The Egyptian Room--Indianapolis, IN-- 1/12/2013
Saturday January 12th a large, diverse crowd of twenty-somethings up to mid 50's gathered at the Egyptian Room in Indianapolis, Indiana to see headliner, Grace Potter and The Nocturnals and opener, Langhorne Slim & The Law.
The headliner, Grace Potter and The Nocturnals is a band originally from Vermont. The headlining band features a strong and talented female vocalist and musician, Grace Potter. Grace is known for her energetic stage presence as well as her bold and bluesy voice. Her band, the Nocturnals, has a distinct sound that is a great fusion of indie and rock n' roll.
Langhorne Slim & The Law set the tone for the night with their Indie and rock fusion sound lead by banjo melodies and bluesy singer Langhorn Slim. Langhorn's rough and weathered voice complimented his experienced based lyrics and enthusiastic stage presence. The four piece band got the crowd on their feet and moving with their up-beat feel good music. Langhorn Slim & The Law set the perfect atmosphere for the high-energy rock band to follow.
Grace Potter took the stage and began, boldly, by showing off her strong voice, opening with "Nothing but the Water." As her voice filled the Egyptian Room, I was reminded of one of my favorite female singers, Janis Joplin. Her powerful voice accompanied only by her tambourine playing, rang through the theater and brought a feeling of nostalgia. Grace held nothing back in this first song as she belted out the somber lyrics and made every head in the room turn her way. She then switched to something a little bit more up tempo called "Hot Summer Night," only to mention that this show was an all request show. Grace Potter made it clear Saturday night that she was very excited to be in Indianapolis and very proud to be playing exactly the set list that all of her fans wanted to hear. She took the crowd through ups and downs, switching from bluesy songs featuring mainly Grace's voice to more instrumental tunes, closing the set with their latest single "The Lion The Beast The Beat" and the single from their earlier album "Paris (Ohh La La)." Grace Potter and the Nocturnals closed the show with a three song encore ending in the well-known Rolling Stone's song "Paint it Black," which was a perfect way to end the night.
Set List:

Nothing But the Water I

Nothing But the Water II

Hot Summer Night

Never Go Back

Ah Mary

Apologies

Parachute Heart

Here's to the Meantime

Stop the Bus

Colors

2:22

Tiny Light

The Lion The Beast The Beat

Paris (Ohh La La)

Encore:

Stars

The Divide

Paint it Black (Rolling Stones)
MORE PHOTOS HERE and EVEN MORE HERE
Written By: Cassidy Maley
Photos By: Mark Loveless & Keith Griner
Edited By: Rosemary A.W. Roberts

Gregg Allman / Royal Southern Brotherhood – The Saenger Theatre – Mobile, AL – 12/30/2012
To eloquently end the chapter of 2012, the Mobile Saenger Theatre chose wisely, opting for legendary musician Gregg Allman. Along with a seasoned group of band mates, the Allman Brothers Band (ABB) vocalist and master of the Hammond B-3 Organ provided concertgoers a taste of rock mingled with blues to satisfy the soul. To get the evening started, collaborative rockers Royal Southern Brotherhood took the stage amidst darkness and emerged with the Latin-laced "Fired Up!", sung by percussionist Cyril Neville (The Meters, The Neville Brothers, Galactic, etc.), and enhanced by guitarist Devon Allman (Honeytribe). "Hurts My Heart" had a nice southern country flavor featuring vocalist and guitarist Mike Zito. Devon took lead vocals for "Gotta Keep Rockin'", a straight-up rocker with nice work from Zito. I was pleasantly surprised with a uniquely southern-edged version of Grateful Dead's "Fire On the Mountain"; drummer Yonrico Scott (Derek Trucks Band) and bassist Charlie Wooton hooked up well, and the guitar interplay between Devon and Mike was tremendous, at one point finding them leaning back-to-back, wailing on their axes. Devon scored points with the Mobile crowd, informing us he spent his sophomore year of high school at our local Murphy High School, and wishing our community well as we re-build the school which was hit hard by a tornado on 12/25/12. "Left My Heart In Memphis" had a slow and easy southern feel, and showcased Devon's lovely vocal range, and "Moonlight Over the Mississippi" was percussive-driven and placed Cyril's soulful vocals in the forefront. Royal Southern Brotherhood definitely started the night out right, and set me on a mission to seek them out in the future, as I really enjoyed their set.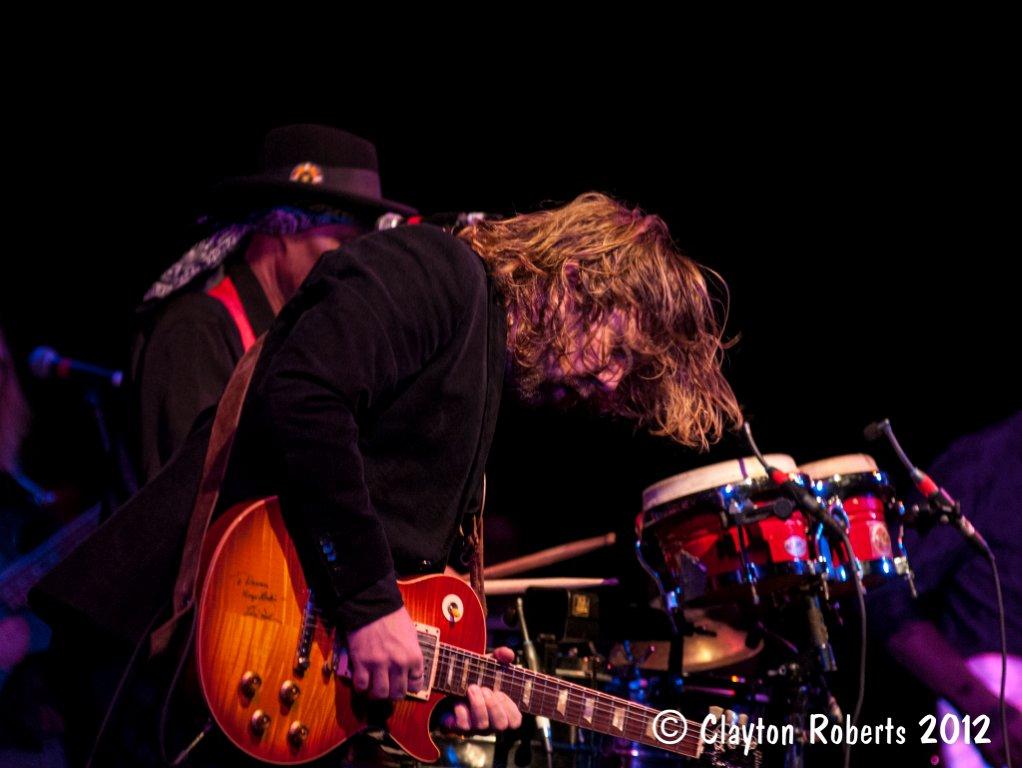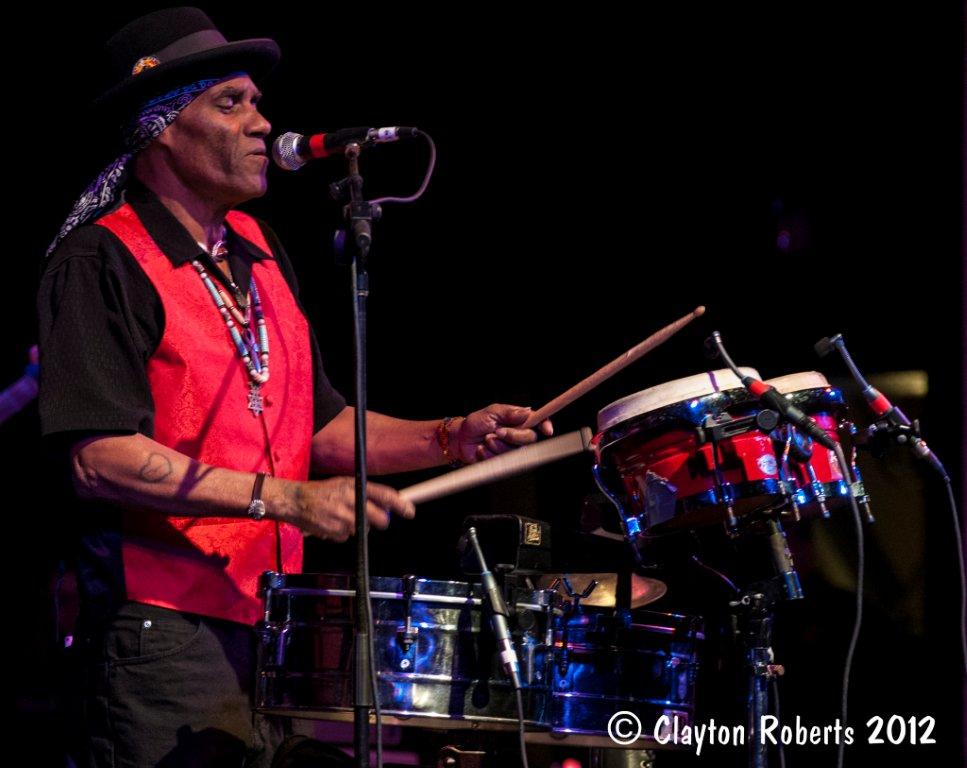 After a brief intermission, it was time for the main event; to thunderous cheers, Gregg Allman crossed the stage to sit at his organ for his well-known "I'm No Angel", and from the very beginning it was obvious his vocals would contain the splendid tone we all love. The ABB staple "Statesboro Blues" would follow, with Gregg's smiles and enthusiasm a testament to how much he loves playing his music, which has spanned four decades. Stepping out from the organ and strapping on a black acoustic guitar, Gregg led the band through the slow and lovely "These Days" before returning to organ to soulfully croon "Brightest Smile In Town"; embellishment from keyboardist Bruce Katz and saxophonist Jay Collins fit in nicely. Longtime friend and collaborator Floyd Miles stepped up front to sing his jazzy-blues song "Samson & Delilah", and had the audience rockin' in their seats, featuring skillful organ work from Allman, and thumpin' delight from bassist Jerry Jemmott; Miles also took vocals for some classic blues in "You Must Be Crazy".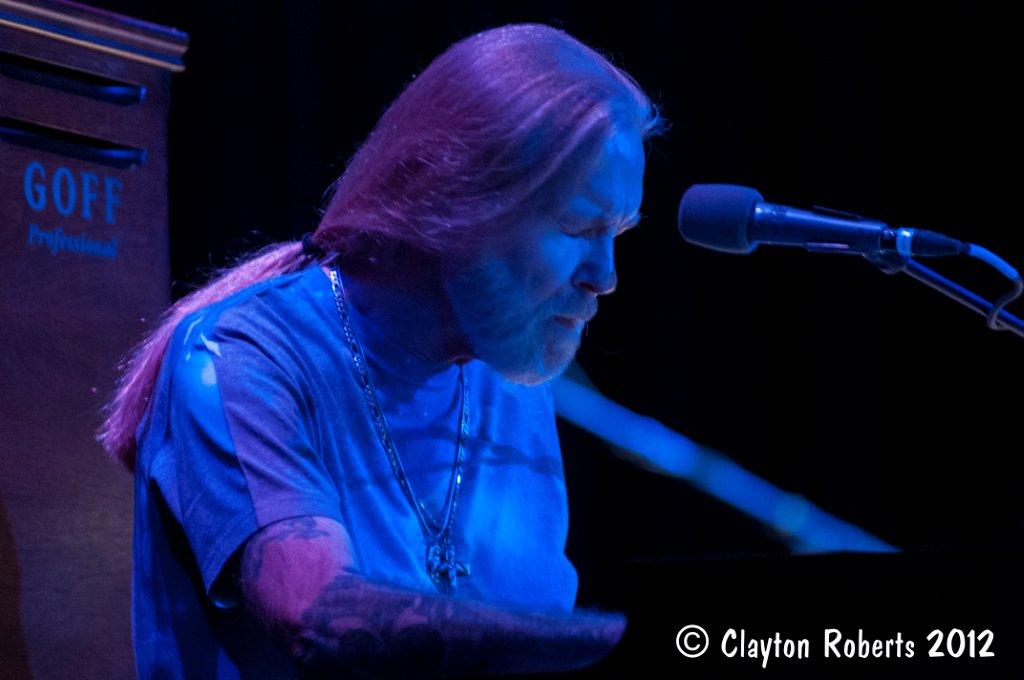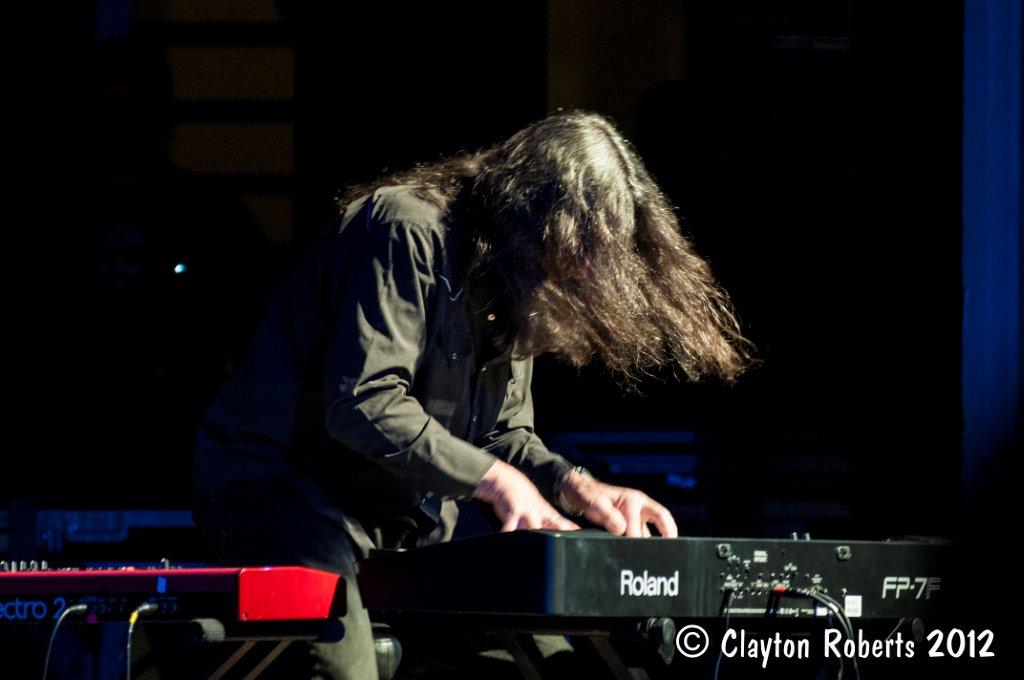 When Gregg came front strumming acoustic guitar and sang the opening line "Crossroads…Seem to come and go", the crowd showed their approval, and we were treated to a beautiful "Melissa"; Allman's vocals were filled with wistful loveliness, and Scott Sharrard's electric guitar sounded good, picking out the familiar beloved lead lines. A bluesy-strutting "Sweet Feeling" pulled the crowd from their reverie and the ABB's upbeat rocker "Wasted Words" found Jemmott's bass and Steve Potts' drums solid in the pocket. One of my favorite highlights from the show came as Gregg's son Devon Allman was invited onstage to provide lead guitar for the ABB classic "Dreams". The band pulled together so nicely, with Gregg singing his heart and soul, Devon playing with tight abandon that had me imagining his uncle Duane Allman smiling down from Heaven, Katz dancing on his keys, and Collins' sax hooking up well with Sharrard's guitar. Next, Gregg took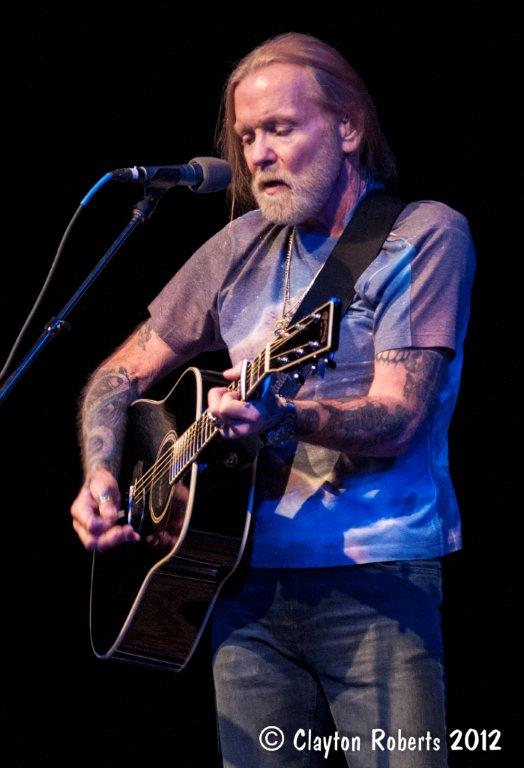 on electric guitar for "I Can't Be Satisfied", before continuing his multitalented display on acoustic guitar for the pretty "Multi-Colored Lady". Miles came front again to sing a song about his friends Gregg and Duane, "Goin' Back To Daytona", and Gregg was once again letting loose on his Hammond B-3. By the time the band tore into "Before the Bullets Fly", the crowd was so pumped up they were on their feet and dancing, despite the theatre seats. Gregg took hold of a lovely Gibson acoustic guitar when it was time to sing the ABB's anthemic "Midnight Rider", much to the audience's delight. As Gregg traded in his acoustic for an electric guitar, Katz moved over to the organ, and the set closed with a fun rendition of "Whipping Post" that had a dance party vibe for a different twist on the typically hard-blues classic. The crowd was now all standing and loudly cheering for an encore, which was kindly obliged with a Sleepy John Estes cover of "Floating Bridge", followed by a get-down-and-boogie "One Way Out" in which the audience helped sing "…might be your man, I don't know!" This was truly a fabulous way to close out a great year of music in 2012, watching a musical hero like Gregg Allman deliver a stellar performance in a beautiful setting.
More Photos can be found HERE
Written & Edited By: Rosemary A.W. Roberts
Photos By: Clayton Roberts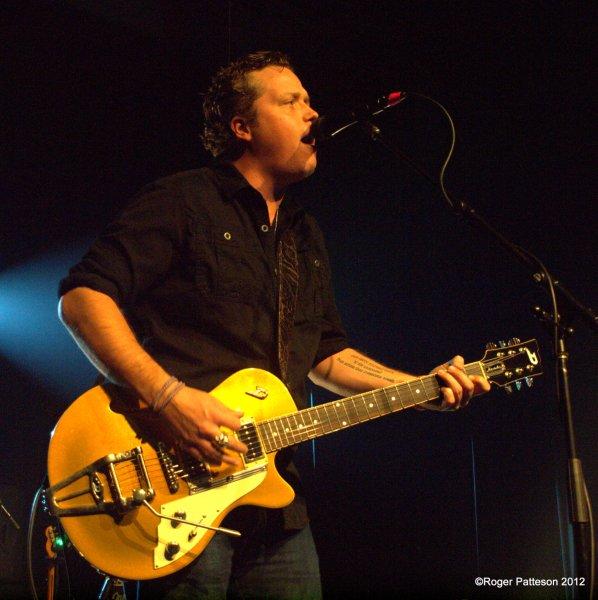 Jason Isbell & The 400 Unit ~ Shoals Theatre ~ Florence, AL ~ December 22, 2012
Small town boy makes good in the Americana rock world. We love this story. We all want a part of this story. Standing in line while waiting to enter the famed Shoals Theatre, one might have bumped into an old school teacher of Jason's. While wrangling a front row seat, a conversation was had with an old classmate of Jason's. An audience was starting to build of all ages and backgrounds and it seemed that most of them felt a real connection to the band and rightfully so. Hailing from Greenhill, AL, a short 15 mile journey from the venue, Jason extends a 200-year-old line of family musicians that were born in the state.
Recipe for a great show at home: take the energy and appreciation of the recent release (11/19/12) of Live From Alabama, a live compilation album from a show in Huntsville at Crossroads Music Hall and another show in Birmingham at Workplay Theatre, and add that to the Christmas spirit; multiply it by Jason's lovely fiancé, Amanda Shires on violin; add three cups of horn section, mix in the rhythm of bassist, Jimbo Hart and drummer, Chad Gamble; stir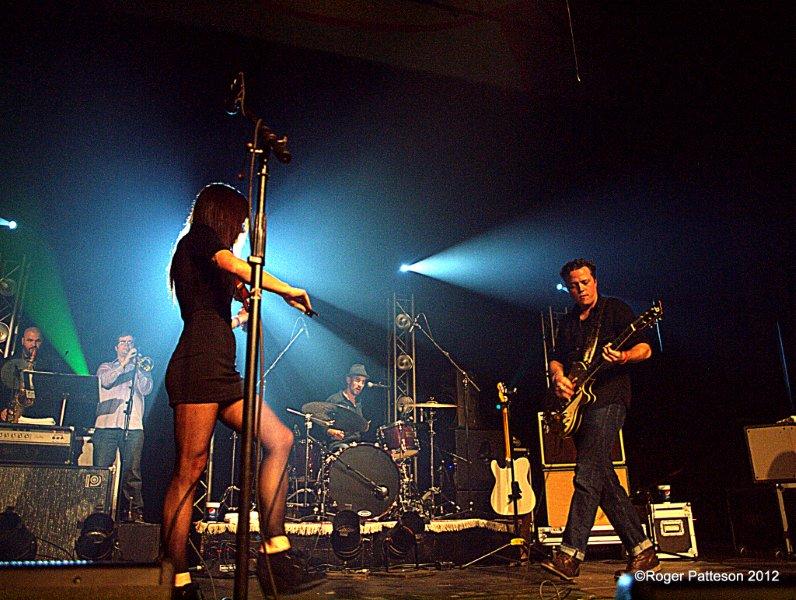 softly with Derry DeBorja on keys; and liberally baste this concoction with Jason's bluesy, hard driven country rock guitar. Serving size = 750 happy fans singing along.
From the opener, "Tour of Duty", to "Heart on a String" to "Alabama Pines" this show brought real intimate energy. Jason Isbell fed the crowd exactly what they wanted and he seemed to feed off that approval with every strum of the string and each little jig he shuffled. DeBorja danced at his keys like he was dodging lasers. Amanda, complete with a snazzy, revealing dress, gave plenty to the crowd to feast upon and even let out a couple of smiles upon crowd interaction. Jimbo Hart kept things simple and his real estate small. It might actually be impossible for a horn section to not add to the shear greatness of a live act, and the trio didn't disappoint. In all honesty, Chad brought the drive to the table this night. His intense playing was duly noted and the crowd enjoyed his vocal lead on "Hey Pocky Way", a cover from The Meters.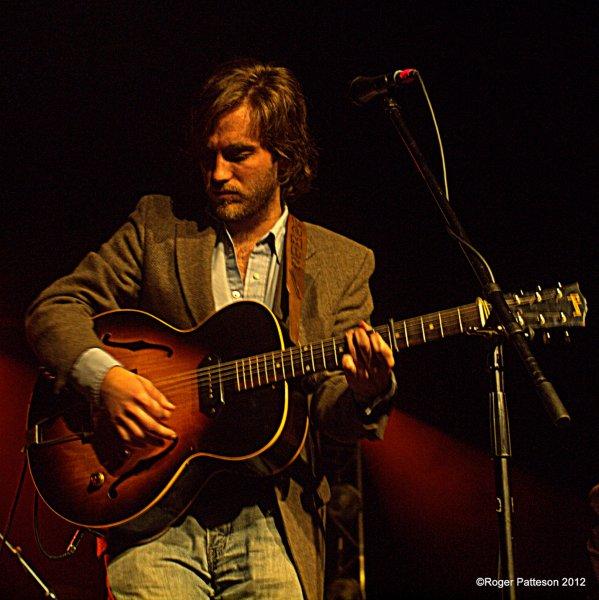 Opening the night was handled nicely by Andrew Combs. Making the "American Songwriter's Top 50 Albums of 2012" list at #29 with his work on Worried Man, Andrew showed up with a big body acoustic/electric to warm the crowd with his Nashville flair of folk, country, Americana blues. While usually found in a 6pc format, Andrew chose his backing with just a couple of members with Jeremy Fetzer on lead electric guitar and Spencer Cullum Jr. on pedal steel guitar. Several tracks off of Worried Man were given life including the self titled track "Worried Man", "Devil's Got My Woman", and "Too Stoned to Cry". Andrew has a new tour coming up this January covering the east coast and southern states. More info can be found at www.andrewcombs.net
The Shoals Theatre stood firmly on the foundation of intimacy. This quaint, little relic has a 60yr history. Its life blood is primarily volunteer-based out of love for presentation and production and is home to an adult theatre group and children's theatre group. The staff is down home, welcoming, and willing to be of assistance. Drink and refreshment prices were a pleasing low to your average venue. Show promotion and all around superb job was handled by Southern Discipline.
Written & Photos By: Roger Patteson
Edited By: Rosemary A.W. Roberts