2014 HIGHLIGHTED CURRENT REVIEWS
| | | |
| --- | --- | --- |
| Big Sky Big Grass Festival 2014--Big Sky, MT—February 6-9th, 2014 | | |
| Trey Anastasio Band—House of Blues—New Orleans, LA—02/07-08/2014 | Gov't Mule – Mark C. Smith Concert Hall at Von Braun Center--Huntsville, AL-- 2/11/2014 | Ricky Skaggs & Bruce Hornsby--Atlanta Symphony Hall—Atlanta, GA—02/04/2014 |
| Jars of Clay / Rictor—Vinyl Music Hall—Pensacola, FL—2-8-2014 | Wild Feathers / Saints of Valory / Jamestown Revival—Soul Kitchen Music Hall—Mobile, AL—01/31/2014 | The Pixies--Durham Performing Arts Center—Durham, NC--January 31, 2014 |
| | Keller Williams and More Than a Little--Vogue Theater--Broad Ripple, Indiana-- 1/24/2014 | Dark Star Orchestra--Murat Egyptian Room--Indianapolis, Indiana—2/7/2014 |
| | Yonder Mountain String Band—The Tabernacle—Atlanta, GA—01/25/2014 | Assembly of Dust / The Hooligans – Whiskey Jack's – Big Sky, MT –1/19/2014 |
| Galactic featuring Maggie Koerner--Vinyl Music Hall--Pensacola FL--January 15, 2014 | | Kopecky Family Band, Milagres, and Evan P. Donohue ~ DO317 Lounge, Indianapolis, IN ~ January 18, 2014 |
Click Here for reviews from January - December 2013
Click Here for reviews from August - December 2012
Click Here for reviews from January - July 2012
Click Here for reviews from August - December 2011
Click Here for reviews from January - July 2011
Click Here for reviews from 2010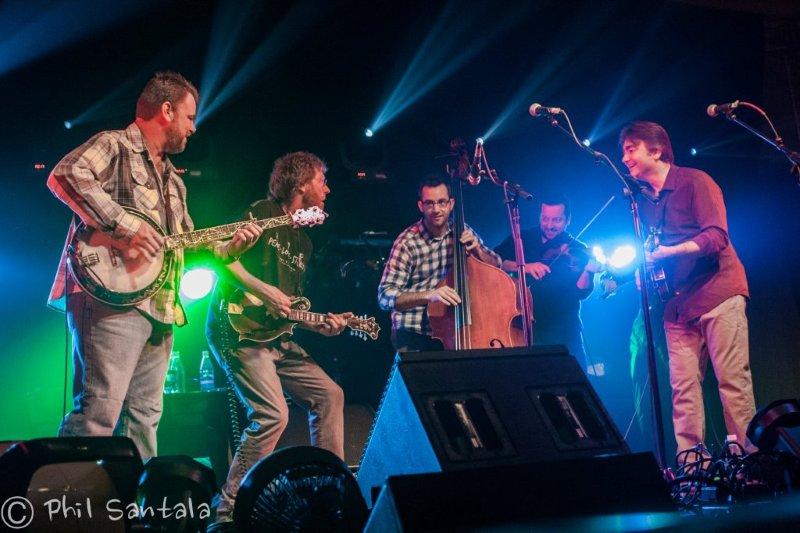 Big Sky Big Grass Festival 2014--Big Sky, MT—February 6-9th, 2014
Written by: Phil Santala
Edited by: Rosemary A.W. Roberts
Big Sky Big Grass entered into its 8th straight year as it has in many past years, boasting forecasts for fresh snow, an expanded line-up, record ticket sales, and lots of picking' and grinin'. A heavy emphasis should be placed on the grinin', which took place on and off the stage a-plenty. Big Grass offers a unique experience to the bluegrass fan: the chance to rub shoulders off stage with some of the greats of the bluegrass music industry. It even offers the "Big Grass Academy" where classes are taught to aspiring bluegrass musicians. Sit in's on stage are the name of the game for the bulk of the weekend. Sam Bush appeared on stage with several other big acts, most of the opening bands, and even made cameo appearances in the smaller more intimate Talus room. He also took the time to stop in with local act Tom Garnsey of the Hooligans, appearing at one of the free side venues. Free...that's right, totally free. Big Sky's wide variety of musical accommodations offers a chance to see some big names in small places. The Carabiner Lounge played host to music every night, in a 30 seat up-scale bar setting that was totally free of cost. Whiskey Jacks, the pay-to-see late night venue which played host to headline acts Drew Emmitt Band, The Deadly Gentlemen, Mountain Standard Time, and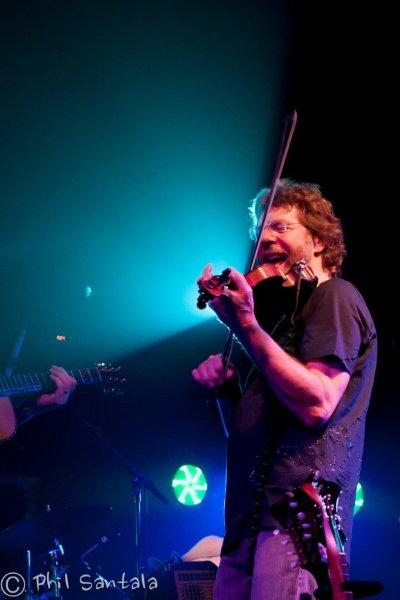 The Infamous Stringdusters also featured free music Friday, Saturday and Sunday afternoons. Overall the four nights of music feature a combined 56 hours of live music; 19 of those hours featured acts which were appearing at free venues throughout the base area of Big Sky. These acts would later open for and share the stage with the headliners. This point should not be undersold. Almost no festivals offer the chance to see paid acts for free, days or even hours before taking a main stage with headliners.
Big Grass as an event offers very much what Big Sky as a resort offers: the chance for families and groups to gather together at times, but still maintain their separate levels of personal commitment. A family can ride a high speed quad on the hill, then ski a variety of runs from greens to blacks before meeting at the bottom to ride up again together. The true Bluegrass aficionado could buy the "Live Big" full weekend pass, but a different member of the group could join them for free music early in the evening, and even pick up one or two nights at differing venues as well, without making the full commitment. The pricing structure is built such that the festival can be all one cost, or broken up for those unable, or unwilling, to "Live Big". While this pricing structure might cost the promoters money, it greatly benefits the travel and work schedules of the public at large.
This year marked new highs for the festival, moving away from President's Day, and adding an additional 4th night onto the front end featuring a sold out show at Whiskey Jacks by The Infamous Stringdusters. Saturday night's performance there by the Drew Emmitt Band was a sold out event as well, despite the late removal of Bill Nershi due to scheduling issues. In fact, scheduling and travel glitches might have been noted for plaguing the event, if not for hard work by the promoters to fill the gaps. The Travelin' McCourys were anything but traveling Saturday; sidelined by travel issues, the Drew Emmitt Band stepped in to fill the gap playing a somewhat more "traditional" bluegrass set. Their wide range of talents were on display with the somewhat dialed back set which veered away from "cajun-slamgrass" into more conservative Kentucky roots-bluegrass. The Talus room is more equipped for such a performance, being a mostly seated venue designed to bring large acts into a closer proximity with a reverent audience. Additionally on display in the more intimate setting of the Talus room was Drew's gracious nature. He brought out Infamous Stringdusters's fiddle player Jeremy Garrett for most of the set. Later he would even call up audience member Darol Anger, who just happened to be standing in the back. Darol and Jeremy squared off on the side of the stage, trading licks with rosin, strings and smiles flying.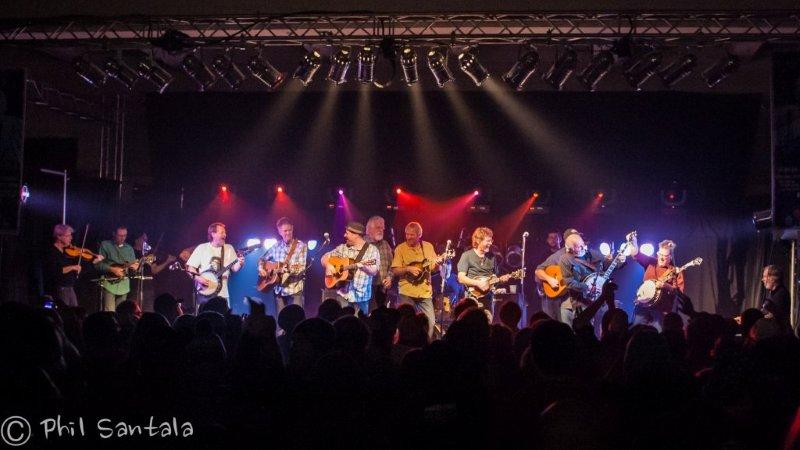 While things might have been heating up "traditional style" in the Talus room, Friday night in the Missouri kicked off slowly, but was a sign of what was to come. Bryan Bowers's solo set eased the crowd into the events for the weekend. Sam Bush's unexpected appearance on stage at the end of the set prepared the crowd to be ready for the sit-in at all times. Their rendition of the 19th century "The Lakes of Pontchartrain" was lovingly received from the attentive crowd.
The headline act for Friday night was billed as "Darol Anger and Friends." Friday's "friends" were a revolving cast of characters including most of the members of the Deadly Gentlemen, The Sam Bush Band, and the unofficial master of ceremonies himself Sam Bush. The super jam featured quick turn-around in members, as bluegrass players wandered onto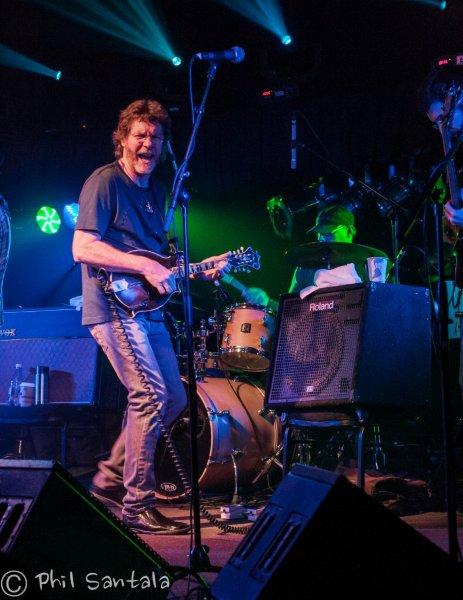 and off the stage. Bluegrass standards and newgrass ballads twanged out into the air, and the crowd responded in kind. The new set up in the Missouri River Ballroom lended itself to audience appreciation and participation. Gone was the seated front of house present in years past. Instead, a sectioned off area representing about two thirds of the floor was reserved for standing room only, and the remainder allocated for the sitting crowd. This shift gave the best of both worlds and provided for a lively band-crowd interaction.
Friday's late night Whiskey Jacks headliners the Deadly Gentlemen came onto the stage clearly fired up, initially commenting that "Sam Bush is a force of nature" and that "this is the best bluegrass festival ever. You get to go skiing in the day and to bluegrass at night!" The Deadly Gentleman's stoke factor was evidently off the charts. Their high energy set ran through fast tempo original compositions, but the clear crowd favorites were the covers. The hits they ran through were as deep as the 16 inches of snow piling up outside. Cee Lo Green's "Forget you" featured the uncensored lyrics; the crowd ate it up like powder stashes on a cold smoke day. The Beatles "I Saw Her Standing There", The Rolling Stones's "Let It Bleed" and The Grateful Dead's "Touch of Grey" all made appearances in the set list. An original composition "Faded Star" was one of the slower ballads of the night giving the room a chance to catch their collective breaths. As the band left the stage they called out, "how many of you skied today?" to which they received a lukewarm response. When they asked "how many of ya' are gonna' ski tomorrow?" the house fell in around them. Indeed, with bluegrass on our minds and 16" of snow under our boards, we were all gonna ski tomorrow!
Saturday night in the Missouri River ballroom found the close to capacity crowd ready for action. Chris Jones and the Night Drivers brought up the temperature of the crowd with a few original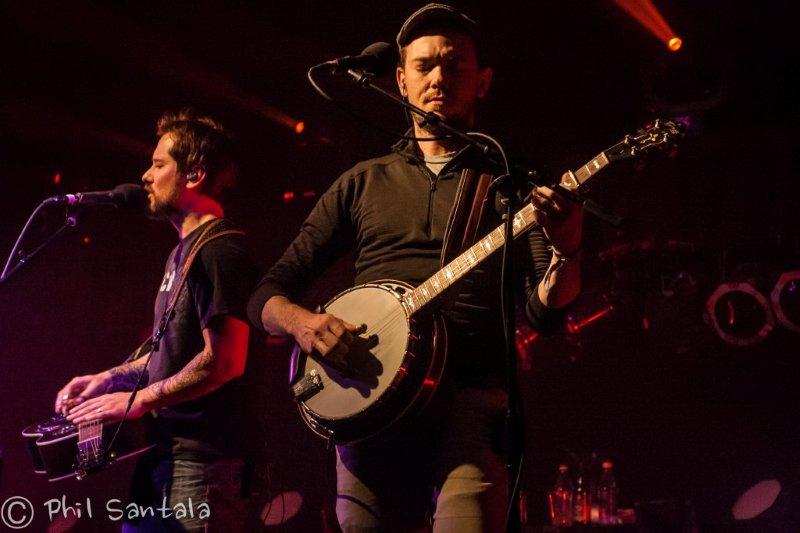 compositions, including the chart topper by Bassist Jon Weisberger "Final Farewell." Chart toppers weren't the only radio reference in sight. Big Grass received national attention via Ned Luberecki and Sirius XM radio's Bluegrass Junction show "Derailed". The evening featured broadcast performances via satellite radio of Big Grass.
Sam Bush is no stranger to chart toppers, or to the people who helped write them. Local Paradise Valley resident and Little Feat's own Bill Payne joined Sam Bush and company onstage for the bulk of their set. When he initially joined the party the rest of the band took a breather. The resulting "Sailing Shoes" duet between Sam and Bill was an extended smooth jam with mellow licks being traded back and forth. Sam, Bill and the crowd all started to beam as the song went on. The jam meandered, teasing "Spanish Moon" gently as it went, both with lyrics and chords. Eventually band members returned to the stage as they worked their way out of the Little Feat classic and into the Clapton standard "Crossroads." The song was loud, fast and hit like the blazing sun. Rather than turn off the faucet the band aimed it towards the crowd. "Sailing Shoes" stepped back out with Sam leading the audience in an ever increasingly difficulty round of the "ahhhhya-ya" and "oooooya-oooooo" that precedes the chorus of the song. They wrapped one Little Feat classic moving into another with "Dixie Chicken" which by all means should have been the show stopper of the evening, or at least a set-ender. But as the last notes faded away, Sam commented that he "had gotten a lot of requests for this next one." It was a nice sentiment to hear, not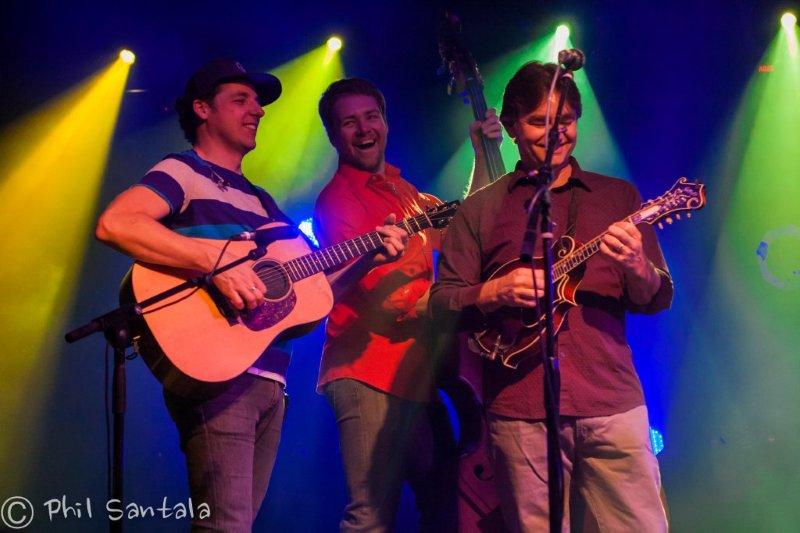 just that he had gotten the requests, or that he was listening to them, but that he was hob-nobbing and rubbing shoulders with enough of the audience for them to be able to converse with him. The Jeff Black standard "Same Old River" was clearly an audience favorite. The super-jam set was seemingly drawing to a close.
The end of Sam Bush's set featured too many artists to list, and almost too many to fit on stage. Members of all the opening bands (Bryan Bowers, Two Bit Franks, Chris Jones and the Night Drivers) and Bill Payne all came back out for the triple encore. The Encore began with "Sitting on Top of the World" which gave way to "Up on Cripple Creek", followed by an extended "Cripple Creek" jam during which everybody on stage took a lap or two into a solo. In the words of the Night Driver's own Ned Luberecki "I think that morphed into "Bugle Call Rag"..." before being wrapped back into "Up on Cripple Creek." When the entirety of the band members playing on stage only recall vaguely the melody laden setlist...well you know it's got to be good.
Saturday would be a tough act for anyone to follow. The Talus room drew a small and content crowd to watch Grammy-nominated Special Consensus run through their bluegrass standards. Tight and well formulated they hit the spectrum of bluegrass traditionals. They covered Irving Berlin's "Blue Sky." They absolutely knocked out of the park an a cappella "On My Way to the Kingdom" and presented a heartfelt tribute to the late Harley Allen in their cover of "A Good Problem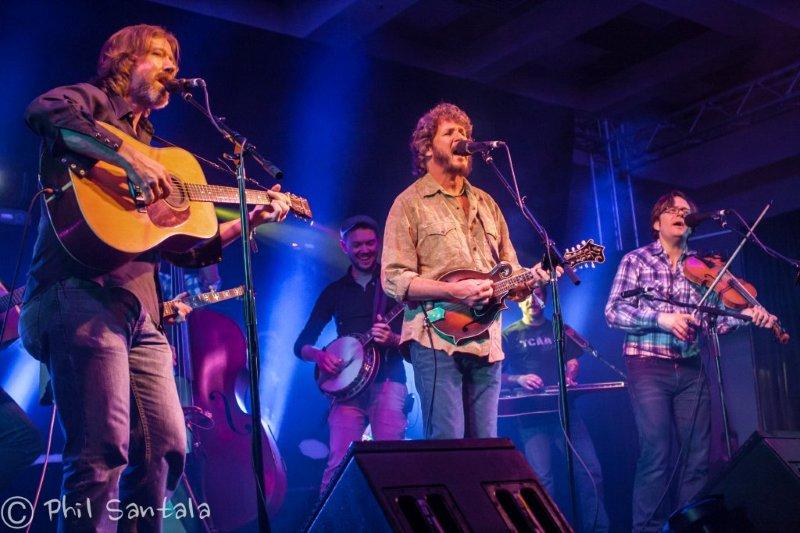 to Have."
Over in the Missouri ballroom the Drew Emmitt Band was firing up the strings. It seemed like Drew and company were just starting to open up as their short third spot of the weekend drew to a close. However, if the crowd wanted more from him they wouldn't have long to wait. The Travelin' McCourys would finally be able to make an appearance, and joked throughout their set about how worry free their traveling had been. They were joined for their set by Andy Falco of the Infamous Stringdusters, and provided a lively but perhaps more traditional bluegrass bumper set between Drew and the Stringdusters...at least until Sam Bush joined them onstage. The musical environment took off from there and only really paused when Ronnie McCoury spoke to discuss how this evening was his parents' 50th wedding anniversary. Ronnie talked about how music, his family, and playing in front of crowds like this have meant so much to his parents. So much, he commented, that it would be fitting if we could all wish them a "Happy Anniversary." So without much fanfare, as casual is if he was sitting at home, Ronnie pulled out his i-phone and Facetimed Del McCoury. He asked us all, on the count of 3, to wish his parents a "Happy Anniversary." As he held the phone up to the microphone so we could hear Del's response, he cued the audience. It was a special, heartfelt moment. It was surprisingly intimate, considering the proliferation of total strangers all around. Del McCoury thanked us for the sentiment, while Ronnie brought out Jeremy Garrett to join him on a fitting tribute to his parents with the Bill Monroe ballad "Good Woman's Love." Sometimes stage banter seems a little canned, and sometime it tugs at your heartstrings and plays you like a fiddle...this time was the latter.
Speaking of getting played, the Infamous Stringdusters took the stage as the final act in the ballroom seeking to play their hearts out, with a little help from their friends. Members of the 'Dusters had been sitting in with acts all weekend, and Sunday night they showed why. They played heart-stopping, ass-shaking,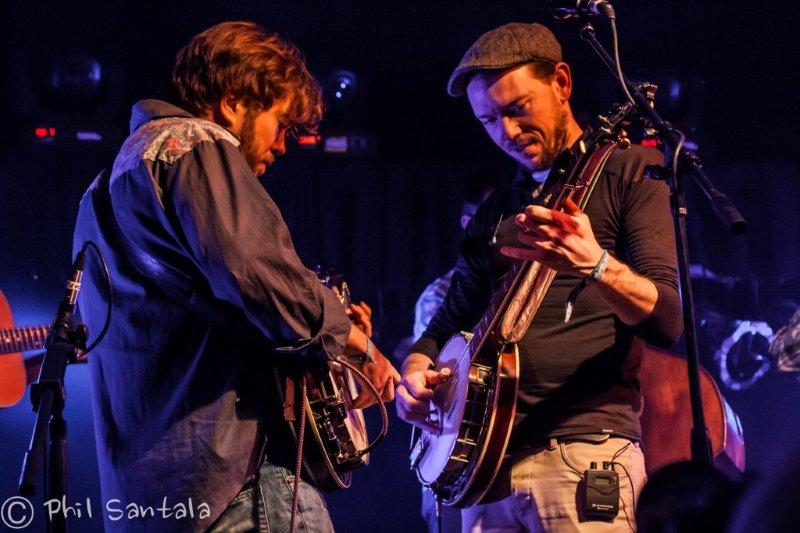 foot-stomping absolutely raging-grass. It's not often one comes into a show totally cold and uninitiated. Before Sunday night I had never heard one Stringdusters song. Not one. After Sunday night I have a hard time imagining the dark world in which I lived, and how I ever could have even sucked air there. The Infamous Stringdusters put on such a high energy show that was both so tight in its jams, and so loose in its song flows that it seems inconceivable. The band has garnered a tight knit following, or 'Jamily', coast to coast and it's easy to see why. During jams the band does a great job promoting and supporting each other. Head nods, smiles, head-shakes of astonishment, and smirks of amazement are as plentiful on the stage as they are in the crowd. Guitarist Andy Falco's stage presence is astonishing. For-going cables and working off a wireless amp pickup he roams the stage, offering jams, solos, and support while almost cartwheeling around with energy. At times the band spools up into a tight formation physically on stage cranking up the energy as they feed off of each other's proximity. Then just as seamlessly they unwind that energy and tightness onto the whole stage walking away from each other and letting the chords ease back out.
The 'Dusters took a short set break and returned the sit-in favors they had been stacking up all weekend. They took a slightly different route than Sam Bush; rather than bring all the guests up at once, they strung them along for a bit. First Ronnie McCoury and Jason Carter joined them on stage for a rousing "Why Don't you Tell Me So?", and "I'm Going Back to Old Kentucky". Then it was "Rovin' Gambler", and "Groundspeed" with the ensemble Chris Jones and the Night Drivers. Then Drew Emmitt and crew joined them on the boards for an amazing cover of "Can't you Hear Me Calling" and another bluegrass standard "Clinch Mountain Backstep" Lastly, about an hour after their scheduled time slot was up, they brought out members of Special Consensus and others to tear up a few final songs including a reprise of "Sitting On Top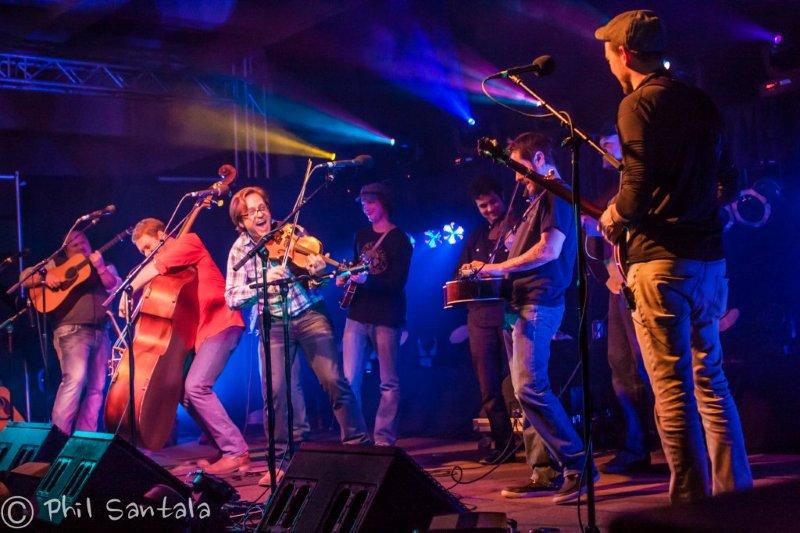 of The World" which involved members of the Sam Bush Band, and The Deadly Gentlemen.
So while the snowfall might be unpredictable, the expanded line-ups will continue to grow with the ticket sales. Big Sky Big Grass Festival is the premier winter bluegrass festival. Going into its 9th consecutive year it looks forward to the future to make its mark as one of the premier bluegrass festivals of the year. If you've been before, you're always welcome back, and if you haven't...Well it just might be time to start booking your bluegrass-cation. You bring your bluegrass moves, Big Sky will provide the powder, and Big Grass will do the rest.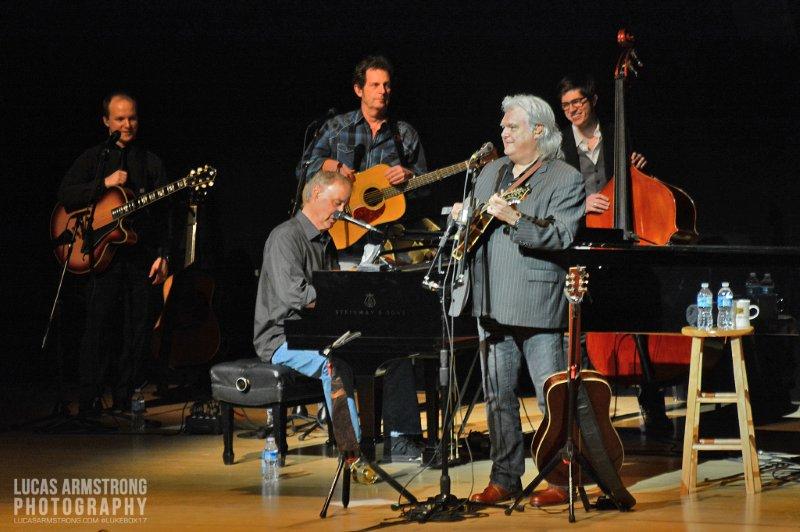 Ricky Skaggs & Bruce Hornsby--Atlanta Symphony Hall—Atlanta, GA—02/04/2014
Photography and review by: Lucas Armstrong #lukebox17
Edited by: Rosemary A.W. Roberts
Country Music and Bluegrass master Ricky Skaggs and piano / songwriter legend Bruce Hornsby teamed up with the Kentucky Thunder and are on tour right now. Tuesday February 4, 2014 I drove into Midtown Atlanta and enjoyed a classy night at the Atlanta Symphony Hall. Ricky and Bruce joined forces to bring us a night of bluegrass magic, and promote their new album Cluck Ol' Hen. The album is full of bluegrass masterpieces and if you don't already have it I suggest adding it to your collection.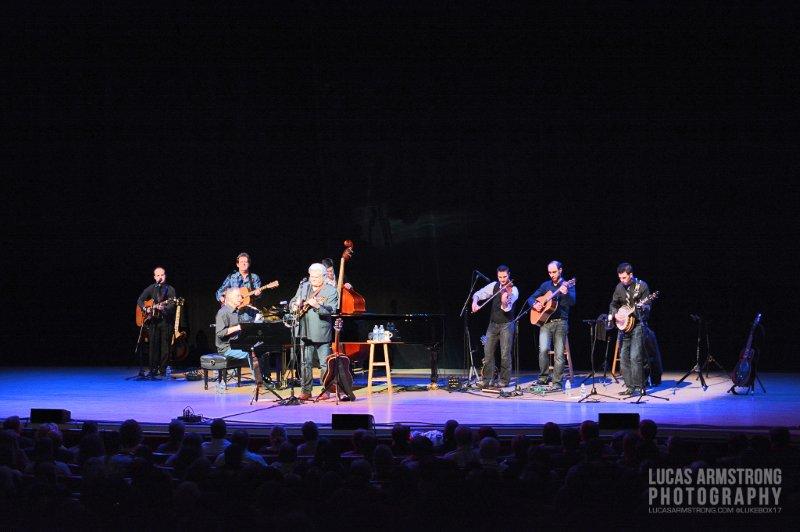 Effortlessly Bruce and Ricky's voices harmonize and consume the listener with a wonderful entrancing all American sound. The night was filled with banjo, guitar and violin solos; walking upright bass jams; whirling piano solos and the magic of the beat or rhythm that is created without a drummer. All together these guys jammed hard, and brought the house down, or I should say encouraged standing ovations, several of them. It was unlike any show I had been to in a long time. No bar in the venue hall, no standing during the show, no drunk kid in front of you. I have to say I very much enjoyed the ambiance.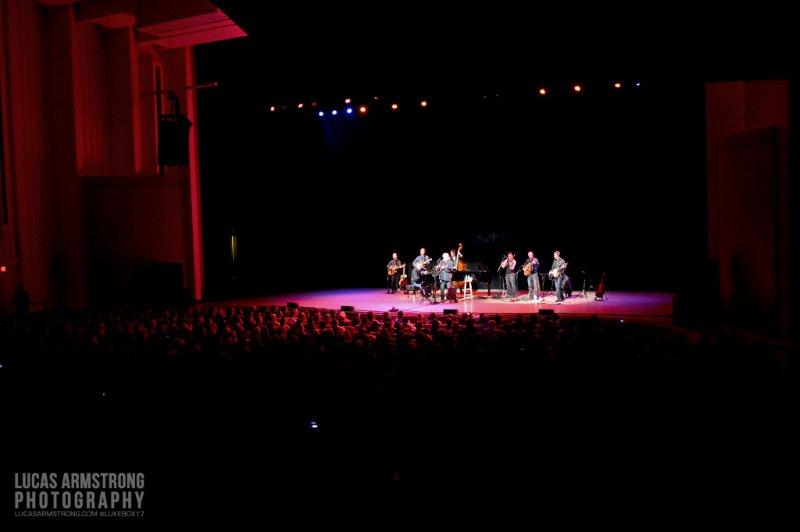 Playing songs off the new album and throwing in a few others here and there, the first song that hit me was "The Way It Is", a classic Bruce Hornsby song. Only this time it was done with a back swing and was bluegrassified. "Amazing," I thought; I love it when I hear a change up like that. Ricky's mandolin set the pace for every song played. We got an extended jam on "Sally Jo", with awesome exchanges back and forth between the band members. The entire show kept getting better and better as the night went on. "White Wheeled Limousine" was especially great. Starting with a dark mysterious bass solo, Bruce began to fill in the sound slowly on the piano and shortly after the entire band was rocking out.
If you're looking to have a great evening with friends, or you're traveling alone, I suggest checking these guys out for an exciting evening of bluegrass with two music masters.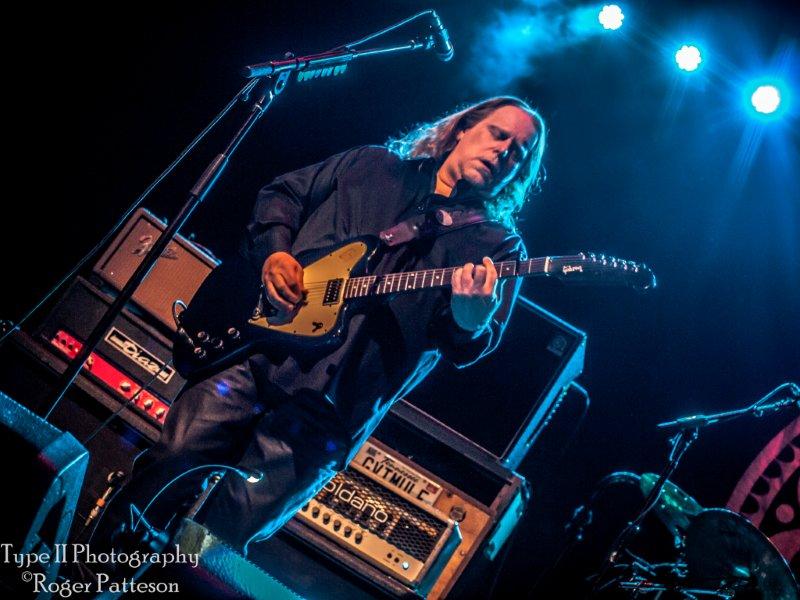 Gov't Mule – Mark C. Smith Concert Hall at Von Braun Center--Huntsville, AL-- 2/11/2014
Written by: Adam Gilliam
Edited by: Rosemary A.W. Roberts
With the second phase of Winter Storm Pax quickly approaching the southern town of Huntsville, AL the certainty of Gov't Mule's concert at the Mark C. Smith Concert Hall of the Von Braun Center was up in the air. The storm had already dumped snow on a typically snow free city the previous night; yet the weather would not win out. The band, known for its relentless fervor for touring, did not cancel the show and provided a great night of southern jam rock for the fans.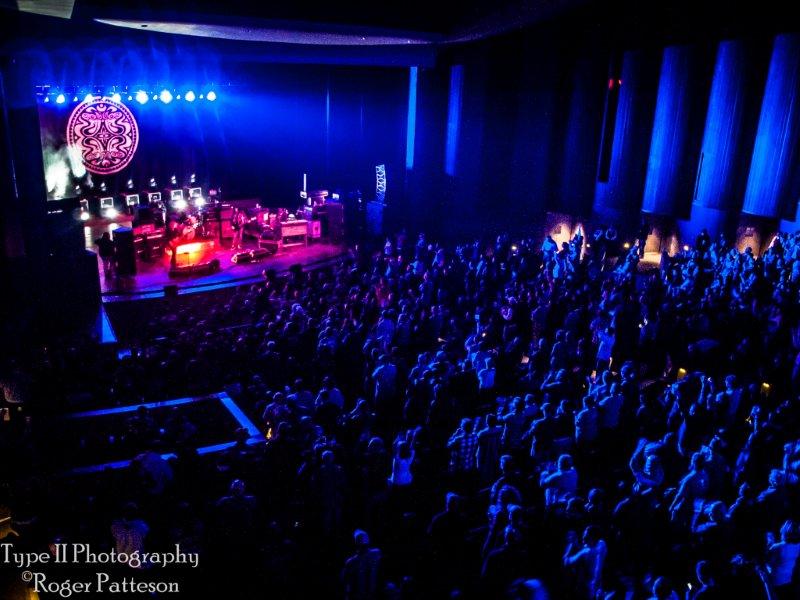 Starting as a side project of Allman Bros. band members, guitarist Warren Haynes and bassist Allen Woody in 1994, Gov't Mule has become a staple on the festival and concert circuit for two decades. Even after Woody's untimely passing in 2000 the band has remained a constant in the jam rock scene. This could be attributed to Warren Haynes's amazing work on the guitar and unmatched vocal ability. These were instantly on display when the band opened with "Slackjaw Jezebel" off their 2004 album Deja Voodoo. The upbeat tune got the crowd ready for an excellent night ahead. Shortly after the band slowed things a bit and let Warren, as fans like to say, show off just how sultry his voice and guitar can be in "Worried Down With the Blues". The sometimes less than energetic crowd finally all came to their feet when keyboardist Danny Louis began to rock out to the song made famous by Rufus & Chaka Khan, "Tell Me Something Good". The clav intro to that song is impossible to hear without having a smile on my face. Hayne's incredible songwriting was displayed next when the band tore into "Soulshine" which is probably his most famous original and one of my personal favorites as well. The set ended with nicely with two more originals "Banks of the Deep End" & "Thorazine Shuffle".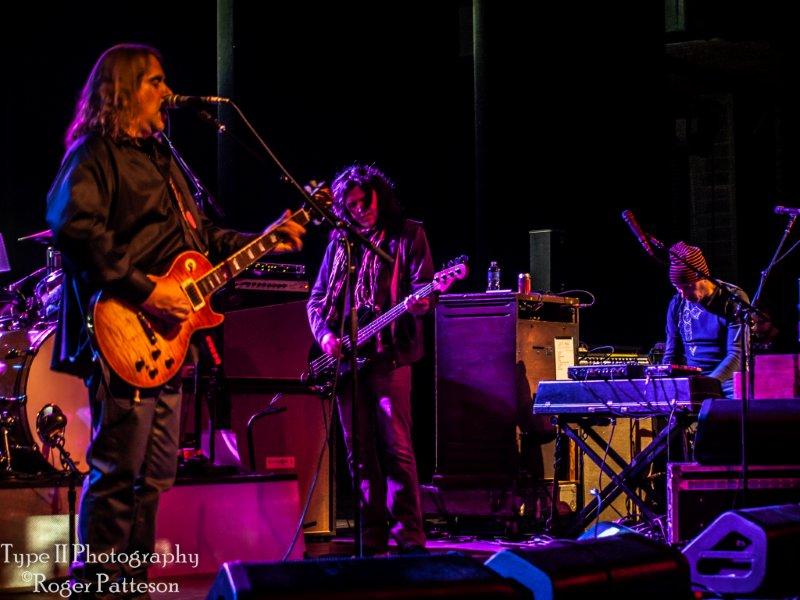 With the threat of snow still looming Warren let the crowd know the setbreak would be brief in hopes the roads would be passable afterwards. The deep, driving guitar riff of "Streamline Woman" cut through the air to kick off set number two. Another song written by Stevie Wonder was briefly touched on when "Higher Ground" came in for a little over a minute segued with Howling Wolf's "How Many More Years". Gov't Mule is excellent at paying homage to the greats of music history. The show slowed down again nicely when "Far Away" allowed Warren to shine some more. The next portion of the show was a highlight of the night. Steppenwolf's "Don't Step on the Grass Sam" was unveiled with giant flash cards for the audience to help sing along with the band and I could not help but ponder the name Gov't Mule while chanting about Uncle Sam. The band managed to squeeze in a shortened version of the Mountain classic "Mississippi Queen" before finishing up "Don't Step on the Grass Sam". Matt Abts took the show over next and displayed incredible talent with a six minute "drums" . The set ended with an amped up "Whole Lotta Love" sandwiched inside the original "Mule". This Led Zeppelin theme would continue as "Since I've Been Loving You" was the only encore of the night. Warren's beautiful guitarmanship was left engraved on the audience with this cover. I for one am glad the snow and ice held off just long enough to allow North Alabama to enjoy a much needed escape into rock 'n roll with Gov't Mule.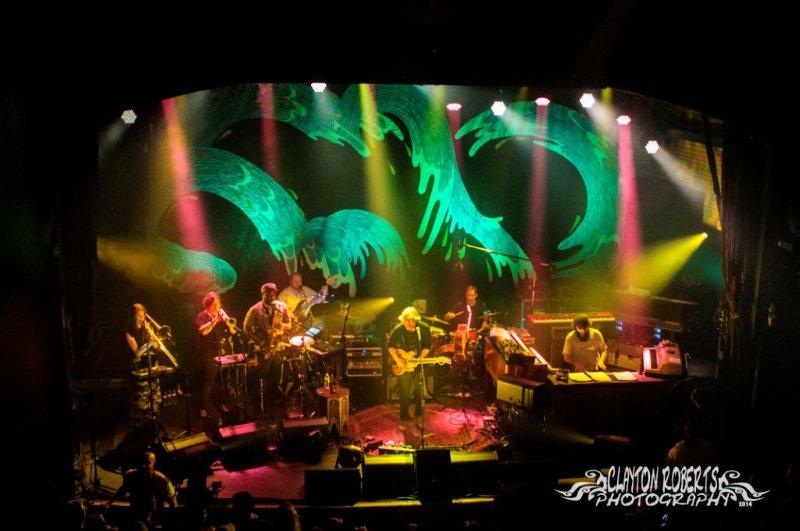 Trey Anastasio Band—House of Blues—New Orleans, LA—02/07/2014
Written and Edited by: Rosemary A.W. Roberts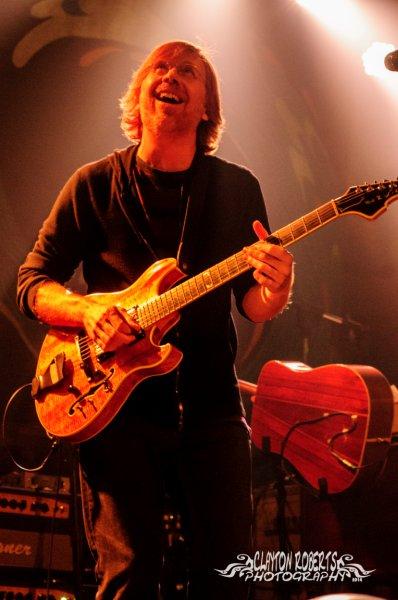 A mere matter of months before Phish makes what's sure to be a triumphant return to New Orleans for the 2014 Jazz and Heritage Festival, Trey Anastasio brought his other band down to the Big Easy for a two-night stand at the House of Blues. Located in the heart of the French Quarter, the venue hosting about 1000 fans was a quick sell out, with Gulf Coast locals and NOLA-lovers jumping at the chance to see Trey Anastasio Band (TAB) in this intimate setting. The stage backdrop was a vibrant variation of the cover of the Traveler album, and a huge disco ball hung overhead. The crowd filled the room, from the open floor to the upstairs balcony, and the band emerged amidst a warm welcome and a hot "Cayman Review" that allowed the horn section (Jennifer Hartswick, Natalie Cressman, and James Casey) to immediately make their presence known. "Gotta Jibboo" in the first set and "Sand" in the second set reminded us that band mates Russ Lawton and Tony Markellis wrote and played these songs with Trey long before Phish took them on; and both songs still feel so at home with TAB. A salsa flair encouraged the dancing with "Curlew's Call", and the world-influenced sounds that TAB has always embraced continued throughout the show, with "Burlap Sack and Pumps" and a second set "Alive Again". Natalie Cressman also demonstrated a beautiful talent of rapping 'en Español' during the Ana Tijoux cover "1977", a song guaranteed to win over any crowd. Both sets included TAB staples from throughout the years, with noteworthy "Night Speaks To A Woman", "Pigtail", a slinky sensual "The Way I Feel", and a great show closing "Push On Til The Day".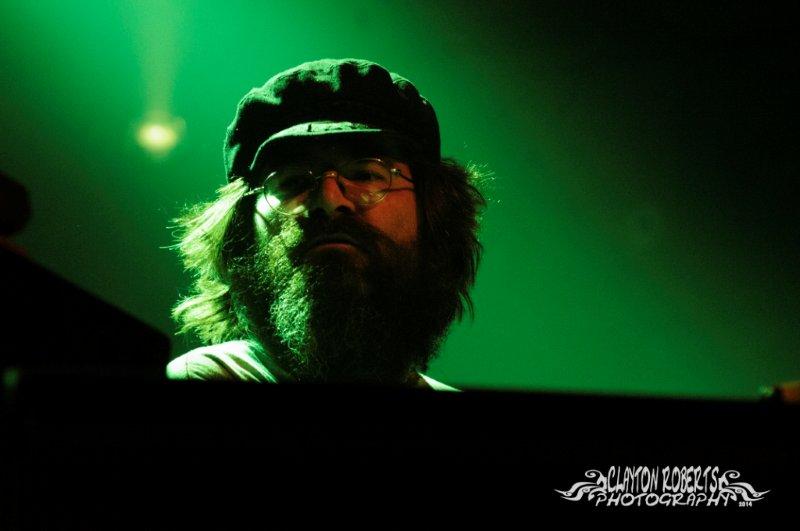 In addition to old favorites, there were new offerings that piqued audience interest and allow TAB to continually traverse new terrain. "Pulsing Days" has a lyrical sway, and features some tender lovely guitar work from Trey, and the soaring harmonies of Jennifer Hartswick. "Spin" has long been one of my favorites, but the outro has been re-worked into something I adore: a slow blues-tinged instrumental segment during which Trey fluently soloed with aplomb akin to Jimi Hendrix, one of the highlights of the night. It was wonderful to hear the album's title track "Traveler" with its introspective words of wisdom and, again, Trey's gorgeous guitar work. (For those keeping score, he played the "signature headstock" Languedoc guitar thoughout the show, except for two acoustic guitar interludes). And saxophonist James Casey now plays like a comfortable member of the band, adding a nice jazz-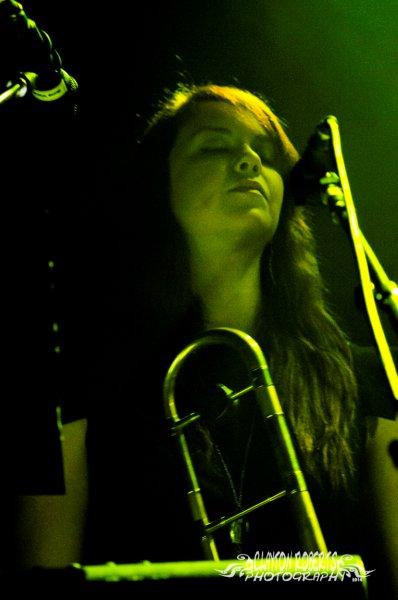 infused style at times.
For those craving the intimacy of a small show, the House of Blues venture delivered it on many fronts. Trey made sure to smile and lock eyes with all corners of the crowd, playing to the balcony and back of the room as much as the front row. During the second set, he encouraged the audience to join in singing "Happy Birthday" to drummer Russ Lawton; and then later, he spoke to a girl on the front rail, and ended up singing "Happy Birthday" to her friend as well! At the end of "Traveler", Trey introduced the band, telling such a detailed anecdote of his early Vermont encounters with bassist Tony Markellis that he almost forgot to mention Jen Hartswick. But he made up for that a bit during the encore when, after a heart-touching version of Phish's "Show of Life", the band laid down a smokin' rendition of Led Zeppelin's "Black Dog". Trey's guitar and Jennifer's vocals intertwined in a perfect interplay that would cause anyone listening to blush. With an ever-deepening repertoire filled with a wide range of musical influences, Trey Anastasio Band is capable of captivating listeners anywhere they may travel.
Trey Anastasio Band—House of Blues—New Orleans, LA—02/08/2014
Written by: Dale Taylor
Edited by: Rosemary A.W. Roberts
True to form, the second night at the House of Blues was a totally different show than Friday night. But there was one thing for sure, Trey Anastasio and the Band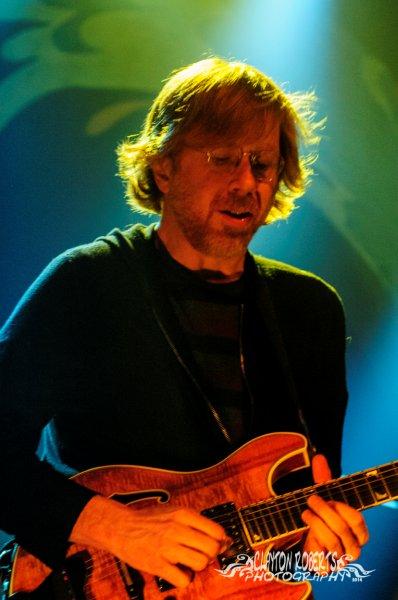 were here to leave a mark on the Crescent City and the house that Jake and Elwood built. The band came out with the '98 cover "Acting the Devil" straight into a smooth "Drifting" followed by a "Magilla" that tasted just right in ole New Orleans. The nice part of this first set was the new song trifecta right in the middle with new tour tunes "In Rounds", a quiet piece of "Silver Smoke", and a very cool "Paper Wheels". If you had a chance to hear the beginning tour release of Denver's 1/28 show for comparison, you could hear the band gel over a matter of weeks in these two shows. And as a whole the band follows their leader with flawless grooves and funks that kept this New Orleans crowd on their toes. The first set ended with a solid "Money, Love, and Change" that has seemed to get edgier over time.
After a very crowded set break, TAB greeted us with another new from this tour with a third time played "Sometimes After Sunset" that transformed nicely for a solid "Simple Twist Up Dave" that got the crowd moving the venue by Trey's lead. "Gone" made a welcome appearance, and some may not know it was also performed by Phish on their New Year's runs in 2009 and 2010. The second set was as diverse as they can get sometimes with twists through "Goodbye Head", "Alaska", "Architect" and the Gorillaz favorite "Clint Eastwood". Ending this two night run was a three song Encore that had a 2014 tour first with "Windora Bug" which features bassist Tony Markellis on vocals. The show had some magical moments with Trey telling us the story of how he and Tony met and the beginning of the friendship between him and Jennifer. Whenever the downloads come across your table I would suggest getting on it and listening for some great old TAB tunes and some really awesome new ones. Or better yet, get your rear in gear and go see this band. It is a true Party! And Trey is the conductor.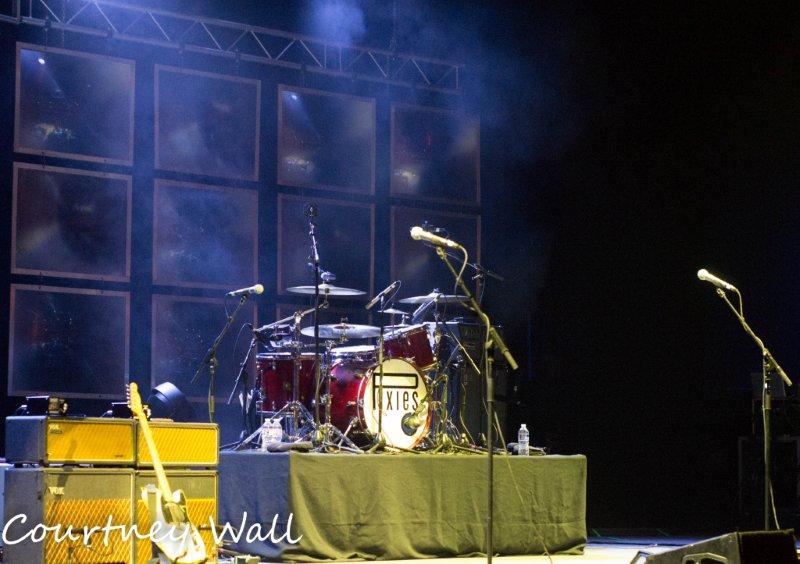 The Pixies--Durham Performing Arts Center—Durham, NC--January 31, 2014
Written by: Kerr & Courtney Wall
Edited by: Rosemary A.W. Roberts
Pixies fans have no reason to worry. The Pixies are finally touring again and with new music. The band has put out more new music in the last 7 months than in the 22 years since their last full album, Trompe le Monde. The band has also been through three bass players in the last 7 months. Original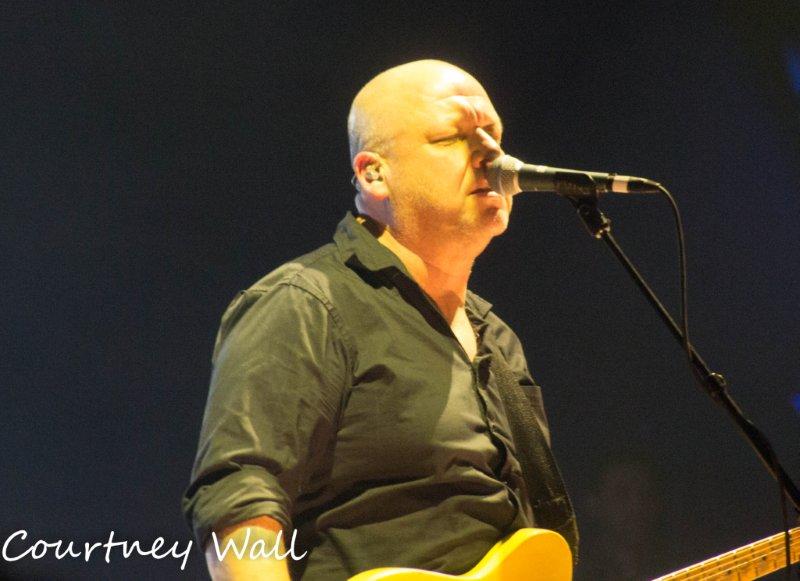 bass player, Kim Deal, announced that she was leaving the band in June 2013. Kim Shattuck replaced Deal for 5 months, which included performances at several sold out shows in New York, Los Angeles, and Europe. In December 2013, Paz Lenchantin (A Perfect Circle, Zwan) came on board as the touring bassist for the band's North and South American, and European summer dates.
At a nearly sold out show at the Durham Performing Arts Center (DPAC) on a Friday night, The Pixies took us on a tour of 31 songs that covered many of the greatest hits from their first 4 albums but also included 8 new songs from EP1 and EP2 that were released in 2013. The show started off with the catchy "Bone Machine" (Surfer Rosa, 1988). Paz's backup vocals to this song were great and reminiscent of Deal's vocals on the album. They next marched into the methodical "Wave of Mutilation" (Doolittle, 1989), during which Joey Santiago played his distinctive distortion heavy riffs.
The first new song, "Bagboy", came 9 songs into the set. As Black Francis noted about the song in a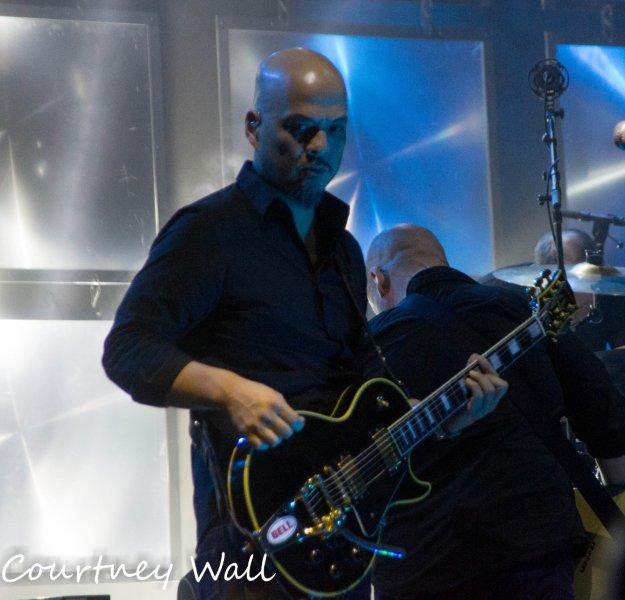 recent interview, "so a lot of the musical idea had been kicking around for a while. It's pretty simple, kind of a blues-based, two-note kind of thing, really." This song was released by the Pixies in June as a free download from their website. The song was later released via iTunes in July and had more than 15,000 downloads on the first day, despite still being available as a free download at their website. This fact is a testament to the staying power that the Pixies still have with their fans. It should also be noted that although a majority of the fans at the DPAC were 40+, there were still plenty of younger people at this show. Perhaps this is a result of the band's Coachella reunion in 2004, which has given them a new set of fans that spans several generations.
Other highlights of the 90 minute set included the crowd favorites "Here Comes Your Man," "Vamos," "Monkey Gone to Heaven," "Motorway to Roswell," and the set closer of "Where Is My Mind?" The encore included "Gouge Away" and "Planet of Sound." The Pixies put on a great show and their new material has given fans, both old and new, a reason to think that the Pixies will not just become a nostalgia act. You should catch the Pixies at a show near you!
Setlist:

Bone Machine, Wave of Mutilation, U-Mass, Head On (The Jesus and Mary Chain cover), Isla de Encanta, Hey, Ana, Mr. Grieves, Bagboy, Cactus, Caribou, Magdalena, What Goes Boom, Broken Face, Crackity Jones, Monkey Gone to Heaven, Blue Eyed Hexe, Silver Snail, Motorway to Roswell, Here Comes Your Man, La La Love You, Nimrod's Son, Indie Cindy, Ed Is Dead, In Heaven (Lady in the Radiator Song), Andro Queen, Vamos, Greens and Blues, Where Is My Mind?

Encore: Gouge Away, Planet of Sound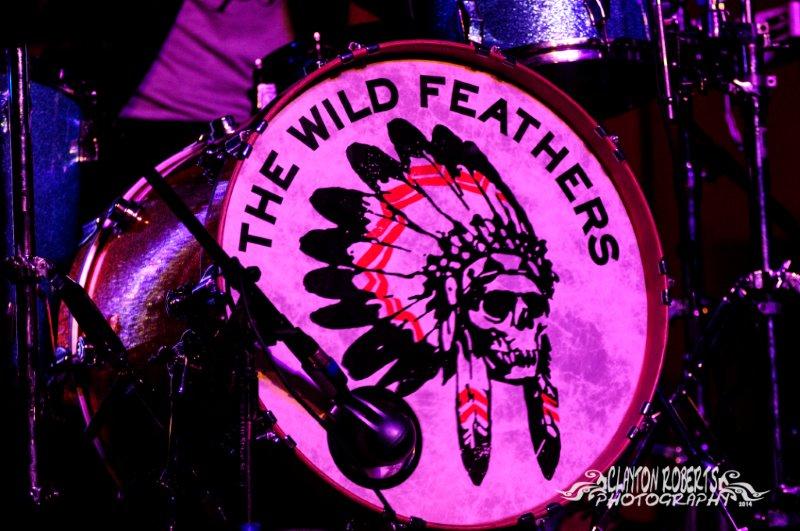 Wild Feathers / Saints of Valory / Jamestown Revival—Soul Kitchen Music Hall—Mobile, AL—01/31/2014
Written by: Rosemary A.W. Roberts
Photos by: Clayton Roberts
A triple header billing on a Friday night was a sure way to lure a nice crowd down to the Soul Kitchen Music Hall in Mobile AL. And when the caliber of the bands is as top-notch as these three, it is a winner all around. The evening began with Jamestown Revival; this band, brainchild of Jonathan Clay and Zach Chance, is on their way up, having recently been featured on Conan, and getting airplay on Sirius/XM Radio stations. Their set featured down-home rollicking beats behind some nice vocal harmonies. The title track off their just-released album, "California", sounded great live, and they played a new song called "Trouble Is" that absolutely rocked. With a comfortably conversational stage presence, and music that is easy to enjoy, Jamestown Revival puts on a great show.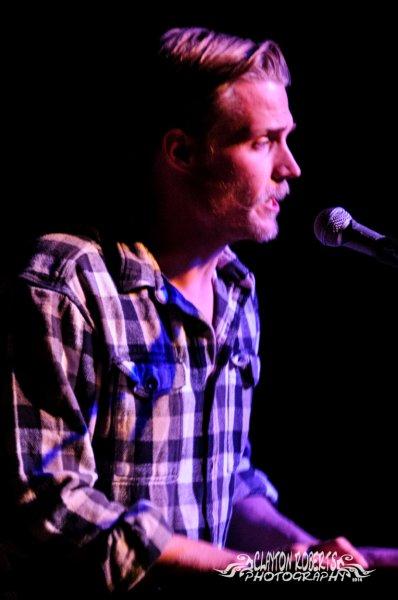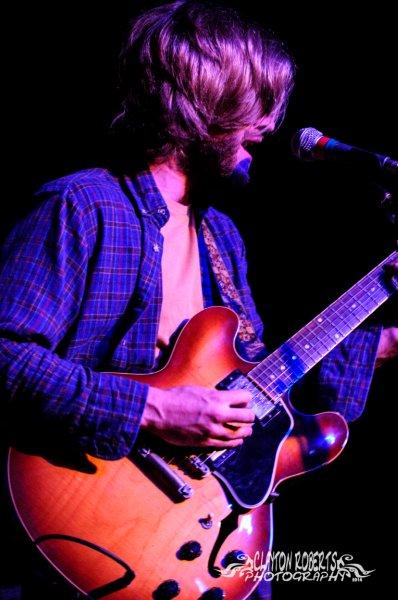 The roots-rock flavor of Jamestown Revival gave way to an alternative/indie rock vibe as Saints of Valory emerged for the second set. Carrying a positive, upbeat, high-energy feel, Saints of Valory was electrifying. The songs "Long Time Coming" and "Neon Eyes" run deep with current alt/indie beats and vocal work, both of which can be found on their latest EP Possibilities. An exciting high point of the evening occurred during Saints of Valory's last song, "Kids", when all of the band members (Stephen Buckle, Gavin Jasper, Gerard Labou, and Godfrey Thomson) pounded on percussion instruments scattered around the stage. Both Jamestown Revival and Saints of Valory put on such fantastic sets that it felt we had already experienced a full evening of music, but we still had the headliners yet to come!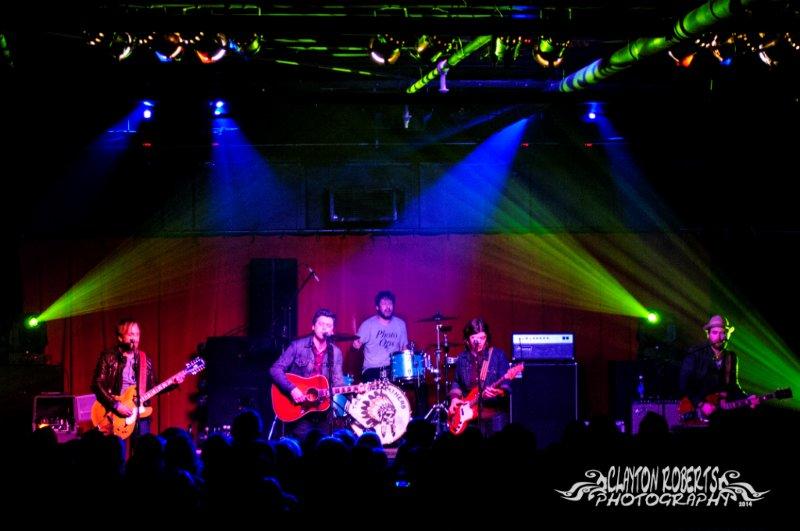 When she announced The Wild Feathers, local Mobile radio station 92WZEW's DJ Lee Ann Waters informed us that 92ZEW was the first radio station to play this awesome band. I have no way to fact-check that, but I do know this band is wildly popular in Mobile, drawing a large crowd of fans, many of whom seemed to know the words to every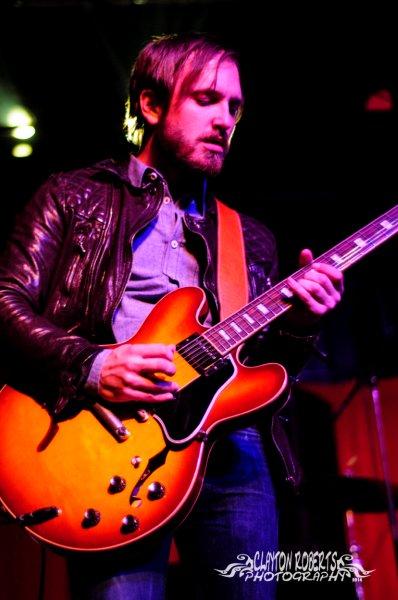 song. The Wild Feathers began their set with a huge rockin' sound right out of the chute, with guitars and harmonica blazing. Like a freight train, they powered through the first few songs with smooth segues and no stopping. Their music has a distinct country flavor, but is laced with a strong hard rock undercurrent, and the audience loved it. Their new song "Happy Again" is aptly titled, with an up-tempo smile-inducing melody, and "Got It Wrong" seems to hearken back to 1950s doo-wop. The vocal harmonization amongst band members Taylor Burns, Ben Dumas, Joel King, Preston Wimberly, and Ricky Young is pure pleasure. At one point, guitarist Preston Wimberly traded out his Gibson SG for a pedal steel, further drawing out the rooted nature of their music. And when they broke out a fabulous cover of Led Zeppelin's "Hey Hey What Can I Do", everyone in the room approved. Overall, this was a great night of music, featuring three talented bands that are on their way to the top. Remaining tour dates for February and March can be found here: http://www.thewildfeathers.com/toursplash
Catch this tour if you can!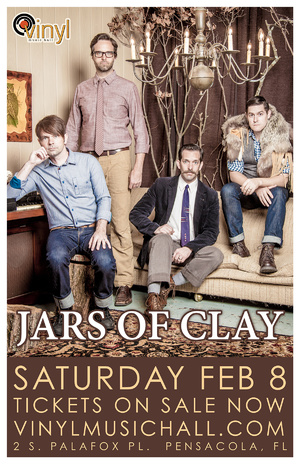 Jars of Clay / Rictor—Vinyl Music Hall—Pensacola, FL—2-8-2014
Written by: Dave Williams
Edited by: Rosemary A.W. Roberts
For the past twenty years Jars of Clay has been putting out quality music for their fans. On Saturday, February 8 at Vinyl Music Hall, Jars lead singer Dan Haseltine and his band mates treated their Pensacola fans to a concert through the ages. The show opened with Rictor, a husband and wife duo who used only two instruments: their voices and an acoustic guitar. The two left everything on the stage, singing about topics ranging from family issues to his wife having a miscarriage. Their harmonization was pitch perfect and beautiful. The quiet beauty and vulnerability of Rictor's acoustic guitar however, was soon replaced by the error absorbing sound of a well-established, polished and professional band.
Jars of Clay hit the stage with a vengeance and a new record - Inland. Jars of Clay is an interesting band because their sound ranges wildly. If this was your first exposure to Jars of Clay you would never think that this was a Christian band. The concert started off with a distinct U2 vibe; Jesus never sounded so good! This performance was one of two bands, though. The old versus the new, soul stirring music versus Jesus-centered pop. When playing songs off their new album, Jars tested the structural integrity of the audience's eardrums; but when they delved deeper into their repertoire they showed that they haven't lost the ability to draw you in and touch your soul.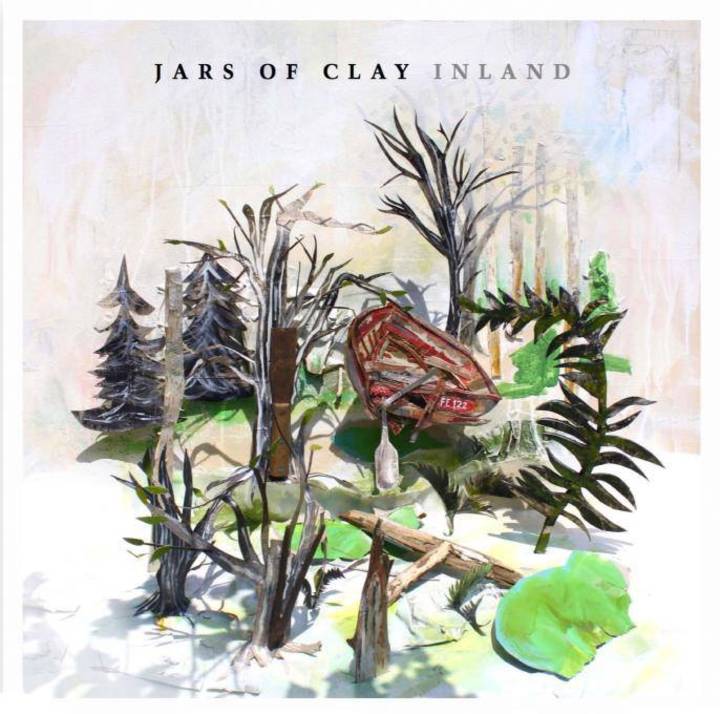 One song that was particularly moving was "Frail" off their 1997 Much Afraid album. Jars ended the show with this song which was an affront to every other concert I have ever been to. Most bands would use the last song to bring down the house, Jars decided to bring down the house lights. "Frail" is a slow melodic song; think Enya meets Pink Floyd. Haseltine's voice during this song was soft, rich, and comforting. He drew you in with his voice and once he had you, touched your soul with his lyrics. For this concert Jars utilized Matt Nelson, a cellist and Pensacola native. Nelson used his cello to add an air of eeriness to "Frail."
Jars of Clay proved why they have been around and relevant for the past two decades. They put out consistently good albums and put on awesome live performances. They are a Christian band who is unapologetic about their message but doesn't come across as preachy. Jars of Clay is a quality band who will give you more than your money's worth. If they ever come to your town I highly recommend going to see them, you won't be disappointed.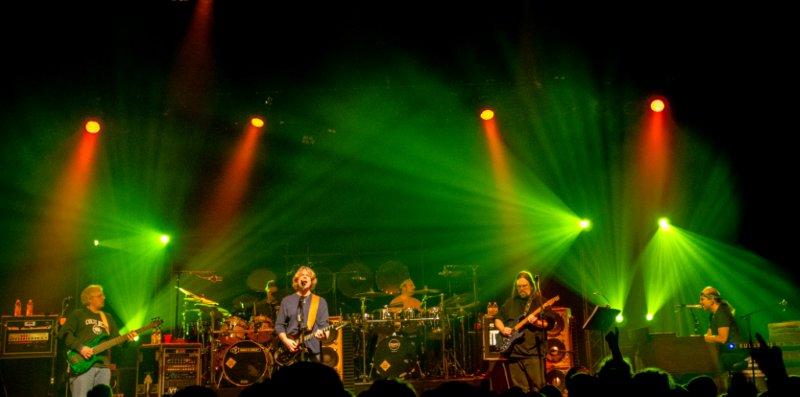 Dark Star Orchestra--Murat Egyptian Room--Indianapolis, Indiana—2/7/2014
Written by: Tyler Muir
Edited by: Rosemary A.W. Roberts
The dark star came to shine bright Friday night at the Murat Egyptian Room in Indianapolis, Indiana. With over twenty years of experience playing songs by the Grateful Dead, it is breathtaking at some parts of their sets how close to the real thing they get. There are cover bands and there are tribute bands, but I believe Dark Star Orchestra (DSO) has started a new genre which should be called a band simulator. It is a treat and a tradition when the band gets back together for tour and comes through Indianapolis.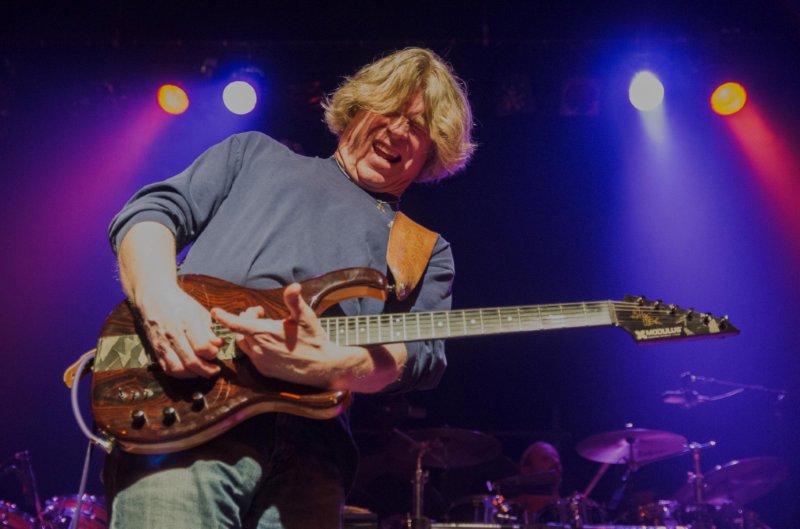 One game everyone loves to play at a DSO show is trying to guess which Grateful Dead show the band is trying to replicate that night. From the first few notes of the opening song to the last few notes of the encore, walking around the venue you can hear people trying to guess, or see someone asking another person what their guess is. "Shakedown Street" was the opener and was pretty fast paced; even during the next song "Little Red Rooster" you could hear everyone guessing they were replicating a show somewhere in the time frame of the 1980s. Dark Star came to town to bring the heat to all us Hoosiers that are fed up with the daily near zero temps, and they accomplished their mission. It was obvious they were enjoying themselves on stage since most of the band was all smiles the entire time.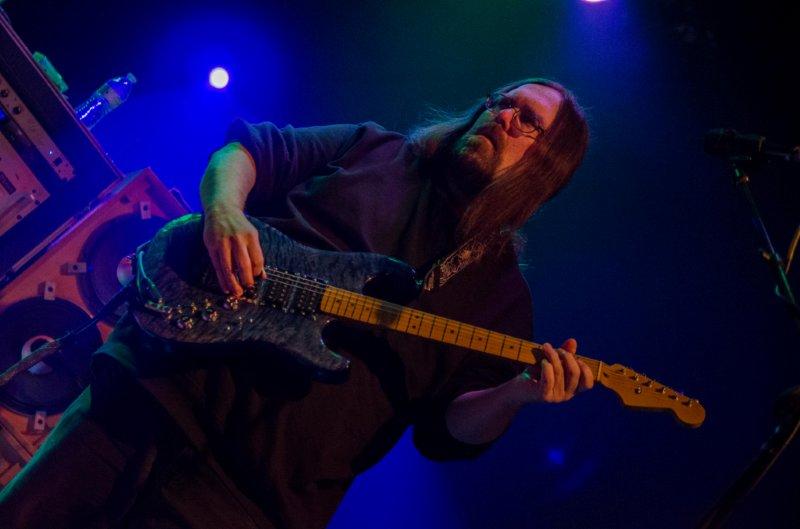 One thing that was missing from the band and something that I am a fan of is Dark Star's female vocalist Lisa Mackey, but since it was obvious they were replicating a show from the 1980s it was only fitting that she was not in either of the two sets. With the first set being so blistering fast many heads were calling for the second set to be explosive with greatness, and everyone who guessed it was correct. Sometimes DSO does not play an entire show from The Grateful Dead; they are known to occasionally just play sporadic years through a show. "Maggie's Farm" was a pleasant surprise since they had already done a Bob Dylan tune in the first set; as soon as people realized they pulled out double Dylan with "Maggie's Farm" those who guessed that they were replicating an entire show from the 80s had their thoughts cemented. The Murat Egyptian Room is a perfect place to see a jam band such as Dark Star Orchestra; the giant ballroom makes it easy to get sucked into the music and dance like nobody is watching. After the encore everyone who was not showing appreciation to the band by clapping and hooting was putting on their winter gear to brave the cold to get to their car, but the show was not over. After the band did a memorable "Quinn The Eskimo (Mighty Quinn)", out was Lisa Mackey to do the most heartwarming version of Dorothy Love Coates's "Strange Man". "Strange Man" brought it back to 1976, but the entire show that lead up to that was replicating November 11th, 1987 from Long Beach Arena in Long Beach, California: a smokin' hot show to thaw us a bit in the dead of winter.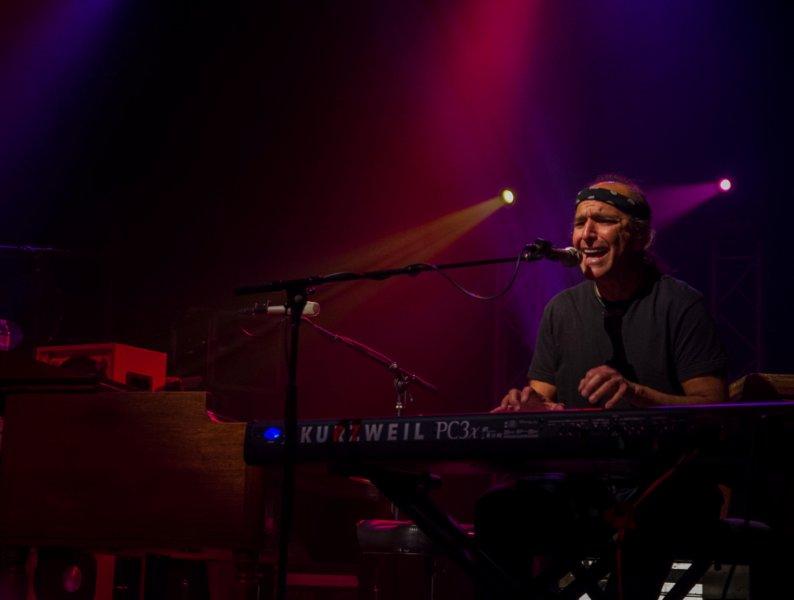 Setlist:

Set One: Shakedown Street > Little Red Rooster > Althea >When I Paint My Masterpiece > Hey Pocky Way > Deal

Set Two: Maggie's Farm > Cumberland Blues > Playing In The Band > Terrapin Station > Drums > Space > I Need A Miracle > Stella Blue >Throwing Stones > Turn On Your Lovelight

Encore One: Quinn The Eskimo (The Mighty Quinn)

Encore Two: Strange Man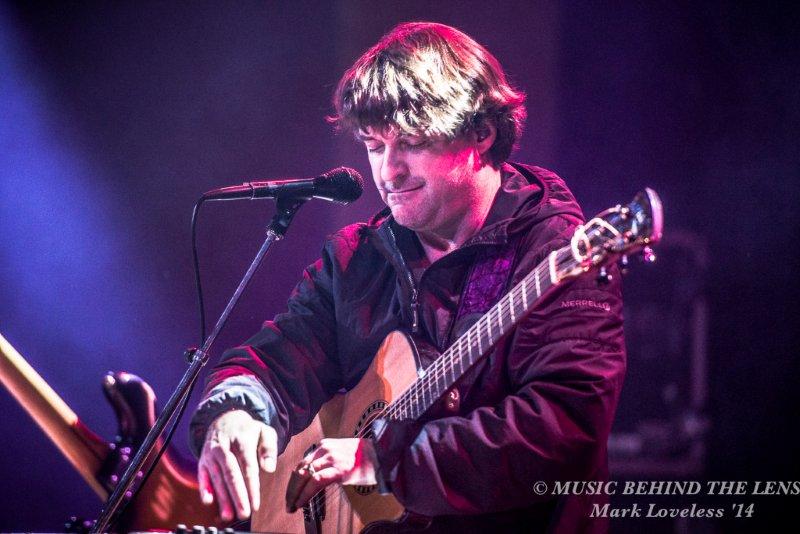 Keller Williams and More Than a Little--Vogue Theater--Broad Ripple, Indiana-- 1/24/2014
Written by: Tyler Muir
Edited by: Rosemary A.W. Roberts
Keller Williams never ceases to shed his skin and grow anew. This time Keller brought his library of new and old repertoire to the Vogue Theater in Broad Ripple, Indiana. Stating on social media outlets that he was so cold that he was beside himself, also beside him second set was his More Than a Little band. Those that stood in line to get in might have thought they were going to freeze by the time they got through the door, but by the end of the show everyone in the joint was dripping with sweat.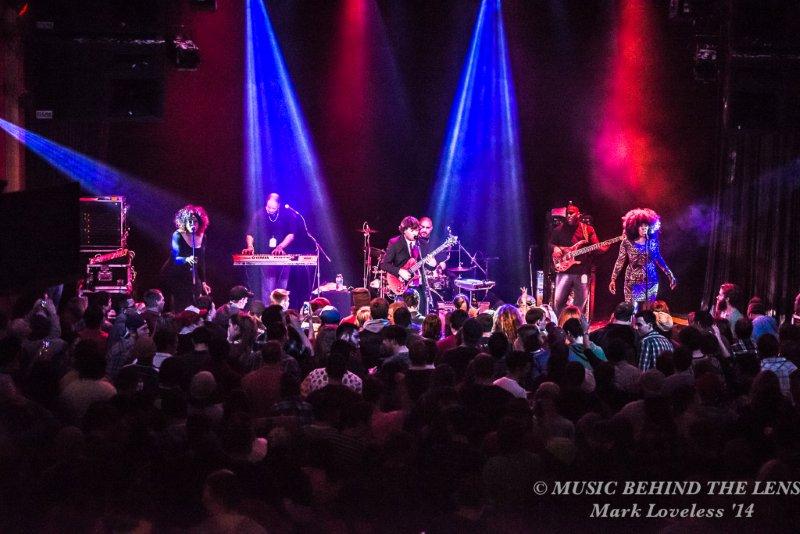 Keller Williams has achieved his goal of wanting to show he was more than a little kid in the parking lots of a Grateful Dead show in the early 90s with a heart of steel. In 2010 he would join Bill Kreutzmann in the Rhythm Devils, after spending a decade changing the way an audience viewed a solo musician. Constantly challenging himself to change the way he sees his creations along with his comfort zone, Keller also gives his fans something to look forward to year after year, not only with his live performances but with his albums as well. Known in just about every genre in the music scene today, it is fun seeing Keller Williams at a music festival because you never know what musical act Keller may sit in with throughout the weekend.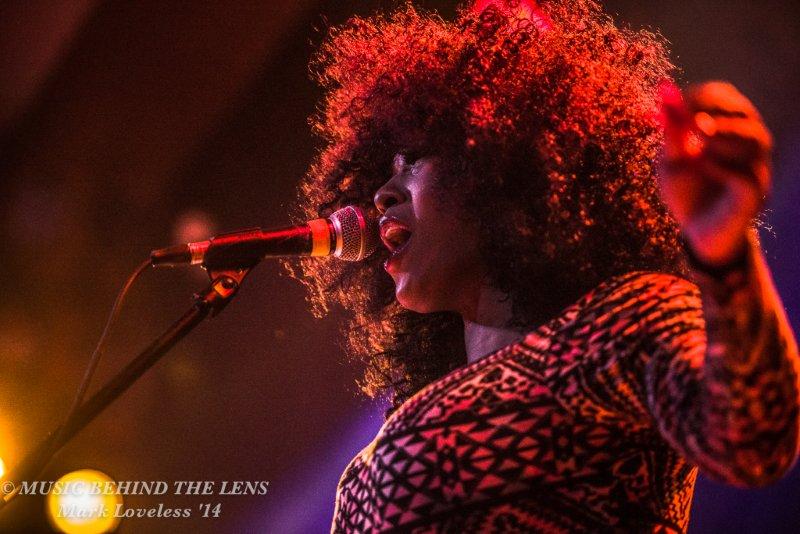 The Keller Williams everyone knows and loves showed up to perform first set. Bringing everything with him from his quirky dance moves, his yellow "gameboy" that bends and distorts his guitar and drum beats, to his loop machine that had everyone turning into a freeker by the speaker, everyone on the dance floor was stomping to their favorite one man band. Keller seemed to be thriving on the vibe, as the audience was eating up everything he was dishing out. A fan in the front row must have gotten a new little camcorder with his tax check; being the improvisational maestro he is, not only did Keller not mind, he found a way to incorporate it into his set by snatching it out of the man's hand without any previous acknowledgement. Keller kept switching from teasing the guy that he was going to put it in his pocket and keep it, to giving the guy a taste of his own medicine and recording the guy, who stood there wondering if he was ever going get the camcorder back. Keller did, in fact, give it back to the guy at the end of first set.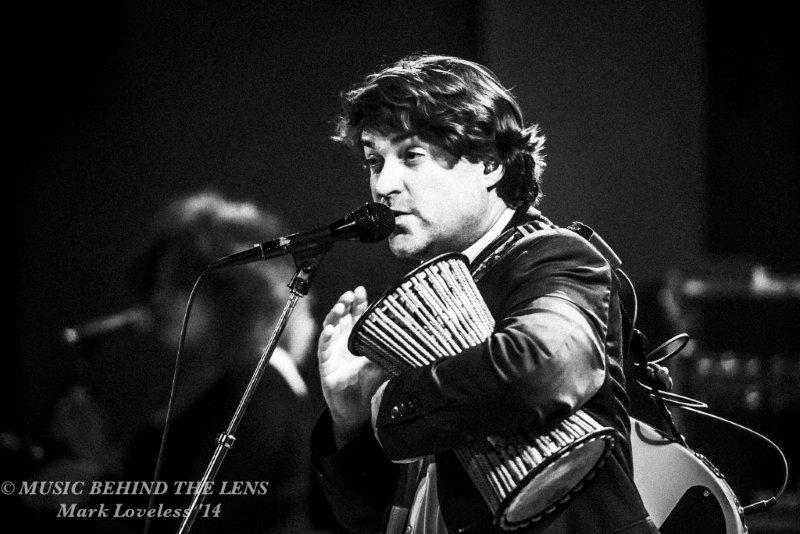 Second set found Keller promoting his new album titled Funk with his new More Than a Little band. Keller and his band definitely brought the funk; from the bass line to voices of female singers everyone could not help put groove to the funky beat. Sure, Keller is in his element by himself surrounded by all his toys; but it truly is a gift to see him surrounded by other talented people on stage since it allows his depth to grow and adds to the suspense of what is going to come next. Just as the second set had funk, boy did it have soul, as the ensemble belted through classic Keller songs and classic favorites of other greats, allowing fans to hear the tunes in a way that they never thought they would hear them. Though the temperatures outside were near zero, the temps inside were causing everyone to dread not using coat check. It was beautiful seeing sweat glistening on fans while they thrashed around fiercely as if nobody was watching. It was elbow to elbow from top floor to bottom inside the Vogue, but that did not prevent a single person from finding their inner freakshow throughout the show. Keller Williams and More Than a Little definitely provided an evening filled with music that the crowd surely enjoyed to the fullest.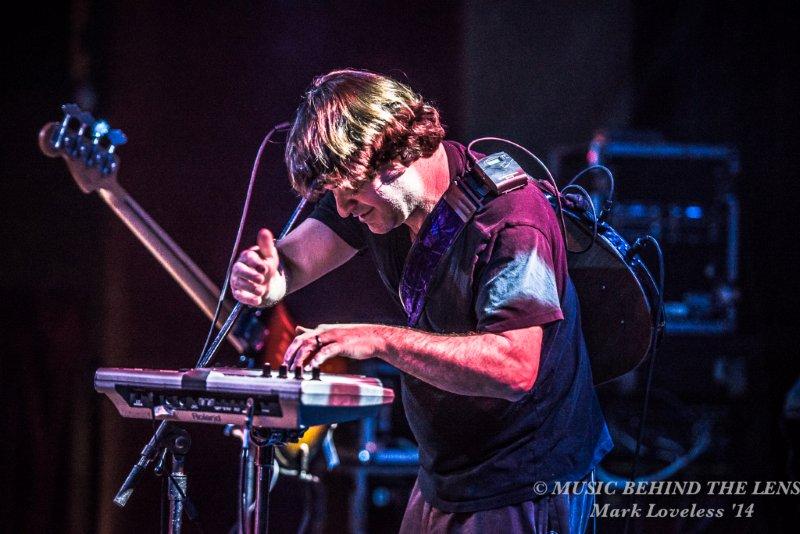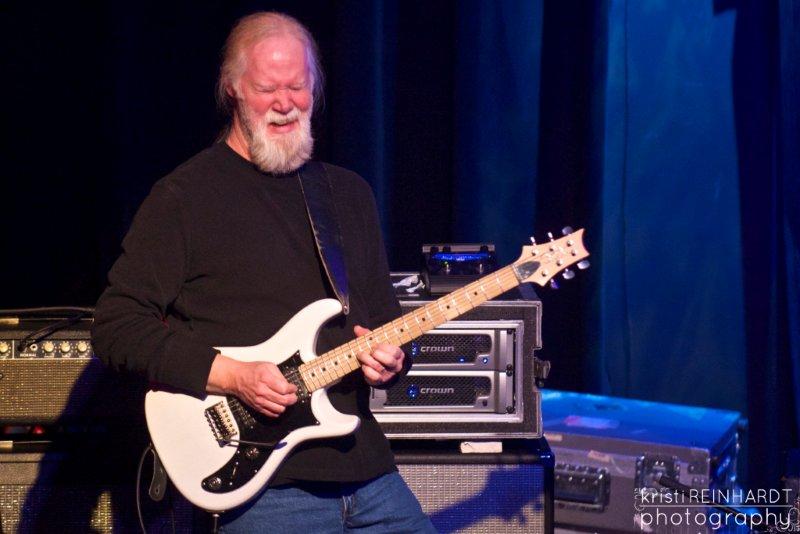 The Ringers—Terminal West—Atlanta, GA—1/23/2014
Written by: Brad Reinhardt
Edited by: Rosemary A.W. Roberts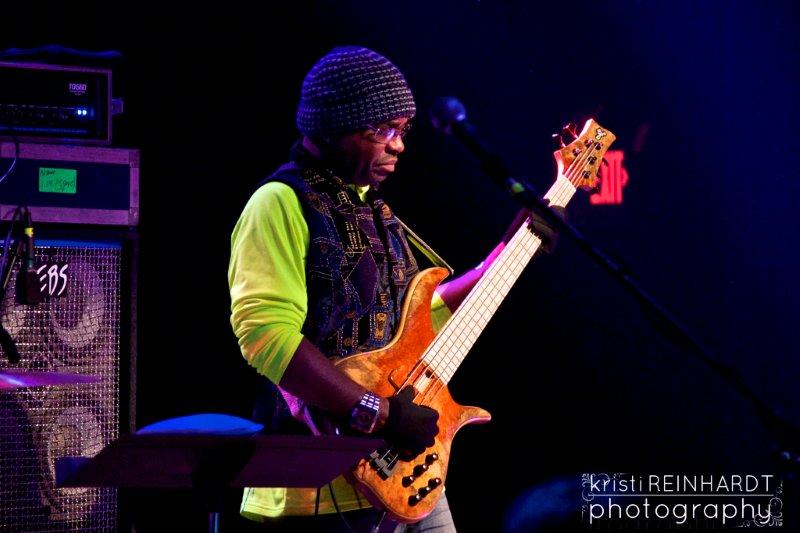 Taking the stage at Terminal West recently was The Ringers, an aptly titled guitar-based ensemble comprised of Jimmy Herring (Widespread Panic, Aquarium Rescue Unit), Wayne Krantz, Michael Landau, Etienne Mbappe, and Gary Novak. What makes this group so intriguing is how each of the three guitarists utilizes such vastly different styles in such a fluid manner: a truly fresh juxtaposition of rock-based melodic mayhem. Herring has such a stoic stage presence, and is known for his technical prowess and versatility. He can rip through a solo lead in lightning-quick time, or smoothly and soulfully. Krantz has recorded with Steely Dan and draws largely on Jazz influences whereas Landau is one of the industry's most revered sessionists, and brings to the table a very choppy, syncopated style, pushing and pulling at the rhythm. These contrasting techniques are glued together by Mbappe on bass and Novak on drums.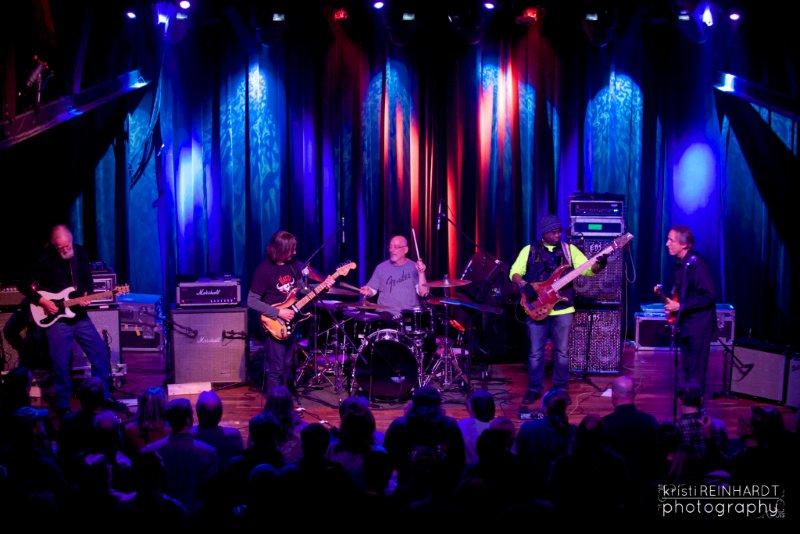 The song structures range in form, but most all can be found somewhere on the blues-jazz spectrum. While deeply rooted in pure rock n' roll, they do possess some elements of funk. A great example of their sound is in "Annik", in that it has a funkier core, yet the defining melody is in more of an uplifting rock mode. Their i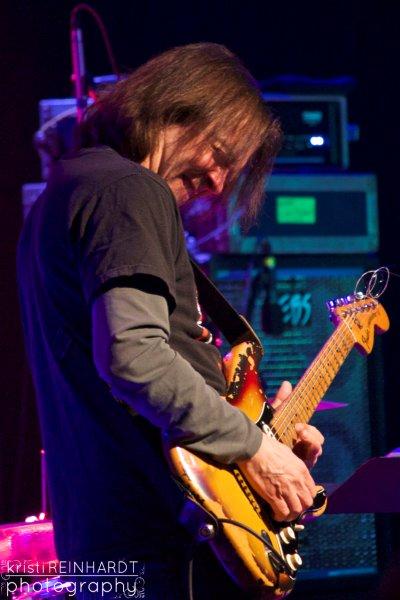 mprovisational template is an interchangeable recipe for crowd satisfaction, as the order in which they solo has a huge effect on the jam as a whole. In a common variation, Landau leads the improvisational launch, followed by Wayne, and ultimately brought home by Jimmy. This formula is hugely powerful in that Michael and Wayne are able to establish some dissonance whereas Jimmy is able to really chop it up and release it. Any rendition they take on, whether it be the straight blues number "Worried Life Blues", the rhythm-changing, bass-heavy rocker "Pymfao", or the groove-driving "Foots", they take on with discipline and diligence. One could argue that these players are in fact the "ringers" of their respective guitar styles; the shoo-ins, the secret weapons, the humble masters of their craft.
Setlist:
Pungee, Africa, Annik, Worried Life Blues, Pymfao, Long Way Home, Foots, Peaceful Ride, Lord of the Ringers
E: Jimmy's New Tune
FULL PHOTO GALLERY HERE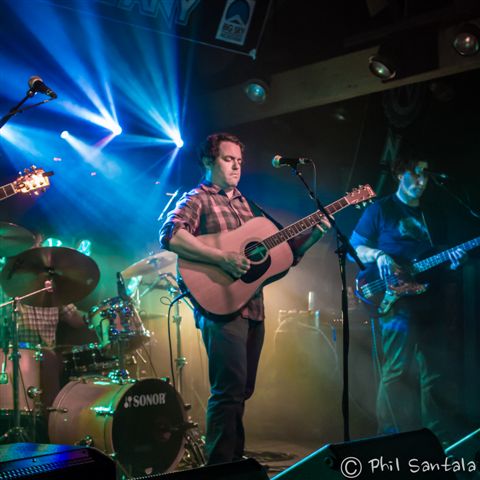 Assembly of Dust / The Hooligans – Whiskey Jack's – Big Sky, MT –1/19/2014
Written by: Phil Santala
Edited by: Rosemary A.W. Roberts
Big Sky, Montana, and the Whiskey Jack's Bar kicked off this winter's abundance of big-named touring acts late Sunday evening with an intimate show featuring Assembly of Dust. Opening for them that night, and playing solo the two previous evenings, was local act The Hooligans, featuring Little Feat's Bill Payne on keys as well. That's just the type of atmosphere and attidude one comes to expect in Montana. Many musicans and big names make their home in the surrounding mountains (or at least one of their homes) and the collaborative efforts that result are worthy of note. Bill has sat in often with The Hooligans, becoming what seems like an official, or at least honorary, member. Their sets over the three nights featured a wide ranging mix of originals, rock and roll covers, and Grateful Dead covers, with hits from Bruce "The Boss" Springsteen and The Band thrown in as well. The pairing of The Hooligans with Assembly of Dust was one that went nicely together. Both bands are pure "Americana."
Now when it comes to Americana music, how best to describe it might be a bit of question. Assembly of Dust's front man Reid Genauer summed it up succinctly, describing a conversation he had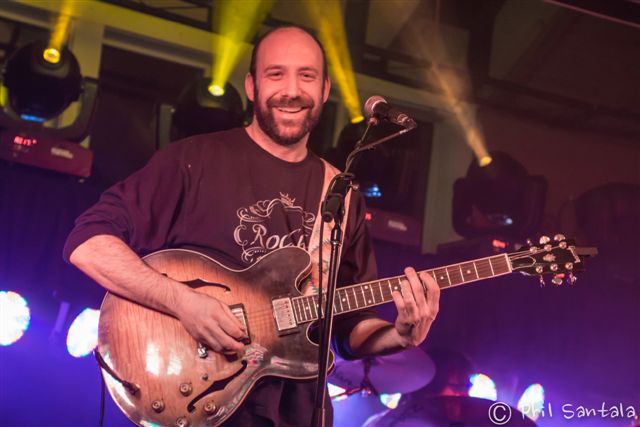 overheard in the men's room in which their musical stylings were described as "Americana…it's like country, only weirder." Assembly of Dust merges old outlaw country lyrical skill sets with the jam stylings of acts like moe. or Umphrey's McGee. Throughout the night the band delivered a wide array of songs, mostly originals and a few covers that represented well the musical diversity of this "country, only weirder" genre. A few Strangfolk songs appeared, as one might expect, as well as a cover of The Band. Assembly of Dust was at times deep into the jams, eyes closed and grins everywhere. Other times the songwriting took center stage, either on slow ballads or fast rockers. The eclectic nature of the band was evident everywhere across the board throughout the evening.
Whiskey Jack's continues to provide "the" concert experience in southwest Montana, or even the greater Yellowstone area. The sound and light provided by local guru Jeff Lord-Alge of iMix Productions in conjunction with Assembly's own sound guy was phenomenal this evening. While lights may not be able to save a poor performance,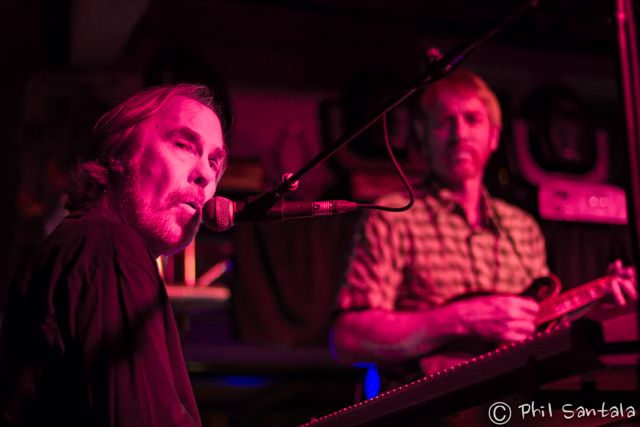 they certainly can add a significant amount of ambiance to great performances, which was the case for this show. The band was clearly enjoying themselves too, which is always a positive sign. The grins were had a-plenty and the band returned to the "like country, only weirder" refrain many times during the evening. The Sunday show was sparsely attended, especially when compared to their previous engagements at Cervantes in Denver, Colorado. But the band said they had packed their skis for the trip, so I'm sure the partially filled room, which signaled lightly populated slopes, was a much more welcome sight than the packed ones in Colorado. Like the conditions outside on the hill, the conditions inside heated up as the day went along, providing the shred-tired crowd a reason to pick themselves up off the seats and shake, shake ,shake…which most in attendance did. Looking around toward the end of the night the attendees mirrored the music, "like country, only weirder" and the smiles ran from the stage to the back of the house, and all points in between.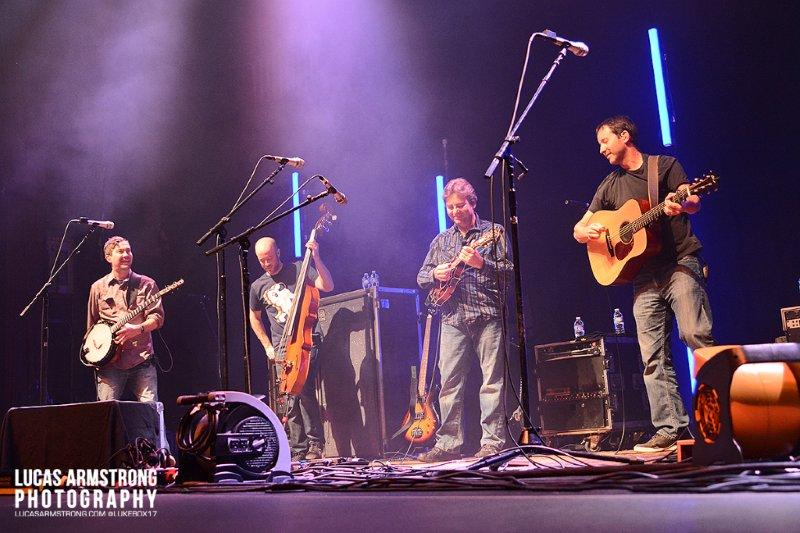 Yonder Mountain String Band—The Tabernacle—Atlanta, GA—01/25/2014
On an unusually cold Saturday night in Atlanta, GA, Yonder Mountain String Band (YMSB) brought plenty of heat to warm up their fans inside The Tabernacle. Yonder Mountain String Band makes use of traditional bluegrass instruments, but they blend many different types of genres, mixing bluegrass, rock, jam and folk to create their own dynamic sound. The amalgamation of styles draws an eclectic crowd, a mix of young and old; I saw hippies, farmers, and suits, all immensely enjoying the music. The audience was in high spirits, and the people were devoted fans of the band, as I noticed that everyone knew every move the band was making.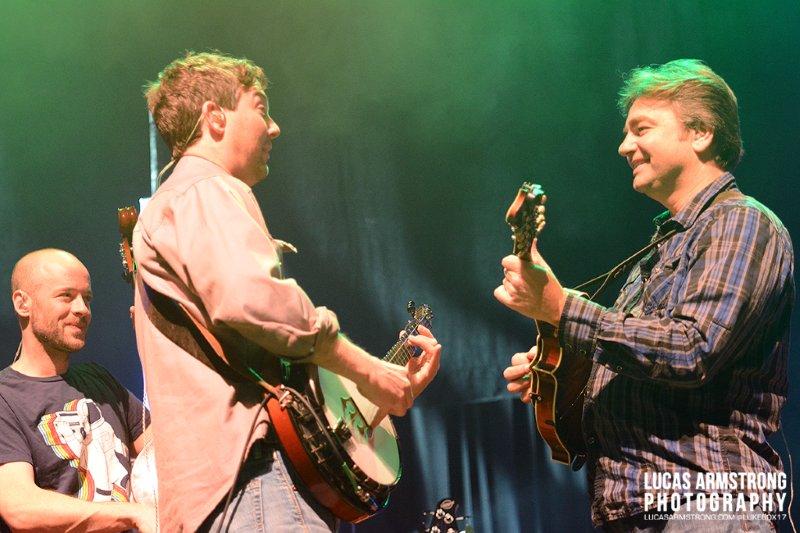 The evening was spent allowing Adam Aijala, Dave Johnston, and Ben Kaufmann to lead the listeners through a vibrant sonic adventure, even in the absence of Jeff Austin, who is taking some time off with his family. YMSB was joined onstage by The Travelin' McCourys often throughout the night, and it was apparent all these guys wanted to do was have a party, and make sure the crowd had a good time. Trading licks back and forth, they rocked the night away. Mandolin embellishments were provided by Ronnie McCoury, son of Del McCoury. He fit in perfectly and while the band sounded a little different than the traditional experience, they blended nicely.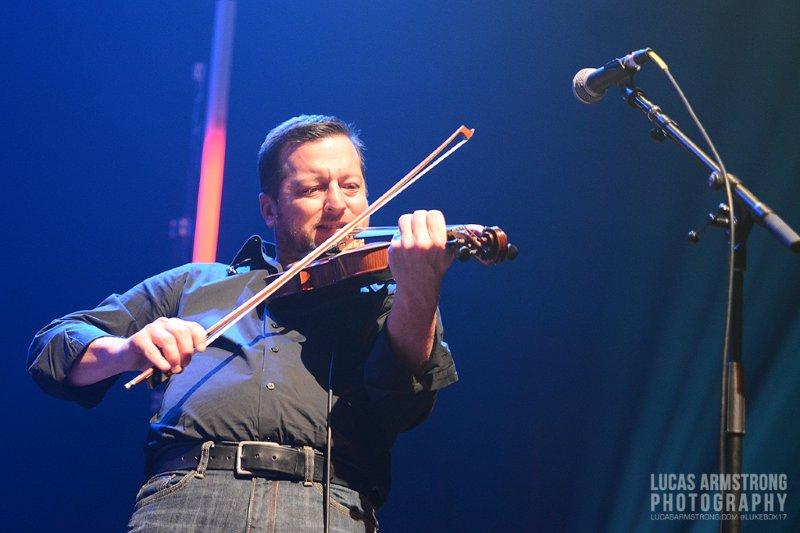 Several jam duels and solo sessions were thrown back and forth in the traditional pickin' manner. Their sound filled the air with harmonic string perfection and a toe tapping rhythm that kept the fans rockin' and dancing all night long. These guys are on fire right now and will bring their 'A' game every time, so I would make sure you catch Yonder Mountain String Band on their Winter 2014 tour.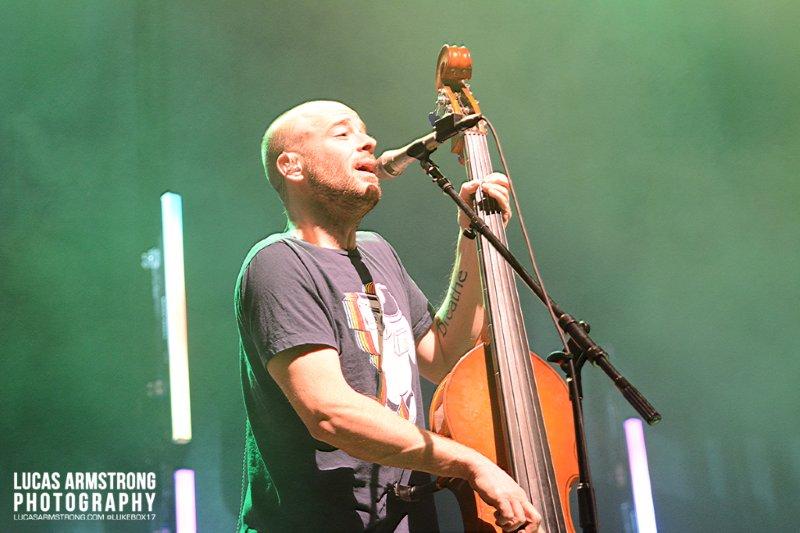 Photos and Review by: Lucas J Armstrong #lukebox17 ~ FULL PHOTO GALLERY HERE
Edited by: Rosemary A.W. Roberts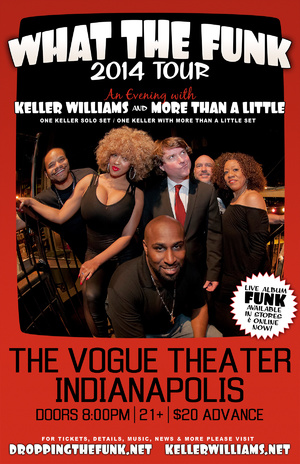 Preview to a Night of Funk
Live at The Vogue, Indianapolis, IN
January 24, 2014
Never underestimate Keller Williams. K-Dub, as he is widely known, is a one-man master of instruments. His shows are accompanied by an array of acoustic guitars, two basses on stands, an assortment of tube-like noisemakers and some type of lily pad-like drum machine. Keller's solo act is conceived as a novelty act that demonstrates tremendous longevity and has become a permanent fixture embedded into people's minds from coast to coast. Williams is not only a one-man show stopper but he has been known to have an array of side projects with various artists, including picking along with The Travelin' McCourys.
Lately, Williams has been known to "Funk You Up". Coming off a most recent album release called Funk in which he gets funky, jazzy and down right nasty with his side project band called More Than a Little. Keller Williams and More Than a Little will funk their way through Indianapolis on January 24, 2014 at The Vogue Theatre. Meanwhile prior to the show be sure to check out kellerwilliams.net and purchase his newest side project called Funk.
Written By: Mark Loveless
January 22, 2014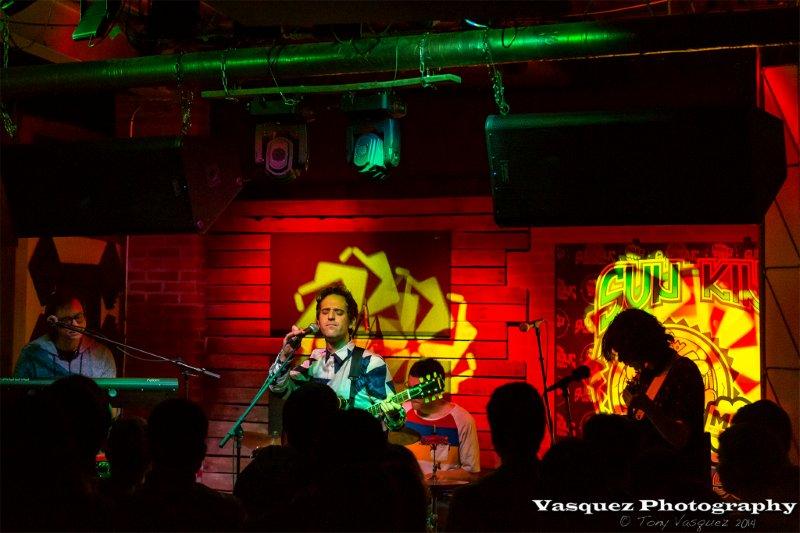 Kopecky Family Band, Milagres, and Evan P. Donohue ~ DO317 Lounge, Indianapolis, IN ~ January 18, 2014
We fought through thick snow to make it to Indianapolis, and as we make our way up the back stairs, through the small art galleries and other rooms that dot the building that the DO317 Lounge is in, we're wondering if we're in the right place at all. Signs indicating the path we should follow to find the small venue are few and far between, but then, the sound of someone messing with a guitar, setting up during sound check leads us in the right direction. The lounge isn't very big, with a small stage, a bar in the back, and a few tables scattered about. In my opinion, it's the perfect kind of place to see some music. What it lacks in seating capacity, it makes up for in intimacy.
Evan P. Donohue and his band are the first act to grace the stage. He starts off alone, playing a little ditty that he indicates is an ode to math. The lyrics say something about, "Pi day, it landed on a Friday." I like him already. As his band joins him on stage, and they begin to play, the sea-foam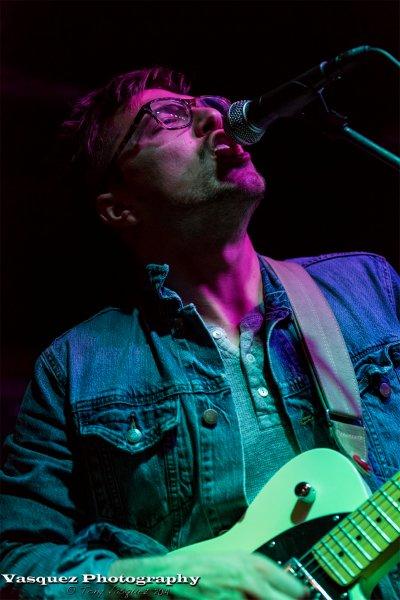 green, sparkly Telecaster wielded by the second guitar player screams to me of early Rock and Roll. What they're playing isn't exactly that, it's more of an evolution of that sound, but it's still there. I could easily think of a half-dozen bands that I hear shades of, not the least of which would be Elvis Costello. Eric P. Donohue, himself, mentions Lyle Lovett as they perform a cover of The Cars' "Just What I Needed". Their set is short, since they're the first opener, but it's well worth seeing. The music is excellent.
When Milagres enters the building and hops up on stage, everything starts with a beat. It's the kind of beat that makes you bob your head the moment it comes into existence. As soon as you've got that motion down, the keyboards hit, the guitars come soaring in, and the bass drops to give it a bottom well below the floor of the lounge we're in. Over top of it all, the vocals are adamant. The tone of delivery reminds me of Colin Hay, the lead singer of the 80s band, Men at Work; but that sneer that Kyle Wilson comes with as he delivers his vocal lines is pure David Byrne, from the Talking Heads. The band's set flies by, but as it does, the best way to describe it all is a solid wall of sound that just continues to build, and forces you to groove, until you're left breathless. It's brilliant, really, and it all seems like it's over far too fast; but then, there is more music still to be heard
As the Kopecky Family Band makes it into the lounge, everyone is thankful. They'd had a matinee show scheduled for the afternoon, that they had to cancel, due to a seven Semi-truck pile-up on I-65 North. Evidently, some of the people, who had tickets for the early show, got credit for them, and came back in the evening, leaving the lounge jam-packed. When I first heard about this show, this was definitely the band that I was dying to see. Don't get me wrong, I loved all the music that came before, but this is the band that got me to come to begin with.
I don't know if I can fully express my admiration for the music that the Kopecky Family Band begins putting out, the moment their sound check is finished. Their hearts pour out on stage, and the way they play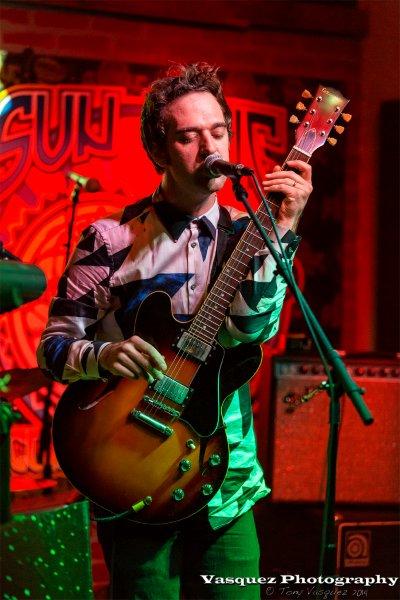 is exactly as their name implies: it's a family affair. Even if they share no blood connections, their musical chemistry is a better connection than most real families share. Throughout the night, the lead vocals of Kelsey Kopecky and Gabe Simon interweave, which to my ears sounds great. The band constantly switches instruments, which includes the trombone, cello, multiple guitars, the tambourine, keyboard-synths, bass, and drums. The most mind-blowing thing about this band, other than their obvious chemistry, is the hooks their songs are laced with, those so-active choruses. If you weren't dancing during the verses, the moment those choruses hit, it's all over with, and you'll find yourself dancing, planned or not.
Near the end of their set, the band plays a track off their album Kids Raising Kids called "Are You Listening", which they dedicate to a girl who flew all the way from Tampa, Florida, to see them. The delivery is technically spot-on, and filled with emotion. The song isn't the closer, but in my mind, it could easily have been. If people aren't listening now, and the Kopecky Family Band continues to play the way they have tonight, they will be listening soon.
Written by: Zen Wild
Edited by: Rosemary A.W. Roberts
Photos by : Tony Vasquez
Link to images:
Kopecky Family Band: http://jamsplus.smugmug.com/TonyVasquezPhotography/Kopecky-Family-Band
Milagres: http://jamsplus.smugmug.com/TonyVasquezPhotography/Milagres
Evan P. Donohue: http://jamsplus.smugmug.com/TonyVasquezPhotography/Evan-P-Donohue

The Machine—Saenger Theatre—Mobile, AL—01/18/2014
Written and Edited by: Rosemary A.W. Roberts
Photos by: Clayton Roberts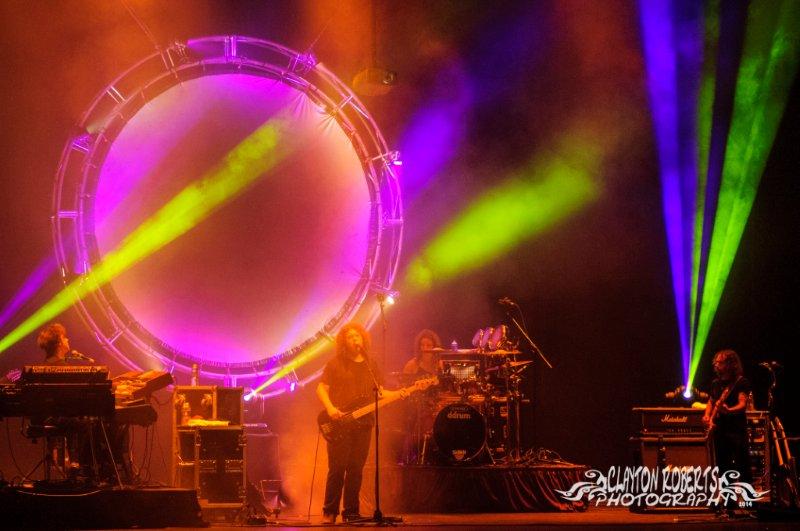 As a lifelong fan of Pink Floyd, I often fondly recall the one time I got to see them in concert, at the Superdome in New Orleans in 1994. I was seventeen, but even at that young age I was enthralled by the magnitude of their sound, how it seemed to reach inside me and grab hold. But other than a singular performance by Pink Floyd at the Live 8 concert in 2005, and Roger Waters' touring The Wall, seeing Pink Floyd is no longer possible. However, for those still craving a live stage performance of their incredible music, there is an alternative: welcome to The Machine, a band that has been performing the music of Pink Floyd for 25 years.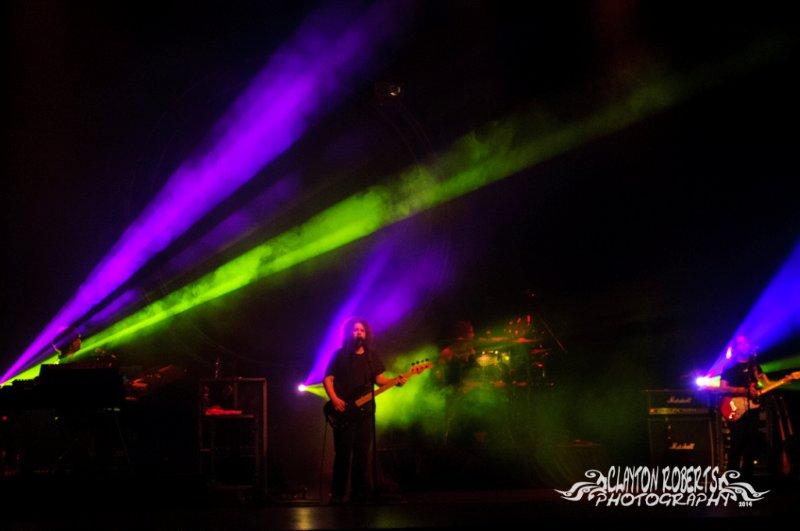 Brought to Mobile's historic Saenger Theatre by HUKA Entertainment near the end of their southeastern USA tour, The Machine arrived onstage amidst smoky shadows, with a large round projection screen at center stage. A pulsing heartbeat, a distant scream, and we found ourselves in "Breathe", and I had chills. The screen imagery was exactly as you'd expect to see at a Floyd show, and the multicolored lights were perfectly synched with the music. As "Time" followed, I was impressed with how Tahrah Cohen attacked the drums with precision, and also noted that guitarist Ryan Ball played the solo note-for-note, on a red Fender that sounded much like David Gilmour's guitar. Next came the gorgeous ballad "Coming Back To Life", and it became obvious how similar bass player Adam Minkoff's voice is to Gilmour's. "Another Brick In the Wall, Part 2" was intense, with driving bass hits, audience assistance for the chorus, and a record-accurate guitar solo. But The Machine then brought us more, as the band slid into a jam, with all four musicians working together to show that they are in their own right a band. In a way, it's the best of both worlds, as they deliver the beloved album-precise songs, and then diverge on their own path afterward. Keyboardist Scott Chasolen wove some graceful ambience into the intro to "Learning to Fly", and next they played the lovely and obscure "Fat Old Sun" from Atom Heart Mother. "Welcome To The Machine" was well done, and Scott Chasolen provided expertly placed synthesizer effects. The first set ended with an excellent version of "Pigs (Three Different Ones)" that included a great outro jam.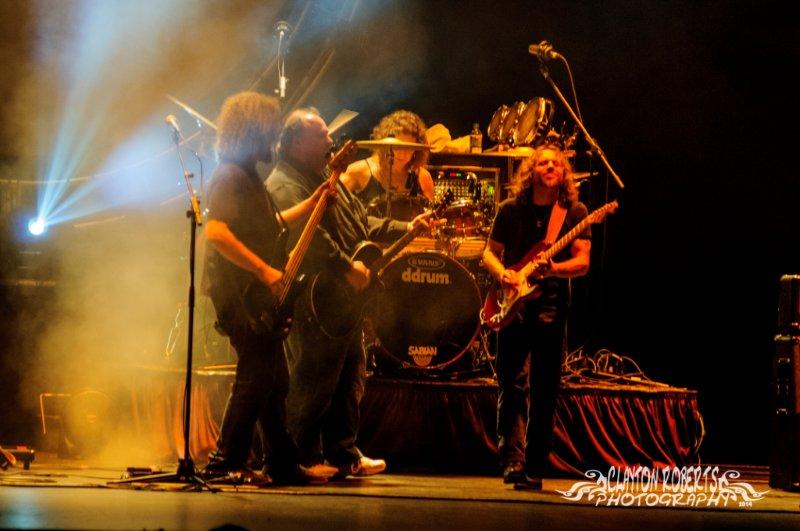 After a brief intermission, The Machine returned for a second set, beginning with "Shine On You Crazy Diamond", giving a sensation like being in the midst of a delicious dream. "Money" was… well, right on the money, down to the timing of the cash register's clinking. The band did a great job highlighting all the facets of Pink Floyd's career, including an otherworldly "Echoes", a bass-funky "Young Lust", a wistful "Wish You Were Here", and the rocking instrumental "One of These Days". The set closing "Comfortably Numb" included a surprise treat, when 92ZEW's Gene Murrell joined the band onstage to add rhythm guitar to the mix; as for the sublime lead guitar solo, Ryan Ball absolutely nailed it, making for a righteous end of the show. The crowd showed much appreciation with a standing ovation, and The Machine returned to encore with "Run Like Hell". It turned out to be quite a show, and you can check out their upcoming tour dates here: http://www.themachinelive.com/tour/ .
Mobile and The Saenger Theatre are fortunate to have HUKA Entertainment on their team, bringing great musical acts to our fine city. 2014 will find HUKA Entertainment presenting some amazing concerts at The Saenger, including:
*Gov't Mule - 2/15
*Buddy Guy and Johnny Lang – 2/19
*Southern Soul Assembly (with Marc Broussard, Luther Dickinson, JJ Grey, and Anders Osborne) – 4/1
*Umphrey's McGee – 4/3
If you're in Mobile during those times, be sure to head downtown to the gorgeous Saenger Theatre to see what a great job HUKA Entertainment is doing, bringing musicians sure to stir your spirit!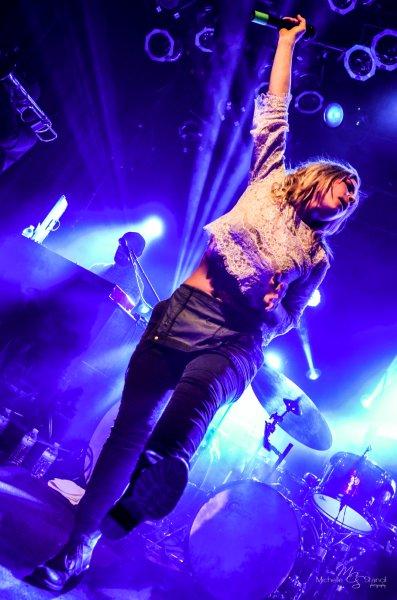 Galactic featuring Maggie Koerner--Vinyl Music Hall--Pensacola FL--January 15, 2014
It's unusual to go to see a favorite band play and not have any expectations. A midweek show, driving an hour to the venue, my mind filled with a list of to-do's still to be tackled before the weekend, the only thought about the show I was going to see was what some friends had told me: "Galactic always kicks ass at Vinyl." So, I just assumed it would be a great show and let my mind wander to mundane tasks. No speculating about set lists, no wondering about guests performers, no guessing about attendees.
Arriving later than intended, unfortunately missing the opening band, I luckily found a nearby parking spot. Surely this would mean a small crowd on this cold, windy night? Leaving my jacket in the car, I briskly walked to the box office to find a slow-moving line stretching around the corner of the building. Trying to keep my mind off the cold, I listened in to the conversations around me filled with chatter about "Maggie." When I made my way inside, I found a nearly packed house. Nevertheless, I had no wait at the bar, no line in the restroom and even managed to manoeuver my way through the bottleneck around the merchandise table to the back room. I also wiggled my way to the rail at the side of the stage where I watched friends meeting up and fans claiming their spots ready to get funky.
You could feel the anticipation in the air, and as the lights went down and the cheers went up, Galactic took the stage with bassist Rob Mercurio leading the way into a slow building "Cineramascope." As each musician added a layer, the song built momentum, and when Ben Ellman joined his sax to the mix, as if to say "WE'RE HERE," the crowd responded with yells and whistles. I moved back from the rail and deeper into sways of dancers on a steamy "Balkan Wedding" that featured a sublime organ solo from Richard Vogel. The laser-like fingers of the lights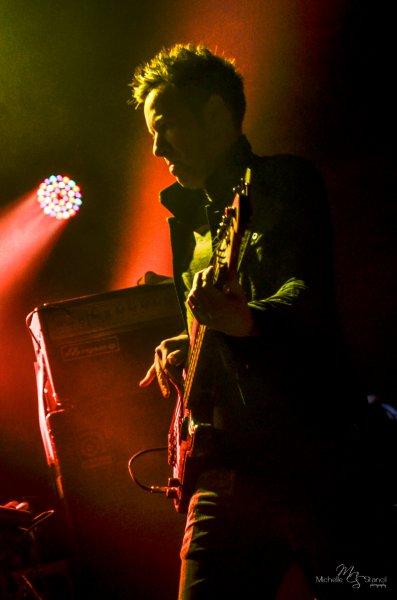 stretched out over the crowd and seemed to pull everyone in, creating a dual feel of a full-size stage show and an intimate private party.
With no delay into the third song, the band welcomed Maggie Koerner to the stage. They took off with "Hey Na Na." The party was on as she bounced around the stage; the crowd responded singing "Hey!" with their hands flying in the air. Accustomed to hearing David Shaw front this tune, Koerner, a co-writer and singer on the album, was equal to the task. A little spitfire with huge gritty vocals reminiscent of Janis Joplin, she kept it coming on one of her own songs, a sveltey, sensual "He Calls Me Mama" (Neutral Ground, 2013) which showcased her soulful sensibilities and dynamic range. Even the non-smokers needed a cigarette afterwards! Koerner then introduced a new song, the pumped up, hip-hop-esque "Dolla Diva": "You ever met somebody that walked into a club and they just acted like they were the shitty-nitty with one dollar. There's probably one of you in here. I'll find you and I will smack you in the ass." As fans know, Galactic has had a number of featured vocalists since "Houseman" left the band 10 years ago including Cyril Neville, Corey Glover, and most recently, David Shaw of the Revivalists. (Personally, I've been loving Shaw!) Aside from Irma Thomas singing "Heart of Steel" on their 2010 album Ya-Ka-May, however, I believe this is the first female to take the role. There is no doubt that Koerner is a brilliant match in terms of style and sound. With her rich, sometimes throaty, powerful vocals, and spirited and sexy dance moves, she is an arresting performer, yet she has a compelling down-to-earth way about her. Neither the crowd nor the band could take their eyes off of her. As she left the stage, Corey Henry said it all: "Yeah You Right!"
Opening act, Jamaican artist Brushy One-String, joined the band on an older Galactic tune, "Bongo Joe" that also featured a seriously dirty harp from Ben Ellman. I didn't know this song even had lyrics, but hearing Brushy, I was sorry I had missed his set. "Who was this guy?" I asked. I got shrugs or "he opened." I sought him out. He was incredibly kind, even giving me one of his CDs. With his one-string acoustic guitar, island beat and soulful phrasings, his music is like Reggae-meets-Delta Blues. His story is also extraordinarily inspiring. If you are into roots music at all, or just plain good music, you must check him out at http://brushyonestring.com/.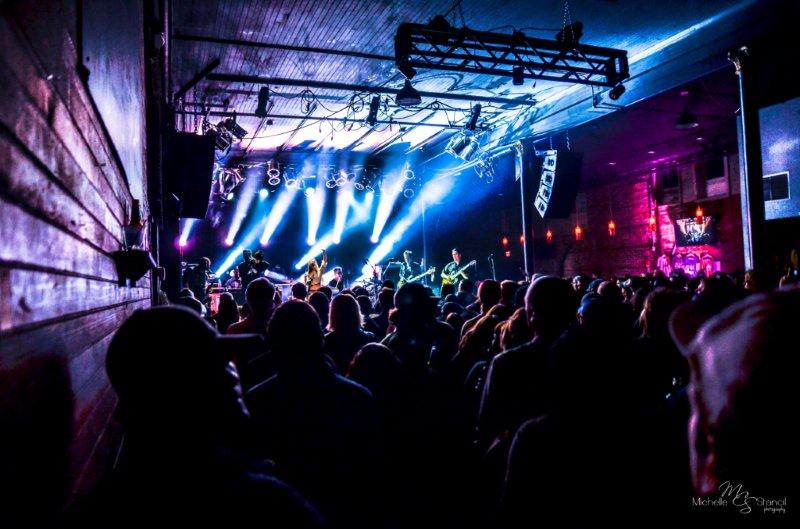 The second half of the two-hour single set continued with a number of old-school covers, including Dr. John's "Quitters Never Win," The Jackson 5's "I Want You Back" and James Brown's "It's a Man's World." Two of the highlights of the whole set, however, were the jaw-dropping instrumentals that keep Galactic fans coming back. Jeff Raines on slide and Ellman on harp shredded "Shibuya," while the astounding Stanton Moore threw down like a man possessed. Nasty and fiercely funky southern rock, it's one of my favorites and my only complaint is that it didn't last longer. I moved to the back of the house where there was a bit more room to dance and take in the spiraling lights. It also turned to be where the sound was the best. The acoustics were balanced and clear and the high energy from the stage was as encompassing as it was at the rail. I was especially glad as Mercurio launched into a solid, complex bass solo during "Ooh Na Nay." With its unexpected lines and phrasings, it was if he were talking but then, nay, it turned into giving someone a serious talking to. That someone was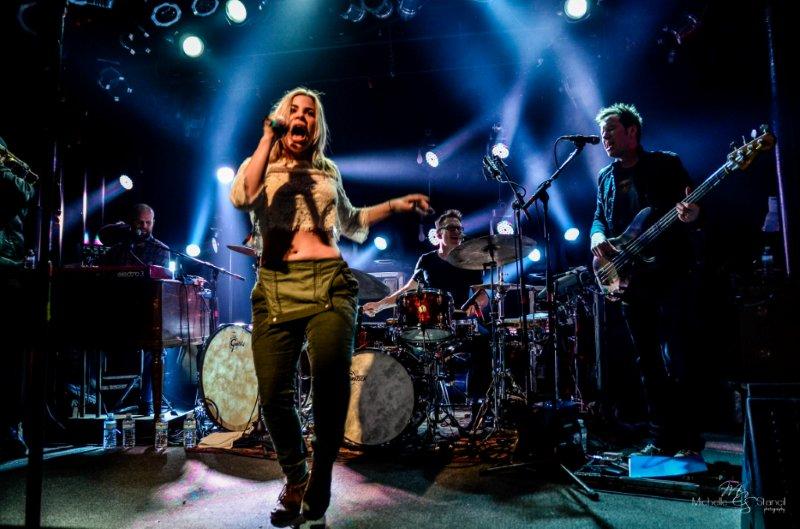 Stanton Moore who answered Mercurio, phrase for phrase, awing the crowd as he turned his drum set into full out, somewhat sarcastic, scolding! Mercurio gave him a big knowing smile and a "thumbs up" as the room filled with shouts and praises.
Galactic ended the show with a double-encore that included a scorching cover of The Rolling Stone's "Gimme Shelter" that still left everyone wanting more. Even at midnight on a Wednesday, people lingered about, some flooding the merch table, most hoping to get an autograph or picture or a few words with the band, and none ready for the party to end.
Overall, though it was not a planned strategy, going with no real expectations turned out to be a good thing. All I found wanting was more. I would have liked to have seen some of the songs open up and allow more time and space for improvisation, some longer solos and a few more instrumentals. In a seven song stretch, there was only one, "Tornado" that featured the hugely talented Corey Henry on trombone. Still, my friend was right. Galactic does kick ass at Vinyl. The energy between the band and audience was almost tangible. The atmosphere was fun and relaxed. The crowd was attentive and enthusiastic. Maggie Koerner, certainly the star of the night, brings yet another dimension to the Galactic sound. Some will be critical of that, but I think it is part of what makes Galactic such an interesting band to follow. They are forever shifting, stretching and evolving. And if this show is any indication, they are as tight and funky as ever. I can't wait to see what they bring when they return to the Gulf Coast for Mardi Gras season: they'll be in Mobile, AL at The Soul Kitchen Music Hall, Feb.28th 2014!
One set

Cineramascope, Balkan Wedding, Hey Na Na *, He Calls Me Mama*, Dolla Diva*, Tornado, Bongo Joe #, Quitters Never Win *, I Want You Back *. Daddy's Song*, Chicken Pox, Shibuya, It's a Man's World*, Like a Feather*, Heart of Steel*, Ooh Na Nay,

Encore:

Does it Really Make a Difference*, Gimme Shelter*,

*w/Maggie Koerner

#w/Bushy One-String
Written by: Shari Hartmann
Edited by: Rosemary A.W. Roberts