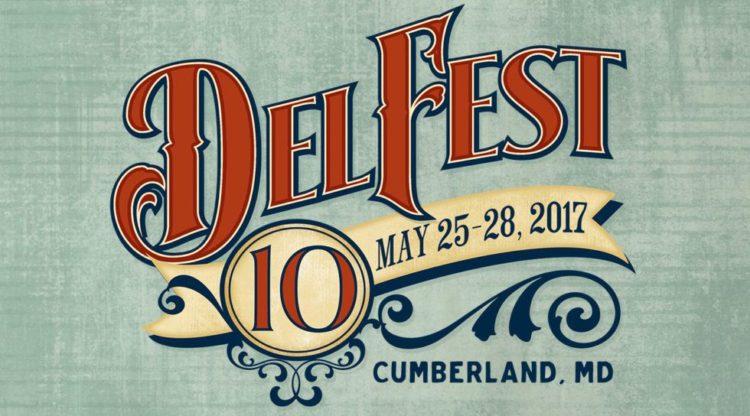 PREVIEW: DelFest X, What's it all About?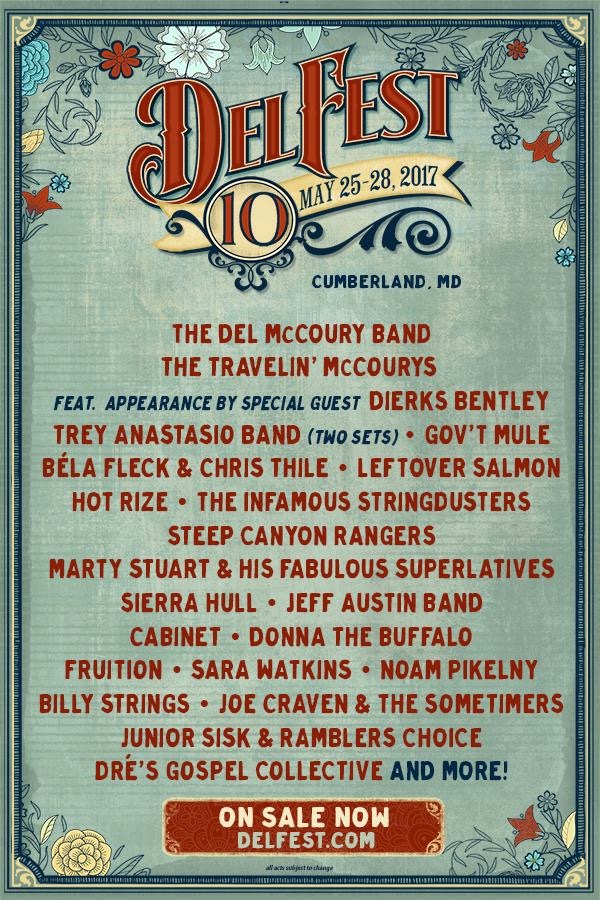 2017 will mark the 10th year that Del McCoury and his family will be bringing DelFest to Cumberland Maryland. It was somewhere around 13 years ago that Del McCoury started talking with Roy Carter of High Sierra Music and started to turn a dream into a reality, although it wasn't until the community started to get behind the festival that it really took off! Over the last 9 years there have been many acts pass through the festival, from the very first year with acts as wide and varied as Vince Gill, David Bromberg, The David Grisman Bluegrass Experience, Dierks Bently, Sam Bush, and Keller Williams just to name a few. You never know who will show up at DelFest from year to year, but one thing that you can be sure of is that it's gonna be a good ole time! When I asked Ronnie McCoury about some of the highlights over the years for him, He mentioned how High Sierra introduced them to The Lee Boys and that led to a musical collaboration that was just plain fun!!! Of course he told me of how cool it is when you get to step up on stage with someone like Trey Anastasio or Derek Trucks and Susan Tedeschi and the list goes on, however one thing that they also try to remember and honor are the elder statesman of this music.  Those amazing players such as Bobby Osborne, J.D. Crowe, Bobby Hicks, and Jerry McCoury…. "Any time that you get to play with those guys it's just magic" … "years go by quickly and you just don't know if they will ever be back"!
The highlights for the family are countless! As a mandolin player when Ron McCoury was on stage with David Grisman & Sierra Hull it was just awesome, however for Rob McCoury playing the banjo on stage with Bela Fleck was a highlight and doing a workshop with Danny Barnes, just 2 banjos and having fun was one that he won't likely forget! The joy that comes out of what goes on here at DelFest reminds Rob and Ron of the joy that their dad had on stage when they were young, and they attribute their musical careers to a desire that they had from seeing their dad so happy!
If you have never been to DelFest yet I am here to tell you that that joy and happiness is infectious! There are people who have been coming since the 1st DelFest, May 23-25 2008 and new people every year, so I thought that it would be fun to ask some of them how long they have been coming and why! This is what people said:
Kristen McBride ~ This is our 5th consecutive Delfest. It's our family's summer kickoff. My kids start asking at Christmas for Delfest!
Julie Cannon Frantz ~ #9. It's like coming home, to family.
Randi Wallenstein Benesch ~ #9 for us. By far our favorite annual family tradition. Four days to just relax and settle in with close friends and our family, listening to so many great artists, breathing the mountain air and feeling that DelFest magic.
Adam John ~ We have been every year. The intimate vibe and setting are what keep us coming back. Where strangers become friends and friends become family!!!
Beth Cornetta Oros ~ This will be my first, and my first venture into this large of a festival in many years. I am no longer letting anxiety get in the way of doing what I love ❤ I'm gonna Dance on through it!
Rachelle Marilley ~ My first as well. My best friends have been trying to get me to go for the last two years. The stars finally aligned and I am going to the 10th annual DelFest! I am glad it's on the 10th because it just seems to feel so much more special! I am ecstatic!
Toni Reese ~ My husband and I were asked to go 5 years ago. Since then we have been every year. It's a time where we stop our busy lives and LIVE! Live in the moment appreciating music and one another. Looking forward to the kind greetings, fresh mountain air and sweet sounds of the strings!
Ed Koller ~ This will be the 7th in a row, every new friend I make feels like family.
Dennis Scott ~ This is number nine for us. We had some friends tell us about the first after we had beach plans. We have been to many music fests and DelFest is by far the best…family friendly, beautiful setting, awesome lineups and where else will you see the namesake and his family not only working the merch tent but camping with everyone else!!?? Thanks for throwing the party Del!
Jaynea James ~ #3 for me! Met a keeper at #1! Both of us from Cumberland. Never laid eyes on each other until then….Oh, the forces of a late night, fire side, sitting on the tailgate of a truck, jam session. That's what I call Delfest!!
Laurier Joseph Binet ~ 3rd full on and a day!!The String Cheese Sunday was our 1st time, and we were hooked right away! The Smiles, Love ,Goodness out there is something really special, folks we met! Met you Stuart at our first time at the fairgrounds, I just truthfully love this festival!!
Randi Brent Starrett ~ Number 8. What is so special to me is being part of Del's Army (the PAA 1344) and an organizer of the yearly food drive and the Del's Army t-shirts that help the Western Maryland Food Bank with canned/dry goods and cash donations. Helping the local community (and one of the poorer counties in the country) is very rewarding. Our motto is good works through music!
And these testimonies go on and on, but if you want to really know, look through these photos and notice the smiles and of course… see us on the 25th-29th at the Allegheny County Fairgrounds for DelFest #10!
All photos © Stuart Dahne Photography
http://www.stuartdahnephotography.com/