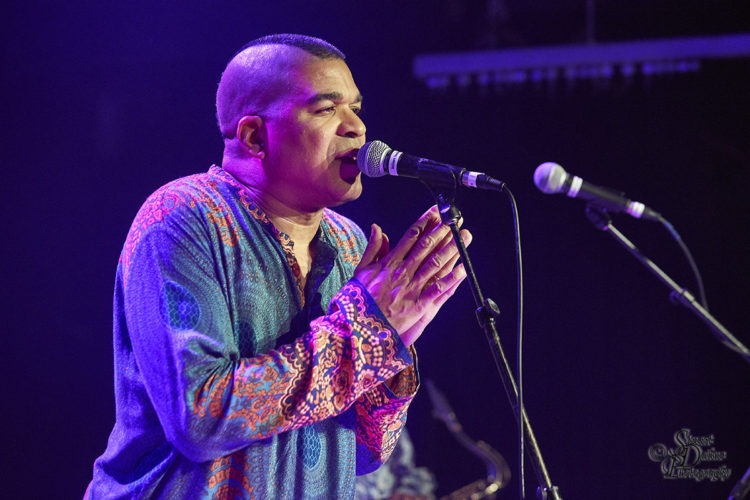 OTEIL BURBRIDGE & FRIENDS 11-08-17 Baltimore Soundstage
OTEIL BURBRIDGE & FRIENDS
11-08-17 Baltimore Soundstage
"Music is part math, part technique, and part emotion. The question is why and how is that possible? How does math and physics become infused with intention and emotion?" ~ Oteil Burbridge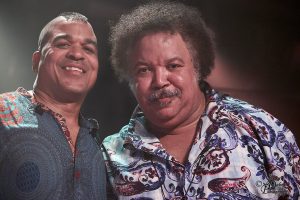 Well, this was the end of this relatively fast tour with these amazing musicians. As the show began, I was not so sure that the audience was thinking about math and physics becoming infused with intention and emotion. As the band came onstage and opened up with Oteil's new title song "Water in the Desert" with Alfreda Gerald belting out the vocals, there was no question that the emotion was quickly set! The band then moved right into the Allman Brothers Band song "Leave My Blues At Home" and the intention was now set! Special guest and Baltimore local Ron Holloway came out on stage and it was immediately apparent that this was going to be an amazing ride down a road filled with exciting twists and turns! It was as if the band was saying "buckle up" because here we go!!! How could this not be an amazing ride with a lineup lead by Oteil Burbridge  on bass and vocals, Melvin Seals on the Hammond B3 and vocals, John Kadlecik on guitar and vocals, Eric Krasno on guitar and vocals, Jay Lane on drums, Alfreda Gerald on vocals, and Weedie Braimah on the percussion.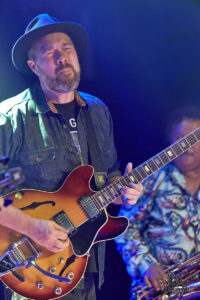 As we continued down the road, the bus made a turn and now we were waking up to find out that we were the "Eyes of the World"! At this point John K's guitar work and vocals were just as sweet as can be and Ron's tasty horn selections really stepped up the emotional end! Right away I noticed the interactions between all of
the members on stage and the intention was now apparent that not only was this going to be an emotional night of music, but more important, this was really going to be fun for everyone involved!
Now I knew, "All Good Things In All Good Time" and it was now just right for the bus to turn left and head into Jerry Garcia's "Run For The Roses", and what a turn it was! The band was really tight with Jay Lane really holding down the beat and the interplay between Eric Krasno, John K, and Oteil was just pure fun! After this song ended, Oteil spoke to the audience and said; "This is the last night of our tour, our very first tour, but not the very last!!! Thanks to you guys, we got the message! So Thank You For That!"
The bus then slowed down for a minute for a great rendition of "If I Had The World To
Give" with John K and Eric Krasno really shining on their guitar work. Oteil's vocals on this song were outstanding and emotional. As the crowd came down for the ending of this great tune Oteil then introduced his friends, his "amazing friends!"
Without any warning, the bus turned right and went down this funky little road known as "The Weight"! Melvin Seals on that Hammond B3!!! Oh My God! The pedal was quickly put to the metal and the ride quickly changed! Alfreda was singing and I was transported back to 1969 when Aretha Franklin covered this song! Then Ron Holloway came back on stage and it was if the bus was driving up and down over those bumps that we used to call the whoop-de-doo's, the ones that I loved and still love today! Now it was as if every player on stage was driving this bus, you know, when your adrenaline is just flooding your body and you just want more and more! Well just when I thought that it couldn't get any better, the band moved into that classic "Blues Brothers in The Church" feel to bring the set to a close!!! Yes, this was just the first set!
SET 2
In 1967 Erma Franklin (sister of Aretha Franklin) recorded a song written by Jerry Ragovoy and Bert Berns titled "Piece of My Heart" and on November 8, 2017, Alfreda Gerald along with Oteil Burbridge and Friends brought this song back with a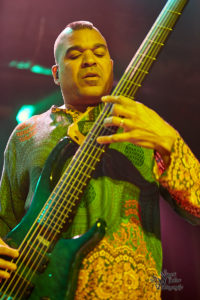 vengeance. What a way to start this ride back up! Twist and turns are now what we expect. Eric Krasno tore up the guitar work while the rest of the band was killing it, every transition was another smile!
So how do you follow up an opener like that? Well
you go to Peter Tosh's "Stop That Train" and of course with these players you play it a-la Jerry Garcia Band. The road continues with Jimmy Cliff's "Many Rivers To Cross" featuring those amazing vocals of Alfreda Gerald and Melvin Seals tickling the keys of that Hammond B3. This was a perfect place to segue into "What's Become of Mary" by John Kadlecik. This song was very reminiscent of some great Jerry Garcia Band songs, driving as well as melodic with lots of interesting musical interludes! This lead us straight to "Grateful Dead Pass" for some really fun Scarlet Begonias with Eric Krasno on vocals and Weedie Braimah's percussion to just blow you away. WOW! Where are we going next?  The bus turns left and you think that we are getting a version of "I'll Take You There" but this bus turns again and it's a really fun version of "Sugaree" with John K on vocals and the all of the people in the audience on back-up vocals. Just when we are settling in on this great groove of "Sugaree" the bus stops to let Alfreda Gerald back on and off we go!!! The bus makes another quick left and the soulful voice of Alfreda Gerald lifts everyone up with "I'll Take You There" which has the audience singing along in all the right places! Ahhh… then John K takes us back into Sugaree, a really nice transition to end this medley of songs!
To end the set, Oteil tells us that they are going to try to burn the place down… and turn up the heat they do! "Proud Mary"! Nice Closer! They start this song off really slow with Alfreda and the audience singing nice and slow. But then Alfreda reminds us that this song gets fast and the driver of this bus gives it some gas and off we go. The audience is encouraged to participate in raising the energy level by throwing their hands in the air and singing on cue! The energy on stage was taken to another level,  when in the style of the Temptations, Oteil, John, and Eric began dancing in step while playing their guitars. The smiles were infectious and the vibe was just stellar!
The Encore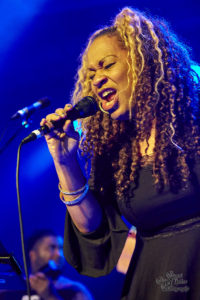 As Oteil put it; it was time to give some love back to the "Heavenly Mother".  Weedie Braimah started us off with a percussion solo on the djembe that made everyone want to move their feet! From here the rest of the musicians joined in for Oteil's "Unconditional Love" to close the night! What better way to end the evening then with a musical prayer and lots of love!
I have not spoken much about Oteil's phenomenal bass playing, as Oteil, in his own humble way, orchestrated the path for all of the musicians to shine! Shine they did, and thank you Oteil for your humble spirit and wonderful music.
Back to the beginning of this article. That question that Oteil asks: "Music is part math, part technique, and part emotion. The question is why and how is that possible? How does math and physics become infused with intention and emotion?"
Well I would say that you just gave those of us who were at this show an example of how this is possible! When you add 8 highly talented musicians (this is math) who each bring their own style of playing (this is technique) with the intense emotion of passion (this is emotion filled with intent), and when you understand that Physics makes significant contributions through advances in new technologies that arise from theoretical breakthroughs, then you will have to agree that this night was filled with theoretical breakthroughs! Then and only then will you begin realize "How this is possible"! You see; Infusion is defined as: "the introduction of a new element or quality into something", and that my friend, is what happened here!
Thank you to all of the musicians, thanks to everyone who came out for without you it just would not happen, and thank you to the Baltimore Soundstage and all of the kind people who helped make this happen!
Peace & Blessings,
Stuart Dahne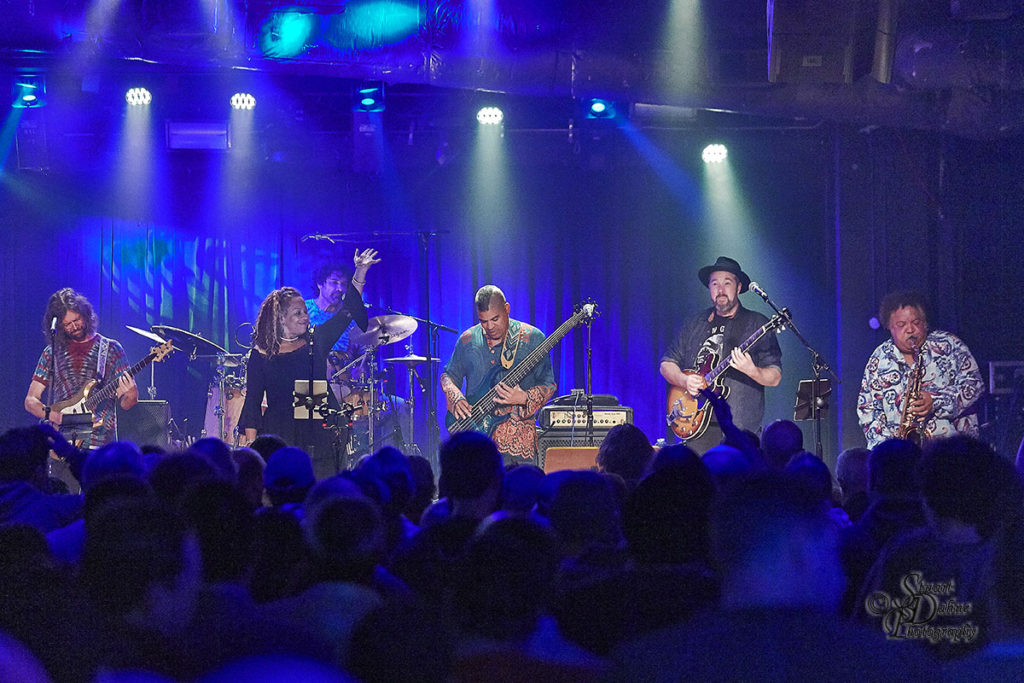 WHAT THE PEOPLE HAVE TO SAY
Cliff Tyler: Seeing Ron walk on stage was a great surprise! The guitar interplay between John K and Eric Krasno was worth the price of admission alone. Otiel's band is tight, full of energy and a true jam band supergroup.
Michael Okun: Lots of energy, great interplay between members, no rehearsal, it seemed to just flow, terrific singer sounded like Aretha maybe.
Laurier Joseph Binet: What a show!!
Cassandra Arnold: The Weight was incredible! The entire audience singing along, the energy and unity was off the charts, so much love in the room!
Will Gibbons: It was amazing to see Krasno and John K playing back and forth all with Oteil holding it together…plus throw Melvin and Jay Lane in the mix? Sheeeeeeet… also the woman on the vocals has given proof angels exist!
Robin Norris Duffy: What an amazing group of talented musicians. Alfreda's vocals were out of this world, beautiful, soulful, really got the audience going. Oteil was Oteil…his smile is infectious and he was the peacemaker. I could listen to Melvin on keys all night. Ron was a great addition to this supergroup of musicians on stage. John K, Jay, Eric, Weedie, all of them made for a perfect night full of energy, fun, friends and great music. Three times in a week to see Oteil…Fillmore, Soundstage and MSG on Sunday…can never get too much Oteil Burbridge!
Lar Ellison: After listening to a brief video I made last night, Patti LaBelle came to mind! Alfreda's tone, soft melodies and her POWERFUL Voice were measured on the Richter scale somewhere, with the Reverend Seals on keys… Thought it was Sunday morning in church somewhere!! A treat for sure! Oteil directing traffic, John K. and Eric K. bouncing off one another, Weedie and Jay solid percussion. I so enjoyed Eric Krasno's "stankface", the facial expression's and contortions a musician exhibits while playing, showing the emotion and pure joy that we hear and see as phenomenal music. Then, here comes local Sax man THE RON HOLLOWAY adding a little flavor to the mix !So happy to have experienced this Synergy of musicians!!!