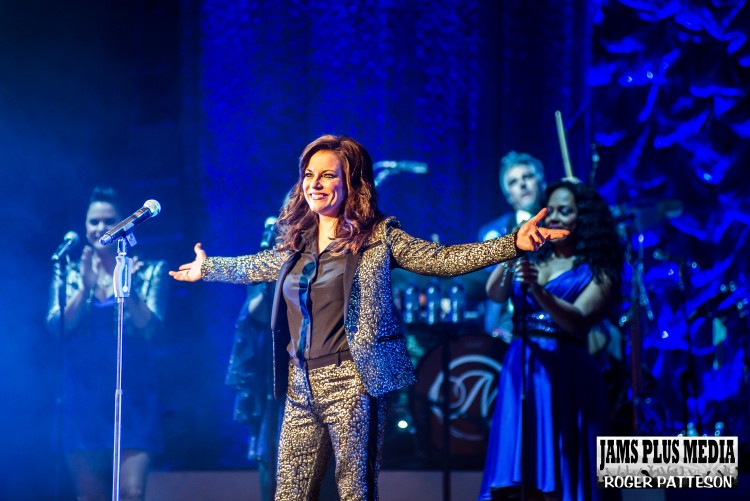 Martina McBride ~ Huntsville, AL ~ June 14, 2014
Photos and Review by Roger Patteson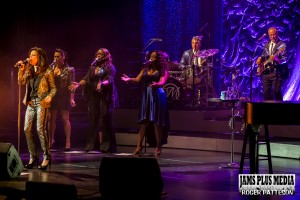 Dynamic stage presence.  Powerful vocals.  11 piece band.  This is the Martina McBride show.  With a mile long list of nominations and awards from the likes of the Grammy Awards, CMA's, ACMA, Billboard, AMA, CMT…..basically, if there's an association presenting an award in the country music world, she's stood before it…., Martina and her gang of talented musicians stretched out across Huntville, Alabama's Von Braun Center stage and delivered a performance worth writing home about.  Kicking off a North American summer tour in her home state of Kansas, 20+ stops were planned through October.  Jams Plus Media was fortunate enough to sit in on her first of two Alabama visits for the year.  A 20yr career of delivering top hits in the country music world is a well respected accomplishment and her live shows are nothing short of incredible.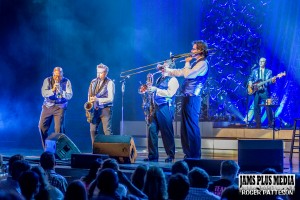 Huntsville would witness the full cabinet of McBride's sound as the show began with the 4 piece horn section, complete with matching suits, taking the stage via playing while walking right down the middle aisle of the 1900 seat theatre.  Jim Medlin addressed his black piano next as Greg Foresman (lead guitar) was warming up a nice black and red Fender.  Greg Herrington (drums) and Glenn Snow (bass) would get the rhythm section rolling before the beautiful, soulful singing trio of Wendy Moten, Shelly Fairchild, and Shandra Pence took their place at the mic stands.  Fashionably last but not least, Mrs. McBride would make her presence known in a black pants suit covered in shiny sparkles.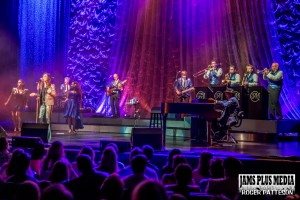 Opening with Van Morrison's "Wild Night" and owning Mark James' "Suspicious Minds", Martina let the crowd know right away this was to be a night of fun, respect, influence, and love.  Much of the night's song selection was based off her newest album release, Everlasting, an entire album of covers by artists that left an impression on her.  Throughout the evening, most of the album was played while adding licks of her own with "Whatcha Gonna Do?", "Blessed", and "In My Daughter's Eyes".  For the Supremes' "Come See About Me", the whole horn section took front-center stage only to be sent back to their stage left platform while the ladies, not to be known as "backup singers", joined up front for "In The Basement", an Etta James original that Martina recorded with Kelly Clarkson.  "Whatever You Say" was a moment for Martina to shine and show off her vocal range and capabilities showing us all what that emotion can produce.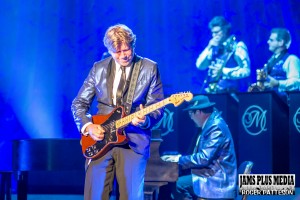 Highlights of the night lived in the encore.  For the first time of the evening, the crowd was on their feet with a little dance in their step and would remain that way through all 4 songs.  "Son of a Preacher Man" took the first leap right into "Baby What You Want Me To Do?".  BWYWMTD provided a moment for each horn player to step up and air it out, really getting the crowd moving.  Crowd fave, "This One's For The Girls", would make its appearance before another long running, heavy hitter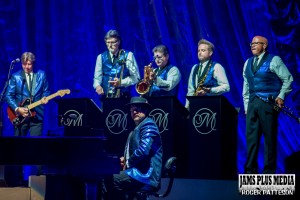 , "Independence Day" would close the night out.
Onhand for the night was a large number of Team Martina members as identified by the shirts donning the name.  TM is the collective fanbase of McBride.  They were allowed to sit in on the pre-show soundcheck.  One lucky member, Madie Hendrix, was asked up onstage to join Martina for some warm-ups.  Team Martina presented a $34,000 check to Martina's charity organization which will fund the purchase of musical instruments for children in Guatemala.  See video here:  https://www.youtube.com/watch?v=NVFSDAmATn0
McBride was very interactive with the crowd throughout the whole show and shared her gratitude for a great host for her performance.  Perhaps though, the most important fact of the night came early in the show when Martina answered one of time's oldest running mysteries:  What Do Women Really Want?, with "Your underwear.  We want you to pick up your dirty underwear off the floor."  And now we know……
Check out www.martinamcbride.com for more info on upcoming tour stops and all things Martina news related.