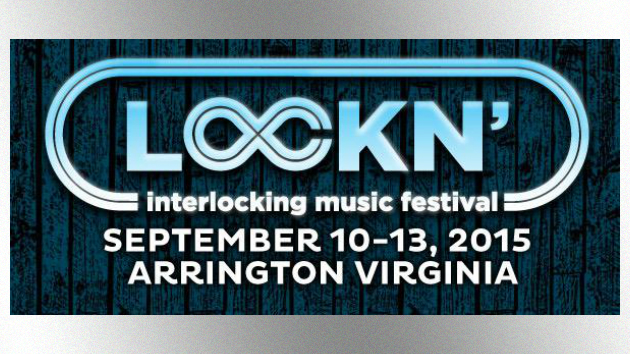 Lockn' – Interlocking Music Festival 2015
Oak Ridge Farm, Arrington, VA
September 10-13, 2015
Lockn' – Interlocking Music Festival 2015
Written by: Robbey Pye; Photos by: Joey Pye
Arrington, Virginia hosted the Lock'n Music Festival from September 11th to 13th, 2015. From what I have heard and now experienced, there is not much to do in Arrington, but Lock'n brings a pretty large crowd. The venue is a huge piece of land with limited trees and a horse track surrounding the main stages. This makes up a pretty neat spot to run a festival, due to the leeway the staff in charge has to organize. Unfortunately, the weather cannot be organized by the staff and the conditions were rough, although they adjusted to them very well. The first day was cancelled, the next day got rainy at night, and the last day was cold! (Maybe just because I'm from Florida, but I was freezing). As you could imagine, this led to some exciting camping scenarios. With that being said, this truly was an unbeatable festival, because the music was incredible. The security and staff did a great job. Everyone was nice and polite and helpful with any questions I had. The vendors had some quality products available, from the food and beverages to the posters and such, for a quality festival. I was also impressed with the taxis; every time I needed a ride there was one close by, which was a life-saver at times. Aside from the music itself though, the best part to me was the variety of the stages. The organization behind who played at what stage and the time was on point. This really sank in for me when I thought the first night was pretty much over after the last set on the main stage, just to experience Mickey Hart and Umphrey's McGee separate after parties with their own light shows. It was epic. Nothing beats the music selection as a whole though at Lock'n. The best way I describe Lock'n to others is that it cannot be looked at and categorized by genres or anything else other than, in my opinion, just simply picking the best live performances, covering many varieties of music.
The absolute worst part of the festival was trying to pick out what shows you had to miss out on, sometimes because something else would be going on or just to simply rest your body. It is reasonable though, considering each day had 12+ hours of music. Day one set the tone high with the rescheduled Doobie Incident starting off the series of events. The late shows were Mad Dogs & Englishmen with Tedeschi Trucks Band and Jefferson Airplane with Bill Kreutzmann, all which contained some great jams. Personally my favorite was the North Mississippi Allstars show and the after show sets! North Mississippi Allstars busted out the washboard, which brought some fun vibes and topped it off by marching through the crowd in a drum line. One of my favorite performances of the show was "Psychedelic Sex Machine"; it was my first time seeing them and they could jam. The after shows on this night were Mickey Hart at the Woods stage and Umphrey's McGee at the Blue Ridge Bowl. You physically could not catch all of both, but both were absolutely amazing based on what I saw and heard from others. Umphrey's really knows how to jam out in all sorts of directions, I love it. They are very exciting, and there is honestly no telling what they will throw at you for your entertainment. Cannot forget the weather here either, it started pouring during the Umphrey's show. The crowd just seemed to soak it in and literally not miss a beat though.
Day two, which again started off with a killer side show of Melvin Seals and JGB at the Blue Ridge Bowl, was a great "sit-in day" for the later shows. There were just legends and other fantastic musicians coming together and playing with each other all night. One of the highlights in regard to this was Widespread Panic playing with Jimmy Cliff, which factored in a unique reggae spin to your typical Panic southern rock. This was followed by Billy and the Kids with Bob Weir, which is always epic to see members of the dead reunite. The final set of day two, was most likely the most exciting part of Lock'n was the Phil Lesh and Friends set with guests Warren Haynes and Carlos Santana. It just did not seem like there was ever a second of down time regarding one of them shredding the guitar. My favorite personally was when these three performed "Fire on the Mountain".  A close second to that was the Gov't Mule show at the Blue Ridge Bowl afterwards. They had a fantastic ending with Doors cover "When the Music's Over". Other than being the last day, day three was easier to decide on shows, considering there were only nine total while the others had thirteen. Needless to say though, the staff picked nine great shows. A close second of my favorite performances was Keller Williams Grateful Gospel Sunday morning. To me it seemed like the most exciting church service i've experienced, with some classic Dead covers. Keller always knows how to brighten up the place whether he is providing some exciting tunes or his witty humor (for example, his 9lb 7oz baby Jesus reference had me laughing out loud). The early evening performances by Fishbone, the Oh Hellos, St. Paul and the Broken Bones, and Slightly Stoopid went well and transitioned smoothly to yet another exciting night. After that, it was Trombone Shorty & Orleans Avenue, Gov't Mule, Widespread Panic, and Robert Plant & the Sensational Space Shifters to tie up the weekend. My personal favorite of the day was the Keller show, but I was surprised at how much I enjoyed the Robert Plant & the Sensational Space Shifters show. Their work was really intriguing and it was combined with a fair amount of old Led Zeppelin covers. I've seen many bands cover Zeppelin, some better than others, but the one thing that is the hardest to recreate when covering Zeppelin is Plant's voice. Saturday night we had the best depiction of this, Plant himself singing the old Zeppelin covers, which put at rest a phenomenal weekend.
All in all, the weekend was an absolute great time in Arrington, Virginia even with some rough weather. The organization was great, from all angles within the venue. We were all bummed about missing a day, but that was ultimately a great executive decision and all went well. The security and staff handled matters professionally and smoothly, and the side stages at the venue provided some unforgettable performances. The tunes were three days of extraordinary music, ranging from multiple styles of jamming. One thing for certain is that I am already looking forward to next year's festival!