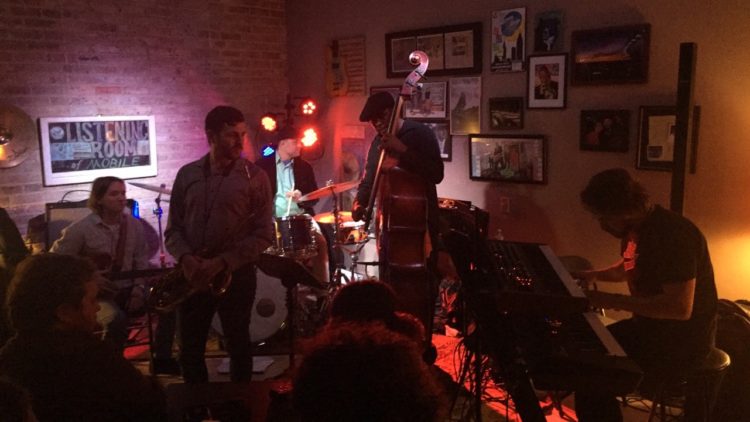 John Cochran Quartet – All Trane:  A Tribute to John Coltrane – The Listening Room
John Cochran Quartet – All Trane:  A Tribute to John Coltrane – The Listening Room – Mobile, AL – 1/25/2018 – Review by Rosemary A.W. Roberts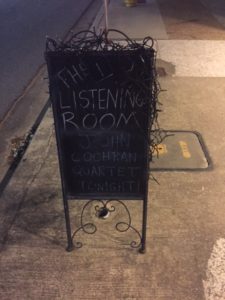 There's a first time for everything, and last Thursday evening in downtown Mobile, I got to experience a few great firsts.  It was my first time to visit The Listening Room on St. Francis Street, a unique venue to immerse oneself in an intimate musical setting.  Tables and chairs are arranged for guests to grab a beverage, have a seat, and focus on the stage.  Owner Jim Pennington made sure the audience understood that this environment is all about enjoying the music, being respectful of the musicians and refraining from loud chatter that can detract from a performance; he even offered a refund to anyone not willing to abide by the venue rules.  No one made a mad dash for the door, so the All Trane Tribute to John Coltrane was set, and the listening began.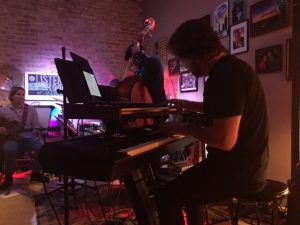 As much as I enjoy jazz, I admit my experience and knowledge of the genre is spotty and sparse.  I knew of John Coltrane, but had never listened much to his offerings, so this would be my first real intake of his music; as such, it did not faze me that none of the four musicians onstage were playing a saxophone.  Veterans of the Mobile music scene, drummer John Milham set the pace and Jojo Morris's upright bass commanded a presence.  Keyboardist Chris Spies and guitarist John Cochran shared soloing space that presumably Coltrane's sax would typically fill.  I cannot comment on how their interpretation compares to the original, but I can say the music I heard was incredible!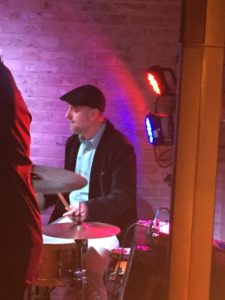 The setlist was comprised of pieces that I found easy to enjoy, like "Equinox" and "Lazy Bird", full of melodic rhythms and fluid-flowing riffs.  John Cochran, who assembled this All Trane tribute show, is certainly accomplished in jazz, able to aptly provide either a flourishing depth of notes or stretches of space, as appropriate in each moment.  Chris Spies is highly respected for his craft, and though he excels at any style of music, I was deeply impressed watching his hands fly across his keyboards for these Coltrane songs.  Jojo Morris was a pleasure to watch and hear, with soft-thumping sounds to soothe the soul.  John Milham, one of my all-time favorite drummers, always seems at-home in a jazz setting, with an intricate ability to hold, and then vary, and then circle back to the underlying themes.
Between songs, Cochran would tell us a little about Coltrane and his music, so the audience got a nice dose of jazz history amongst the melodies.  At one point, he joked about the lack of saxophone before inviting his long-time friend, saxophonist Ryan Raziano, to join the band onstage.  Although they hadn't played together in several years, the chemistry was definitely there, and Raziano's sax skills were certainly up to the Coltrane challenge.  It was my first time hearing the musician from nearby Mississippi, and I enjoyed hearing him play.  Ryan Raziano is likely to bring his own band to Mobile in the near future, and I recommend keeping an eye out, as it will be a performance to make plans to attend.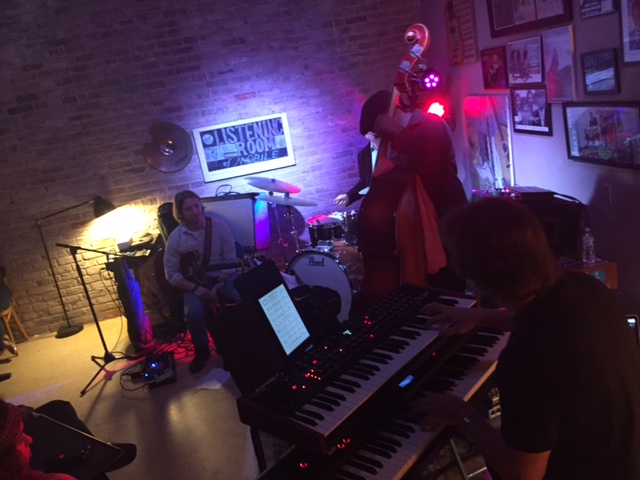 So that's how a night of firsts became a night to remember.  The Listening Room will be high on my list of places to hang out, as it's a very special venue.  And any time that any of these accomplished musicians are playing in the Mobile area, I would make an effort to take advantage of the talents they're so gracious to share with us.  Up next will be a CD release party on February 2nd for John Milham at Cedar Street Social Club, celebrating his new album Arden's Garden; and if tickets are still available at https://ardensgardenreleaseparty.brownpapertickets.com/ by the time you read this, don't hesitate, and be part of what will be another amazing first!