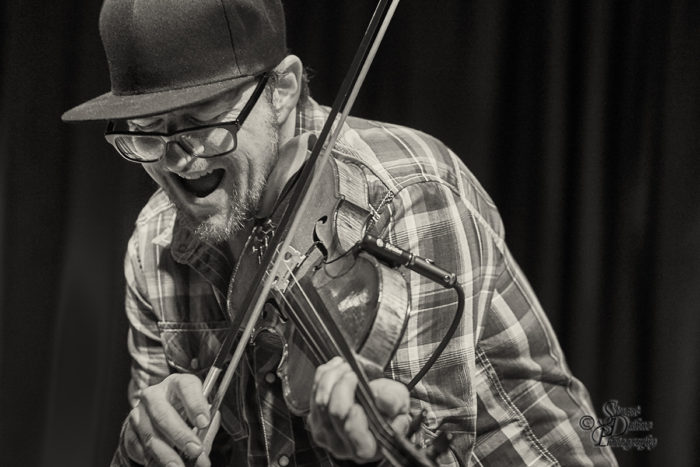 Jeremy Garrett at B-Chord Brewing Company
Bluemont Va. April 7th 2019,
In the midst of an intense tour with the Infamous Stringdusters, Jeremy Garrett had a small break and was kind enough to stop at the B chord Brewing Company on short notice to perform an amazing solo show! The B-Chord Brewing Company is a truly welcoming spot. It is attractive and relaxing, with fresh brewed cold beer, some light fare, and guaranteed fine music whenever possible!
The crew at B-Chord Brewery are some of the kindest people you ever want to meet, which lays the groundwork for a fantastic vibe.
As Jeremy Garrett came out on the stage, you noticed a guitar, a mandolin, and of course a fiddle. Having seen the Stringdusters numerous times, I knew this would be a great show. However, never having seen Jeremy solo, I had no real idea of what to expect!
Jeremy started the set with a solo guitar song that had me thinking that this was going to be a really nice singer/songwriter night. Boy was I wrong about that! As Jeremy began to play the 2nd song, he told us about his new solo release coming out in the late summer/early fall and explained his project with loops. The first "looped" song of the evening was a bunch of fiddle tunes all played together that was called "Baker's Jam." Watching him orchestrate this song was reminiscent of watching a juggler with multiple knives in the air. It was awesome!! If you're not familiar with loops, it is the technique of recording one instrument, then while it is playing back in a "loop", you play another instrument along with along with it. Jeremy took this to another level. He started with the guitar, layered the mandolin over it, and then played the fiddle over top those loops.
It was like being at an amusement park with rides that took you up and then slowed you back down, keeping your interest throughout the entire set.
Jeremy launched the second set with such intensity it had everybody on the edge of their seats! Near the end, Jeremy invited a special guest on stage, Gina Furtado, a top-notch banjo player. It is wonderful to witness two musicians, who have never played together, perform as if they've been playing together all of their lives.
The entire evening was perfect, and I really want to thank the staff at B-Chord Brewing Company, especially Marty Dougherty, for hosting such a great show at such a great spot! I also want to thank Jeremy Garrett for his kindness and the awe-inspiring music. Drew Becker did his usual magic with the Great Sound that we had all night long!
Keep your eyes out for Jeremy's new solo release and any solo shows that he might have… you will not be disappointed!
Last but not least, I want to say; "if you are anywhere within hours of Bluemont Virginia, I highly recommend you make a trek!"