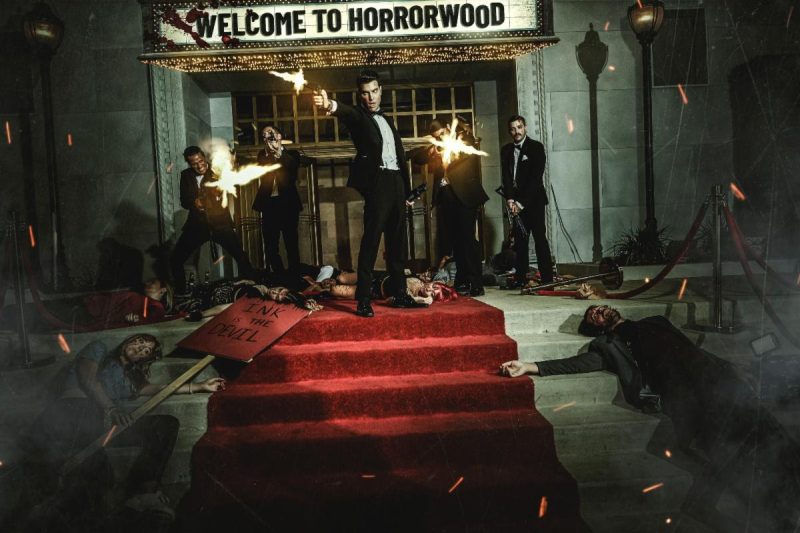 ICE NINE KILLS Announce' Welcome To Horrorwood Under Fire'
Theatrical, horror-themed metal masters ICE NINE KILLS have announced the deluxe edition of their chart-dominating 2021 album 'The Silver Scream 2: Welcome To Horrorwood' today. Titled 'Welcome To Horrorwood Under Fire,' the expanded release arrives October 20th via Fearless Records and is packed with new and previously unheard versions of fan-favorite cuts, an orchestral version of the album, and collectible horror artifacts. Pre-order the deluxe 3LP box set now at HERE.
Expanding on ICE NINE KILLS' signature fusion of blood-soaked metal and cinematic storytelling, 'Welcome To Horrorwood Under Fire' includes the original album along with a new single (more on this coming soon), two reimagined tracks, and physical extras encased in a flame-engulfed box set.
On the deluxe edition, frontman, leader, and creative visionary, Spencer Charnas shares:
"Bigger, bloodier, and more brutal! We've taken the 'Silver Scream 2' and literally set it ablaze! 'Welcome To Horrorwood Under Fire', is our most ambitious and intricately designed piece of horror memorabilia yet. The 3D, flame-engulfed artwork comes to life through real illuminated lightbulbs built into the packaging, encasing a nightmarish collection including the original album, a new song, reimaginings of fan favorites, and the whole album played by an orchestra. Not only that, it also comes with a wearable Silence mask straight out of our nightmarish cinematic universe and a death certificate of authenticity signed by yours truly. This boxset is the ultimate collectible for INK fans and one of the most intricate releases we've put out to date."
'The Silver Scream 2:Welcome To Horrorwood' launched ICE NINE KILLS to new heights when it was released in 2021, topping charts and collecting over 339 million streams on the back of hits like "Hip To Be Scared," "Assault & Batteries," "Rainy Day," "Funeral Derangements," "Take Your Pick," "The Shower Scene" and most recently, "Welcome To Horrorwood". Now the final chapter of the saga arrives in fittingly terrifying fashion with 'Welcome To Horrorwood Under Fire' – the ultimate collectible for any self-respecting INK fan. Pre-order the deluxe 3LP box set now at HERE ahead of its October 20th release.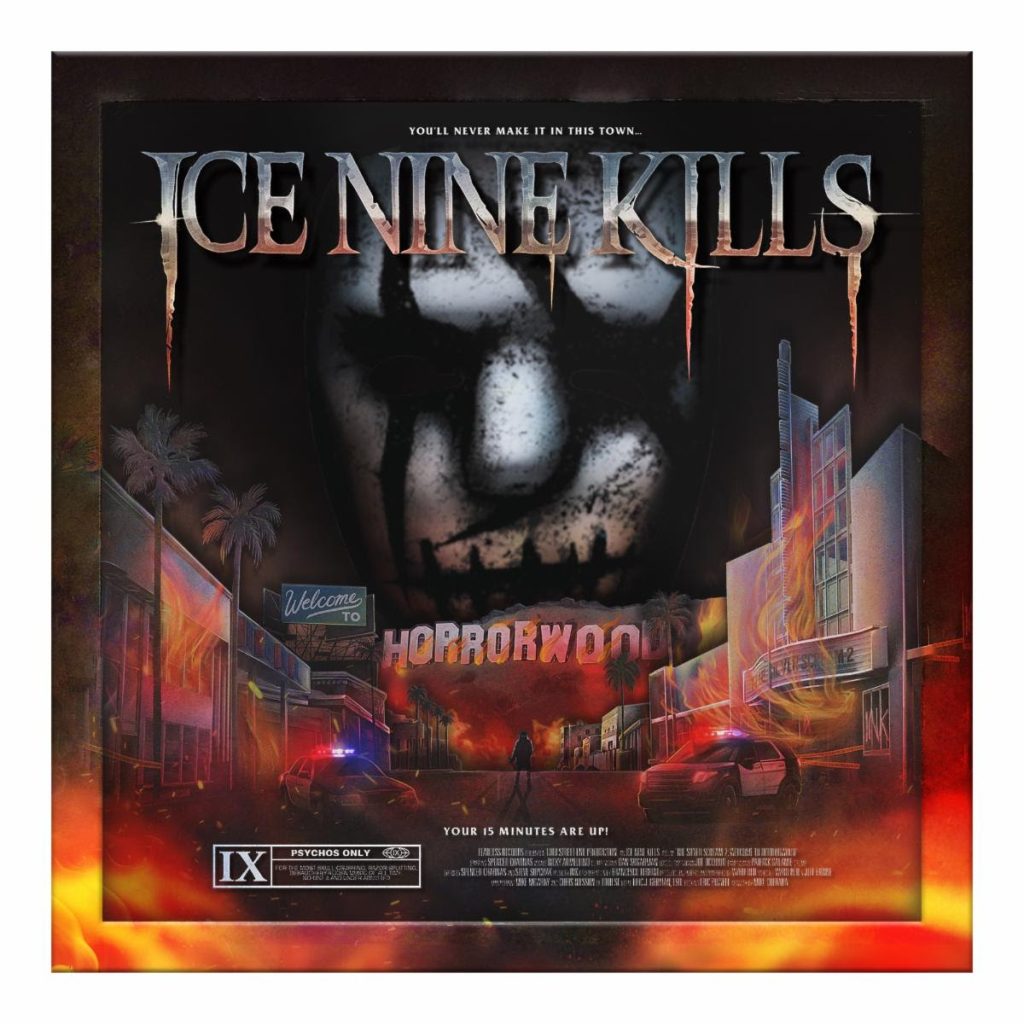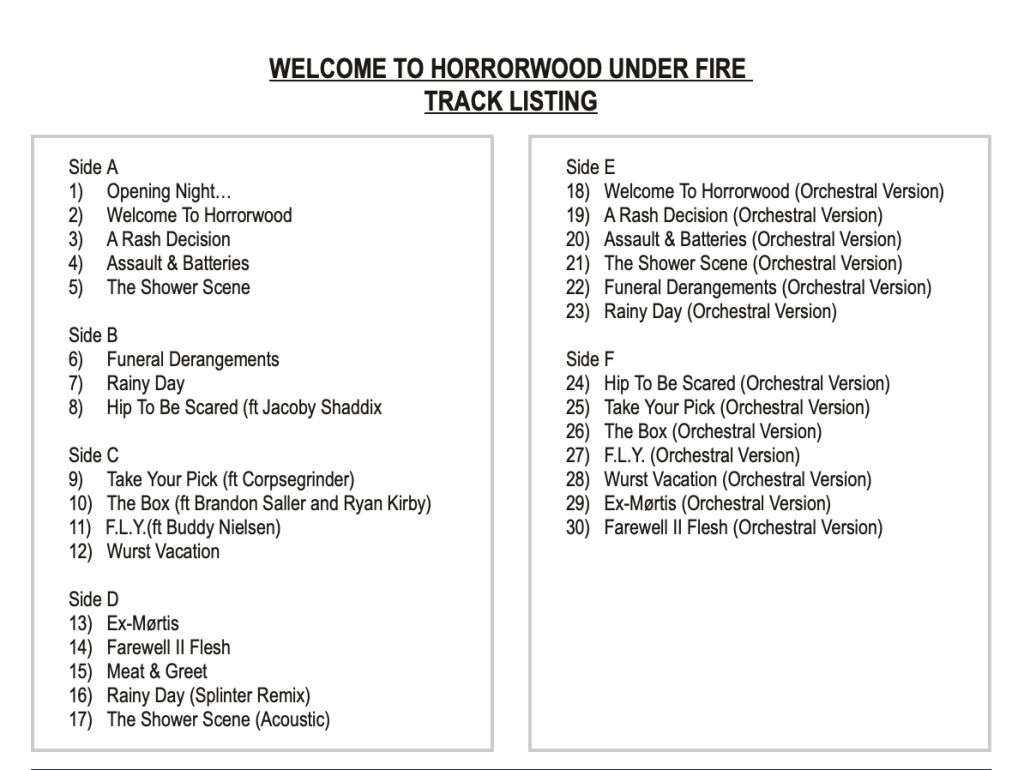 ICE NINE KILLS recently announced that they will end 2023 with a freshly sharpened ice pick through the temple, as they co-headline the Kiss Of Death Tour with In This Moment and support from Avatar and New Year's Day. The 18-date US run will top off an incredible 18 months of touring for ICE NINE KILLS, which has included three sold-out legs of the enormously popular triple co-headline 'Trinity of Terror' tour with Motionless In White and Black Veil Brides, a plethora of headline shows across the US and Europe, multiple festival performances around the world, a US run with Falling In Reverse on their Popular Monstour tour and huge support slots for metal behemoths such as Metallica and Slipknot. Not to mention the release of The Silver Screamnovel – the only book with a comprehensive exploration inside the mind of America's notorious, celluloid-obsessed, rock star turned cinema-copycat murderer, Spencer Charnas, written by Bayonet Award–winning television reporter Roy Merkin.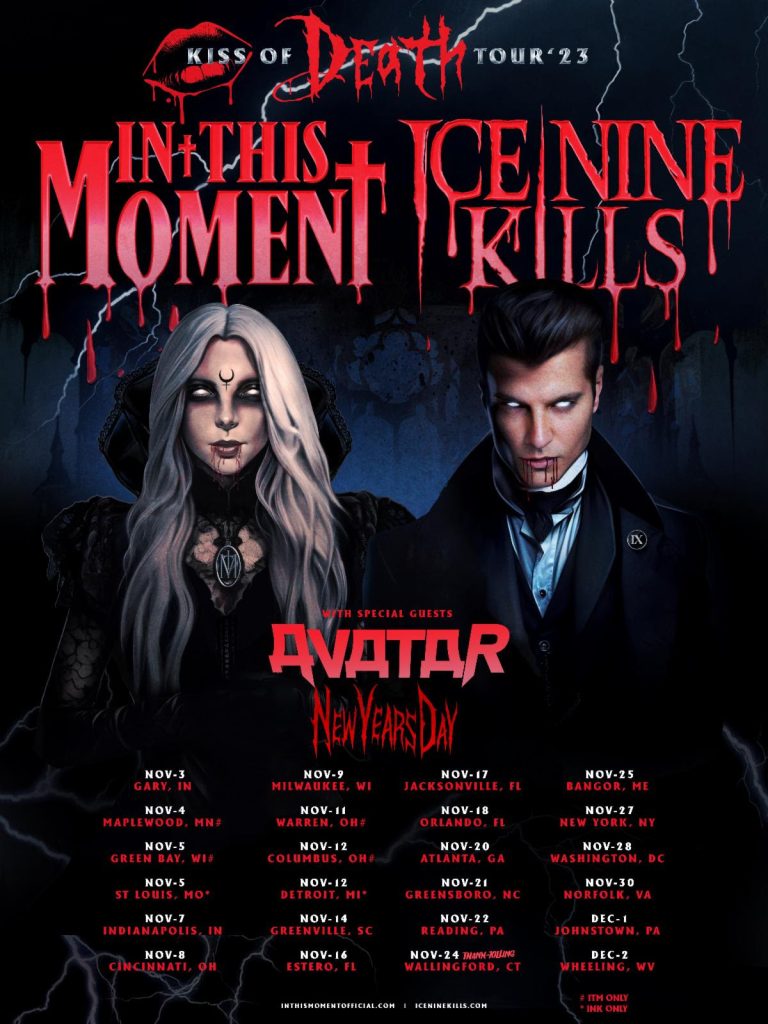 The Kiss of Death Tour
Co-Headlined By Ice Nine Kills and In This Moment
With Avatar and New Years Day
Fri/Nov-3 Gary, IN Hard Rock Live Northern Indiana
Sat/Nov 5 – St Louis, MO @ Dome At America's Center*
Tue/Nov-7 Indianapolis, IN Blue Ribbon Pavilion (Indiana Fairgrounds)
Wed/Nov-8 Cincinnati, OH The Andrew J Brady Music Center
Thu/Nov-9 Milwaukee, WI Eagles Ballroom
Sun/Nov 12- Detroit @ Ford Field *
Tue/Nov-14 Greenville, SC Bon Secours Arena
Thu/Nov-16 Estero, FL Hertz Arena
Fri/Nov-17 Jacksonville, FL Daily's Place
Sat/Nov-18 Orlando, FL Orlando Amphitheater
Mon/Nov-20 Atlanta, GA Coca-Cola Roxy
Tue/Nov-21 Greensboro, NC Greensboro Coliseum Complex
Wed/Nov-22 Reading, PA Santander Arena
Fri/Nov-24 Wallingford, CT Oakdale Theatre
Sat/Nov-25 Bangor, ME Cross Insurance Center
Tue/Nov-28 Washington, DC The Anthem
Thu/Nov-30 Norfolk, VA Chartway Arena
Fri/Dec-1 Johnstown, PA 1st Summit Arena
Sat/Dec-2 Wheeling, WV Wesbanco Arena
* Ice Nine Kills only w/ Metallica
Find your tickets all remaining ICE NINE KILLS shows by visiting iceninekills.com/#tour
The nightmare continues as these murdersome metal trailblazers prepare to unleash the most epic episode of the Silver Scream saga yet.