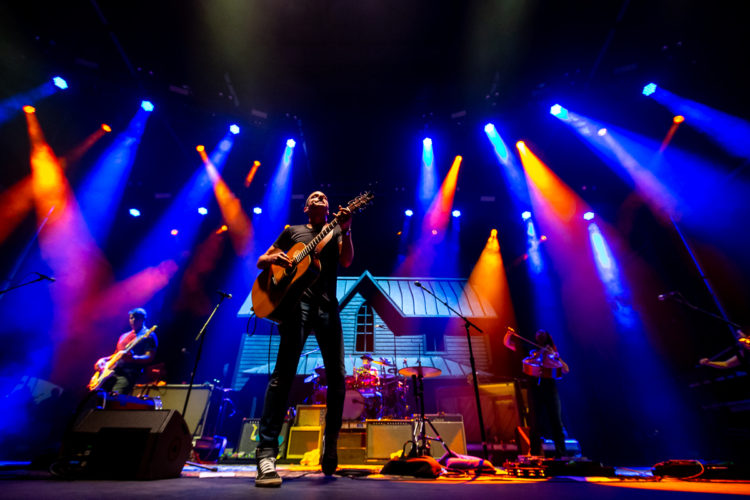 Forecastle Festival
July 12-14, 2019
Louisville, Kentucky
Review by Belinda Vasquez
Photos by Tony Vasquez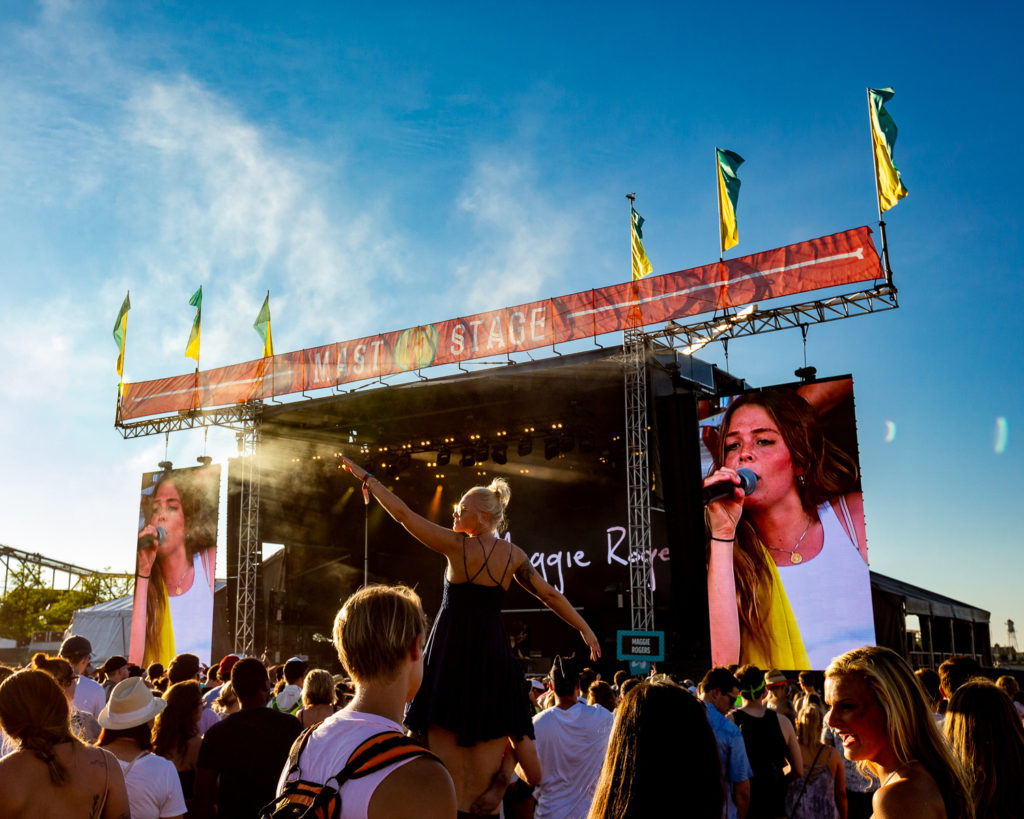 A summer time staple for past few years has been to visit Louisville, Kentucky's Forecastle Festival. Now in its 18thyear, the music festival boasts an incredibly diverse musical lineup meshing up Americana, EDM, hip-hop, pop, and rock for the festivalgoer's to experience.  
Friday's lineup was kicked off with The Mattson 2 on the Boom Stage. The identical twin's connection on stage was present in their laidback improvisational performance. The WFPK Port Stage featured many great artists throughout the three-day including The Artisanals whose high-energy rock songs set the tone for the acts to come all weekend on the stage.  The two frontwomen of Lucius have always been a treat to witness live. They certainly didn't disappoint with their intoxicating harmonies and stunning wardrobe. Other mentionable sets on the first day were the performances by the flashy electrofunk duo Chromeo, Portugal. The Man, Liz Cooper & The Stampede, and Jungle whose funky rhythms and smooth vocals had the crowd dancing under the overpass on the Ocean Stage.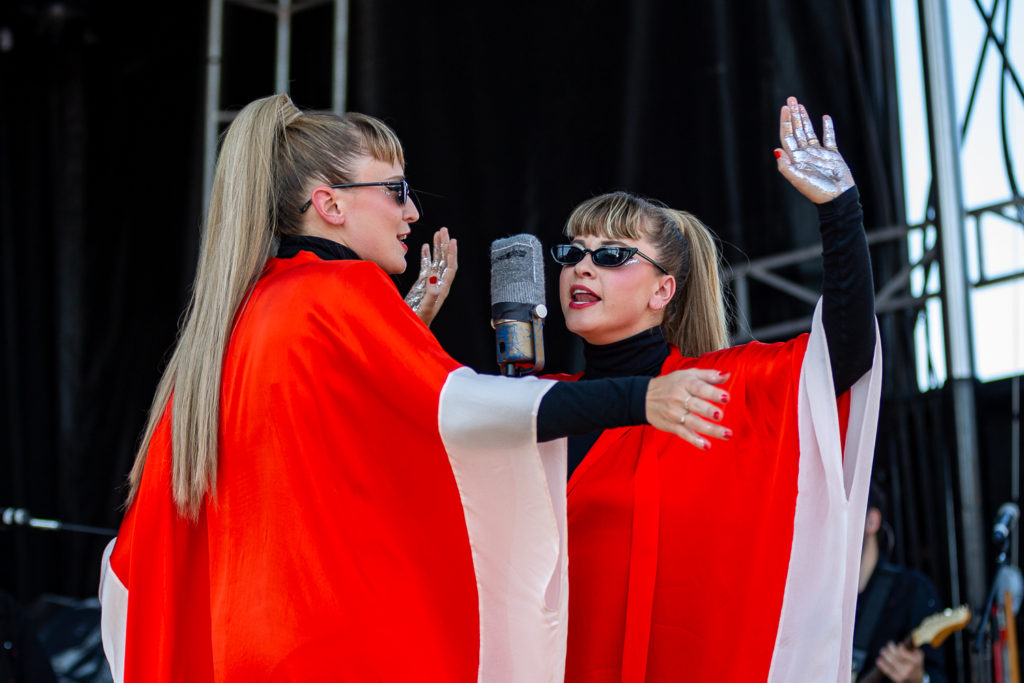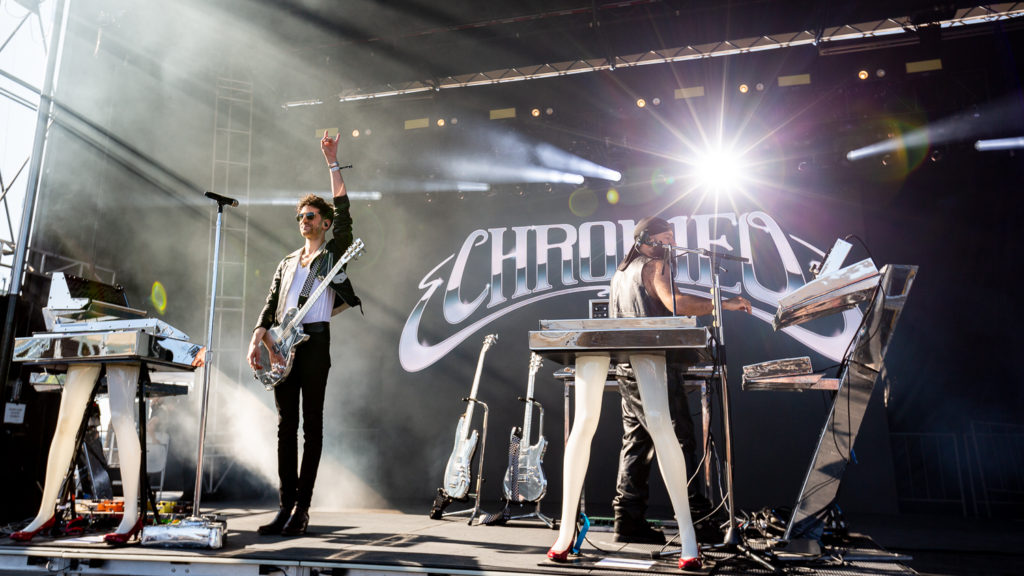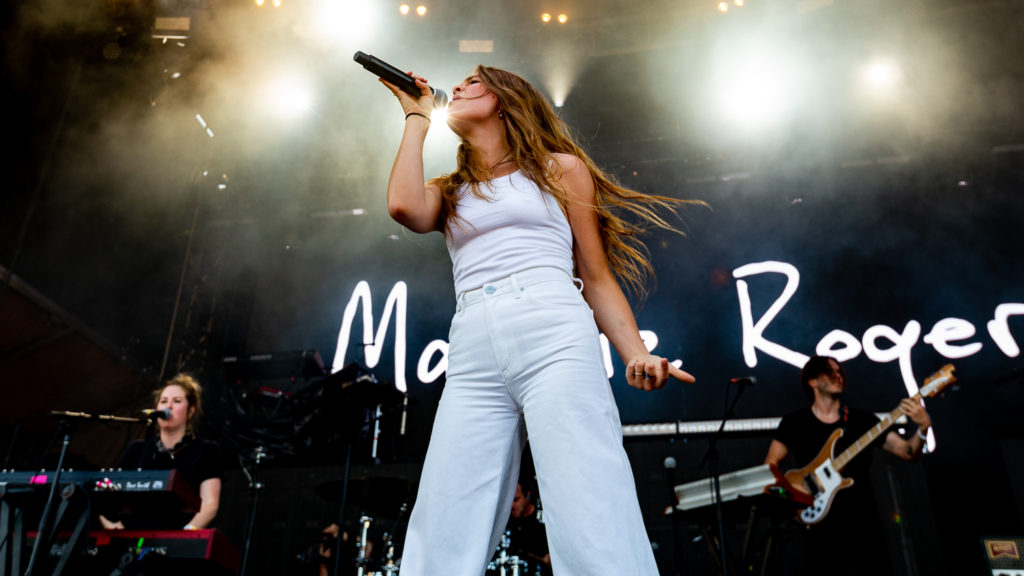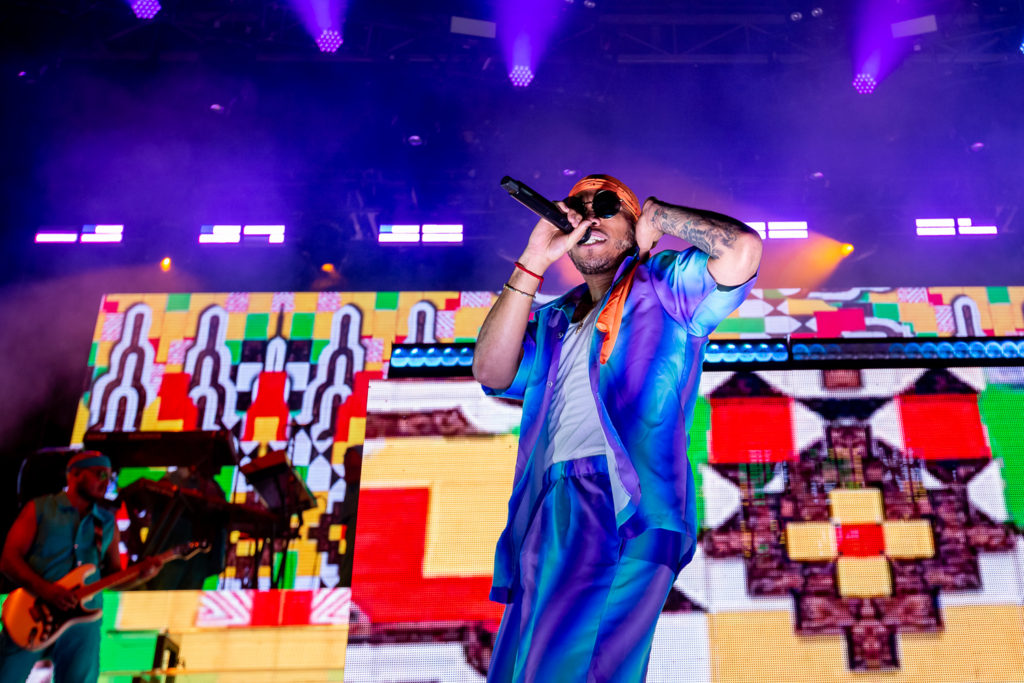 Catching PJ Morton'sset on the Mast Stage on Saturday was like a flashback to the vibes of Motown. The Los Angeles based The Marias were a pleasant escape from the heat over on the Ocean Stage with dreamy vocals on songs likes "Cariño," and "Only in My Dreams." Both Maggie Rogers and Anderson .Paak & The Free Nationals delivered the top-notch performances of the second day.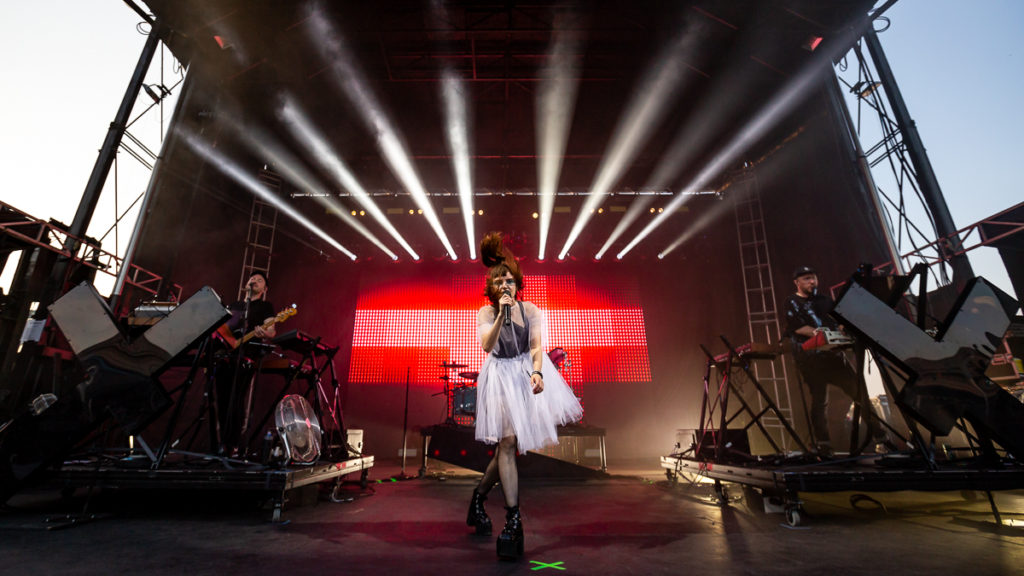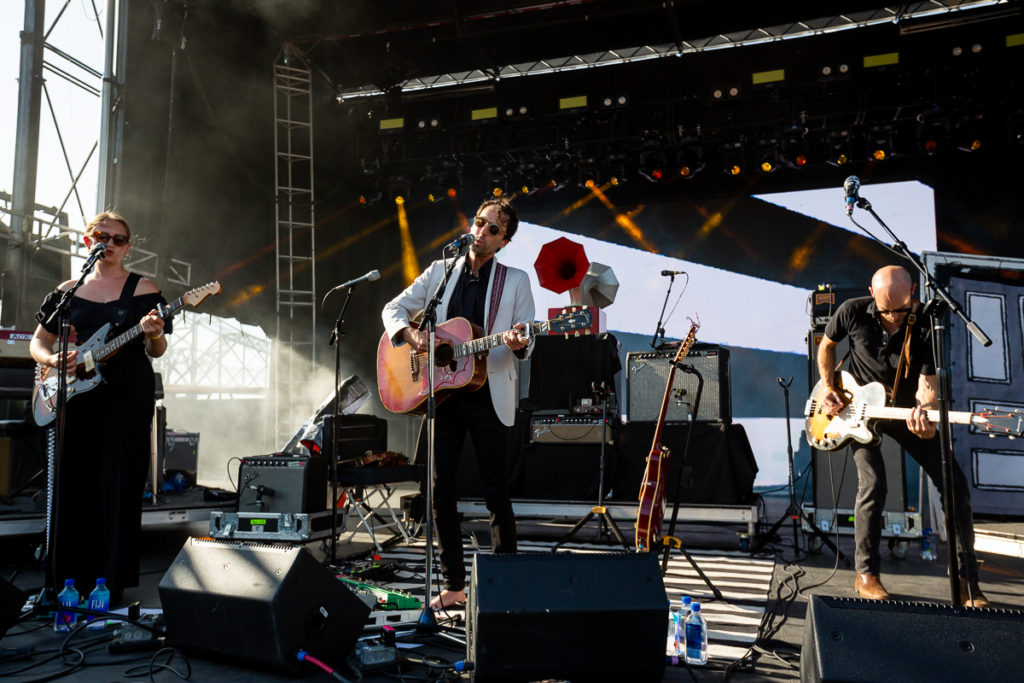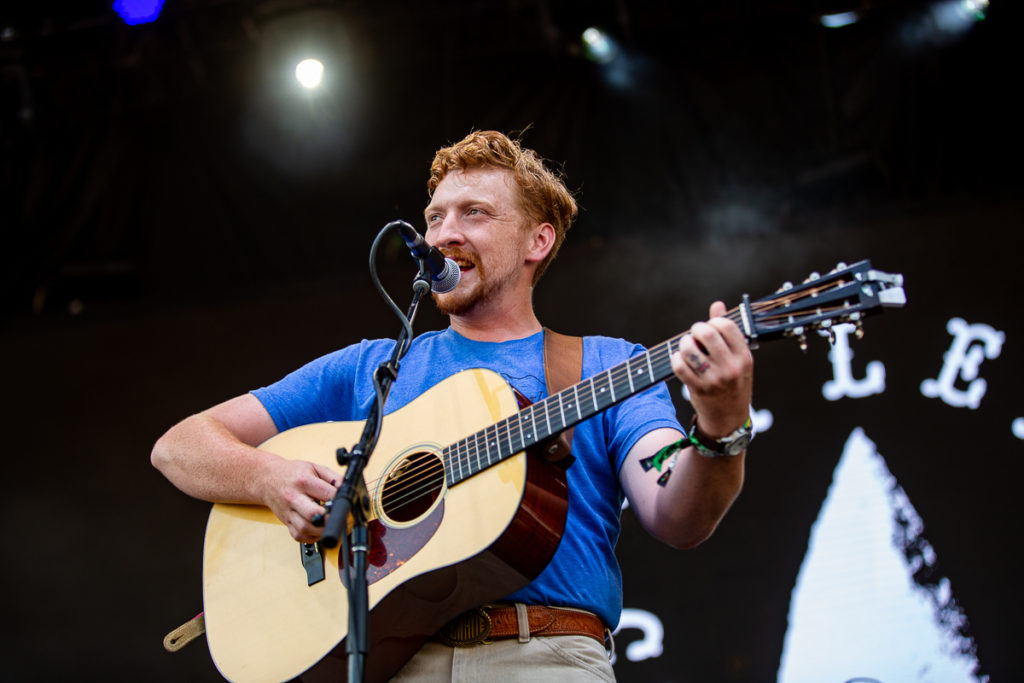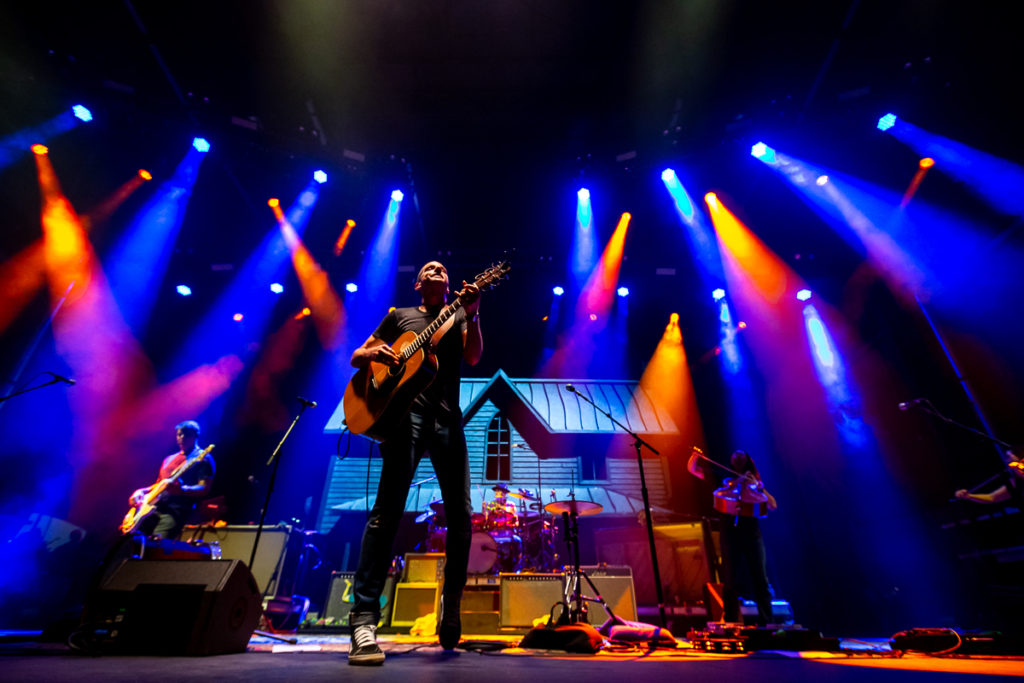 The indie-rock trio from New York City, Sunflower Bean, kicked off Sunday on the Mast Stage with singer/guitarist Nick Kivlen and singer/bassist Julia Cumming trading vocals while drummer Jacob Faber held down the beat. Mt. Joy, Anderson East, CHVRCHES, and Andrew Bird all had impressive sets over on the Boom Stage. Andrew Bird's performance of "Bloodless" was flawless despite the blazing hot temps. LETTUCE brought the junk over on the Ocean Stage while Tyler Childers provided the southern country vibe on the Mast Stage. Closing out the day and the festival was The Avett Brothers, who are no strangers to Forecastle. They were a perfect ending to the weekend on the Waterfront Park., until next year Forecastle.  
The Mattson 2 on the Boom Stage at Forecastle Festival 2019. Photo by Tony Vasquez.

The Artisanals on the WFPK Port Stage at Forecastle Festival 2019. Photo by Tony Vasquez.

The Band CAMINO on the Boom Stage at Forecastle Festival 2019. Photo by Tony Vasquez.

HOP ALONG on the Mast Stage at Forecastle Festival 2019. Photo by Tony Vasquez.

GRLwood on the WFPK Port Stage at Forecastle Festival 2019. Photo by Tony Vasquez.

Lucius on the Boom Stage at Forecastle Festival 2019. Photo by Tony Vasquez.

Lucius on the Boom Stage at Forecastle Festival 2019. Photo by Tony Vasquez.

Cold War Kids on the Mast Stage at Forecastle Festival 2019. Photo by Tony Vasquez.

Cold War Kids on the Mast Stage at Forecastle Festival 2019. Photo by Tony Vasquez.

Julia Jacklin on the WFPK Port Stage at Forecastle Festival 2019. Photo by Tony Vasquez.

Chromeo on the Boom Stage at Forecastle Festival 2019. Photo by Tony Vasquez.

Forecastle Festival 2019. Photo by Tony Vasquez.

Chromeo on the Boom Stage at Forecastle Festival 2019. Photo by Tony Vasquez.

t Forecastle Festival 2019. Photo by Tony Vasquez.

Forecastle Festival 2019. Photo by Tony Vasquez.

Portugal The Man on the Mast Stage at Forecastle Festival 2019. Photo by Tony Vasquez.

Portugal The Man on the Mast Stage at Forecastle Festival 2019. Photo by Tony Vasquez.

Forecastle Festival 2019. Photo by Tony Vasquez.

Liz Cooper & The Stampede on the WFPK Port Stage at Forecastle Festival 2019. Photo by Tony Vasquez.

Judah & The Lion on the Boom Stage at Forecastle Festival 2019. Photo by Tony Vasquez.

Judah & The Lion on the Boom Stage at Forecastle Festival 2019. Photo by Tony Vasquez.

Forecastle Festival 2019. Photo by Tony Vasquez.

Forecastle Festival 2019. Photo by Tony Vasquez.

Jungle on the Ocean Stage at Forecastle Festival 2019. Photo by Tony Vasquez.

Forecastle Festival 2019. Photo by Tony Vasquez.

Forecastle Festival 2019. Photo by Tony Vasquez.

Forecastle Festival 2019. Photo by Tony Vasquez.

Penny and Sparrow on the Boom Stage at Forecastle Festival 2019. Photo by Tony Vasquez

PJ Morton on the Mast Stage at Forecastle Festival 2019. Photo by Tony Vasquez

Forecastle Festival 2019. Photo by Tony Vasquez

Forecastle Festival 2019. Photo by Tony Vasquez

Forecastle Festival 2019. Photo by Tony Vasquez

Forecastle Festival 2019. Photo by Tony Vasquez

Forecastle Festival 2019. Photo by Tony Vasquez

The Marias on the Ocean Stage at Forecastle Festival 2019. Photo by Tony Vasquez

The Marias on the Ocean Stage at Forecastle Festival 2019. Photo by Tony Vasquez

Forecastle Festival 2019. Photo by Tony Vasquez

Smino on the Mast Stage at Forecastle Festival 2019. Photo by Tony Vasquez

Forecastle Festival 2019. Photo by Tony Vasquez

Forecastle Festival 2019. Photo by Tony Vasquez

Chelsea Cutler on the Ocean Stage at Forecastle Festival 2019. Photo by Tony Vasquez

Cautious Clay on the Boom Stage at Forecastle Festival 2019. Photo by Tony Vasquez

Moon Taxi on the Mast Stage at Forecastle Festival 2019. Photo by Tony Vasquez

Forecastle Festival 2019. Photo by Tony Vasquez

Forecastle Festival 2019. Photo by Tony Vasquez

Forecastle Festival 2019. Photo by Tony Vasquez

Forecastle Festival 2019. Photo by Tony Vasquez

Forecastle Festival 2019. Photo by Tony Vasquez

Forecastle Festival 2019. Photo by Tony Vasquez

Israel Nash on the WFPK Port Stage at Forecastle Festival 2019. Photo by Tony Vasquez

Forecastle Festival 2019. Photo by Tony Vasquez

Forecastle Festival 2019. Photo by Tony Vasquez

Forecastle Festival 2019. Photo by Tony Vasquez

Forecastle Festival 2019. Photo by Tony Vasquez

Forecastle Festival 2019. Photo by Tony Vasquez

Forecastle Festival 2019. Photo by Tony Vasquez

Nelly on the Boom at Forecastle Festival 2019. Photo by Tony Vasquez

Nelly on the Boom at Forecastle Festival 2019. Photo by Tony Vasquez

Nelly on the Boom at Forecastle Festival 2019. Photo by Tony Vasquez

Forecastle Festival 2019. Photo by Tony Vasquez

Forecastle Festival 2019. Photo by Tony Vasquez

Forecastle Festival 2019. Photo by Tony Vasquez

Maggie Rogers on the Mast Stage at Forecastle Festival 2019. Photo by Tony Vasquez

Maggie Rogers on the Mast Stage at Forecastle Festival 2019. Photo by Tony Vasquez

Maggie Rogers on the Mast Stage at Forecastle Festival 2019. Photo by Tony Vasquez

Maggie Rogers on the Mast Stage at Forecastle Festival 2019. Photo by Tony Vasquez

Forecastle Festival 2019. Photo by Tony Vasquez

Forecastle Festival 2019. Photo by Tony Vasquez

Forecastle Festival 2019. Photo by Tony Vasquez

Forecastle Festival 2019. Photo by Tony Vasquez

Forecastle Festival 2019. Photo by Tony Vasquez

Midland on the Boom Stage at Forecastle Festival 2019. Photo by Tony Vasquez

Midland on the Boom Stage at Forecastle Festival 2019. Photo by Tony Vasquez

Forecastle Festival 2019. Photo by Tony Vasquez

Anderson Paak & The Free Nationals on the Mast Stage at Forecastle Festival 2019. Photo by Tony Vasquez

Anderson Paak & The Free Nationals on the Mast Stage at Forecastle Festival 2019. Photo by Tony Vasquez

Anderson Paak & The Free Nationals on the Mast Stage at Forecastle Festival 2019. Photo by Tony Vasquez

Anderson Paak & The Free Nationals on the Mast Stage at Forecastle Festival 2019. Photo by Tony Vasquez

Anderson Paak & The Free Nationals on the Mast Stage at Forecastle Festival 2019. Photo by Tony Vasquez

Anderson Paak & The Free Nationals on the Mast Stage at Forecastle Festival 2019. Photo by Tony Vasquez

Anderson Paak & The Free Nationals on the Mast Stage at Forecastle Festival 2019. Photo by Tony Vasquez

Sunflower Bean on the Mast Stage at Forecastle Festival 2019. Photo by Tony Vasquez

Sunflower Bean on the Mast Stage at Forecastle Festival 2019. Photo by Tony Vasquez

Mt. Joy on the Boom Stage at Forecastle Festival 2019. Photo by Tony Vasquez

Mt. Joy on the Boom Stage at Forecastle Festival 2019. Photo by Tony Vasquez

Johnny Swim on the Mast Stage at Forecastle Festival 2019. Photo by Tony Vasquez

Johnny Swim on the Mast Stage at Forecastle Festival 2019. Photo by Tony Vasquez

Carly Johnson on the WFPK Port Stage at Forecastle Festival 2019. Photo by Tony Vasquez

Mt. Joy on the Boom Stage at Forecastle Festival 2019. Photo by Tony Vasquez

Forecastle Festival 2019. Photo by Tony Vasquez

Anderson East on the Boom Stage at Forecastle Festival 2019. Photo by Tony Vasquez

Anderson East on the Boom Stage at Forecastle Festival 2019. Photo by Tony Vasquez

Anderson East on the Boom Stage at Forecastle Festival 2019. Photo by Tony Vasquez

Forecastle Festival 2019. Photo by Tony Vasquez

Forecastle Festival 2019. Photo by Tony Vasquez

Forecastle Festival 2019. Photo by Tony Vasquez

Forecastle Festival 2019. Photo by Tony Vasquez

Forecastle Festival 2019. Photo by Tony Vasquez

Forecastle Festival 2019. Photo by Tony Vasquez

Dawes on the Mast Stage at Forecastle Festival 2019. Photo by Tony Vasquez

Dawes on the Mast Stage at Forecastle Festival 2019. Photo by Tony Vasquez

Ruen Brothers on the WFPK Port Stage at Forecastle Festival 2019. Photo by Tony Vasquez

OVOOG with DJ GetWright in the Party Cove at Forecastle Festival 2019. Photo by Tony Vasquez

OVOOG with DJ GetWright in the Party Cove at Forecastle Festival 2019. Photo by Tony Vasquez

OVOOG with DJ GetWright in the Party Cove at Forecastle Festival 2019. Photo by Tony Vasquez

Andrew Bird on the Boom Stage at Forecastle Festival 2019. Photo by Tony Vasquez

Andrew Bird on the Boom Stage at Forecastle Festival 2019. Photo by Tony Vasquez

Andrew Bird on the Boom Stage at Forecastle Festival 2019. Photo by Tony Vasquez

Andrew Bird on the Boom Stage at Forecastle Festival 2019. Photo by Tony Vasquez

Andrew Bird on the Boom Stage at Forecastle Festival 2019. Photo by Tony Vasquez

Tyler Childers on the Mast Stage at Forecastle Festival 2019. Photo by Tony Vasquez

Tyler Childers on the Mast Stage at Forecastle Festival 2019. Photo by Tony Vasquez

Tyler Childers on the Mast Stage at Forecastle Festival 2019. Photo by Tony Vasquez

BoA on the WFPK Port Stage at Forecastle Festival 2019. Photo by Tony Vasquez

BoA on the WFPK Port Stage at Forecastle Festival 2019. Photo by Tony Vasquez

Forecastle Festival 2019. Photo by Tony Vasquez

Chvrches on the Boom Stage at Forecastle Festival 2019. Photo by Tony Vasquez

Chvrches on the Boom Stage at Forecastle Festival 2019. Photo by Tony Vasquez

Chvrches on the Boom Stage at Forecastle Festival 2019. Photo by Tony Vasquez

Chvrches on the Boom Stage at Forecastle Festival 2019. Photo by Tony Vasquez

Chvrches on the Boom Stage at Forecastle Festival 2019. Photo by Tony Vasquez

Chvrches on the Boom Stage at Forecastle Festival 2019. Photo by Tony Vasquez

Chvrches on the Boom Stage at Forecastle Festival 2019. Photo by Tony Vasquez

Lettuce on the Ocean Stage at Forecastle Festival 2019. Photo by Tony Vasquez

Lettuce on the Ocean Stage at Forecastle Festival 2019. Photo by Tony Vasquez

Forecastle Festival 2019. Photo by Tony Vasquez

Forecastle Festival 2019. Photo by Tony Vasquez

The Avett Brothers on the Mast Stage at Forecastle Festival 2019. Photo by Tony Vasquez

The Avett Brothers on the Mast Stage at Forecastle Festival 2019. Photo by Tony Vasquez

The Avett Brothers on the Mast Stage at Forecastle Festival 2019. Photo by Tony Vasquez

The Avett Brothers on the Mast Stage at Forecastle Festival 2019. Photo by Tony Vasquez

The Avett Brothers on the Mast Stage at Forecastle Festival 2019. Photo by Tony Vasquez

The Avett Brothers on the Mast Stage at Forecastle Festival 2019. Photo by Tony Vasquez