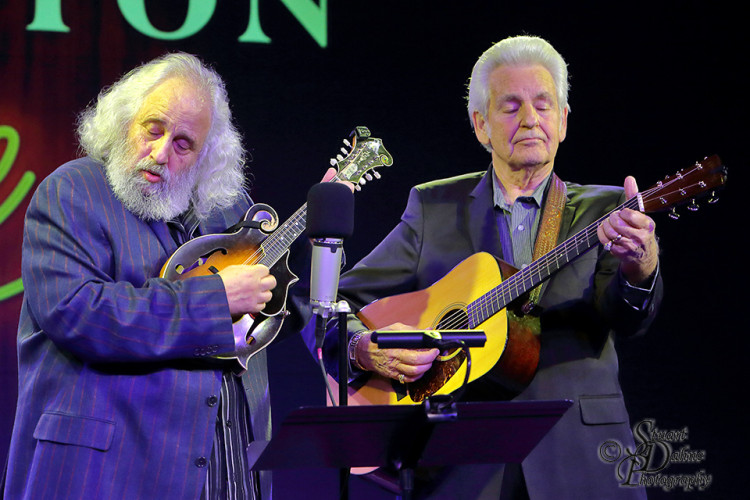 A Friendship, A Relationship, A 50 Year Journey of Two Musical Legends
Del McCoury & David Grisman
Del & Dawg
A Friendship, A Relationship, A 50 Year Journey of Two Musical Legends
It was 1963 and Del McCoury was playing His first show with the legendary Bill Monroe at New York University in Greenwich Village. Del was playing the banjo but that is a story all of it's own. This, however, is where Del McCoury met David Grisman for the very first time! Three years later, Del & Dawg played their first gig together in Troy, NY at the Rensselaer Polytechnic Institute. Shortly after this they both were blessed with the arrival of first-born sons, Monroe Grisman and Ronnie McCoury, within a month of each other. Through the years they have remained great friends and have played many shows together and released several albums as well.
Last night, nearly 50 years from that first show in the spring of 1966, Del & Dawg came to The Hamilton Live in our Nation's Capital to not only blow the roof off with some amazing bluegrass music but to remind us of what is really important in life…. Music, Laughter, and that all important Relationship of Good Friends!
Del & Dawg came out on the stage with a smile and performed a captivating show that was a pleasure to listen to as well as watch! It was obvious how much fun they were having together however what was really obvious was the mutual respect that they each have for one another! 50 years of a path that led apart and back together again many times, a relationship that continues to grow, a friendship!
I could not think of a better setting than The Hamilton Live, 600 14th Street, N.W. Washington, DC to enjoy this performance! Again I give kudos to The Hamilton and all of their staff! They are always pleasant and helpful which adds to the enjoyment of the evening!
Thank You Hamilton Staff, Thank You Del & Dawg!
Del & Dawg ~ 11-15-2015 ~ The Hamilton Live, Wash. D.C.
Unwanted Love
Honky Tonk Angeles
East Virginia Blues
G – Run Blues
Dark Hollow
Salt Creek >
Devils Breakdown >
Shenandoah
Toy Heart
Snow Dove
Country Boy Rock & Roll
Man of Constant Sorrow
I'm My Own Grandpa
Tennessee Waltz
Del & Dawg
Ridin' That New River Train
encore: Blessed Savior