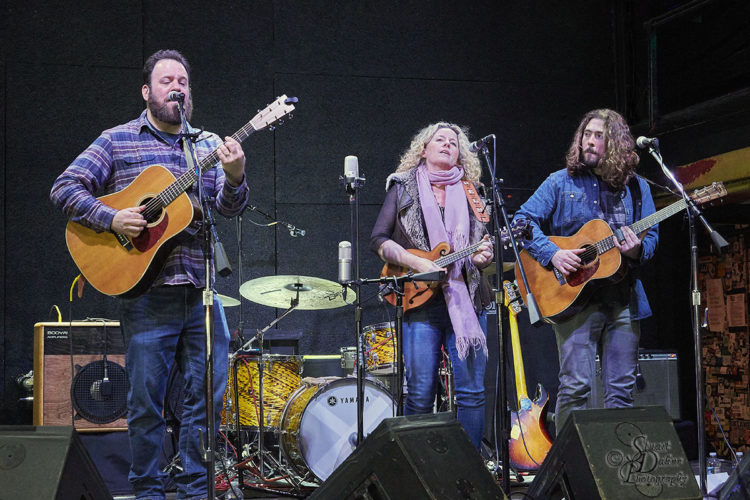 2nd Annual Winter Jam from The 8×10 in Baltimore, Md.
Mothers Restaurant, 1113 S Charles St, Baltimore, MD 21230, presents the 2nd Annual Winter Jam with Cris Jacobs and special guests Amy Helm (night 1)
It may have been only 8 degrees outside but it was HOT as could be inside The 8×10 in Baltimore, Md.
If you don't know the Cris Jacobs band I highly recommend that you pay attention now. The Cris Jacobs band featuring Cris Jacobs on guitar and vocals, Dusty Ray Simmons on drums, Todd Herrington on the base, and Jonathan Sloan on guitar & vocals, are absolutely winning their way into the hearts of music lovers everywhere and across many genres as well. In 2011 Cris Jacobs went off on his own from the Baltimore based band "The Bridge" to begin an entirely new venture. In October of 2016 Cris released the solo album "Dust to Gold" which almost immediately took off and led to Rolling Stone Country magazine saying that Cris Jacobs was one of the top 10 musicians to watch in 2017. Over the years I have heard and  photograph Cris Jacobs many times and I feel like each time that I see the band it is better than the last. Winter Jam was two nights at the 8×10 Club in Baltimore Maryland. The first night the band welcomed Amy Helm, Levon Helm's daughter, to share the stage. The night started off with an acoustic set beginning with Tom Petty's "Time to Move On" with Amy's beautiful voice and some awesome harmonies. Next, without any real introduction other than; "I think that you know this one", they moved into The Band's "Ophelia" and we in the audience knew immediately that this was going to be a very special night! Next up was Prince's "Nothing Compares 2 You" (which was made popular by Sinead O'Conner) and performed perfectly by Cris, Amy, and Jonathan!  Just when you thought you knew the direction that they were heading … in comes a curve ball as they reach back to a gospel blues song recorded by Blind Willie Johnson in 1930 called "The Soul of a Man". At this point the audience was near silent and LOVING every note. Next was the first Cris Jacobs original titled "Be My Stars" from the 2012 release "Songs for Cats and Dogs" which was followed by an Amy Helm original called "Deep Water". Deep water is a really pretty, slow, and quite song and the audience was just mesmerized! After this it seem perfectly appropriate to bring up Dusty Ray Simmons on drums and Todd Herrington on bass to play Bob Dylan's "When I Paint My Masterpiece". This was followed by "The Band's" version of Bruce Springsteen's "Atlantic City" and then the acoustic set ended with "Ain't That Good News" by Sam Cooke!
Sets II & III were high energy rockers with a wonderful mix of originals and covers. Set II started of with The Cris Jacobs Band playing "Shine Your Weary Light" from their most recent album "Dust to Gold"! The band then jammed through a myriad of songs, mostly originals with a few covers thrown in. They were tight and on time with each note that they played and the crowd was just groovin' along! After a short break Amy Helm returned to the stage and quickly got everyones attention with a soulful version of Sister Rosetta Tharpe's "Didn't it Rain" only to be followed by Dave Mason's "Only You Know & I Know"!!!! What a fun night! The set continued like a roller coaster ride… up and down, twist and turn, through all kinds of fabulous music culminating with a fantastic encore of The Grateful Dead's "Brokedown Palace" and ending with Allen Toussaint's oh so appropriate "Yes We Can"!
Now is the time for all good men
To get together with one another
Iron out the problems
And iron out the quarrels
And try to live as brothers
And try to find a piece within
Without stepping on one another
And do respect the women of the world
Just remember we all had mothers
Make this land a better land
In the world in which we live
And help each man be a better man
With the kindness that you give!
"With the kindness that you give" I would like to say a BIG THANK YOU to Dave Rather from Mothers Federal Hill for putting this show together and a huge thank you to Abigail Janssens and the entire 8×10 staff for making this night so wonderful!
piece by Stuart Dahne