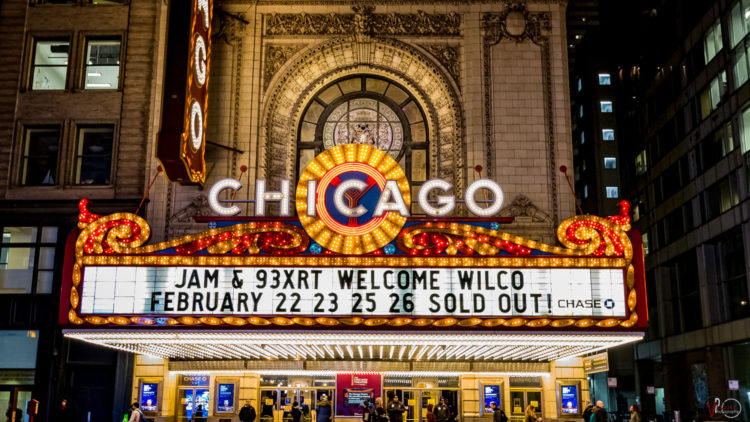 Wilco Winterlude at The Chicago Theatre
Wilco
Schmilco World Tour
XRT Presents
Wilco Winterlude at The Chicago Theatre
Chicago, Illinois
February 23, 2017
It may have been a rainy Thursday night in Chicago, but that wasn't going to dampen Wilco's second night of a four-night run at the historic Chicago Theatre. The Wilco Winterlude marks their first appearances since last year's European tour.
The night opens with Normal American Kids, If I Ever Was a Child, and Cry All Day, all three opening numbers coming from their latest album Schmilco. A Wilco concert would not be complete without some humorous banter coming from lead singer, Jeff Tweedy. His take on how to actually pronounce the new album with disdain was classic. The setlist from the second night was a good mixture of the band's deep catalogue.
Tweedy's vocals on At Least That's What You Said and Resverations were clear and crisp in the historic in the theatre. Witnessing Nels Cline performing in concert is always a treat. Even Tweedy had to tip his hat to Mr Cline after his shredding performance on Impossible Germany. There were several beautiful moments when the songs along with stage lighting added to the emotional impact of the songs. Theologians sounded fresh with the added fuzzy in Tweedy's guitar.
On the band's final encore, they came out and played an epic version Spiders (Kidsmoke). Jeff got the crowd to participate by singing along to his guitar part South American style.  It was a great finish to the night.
The Winterlude's Saturday and Sunday nights are already sold out but, the band will be busy this year supporting their latest release Schmilco. With upcoming appearances at the Big Ears Festival, New Orleans Jazz & Heritage Festival, Eau Claire, and their own festival at Mass MoCA Solid Sound Festival in June. More info can be found here: Wilco Tour
Setlist: Normal American Kids, If I Ever Was a Child, Cry All Day, Radio Cure, Company in My Back, The Joke Explained, Misunderstood, Someone to Lose, At Least That's What You Said, Reservations, Impossible Germany, Either Way, We Aren't the World (Safety Girl), Forget the Flowers, Jesus, Etc., Locator, Dawned on Me, Theologians, I'm the Man Who Loves You, Hummingbird, The Late Greats,
Encore: War on War, Pickled Ginger, Red-Eyed and Blue, I Got You (At the End of the Century), Outtasite (Outta Mind)
Encore 2: Spiders (Kidsmoke)