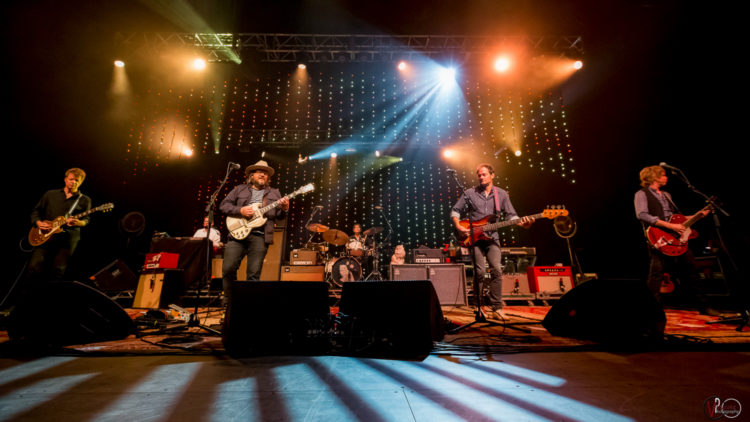 Wilco at The Fantastic Fox
Wilco
William Tyler
Wednesday, August 17, 2016
The Fabulous Fox Theatre, St. Louis, Missouri
Review by: Belinda Vasquez
Photographs by: Tony Vasquez of Vasquez Photography
Full Photo Galleries:
Wednesday night at the Fabulous Fox Theatre in St. Louis, Missouri, and the full house was filled with positive vibes as everyone was anticipating a special night. Looking around the beautiful ornate lobby one could see various past Wilco tour t-shirts spanning the band's history.
William Tyler opened the night of music with material coming from his fourth full-length album 'Modern Country.' The trio played a short but mesmerizing melodic set. His backing members included Darin Gray on bass and Joe Westerlund on drums. Tyler called the songs "an adventure in instrumental Nashville." Before the band wrapped up their set Tyler thanked Wilco for the opportunity to tour with them and for being inspiring and amazing.
Jeff Tweedy a Belleville, IL native mentioned, "I never lived in St. Louis. But I worked here. Not very hard." The St. Louis crowd erupted with cheers, as he was referring to his days of working at Euclid Records. Which earlier in the day, the band had played a small acoustic set for some lucky fans who had pre-order the band's upcoming release "Schmilco."
The band started off the night with the first three songs all coming from the album "Star Wars." The set list for the rest of the night displayed the bands talent and range as it covered the band's entire 20 plus year history. Including two new songs "If I Ever Was a Child" and "Nope," which was dedicated to his father and hadn't been previously been heard before.
Some standout moments from the night included "Via Chicago." The song began with a spotlight on Tweedy, and as the song built up to when Glenn Kothce played his epic drum fills the stage exploded with color and light. The crowd roared with exuberant approval. The band crushed the song "Art of Almost" with an epic light show that was beautifully choreographed by light-man, Jeremy Roth. Nels Cline displayed his epic solo skills on several songs including "Impossible Germany."
The night was capped off with a special acoustic encore, which included the Uncle Tueplo Cover of "We've Been Had," and the John Stiratt written "It's Just That Simple."
The band is on tour this fall in support of the upcoming new release next month. For more info check out there website at: Wilco Tour
Setlist:
More
Random Name Generator
The Joke Explained
I Am Trying to Break Your Heart
Art of Almost
Pickled Ginger
Hummingbird
Handshake Drugs
Cold Slope
King of You
Via Chicago
Spiders (Kidsmoke)
Jesus, Etc.
If I Ever Was a Child
Nope (Live Debut)
Box Full of Letters
Heavy Metal Drummer
I'm the Man Who Loves You
Impossible Germany
The Late Greats
Acoustic Encore
Misunderstood
It's Just That Simple
We've Benn Had (Uncle Tupelo cover)
Casino Queen
I'm Always in Love
California Stars
A Shot in the Arm