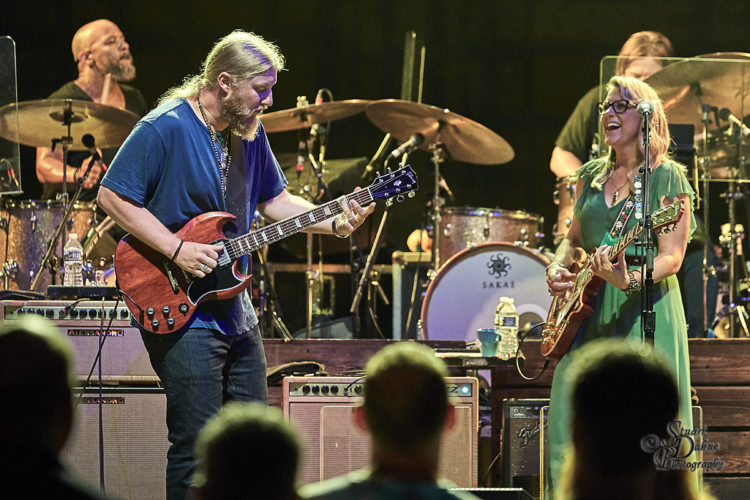 Wheels of Soul Tour 07-05-2017 Wolf Trap, Vienna Va.
Wheels of Soul Tour 07-05-2017 Wolf Trap, Vienna Va.
Hot Tuna ~ The Wood Brothers ~ Tedeshi Trucks Band
We arrived at Wolf Trap to be greeted by some of the kindest Park Police that you'd ever want to meet and that set the tone for what was about to be an amazing evening of great vibes and great music!
Jorma Kaukonen said: "What an honor to be playing with Susan & Derek and The Wood Brothers"!
Oliver Wood said: "Every night is just a little bit different, that's pretty magical and inspiring to us"!
These comments, made by the musicians themselves, speaks volumes about what the audience had the pleasure to experience. The show began with Hot Tuna playing a rocking 7 song opener to get everyone's blood flowing.
01. Ain't In No Hurry
I See The Light
Day To Day Out The Window Blues
I Can't Be Satisfied
Roads And Roads And
Bowlegged Woman, Knock-Kneed Man
Hit Single #1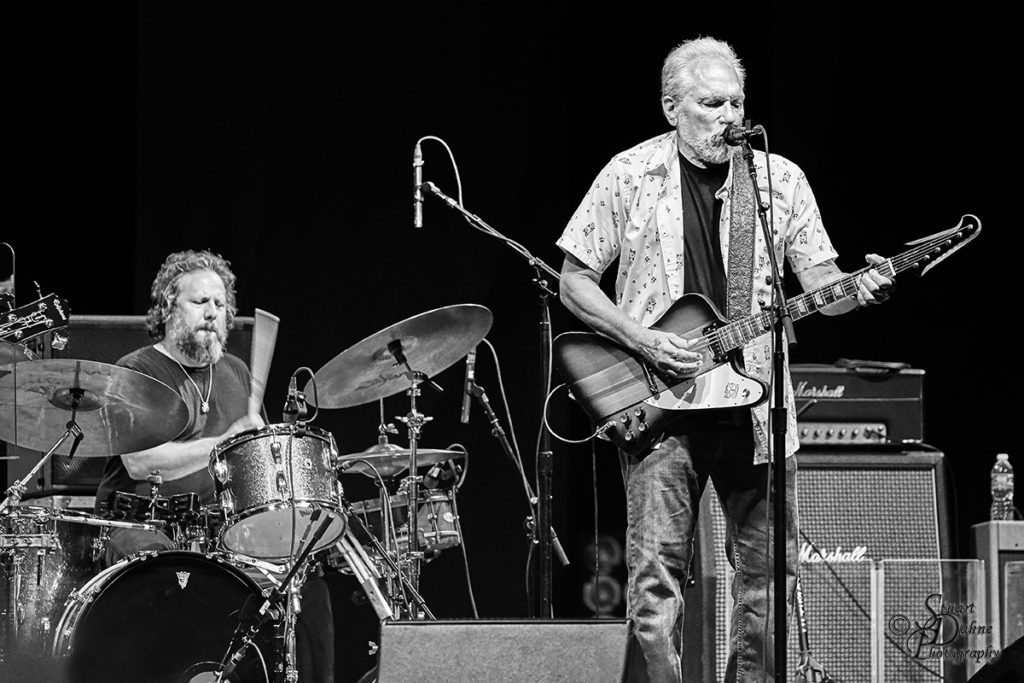 This was basically a hometown show for Jorma and Jack and that, in and of itself, adds to the positive vibe of their performance. However, it was obvious by all of the musician's interactive smiles throughout the evening, that this vibe was way deeper than just a homecoming!
Jorma's playing and singing were right on point. The fans' expectations were exceeded by his vocals and precise and awesome guitar work. Then there is Justin Guip on drums. Justin's drum skills were not only there to keep the tempo, they really added to the excitement of the performance.
And then we come to Jack Casady, consistently one of the best dressed bass players to ever come out of the San Francisco scene! Jack's decisive bass came through at all of the crucial moments, rhythmically and harmonically, to solidify the musical marriage of this entire project! The energy of these three musicians on stage was just electrifying!
Next Up ~ The Wood Brothers
Oliver Wood – Guitar and Vocals, Chris Wood – Bass and Vocals, and Jano Rix – Drums, vocals (and anything else that makes noise)
Keep Me Around
Shoofly Pie
Sing About It
Payday
One More Day
Spirit
Postcards From Hell
Honey Jar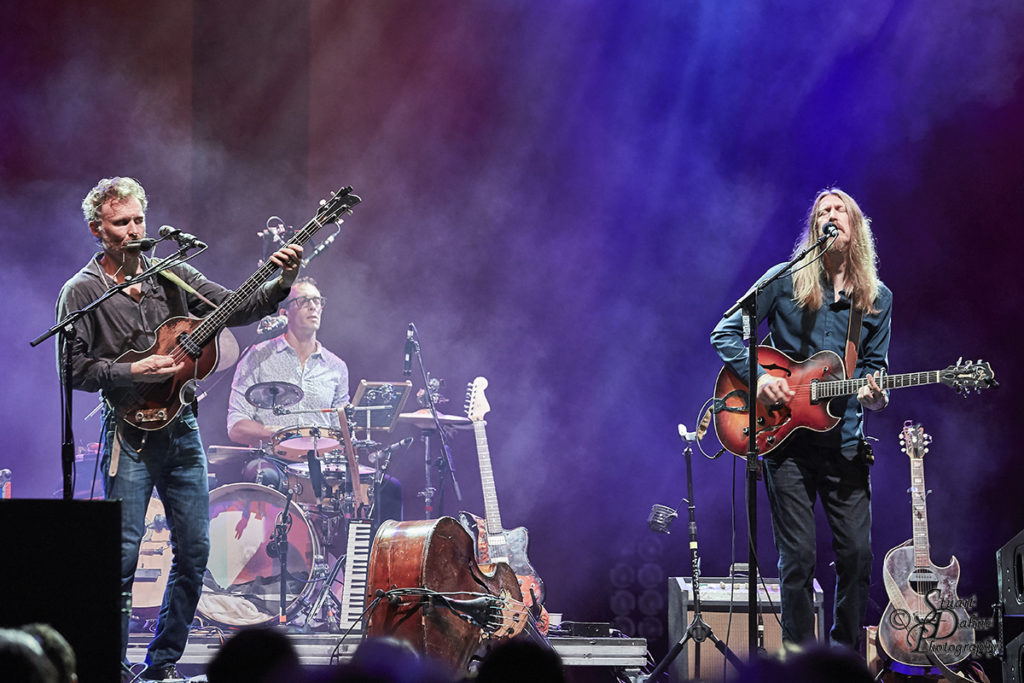 Often called "The Masters of Soulful Folk" there is no question in my mind why Derek & Susan chose The Wood Brothers to join them on "The Wheels of Soul" tour! For over a decade Chris and Oliver Wood played very different music, in very different bands, and as a result of that, they did not see each other much at all! Chris was playing Jazz and Exploratory Music with Medeski, Martin, and Wood. Oscar was performing with Tinsley Ellis, while also writing songs and performing in his own band King Johnson. In 2005, Oscar was invited to sit in with his brother in Medeski, Martin, and Wood. After that show they both knew that they needed to be playing music together. In 2006 they released their 1st album "Ways Not to Lose" and they have been winning ever since! Their charismatic presence and chemistry is sure to captivate you.  It certainly captivated the Wolf Trap audience and really set the stage for the Tedeschi Trucks Band to come on next!
It was only a short 7 years ago that the Tedeschi Trucks Band was formed and 8 of the 11 original band members are still in the band today! Today the band consist of:
Susan Tedeschi – lead vocals, rhythm and lead guitar (2010–present)
Derek Trucks – lead guitar (2010–present)
Kofi Burbridge – keyboards, flute (2010–present)
Tyler Greenwell – drums, percussion (2010–present)
J. Johnson – drums, percussion (2010–present)
Mike Mattison – harmony vocals (2010–present)
Mark Rivers – harmony vocals (2010–present)
Kebbi Williams – saxophone (2010–present)
Tim Lefebvre – bass guitar (2013–present)
Ephraim Owens – trumpet (2015–present)
Elizabeth Lea – trombone (2015–present)
Alecia Chakour – harmony vocals (2015–present)
This type of longevity in a band that tours as extensively as they do, is indicative of a relationship more like family than anything else. While on stage, the playful interactions and smiles from everyone were infectious throughout the entire venue!
I Want More
Do I Look Worried
Midnight In Harlem
Don't Know What It Means
Get What You Deserve
How Blue Can You Get
Will The Circle Be Unbroken
Bound For Glory
Key To The Highway  (Hot Tuna Sits In)
I Wish I Knew (How It Would Feel To Be Free)
The Storm >
Whipping Post
E: A Song For You (Carey Frank on Keyboard and Susan Sings)
You Ain't Goin' Nowhere  (The Wood Brothers Sit In)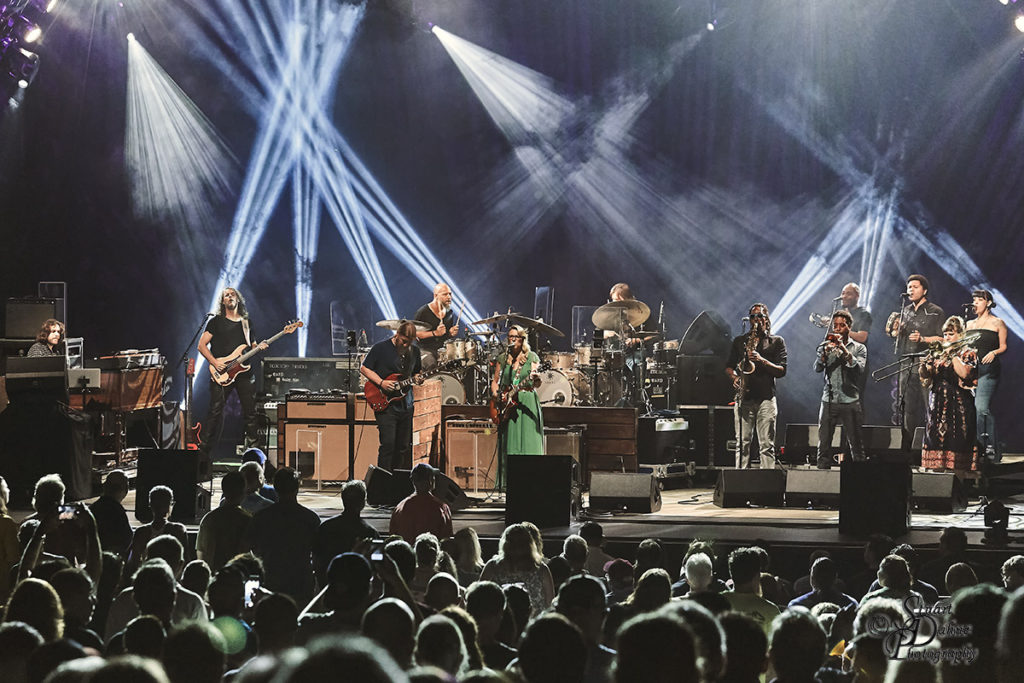 As the set began with amazing force, "I Want More" into the more soulful "Do I Look Worried" and "Midnight in Harlem" I began to wonder… where did this keyboardist come from? Who is he? Who is Carey Frank?
As the set continued the band began to take a turn down blues alley with a great version of "How Blue Can You Get" and when they started to play "Will The Circle Be Unbroken" which was the song that just recently concluded the service for Gregg Allman's funeral, my heart began to ache! "Bound for Glory" began to lift the spirits… and then they invited Hot Tuna out to sit in on "Key To The Highway" which quickly became a highlight for many! Watching Derek and Jorma on guitars, and Susan and Jack's smiles and interactions, you could not help but love this!
The set ended with a gripping rendition of "The Storm" going into "Whipping Post" where Derek became one with the spirit of the music! An awesome tribute to Gregg Allman! But it did not stop there. As the crowd cheered for an encore, Susan and Carey Frank returned to the stage to perform a beautiful version of Leon Russell's "A Song For You" and then the entire band returned along with the Wood Brothers to end the show with "You Ain't Goin' Nowhere"!
Now let's review some things that really had me thinking:
June 20th the news hits; Kofi Burbridge has suffered a heart attack! (I hear that Kofi is now doing much better and is on the mend!)
July 1st is the first show on the "Wheels of Soul Tour" is scheduled!
I was so impressed with lots of things during this show. I was completely enamored by all of the smiles and the feelings of love! It really impressed me when Susan came out alone with Carey Frank to perform a song. I was so curious that I contacted Carey to find out how he knew Susan and Derek, because obviously they were connected somehow! When I asked Carey, much to my surprise, this is what he told me: "I got a call less than a week before this tour to last minute sub for Kofi while he recovers. I didn't know them at all but I have been a huge fan for years. The bassist, Tim and I know each other through his girlfriend, who's also a keyboardist. They got me into the hat for the gig and then my videos on YouTube and Facebook were my audition.
Then I had 4 days to learn all 60 TTB songs by ear with no sheet music. And now, here I am!"
This, to me, is The Wheels of Soul!
Thank You to all who were involved in making this night so special and thank you to the staff at Wolf Trap for such a great vibe!
Peace & Blessings,
Stuart Dahne
Here is what some of the attendees had to say:
"Once again TTB shows why they are the best band on the road today. Add in a smoking Tuna open and some fun Wood Bros and you have a great night. I was curious to see how they would be without Kofi and they shone." ~ Andre Moshenberg
"A highlight of the evening was the powerful jam "Key to the Highway" with Jorma Kaukonen and Jack Casady." ~ Roland Ray
"Your soul and mind were brought to a higher ground from the opening notes of Jorma/Jack/&Justin to last one by the TTB.  Those who made the trip to Wolf Trap saw an incredible night faces were plastered with smiles despite the dreadful wind and rain." ~ Jason Greenberg
"Dancing in the rain rolling down the Hill! Ha" ~ Kathleen Prugsawan
"Loved the show. The whole night had a great energy from all 3 bands." ~ Dave Howard