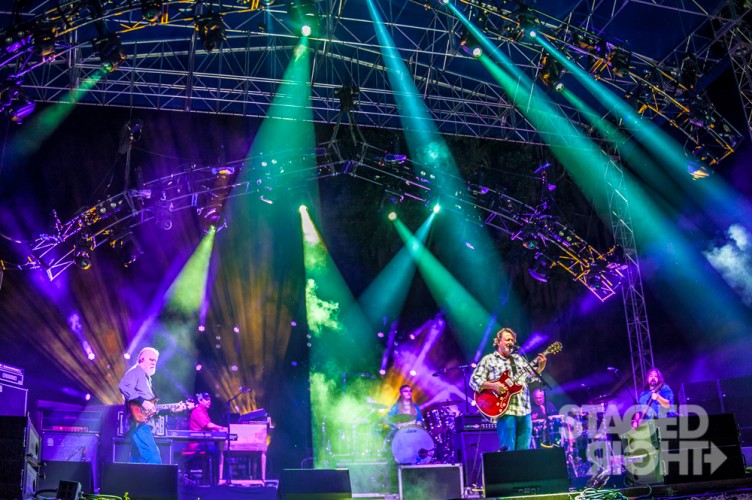 Wanee Festival 2015 ~ Live Oak, FL
Wanee Festival – Spirit of the Suwannee Music Park – Live Oak, FL – April 16-18th, 2015
Written by: Rosemary A. W. Roberts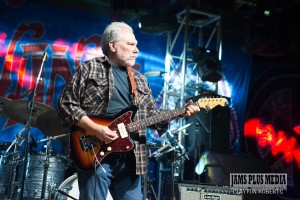 Although the Allman Brothers Band played their final concert October 28, 2014, the festival they created carries on and continues to flourish. The 11th annual Wanee Festival took place April 16-18th, and with many of the former bandmates bringing their solo projects and other bands to Live Oak, FL this year, Wanee retained some of that Allman Brothers vibe.
The festival kicked off Thursday April 16th with acts lined up on the natural amphitheater stage, known at Wanee as the Mushroom Stage, including Juke, Jacob Jeffries Band, Bobby Lee Rodgers Trio, Royal Southern Brotherhood, and Raw Oyster Cult. We arrived in time to see Hot Tuna Electric, who are still ready and willing to rock after so many musical years. True veterans of the music scene, they had the crowd dancing among the moss-draped trees. Closing out the evening was an interestingly eclectic band called Pink Talking Fish who weave a three-threaded web covering Pink Floyd, The Talking Heads, and Phish. Quite a ride ensued as they opened with Pink Floyd's "In The Flesh", followed by Phish's "Punch You In The Eye" and Talking Heads' "Life During Wartime". Each song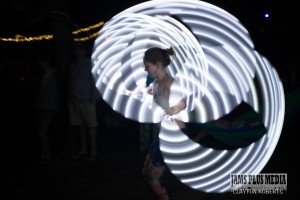 was played with great attention to detail, whether the precision of Floyd's "Time", the improv potential realized in Phish's "Story of the Ghost", or the crowd impact of Talking Heads' "Psycho Killer". A trifecta fan is certain to find pleasant surprises with Pink Talking Fish; to hear the silent note-hold in Phish's "Divided Sky" become Pink Floyd's "One of These Days", and the spaced out vocals melting into Phish's "Lengthwise" is a wild experience!
By Friday Wanee was in full swing, with Twiddle opening on the Mushroom Stage and Bobby Lee Rodgers Trio christening the main Peach Stage, followed by Rich Robinson of the Black Crowes bringing tunes like "Wiser Time" to the party. Allman Brothers' rhythm man gave us Jaimoe's Jasssz Band, who played a great groovin' set laced with ABB flavors like "Mountain Jam". One of the most eagerly anticipated acts was The Word, and their jubilant performance caused the crowd to dance with joy. With John Medeski's talents on organ, and Robert Randolph's soulful pedal steel, you know you're in for a treat. The band enlisted the additional pedal steel skills of Roosevelt Collier, as Robert Randolph was having surgery and wasn't expected to play; but merely 3 days post-op,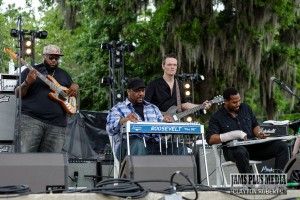 Robert insisted on playing, even with his right hand in a giant cast! And fans of North Mississippi Allstars were thrilled to see beloved bassist Chris Chew onstage with drummer Cody Dickinson and guitarist Luther Dickinson. The whole band sounded fantastic and looked like they were having a blast! Next up was the legendary Earth, Wind and Fire, and this band continues to delight audiences with their dance party vibe and electrifying performances. If you've never seen them live, put them on your list of bands to see.
Meanwhile on the Mushroom Stage, Tea Leaf Green delighted the mellow crowd, before the crazed complexity of Frank Zappa's compositions filled the air. With Dweezil Zappa and his superb guitar skills at the helm, Zappa Plays Zappa is a gifted group of musicians who breathed life into Frank's vast repertoire with songs like "Andy" and "Son of Suzy Creamcheese" kicking off their set. Highly practiced and polished, ZPZ doesn't miss a note whether diving into the difficult "The Grand Wazoo", prancing around with "Po-Jama People", or riding into the dawn of "Montana". Later that night, Leftover Salmon featuring Bill Payne kicked up their heels, and Gov't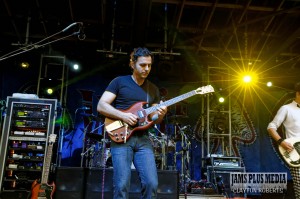 Mule revved their engines to prime the crowd for the first of two nights from Widespread Panic. The WP set opened with a rowdy "Love Tractor" and featured plenty of fan faves like "Little Kin", "Climb To Safety", and "Diner".
Saturday's lineup boasted some more Allman Brothers alumni, with Butch Trucks & Very Special Friends early on the Mushroom Stage. With two of his Very Special Friends being ABB bassist Otiel Burbridge and percussionist Marc Quinones, it was no surprise to the grateful crowd that their set was heavy on Allman classics like "Hot 'Lanta", "Midnight Rider", and "Whipping Post". On the Peach Stage, The Revivalists enlivened the listeners in the field, and JJ Grey and Mofro's soulful sounds surrounded happy concert-goers, whether they were dancing near the stage, or sitting at picnic tables enjoying a tasty assortment of foods from a wide variety of vendors. A super-hot set was put forth by the New Orleans amalgamation Dragon Smoke; great sound and a rockin' groove was provided by guitarist Eric Lindell, bassist Robert Mercurio, the legendary Ivan Neville on keys, and the outrageous Stanton Moore banging the drums.
Hardcore fans of Steely Dan ignored the darkening skies, gathering at the Mushroom Stage for the Nth Power to perform a set of Steely Dan songs, followed by some of their own creations. As a heavy rain began to fall (the only major downpour seen by 2015's Wanee Festival), The Nth Power gave tremendously on-point renditions of "Peg", "Black Cow", "Kid Charlemagne", "The Caves of Altamira", "Home At Last", "Reelin' In the Years", "The Fez", "Do It Again", and "Aja". The powerhouse band continued to impress, after drying off for a minute, playing feel-good uplifting melodies that made us forget our wet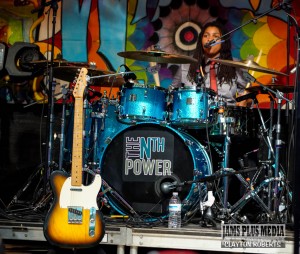 clothes and soggy shoes. Making our way back to the Peach Stage, the sun came back out to shine down on Gregg Allman and his band. Holding nothing back, they opened with "Statesboro Blues", and then "I'm No Angel", sounding fantastic. "Come and Go Blues" has always been a favorite of mine, and their take on "The Same Thing" was funky and fine. Dancing in the open field amongst the hula hoopers and bubble blowers to "Trouble No More" and "Ain't Wastin' Time No More", you could definitely appreciate why Wanee is such a wonderful festival. Yonder Mountain String Band played a rousing joy-filled bluegrass set, tossing in humorous anecdotes between songs, and stretching smiles across listeners' faces. When nighttime rolled in, so did Widespread Panic, with a strong set that opened with "Makes Sense To Me", and included great tunes like "Wondering", "Can't Get High", and "Surprise Valley". The center of the set was a real winner, with a w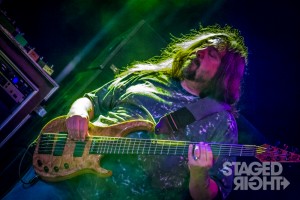 onderful "Barstools and Dreamers", "All Time Low", "Arleen", "Pilgrims", and "Airplane". The triple encore "End of the Show", "Big Wooly Mammoth", and "Mr. Soul" put an exclamation point on the evening. A late night set from Galactic closed out Wanee Festival 2015.
Even in the absence of the Allman Brothers Band, Wanee remains a truly unique and enjoyable festival. It is a favorite springtime celebration for music lovers, a festival where the lineup is always strong, and the people are always friendly and kind. I am sure many folks are already planning a return trip for next April, to see what great things Wanee 2016 will bring our way!