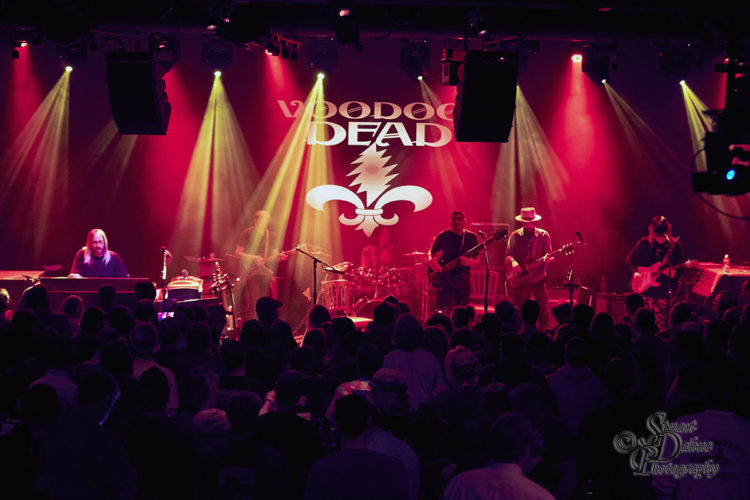 Voodoo Dead 02-09-2017 The Hamilton, Washington D.C.
The Northeast was getting walloped by the strongest winter storm of the season thus far on Thursday. Blinding snow and strong winds whipped across New York, Connecticut and Massachusetts as the powerful winter storm rapidly intensified just off the coast. While all of this was going on, Washington D.C. was preparing for a different kind of storm! Voodoo Dead was about to slam the city with some of the hottest versions of Grateful Dead and Mardi Gras songs in a long time! The band was just off the charts with talent, however here is what really reached in and grabbed me without me even realizing it at first! These amazingly talented musicians were here on a mission! They were obviously here to play music, have fun, and share the love in manner that would raise the vibe in a city that right now, well let's just say, in my humble opinion, has a slightly less than positive vibe! For me, the vibe started as soon as they hit the stage! Jackie Greene & Jeff Chimenti were at the keyboards when I called over and asked for a photograph…. Jackie leaned over and gave Jeff a big hug and a kiss and the vibe was on for the rest of the night! There was smile after smile coming from the stage all night long, and that my friends, is infectious! The crowd was as warm as the performers, everyone was there to enjoy and share in the love! You cannot say anything about the vibe of the Artist and the crowd without saying that the staff at the Hamilton were just as warm and pleasant! Thank You to the Hamilton for hosting such great music with such a great attitude!
The 1st set opened with a beautiful version of Ernest Ranglin's "Nana's Chalk Pipe" and then it was straight into 3 great songs from the Grateful Dead! The band then segued down to New Orleans in honor of Mardi Gras with a classic "Congo Man Chant" (The Congoes) into "Get Up, Stand Up" (Bob Marley and Peter Tosh) into Bob Dylan's Grammy Award Winning "Gotta Serve Somebody" and then back into "Get Up, Stand Up" to end the set.
After a short break the band hit the stage with a wonderful version of "Help on the Way" into "Slipknot" in classic Grateful Dead style! What a way to start the set! Slipknot then went straight back into the Mardi Gras vibe with "Hey Pockey Way" (Ziggy Modeliste, Art Neville, Leo Nocentelli, George Porter, Jr.) but then it was right back to some more classic Grateful Dead with "Scarlet Begonias" into "Tennessee Jed" and then a really interesting "Loose Lucy" to end the set! They could not just stop there, for an encore, there was a very appropriate version of The Grateful Deads "Deal"! Washington D.C. "Don't You Let That Deal Go Down"!
Voodoo Dead:
Steve Kimock – guitar
Oteil Burbridge – bass, vocals
Jackie Greene – guitar, vocals
Jeff Chimenti – keys, vocals
Wally Ingram – drums
Papa Mali – guitar, vocals
Set One
01. Steve Kimock intro > Nana's Chalk Pipe
02. Mr. Charlie
03. Gomorrah
04. Sugaree
05. Congo Man Chant > Get Up, Stand Up >
06. Gotta Serve Somebody (Get Up, Stand Up reprise)
Set Two
07. Help On The Way > Slipknot >
08. Hey Pocky Way
09. Scarlet Begonias >
10. Tennessee Jed
11. Loose Lucy
12. E: Deal
—
Peace & Blessings,
Stuart
www.stuartdahnephotography.com