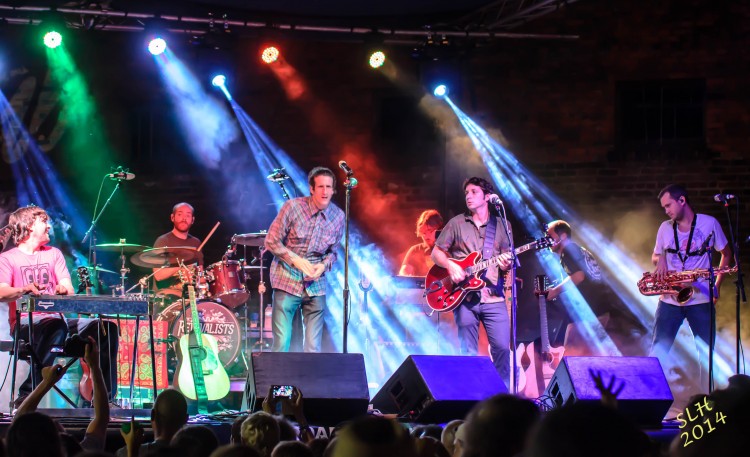 The Revivalists' kick off fall tour at Mobile's "St. Practice Day" Celebration 9/19/2014
Review and Photos by: Shari Hartmann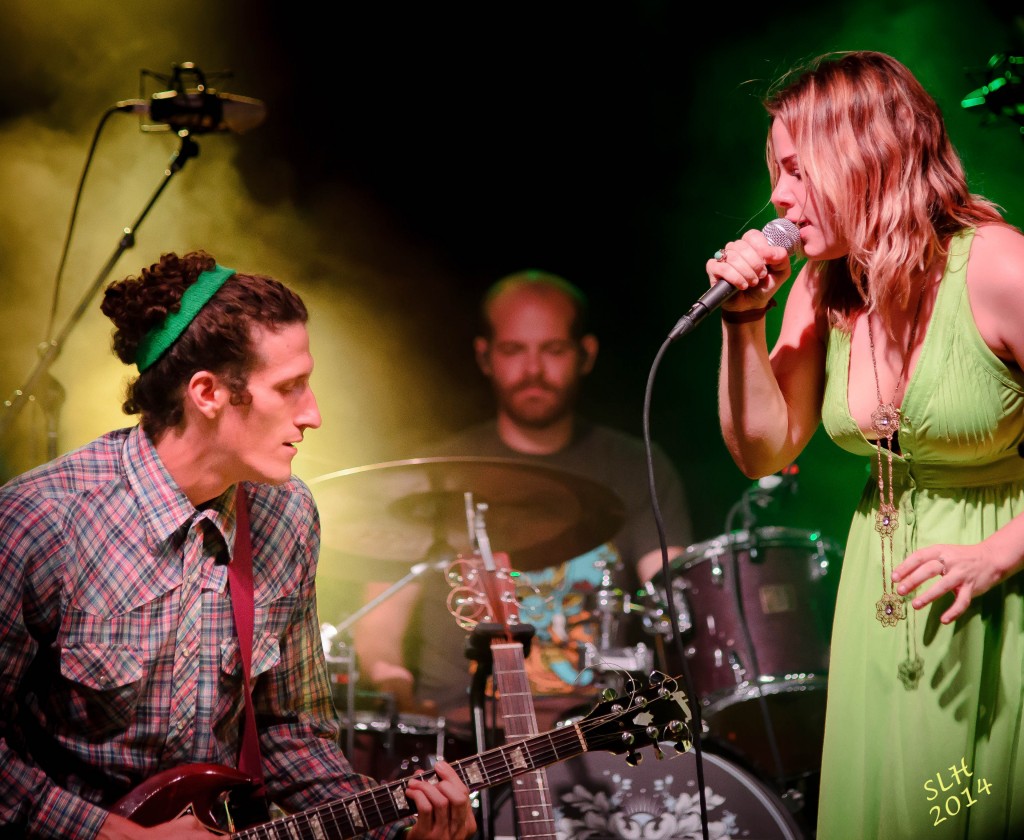 O'Daly's Irish Pub brought the luck of the Irish to Mobile music lovers on Friday night with a concert lineup featuring New Orleans' phenoms, The Revivalists.  This HUKA Entertainment produced show was held outdoors at the 3-in-1 bar's "backyard"  — an empty lot behind the bar's back deck — with a stage set up for the occasion.  Calling it "St. Practice Day," to mark the halfway point to St. Patrick's Day, complete with green beer on tap, the feel was more like street party meets private blowout as fans from New Orleans to Pensacola gathered eagerly to see what has become one of the hottest bands on the jam scene and beyond.
Maggie Koerner started things off with an unexpected twist. She took the stage, dressed appropriately in green, and explained that her band had taken ill during the week.  But her band's trouble was the fan's good fortune. Having been enthralled with Koerner's performances with Galactic over the past year, this was the first many had seen her perform solo.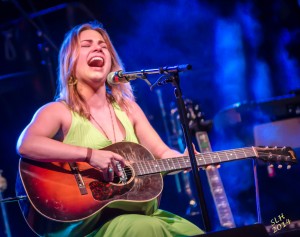 She sat with her guitar flat in her lap, hauntingly plucking the bass string, and she sang. And she was mesmerizing. From the first notes of "Sirens," with its pulsating bass beats, this siren's sultry vocals transfixed the audience.  Playing all originals, from her solo albums, her indie-blues style is dark, often introspective, yet her deeply soulful, slightly raspy voice and her uniquely evocative, haunting phrasings turn hypnotic melancholia into cathartic experience. Koerner treated the spellbound fans to a stirring "Shades of Grey" as well as a first-time-played song, still untitled, which will hopefully be part of a third album she is hoping to release early next year. For her final tune, she was joined by "the best brothers in the world," The Revivalists' David Shaw, Zach Feinberg and Andrew Campanelli for a vigorously enchanting "Judgment Day."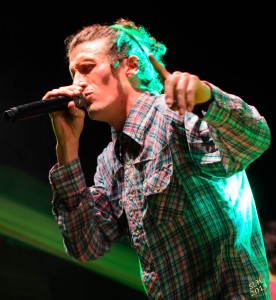 The Revivalists then turned up the heat on an already steamy evening. Bounding on stage, David Shaw yelling "Mobile! You ready to get down!" Their near two hour set was pure energy from start to finish.  Opening with "Chase's House" they had fans dancing immediately as Shaw covered the stage, moving from one corner to the next, leaning out over the crowd, one leg propped on the speakers. But he wasted no time jumping down, greeting the devotees in the front row.  Shaw's dynamic presence, coupled with his powerful, soulful vocals, gets the party rocking and the hearts thumping!
But it's not just Shaw. The entire band commands the stage with potently engaging energy.  Pedal steel guitarist Ed Williams is sitting, he's standing, wait… he's kneeling… ON the guitar as he leans it forward! You are sure he's going to topple over any second, yet he remains in full control of his playing. Michael Girardot's, who's keys are set up behind guitarist Zach Feinberg and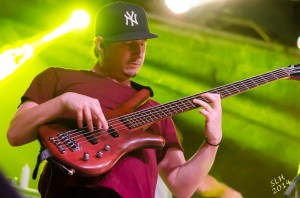 Rob Ingraham on sax, runs out to the front of the stage and jumps on a speaker.  You'd think it was all a gimmick, but it's not.  Yes, it's a masterful stage presence, but it also seems to come naturally.  These guys are truly having great time and want their fans to be as excited as they are. On this night there was no doubting the crowd's exuberance or band's honest vitality.
But all that energy can come to naught if the music isn't there… And here is where the band's authenticity makes it all come together.  The band seemed more at home on stage than I have ever seen them and that seemed to translate into their music as well.  They sounded tighter, more in tune with each other, and more at ease in their solos and jams than I have heard them in the few years I've been following them. They flowed seamlessly from "Concrete" to "Not Turn Away" to "Sunny Days" with the precision of the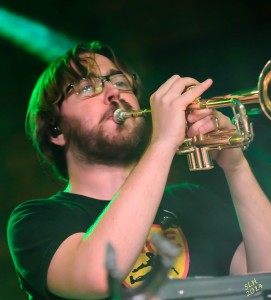 seasoned performers they have become. Zach Feinberg offered up robust, roaring guitar solos in "Concrete" as did Ed Williams' stingingly unique pedal steel in the "Shake jam" and Rob Ingraham's seductive sax in "Sunny Days." Bassist George Gekas and drummer Andrew Campanelli held it all together throughout the night, demonstrating precisely powerful chops, especially during the fabulously funky "When I'm Able"> "Sexy M.F".
Of course, the set would not be complete without an appearance from Maggie Koerner.  She joined the band for stunningly soulful BeeGees' "To Love Somebody." Starting out slow and sexy, the tune built to a fevered pitch as Koerner's wails washed over the swaying enthusiasts, resulting in goose bumps, and led Shaw to declare it "brilliant!" Nor would the set be complete without fan favorites "Catching Fireflies," "Criminal" and "Soulfight." which they delivered with incredible energy straight from the heart. They left the stage with the crowd pleading for more. No one was ready for the fun to end and when they returned the stage, Shaw said, "You know we wouldn't do you like that Mobile."  Mobile was treated to a new song, an intensely emotive indie tune with the chorus "Don't Hide from Me."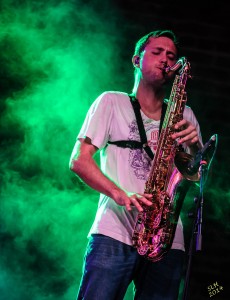 The Revivalists are a must-see band, and if this sets the standard for the fall tour, audiences across the country need to grab their tickets and put their seatbelts on, because it's going to be one hell of a ride.
Setlist:
Chase's House, Two-ton Wrecking Ball (Fish Out of Water)> Not Turn Away> Shake Jam>Not Turn Away>Sunny Days, To Love Somebody (Bee Gees) w/ Maggie Koerner, When I'm Able>Sexy M.F. (Prince), Catching Fireflies, (Unknown), Upright, Soul's Too Loud>Appreciate Me>Criminal, Soulfight
Encore: (New Song –Don't Hide)
Fall Tour Dates (partial list):
Sept. 19 – Mobile, AL – O'Dalys Irish Pub (Outdoors)
Sept. 20 – Augusta, GA – Arts in the Heart
Sept. 20 – Augusta, GA – Sky City
Sept. 23 – Knoxville, TN – The International
Sept. 24 – Charlotte, NC – The Chop Shop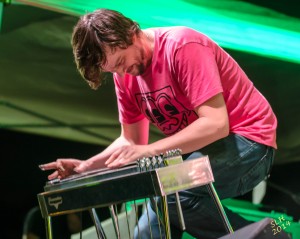 Sept. 25 – Asheville, NC – Asheville Music Hall
Sept. 27 – Pensacola, FL – Pensacola Seafood Fest
Sept. 28 – Birmingham, AL – Vulcan Park
Oct. 08 – Columbia, SC – The Music Farm
Oct. 09 – Winston-Salem, NC – Ziggy's
Oct. 10 – Raleigh, NC – Lincoln Theatre
Oct. 11 – Corolla, NC – Mustang Music Festival
Oct. 12 – Wilmington, NC – Ziggy's
Oct. 17 – Baton Rouge, LA – The Varsity Theatre
Oct. 18 – Natchez, MS – Great Mississippi River Balloon Race
Oct. 29 – Houston, TX – Fitzgerald's
Oct. 30 – Dallas, TX – Granada Theater
Oct. 31 – Austin, TX – Emo's
Nov. 01 – New Orleans, LA – Tipitina's
Nov. 02 – New Orleans, LA – Voodoo Experience
For more information about The Revivalists and their fall tour visit the band's official website.