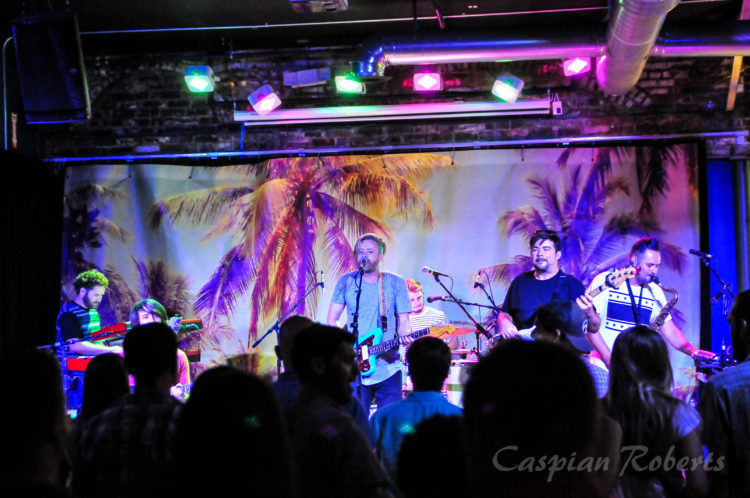 The Hip Abduction at the Merry Widow
The Hip Abduction at the Merry Widow
Photos and words by: Caspian Roberts
7/8/2016~ The Merry Widow, Mobile, AL
On July 8th, I got the opportunity to catch The Hip Abduction performing at The Merry Widow in downtown Mobile, Al. I walked into a very quaint bar, which recently opened in October of 2015, eager to see the up-and-coming band. Venue had a very unique vibe to it, having a very nice bar, as well as a wide open dance floor directly in front of the stage. On the stage, I noticed a wide variety of instruments on stage, including a Kamalngoni, an African instrument that is harp shaped, a saxophone, keyboard, as well as the bass, guitar, and drum set. As the band took the stage, and the dance floor area filled up, I knew we were in for a good time.
The Hip Abduction, a band hailing from St. Petersburg, Florida, quickly showed the crowd how all the instruments were used to create their amazing sound. This wide variety of instruments highlighted the many influences the band has for their music, consisting of an afropop and indie rock mix, with a perfect tropical vibe resounding throughout their music. The band consists of David New manning guitar and lead vocals, David Johnson on saxophone, Chris Powers on bass, John Holt III on the guitar and kamalngoni, Paul Chlapowski on keyboard, and Matt Poynter on Drums. They played several of their hits, including "Children of the Sun," "Stand Up for Love," and my personal favorite "Holiday." Their beachy sound got everyone dancing, and as we swayed along to the songs, it felt like we were all dancing on the sands of some paradise. Not only did they play their songs, but also had amazing renditions of Bob Marley's "Could You Be Loved?" and Marvin Gaye's famous "Sexual Healing."
The Hip Abduction provided an amazing night of music and fun, blending musical styles from across the world to create their own unique sound. If you ever got the chance to go catch one of their shows – do it.