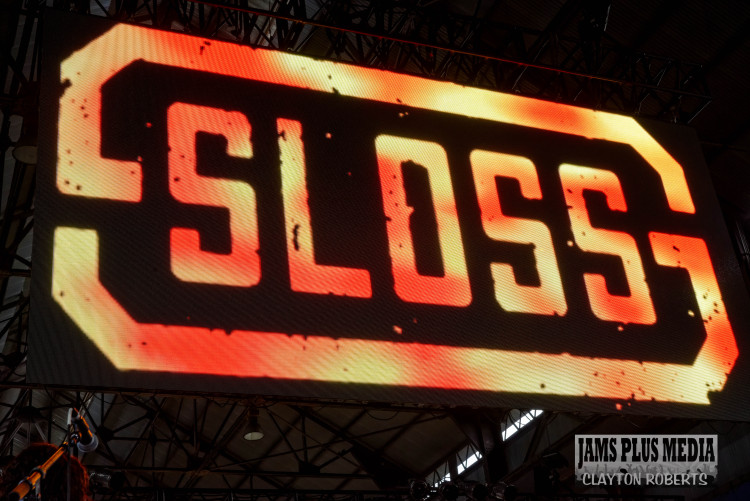 Sloss Music and Arts Festival
Sloss Music and Arts Festival
Birmingham, AL – July 18-19th, 2015
Written by: Rosemary A.W. Roberts
As summer festivals continue to be a major driving force in the live music realm, promoters and producers stretch their creative muscles in search of unique concepts and locations for fests. The inaugural Sloss Music and Arts Festival in Birmingham, AL on July 18-19th 2015 threw down an iron gauntlet, placing an enticing indie-rock lineup in the midst of a former iron-forging facility that has been a National Historic Landmark since 1981. Sloss Fest embraced its industrial atmosphere, as banners hung beside the two large "Blast" and "Steam" stages depicted working miners, and the smaller "Shed" stage was inside a steel-beamed old building. One of the hottest attractions (quite literally) was the Sloss Metal Arts Iron Pouring demonstration, where you could choose or design a mold into which workers poured flame-orange molten iron, creating unique souvenirs. Other art vendors were on hand with sculpture, jewelry, and clothing; there was also an API Poster Show featuring several current concert art studios. The culinary arts were included too, with microbrew beers on tap, food trucks and tents, Sprout and Pour Juice, Sweet Tea from Royal Cup (only in the South, y'all!), and tasty frozen treats from Steel City Pops. There was a free water refill station, but it would've been helpful to have these in more locations to better serve the masses in the extreme heat of mid-July; but besides the water, it seemed overall the Sloss setup was a winner.
The music was scheduled quite well, with acts that alternated slots on the Blast and Steam stages on opposite ends of the open concert grounds, and the Shed hosting acts throughout with 30 minutes between them. Saturday's lineup found Paul Thorn with his authentic country storytelling songs early afternoon, and Icelandic newcomers Kaleo started off slow but hit their stride with "All the Pretty Girls", and then bluesy-rocked their set out in the Shed. Noah Gunderson contributed an enjoyable alt-folk flavor to the fest. The heavy-hitters of the indie-rock scene began appearing, with Lord Huron sounding like a ray of sunshine, deliciously danceable, a highlight of the day. Next up was First Aid Kit, and these Swedish sisters came on with beautiful vocal harmonies, wearing gorgeous white dresses with long hair flowing. Both Klara Söderberg on guitar and her sister Johanna on keyboards danced while playing, making for a great show; this band is beautiful to see and hear. There was considerable excitement surrounding the appearance of Young The Giant, who featured a driving, full, feel-good sound. They played fan favorites "It's About Time", "Cough Syrup", and "Mind Over Matter", and their set was great from open to close. Back on the Blast stage, Band of Horses brought their chill-out rock to the stage, and the crowd went wild for "Ghost In My House", "The Great Salt Lake", and "The Funeral". Then the intensity of Cage The Elephant took the crowd by storm, with wild stage antics and hit songs like "Take It Or Leave It", "Cigarette Daydream", and "Ain't No Rest For the Wicked". To wrap up the first day, alt rock giants Modest Mouse put forth a surreal set that alternated between whimsical and hardcore, playing some tunes off their newest album like "Lampshades On Fire", and also older crowd-pleasers like "Ocean Breathes Salty" and "Dashboard".
Saturday's weather, though very hot, had the reprieve of a thunderstorm that passed nearby the festival grounds which reduced the temperature nicely; but Sunday brought the real heat. However, with great music to fuel the cool vibes, the fans still came out in droves. Artists like Judah and the Lion, Sturgill Simpson, Zella Day, and The New Pornographers got the ball rolling, and Manchester Orchestra, Purity Ring, and Tyler the Creator followed that evening. Swiftly gaining fans across the country, St. Paul & The Broken Bones drew quite a crowd with their high-energy soulful sounds. Longtime listeners were pleased to find Primus amongst the Sunday talents, and The Avett Brothers finished the night in style.
Overall, Sloss Fest was a huge triumph, succeeding in nearly every aspect by which music festivals can be judged. The music was totally top-notch; it was great to see all these alt rockers in Birmingham, and refreshing to have the scheduling set up such that you could easily see and hear just about everyone. The community seemed very supportive, and they had a great turnout (about 25,000 attendees) which was awesome to see, especially for a first try. The really great news is that Red Mountain Entertainment plans to keep the fires of Sloss burning, as 2016 Sloss Fest is already confirmed. Keep an eye on Sloss Fest, it's definitely a fantastic music festival to attend!