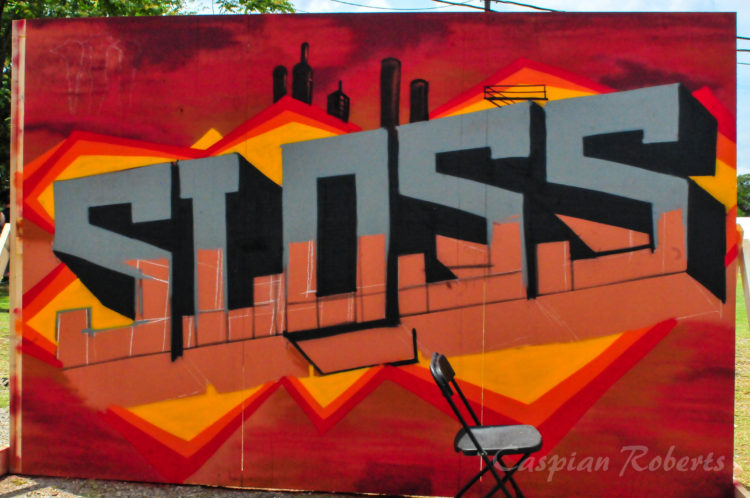 Sloss Music and Arts Festival 2016
Sloss Music and Arts Festival 2016
words and photography by Caspian Roebrts
On Saturday, July 16, 2016, I traveled to Sloss Industries in Birmingham, Alabama for the 2nd Annual Sloss Music and Arts Festival.  According to their website, Sloss Music & Arts Festival is a "two-day music and lifestyle event that takes place at Sloss Furnaces National Historic Landmark in Birmingham," and "offers something for everyone whether it's being able to browse some of the country's finest poster makers or participate in hands on iron pouring demonstrations brought to you by the Metal Arts Program at Sloss Furnaces." When I first got there, I spent quite a while walking around the national landmark, admiring the mechanisms used for iron working. It was amazing that they had members of the furnaces pouring iron right there! After admiring the wide variety of art they had on display, I prepared for the musical experience I was about to have.
Saturday's lineup included bands such as Seratones, Anderson East, The Joy Formidable, and Shovels & Rope. These bands varied from genre to genre, providing a unique sound in the Birmingham area. I can't tell you how many people I heard say aloud, "I have never heard of this band, but I love this!" Sloss provided the ability to expand people's musical tastes, sharing new sounds that the crowd would never have heard before. As the day progressed, the next band I saw was Glass Animals at the Blast Stage. Their Indie-Rock set list included hits such as "Life Itself," "Gooey," and their very popular "Black Mambo." Lead vocalist Dave Bayley and lead guitarist Drew MacFarlane often joined in the middle of the stage, dancing, singing, and playing together in a joyful expression of music. After their set, the growing sensation Grouplove took the Steam Stage. The Los Angeles based band performed a very lively set, playing hits such as "Itchin' on a Photograph," "Tongue Tied," and an amazing rendition of the Beastie Boys "Sabotage." Ben Harper and the Innocent Criminals played a fantastic set, including my personal favorite "Steal My Kisses." Ben Harper's skill on slide guitar and regular guitar resounded throughout the crowd, causing some to even shed a tear. My last venture of the night was Logic at the Shed Stage. The Gaithersburg, Maryland born musician is now a professional singer, songwriter, and producer in hip hop and rap. His show was extremely hyped up, with his fans rapping almost as fast as he can.
Sunday began with ominous storm clouds in the distance, and an unsuspecting crowd enjoying bands including Banners, Jr Jr, and Sylvan Esso. While the crowd was enjoying the day, we trekked over to the Blast Stage for Dr Dog. While they were playing their set, those storm clouds had closed in on the grounds of the festival, providing a downpour of rain on us. This downpour turned into a large, dangerous storm, forcing the crowd underneath the underpass of the train tracks. After what seemed like forever, the rain finally left, allowing Fitz and the Tantrums to play their set. They played hits including "Out of my League," "Fools Gold," and their newest hit "Hand Clap." The crowd celebrated the return of the music, forgetting about their soggy clothes and messed up hair. The final show we went to was the Flaming Lips, who had an amazingly choreographed performance for the crowd, launching balloons into the crowd. Their set contained songs such as "Yoshimi Battles the Pink Robots Pt. 1," Do You Realize??" and a beautiful cover of David Bowie's "Space Oddity." The Flaming Lips provided a perfect end to Sloss 2016.
Sloss Music and Arts Fest provided an amazing blend of live music of all genres, local artwork, and national history. I highly suggest coming and attending the next Sloss Festival with me!