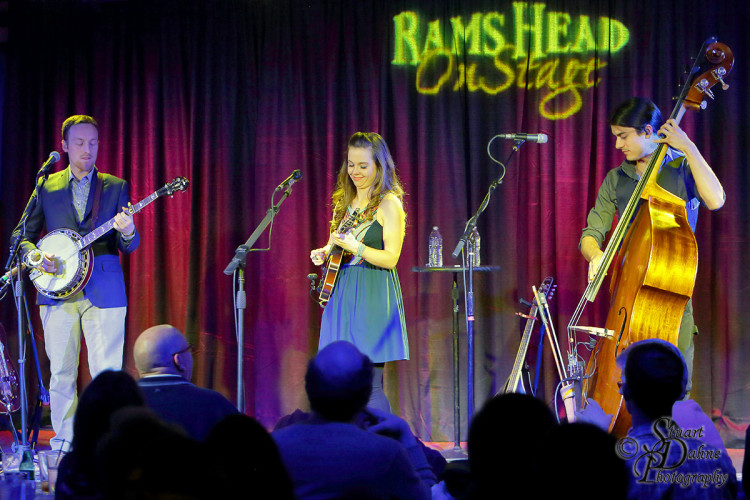 Sierra Hull Live at the Rams Head
Annapolis Maryland 02-03-2016
Photos and Words by Stuart Dahne
Let me start off by saying that in all my times of seeing and hearing Sierra Hull perform with many different musicians I have to say that this performance blew me away!
Sierra's tour revolving around her latest release; Weighted Mind on Rounder Records is an entirely new shift in the style of her music. It amazes me that at the ripe old age of 24 you can not only have a successful career but you can also have a major change in your entire style of music!
It was great to see that Sierra was performing again with Justin Moses who absolutely enriches the sound of Sierra's performance and I would like to be so bold as to believe that Justin would enrich the sound of whomever he was performing with! Justin's musical talent and ability to play so many different instruments just keeps me on the edge of my seat!
Now let's talk about "the new kid on the block"! It was funny that the morning before this show I was on the internet, I was on the FaceBook to be exact when I came across a post that read; "Your Band is Only as Good as Your Bass Player" and I thought, hmmmm… that could go either way! Well let's just say that when Sierra chose Ethan Jodziewicz there was only one way this could go! With Ethan's amazing talent and his truly tasteful choices He was such a welcomed addition to the band. I guess that it should be no surprise when you realize that he was recommended by the infamous Edgar Meyer!!!
With all of this amazing support you then realize that Sierra's own playing is continuing to rise to that next level and her voice is more beautiful than ever. The one other thing to witness that is so nice is to watch how much fun they are having on stage!
If you have the opportunity to see one of Sierra's shows in the near future I highly recommend it!!!! If not, consider seeing her in May at Delfest where she is listed on the schedule as "Sierra Hull (Artist at Large)! When I asked Sierra what that meant she said, "that means that I will be playing my sets with Ethan & Justin and when I am not playing with them I will be sitting in with everyone else!" So come on out to DelFest and join in on the fun!