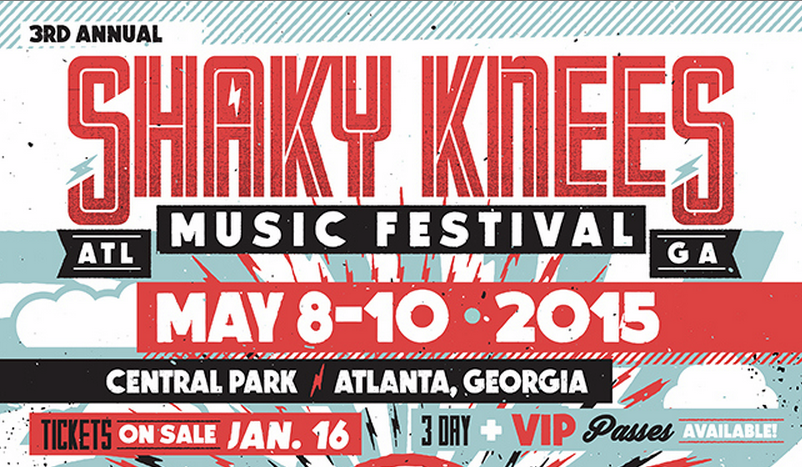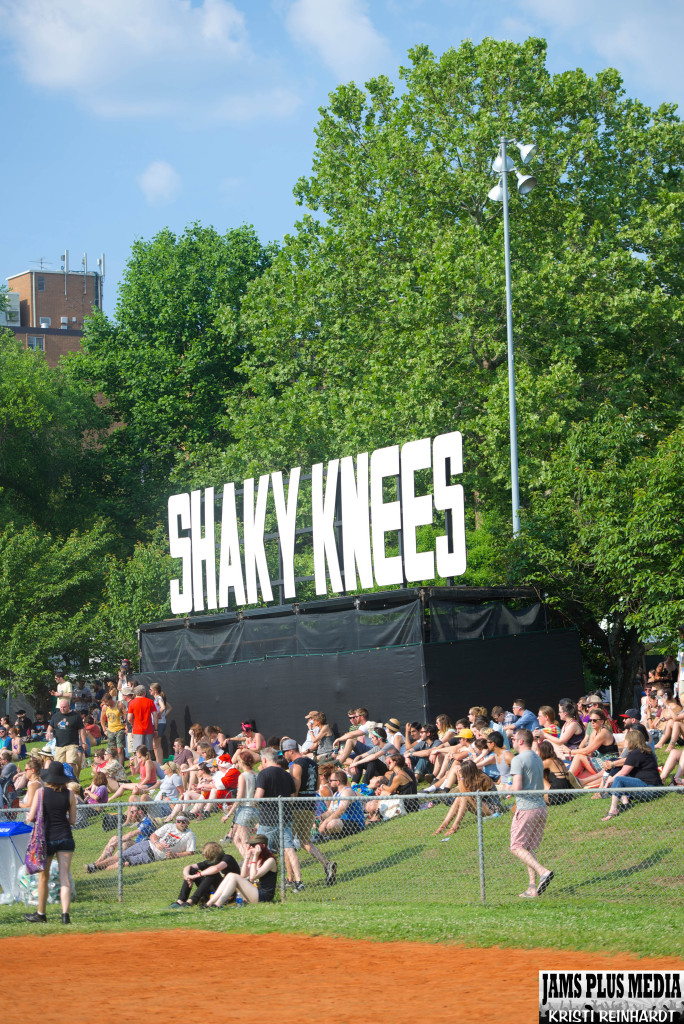 Shaky Knees 2015 ~ May 8-10, 2015 ~ Atlanta, GA
Written by: Mike McDermott
Photos by: Kristi Reinhardt
Atlanta's place on the musical map has long since been secured, as its proximity allows the city to serve as a sort of music hub of the South.  Many musical flavors come together in a melting-pot of styles which makes for a great market to throw a music festival, of which Atlanta has plenty.  The resurgence of Music Midtown in 2011 seems to have set an inviting precedent as new festivals are popping up on the radar every year.  From Counterpoint to Sweetwater's 420 Fest to the EDM spectacle that is Tomorrow World, Atlanta has much to offer in the way of festivals.  Enter Shaky Knees, which after three years of success and steady growth has silenced anyone critical of its profitability.
After relocating for the second time Shaky Knees has grown from a two-day festival across three stages to a three-day festival spanning five stages.  From 10,000 attendees per day, to 20,000 per day, this year's installment is expected to tally 30,000 fans per day to Atlanta's Central Park.  Offering a healthy mix of all things alternative, Shaky Knees showcases the whole spectrum of indie/alt-rock by bringing approximately 75 bands to town, which doesn't even include the late-night shows set at various clubs around town.
Friday
Friday's lineup was nothing short of spectacular.  Early afternoon highlights include Tennis on the Buford Hwy Stage, The Kooks on the Peachtree Stage and Wavves on the Boulevard Stage to name a few.  Mac Demarco's gig on the Ponce De Leon Stage was also a stand-out performance, as the band played a very comprehensive set.  The crowd was even treated to a tongue-in-cheek rendition of Coldplay's "Yellow" while mending a broken guitar string.  Mac's entire setlist is as follows: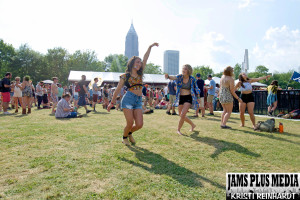 Salad Days
The Stars Keep on Calling My Name
Blue Boy
Cooking Up Something Good
Let Her Go
Yellow
Ode To Viceroy
I'm A Man
Brother
Baby's Wearin Blue Jeans
My Kind of Woman
Rock and Roll Nightclub
Freaking Out the Neighborhood
Chamber of Reflection
Still Together
The early evening timeslot featured Manchester Orchestra and Kaiser Chiefs, but one of the most difficult decisions of the weekend came in choosing to see either TV On The Radio, Death From Above 1979, or The Mountain Goats.  Once settled into TVOTR's performance however, it was hard to think of anything else.  The band was clearly basking in the momentum from dropping their latest album Seeds which has been dominating college-radio charts across the country; however, their set was freshly diverse and represented a healthy mix of their whole catalogue:
Young Liars
Golden Age
Happy Idiot
Could You
Lazerray
Careful You
Wolf Like Me
Province
Winter
Blues From Down Here
Trouble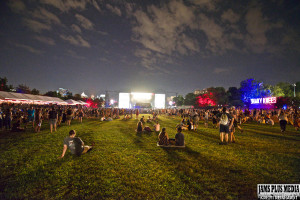 As the evening progressed, Atlanta's own Mastodon graced the Peachtree Stage with their heavier metallic sound, followed by a notably vintage highlight of the weekend: Pixies.  One of Shaky Knees' finer qualities is their ability to capture every era of alternative rock as opposed to strictly booking fresh young acts, a certain homage of sorts.  In years past names like Violent Femmes and The Replacements have represented this classic-alt-rock niche, while Pixies maintained the tradition this year with a powerhouse set of nostalgia.  They even threw in a Jesus and Mary Chain cover, but also played a few tracks from their 2014 release Indie Cindy to keep things fresh.
The headlining performance on Friday was mesmerizing, as The Strokes dusted off their gear for the first time in many months.  This show was certainly a treat for fans of the New York City outfit as they are only scheduled to play a few North American performances this year, all of which are in festival settings.  Not only did they bring the noise to the "capital of the south", but they busted out a few rarities.  "You Talk Way Too Much" off of their sophomore album Room on Fire was played for the first time since 2004, while "Vision of Division" was played for the first time since 2010.  The band even treated the crowd to a live debut of "All the Time", from 2013's Comedown Machine.  Another notable highlight of the set came when the band brought out Mac Demarco to help with what is easily their biggest hit to date, "Last Nite".  Full setlist is as follows:
Reptilia
Welcome to Japan
Barely Legal
Automatic Stop
You Only Live Once
All the Time
Machu Picchu
You Talk Way Too Much
One Way Trigger
Heart in a Cage
Someday
Under Cover of Darkness
Taken for a Fool
Under Control
Last Nite
Take It or Leave It
Vision of Division
Is This It
Hard to Explain
New York City Cops
Saturday
Day Two of Shaky Knees packed quite a punch.  Early afternoon sets from Speedy Ortiz, Palma Violets, Viet Cong and Real Estate kicked the day off smoothly.  Atlanta's own self-proclaimed power-punk faction The Black Lips turned things up a notch on the Ponce De Leon stage, while The Devil Makes Three turned things down with their bluegrass-y country influence.  It was a pleasant dichotomy; both extremes of the spectrum if you will, which is a perfect example of the variety that Shaky Knees has to offer.
One of the bounciest sets of the day came from Irish punk-rockers Flogging Molly.  A better day-drinking soundtrack could not be found on this Saturday, as testament to their 2009 album "Drunken Lullabies".  Following Flogging Molly's fast, fun performance on the Peachtree Stage was a notable highlight of the day; Neutral Milk Hotel.  With a small cult-like following, Jeff Mangum's eclectic indie rock entourage showcased their unique and experimental sound.  It was hard to lose interest in this set as the band was constantly exchanging instruments in between songs.  It was clear by their reception that their reunion in 2013 was a great decision.  Their full setlist is shown here:
I Will Bury You In Time
Holland, 1945
Gardenhead/Leave Me Alone
Two-Headed Boy
The King of Carrot Flowers Pt. 1
The King of Carrot Flowers Pt. 2 & Pt. 3
Two-Headed Boy
The Fool
In The Aeroplane Over The Sea
Song Against Sex
Ruby Bulbs
Snow Song, Pt. 1
Little Birds
Ghost
Untitled
Two-Headed Boy Pt. 2
Engine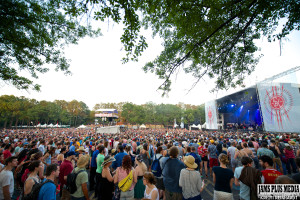 As the evening rolled on, Social Distortion saturated the airwaves from the Peachtree Stage, while Milky Chance rocked the Boulevard Stage, followed by Wilco on Ponce Stage.  The Chicago syndicate is known for their blend of alternative, country, and Beatles-esque pop/rock, often times bordering on the experimental.  An example of this would be their song "Via Chicago", during which the country-style ballad veers off into a hailstorm of percussive cymbal splashes, while lead Jeff Tweedy keeps the same verse progression.  The effect of these dueling rhythms and emotions was palpable.  When the percussive onslaught would cease, returning to the slow pace of the tune, the audience went wild.  It truly was a remarkable musical gimmick.  The entire set flowed wonderfully, and stretched over an hour long:
I Am Trying To Break Your Heart
Art of Almost
One Wing
Hummingbird
Handshake Drugs
Camera
Via Chicago
Secret of the Sea
Heavy Metal Drummer
I'm The Man Who Loves You
Red-Eyed and Blue
I Got You (At The End of The Century)
Jesus, etc.
Born Alone
Impossible Germany
Box Full of Letters
A Shot in the Arm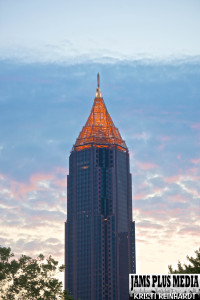 Wilco proved to be a tastefully appropriate choice for supporting headlining act The Avett Brothers, as both outfits share in some musical influences.  The Avetts are known for their wildly diverse blend of country, folk, rock, bluegrass, and even punk.  Their live performances have been known for showcasing a certain level of raw energy that isn't usually associated with bands of their style.  If they play a show without breaking at least one string, something is very wrong.  Ultimately graced with the two-hour headlining slot, The Avetts proved their worth on Saturday night breezing through a thorough examination of their repertoire:
Satan Pulls The Strings
Live and Die
Laundry Room
Another is Waiting
Gimmeakiss
Distraction #74
Down With The Shine
Head Full of Doubt/Road Full of Promise
Salina
Die Die Die
Shame
Talk on Indolence
The Ballad of Love and Hate
Paranoia in B Flat Major
The Fall
The Race is On
Morning Song
Country Blues
Kick Drum Heart
Geraldine
Murder in the City
Vanity
Slight Figure of Speech
I and Love and You
Sunday
The final day of Shaky Knees was full of exciting highlights.  The weather was wonderful, which marked the first rain-free weekend in the festival's history.  Early afternoon performances offered a wide mix of music ranging from Preservation Hall Jazz Band's New Orleans-born jazz, to Canadian classic-rock-revivalists The Sheepdogs.  Old 97's and Best Coast proved to be entertaining attractions, while Cincinnati's Heartless Bastard set on the Buford Hwy Stage showcased the talented vocal styling's of lead singer Erika Wennerstrom.
One of the afternoon's standout performances came when Philadelphia lo-fi indie-rockers Dr. Dog took the Peachtree Stage.  Dr. Dog have been compared to The Beatles in their writing structures, as vocalist/bass player Toby Leaman and vocalist/guitar player Scott McMicken have shared a sort of Lennon/McCartney relationship since they were middle-schoolers.  Their studio work reflects carefully constructed songs with vintage sounding audio quality, utilizing similar studio tricks as The Beatles did before them.  Dr. Dog's vocal abilities give so much body to their sound as each member of the band adds a harmonizing layer behind the lyrical melodies.  The band's cover of Architecture in Helsinki's "Heart it Races" has even earned more YouTube hits than the original version.  Their recent live release Live at a Flamingo Hotel demonstrates the difference between their studio work and their live energy as they embrace some of the jammier elements on-stage.  Full setlist is as follows:
That Old Black Hole
Distant Light
I Only Wear Blue
Broken Heart
Turning The Century
Be The Void
These Days
Heavy Light
Army of Ancients
The Truth
Lonesome
How Long Must I Wait?
Heart It Races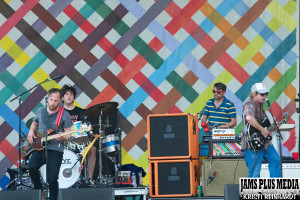 As early evening approached, Animal Collective's Panda Bear dropped some crazy beats on the Buford Hwy Stage while Trombone Shorty brought some brass-y funk to the Ponce Stage.  A major highlight of the evening (and festival) came in the form of alt-country rocker Ryan Adams.  After securing the launch of his career in the band Whiskeytown, he later went on to play with The Cardinals which is where he gained most of his success, firming up his identity as a musician.  Ryan Adams stormed the Peachtree Stage which was decked out with 80's video game machines, an American flag with a peace sign where the stars should be, but most noticeably were the monster Fender stacks that amplified the band across the field.  Some highlights from his set included a Mother's Day tributary cover of Danzig's "Mother" (which was surprisingly spot-on) as well as a version of "New York, New York" featuring famed rock photographer Danny Clinch on harmonica.  His hour-long set is shown here:
Gimme Something Good
Let It Ride
To Be Young (Is to Be Sad, Is to Be High)
Dirty Rain
Mother
Oh My Sweet Carolina
Magnolia Mountain
New York, New York
Peaceful Valley
When The Stars Go Blue
Shakedown on 9th Street
Come Pick Me Up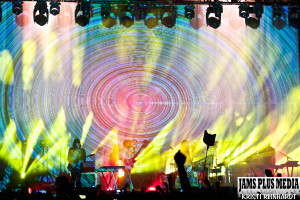 The 7:45 timeslot presented the same classic Shaky Knees dilemma: who to see?  On the one hand was Old Crow Medicine Show, while on the other was recently reformed British shoegaze rock group Ride.  Ride is credited for blazing the trail for groups such as Oasis, and have been defunct for the last 20 years.  Their recent announcement to come out of hiding and play a handful of shows earned the attention of every major promoter in the U.S., as they were not on the initial Shaky Knees lineup when it was released.  Their addition to the festival, much like Pixies' presence, is a clear-cut salute to the yesteryear of alt-rock.
The final performance of the festival was simply jaw-dropping, both visually and audibly, as Australian psych-rockers Tame Impala closed out the weekend.  The production quality was top notch and truly embraced all aspects of psychedelia.  Hot off releasing the epic 8-minute single "Let it Happen" from their forthcoming album Currents, Tame Impala has found a niche that blends psych-indie-rock with elements of electronica.  The result is something entirely unique, as the band is cognizant of how the mind perceives sound, often utilizing this knowledge to play tricks on the listener's ear.  Such is the case on their new aforementioned single.
There were moments during their set where the drummer's beat seamlessly transformed from an organically produced drum beat from a live drum-kit to the beat of an electronic dance music DJ.  Embracing aspects of jam-rock, many of Tame Impala's live renditions stretched well longer than the album versions, often detouring into uncharted territory.  Their single "Elephant" from their sophomore release is a great example of this as the band veered away from the song's structure, employing a well executed time-change that made the audience question if they were still even playing the same song or if they had segued into a new track.  Ultimately Tame Impala was the perfect choice for Sunday headliner, as they milked every bit of their timeslot.  Full setlist is seen here:
Spacey Electronic Intro
Let It Happen
Mind Mischief
It Is Not Meant To Be
Why Won't They Talk To Me
Elephant
Be Above It
Disciples
Alter Ego
Eventually
Oscilly
Why Won't You Make Up Your Mind?
Feels Like We Only Go Backwards
Apocalypse Dreams
Nothing That Has Happened So Far Has Been Anything We Could Control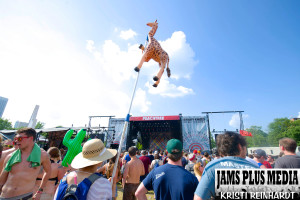 Ultimately, after three years of healthy growth, it's pretty much official: Shaky Knees IS Atlanta's rock festival.  They have done more than simply gain market share, they have accomplished what many festivals strive for yet fail to do: create a brand name.  The Shaky Knees lightning bolt is more than just a logo, it is a symbol that reflects festival founder Tim Sweetwood's vision to bring nothing but alternative and indie-rock's finest to our great city for one weekend every May.  There is a reason Shaky Knees has attracted the national media attention that it has, and that reason is the aforementioned vision, of which Shaky Knees has remained true to for three years and counting.  It's hard to imagine how next year's festival could possibly top this amazing weekend, but Atlanta has faith that this new-found tradition is here for the long haul.
SHAKY KNEES PHOTO GALLERY