Shaky Knees 2015: Third Time's a Charm
written by: Brad Lee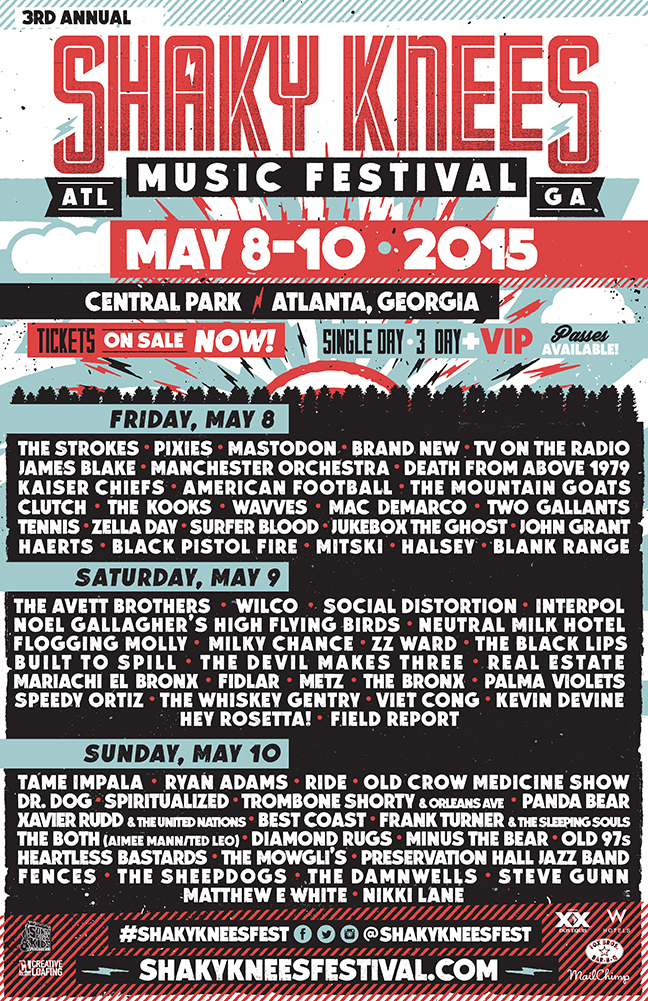 After two years of widely acclaimed success, Atlanta's Shaky Knees festival returns in its third incarnation May 8-10.  The inaugural event in 2013 covered a lot of ground both musically and geographically, taking place at the Historic Fourth Ward Park and Masquerade Music Park.  Last year's festival moved to midtown Atlanta's premiere outdoor shopping mall, Atlantic Station.  This year will mark a homecoming of sorts as the festival moves to Central Park, located within the Fourth Ward parameters and close enough to be paying an homage to the festival's original stomping ground.
What sets Shaky Knees apart from every other festival in the country and incidentally has everyone all abuzz, is that it stays true to its roots.  Founded on the spirit of indie and alternative rock, the festival makes no effort to sell out to the corporate entities that so saturate today's music festival scene.  That is not to say that the event lacks sponsorship, but compared to the Bonarroo's and Coachella's of the world, Shaky Knees' list of sponsors is rather short in comparison and predominantly local, just like the food trucks that will nourish the festival.  This dedication to vision is very apparent in the line-up, which similar to years prior is nothing short of jaw-dropping.
A defining characteristic in the Shaky Knees line-up is the representation of multiple generations of indie/alt rockers.  Friday's schedule is jam-packed full of delicacies with a headlining performance from The Strokes.  This marks one of only two American performances on the band's schedule so far this year.  If that little factoid isn't enough to wet your beak, The Strokes are preceded by Pixies, who personify the spirit of independent alternative rock through a legendary career spanning from the mid 80's.  Other supporting acts for Day 1 of Shaky Knees include TV On The Radio, Mastodon, Manchester Orchestra, Tennis, and Mac Demarco to name a few.
Saturday's festivities will also provide a wealth of diversity with a headlining gig from The Avett Brothers, showcasing the folksier side of rock.  The Avetts are immediately supported by Wilco who will undoubtedly compliment the headliners with their unique blend of alt-country and Beatles-esque rock/pop.  Some other guaranteed highlights from Saturday's lineup include Neutral Milk Hotel, Flogging Molly, Social Distortion, Real Estate, ZZ Ward, Built To Spill, and Atlanta's own The Black Lips.  Another name that is sure to instill a welcomed sense of 90's nostalgia is none other than Noel Gallagher, whose band Noel Gallagher's High Flying Birds will be championing their latest release Chasing Yesterday.
The final day of the festival is bound to deliver.  Aussie psych-rockers Tame Impala will close out the festival after recently dropping Let It Happen, their first single in over two years.  Impala fans have been starving for some new material and their latest release is one of epic proportions, clocking in at just under eight minutes.  Other Sunday acts that are sure to entice festival-goers include Ryan Adams, Dr. Dog, Panda Bear, Heartless Bastards, Best Coast, and The Sheepdogs.  If this lineup weren't enough to have Atlantans counting down the days until May, Shaky Knees recently announced the addition of Ride to Sunday's lineup, legendary British shoegazers who have reunited for a handful of North American dates.  Not only will Ride participate in what is sure to be the best Sunday Funday of the year, but they have also signed on to play a late-night set Friday night at Terminal West.  The late-night sets have proven a signature characteristic unique to Shaky Knees in that even after the festival site shuts down each day, there is still plenty of music to be heard in various clubs around Atlanta.