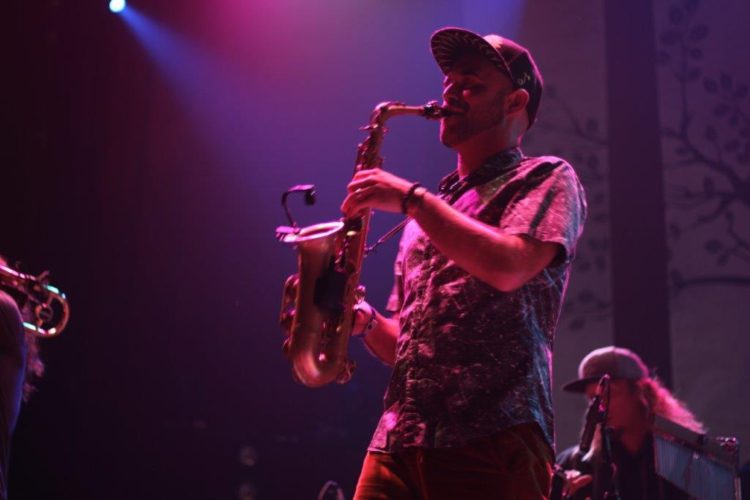 Rebelution with HIRIE – House of Blues
Rebelution with HIRIE – House of Blues
Dallas, TX – 10/26/2016
Words and photos by Bret Arata
Once again I made the trek down to House of Blues in Dallas, TX, but this time a very different crowd gathered to get their reggae fix. I was surrounded by dreadlocks and shirts emblazoned with pot leaves, and the air was thick with the stench of marijuana despite security's best efforts to enforce the no smoking policy. We were in the large hall on the basement level which had both balcony seating and standing room in front of the stage. Luckily, the photo pit was in front of the stage instead of to the side like in the Cambridge Room, so I could get some great up-close shots.
The opening act was HIRIE, a septet from Hawaii founded in 2013. HIRIE, a portmanteau of the Jamaican greeting "irie" and the "H" from Hawaii, is also the name of the lead singer. And I tell you, Hirie may be the most beautiful woman I have ever seen sing on stage. If you're reading this Hirie, know that I am single and definitely ready to mingle. They started their performance with a reggae version of the Legend of Zelda theme which to say the least was quite incredible. Their music is very ska-influenced, with Chris Hampton and Andrew McKee belting away on their saxophone and trombone respectively. Highlights of the show were an excellent cover of Matisyahu's "King Without a Crown" and a crowd pumping rendition of their own "Don't Take My Ganja." Maybe they were trying to send a message to the security staff. Compared to their recorded stuff, which sounds pretty light and chill, their live performance is upbeat and hard-hitting, with Hirie bouncing up and down the stage. Most definitely a band you have to see live.
This was one of the many stops on Rebelution's fall tour with HIRIE. Formed in 2004 by five music students from UC Santa Barbara, Rebelution has been delivering both rocking and relaxing reggae to fans, initially doing local shows and eventually working up to their first studio album in 2007, Courage to Grow, which was a smashing success. I admit my admiration of this band has been brief (a friend told me about them a couple weeks ago), but I have quickly come to love this rocking reggae troupe. Their sound is reminiscent of Sublime, but it's chiller and more rock influenced. "Pretty Lady," "Safe and Sound," and "So High" got the whole crowd up and singing along. My favorite part of the show was the battle between the trumpet and saxophone players right before "Feeling Alright."
Overall, this was a pretty relaxing night of reggae beats and good vibes. If you get the chance to see these guys on this tour, don't miss it.