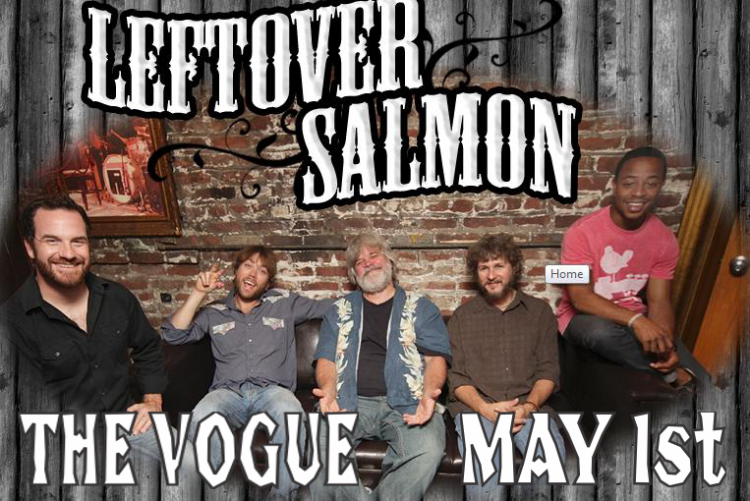 PREVIEW: Leftover Salmon at the Vogue in Indiana ~ May 1st, 2014
Written By: Kristen Mack-Perry
Bluegrass power house Leftover Salmon will be starting their next tour at the Vogue in Indiana this Thursday, May 1st. Joining the band will be friend and producer, Bill Payne of Little Feat. The Vogue holds a deep history in Indianapolis and is currently known as "the place to be" when it comes to live music and dancing.
Leftover Salmon has been back on the scene now for several years, going strong since their eight year hiatus and the loss of founding member Mark Vann in 2002. The friendship between Bill Payne and the group was forged when a benefit show for Vann brought together Salmon and Little Feat.
When the band returned in 2012 they also came back from that hiatus to tour in support of a new album, Aquatic Hitchhiker. In 2013 Leftover Salmon then teamed up with Breckenridge Brewery of Colorado to release four new songs to fans which were released exclusively through the brewery's 12-pack Sampler Packs and are now available on iTunes. Recently the band released their 2004 self-titled album for the first time on all major digital outlets. To celebrate the digital release of the album, Leftover Salmon is offering a free stream and download of the track "Whispering Waters" featuring Bill Payne: http://bit.ly/LOSWhisperingWaters.  The band is stronger than ever and ready to embark on their next tour, which will feature special guests like Bill Payne, Jeff Austin, Danny Barnes, Eric Thorin, Yarn and the Jon Stickley Trio.
Join Leftover Salmon on May 1st at the historical Vogue in Indianapolis, IN (www.thevogue.com ) –  doors open at 8PM and the show is at 9PM, Tickets are $25 in advance and $30 day of the show, this is a 21+ show.
Looking back over the past 25 years of rootsy, string-based music, the impact of Leftover Salmon is impossible to deny. Today, Leftover Salmon is: Vince Herman (vocals, acoustic and electric guitar, mandolin); Drew Emmitt (vocals, mandolin, acoustic and electric guitar, mandola, fiddle); Andy Thorn (vocals, acoustic and electric banjo, National guitar); Greg Garrison (vocals, acoustic and electric bass, acoustic guitar); Alwyn Robinson (drums, percussion).