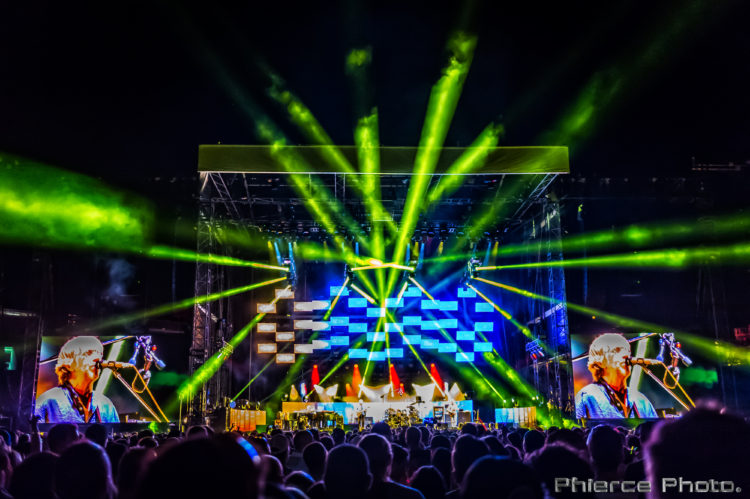 Play Ball with Phish at Wrigley Field
Play Ball with Phish at Wrigley Field
Phish~ 6/24-25/22016 ~ Wrigley Field, Chicago, IL
All photos courtesy of Keith Griner, Phierce Photo
Soundcheck: Unknown song, Unknown song (Mike vocals), Unknown bluegrass song, Miss You, Blues Jam
Set 1: Sample in a Jar, Chalk Dust Torture, Martian Monster > Rift, Yarmouth Road,Sand, Miss You[1], The Wedge, Free > Blaze On
Set 2: Down with Disease[2] > Fuego > Twist > Twenty Years Later > Waste > Also Sprach Zarathustra > Backwards Down the Number Line, Loving Cup
Encore: Space Oddity[3], Run Like an Antelope
[1] Debut.
[2] Unfinished.
[3] Phish debut; a capella.
Teases:
· Weekapaug Groove tease in Twist
Notes: This show was webcast via Live Phish. Following the debut of Miss You, Trey noted that the song would be on their new album and thanked the crowd for letting them try new material. Disease was unfinished. Fish teased Weekapaug in Twist. Space Oddity was a Phish debut and was performed a capella. [setlist via phish.net]
Phish Played Wrigley Field in Chicago and it was everything the phans wanted including the most talked about tribute to the late David Bowie.  Phish as the encore did Bowie's Space Oddity in acapella fashion and it was nothing but spectacular.
Set 1: The Moma Dance, AC/DC Bag > 555, Waiting All Night, Heavy Things, Happy Birthday to You,46 Days, I Didn't Know, Divided Sky, Cavern > Good Times Bad Times
Set 2: Carini > Tweezer > Fluffhead > Piper -> Steam > Wading in the Velvet Sea, Harry Hood >Tweezer Reprise
Encore: I Am the Walrus
Notes: This show was webcast via Live Phish. Happy Birthday was played for Phish tour manager Richard Glasgow. I Am the Walrus was played for the first time since June 29, 2010 (229 shows). [setlist via phish.net]
Full Photo Gallery