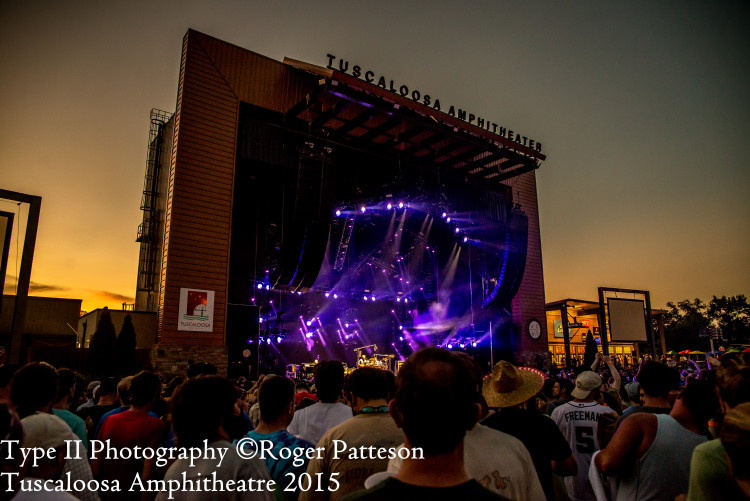 Phish – Tuscaloosa, AL – Tuscaloosa Amphitheatre – 8/2/2015
Phish – Tuscaloosa, AL – Tuscaloosa Amphitheatre – 8/2/2015
Words and Photos by Roger Patteson
Phish has fallen in love with the South in recent years playing some of their finest 3.0 shows in Alabama and Georgia while making a name stay at Pelham's Oak Mtn. Amphitheatre, Orange Beach's The Wharf Amphitheatre and Alpharetta's Verizon Wireless Amphitheatre and Atlanta's Aaron's Amphitheatre at Lakewood.
This past weekend, Phish continued their trademark "Never Miss A Sunday Show" by making a return to Tuscaloosa, AL after a 24yr absence from the popular college town.  Embracing the city's newest music venue, Tuscaloosa Amphitheatre, fans would be treated a continuing theme through out the 2015 tour:  Monster Second Set.
The venue sits on the Black Warrior River in the west Alabama town that serves as home to the University of Alabama and, in its short time of serving music, has already had the likes of Widespread Panic; Umphrey's McGee; Willie Nelson; John Mayer; Neil Young & Crazy Horse; and Crosby, Stills, and Nash to name a few and is quickly becoming a hot spot for the South.
First set would be Phish in solid form with a Sample/Chalkdust opener, Gordon's Meat (first appearance for 2015), a stellar Maze, and 46 Days > Cavern closer.  Second set would open the doors full steam ahead with a quintessential Disease opener clocking in at almost 20 minutes and the heat never stopped. Camel Walk grew legs out of DWD and worked itself perfectly into a sexy, sassy Seven Below (also a 2015 debut) which Mr. Anastasio nailed perfectly. A seamless second set would be on fire with Fuego next right into a dance party many had waited for all tour with 2001 (Also Sprach Zarathustra) causing the entire massive pit to be funking it up only slightly slowing down for a sweet Harry Hood followed by the end is the road Possum. Another first of 2015 appearance, A Day In The Life, manhandled by Page, was the encore of choice.
**SETLIST PROVIDED BY PHISH.NET**
Soundcheck: My Soul, Jam
Set 1: Sample in a Jar, Chalk Dust Torture, Train Song, Devotion To a Dream, Meat,Maze, The Line, Roggae, My Friend, My Friend, 46 Days > Cavern
Set 2: Down with Disease[1] > Camel Walk > Seven Below > Fuego > Also Sprach Zarathustra > Harry Hood > Possum
Encore: A Day in the Life
[1] Unfinished.
Teases:
· The Very Long Fuse quote in My Friend, My Friend
Notes: MFMF contained a Very Long Fuse quote. DWD was unfinished.