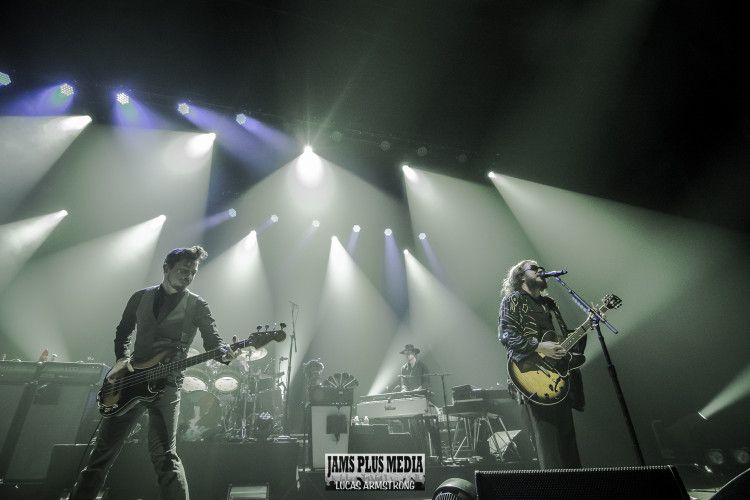 My Morning Jacket at The Fox Theatre
My Morning Jacket at The Fox Theatre
August 7th, 2015 – Review written by Matthew Day, Photos by Lucas Armstrong
An opener of "Tonight I Want to Celebrate With You" set the stage for an all time performance by My Morning Jacket at the historic Fox Theatre on Friday night in Atlanta. That was the message Jim James and company sent to an electric crowd that filled the picturesque venue. The band delivered on their statement, celebrating in glorious, face-melting, fashion.
The night began with a hot start shifting directly into "Off the Record", followed by an old school rocker, "The Dark". The first track of the show off the band's new album "The Waterfall" came next as howls from James reverberated throughout during "Spring (Among the Living)". His haunting vocals set up a perfect transition to the next song "Wordless Chorus", a crowd favorite that had the entire theatre singing in unison.
"O is the One that is Real" and "What a Wonderful Man" followed, keeping the energy high before slowing down the pace for the beginning portion of "War Begun". This spectacular version of the song built up toward a frenzied finger tapping solo by James, before mellowing into "I Will Sing You Songs". "Circuital" came next, after which James addressed the "Hotlanta" crowd proclaiming that it is "always a pleasure to feel the heat, feel the intensity, feel the raw power that is Hotlanta." The playful stage banter seemed to foreshadow what would come later from the band.
2 new songs "Believe (Nobody Knows)" and "Tropics (Erase Traces)" paved the way for some of that Hotlanta heat and raw power that James spoke of.  A heavy, Metallica-esque intro to " "Dondante" fueled an epic rendition of the psychedelic tune that rode a wave of metal-like riffs throughout its performance, culminating with a smooth, sax solo by Carl Broemel.
The band ended the rocking set with "Easy Morning Rebel" and "Magheetah" before leaving the stage to come back out for a 6 song encore. "Smokin From Shootin" kicked it off, followed by "Touch Me I'm Going to Scream Part 1". "Touch Me I'm Going to Scream Part 2" immediately came next providing the boogie for a transition into "Cobra". The band chose to move right from the heavy guitar section of "Cobra" to the shredding dance party track "Highly Suspicious". A soaring "Gideon" closed out a stellar first leg of the 2 night ATL run.
Setlist:
TONIGHT I WANT TO CELEBRATE WITH YOU
OFF THE RECORD
THE DARK
SPRING (AMONG THE LIVING)
WORDLESS CHORUS
O IS THE ONE
WONDERFUL MAN
WAR BEGUN
I WILL SING YOU SONGS
CIRCUITAL
BELIEVE (NOBODY KNOWS)
TROPICS (ERASE TRACES)
DONDANTE
EASY MORNING REBEL
MAHGEETAH
—–
SMOKIN' FROM SHOOTIN'
TOUCH ME I'M GOING TO SCREAM PART 1
TOUCH ME I'M GOING TO SCREAM PART 2
COBRA
HIGHLY SUSPICIOUS
GIDEON
PHOTO GALLERY