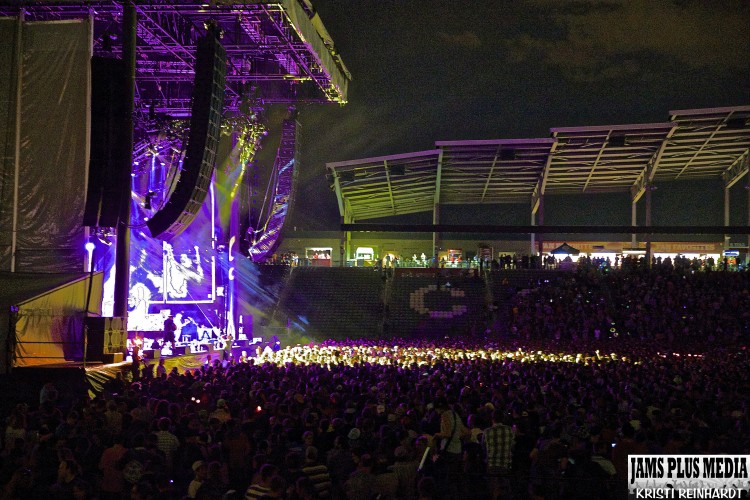 "LUSHINGTON" you say? PHISH, 8/29/2014, Denver, CO
Written by Brad Lee
Photos by Kristi Wilson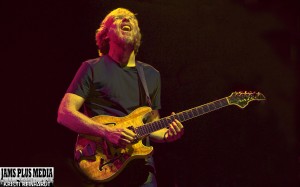 Denver renewed its Labor Day Weekend tradition of hosting three nights of Phish at Dick's Sporting Goods Park, marking the fourth installment since the band first played the venue in 2011.  The final run of shows until Fall Tour, Dick's is historically an unparalleled series of shows compared to their regular summer tour.  Typically, Phish begins the run on night one by engaging the audience in a mind-game of sorts; a gradual message, joke, theme, or song, that is revealed as the show progresses.  This is achieved through strategic set-list planning, as the first letter of every song played is significant.  For example, the first show Phish played at Dick's contained only songs beginning with the letter "S".  This has set the standard for wordplay on night one, as the next year they played an entire show where each song's first initial spelled out the name of an old favorite Phish song.  So, "moving letters all around" has become a well-loved activity on night one.  Last year, the band threw their fans for a loop by spelling out a message in reverse: "Most Shows Spell Something", the setlist being Ghost, NICU, Icculus, Heavy Things, Ester, etc etc….so what was in store this year?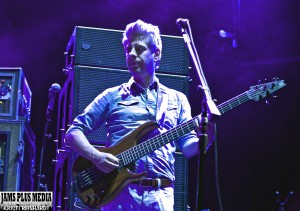 Earlier in the year a poll was conducted amongst Phish fans to determine the most sought-after song in their catalogue.  The unlikely answer?  Lushington.  Lushington apparently was an old Phish staple from their inception that had since evolved into what was now Fluffhead (or more specifically Fluff's Travels), and has since been retired for decades.  So the band decided to respond to the poll and continue their grammatical head-games with raw unadulterated precision, throughout the following set: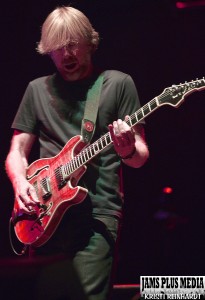 Llama
Undermind
Stash
Halfway To The Moon
I Didn't Know
Nellie Kane
Guyute
Twist
Ocelot
No Quarter
Ha Ha Ha
Suzy Greenberg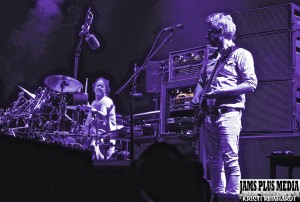 To band chose a powerful cover song to fill the spot of the last N, completing the word Lushington, in No Quarter.  They found a dark and heavy jam and their timing during every change was impeccable.  Upon finishing No Quarter all anticipation of revisiting the ever-elusive Lushington was suspended, as those hilarious Vermonters played Ha Ha Ha, (whose only lyric is the word "Ha" repeated in various rhythmic ways).  The final hoorah for Set One was an appropriately placed Suzy Greenberg, with the help of Natalie Cressman and Jennifer Hartswick on horns.  Set Two contained some of Phish's most diverse jamming all year, through the following roller coaster of a set: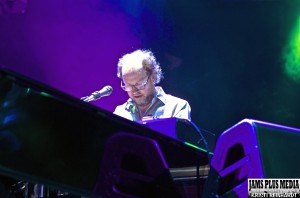 46 Days
Back On The Train
Simple
Ghost
Backwards Down The Numberline
Harry Hood
Wading In The Velvet Sea
Run Like An Antelope
Encore:  Character Zero
The usage of 46 Days as a jam vehicle to start the second set sent a very strong and  energetic tone, as it began to explore outside the song's normal parameters.  The highlight of this stellar set was the 22 minute-long Simple, which segued into another phenomenal jam in Ghost.  The Simple, however, covered the whole spectrum of JAM.  Everything that Phish is, was demonstrated in those 22 minutes.  Here's to hoping Phish at Dick's on Labor Day remains a tradition for many years to come.