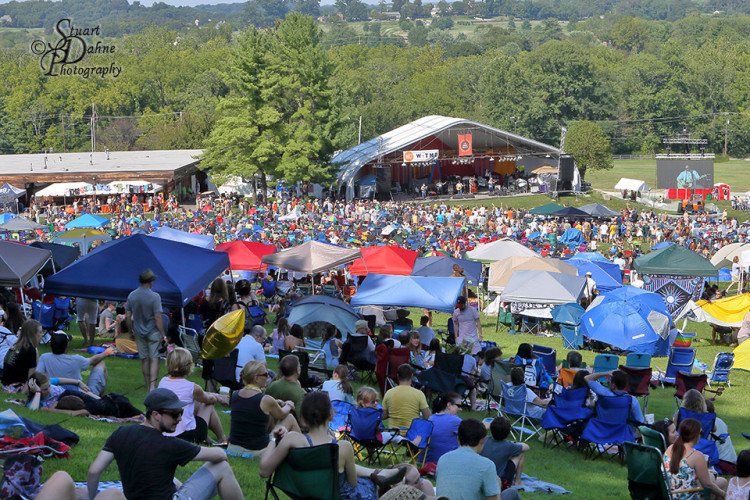 Hot August Music Festival 2015
Hot August Music Festival 2015
Oregon Ridge Park, Cockeysville Md. 08-15-2015
Words and Photos by Stuart Dahne
Hot August Music Festival started 23 years ago with 2 acts at Brad Selko's farm and has evolved to a beautiful music festival at Oregon Ridge Park, Cockeysville, Md.
with 3 stages and an incredible mix of music! This years line up included a wide mix of bands spread out between the 3 stages. On the Paypal stage, which sits in this beautiful cove in the woods was: The Sligo Creek Stompers, Hollis Brown, Dennis Jones Band, Cabinet, and Jarekus Singleton! On the Professional Vision Zeiss Stage was; June Star, Pigeons Playing Ping Pong, The Revivalists, and The Infamous String Dusters! And then on the Main Stage we had; Marah, Shakey Graves, Railroad Earth, The Punch Brothers, and Counting Crows to close out the night!
There was no more than a 1/2 hour overlap on any stage so you could in essence, if you were crazy enough to try (and many did) catch some of every act! The festival is very Child Friendly with lots of scheduled fun for the kids as well! Hat making, a Kids Drum Circle, and a Kids Harmonica Workshop to name a few! The weather proved to hold true to the name of the festival as it was sunny and hot all day! The multitude of vendors made sure that there was plenty of food and drink for everyone and the merchants selling there art and wares provided plenty for all who were there! As far as I am concerned this Festival has one of the BEST VIBES of any festival in the area! Thank You Hot August Music Festival for an Amazing Day!!!