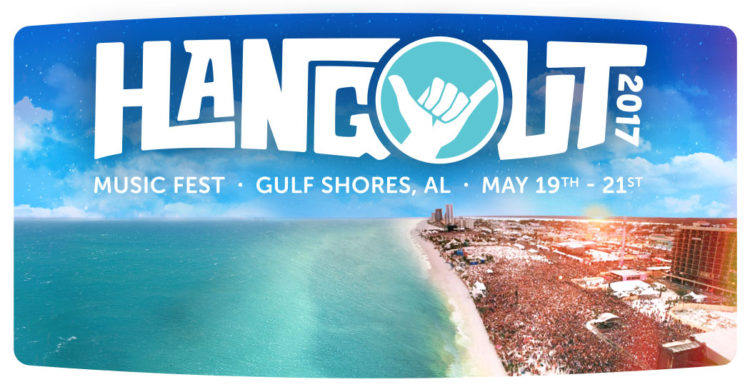 Hangout 2017 Review
Caspian Roberts
Gulf Shores, Al is known for three things: beautiful beaches, great seafood, and Hangout Music Festival. For the past 8 years, Hangout Fest has established itself in being one of the best music festivals in the country, and this year was yet another example of why. I was fortunate to cover this festival again this year, and it seems as if every year it gets bigger and better.
When I arrived in Gulf Shores on Friday the 19th, I knew I would be in for another great year with Hangout. The familiar sensations of the beach mixed with great music swirled around the grounds. The headliner for Friday was (after schedule changes) Phoenix, and I knew that I had a great day lined up before they took the stage. My weekend began by catching the new rising band 888. Their alt/indie sound was a great fit for the crowd, and was a good foreshadowing of the day ahead. The next band I saw was The Strumbellas. Their alt country/indie rock blend made for a pleasant experience on the Surf Stage, and they played their hit song Spirits. The song truly put everyone in great spirits as we continued our festival experience. I then got to see the new rising band Coin on the Mermaid Stage. They are yet another great alt/indie rock band that formed in Nashville, Tennessee. They played some of their hit songs including Talk Too Much, I Don't Wanna Dance, and Boyfriend. I had heard this band on the Sirius radio for several months prior to the fest, and they were even better live. Next up on the list was MGMT. I have been listening to MGMT for many years now, and was very excited to photograph and see a live performance. They began with their song Pieces of What, which I feel is a great song to begin with. That song is a slower song that highlights their psychedelic rock genre style. They also played crowd favorites Time to Pretend, Kids, and my personal favorite Electric Feel. It was amazing to see everyone dancing to my favorite song, and after their set we quickly headed across the beach to go catch Weezer's set. Weezer has been together since 1992, and those 25 years of experience proved that they are one of the best rock bands out there. The beach was full of fans from all age ranges and backgrounds, and everyone was excited to sing along to their favorite songs. From their hit songs which made them famous, including My Name is Jonas, Beverly Hills, Say it Ain't So, and Buddy Holly, to their new hits including Feels Like Summer, everyone had a reason to sing along with this iconic band. Finally was the (new) headliner of the night – Phoenix. This new wave/alt rock band began in France and has took the world by storm since they began. They closed out the first day by playing their hit songs Lisztomania, Girlfriend, and If I Ever Feel Better. They did a great job and were very energetic on stage, closing night one with everyone excited for the weekend to come.
Saturday began with gloomy skies and fingers crossed that the festival would not be rained out. The day began around noon at the Surf Stage with Magic! This band provided a very energetic start to a gloomy day such as this, and put everyone in high spirits. Next on my list was a band I was not familiar with but had heard great things about. The New Orleans based band Mutemath took the Hangout stage, and they provided a very lively concert that everyone thoroughly enjoyed. My favorite part was their lead singer/guitar player Paul Meany's liveliness while performing, and their drummer Darren King's vivacity. This man goes so hard while drumming that he literally duck tape's his headset to his head to prevent it from falling off. Their set was amazing and made most people forget how dark the skies were getting. I was then fortunate to see a band I had caught at a small series in Auburn, Al called Rainbow Kitten Surprise. The band is familiarly known as RKS, and has gathered quite a following since their set in Auburn. I ran into two women from New York that told me they bought tickets and flew down just to see them play the festival! After their set, I could see why. This band was super energetic, with their lead man Sam Melo jumping and dancing around the stage the entire show. The last band I was able to see on Saturday was Band of Horses. This band out of Seattle is known for their indie rock sound that is blended with a folky vibe. They create beautiful songs such as The Funeral, as well as loud and fun songs such as Is There a Ghost. Their set was amazing, and I planned on going to see The Head and The Heart when it began to pour down rain. Our wishes to the clouds were not received as I had to take shelter to protect my camera gear. After sitting and waiting for an hour, I decided I had to head back to my hotel to protect myself and my equipment; and it wound up being the right decision. I heard that the festival wound up being evacuated as Twenty One Pilots just got into their set. While it was a sad end to the day, everyone was hopeful that Sunday would be better.
We awoke Sunday to still Gloomy skies, but no torrential rain. The first band I saw that day was Lukas Graham. This Danish pop and soul band was amazing, and drew a huge crowd to the Hangout Stage. The band did a fantastic job and sang beautifully crafted songs including Mama Said, You're Not There, and the crowd favorite Seven Years to close out the set. This was actually their first ever festival in the United States, and I'd say it was a great one to make history on. Next on the list was Franz Ferdinand. This Scottish band is alt/indie rock influenced, and did a great job of making the crowd dance. Their lead guitarist Alex Kapranos was extremely lively on stage and pumped everyone up. I then ran back to the Hangout stage to see Young the Giant's performance. This alt/indie rock band has gotten huge lately, with their songs being played all over the radio stations across the world. They played some of their favorite songs such as Cough Syrup, Mind Over Matter, and My Body, as well as their new hit song Silver Tongue. Their performance was so energetic that it was contagious, and the huge crowd were all dancing around. Next up on the Surf Stage was Chance the Rapper. The Grammy winner took to the stage and provided a great experience for old fans and new fans alike. He performed several songs from his older albums, as well as some from his newest one. My favorite songs from the set included Angels, Smoke Break, Cocoa Butter Kisses, and Blessings. Chance wound up closing out my weekend while performing my personal favorite Same Drugs. His performance was a testament to his faith as Chance constantly referred to the glory of God and everything he felt blessed with. It was a beautiful expression of his soul and it resounded throughout one of the largest crowds I had ever seen at Hangout Fest. While I had to leave the festival to catch a ride back home, Mumford and Sons closed out Hangout Fest with a bang, and I was sad that I could not see it. Everyone flocked to the stage to see the last performance of the weekend, and they did not disappoint. The indie folk band played songs including Little Lion Man, White Blank Page, Believe, and The Cave. They closed out Hangout Fest with The Wolf and sent everyone home satisfied.
As I say every year, Hangout Music Festival is my favorite time of the year. It kicks off summer in a perfect blend of vacation and music, and really has something for everyone. They continuously get bigger and better every year, and I would highly recommend to anyone that they should experience it at least once.