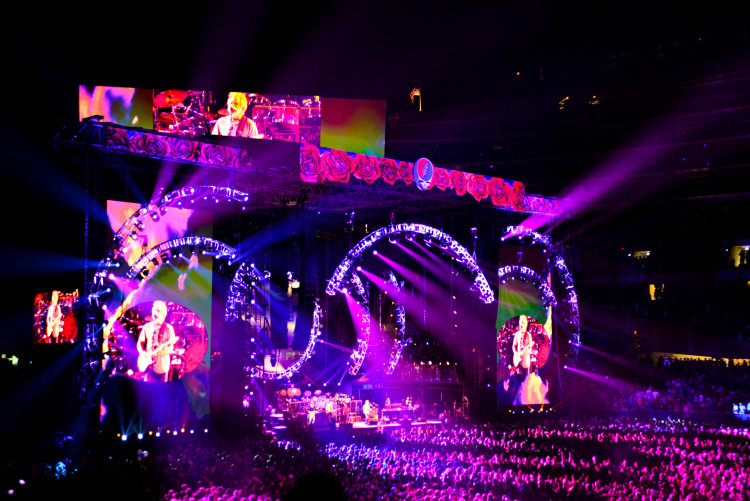 Grateful Dead "Wave that Flag" 7/4/2015
Well, the Grateful Dead put on One More HOT Saturday Night, at their July 4th extravaganza. Red-white-and-blue, stars and stripes, hats and flowers were plentiful amongst the tie-dyes as the grateful crowd prepared to celebrate Independence Day in one of the most liberating ways: dancing with the Grateful Dead. The band opened with a bang on "Shakedown Street", and continued the successful approach from Friday, with some vocals being more evenly distributed (Trey Anastasio sang Jerry Garcia's role in "Standing On the Moon" and "Foolish Heart", Bruce Hornsby took lead on "West L.A. Fadeaway", and they shared singing for "Deal"), while Phil Lesh on "Friend of the Devil" and "Bird Song" and Bob Weir on "Stella Blue" all worked out quite nicely.
The musicians all seem to be gaining familiarity with each other, as "Tennessee Jed" was highly collaborative and found Anastasio drawing Weir into a guitar melding session, and Hornsby's piano and Jeff Chimenti's keys played an overall more prominent role through the night. Anastasio found moments to bring a distinctively "Phish-y" flavor (perhaps most noteably in "The Golden Road") in addition to the Garcia-inspired style he's comfortably embracing. "Lost Sailor > Saint of Circumstance" was a highlight, with Weir on-point and the band building a great intensity. Meanwhile, Mickey Hart and Bill Kreutzmann laid out a brilliantly rhythmic "Drums" that felt as good as 20 years ago, driving and primal.
Of course, the crowd went wild during the set closing "One More Saturday Night", and though we expected the "U.S. Blues" encore, seeing video of the Empire State Building far away in New York being illuminated in sync with the song was an amazing treat! The fireworks display that followed was phenomenal, with patriotic music playing on the speakers, and gorgeous bursts of color and light filling the sky. It was definitely a 4th of July to remember, and what better band could celebrate the Freedom we're so blessed to enjoy than America's quintessential rock band, the Grateful Dead.
Written by: Rosemary A.W. Roberts
Photos by: Clayton Roberts
Setlist
Set One: Shakedown Street, Liberty, Standing On The Moon, Me & My Uncle, Tennessee Jed, Cumberland Blues, Little Red Rooster, Friend Of The Devil, Deal
Set Two: Bird Song, The Golden Road (To Unlimited Devotion), Lost Sailor > Saint Of Circumstance, West L.A. Fadeaway, Foolish Heart, Drums > Space > Stella Blue > One More Saturday Night
Encore: U.S. Blues, (Fireworks Display)
PHOTO GALLERY