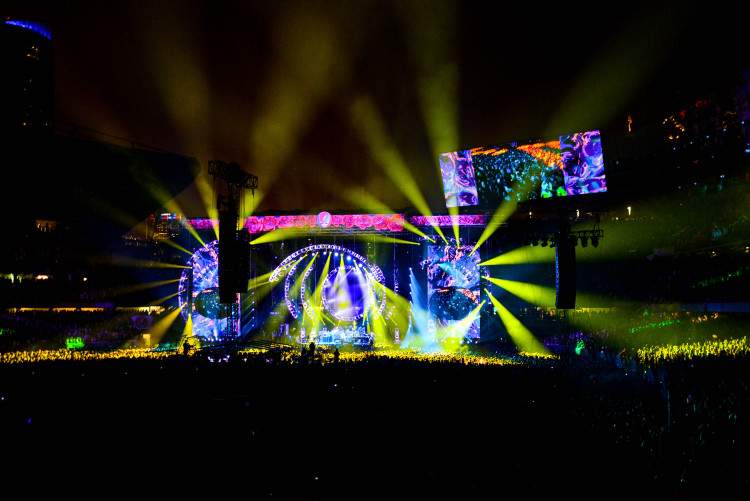 Fare Thee Well – Celebrating 50 Years of Grateful Dead – Chicago, IL – July 3-5th, 2015
Fare Thee Well – Celebrating 50 Years of Grateful Dead – Chicago, IL – July 3-5th, 2015
Written by: Rosemary A.W. Roberts
In my five years as a writer/editor for Jams Plus Media, I've written quite a number of reviews, some easier than others; I've got some experience under my belt. But after attending the Fare Thee Well 3-day concert experience in Chicago celebrating 50 years of the Grateful Dead, I was reluctant to write anything. No matter what words I choose, no matter what songs or moments I try to describe, I feel it will not fully do justice to what occurred in Soldier Field July 3-5th 2015, where 70,000 fans gathered to revel in the Music created by one of the most iconic American bands of all time. Having been fortunate to see one Grateful Dead concert in my life (4/7/1995 in Tampa, FL), and then having mourned the loss of the incomparable Jerry Garcia a few months later, it was clear that even if "The Music Never Stopped", it would certainly never be the same again. When I heard about the 50th Anniversary Fare Thee Well concerts, my first reaction was "That's cool, but I don't really want to go; after all, 'He's Gone', and even though I love Trey Anastasio, it just won't work." Fortunately, my husband Clayton convinced me that if we could score tickets, we should make every effort to go see Mickey Hart, Bill Kreutzmann, Phil Lesh, and Bob Weir one more time, playing the music that changed our lives 20 years ago. Plus, with the talents of Trey Anastasio, Jeff Chimenti, and Bruce Hornsby on board, the lineup was solid, and we should be in for a real good time.
It was my first time in Chicago, and it was amazing to see how welcoming this beautiful city was to the Deadhead community descending upon it. The Field Museum had an "Everything is Dead" exhibit which included Tickets-By-Mail envelope art, a rose-crown bedecked dinosaur skull, a variety of memorabilia, and Jerry Garcia's "Tiger" guitar. The hotel lobbies and hallways played Sirius/XM's Grateful Dead channel, while Giordano's delivered their signature deep dish Chicago pizzas in 'Steal Your Face' boxes. Upon entering Solider Field for the first show on July 3rd, we were offered long-stemmed red roses by the staff, as well as full-color program booklets. Large photos of the band members were hung like banners throughout the stadium. An energy of excitement and joy pervaded the crowd as the GA-floor spaces and all levels of the stadium began to fill to capacity. When the band came onstage, the audience erupted in cheer as "Box of Rain" filled the air: how poignant that the final song played at Jerry Garcia's final show with Grateful Dead at Soldier Field in 1995 became the starting point for our celebration.
Noteworthy highlights from 7/3/15 included: Bob Weir bringing an unexpected "Passenger" into the first set, Bruce Hornsby's piano being turned up nicely on "Crazy Fingers" and "Franklin's Tower", Trey Anastasio being allowed into the driver's seat for "Bertha" and drawing Bob into guitar intensity for "The Music Never Stopped", and the entire second set finding the band firing on all cylinders and sounding fantastic.
Set One: Box Of Rain, Jack Straw, Bertha > Passenger, The Wheel > Crazy Fingers > The Music Never Stopped
Set Two: Mason's Children > Scarlet Begonias > Fire On The Mountain > Drums > Space > New Potato Caboose > Playing In The Band > Let It Grow > Help On The Way > Slipknot! > Franklin's Tower
Encore: Ripple
One of the best ways to celebrate Independence Day is with the Grateful Dead, and 7/4/15 held magic beyond compare. By now the band was truly finding a comfortably communicative style, especially in "Tennessee Jed". With Anastasio on lead vocals for "Standing On the Moon", I was brought to tears, and the "Lost Sailor > Saint of Circumstance" was phenomenal. This night in particular the Rhythm Devils were on point, as Mickey Hart and Bill Kreutzmann put forth a primal tribe-driving "Drums". During "U.S. Blues" they showed video footage of the Empire State Building in NYC being lit up in synch with the song, and then a fabulous fireworks show ensued to finish the evening with a bang.
Set One: Shakedown Street, Liberty, Standing On The Moon, Me & My Uncle, Tennessee Jed, Cumberland Blues, Little Red Rooster, Friend Of The Devil, Deal
Set Two: Bird Song, The Golden Road (To Unlimited Devotion), Lost Sailor > Saint Of Circumstance, West L.A. Fadeaway, Foolish Heart, Drums > Space > Stella Blue > One More Saturday Night
Encore: U.S. Blues, (Fireworks Display)
For the final show on 7/5/15, the band left it all on the stage, with an absolutely solid first set from beginning to end; for me, hearing Phil Lesh sing a beautiful "Mountains of the Moon" leading into a true Grateful Dead classic jam was top-notch. Not to be outdone, the second set brought intense rock in "Truckin'", supreme beauty in "Althea", tear-jerking tenderness in "Days Between", and full crowd involvement for "Not Fade Away". The "Touch of Grey" encore gave us one last nostalgic dose of happiness, and during "Attics" they showed photos of all band members, both past and present, eliciting huge cheers from the crowd.
Set One: China Cat Sunflower > I Know You Rider, Estimated Prophet, Built to Last, Samson and Delilah, Mountains of the Moon > Throwing Stones
Set Two: Truckin' > Cassidy > Althea > Terrapin Station > Drums > Space > Unbroken Chain > Days Between > Not Fade Away
Encore 1: Touch of Grey
Encore 2: Attics of My Life
In 50 years of Grateful Dead songwriting, concerts, and musicianship, "What a Long Strange Trip It's Been!" The musicians on stage in Chicago truly did the Grateful Dead legacy proud, and the audience was supportive throughout, certainly grateful for every song, for every note. Fare Thee Well, Grateful Dead; we love you more than words can tell.