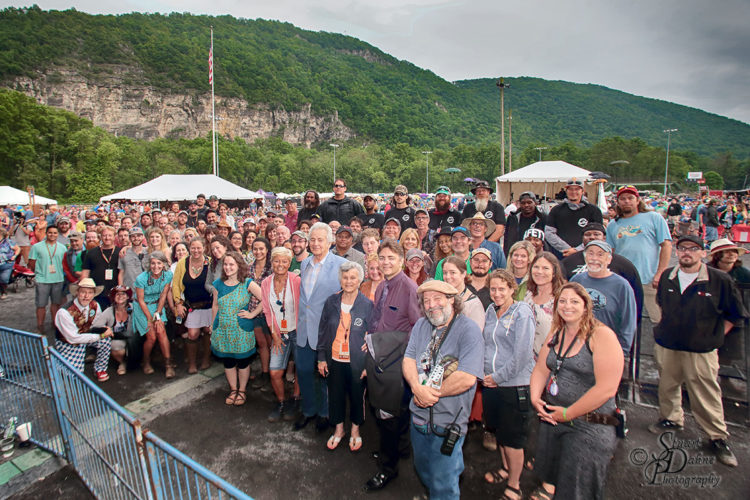 DELFEST 2016 CUMBERLAND, MD.
DELFEST 2016 CUMBERLAND, MD.
DEL YEAH!
There was something in the air this year at DelFest and it was more than just music! This year, more so then any other, there was an overall feeling of love throughout the festival. It started long before the festival began when Dre Anders (Dre and the DelFest Collective) started a participatory video of the song "Get Together written in the mid 1960s by American singer-songwriter Chet Powers (aka Dino Valenti). The song was later made popular by The Youngbloods in 1967 as an appeal for peace and brotherhood, focusing on the theme of love versus fear, and the fact that this is a choice that we need to make. This is embodied in the refrain that has a way of hauntingly sticking with you:
Come on, people now
Smile on your brother
Everybody get together
Try to love one another right now
Dre invited people online to record a video of themselves singing this and submit it to be used in an amazing video of her band performing this song with the video clips edited in at just the right moments! They later performed this and played the video on the big screens for all to see.  It was awesome!
This set the tone for an underlying vibe that permeated the entire weekend. And then there was more! A family that was attending the festival who also participated in the video submission had an idea to make "Love One Another" stickers to hand out randomly to the festival goers! For many who saw these stickers, it became a quest to find them!
AND THEN THERE WAS MUSIC!!!
While the rain gently fell, The Del McCoury Band began with their usual "sound check", starting off with Travelin' Teardrop Blues and moving through many favorites such as Nashville Cats, 1952 Vincent Black Lightning, and All Aboard just to mention a few!
Elephant Revival then came out to treat our ears to some great string music accented with some  amazing harmonies.  It was just beautiful. With all of that, the highlight for me was when Jason Carter came out to join Bridgette Law with some dueling fiddle work that just carried me away!
Next, Joe Craven gave one of his well thought out introductions of The Wood Brothers, who then proceeded to pick up the pace and really get everyone moving! Oliver Wood on Guitar and Vocals, Jano Rix on Drums and Shuitar, and Chris Wood on Bass, Vocals, and Dancin' up a storm! Between the amazing music and Chris's high energy dancing there was nobody sitting still! They played some all time favorites such as: I Got Loaded, Snake Eyes, Postcards From Hell, and Honey Jar!
When their set was over and Yonder Mountain String Band came out going at full speed, we knew that we were in for a treat! Their classic bluegrass instrumentation with excellent solos placed in the midst of that "Jam Band" feel was just the way to end the main stage event on the opening day!
The following days were filled with one highlight after the next! Jerry Douglas Presents The Earls of Leicester, a true reincarnation of the music of Lester Flatt, Earl Scruggs and their band the Foggy Mountain Boys, was a set that I will not forget! Jerry Douglas does an amazing job bringing this music back from the past and presenting it to a contemporary crowd to insure that this music is not lost or forgotten!
The Tedeschi Trucks Band performed another crowd pleaser of a set, but who would expect anything less! Starting off with "Laugh About It" and then "Don't Know What" right into "Keep Growing" was just a beautiful beginning! Ending with Bob Dylan's "Don't Think Twice" with Ronnie McCoury playing some tasty mandolin, and then a "Jam" into "Let Me Get By". The crowd would not have this as an ending so they came out for an outstanding encore ending with a stunning version of "The Letter"!
Sierra Hull, mandolin player extraordinaire, played an incredible set with her band mates Justin Moses & Ethan Jodziewicz.  Sierra then proceeded to seemingly sit in with every other artist over the weekend!!! Her tasteful choices musically and her infectious smile was a great addition to every stage that she set foot on!
Keller Williams set was filled with intricate loops intermingled in an amazing way with his great guitar (and bass) playing coupled with vocals for a most interesting set!
Bruce Hornsby and the Noisemakers thrilled everyone!  Bruce's talent on the piano, accordion, and the mountain dulcimers was a great add and really gave us that Appalachia feel!
For the 2nd year in a row Evan McCoury's band The Broomestix thrilled the crowd! There is not a member of that band that is not of the utmost quality and talent! Their "Funky, Rock & Soul" pleased the fans once again.  I feel the need to list each and every one of these fine musicians as I am sure that you will be hearing more from them as time goes on! If you have not heard these guys (and girl) yet… you need to seek them out! I promise that you will not be disappointed!
Keyboards: Conner Broome,
Vocals: Briana Middleton,
Guitar: Evan McCoury,
Guitar: Taylor Galbreath,
Bass: Luke Saunders,
Drums: Andrew Wilson,
Trumpet: Dominique Caster,
Trombone: David Cooper,
Sax: DeVante' Buford,
Bari Sax: Mani Schmidt
I am sure that I could write all day about this past weekend yet I will stop here and leave you with some photographs to lead you visually through some of the weekend! If you have never been to DelFest, next year will be the 10th anniversary and I am sure that it will prove to be one that you will not want to miss! Please visit my website www.stuartdahnephotography and feel free to share this article with everyone that you know!
Until next year let me leave you with this:
Love is but a song to sing
Fear's the way we die
You can make the mountains ring
Or make the angels cry
Though the bird is on the wing
And you may not know why
Come on people now
Smile on your brother
Everybody get together
Try to love one another
Right now
Some may come and some may go
We shall surely pass
When the one that left us here
Returns for us at last
We are but a moment's sunlight
Fading in the grass
Come on people now
Smile on your brother
Everybody get together
Try to love one another
Right now
Come on people now
Smile on your brother
Everybody get together
Try to love one another
Right now
Come on people now
Smile on your brother
Everybody get together
Try to love one another
Right now
If you hear the song I sing
You will understand (listen!)
You hold the key to love and fear
All in your trembling hand
Just one key unlocks them both
It's there at your command
Come on people now
Smile on your brother
Everybody get together
Try to love one another
Right now
Come on people now
Smile on your brother
Everybody get together
Try to love one another
Right now
Come on people now
Smile on your brother
Everybody get together
Try to love one another
Right now
Right now
Right now
============================================================
And here is what others have to say about DelFest:
Wade Clark ~ "Delfest, We are family!"
Jane Rogers ~ "Delfest is all about the kind, loving vibe. I always meet new friends and catch up with old ones. It is one big perm-a-grin."
Emily Cardaro ~ Most of my family originates from Appalachia or very close to the Appalachian mountains. Delfest for me is a homecoming to my roots. When I'm in the mountains dancing to bluegrass, I feel more than anything that I am connecting to my ancestors and celebrating life the way they used to (on a much bigger and more techinical scale). Delfest is family and delfest is love!
Timoth Martin ~ Simply put Delfest just feels like home man. 4 years in and there's no place I'd rather be.
Janet Griffin ~ What can I say about Del Fest that won't seem too good to be true?  What a lovely festival.  Laid back, great music, great crowd, great vendors.  Everywhere was a treat to my ears and eyes, from the gorgeous voice of the lead singer of the Lil' Smokies to Joe Craven's outrageous outfits.  And the collaborations going on with almost every act.  I got to see Steve Poltz invite up the Brothers Comatose along with Tim Carbone of Railroad Earth to join him on stage.  To hear the fiddle harmonies was something I will not forget any time soon.  The free hugs and the smiles were contagious.  This was my first Del Fest and it won't be my last.  I only wish I had the stamina to run from stage to stage in order to hear every note of every band.
Peace & Blessings,
Stuart
www.stuartdahnephotography.com