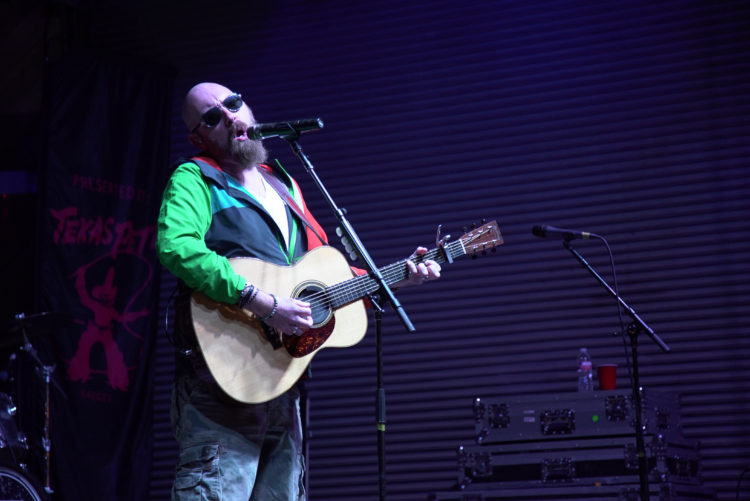 Corey Smith – The Rustic – Dallas, TX – 3/23/2017
Corey Smith/Jacob Powell – The Rustic – Dallas, TX – 3/23/2017
Written by: Bret Arata
Photos by: Ben Mohler
I came to The Rustic in Dallas on Thursday night with a purpose. I had seen Corey Smith two times before this: once at Lake Martin Amphitheater when he played before Sister Hazel and once at the Soul Kitchen in Mobile, AL during Mardi Gras. Both times, however, I didn't get the chance to see him play his most popular song (and my personal favorite of his), "Fuck the Po-Po." So, this was going to be my chance to finally see him perform it.
The Rustic was a fantastic venue, with a creative, Texas-inspired restaurant inside serving such items as "Calf Fries with Buttermilk Dip," "Texas Quail," and "Brisket Quesadilla;" a bar serving excellent cocktails and local Texas beer; and a backyard with picnic tables, ample room for standing and sitting, and a good-sized stage on one side. Corey Smith even marveled at the fact that he could watch March Madness while he played. The crowd mostly consisted of twenty somethings from around the Dallas area, but I did manage to meet two lovely ladies from North Alabama and an Auburn student (War Eagle!).
The opening was a Jacob Powell, an up-and-coming artist from Lawrenceburg, Tennessee. As I mentioned to my photographer during the show, you really wouldn't consider him that much of a "country" artist if it weren't for his strong Tennessee accent. His musical style is definitely very rock-influenced but not in the way that many pop country songs sound like bad alternative rock about tractors and beer. This influence is very evident in his live show, in which he performed faithful covers of "Come Together" by the Beatles and "Rock and Roll Ain't Noise Pollution" by AC/DC with a Southern twist. Jacob Powell is an artist to watch out for in the future of Southern rock. At the end of his show, Powell said he was going to be by the merch table to talk to fans, so I decided to walk over there and talk to him. But every time I tried, he was always talking to some pretty girls, so I didn't want to interfere with his work – and never got to talk to him.
Corey Smith began his set by himself, alone with only an acoustic guitar, playing a couple of his early material including "In Love with a Memory" and "Twenty-One." At the end of "Chattanooga," a rap about an unpleasant incident with one of the city's police officers, the band played two lines from Pink Floyd's "Another Brick in the Wall," making this listener pretty happy. He played many of the crowd's favorites, from "I Love Everybody" to "Maybe Next Year" to "Drinking Again." Corey then played "If That's Country," a song bashing many modern "country" artists for not really being country (namely Kenny Chesney). Before the line "Now I love it all from hip-hop to rock and roll," the band broke out a variety of samples from various artists – "Sweet Emotion" by Aerosmith, "Fuck You" by Ceelo Green, "Tiny Dancer" by Elton John, "Gimme Three Steps" by Lynyrd Skynyrd, and others. You can really discern Smith's various influences in his music, from his rock style to the short raps he does in a couple songs. He's less country and more Southern Rock with old-school country influence. As he closed his set with "If I Could Do It Again," I thought to myself he wasn't going to play "Fuck the Po-Po." After he left, the crowd began to chant the name of the song, for they too had felt robbed of their moment. Smith and the band then came back on to do a stellar rendition of "Ramble On" by Led Zeppelin and his own "Backroad." Yet still, no "Fuck the Po-Po." I guess I'll just have to see him again.