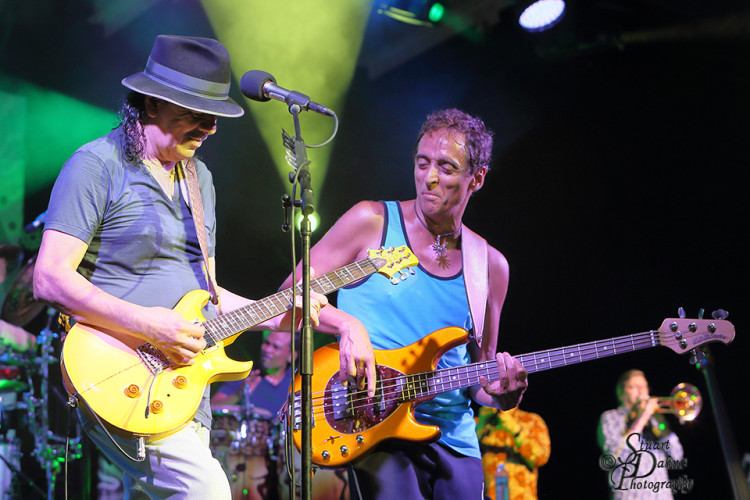 Carlos Santana
08-26-2015, Pier 6 Pavilion, Baltimore, MD.
An Amazing Artist in a beautiful setting, what a combination! The Pier Six Pavilion has to be one of the most beautiful venues in the United States with its panoramic views of Baltimore's world famous Inner Harbor and a night that could not have been more perfect weather!
"We love the life we live, With light, We live the life we love, For light"
Carlos Santana, from "The Carlos Santana Blues Band" in 1967 up until today and still "relevant"! At 68 years young Carlos Santana still impresses us all with 2 hour plus shows and an energy that just washes over you and transforms you for at least the time that you are there! Last night's performance at Baltimore's Pier 6 could not have been more of a party with music spanning his entire career. Often times Carlos is very unobtrusive on stage yielding to showcase the rest of his amazing band, however, make no mistake about it, Carlos's classic guitar work cuts through to the top no matter what! In the midst of this amazing party Carlos takes time to center us all with a spiritual reminder, a reminder that "we are all created of 2 things, Light and Love" and that we need to embrace that and carry that with us! He shares that we all can tell ourselves "I am that I am; I am the light" and he reminds us to look beyond religion and to love each other!
Tonight's lineup was classic" Jose "Pepe" Jimenez ~ Drums. Paoli Mejias  ~ percussion, Karl Perazzo ~ Percussion, Benny Rietveld ~ Bass, David K. Matthews ~ keyboards, Tommy Anthony ~ Guitar & Vocals, Bill Ortiz ~ Trumpet, Jeff Cressman ~ Trombone, Tony Lindsay ~ Vocals, Andy Vargas ~ Vocals
The band was fluid and impressive the entire evening. I was incredibly impressed when Carlos took a moment and spoke to a woman in the front of the audience, He said that he had seen her in the front and wanted to give her a gift; He then gave her a guitar and autographed it on the spot! WOW! This all reminds me of a principle that Carlos subscribes to: "There is no greater reward than working from your heart and making a difference in the world." Thank You Carlos Santana! Thank you for years of beautiful service to mankind and most of all, Thanks for the music!
Peace & Blessings,
Stuart Dahne (Writer and Photographer)