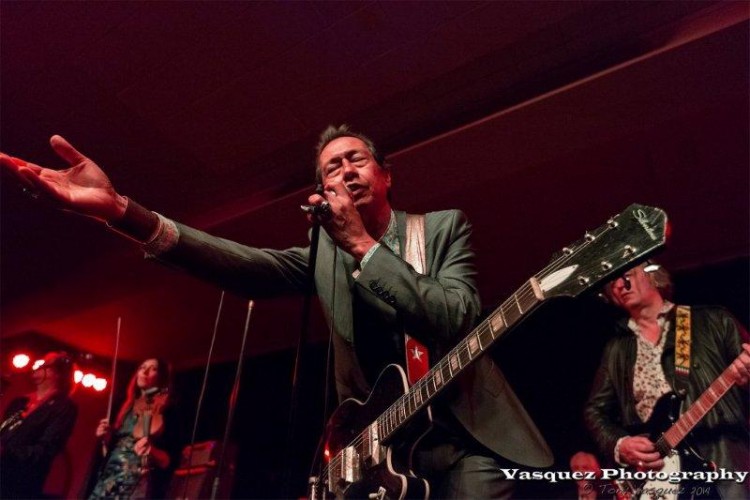 Alejandro Escovedo & Peter Buck– Taft Theatre Ballroom–Cincinnati, OH—02/26/2014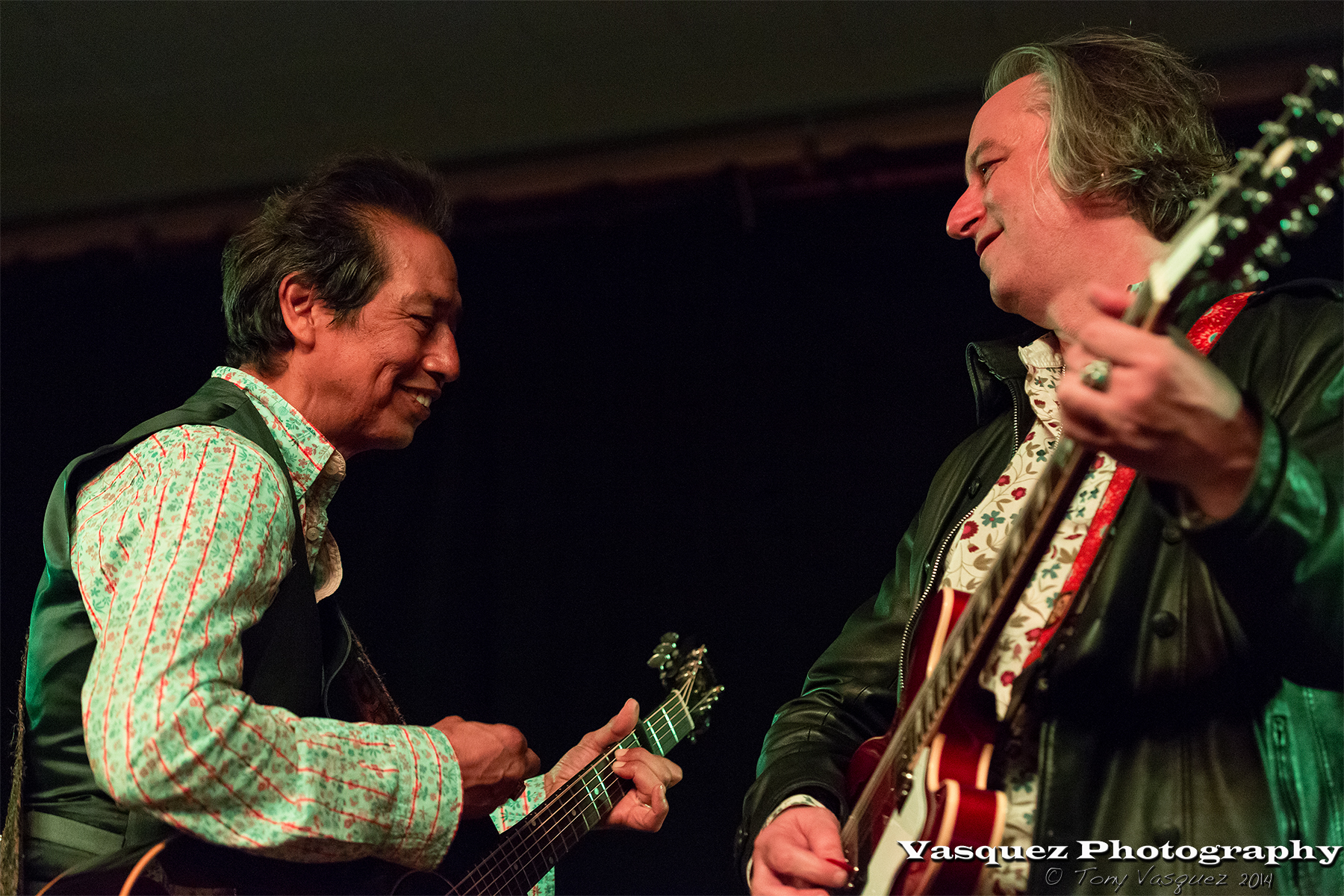 Written by: Zen Wild
Edited by: Rosemary A.W. Roberts
Photos by: Tony Vasquez
We wait for the start of the Alejandro Escovedo/Peter Buck show at the Taft Theatre Ballroom in Cincinnati. In the meantime, despite the sparse early crowd, a man walks up and stands entirely too close to me.  Instead of getting angry, I strike up a conversation with the man.  It seems he is an ex-record storeowner from Bowling Green, KY, who has driven roughly 4 hours just to see Alejandro.  After some music stories bantered back and forth between the three of us, the man assures us that we won't be disappointed.  "Alejandro Escovedo," he says, "is never disappointing, nor is Peter Buck."  Almost on cue, Peter Buck and his band begin to walk on stage, and there is no time for further conversation on the matter, nor pondering, only listening.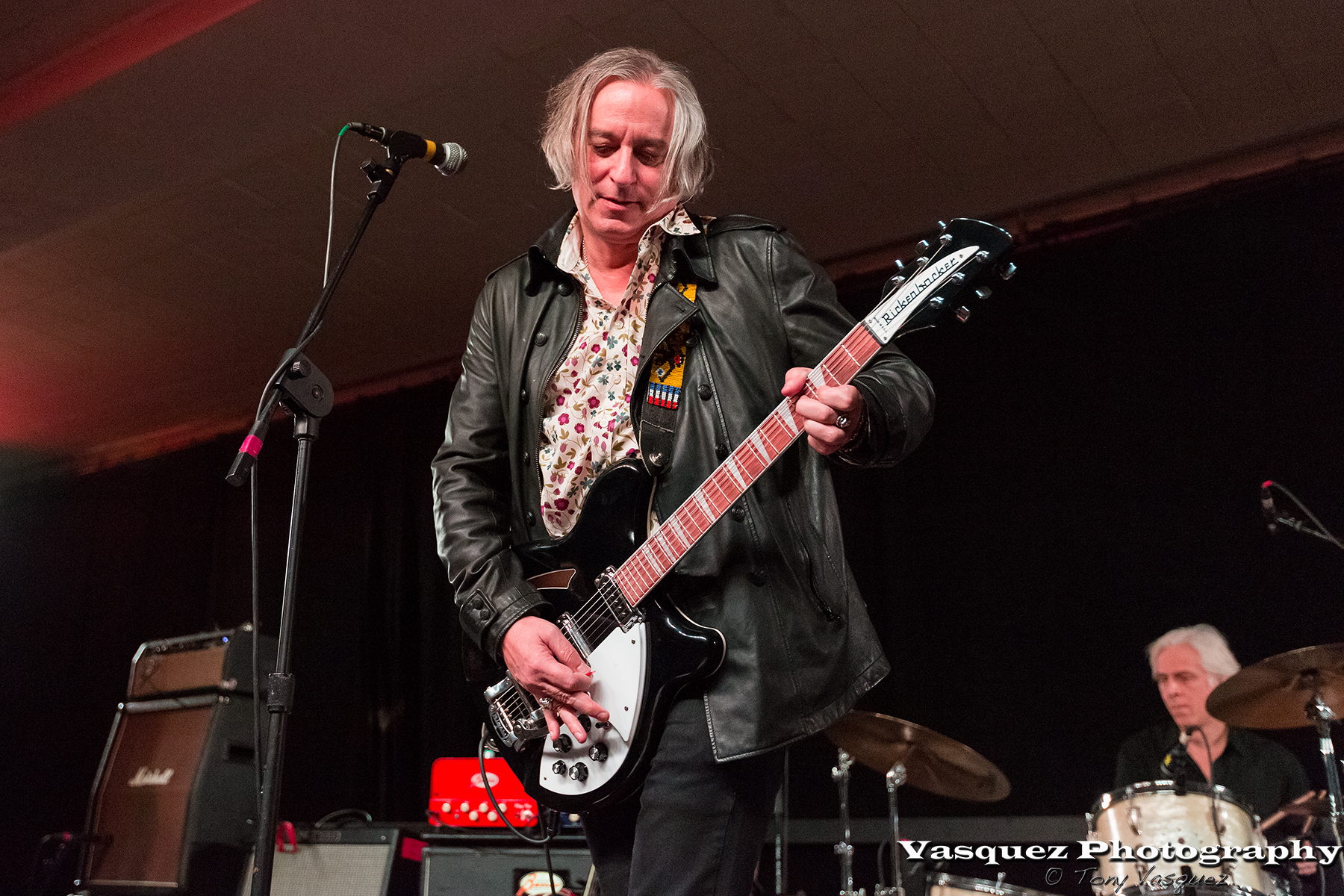 When Peter Buck and his band get on stage, they look like they're dressed for rock and roll.  They're all wearing black, including Buck himself in a leather jacket and black jeans, except for bass player, Scott McCaughey, who is dressed in a work shirt, which makes him look a bit like a trucker.  With his wild, white hair and dark shades, he reminds me a bit of Jerry Garcia.  Peter Buck starts his set with a song called, "So Long Johnny," off his album, Peter Buck.  It has a bit more of a loose, laid-back rock sound to it, which is a bit different than some of the songs they follow up with.  Many of the tracks have hard, driving riffs, which remind me of nothing so much as The Ramones.
Near the end of the set, Kevin Kinney comes up and plays a song, "Honeysuckle Blue", with Buck and his band, which he wrote as the front-man for the band Drivin' N' Cryin'.  Honestly, it's amazing.  Peter Buck even remarks, "That should have been last," as they finish.  Kinney, Buck says, "Just happened to be passing through."  We're fortunate that he is.  Continuing on, Peter Buck and his band end up closing their set with "(You Must Fight to Live) On the Planet of the Apes," a song by the Mummies, and then finishing with one of their own, "Outta the House," which appears on Buck's new LP, I Am Back To Blow Your Mind Once Again.  My only complaint with the entire set is that over top of the wall of guitar sound, it's hard to hear the vocals.  Like I said, though, some of their stuff reminded me of the Ramones, and if you've ever been to any punk shows, there's almost always a heavy dose of guitars, and less so of vocals.  Meanwhile, as Peter Buck walks offstage, we sit back and wait for Alejandro Escovedo.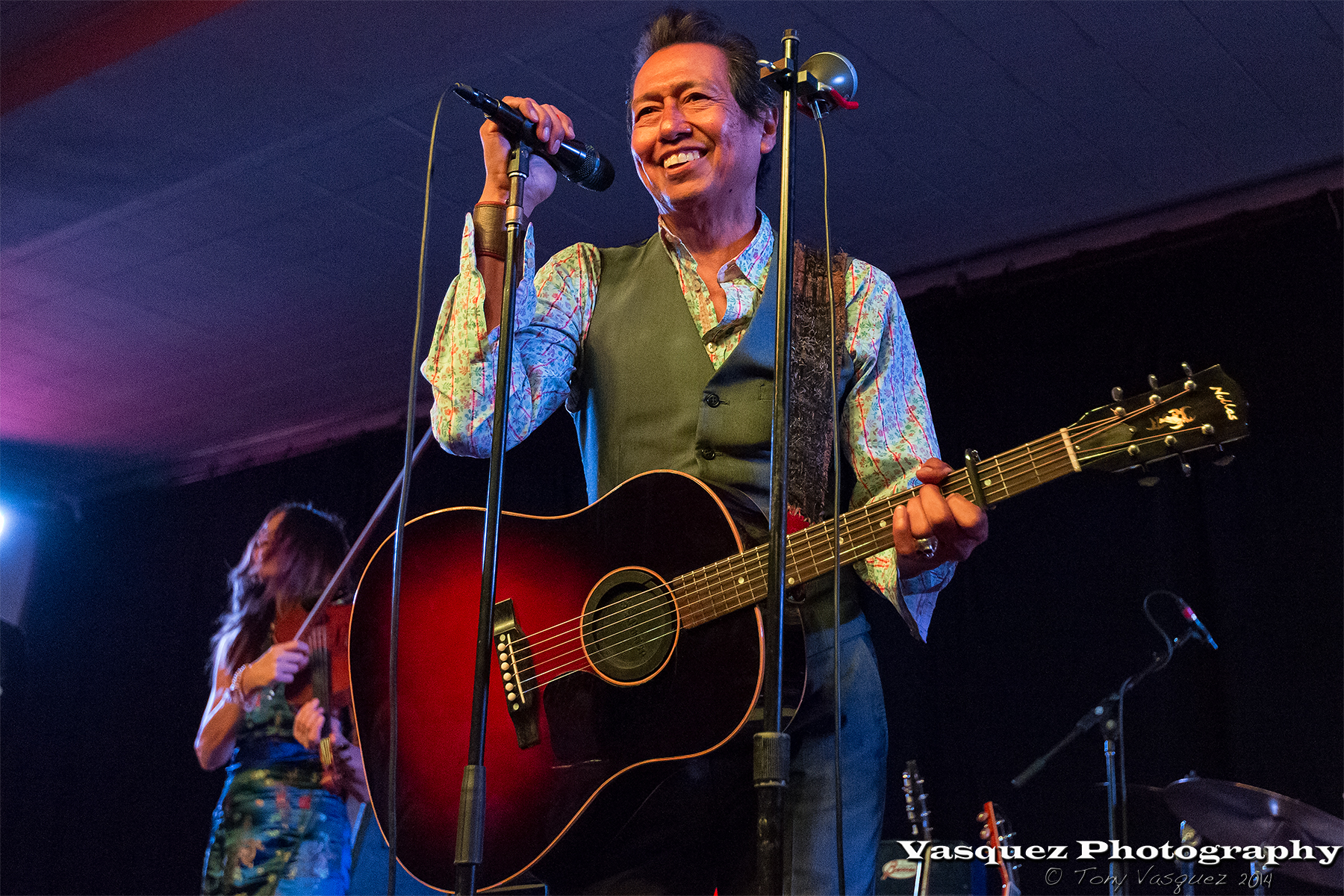 Alejandro Escovedo walks on stage styling, dressed in a silvery gray suit, flower western shirt and silvery gray vest beneath, and a pair of polished brown boots.  With him, is his violin/fiddle player, Susan Voelz, dressed in a Chinese-styled silk dress and tall boots.  In answer to an earlier question we had as to who would be Alejandro's backing band, Peter Buck and his band accompany Alejandro and Susan on stage.  Alejandro asks how everyone in the crowd is doing, and his smile is a foretelling of what is still to come.  It's bright and shining.
Escovedo begins his set with one of my favorite tracks off of his newest album Big Station, entitled "Can't Make Me Run."  It's a brilliant, defiant statement of resiliency, from the beginning until the softly sung final words of the refrain, "Don't give up on love."  Even from this first song, a person is unable to deny the beautiful tones he squeezes from his Silvertone guitar.  He follows up with the song, "Tender Heart," off his album Street Songs of Love, before going into another personal favorite which appears on Big Station, "San Antonio Rain," an ode to the life he's lived, and of growing up in San Antonio.  "San Antonio Rain" is heartrending, and the delivery of "Tender Heart" reminds me a lot of early Tom Petty.
The set continues with Alejandro cutting up, and telling stories in between songs.  That is one of the best parts of his performance.  He engenders himself to his audience, like many noted folk songwriters have been known to do.  As he gets back to playing music, he plays some older songs, and some newer songs, including "Sally Was a Cop," off Big Station, and "Arizona," from The Boxing Mirror.  It is a testament to the power and energy generated by his persona and his music that I find myself truly energized all the way until the end of his set.  This is saying something, because, as all of the music of the night started, I was dead tired, due to a lack of sleep.  "Who wants to sleep when you can hear music like this?"  That's what I kept asking myself.  It was really a rhetorical question.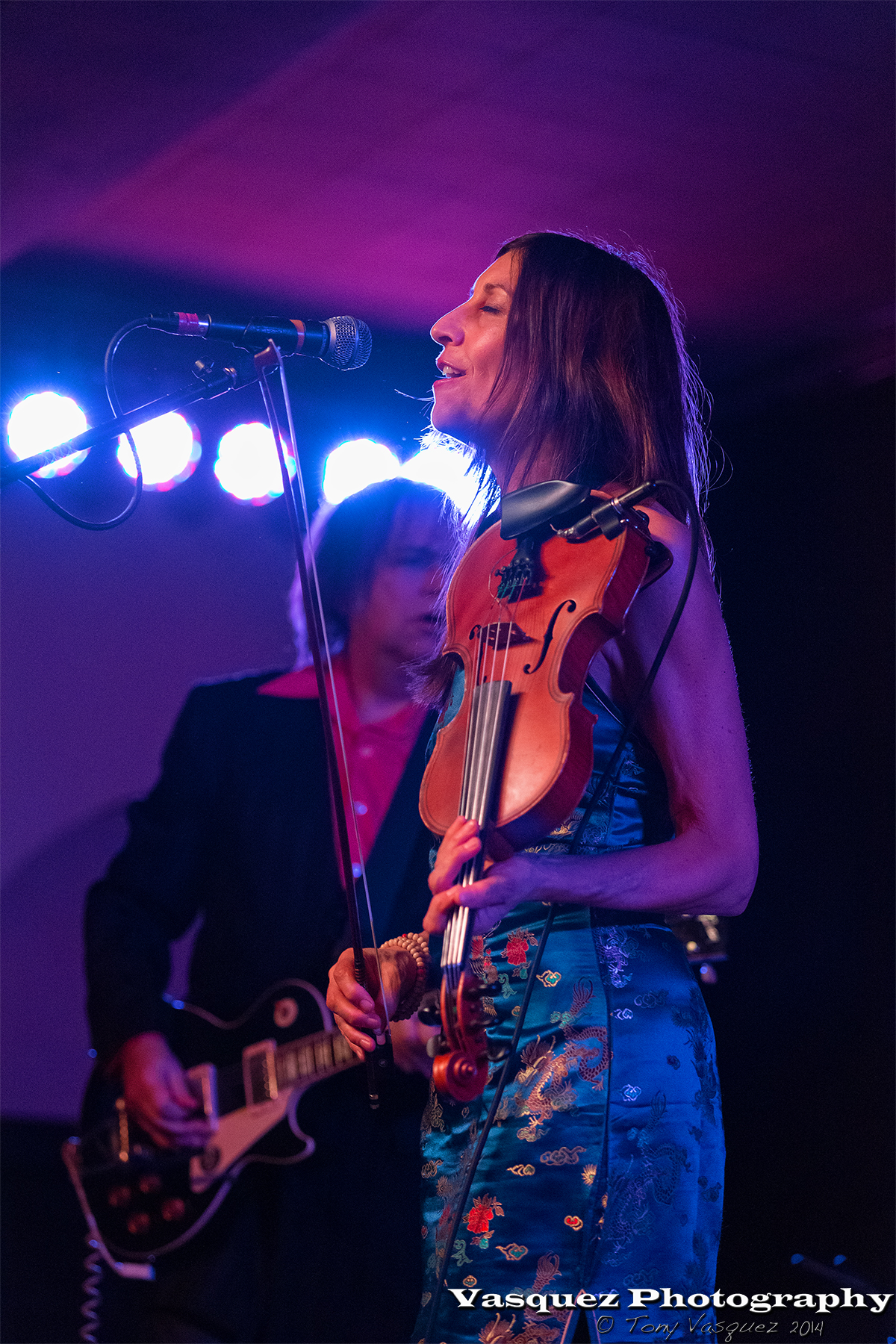 One of the highlights of the entire night was when, for the last song of his initial set (before the encore), Alejandro invites Kevin Kinney back on stage, and along with Peter Buck and his band, they play a blistering version of Neil Young's, "Like a Hurricane," passing blistering solos back and forth between three guitars and Susan Voelz's violin.  I've always loved this song, and Escovedo and crew do it absolute justice.  Listening to it, a person is only stuck hoping that it will go on for another 10 minutes, but eventually all things end, and as it does, everyone thanks the crowd and heads backstage.
A few minutes later, Alejandro and Susan return for an acoustic encore.  It is soft and heart-touching, and the stories related in between tracks continue.  When Alejandro decides that it's time, he invites everyone back on stage, including Kinney, and they play a lengthy cover of The Stooges, "I Wanna Be Your Dog."  Again, solos are passed back and forth, with a few being taken by Alejandro himself, quivering with vibrato from a repeated use of his guitar's tremolo bar.  It's an excellent way to close the show after slowing things down with the acoustic pieces, and as we walk outside, after Alejandro Escovedo, Peter Buck, and everyone have said their farewells, I still have the music running through my mind.  Regardless of what the real lyrics might have been, the words I have repeating internally are: "I have to see Alejandro Escovedo again."
Gallery Links:
Alejandro Escovedo: http://jamsplus.smugmug.com/TonyVasquezPhotography/Alejandro-Escovedo/
Peter Buck: http://jamsplus.smugmug.com/TonyVasquezPhotography/Peter-Buck/