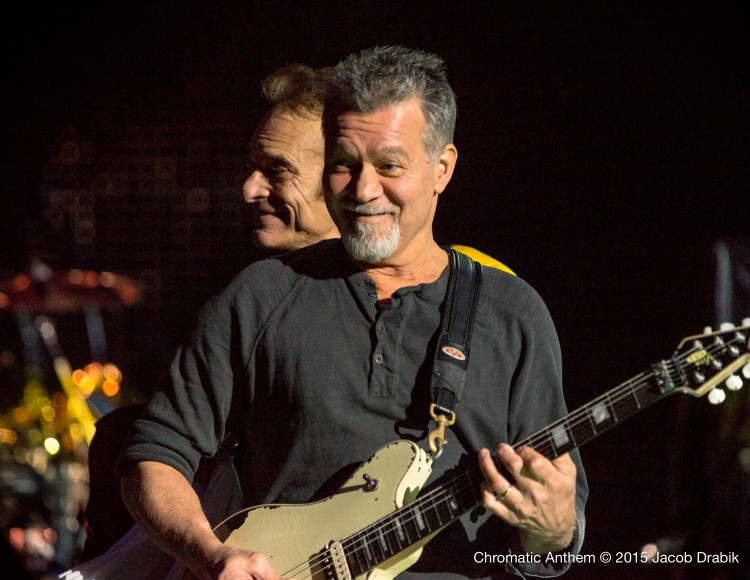 Van Halen at Red Rocks Amphitheater
with Kenny Wayne Shepherd supporting ~ July 20, 2015
Written and Photos by: Jacob Drabik
Red Rocks Park has been at the top of my list of music venues to visit for a long time, so I check their schedule from time to time to see who's playing. I look for an excuse to visit Denver, see a show, explore the city, and go hiking for a few days, and I can't think of a better excuse than Van Halen with David Lee Roth. So, my wife and I along with her brother and sister-in-law arrived at the park early, set up camp with the other tailgaters, and went exploring.
Red Rocks is a beautiful park, and being more than six thousand feet above sea level, the air was just as thin as everyone warned us it would be. The height provided for amazing views of Colorado, and we were admiring the scenery from the geologic overlook just above the Upper North Lot when we noticed rain off in the distance. By the time we hiked back down to the lot, the temperature had dropped dramatically, and it wasn't long before we were huddled in our car to get out of the rain.
Although the rain made for cold and miserable conditions, the amphitheater's seats were full and the audience was engaged when the Kenny Wayne Shepherd Band took the stage. An intense Shepherd powered through traditional blues licks while Noah Hunt grinned from ear to ear. Hunt's vocals paired well with the band and the audience seemed pleased despite the weather.
Right before Van Halen took the stage, the rain subsided and the whole place brightened, which seemed perfectly fitting when Van Halen opened with "Light up the Sky", which made our group of hard-core Van Halen fans ecstatic. When the band took the stage, Alex Van Halen was tearing up his kit, Wolfgang Van Halen looked earnest, Eddie Van Halen was enthusiastic, and David Lee Roth swaggered up with a huge, cocky smile.
The band played strong for well over two hours. They played all their most famous songs, and a surprising amount of deep album cuts. Besides "Light up the Sky", we were delighted to hear "Drop Dead Legs", "In a Simple Rhyme", and "Dirty Movies"—we questioned whether they've ever played those last two live before this tour.
Roth was a trip throughout the show. He ran, danced, and jumped around the stage. He waved his mic stand around like a lance. He changed jackets half a dozen times. He and Eddie appeared to have real chemistry. They seemed to be tossing jokes back and forth, and physically playing off each other during several songs. But Roth also seemed to trade in the roll of the band's lead-singer for the opportunity to perform as an individual entertainer. He was more engaged in storytelling and philosophizing than nailing all the lyrics. There were several longer monologues where he seemed to lose the crowd, but Eddie would follow up with a rousing guitar solo to win everyone back.
Except for Wolfgang, everyone in the band spent time front and center with long, intricate solos. This allowed for Alex and Eddie to show off their masterful musicianship, and Roth to play a little guitar and pontificate. Each time the other members would vacate the stage to catch their breath. This lead to a longer set without a break for an encore. It was really wonderful. The show was smooth and steady, and those two hours flew by.
Sitting high up in the amphitheater looking past the stage at all the tiny, little house lights spread out across the Colorado landscape, we fell in love with the venue. There is nothing like experiencing the majesty of Red Rocks in person. Or David Lee Roth, for that matter.