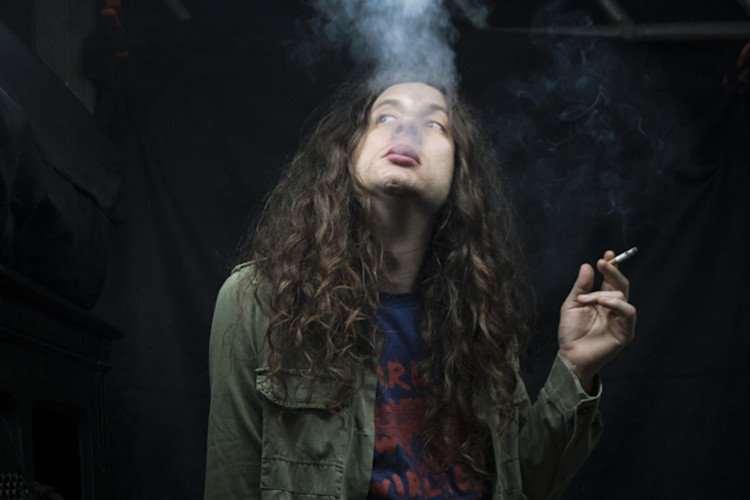 Upcoming Show: Kurt Vile and the Violators at The Bluebird
Kurt Vile and the Violators
Purling Hiss (solo), Circuit des Yeux
Bluebird in Bloomington, Indiana
Sunday, April 3, 2016
Doors: 7:00 PM
Show: 8:00 PM
Tickets can be found at: http://kurtvile.com
Photo by: Marina Chavez
Having been the subject and willing conspirator of many intentional lies planted in Sonic Youth bios over the years, I know first hand the way album lore can bend reality to its truth. After the infamous Byron Coley originated the SY "Trilogy" myth in the Murray Street bio, we had no choice but to fulfill those expectations with Sonic Nurse. "Why did you decide to make a trilogy?" was always the first question asked in interviews around that time.
But this is Kurt Vile's bio, and I wont do that to him. Anyway, Kurt does his own myth making; a boy/man with an old soul voice in the age of digital everything becoming something else, which is why this focused, brilliantly clear and seemingly candid record is a breath of fresh air. Recorded and mixed in a number of locations, including Los Angeles and Joshua Tree, b'lieve i'm goin down… is a handshake across the country, east to west coast, thru the dustbowl history ("valley of ashes") of woody honest strait forward talk guthrie, and a cali canyon dead still nite floating in a nearly waterless landscape. The record is all air, weightless, bodyless, but grounded in convincing authenticity, in the best version of singer songwriter upcycling. In Kurt's words, "I wanted to get back into the habit of writing a sad song on my couch, with nobody waiting on me. I really wanted it to sound like it's on my couch — not in a lo-fi way, just more unguarded and vulnerable."
For a record that plays like a cohesive acoustic experience, its musicality marks Kurt's departure from an electric guitar experience to include a range of instrumentation with a large group of players. From the banjo he plays on "I'm an Outlaw" to the piano and lapsteel on "Life Like This," and the myriad other instruments on other songs, including farfisa, resonator, arps, horns and synth, one never thinks about what exactly yr listening to as it all serves the song.

The heart of the record is "Stand Inside." The music is quiet and the melody, like a hymn, folds in on itself, and embraces full strength in a sexy, floating forcelessness that slowly gathers into a wave that doesn't go where you think it will or rather gives in to itself and celebrates a man willing to be defined by a woman and his love for her as witness to each other's lives… Don't stand by my side, stand inside gives up roleplaying for true exposure and vulnerability.
It's a weird, accepting, mature record, acknowledging the inherent immaturity of being a person whether father, husband, partner, adult, musician, not perfect, but compelling for its understanding … that's life though so sad to say… I love this record,
b'lieve i'm goin down.
Kim Gordon
Purling Hiss' Mike Polizze has put in much time in the fried Philly blooze overdrive of the group Birds of Maya, but in his own vehicle he's expanded his grotty guitar wailing into the further cosmos, still shredding speakers aplenty. With releases out on Drag City, Richie, Woodsist Records, and a previous LP on Permanent, Purling Hiss became a full-fledged touring unit in 2010, revealing themselves to not only be purveyors of Rallizes Denudes/Vermonster-style guitar jams, but to have a serious 90's grunge/pop ethic not too far removed from bits of Bleach-era Nirvana. Lots of ooh-oohs to coincide with the growls, severe hooks to get lodged in your cranium.
Haley Fohr's music strikes a unique balance between the personal and universal. As Circuit des Yeux she creates music that embodies the complexity of human emotions, juxtaposing tenderness and grief, ecstasy and horror, using sounds as representations of the emotional spectrum that we all experience. Fohr's striking voice, an impassioned baritone, is the music's centerpiece and guiding force. On In Plain Speech, Fohr is joined by some of the most progressive musicians in the Chicago music community; Cooper Crain (Cave, Bitchin Bajas), Whitney Johnson (Verma), Rob Frye (Bitchin Bajas), Adam Luksetich (Little Scream), and Kathleen Baird (Spires That In The Sunset Rise). Fohr cements her reputation as a fearless songwriter and inventive arranger with this stirring collection of songs that are both gorgeous and emotionally potent.
Venue Information:
The Bluebird – Featured Events
216 N Walnut St
Bloomington, IN, 47404