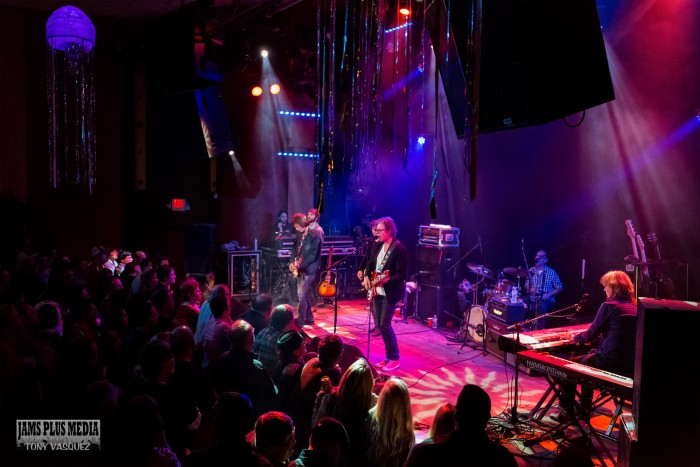 The Jayhawks with Trapper Schoepp and the Shades ~ Vogue ~ Indianapolis, Indiana ~ October 18, 2014
Written by: Jeremy Carie
Photography by: Tony Vasquez of Vasquez Photography
Photo Galleries: Trapper Schoepp and The Shades / The Jayhawks
This past Saturday night The Jayhawks and Trapper Schoepp and the Shades played a WTTS Rock to Read concert at the Vogue. WTTS along with Jockamo Upper Crust Pizza put on a series of special benefit shows to raise money for the children's reading programs through the Indianapolis Public Library. The crowd at the Vogue was not only in for a great night of music, but they were also helping raise money for an awesome cause.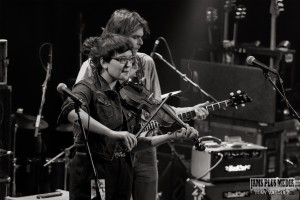 Opening the show was Trapper Schoepp and The Shades, a four piece group hailing from Milwaukee, Wisconsin. The band consists of Trapper Schoepp (guitar), his brother Tanner Schoepp (bass), Gina Romantini (fiddle) and keyboard player Dustin Dobernig. They were an interesting mix of Americana, folk, and bluegrass. Trapper made several references to Wisconsin saying "We're from Wisconsin so all of our songs are about winter.  It sucks!" In addition to home-state themes, the band played anecdotal songs about hometown characters.  Their feel was a perfect transition into The Jayhawks' set.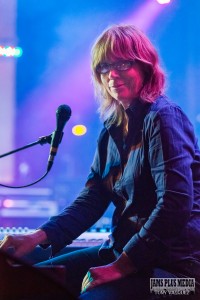 What do you say about a band like The Jayhawks? They are alt-country legends that have been making timeless music for four decades. The band formed in Minnesota in early 1985. It was during the 1980's that the Minneapolis music scene exploded with such bands as the Replacements, Soul Asylum, and Husker Du. The Jayhawks created their own unique sound by fusing rock, folk and country together creating full-bodied albums. Even with several lineup changes over the years the band has inspired a loyal following.
The band's current lineup of Gary Louris (vocals, guitar), Tim O'Reagan (drums, vocals), Karen Grotberg (keyboards, vocals) Marc Perlman (bass), and Kraig Johnson (guitar) are currently on tour supporting the vinyl reissues of Sound of Lies, Smile, and Rainy Day Music. You can find more info about their current tour and reissues on their website at http://www.jayhawksofficial.com/index.html.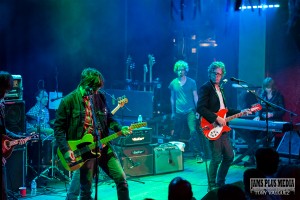 The Jayhawks started the night with "I'm Gonna Make You Love Me", from the Smile album, with a surge of energy that carried over into rest of the night. Louris was rocking his Rickenbacker 330 and singing like he was a young twenty-something. Throughout the night Louris alternated between a Rickenbacker, Hamer Flying V and a Gibson SG.
Louris was in rare form Saturday night. When someone in the crowd requested the Mark Olson song "Ten Little Kids" his response was "There's his songs and there's mine. We're not doing that one." His banter for the rest of the night was filled with a sense of humor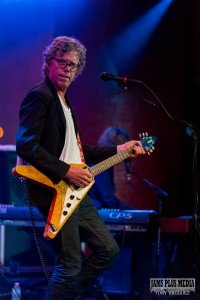 and lightness that kept the crowd entertained between songs.
You could sense the band was having fun going through their vast catalog of material. The night consisted of a good mix from the reissued music along with some older tunes, and covers. If you have a chance to catch them on the current tour you will be in for a great night of music.
Setlist: I'm Gonna Make You Love Me, Stumbling Through The Dark, Think About It, Poor Little Fish, Take Me With You (When You Go), Angelyne, Better Days, Drivin' Wheel, Queen of the World, Jennifer Save Me (Golden Smog cover), Settled Down Like Rain, Save It For a Rainy Day, Waiting For The Sun, Looking Forward To Seeing You (Golden Smog cover), Blue, Last Cigarette (Billy Walker cover), Trouble, Big Star, Tampla To Tulsa, I'd Run Away, Tailspin,
Encore: Tailspin (Inbred version). Aint No End, Two Hearts, Ohio, All The Right Reasons, Sedan Delivery (Neil Young cover), Until You Came Along (Golden Smog cover)