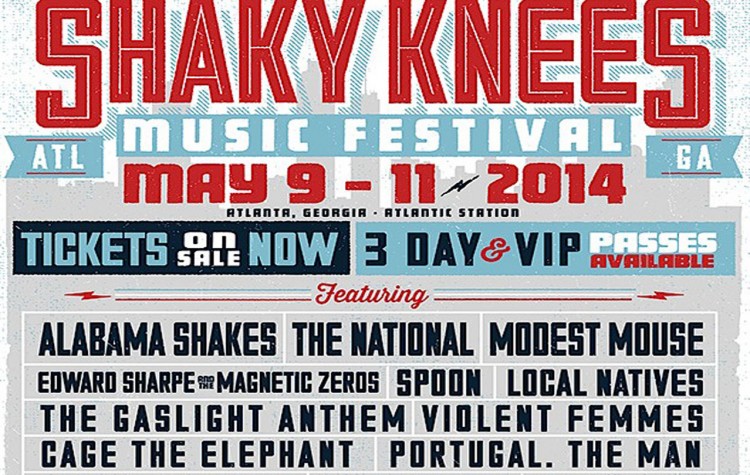 Shaky Knees 2014: A Preview
written by: Brad Lee
OFFICIAL WEBSITE:  shakykneesfestival.com
Springtime in Atlanta usually means sky-high pollen counts and Braves baseball, yet May of 2013 saw the inauguration of a new springtime staple: Shaky Knees Music Festival.  Fourteen thousand fans came to Historic Old Fourth Ward Park and Masquerade Music Park to hear twenty-eight bands play over the course of two rainy days, and despite the weather, the outcome was nothing short of positive.
Music festivals have experienced a nice little growth spurt in the past few years.  All over the country new events are entering the scene, trying to carve out their own spot and make a name for themselves.  But what separates success from the fizzling duds is all in what that name stands for.  Events such as Lollapalooza, Bonnaroo, and Coachella are not just festivals, they are brands with serious staying-power and a loyal fan-base.  Where Lollapalooza was built on the blood and sweat of alternative rock, Bonnaroo was founded on more of a jammed out vibe.  Although evolution often occurs, establishing a direction is key in launching a festival, and Shaky Knees has set off on the right path in this respect by declaring themselves the indie-rock festival of Atlanta.  The name itself is even taken from a My Morning Jacket lyric, while front-man Jim James endorsed the festival by playing its debut.  Other notable artists from 2013 include The Lumineers, Band of Horses, Dr. Dog, and Gary Clark Jr.
The success of year one has paved the way for a new, re-imagined festival.  Having relocated to Atlantic Station, everything that 2013 offered, 2014 will offer more of.  Instead of two days, the festival is now three days.  Instead of three stages, there are now four, aptly named after four of Atlanta's busiest roads: Peachtree Stage, Piedmont Stage, Ponce de Leon Stage, and Boulevard Stage.  This certainly adds to the hometown feel of the festival for native Atlantans, while another nod to the hometown hero is that all vendors are local food trucks.  Ultimately the most significant area of growth this year is in the artist line-up, which has more than doubled in size from last year's line-up.   A total of fifty-eight bands will take the stage this year on the festival premises, while several more will play late night shows at various clubs around Atlanta.  Terminal West, The Earl, Masquerade: Hell, Centerstage and Vinyl are all promoting late-night after party events, which gives the festival a city-wide feel.
The addition of a fourth stage and a third day makes for a more structured festival, as there are clear cut headliners for each day.  Friday features brooding indie act The National, who have experienced some recent success with the release of their album Trouble Will Find Me.  Their performance will surely be one to catch, supported by Spoon, Cage The Elephant, Man Man, White Denim, and The Whigs to name a few.  Saturday's headlining slot brings Modest Mouse, whose on-stage presence always carries anticipatory surprise and in-the-moment rawness, as Johnny Marr is far from predictable.  Other notable Saturday performances include The Replacements, Portugal. The Man, Dawes, Cold War Kids, and Lord Huron.  Sunday is sure to cap off the weekend wonderfully, as Alabama Shakes bring their soulful persuasion and powerhouse vocal stylings.  A band rooted in 60's-esque soul and sophisticated fidelity, the Shakes are a great fit to close out the festival, following the likes of Edward Sharpe & The Magnetic Zeroes, Violent Femmes, Local Natives, Iron & Wine and Blitzen Trapper to name a few.  With such an expansive line-up this year, Shaky Knees' sophomore effort will undoubtedly attract indie-rocking Atlantans from all corners of the perimeter.