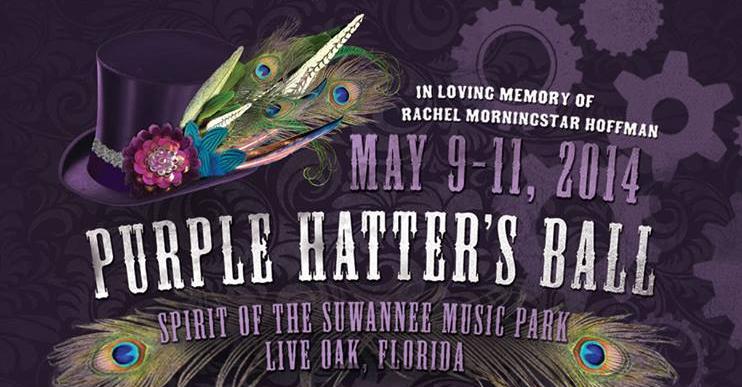 Purple Hatter's Ball (PREVIEW) – Coming to Spirit of the Suwannee Music Park, Live Oak, FL, May 9-11th 2014
Spirit of the Suwannee Music Park has been full throttle over the last few years, with new festivals gracing the grounds at a fevered pace. While the park is capable of hosting massive gatherings of music fans, there is a unique vibe flowing through the old-growth trees when the turnout is a bit more tame. Each year as Spring creeps closer to its conclusion, an intimate event takes place that is far more than a music festival, and would best be described as a family reunion to celebrate this dynamic life we share together, and especially one that was taken away from us far too soon.
Purple Hatter's Ball is special in ways that are hard to articulate. Approaching its 7th incarnation, the non-profit event is put on in memory of Rachel Morningstar Hoffman, who was murdered during a botched police operation in Tallahassee, FL. The police department faced public outrage and came under extreme scrutiny for their mishandling of Rachel. Their shameful conduct eventually led to reforms in the way authorities deal with citizens they've enlisted in their perpetually failing war on drugs.
Many of Rachel's closest family and friends attend the event each year, along with folks who just appreciate the usual highlights of Suwannee Park- amazing music, picturesque camping, visionary artwork, and a sense of community that encapsulates all who enter the sacred grounds. The event's lineup is fantastic every year, and only seems to grow as time goes on, adding new talent while staying true to its roots.
This year's lineup includes:
Beats Antique – Emancipator Ensemble – The New Mastersounds – The Heavy Pets – The Nth Power – DubConscious – Space Capone – Rising Appalachia – Greenhouse Lounge – Catfish Alliance – Locos Por Juana – Grandpa's Cough Medicine – Applebutter Express – Sir Charles – Vlad the Inhaler – Zak tha Blak
… and many, many more.
If you enjoy a bit of a smaller crowd, some of the best music the country has to offer, and the warmest ensemble of smiling faces & celebrating souls one could hope to find, be sure to join us at SOSMP in Live Oak, FL, May 9-11. Check the links below for tickets and details.
http://rachelmorningstarfoundation.org/ 
https://www.facebook.com/PurpleHattersBall 
Written By: Ryan Emke