2013 NORTHEAST REVIEW SHOWCASE
| | | |
| --- | --- | --- |
| Umphrey's McGee – The Klein Memorial Auditorium – Bridgeport, CT – 10/17/2013 | | |
| Nicki Bluhm and The Gramblers at Garcia's at the Capitol Theatre, Port Chester, NY on June 6, 2013 | Festival Preview: Catskill Chill - September 6th-8th in Hancock, NY | |
| David Wax Museum--3-27-13-- House of Blues—Boston, MA | | Steel Panther—Irving Plaza—New York, NY—4/23/2013 |
| Bajofondo—Paradise Rock Club—Boston, MA—03/27/2013 | They Might be Giants—Paradise Rock Club—Boston, MA—04/03/2013 | Carolina Chocolate Drops--House Of Blues--Boston, MA—4/6/2013 |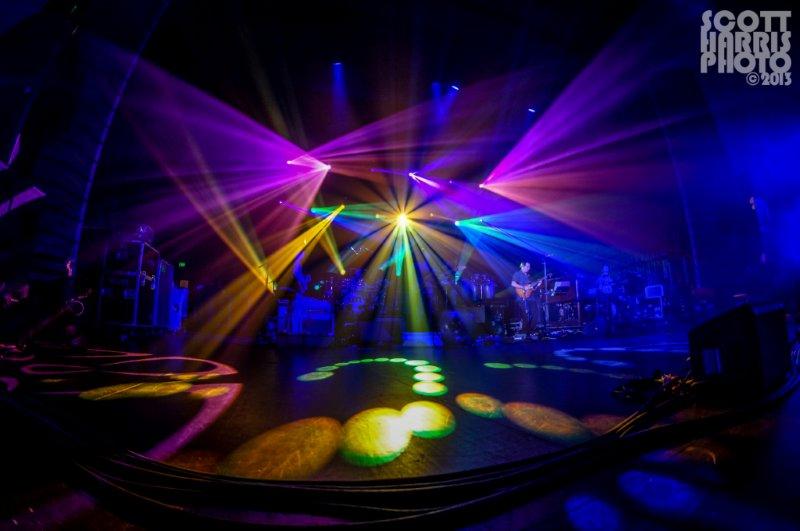 Umphrey's McGee – The Klein Memorial Auditorium – Bridgeport, CT – 10/17/2013
Written By: Scott Harris
Edited By: Rosemary A.W. Roberts
Anticipation was high for Umphrey's McGee's return to the historic Klein Memorial Auditorium in Bridgeport, CT on Thursday, October 17th. Last year, Umphrey's marked their first appearance at The Klein with a scorching and incredibly well-received performance. Several songs into Umphrey's first set on Thursday, guitarist Brendan Bayliss commented that Umphrey's had a fantastic time at The Klein last August on his supposed "24th" birthday (the show featured a cake presentation) and expected the audience to bring IT once again. Both the band and the fans did just that.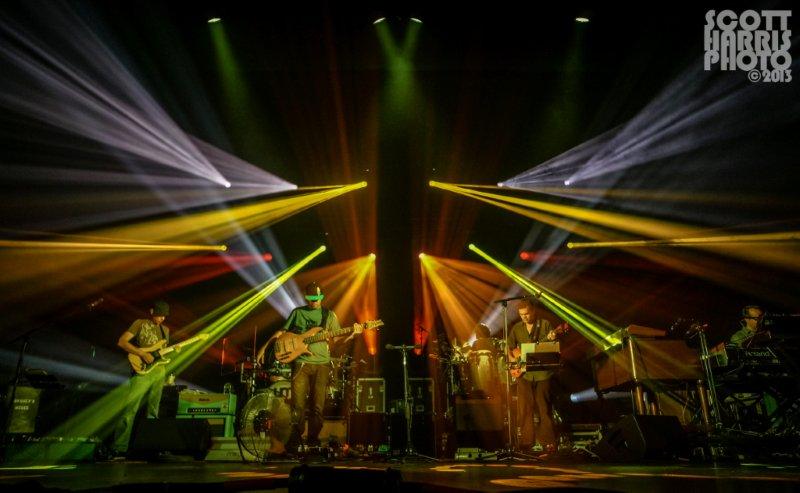 To mark Umphrey's return to Bridgeport, Thursday's setlist was written by former Umphrey's Lighting Crew Chief and Connecticut native Wade "Wyllys" Wilby, who left the band in 2010 to pursue his DJ career. Umphrey's is often referred to as 'one of the best cover bands in the business', and Thursday's performance once again showed why. Wilby's setlist featured covers from a wide range of musical genres and eras, each song delivered in Umphrey's unique progressive improvisational rock style.
The first set included a take on Bananarama's 80's classic "Cruel Summer", which was an Umphrey's debut (though members of the band performed it previously on their tour this summer with STS9), as well as Waylon Jennings's "Luckenbach, Texas (Back to the Basics of Love)". Country isn't something often expected at an Umphrey's show – and, in fact, the band hadn't performed Jennings' tune since 2009 – but Umphrey's executed it with aplomb. Highlights from the first set also included Umphrey's originals "Syncopated Strangers", which interweaved a jam of George's Benson's smooth jazz classic "Breezin'", and coveted rarity "All Things Ninja" to close out the set.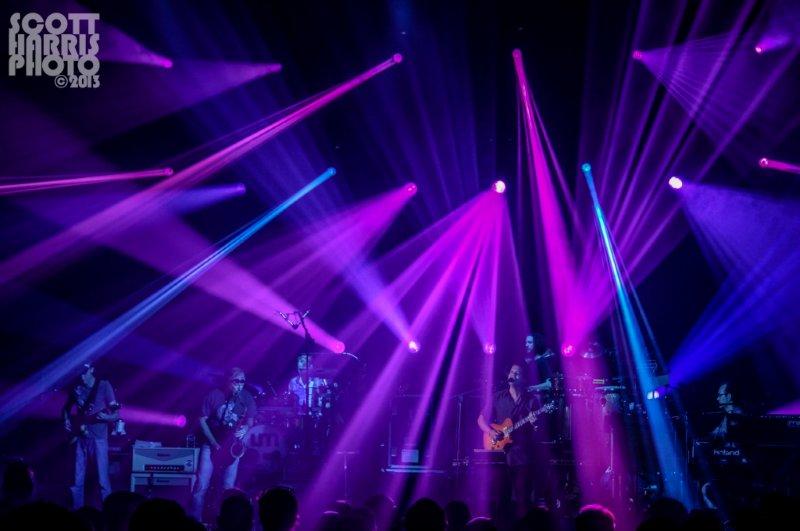 Umphrey's bookended a monster second set at The Klein with "All in Time" (inclusive of Jimmy Stewart vocals). Sandwiched in between were blazing versions of "The Triple Wide" and "Ocean Billy", the latter featuring special guest and friend of the band saxophonist Bill Evans, with whom members of Umphrey's have recently played as part of Evans' Soulgrass. The second set also featured a take on The Smashing Pumpkins' early 90's hit "Cherub Rock", which blended in seamlessly with Umphrey's raging originals. As Wilby's setlist only had question marks for the encore, Umphrey's busted out yet another cover, Led Zeppelin's 1979 studio classic "Fool in the Rain."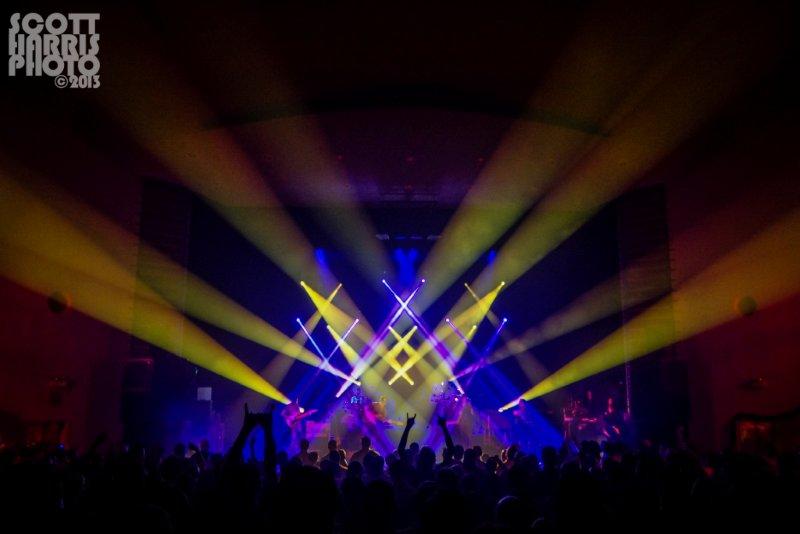 No Umphrey's show would be complete without stunning visuals from Lighting Designer Jefferson Waful. Umphrey's was recently ranked as having the #1 live music lighting design by Denver Westword thanks to Waful's masterful work. On Thursday, Waful took advantage of working with a larger rig than at last year's show and the results were readily apparent as beams of light permeated throughout the auditorium.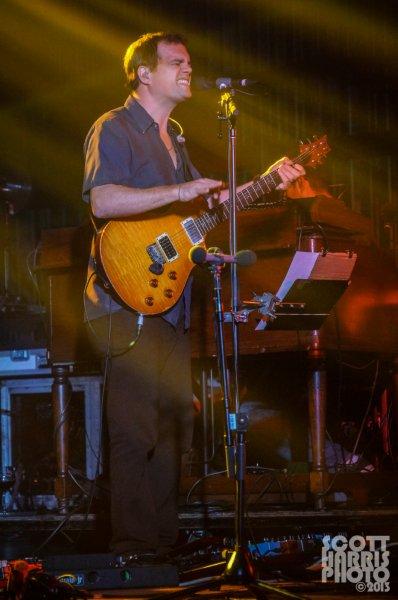 Setlist (from www.allthingsumphreys.com):
Set 1: Jekyll & Hyde > Walletsworth, Domino Theory > Cruel Summer[1] > Domino Theory, The Fussy Dutchman, Syncopated Strangers[2], Luckenbach, Texas (Back to the Basics of Love), Day Nurse > Wellwishers, All Things Ninja
Set 2: All In Time[3] > The Triple Wide > The Bottom Half, Women Wine and Song > Room to Breathe, Ocean Billy[4], Cherub Rock > All In Time
Encore: Fool In The Rain[5]
[1] debut, Bananarama
[2] with Breezin' (George Benson) jam
[3] "Jimmy Stewart" with vocals
[4] with Bill Evans on saxophone
[5] with Ten Years Gone (Led Zeppelin) intro


Festival Preview: Catskill Chill - September 6th-8th in Hancock, NY
By: Kristen Mack-Perry
Edited by: Rosemary A.W. Roberts
Summer is coming to an end this weekend with the Labour Day holiday, but the festy season will continue with full force for Catskill Chill September 6-8th at Camp Minglewood in Hancock, NY. Now in its fourth year and with the sell-out crowd last year, this year's Chill is loaded with exciting band collaborations; all while preserving the intimate feel the festival has become famous for. Tickets are still available for $150 ($175 at the gate) but festival promoters expect it to sell out; you can get your tickets online - don't wait to get them at the gate because you might get left out in the cold while everyone else is chillin' inside.
Nestled in the woods of Camp Minglewood, Catskill Chill offers festival-goers a star studded lineup; various food vending options in the bustling Vendor Village including a local Farmer's Market serving fresh, seasonal produce; and an expanded yoga program featuring live music with Cosmal are some of the amenities you can expect from Catskill Chill - a collective conscious evolution of sorts. New additions to this year's Chill include a bigger and better Acoustic Junction stage, a new campsite DJ stage, and an extended schedule at the infamous Club Chill. The festival features free parking, 3 covered main stages and 2 outdoor stages. Cabins on-site are the way to go at this festival, although they did sell out within 90 minutes of going on sale. If you didn't secure a cabin this year don't fret, camping accommodations are available throughout the site and positioned on grassy lawns.
After the success of last year's intimate Acoustic Junction and the response to Consider the Source's (CTS) first-time endeavor at the musical style, the festival organizers have doubled the offerings. This year's roster features CTS once more along with a mix of artists that regularly perform acoustic such as Brock Butler, The Brummy Brothers and Dan Collins, along with acts performing stripped down sets for the first time. These performances by Tom Hamilton & Friends, Primate Fiasco and MUN are definitely not to be missed. The team at Catskill Chill Music Festival has also announced a collaboration that embodies the true spirit of the ChillFam - an official "Dopadosio" set featuring all members of Papadosio and Dopapod together onstage to close out the fourth annual event.
The lineup is filled with regional favorites; bands like Buffalo natives, Aqueous will be performing at Club Chill Saturday 6:30-8:00PM - this prog-rock band has climbed the ranks of the festival circuit with performances at this year's Summer Camp Festival. Their highly anticipated set at the Chill will surely melt the faces of fans. I took a few minutes to ask the boys of Aqueous about life on the road and what's new on the horizon for this band, here's what they had to say:
Q: Where are you all right now and what are you listening to on the radio?
A: We are currently located in Pomfret, Connecticut after a play in Rhode Island last night. We're lucky enough to stay at a beautiful farm when we're in this corner of the United States, the very farm that Dopapod recorded their last album at in fact. I can't say any of us have listened much to the radio, but this month The Smashing Pumpkins, Neil Young, The Strokes, Snarky Puppy, and Nightmares on Wax have been in pretty heavy rotation. Also Carole King's Tapestry album haha.
Q: So you've played several festivals this summer, large and small in venue size and numbers, what do you enjoy most about the more intimate setting/size of a festival like Catskill Chill?
A: It's been a pretty amazing summer where festivals are concerned for us. On our end, the best part of the midsize festivals is typically getting to hang out with a lot of our friends in the scene, fellow bands that we respect and listen to. I think it's a bit easier to connect with people at the smaller festivals too, that's been our experience so far this summer. We've heard incredible things about The Chill, so we're honored to be a part of it this year.
Q: If you could collaborate with any band on the bill who would it be and why?
That's a tough one! Luckily we've had the opportunity to collaborate with several bands on the bill in the past, but if we could pick anyone, I'd probably say Lettuce, I've always wanted to play their song Ziggowatt, that groove makes my body move in ways that would freak David Bowie out.
Q: With a constant touring schedule lately, how are you adapting to life on the road?
A: For one, Dave's experiencing withdrawal from his precious cheese-sticks. Haha It's been pretty incredible, and it's been a really great experience getting to travel, meet folks, stay in weird places and get our music out to new audiences. As with anything of the nature, the biggest adjustment is managing time and all the regular responsibilities outside of the band, as well as finding a good balance of writing new music and keeping everything fresh for ourselves and our audiences. We take that aspect really seriously, and have been getting pretty innovative in working those things out in different ways.
Q: What's new on the horizon for Aqueous?
A: We've just released our fall tour, which is the most intense we'll have done up to this point, and we're very excited to get into some new cities and expand our reach. Also, we've written nearly an entire album's worth of new material that we're all pretty jazzed about, we're thinking about recording a lot of that stuff for a new studio album in the winter, and have full plans to release a new live album too. Beyond that, look for us to keep breaking new ground and getting weird from here on out!
[end of interview]
Another favorite here in Upstate, NY is Pennsylvania's very own Cabinet - this old-timey bluegrass six-piece band of young men with the musical chops of John Hartford will be a welcomed addition to the Chill Fam as well. This band has enjoyed a measure of success lately, including hosting their overwhelmingly successful inaugural Old Farmers Ball festival in May 2013. They have also become a staple at New York's Sterling Stage Music Festivals in Sterling, NY. Their "Dead Set" on Friday 8:30-10PM at Club Chill cannot be missed! See them on Sunday as well when they play the Main Stage 12:30-1:40PM.
Ithaca's Jimkata will be hitting the B Stage at 6:45-7:55 on Friday with their signature brand of song-oriented electro-rock. This band has been touring the country relentlessly recently, in support of their latest album Die Digital - which was funded by fans. These NY-hometown favorites have been the highlight of several festivals this summer, we advise you not to miss them live and in person.
In addition to these regional favorites the headliners at Chill are nothing short of musical heavy hitters in their own right. The Meter Men with special guest Page McConnell, are the masters of funk from the days when funk was dirty and full of soul; also featuring Zigaboo Modeliste, Leo Nocentelli and George Porter Jr, Chillers had better be ready to get down and dirty on the dance floor with these living legends.
Look for late night sets with electronic bands - Lettuce, Kung Fu, Conspirator, Dopapod, Papadosio, and all night RAGERS with DJs - Damn Right with DJ Logic, Horizon Wireless, and Blue Boy Productions. Late nights at Chill will be some of the sickest sets by the most talented artists in the festival scene, BE THERE!
Whether you wake up early for yoga and coffee to start your day with chill music or you are a late-night party animal, Catskill Chill has everything you need to end a fantastic summer of music and friends. Cuz at Catskill Chill we're all part of the Chill Fam where the only message is - "All Love, All The Time".
FESTIVAL LINKS:
Official site: www.CatskillChill.com
Facebook: www.facebook.com/CatskillChill
Twitter + Instagram: @CatskillChill | #ChillFam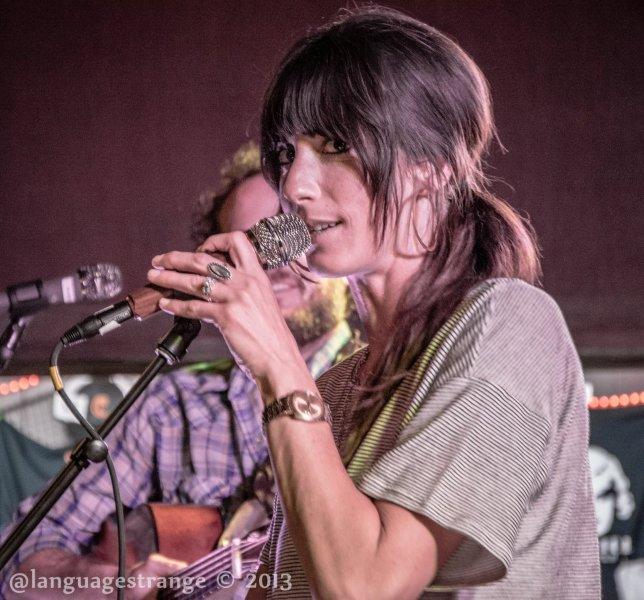 Nicki Bluhm and The Gramblers at Garcia's at the Capitol Theatre, Port Chester, NY on June 6, 2013
Things don't always happen as planned – and sometimes, that's for the best.
San Francisco band, Nicki Bluhm and The Gramblers, were scheduled to play Brooklyn Bowl on Thursday but that changed when Brooklyn Bowl announced a last-minute Guns N' Roses show in advance of their headlining performance at Governor's Ball. Only problem: it would take place on Thursday. Luckily, Brooklyn Bowl's sister venue, the recently reopened Capitol Theatre in Port Chester, NY needed an opener for the B52's that very night.
Everything was fine until early Thursday afternoon, when the venue announced that B52's singer, Cindy Wilson, came down with an undisclosed illness and the show would be postponed. If this series of events went down a little more than a month earlier, Bluhm's fans might have been out of luck. But, thankfully, the Capitol Theatre now has Garcia's. The new lobby bar named for Jerry Garcia features its own live music stage. As a result, Nicki Bluhm and The Gramblers became one of the first bands to play Garcia's. And play it they did.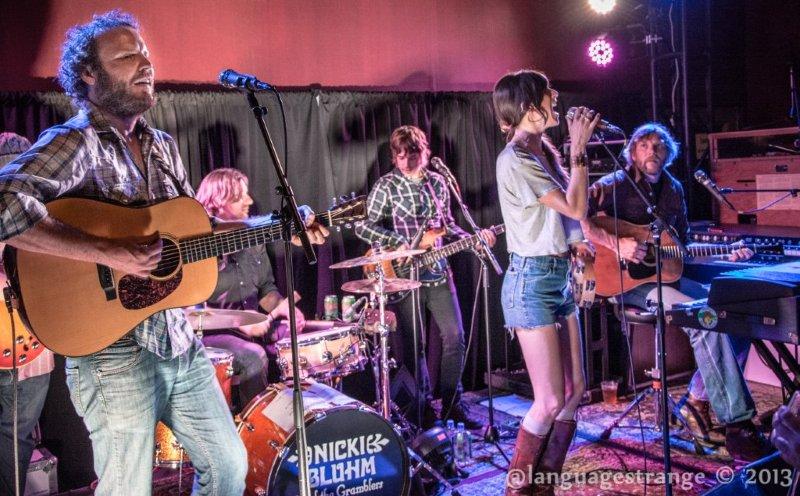 Fans in attendance on Thursday night were treated to a free, intimate performance that featured tracks from Bluhm's 2008 debut album, Toby's Song ("Burnt," "I'm Your Woman"), her 2012 release, Driftwood ("Wanna Be Your Mama Again," "Stick With Me," "Jetplane," "Kill You to Call"), as well as imminently crowd-pleasing new singles ("Ravenous," "Little Too Late") from the full band's debut album to be released on August 27th. The band mixed in lively covers including Roy Orbison's "Go Go Go", Marvin Gaye's "How Sweet It Is", and in tribute to fellow San Franciscan Jerry Garcia, an encore featuring the Grateful Dead's "Deal."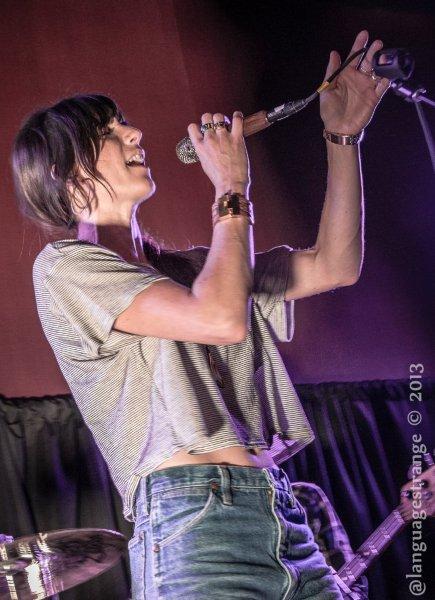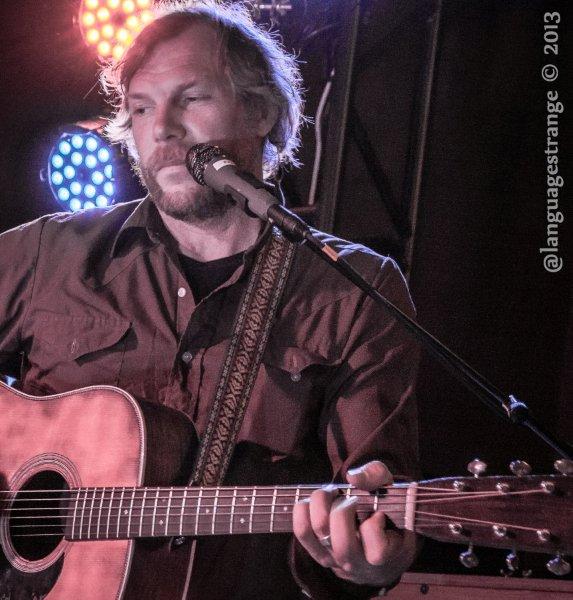 Nicki Bluhm and The Gramblers' live sound runs the gamut from folk to soul to blues to straight up rock. The band effortlessly blends multiple styles during their performance and draws fans in with relatable lyrics, catchy hooks, and multi-part vocal harmonies. On this night, the band created a unique connection with its fans through the shared chaos surrounding the performance. The band learned about the scheduling changes in real time along with everyone in attendance. As a result, Bluhm said that it felt like everyone at Garcia's "really wanted to be [there]" and that "we were all in this together."
Set List:
Burnt, Wanna Be Your Mama, Another Rolling Stone, Every Second, Go Go Go, Stick With Me, I'm Your Woman -> Pack Up -> Sittin On Top of the World > Beer and Booze, How Sweet It Is, Santa Fe, Ravenous, You're No Good, Little Too Late, Jetplane, Squeaky >Working>Squeak
Encore: Deal, Kill You to Call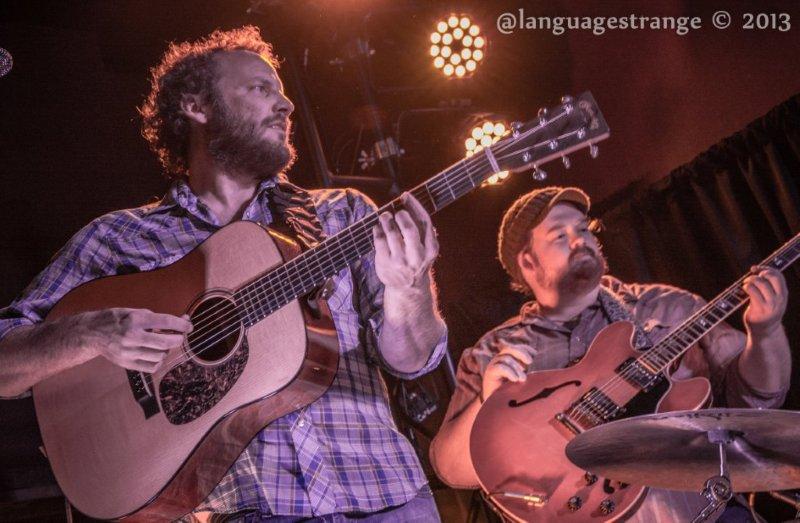 Full Gallery: http://languagestrange.smugmug.com/Other/NickiBluhmGarcias2013-6-6/29875851_sk6zCh
Written By @languagestrange
Edited By: Roger Patteson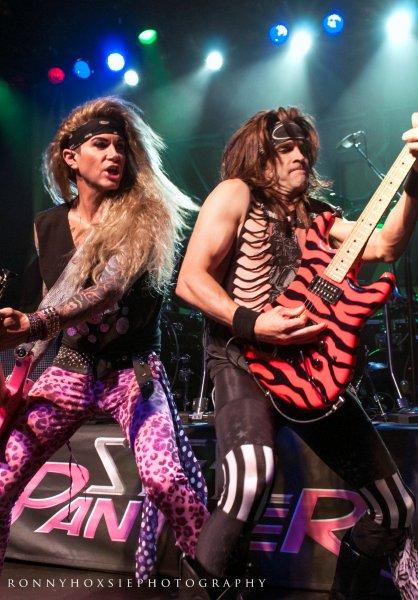 Steel Panther—Irving Plaza—New York, NY—4/23/2013
I have seen a lot of crazy things in New York City, but tonight looked like a mix of Kiss fans and Ringling Bros. Circus fans headed straight to Irving Plaza. Making my way through this wild crowd and weaving my way like a caterpillar through a mine field, I found myself trapped in the longest VIP line I have seen in recent history, headed to a Halloween party on the south side of Transylvania, that would have had Dracula hiding in his coffin.
As I finally made my way inside Irving Plaza, with myself and my gear still in one piece, there was a wild energy engulfing the concert hall just waiting for Steel Panther to take the stage. When the lights went out, it felt like a squadron of B-52 bombers over Berlin, which brought the noise level to a deafening sound.
Steel Panther broke out with "Supersonic Sex Machine" followed by "Tomorrow Night" and a crowd pleasing raucous tune "Asian Hooker" which set the tone for the circus type atmosphere, which truly sets this rock show apart from others. The crowd then joined in on "Just Like Tiger Woods" which I'm sure Tiger Woods is not playing on his "Top Ten List" of songs on his iPhone.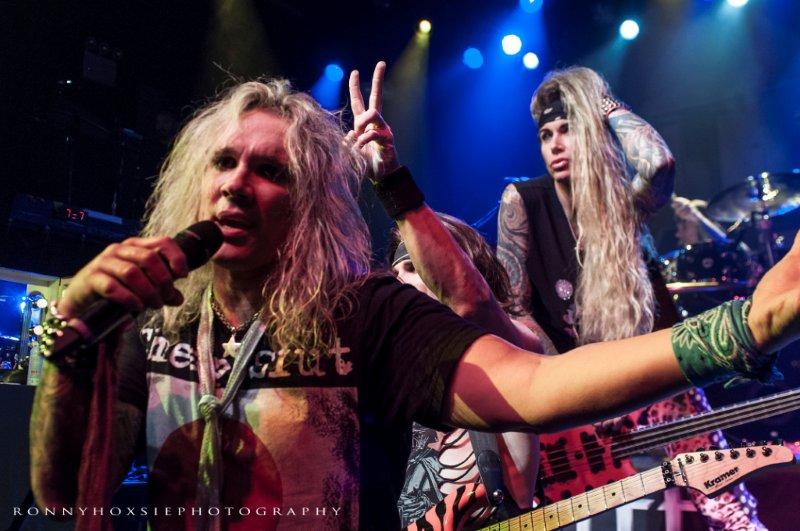 There is no question Steel Panther is a talented band, maybe even more talented than the 80's band they are embodying. After a few songs the band took some time to introduce themselves to the audience in a comical fashion. This was sort of a drawn out process by lead singing Michael Starr, guitarist Satchel, bassist Lexxi Foxxx, and drummer Stix Zadinia. I don't think the crowd cared how long it took because it was quite funny and the crowd never stopped clapping. Ripping through a few more songs, Steel Panther had girls prancing across the stage like a parade of groupies who had free passes to the local breast implant clinic.
I must say this was a dose of heavy metal comedy and four very talented musicians who know how to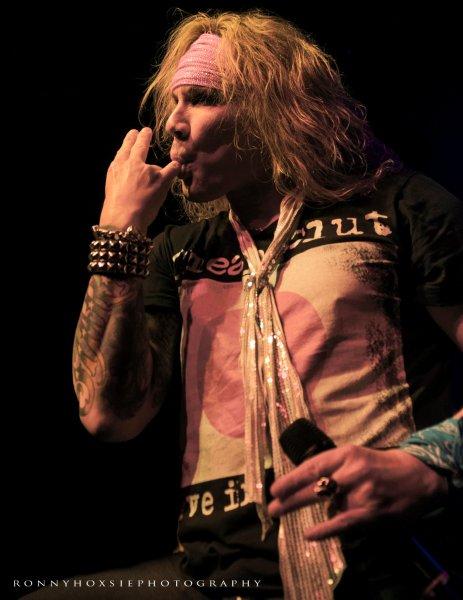 deliver it. It is safe to say Steel Panther will keep the 80's rocking well into the future!
Written and Photos by: Ronny Hoxsie
Edited by: Rosemary A.W. Roberts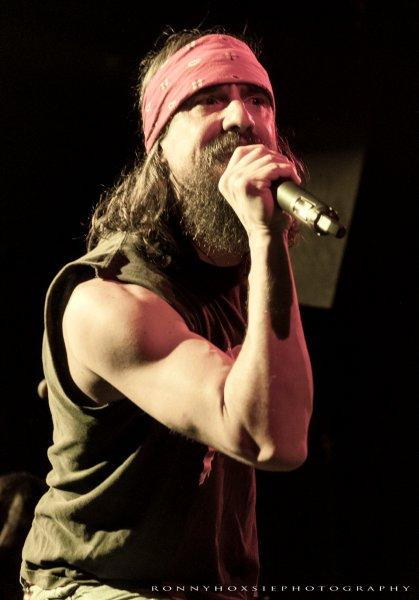 Hillbilly Herald--Irving Plaza—New York, NY—4/23/2013
Certain bands just know how to put on a live show. I'm not talking about crazy costume changes and stage props and psychedelic lighting, though those can be good too. I'm talking about a good old fashioned rock show where the bands' music and stage presence are all they need to make the floor shake. Hillbilly Herald did just that and then some.
Getting the night rocking Jimmy Herald started the thunderous show off with "Greedy" followed by a rocking jam, "Dead on the Money". Looking out over the crowd like an assassin picking out his targets, he called on the crowd to join him in a stellar rendition of AC/DC's "TNT". While grabbing on to his custom stacked Pabst Blue Ribbon mic stand, Jimmy Herald wowed the crowd with a rocking rendition of "Country Roads".
It was a show of endless energy and when Jimmy wasn't filling the concert hall with his pulse pounding pandering to the crowd, there was Hawaiian Brian and Mark Hill shredding on guitars. Adam Wolf was equal to the task hammering out licks on his bass guitar that rocked New York City's Irving Plaza.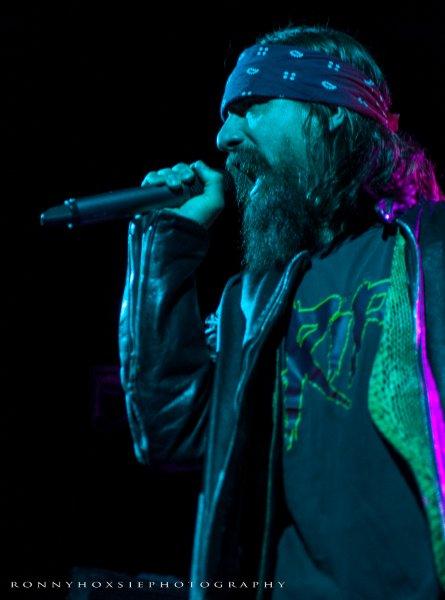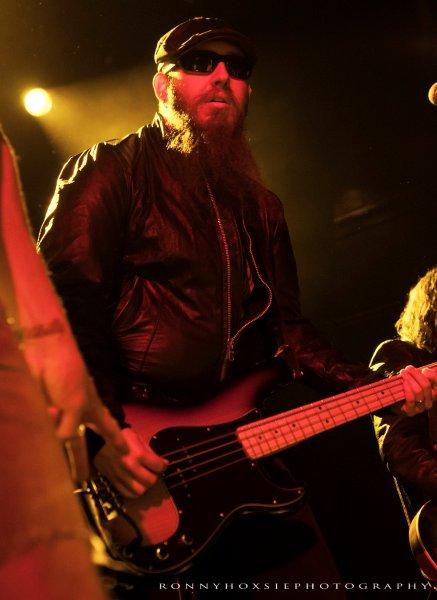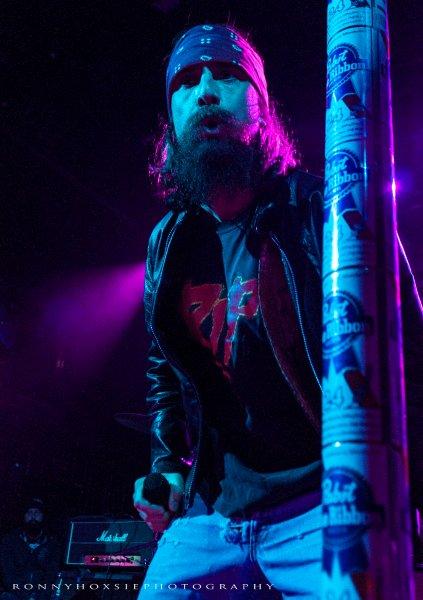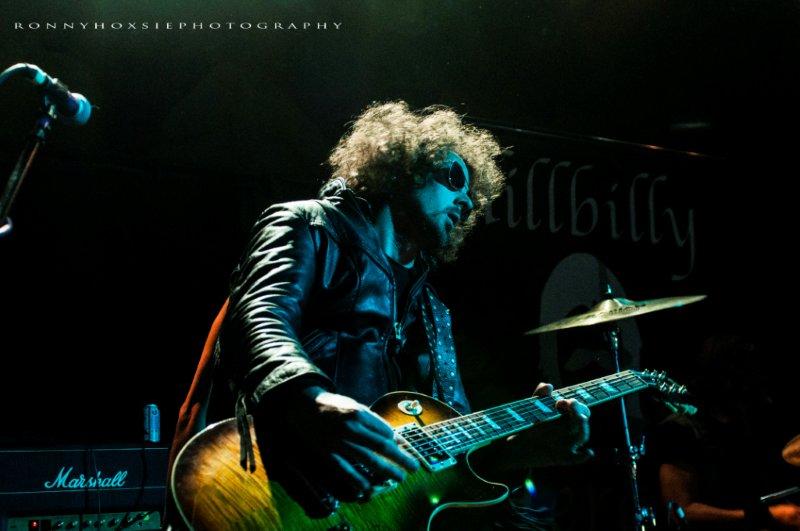 Finishing off the night with "Rock N Roll (It's All I Wanna Do)", Jimmy Herald stood over a crazed crowd wearing a ripped "Rest in Peace" shirt and thanking a jubilant audience.
I have seen a lot of opening acts, but Hillbilly Herald is one to remember and you can bet your Pabst Blue Ribbon beer cans they will be headlining in a city near you!
Written & Photos By: Ronny Hoxsie
Edited By: Rosemary A.W. Roberts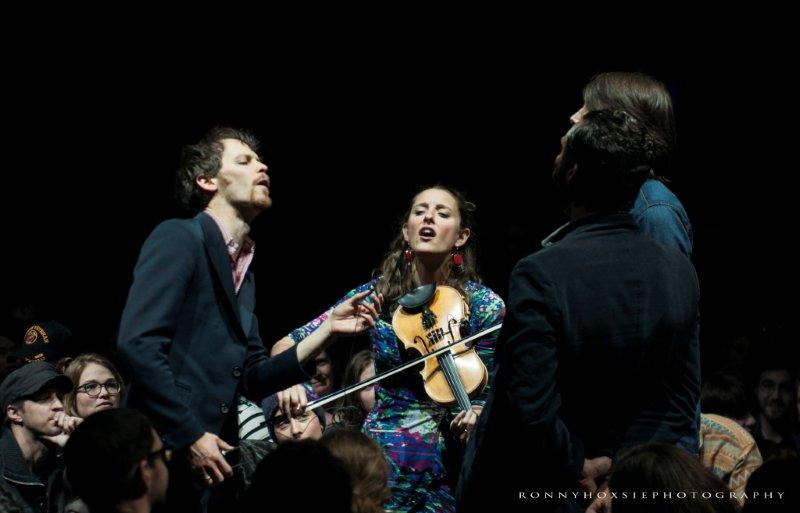 David Wax Museum--3-27-13-- House of Blues—Boston, MA
Tonight I went to one of my favorite venues in the Boston area, The House of Blues, which is home to so many great bands and a welcoming staff which makes it a pleasure to see so many great acts there. As I walked by the monstrous steel structure on Landsdowne street better known as Fenway Park home to the Boston Red Sox, crowds of people were flocking to get in line for the David Wax Museum show, and there was some energy in the air.
Taking the stage with energy matching that of the cheering crowd, David Wax opened with "Big Heart" and "All Sense" which set the pace for a highly entertaining show from this folk and roots rock band, blending traditional Mexican Son music with Americana in what they call "Mexo-Americano". From the onset David Wax was running from one side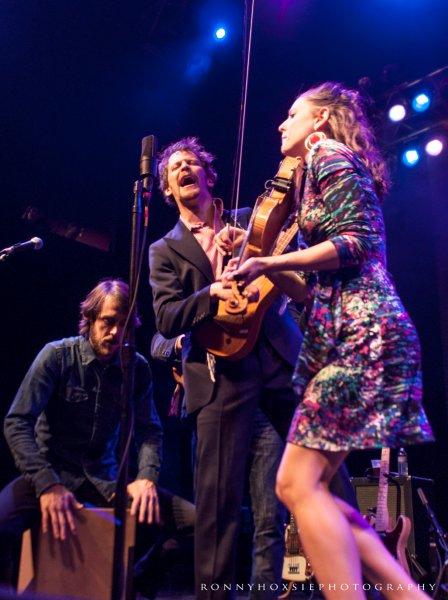 of the stage to the other, calling on this capacity crowd to rise up and sing with him.
The band rocked through such songs as "Sleeping" and "Wondrous" and then "Maria", in which multi-instrumentalist Suz Slezak showed a cool groove with her accordion and singing backups. After having this crowd stomping their heels and clapping to every beat the band handed out to them, David Wax brought his band down into the center of the audience for a personal ensemble with their loyal following.
Ending their show with "Born Harder" and "Unfruitful" the band received a loud and thunderous standing ovation, which was well deserved. David Wax Museum was a show filled with an up-tempo power, innovation and skilled playing which showcased this band's great versatility!!!
Written and Photos By: Ronny Hoxsie
Edited By: Rosemary A.W. Roberts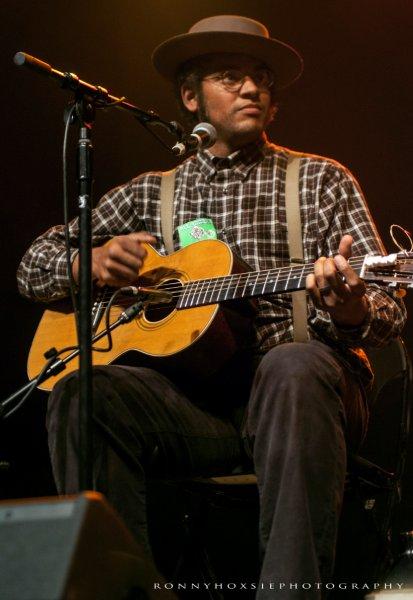 Carolina Chocolate Drops--House Of Blues--Boston, MA—4/6/2013
Tonight as I entered the famed House of Blues in Boston, Mass I was overwhelmed with the energy I felt as I walked through the crowded hallways out to the packed concert hall.
As the Carolina Chocolate Drops took the stage they laid down the old time classic "Black Annie" from their first album Dona got a Ramblin Mind. The group's chatter between songs was about their love for Boston, and their adoring fans. The Chocolate Drops offered some history behind several of their songs to show their love for some old time music.
The Drops jammed through songs like "Got it Fixed', "Rose Marie" and Johnny Cash's "Jackson" with some of the band members switching instruments back and forth. As I photographed the band it was clear this crowd was here to jam as they stomped their feet and clapped their hands to nearly every song CCD belted out to them. CCD also played songs from their most recent Grammy nominated album, Leaving Eden, including the title track "Country Girl"; and one of my favorites of the night in which I found myself starting to stomp my foot, was "Boodle-De-Bum-Bum". Finally the band encored with "Read Em John" which had the crowd shouting till the very end.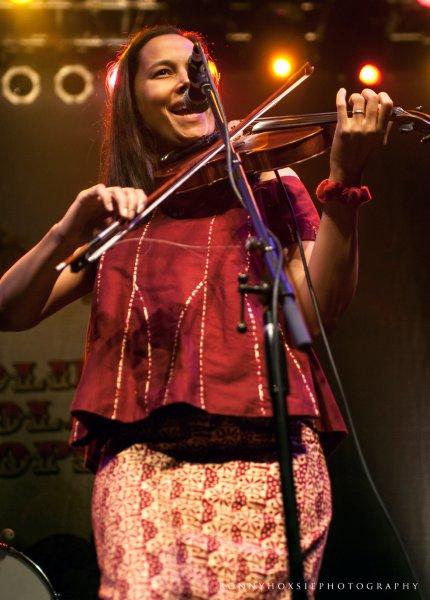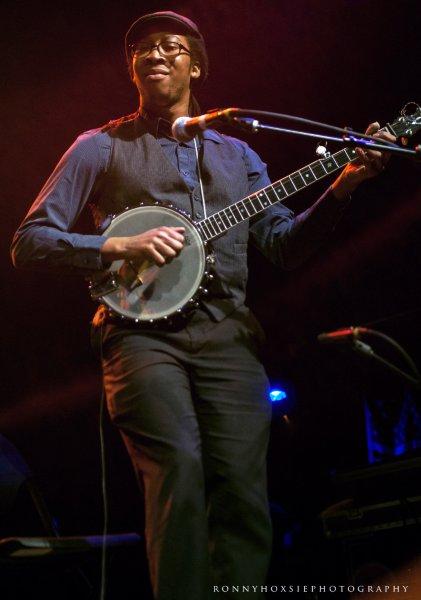 The Carolina Chocolate Drops is truly a band that can jam right down to the grass roots of anybody's soul!
Written and Photos By: Ronny Hoxsie
Edited By: Rosemary A.W. Roberts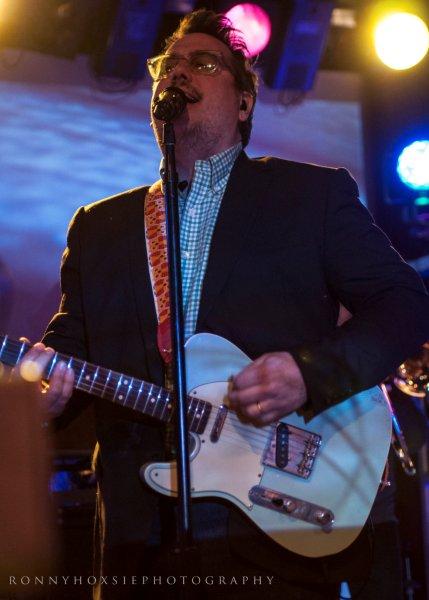 They Might be Giants—Paradise Rock Club—Boston, MA—04/03/2013
April 3rd in Beantown was the setting for one heck of a show from the band They Might be Giants (TMBG). There was a party-like atmosphere on full display from a sold-out crowd at the Paradise Rock Club.
During the two-hour performance, the band and singer-multi-instrumentalist John Linnell and singer-guitarist John Flansburgh, plus three touring musicians, performed a wide range of material that included the 1990's "Birdhouse in Your Soul" and "Fingertips".
TMBG kicked the party off with "You're on Fire",which is the first track off their latest album Nanobots in which John Linnell got the packed house moving and grooving. After the second song it was time for the band to start their hilarious onstage banter which brought cheers and laughter from the crowd, reminding me of a comedy club I used to frequent on the south side of Dorchester. It seemed that humor was definitely a big part of their show as they jammed through songs like "Circular Karate Chop" and "Call You". As the concert rolled on there were times that the routines tended to drag a bit, just stretching the joke a little too far, for an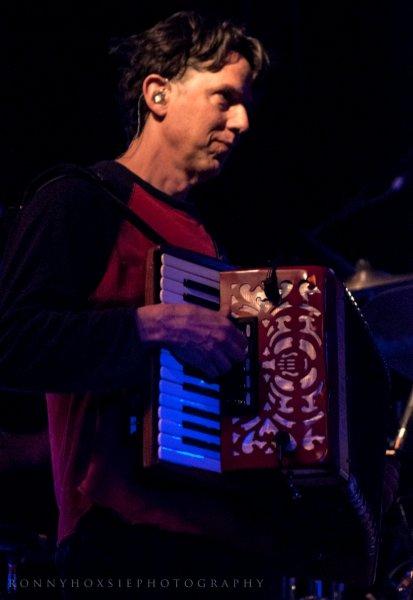 audience that was singing along with every song TMBG was throwing out to them.
TMBG performed such favorites as "Instanbul (Not Constantinople)", "Ana Ng" and "Birdhouse in Your Soul". Through these songs Dan Miller and John Flansburgh were dazzling the crowd with some nice guitar rhythms, while dancing about a stage that seemed a little on the crowded side for this energetic band that never tired through this strong performance.
All in all, I thought it was a very solid performance music-wise from the band; and as far as the comedy portion of the show, it was absolutely hilarious! TMBG have been doing this for over 30 years now and there is no doubt they have been enjoying every minute of it, and their loyal followers have been enjoying it with them!!
Written By: Ronny Hoxsie
Edited By: Rosemary A.W. Roberts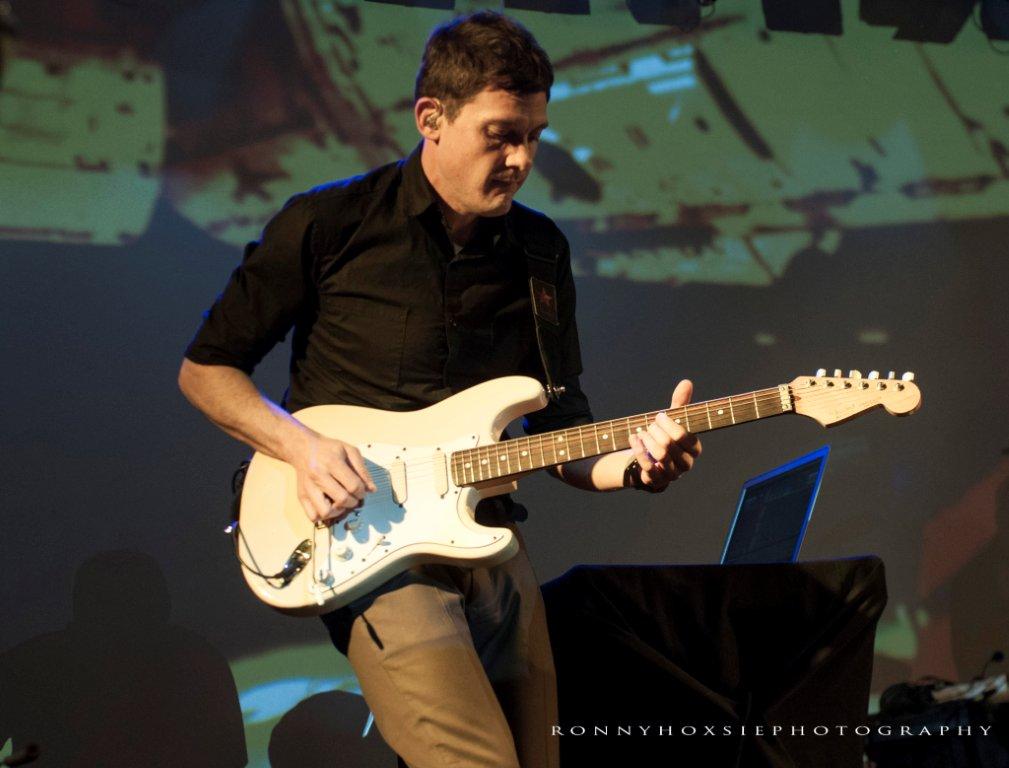 Bajofondo—Paradise Rock Club—Boston, MA—03/27/2013
Tonight there was a sense of a party-type atmosphere at the Paradise Rock Club in Boston Mass, for the band Bajofondo. A packed house waited intensely for the band to take the stage and after a slight delay, Bajofondo did not disappoint.
Opening with songs "Montserrat" and "Borges Y Paraguay", the crowd was in for a great musical experience. Fueling the crowd's hand clapping and dancing, the band delivered powerful renditions of "Segundos Afuera" and "Pide Piso" which brought an exuberant spirit dancing through the crowd. The marriage of tango and electronica was a pleasant surprise to me and seemed to be what this sold out crowd was thirsting for!
Band members Javier Casalla on violin and Martín Ferrés on bandoneón mesmerized the crowd through the sounds of "Grand Guignol" and "La Trufa Y El Sifón". Lead guitarist and Oscar-winning composer Gustavo Santaolalla, who is responsible for film scores such as Babel, Motorcycle Diaries (in which he plays an awesome solo guitar piece), Brokeback Mountain and Amores Perros, left the crowd mesmerized after delivering a hypnotic rendition of "Pa' Bailar".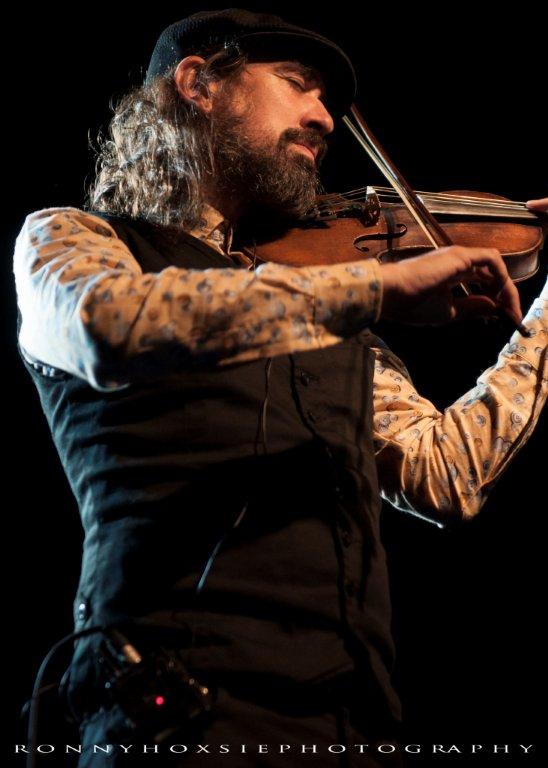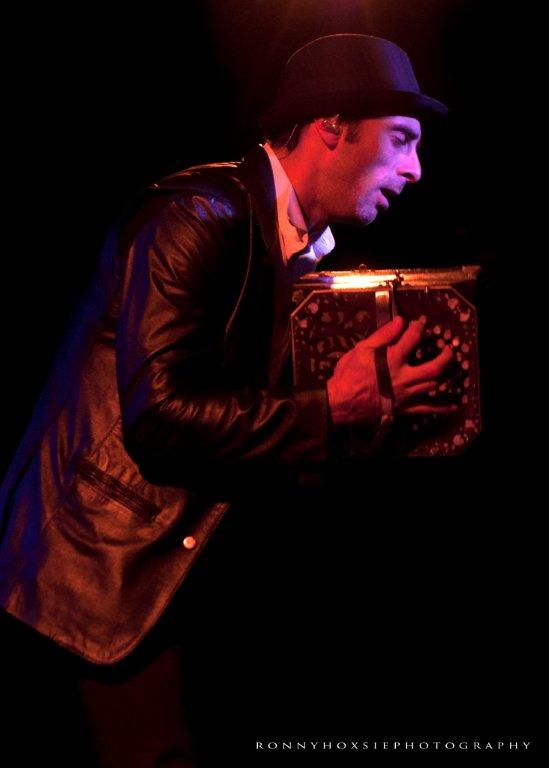 Ending the night with "Leonel El Feo" and "Perfume" the crowd seemed transfixed and then rose for a five minute standing ovation. A clapping chant brought the band right back to the jubilant audience to show their love to their loyal fans! It was a memorable night indeed for myself, from a band I knew little about who put on a musical masterpiece!
Review and Photography: Ronny Hoxsie
Edited by: Rosemary A.W. Roberts